Today I'm really excited to introduce another book-and-food blogger like myself! Elizabeth reviews and bakes over at Dessert and a Novel. We recently got acquainted via social media, and I'm really loving her bookish and food taste, so I'm sure you will too. Without further adieu, check her out:
I have two favorite activities to do while traveling: 1) visit local restaurants and eat the local cuisine, and 2) peruse local, preferably independent bookstores. Recently, my husband and I were in Dallas visiting friends, and on the way home we decided to stop and browse one such local bookstore. Unfortunately, I forget the name of the shop, but immediately a few titles caught my eye, one of them being The Stationery Shop, by Marjan Kamali. I was immediately interested in this novel because I adore historical fiction, especially when it concerns areas of the world that I can stand to learn more about. Also, I'm a sucker for stationery.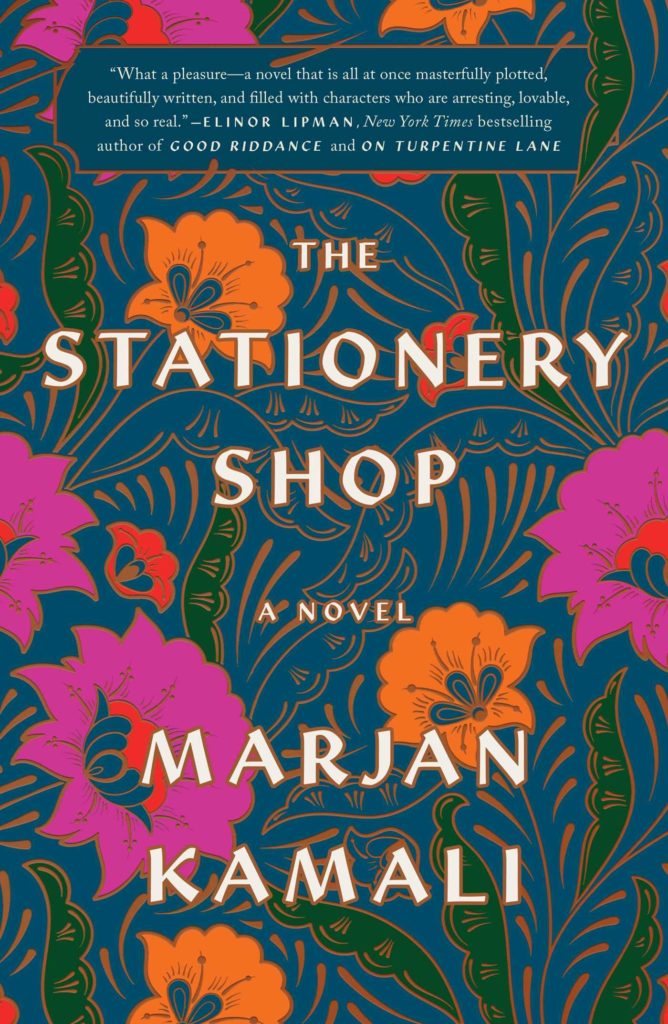 The Stationery Shop follows the love story of two young Iranian teenagers, Roya and Bahman, through pre-revolutionary Iran in 1953 around the time of the coup that overthrew the democratically elected Prime Minister and reinstated the monarchy. It continues to follow their story through Roya's eyes through the revolution and onto their lives in different parts of the world in 2013. In their youth, Roya first lays eyes on Bahman while in her beloved stationery shop owned by Mr. Fakhri where she spends most of her free time reading a diverse array of international classics and writing her own lines. The first thing Bahman ever says to Roya is, "I am fortunate to meet you." 
Eventually, Roya and Bahman begin their courting dance despite Bahman's intense political involvement in support of the Prime Minister and democracy, which causes him to be in constant danger. The couple gets engaged, but the ensuing violence of the coup and other forces beyond the young lovers' control prevent them from a promised meeting in the town square. This missed meeting changes the course of their relationship and both of their independent lives, as Roya leaves Iran to pursue her studies in the U.S., and Bahman remains in Iran and marries another girl more suitable to his class. Roya and Bahman's fates were bent by outside forces, but when they get a chance to reconnect in Boston in their golden years, it's evident that in this world, destiny is real and that the people of a nation are not defined by political activities.
I find Roya to be extremely relatable. She's someone with a passion for learning, but she also has a strong sense of loyalty and duty to do the right thing. Roya's character made The Stationery Shop a very easy, fast, and interesting read for me. Additionally, the book gives tremendous insight to Iranian culture, especially food! There are so many delicious-sounding dishes mentioned, including jeweled rice (rice made golden with butter and spices and ornamented with jewel toned fruits) and khoresh bademjan (a fragrant beef or lamb stew).
What piqued my interest most were references to an "elephant ear" shaped pastry mentioned when Bahman took Roya to an Iranian café and again at their engagement party. Though we don't learn the name of these pastries, I did a little research, and they may be a traditional Iranian sweet known as zulbiā. Zulbiā is a sort of crunchy little donut, and they were quite an adventure to create! Making the dough was unlike any other fried dough experience I've had before, and the final product is unique and addictive. It's like taking a bite out of the most delicious and sweet flower.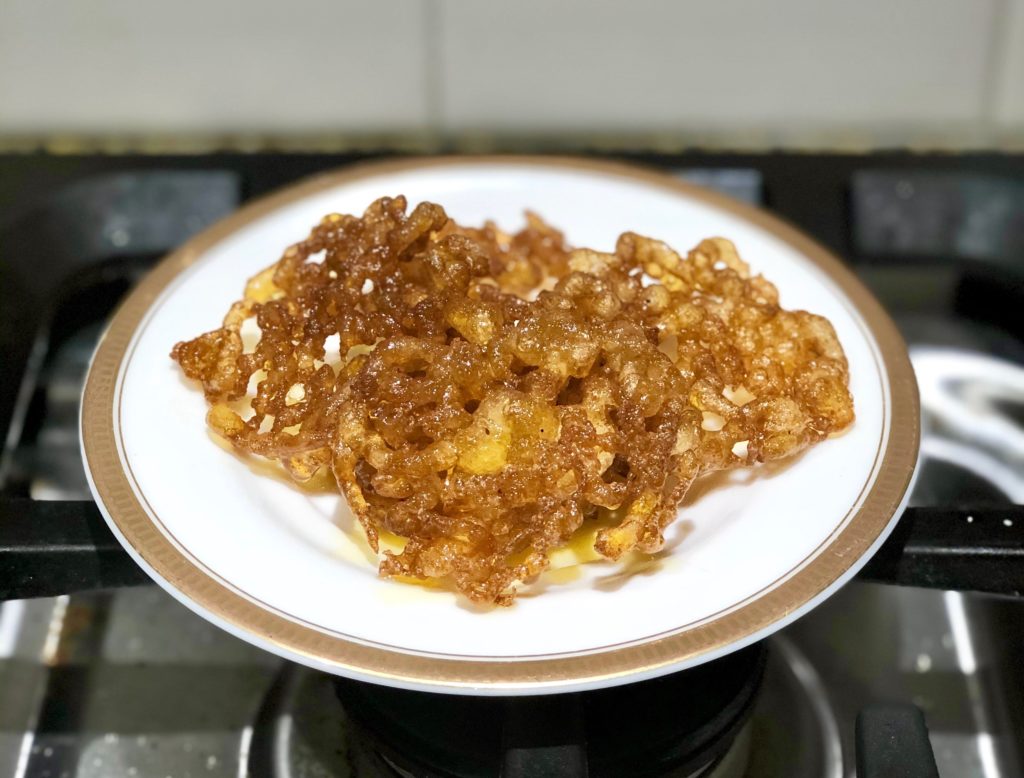 I got the recipe from Fae of Fae-magazine.com, and Iranian blogger, and it can be found here. If you follow the recipe exactly, you should have good results! As a quick reminder, please cover your arms and hands properly and exercise caution when dealing with hot oil.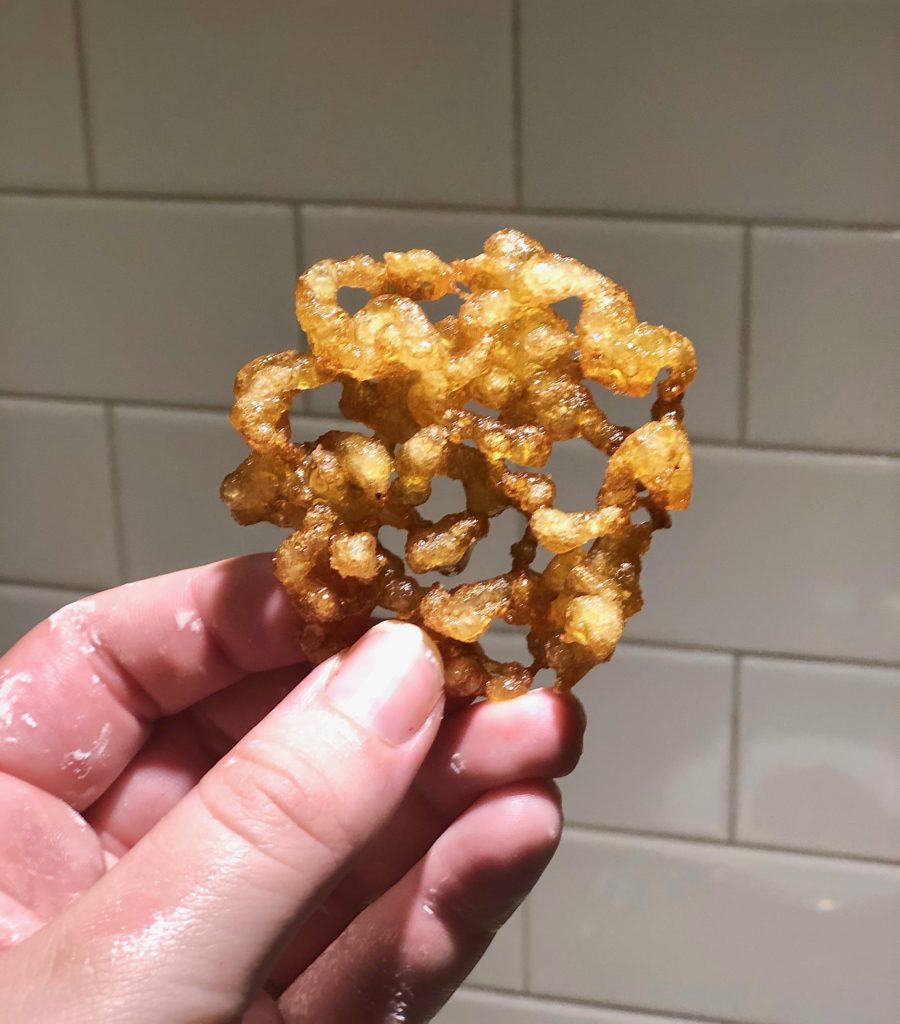 I have to say that this has been one of my favorite book and recipe pairings to date. It's always a little extra magical when you learn something completely new, and both this novel and this recipe allowed me to do that. Enjoy!
I hope you enjoyed Elizabeth's take on The Stationary Shop. I, for one, can't wait to read it — and these pastries look absolutely delicious! Make sure to stop by her blog, Dessert and a Novel, for even more book reviews and bookish recipes. Thank you so much for sharing with us, Elizabeth!
_______________
This post contains affiliate links. This does not increase the price you pay, but I may receive a small commission for any products you choose to buy. Purchases made through affiliate links help to cover my blogging costs. Thank you for helping to support The Hungry Bookworm! Full disclosure here.