How often do you give books a second chance? Until Fredrik Backman's Beartown, I would've said never. And, if I'm being honest, I'm not sure it's a practice I will repeat often, but I'm so glad I did decide to give this novel another try.
The first time I read Beartown (about 3 years ago) I was less than impressed. I went into it expecting "classic" Backman — the Backman of charming, somewhat whimsical stories/characters as in A Man Called Ove and My Grandmother Asked Me To Tell You She's Sorry, both books I absolutely loved — and what I got was not that. Beartown is a much darker narrative (though both of the above-mentioned books certainly have their dark spots), and I just wasn't ready for it. I wasn't expecting it, and so I was disappointed.
It came back into my life because it was selected for a recent book club meeting. Normally, I don't re-read books for book club; I might look up a synopsis or even an old blog post to remind myself of the key points and be able to participate in the discussion, but I don't re-read. And, that's even more true if I didn't like a book. But, something about this one was calling to me. After reading it herself, one of my best reading friends, my "reading twin," Deanna has always maintained that I should've liked this book. The themes are near and dear to my heart, and the writing is obviously amazing. I was just blindsided with misaligned expectations. So, I tried again.
With the right expectations, this book is 100% worth the attention it got when it first came out and continues to get to this day. It's a powerful story about hockey and, in that, it's about sports culture, what it means to be a community and groupthink. More than hockey, though, it centers around sexual assault in a nuanced, realistic and gut-wrenching way. While I didn't realize this before having my son, it is so much about what it means to be a parent. I was highlighting whole passages; I strongly related to Kira, a working mom and one of the key characters in the story.
My initial assessment that this wasn't classic Backman was wrong. The whole cast of characters is there, maybe a little less quirky and charming, but expertly fully developed. And, despite its dark tone, as with all the rest, his story is well-told and memorable. I honestly can't get it out of my head — unlike the first time I read it when it was obviously lost on me — and I'm looking forward to reading the sequel. This is all to say, if you read a book that had all the elements you should've loved, but it felt like the wrong book at the wrong time, go back and give another chance. You may find a story you really connect to.
The recipe, also, is a second chance for me. When I read this novel the first time, I still really wanted to review it, even though I thought it was just okay… mostly I wanted to complain about it. I decided to make bear claws. I bought all the ingredients. I started making the dough. Something went wrong and I got super frustrated and threw it away. I distinctly remember not wanting to try again and ultimately deciding I didn't want to write a complain-y post about an author I otherwise loved, so the whole idea was scrapped.
This time around bear claws still seemed like the best choice. (There isn't much food mentioned in the novel, with the exception of horrible coffee.) They are a recognizable pastry, and they go nicely with the book's title. I remembered the recipe being "fussy." And, that's still definitely true. But I had a renewed spirit and I really wanted to talk about the book, so I decided I would just have to make it work.
Now, this recipe took me all weekend — the dough and filling both need to be made and chilled for 24 hours before putting the pastry together. It's not exactly difficult, but it's just very precise, and obviously a lot of time is required. If you want a quick pastry, I suggest going to the local bakery instead. But, if you're looking for a recipe that feels like a real sense of accomplishment PLUS it's delicious, this is a good one to make.
I got the recipe from Lovely Little Kitchen, and I do recommend checking out her page because she provides excellent step by step directions and photos to help clarify things. I will, of course, be doing some of that too, but she's the expert in bear claws.
On day one, I made the dough and the filling. Making both of these was actually quite easy. (It's the assembly that gets trickier.)
To make the dough, I melted some butter and let it cool. Meanwhile, I dissolved some yeast in warm water. To the yeast-water, I added sugar, egg yolks, evaporated milk, salt and, last, the cooled butter.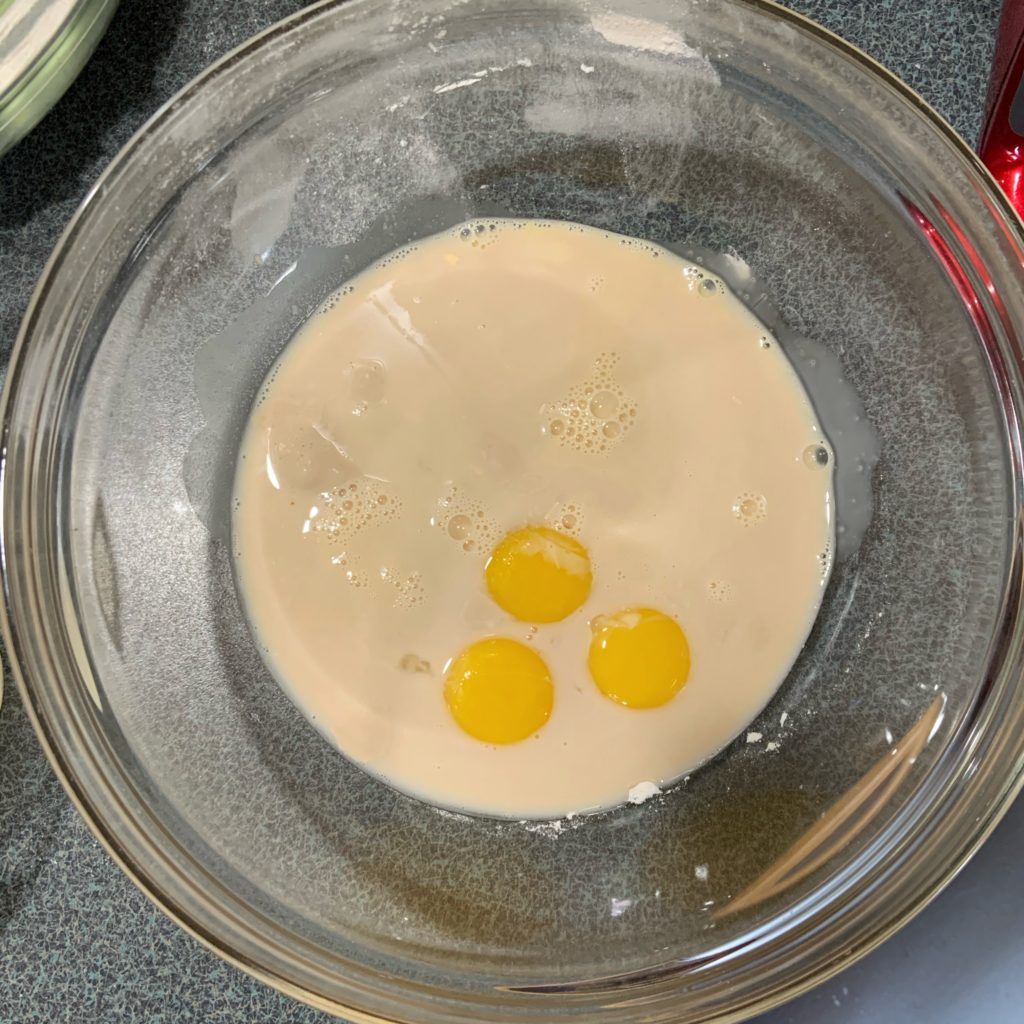 I stirred in some flour and had my dough. I covered it with plastic wrap and set it in the fridge for 24 hours. (Actually, in my case, I only chilled it for about 16 hours… I had a babysitter around for the afternoon and really wanted to use the opportunity to make these uninterrupted. So, if you don't have exactly 24 hours, don't worry. Less seemed to work just fine for me.)
To make the filling, I combined butter and powdered sugar, then more flour and almond paste. Last time I made the almond paste from scratch, which you can totally do. But this time, I discovered that you can just buy it at the grocery store, so I did that. It comes in a big hunk in a box in the baking aisle (near the Jell-O, in my case).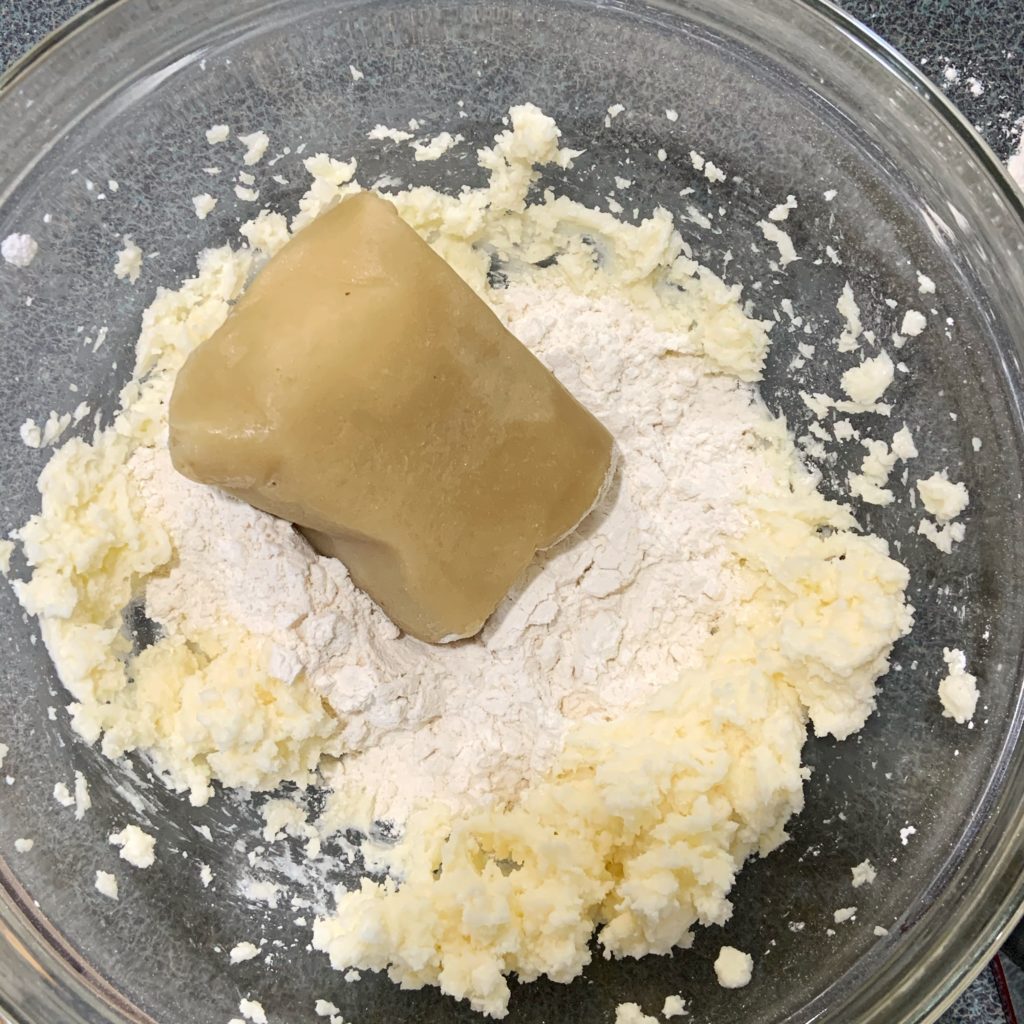 I mixed that all together, added 2 egg whites and then stirred in chopped almonds. This also was covered in plastic wrap and put in the fridge to chill.
On day two, I put it all together. The recipe says to get out the filling about an hour before using it so it's easier to work with. I got it out as I was beginning to work the dough and it was perfect I'd say. It only ended up being about 30 minutes until I used it, but it gets pliable pretty quickly when you're molding it in your hands, and honestly, I think if it was out any longer it would've been a real mess.
Anyway, first I rolled out the dough. The recipe recommends a large rectangle, 13.5" x 27". This did not work for me. I'm not great with dough, specifically rolling it out with precision. I ended up dividing it into 6 and doing 6 smaller rectangles — 13.5" x approximately 4.5" which is the width you ultimately want to get to. This worked best for me, and in the end, was way less stressful.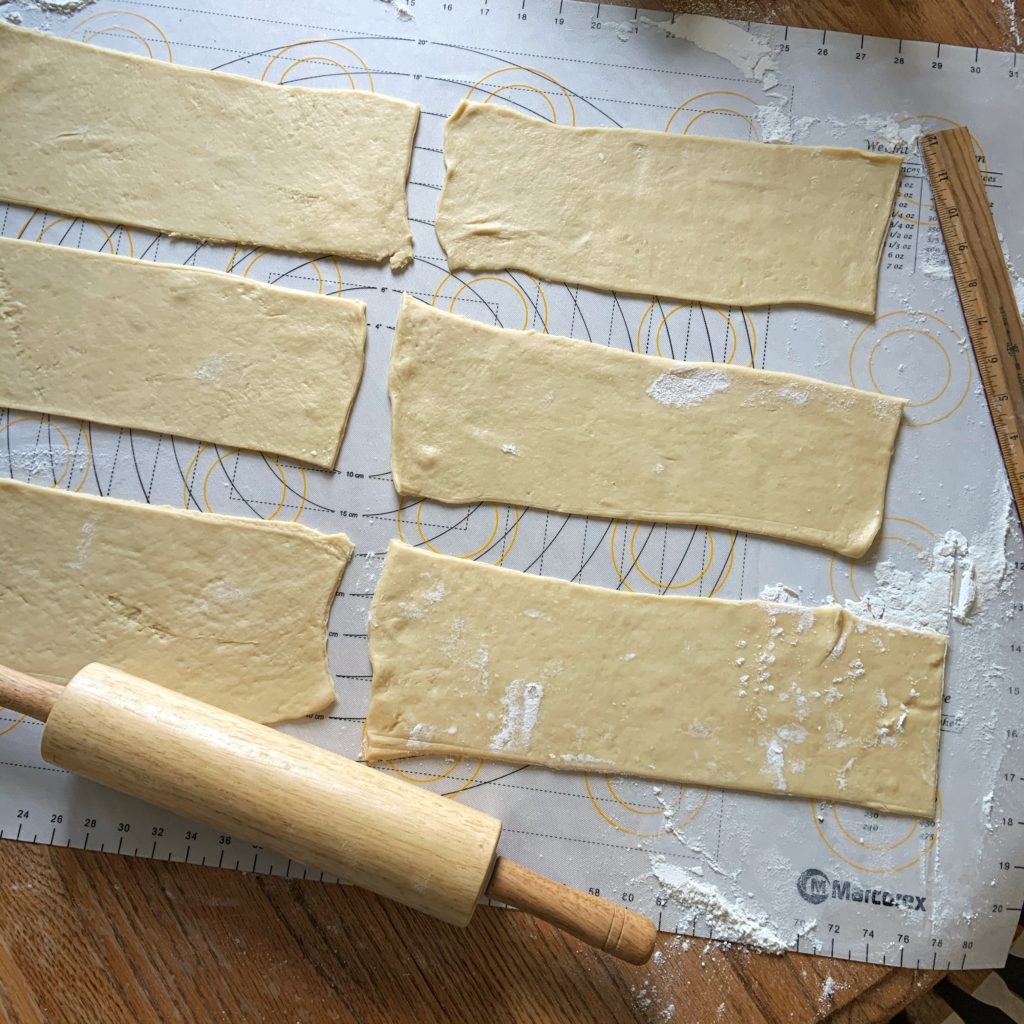 Then, I divided the filling into 6 approximately equal chunks (instead of 3) and rolled those into long tubes and placed them in the center of the dough rectangles. I flattened them slightly, per directions.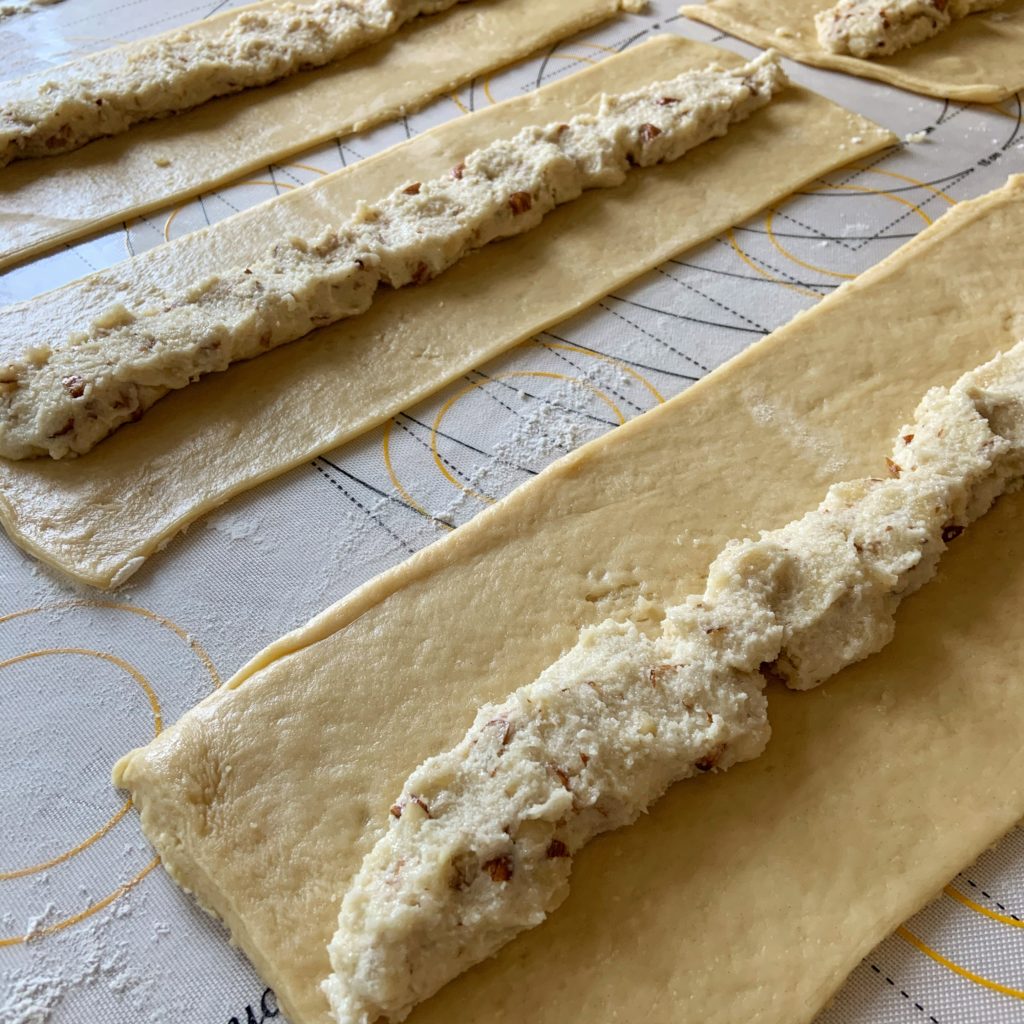 Then, I folded the dough over on itself, encasing the filling and creating 6 long tubes.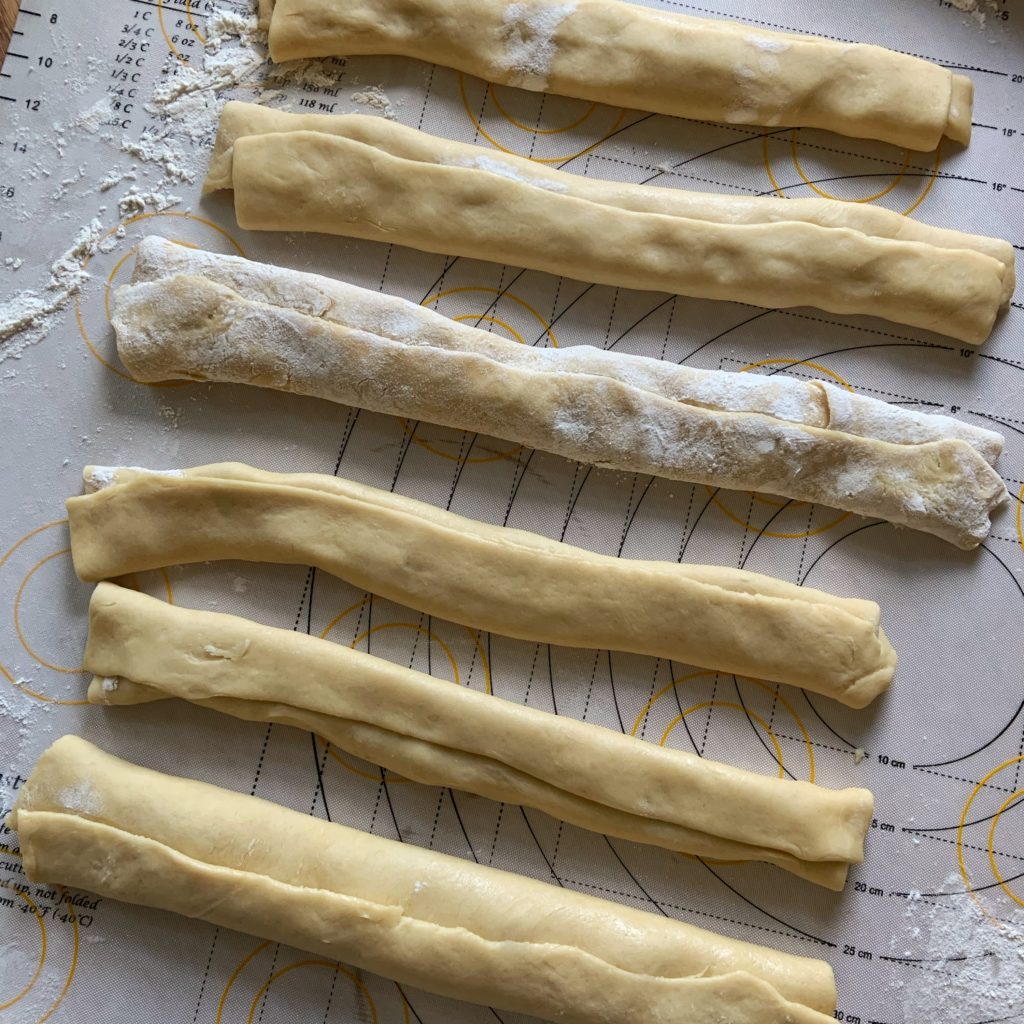 I cut each tube into 3 pieces (4.5").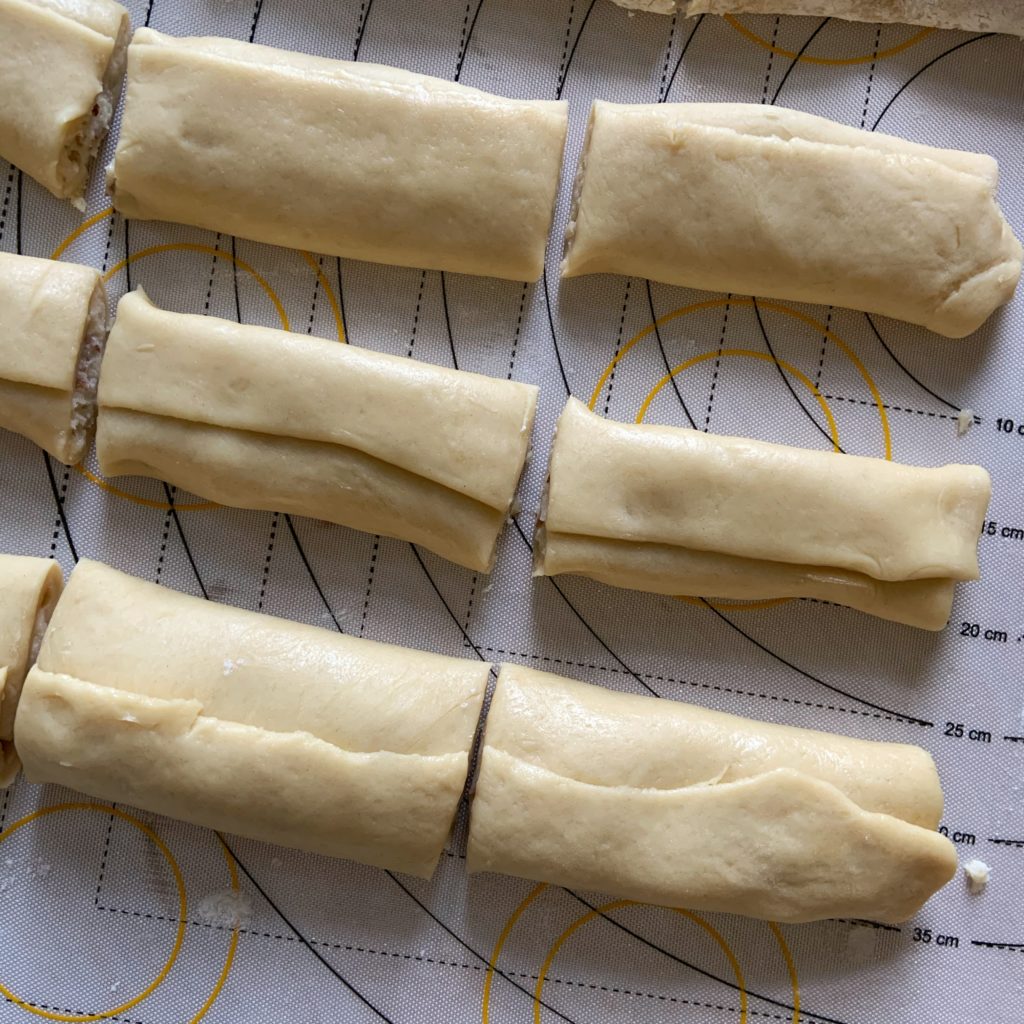 I put them on a baking sheet and then made the finger/claw part. Using a paring knife, which I floured initially but then didn't keep up with — it still worked fine — I cut little segments about halfway in. The recipe didn't specify how many to cut, so I just tried my best to make them even. Then I fanned them out and curved each pastry slightly.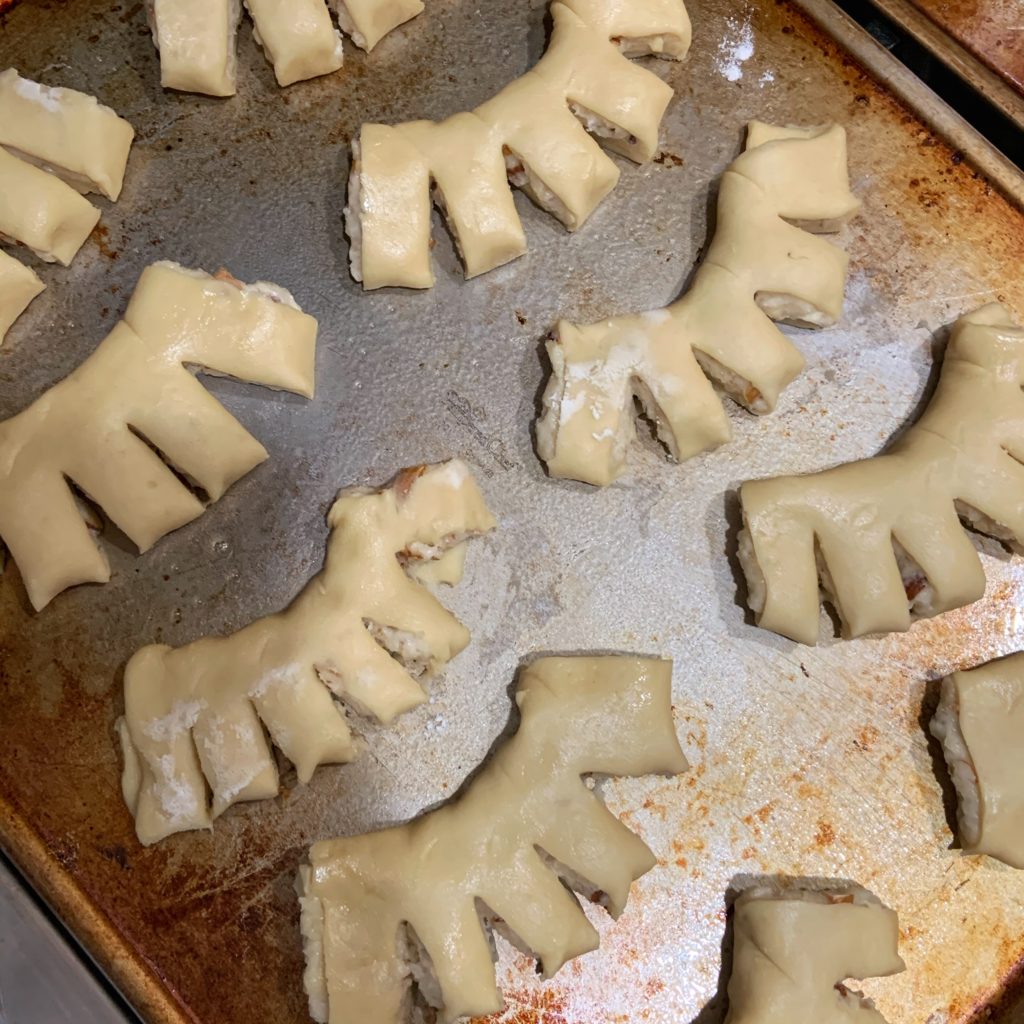 Finally, I brushed them with the last egg white (save it from the day before when you're separating your eggs) and added a little sliced almond to each segment to create the actual "claws."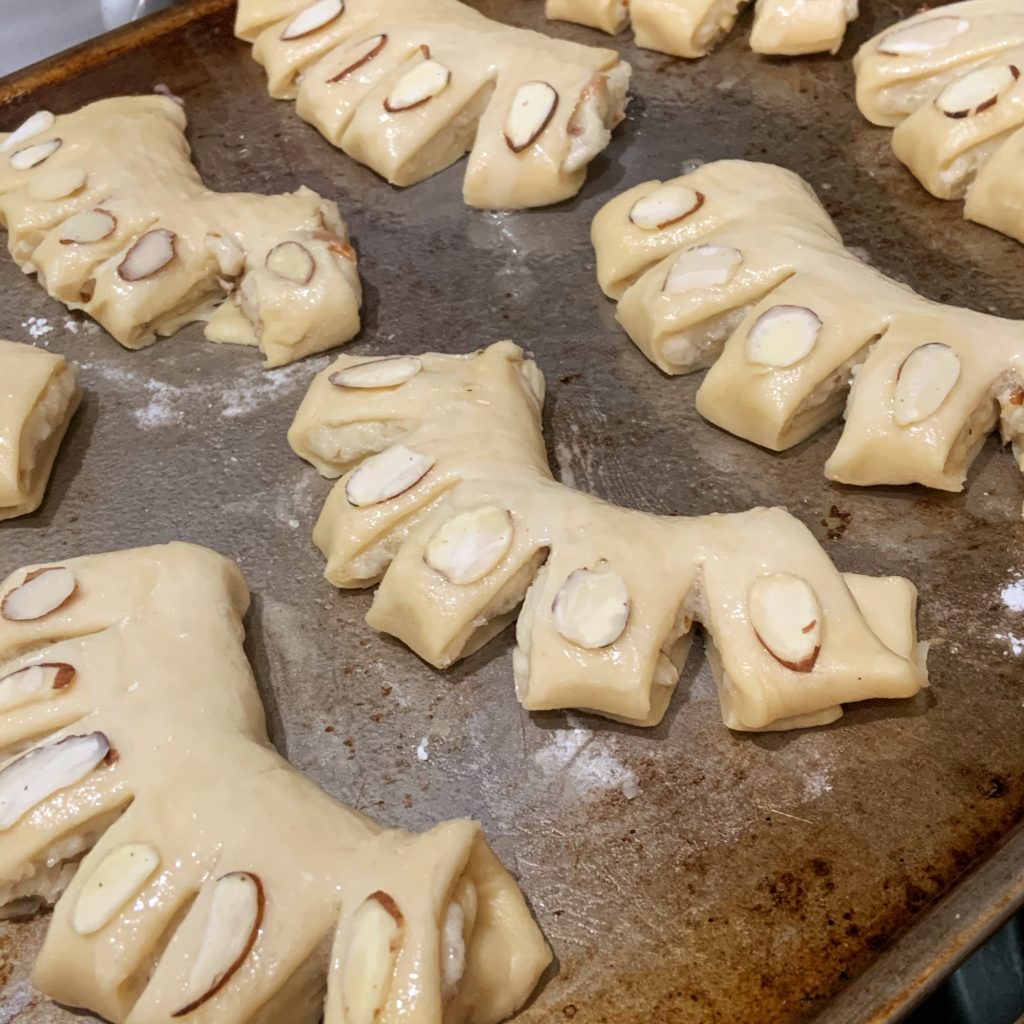 I let them rise for 20 minutes and then baked for about 15 minutes until a light golden brown.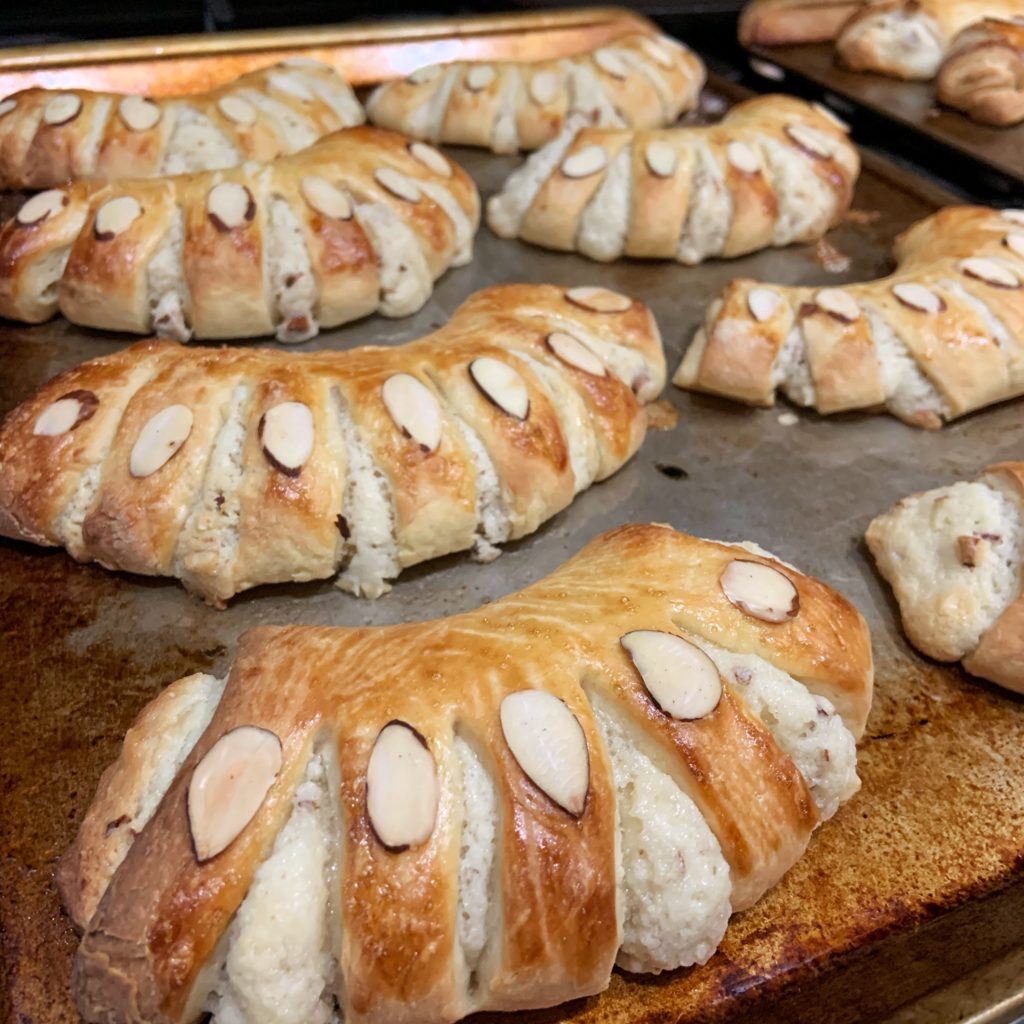 I let them cool — though not too much; apparently they are best warm or slightly warmed.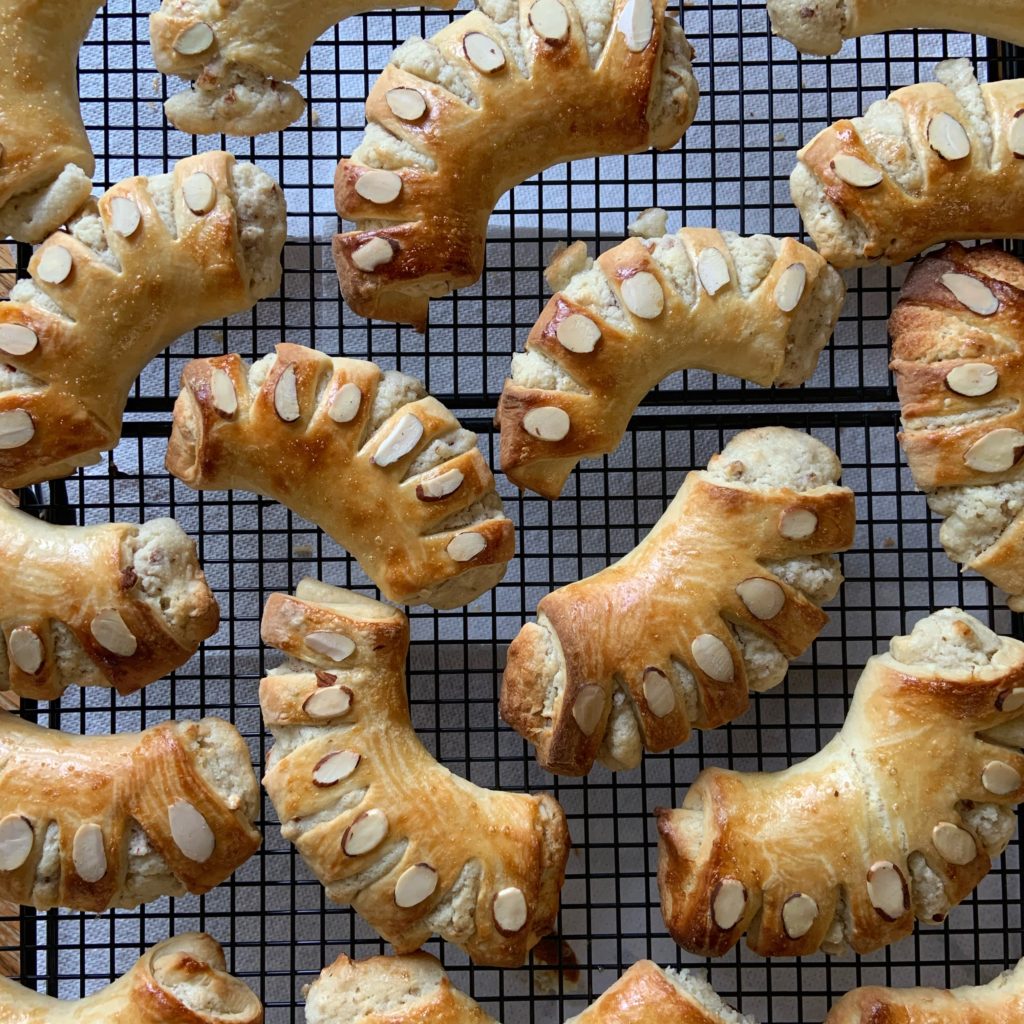 On that note, since I made 24 of these and we definitely didn't need to eat 24 of them, I took the original blogger's suggestion and put them in the freezer. They reheat really nicely and make a nice little treat to go with morning tea or coffee (hopefully better coffee than they have in Beartown).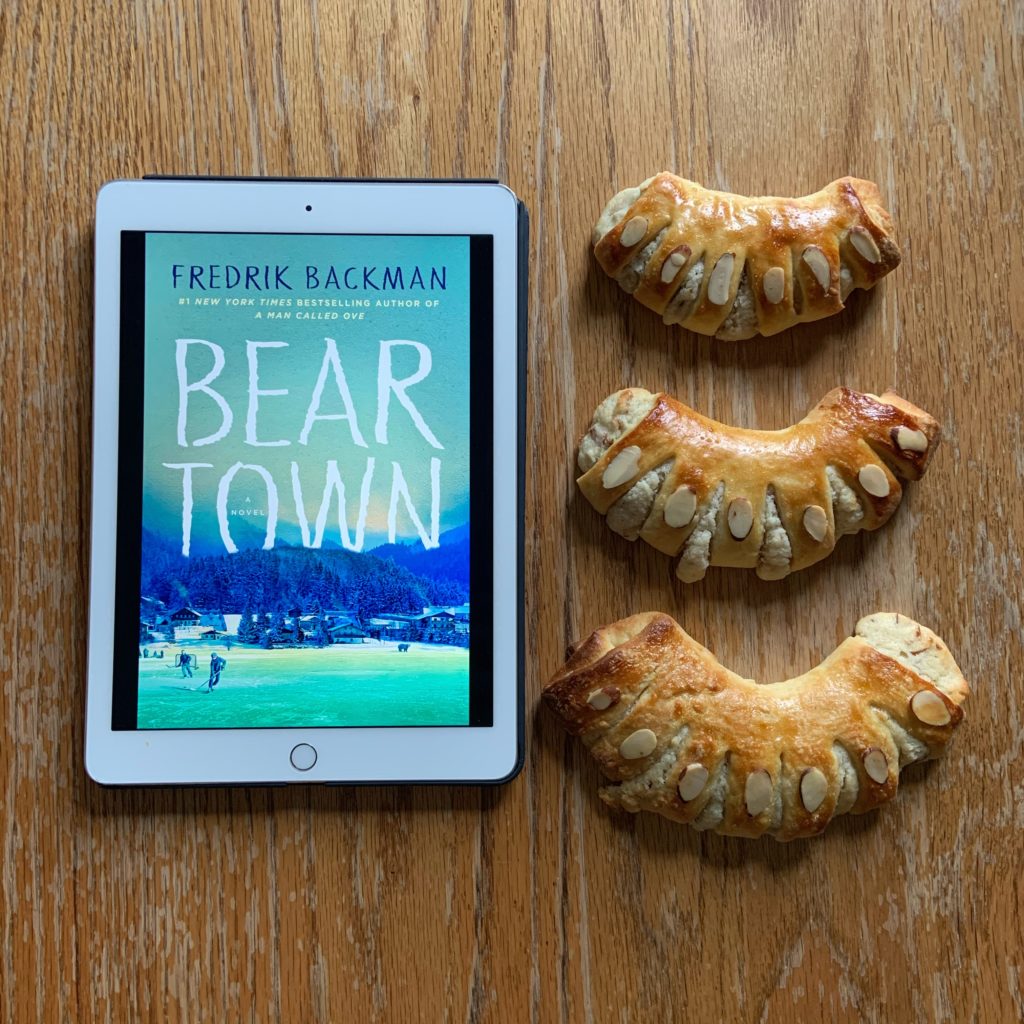 Whereas 3 years ago, I would not have recommended this book or making this pastry at home, I have come around to both. I ended up giving this book 4.5 stars — I had one little issue with it that kept me from a 5 — and had an amazing book club discussion and honestly would recommend it to anyone. This recipe may have been a little bit "fussy" as I said, but it was a nice way to get lost on an afternoon and the end product made me so proud of myself. As much as I love baking, I'm not always great at the presentation and these pastries just lend themselves to beautiful picture taking. It's a food that actually looks as good as it tastes — and I made it!
Bear Claws
Ingredients
FOR THE DOUGH
1

cup

butter

1

packet

1/4 ounce active dry yeast

1/4

cup

warm water

1/4

cup

granulated sugar

3

egg yolks

1/2

teaspoon

salt

5

oz

evaporated milk

3 1/3

cup

all-purpose flour

almond filling

recipe to follow

1/4

cup

sliced almonds to sprinkle on top

1

egg white

(for brushing at bake)
FOR THE FILLING
1/2

cup

butter

room temperature

1 1/3

cup

powdered sugar

2/3

cups

all-purpose flour

8

ounces

almond paste

2

reserved egg whites

3/4

cup

finely chopped almonds
Instructions
FOR THE DOUGH
Melt butter and then let cool to room temp. Dissolve the yeast in water, then stir in the 1/4 cup sugar, the egg yolks (save the whites for the filling), salt, evaporated milk, and cooled butter. Stir into the flour and mix well. Cover and chill at least 24 hours. Meanwhile, you can make the almond filling, and then when you are ready to make the bear claws, let the filling sit out at room temp for 1 hour to make it easier to spread.
FOR THE FILLING
Smoothly blend together butter with powdered sugar. Add all-purpose flour and almond paste. Stir until crumbly and evenly mixed, then beat in two of the reserved egg whites. Stir in finely chopped almonds. Cover and chill until firm (24 hours).
TO ASSEMBLE
To form bear claws, roll dough out on a well-floured surface (use about 1/2 cup flour) to a 13 1/2 ×27 inch rectangle. Straighten the edges with a ruler or yardstick as you roll.

Cut the rectangle lengthwise into 3 strips (4 1/2 inch wide).

Divide the almond paste into three portions and roll each into a 27 inch rope on a floured board. Lay one filling rope in the center of each strip of dough and flatten slightly.

Fold long sides of each strip over filling, overlapping slightly.

Cut each filled strip into six (4 1/2 inch long) segments. Arrange on a greased baking sheet.

With a sharp floured knife, make a row of cuts halfway across each segment and about 1/2 inch apart. Curve each bear claw so it fans out.

Lightly beat the remaining egg white and brush over bear claws, then top with sliced almonds. Let rise on countertop for 20 minutes, then bake at 375 for 13-15 minutes or until lightly golden brown. Transfer to a wire rack to cool.
---
This post contains affiliate links. This does not increase the price you pay, but I may receive a small commission for any products you choose to buy. Purchases made through affiliate links help to cover my blogging costs. Thank you for helping to support The Hungry Bookworm! Full disclosure here.