Jump to Recipe
---
As I have said time and time again, I really love Fredrik Backman's storytelling. In the case of Anxious People, his latest novel, not that much happens but you get so caught up in the story that you fall in love with it anyway. Anxious People takes place during a hostage situation in Sweden, and though we have a few flashbacks and several interrogation scenes at the police station afterward, the majority of it takes place in a single apartment.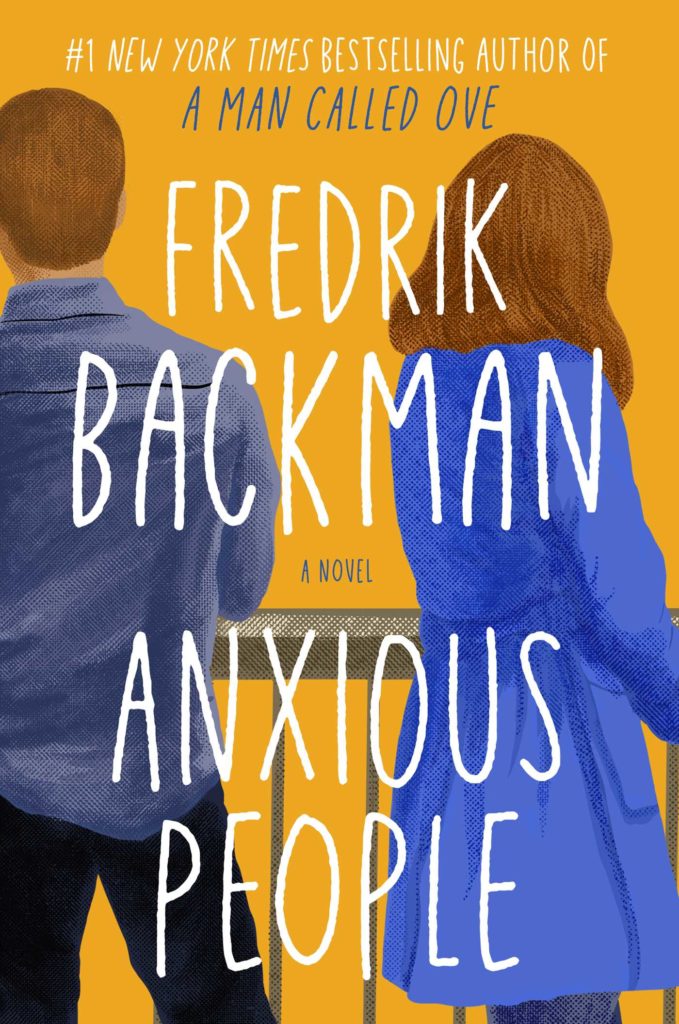 It is not dissimilar to Bel Canto, which also takes place during a hostage situation (this one in a large mansion in South America) and which I also loved. The key here is that Backman really builds the characters — and they're mesmerizing. With some, you meet them thinking one thing and leave them realizing you were completely wrong; with others, your initial judgements were apt from the start.
I won't say who's who, and I won't go into more detail. There's a bank robber, who ends up taking a group of hostages at an apartment showing. And that's what you need to know going in.
This is definitely going to be a favorite of mine. It's already crossed my mind several times since finishing it; the characters continue to stick with me. And I'd love to re-read it with some of the knowledge I have now about the characters — see if it changes my experience.
The perfect food pairing for this book is pizza, and more specifically pizza capricciosa. Hostage takers make demands and hostages get hungry, and so pizza arrives on the scene. Pizza capricciosa is the pizza of choice here. I had to look it up. I found that this style of pizza typically includes ham, mushrooms, and artichokes as well as a tomato sauce (or tomatoes) and mozzarella cheese. Sometimes it may also (or instead) include olives, prosciutto and egg.
I was excited to make pizza because I have recently begun nurturing a sourdough starter, and I wanted to make something with it besides bread. So, I used it to make the pizza crust.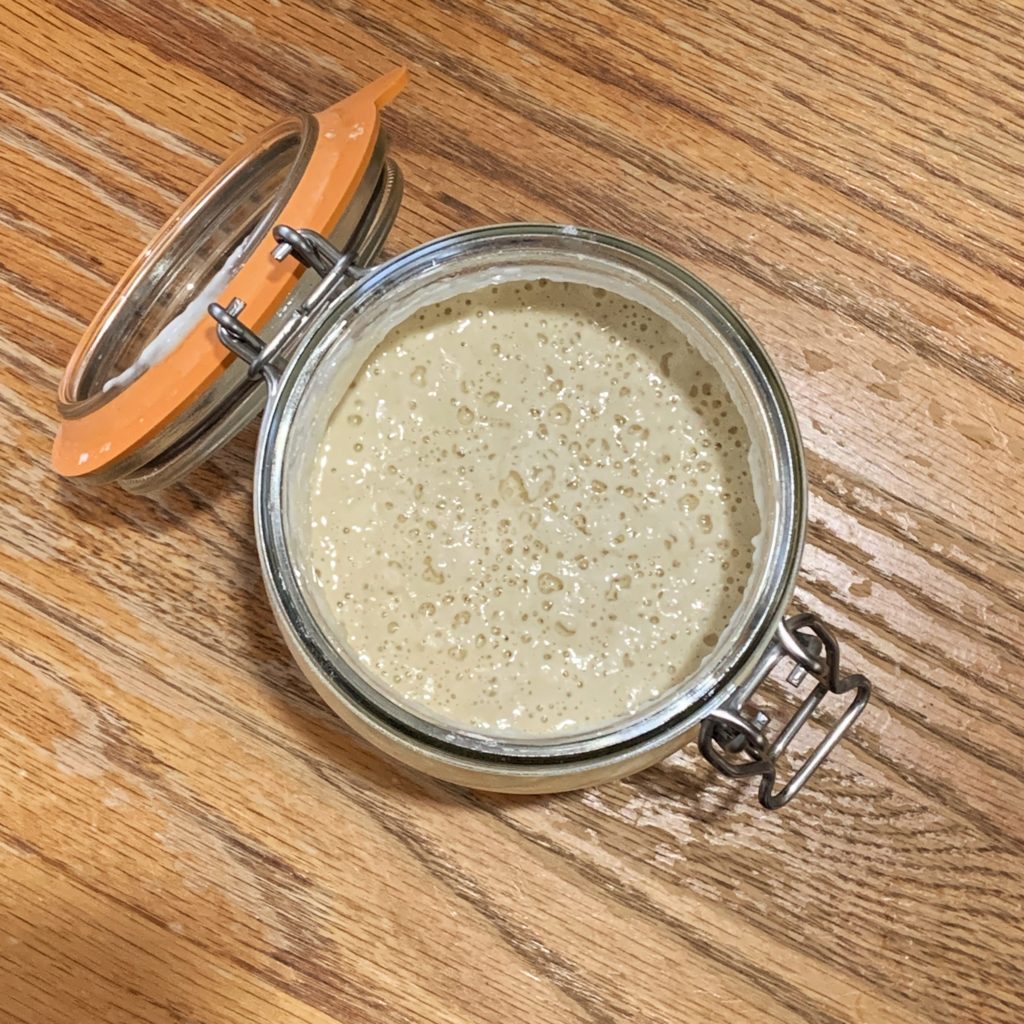 I used a sourdough crust recipe from Baking Sense, which is nice because she also lays out a little timeline for making the dough. But I used some of the tips and techniques from Alexandra Cooks because she seems to really know her stuff when it comes to baking pizza at home. (It was also because of her that I did a LOT of research on baking steels versus baking stones versus just using a pan, and ultimately ended up purchasing a Cast Iron Pizza Pan to use for this recipe.)
I started making my dough the night before. This is because we were eating it for lunch, and it does take quite some time. If you're making pizza for dinner, it's possible that you can do it all in the same day. First, I combined the starter with water and flour in my standing mixer with a paddle attachment. Once the flour was combined, I set the bowl aside and allowed it to rest covered for 30 minutes.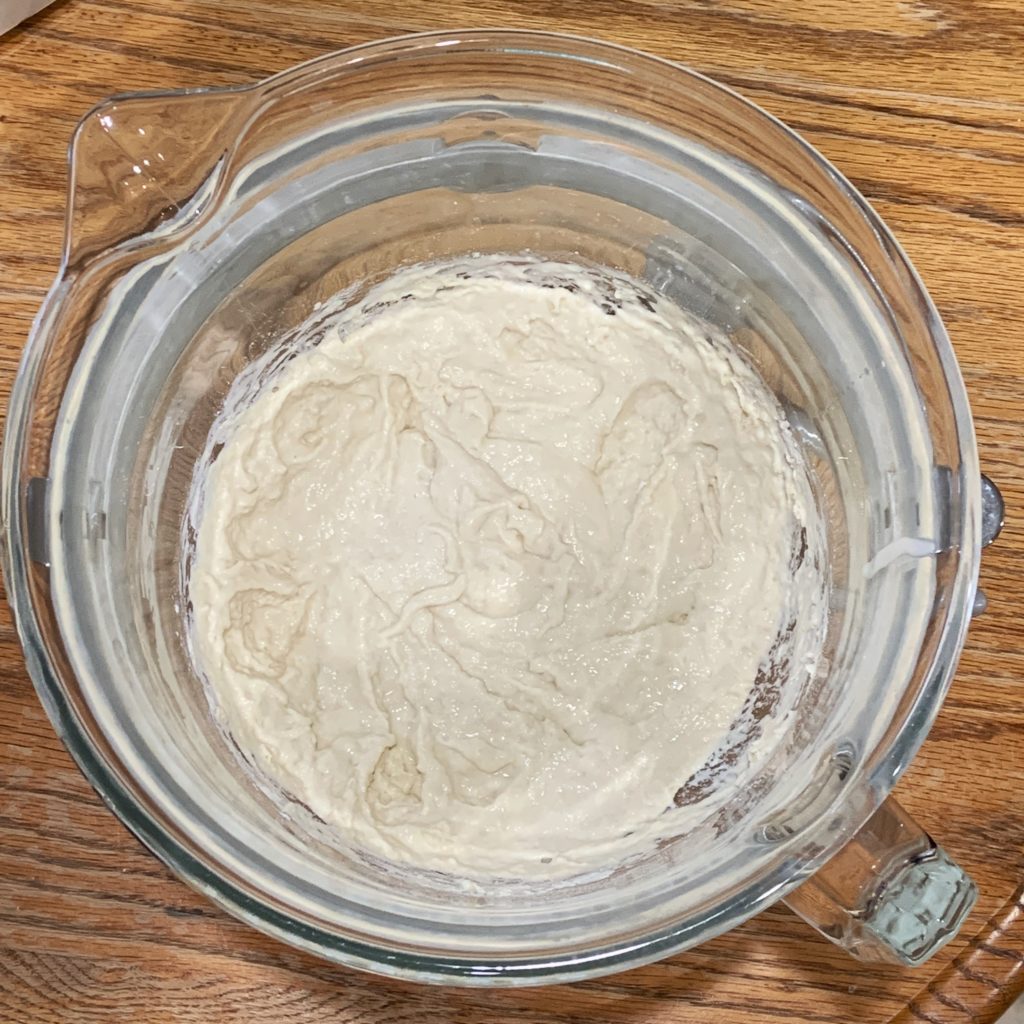 Then I switched to the dough hook and added in olive oil, salt and the rest of the flour. I let it knead for about 5 minutes before pouring it out onto a floured surface and doing my best to knead it into a smooth ball. It went into an oiled bowl, covered, and rested for another 30 minutes.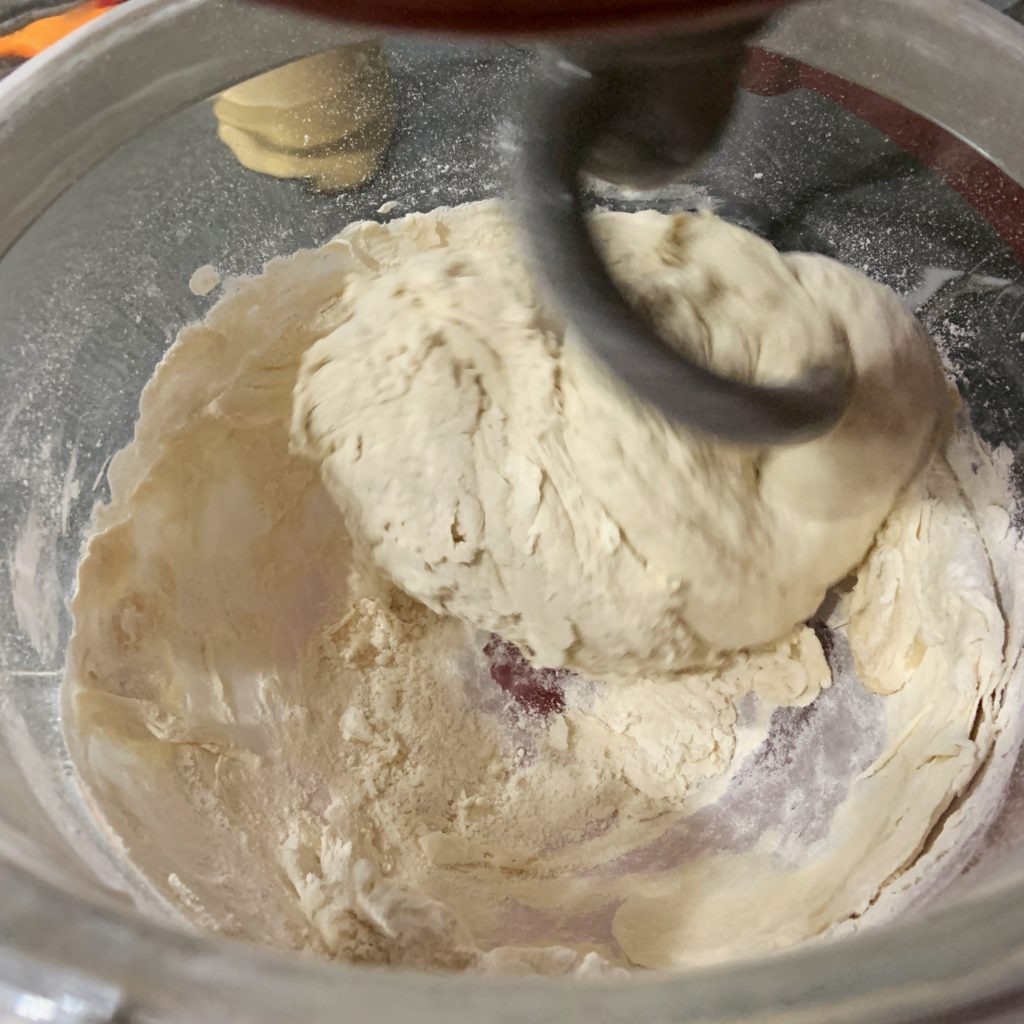 Next was the fold and flip stage, in which I folded one side of the dough over the rest and did that four times around the dough. The bowl was again covered and allowed to sit for 30 minutes. I folded and flipped again, covered the bowl, and let it sit for an hour. I folded and flipped one more time, covered and let it sit for another hour. At this point I put it in the fridge for the next day's pizza making.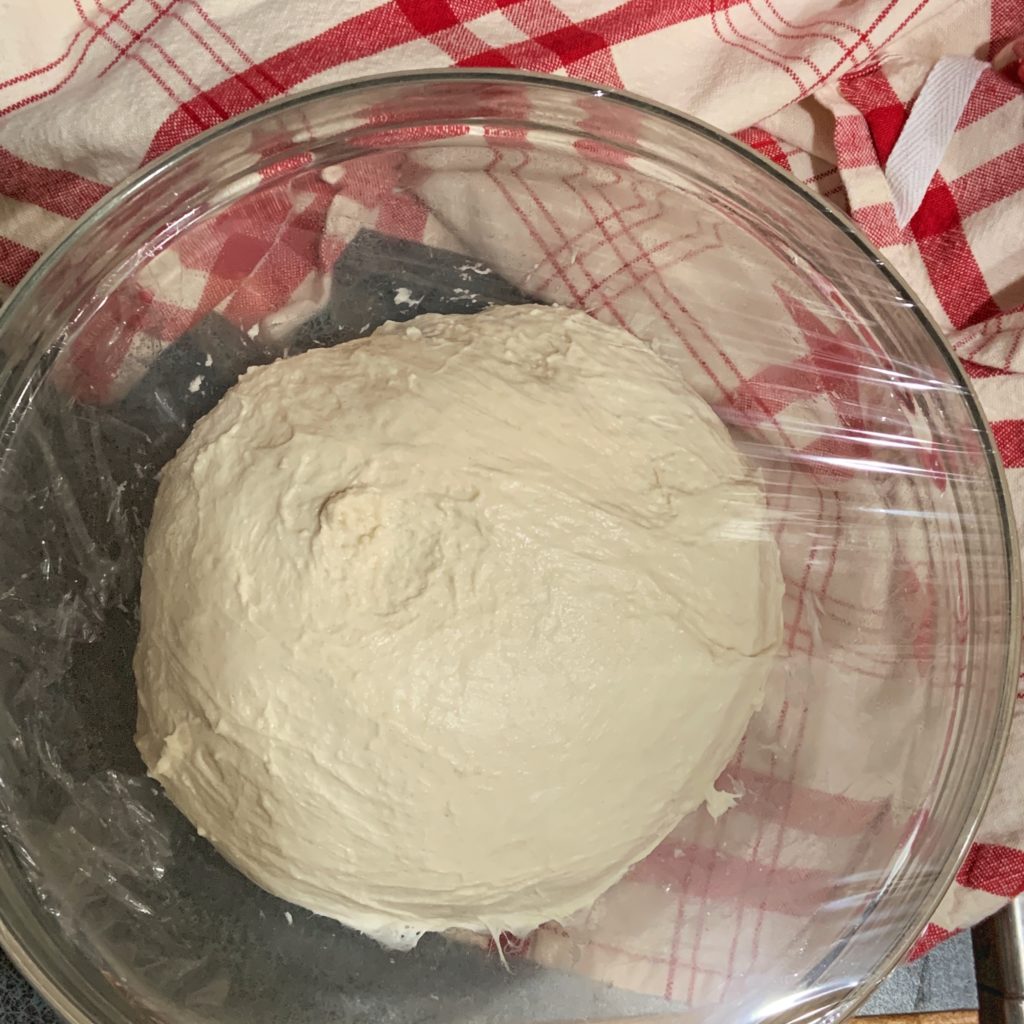 To make the pizzas, I poured the dough out the next day and cut it into two equal pieces.
I cupped the dough, turning it gently in a circular motion until each piece was formed into a ball and then let them rest covered for 20 minutes.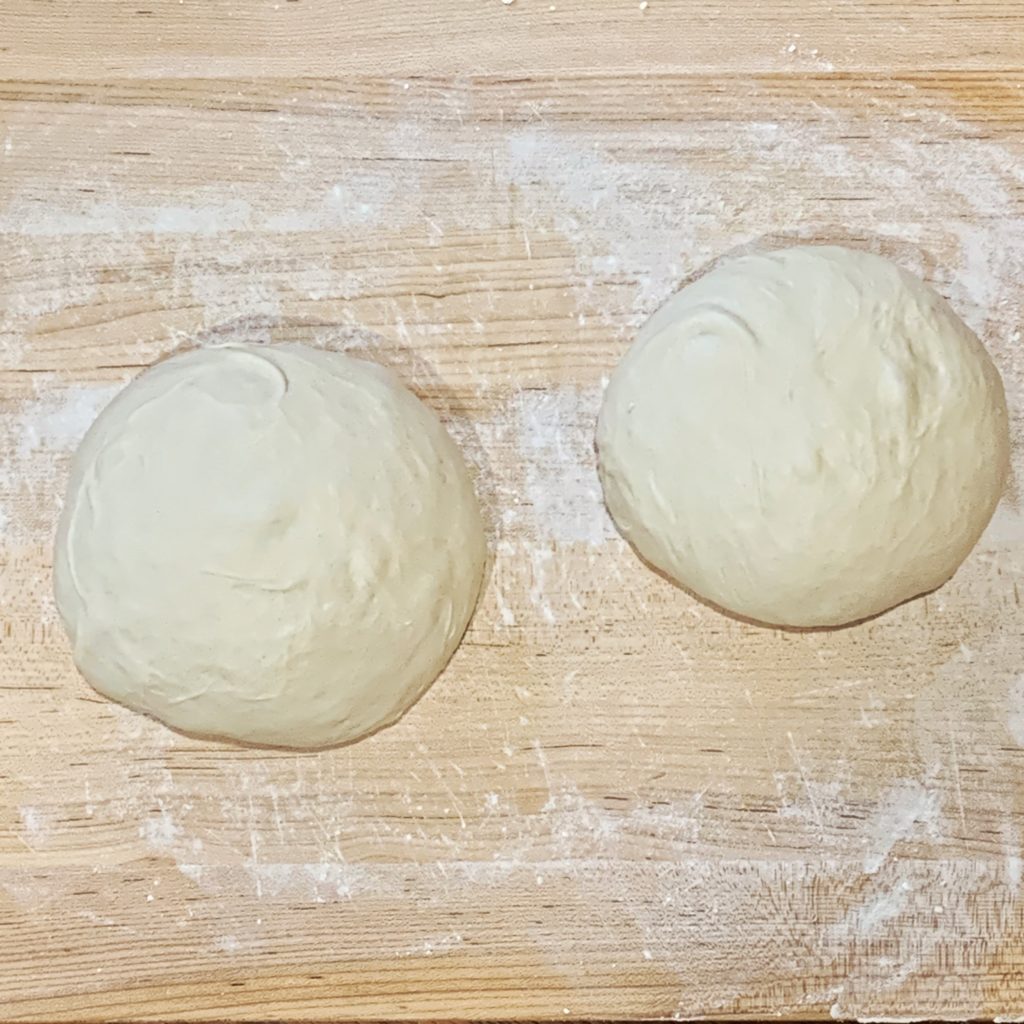 Inspired by the pizza-making in the Queer Eye episode I had watched the night before, I used the fist method to form the dough into a pizza-ready "circle." I put the dough onto parchment paper, which we used to bake the pizzas directly on top of the preheated pan. (Scott and I made them together for a fancy lunch date.)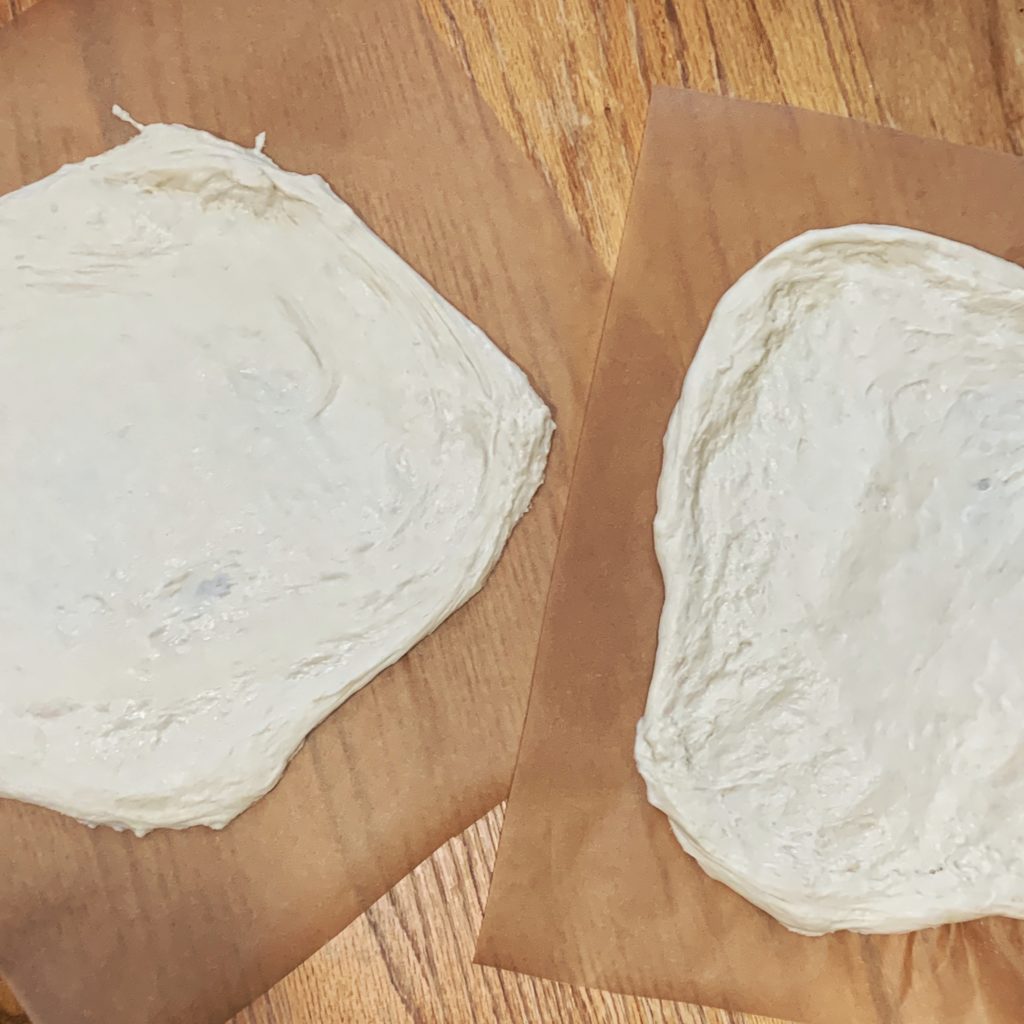 We topped the pizzas with a simple tomato sauce (stewed tomatoes in a blender and some Italian spices), shredded mozzarella and then fresh mozzarella rounds. For our traditional capricciosa toppings, we used prosciutto, salami, sliced mushrooms (which I sauteed on the stove to remove excess moisture beforehand) and black olives. I had artichokes ready to go and then completely forgot to put them on the pizzas until we were halfway through our meal (oops).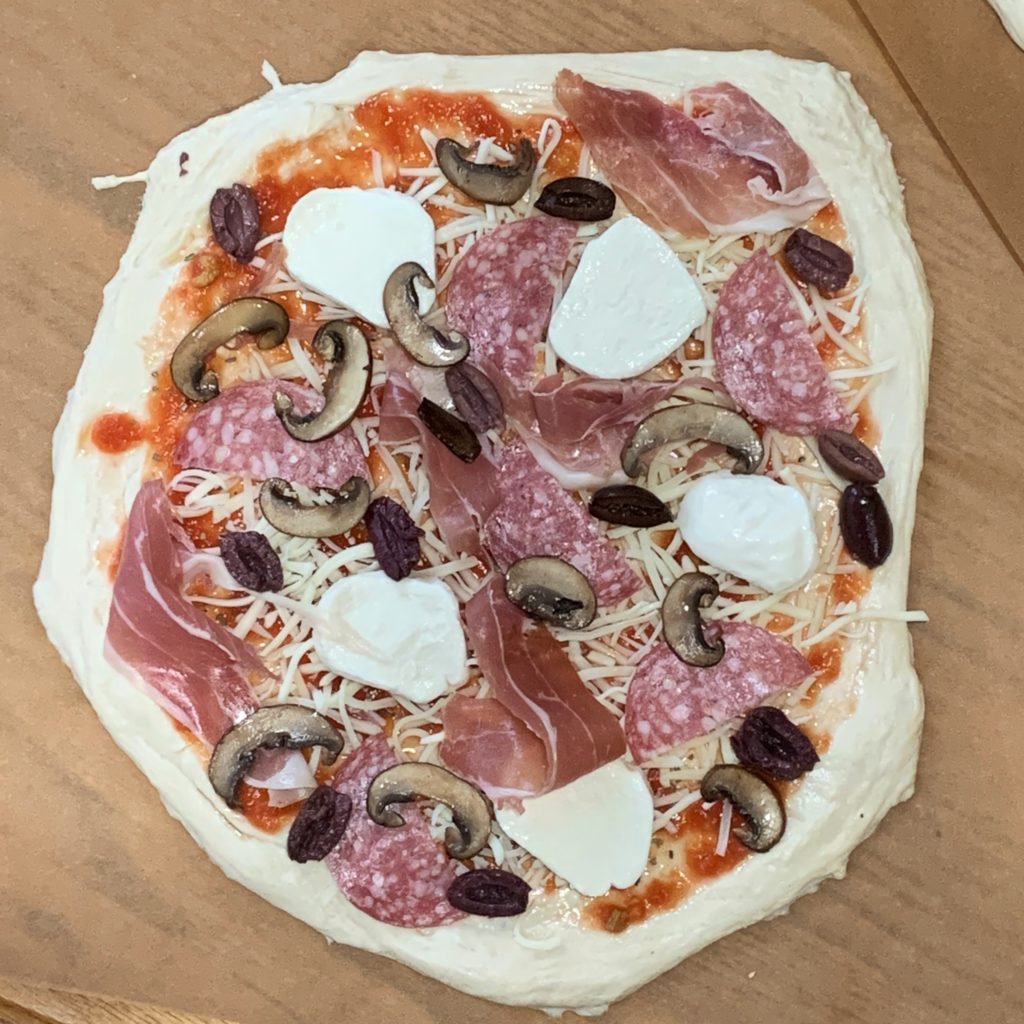 Even without the artichokes, the pizza was delicious. (Though I definitely want to try it the right way sometime soon.) The crust was crispy on the bottom and edges with the perfect amount of chew.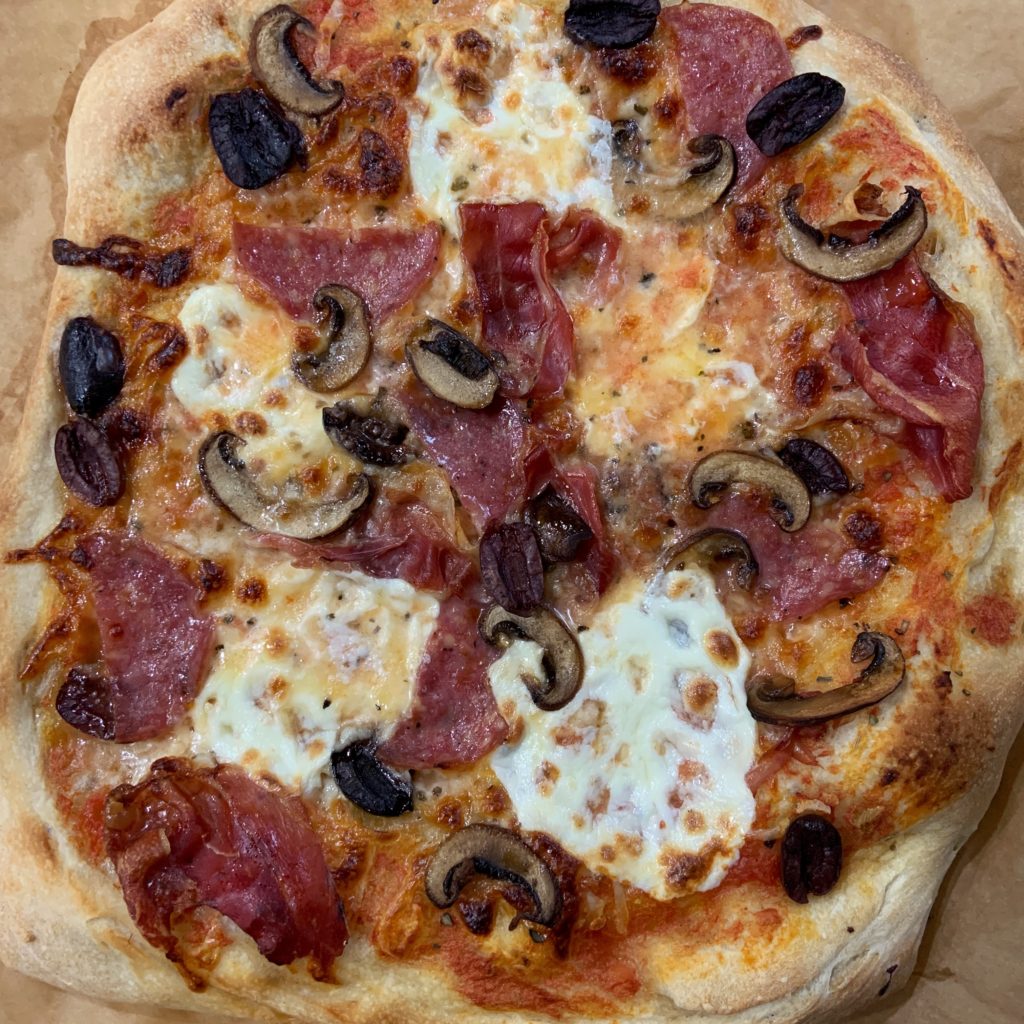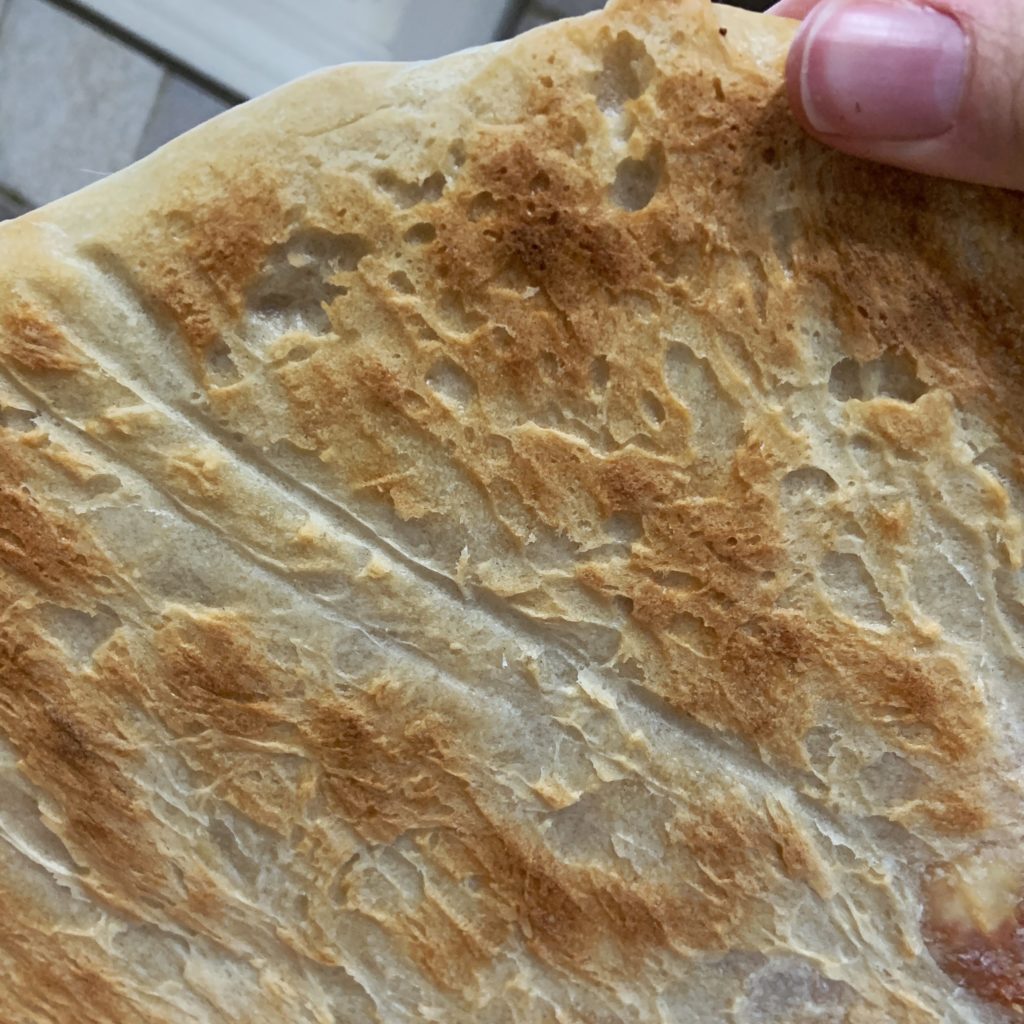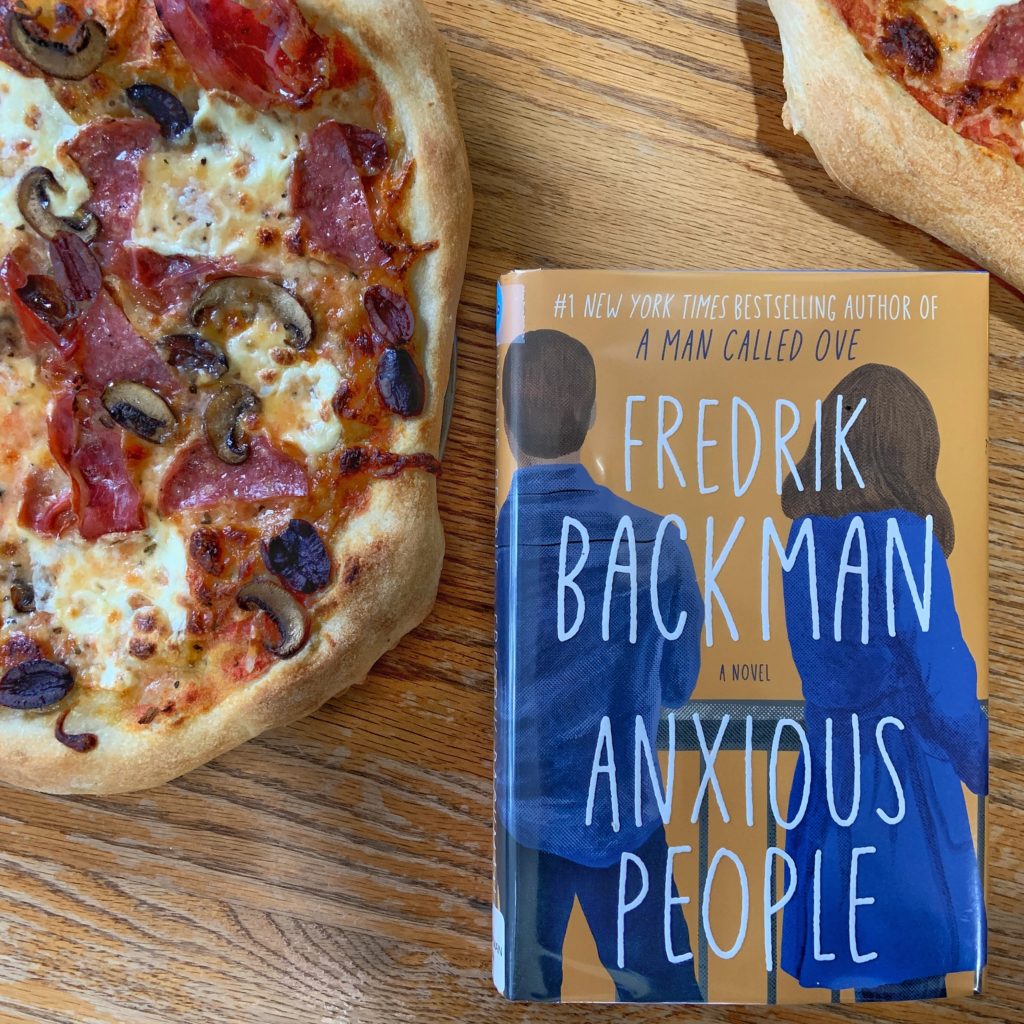 Pizza Capricciosa with Homemade Sourdough Crust
Ingredients
For the dough
1

cup

8 oz, 224g active sourdough starter (100% hydration)

1

cup

8 oz, 240ml warm water

3

cups

15oz, 420g bread flour

1 1/2

teaspoons

table salt

2

tablespoons

olive oil
Pizza toppings
Tomato sauce

Shredded mozzarella

Fresh mozzarella

Artichoke hearts

Prosciutto

(1-2 slices, ripped into pieces, per pizza)

Genoa Salami

(a few rounds, halved, per pizza)

Kalamata Olives

halved

Mushrooms

sliced and sauteed (3-4 per pizza, or to taste)
Instructions
To make the dough
Combine the starter, water and 2 cups of the flour. Mix on low speed with the paddle until the flour is incorporated. Cover the bowl and set aside for 30 -60 minutes.

If using a stand mixer, change to the dough hook. With the mixer running on low, add the salt, olive oil and the remaining the flour. Mix on medium speed until the dough begins to clear the sides of the bowl and gathers on the hook. Increase the speed to medium-high and knead for 5 minutes. If mixing by hand add as much of the flour as you can using a spoon or spatula, then turn the dough out onto a floured surface to finish kneading in the rest of the flour.

Dump the dough onto a floured surface and knead into a smooth ball. Place the dough into a lightly oiled bowl and turn it over to coat the surface. Cover the bowl and set aside at room temperature.

After 30 minutes uncover the bowl, lift one side of the dough and fold it into the middle of the dough. Repeat with the other three sides of the dough then flip the dough over. You're basically turning the dough inside-out to redistribute the yeast and stretch the gluten. Cover the bowl and after 30 minutes repeat the procedure. Cover the bowl and after 60 minutes repeat the procedure again.

Cover the bowl and set aside for another 60 minutes. By the end of 3 hours the dough should be lively, elastic and airy. If the dough is still sluggish give it another hour at room temperature. At this point you can refrigerate the dough for up to 2 days or you can go ahead and make the pizzas.

At this stage, preheat oven with pizza steel, cast iron pan or stone inside to 500 degrees F.

Dump the dough onto a floured surface, do not knead. Using a bench scraper or sharp knife, cut the dough into 2 equal pieces. Form each piece into a tight ball by cupping the dough in the palms your hands and moving the dough in a circular motion. This is a soft dough so this step will help make forming and moving the pizza easier. Cover the dough and allow it to rest for 20 minutes. If the ball flattens right away and the dough still seems very soft, form the ball again and give it another 20 minutes.

Using the tips of your fingers, gently flatten and press the dough into a disc. Use your fingers to stretch the dough into a 12-14" round. You can also try to drape the dough over your two fists and pull from the edges to slowly enlarge it to a 12" round. Avoid using a rolling pin because you don't want to deflate all the air bubbles in the dough. Place formed dough onto a piece of parchment paper.
To make the pizza
Add tomato sauce to pizza and top with shredded mozzarella followed by fresh mozzarella. Distribute the rest of the toppings.

Carefully place pizza, on parchment paper, onto preheated baking steel/pan/stone. Use a paddle or similar surface if you have one to make it easier.

Bake for about 15 minutes, watching until crust is nicely browned and cheese is melted. Rotate, if desired, about halfway through baking.

Remove pizza from oven and place onto cutting board. Allow to cool briefly, slice and serve.
Do you have a favorite character-driven novel?
Have you made your own pizza at home? What are some of your favorite toppings?
---
This post contains affiliate links. This does not increase the price you pay, but I may receive a small commission for any products you choose to buy. Purchases made through affiliate links help to cover my blogging costs. Thank you for helping to support The Hungry Bookworm! Full disclosure here.