I read somewhere once that Bel Canto is the book you should start with if you want to give Ann Patchett a try. As a result, it's been on my TBR and my bookshelf for a while now. You may recall that I actually read her newest novel Commonwealth first, but this is the novel that caused me to truly fall in love with Ann Patchett's writing and storytelling.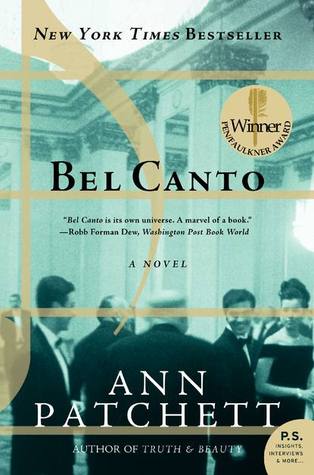 At first glance, this wouldn't seem like a novel I would enjoy. Not much happens by way of plot - in the beginning, a group of rebels interrupt a birthday celebration in order to capture the unknown South American country's president and take on a whole mansion-full of hostages. That is sort of where the plot gets stuck, until the very end. The real story is in the growth of the characters - all of them so rich and well-developed. The setting, too, is unique, and it's one that really lets the characters come to life, almost unexpectedly.
All I can say is that I was completely taken in by this novel and transported to this almost-commune that was formed by the hostages and their captors. I loved watching each of them come into their own, become brave, and follow their passions. In the end, I cared deeply about them. Even though I didn't really like the epilogue and most of my book club didn't either, I still walked away looking forward to diving into some more of Patchett's work. For those of you who've read her, what do you recommend?
Determining which recipe to make for this book, which takes place in an unknown country, was interesting. The preparation of the meals, by the hostages themselves, reminded me a bit of summer camp - the quantities were large and their creativity was limited by their lack of tools and ingredients. The only food that really stuck out to me was a non-specific cake that was brought in by the hostage negotiator to feed them all. It was accompanied by a sandwich, but I couldn't stop thinking about the cake.
After doing some research, I learned that dulce de leche is popular throughout South America - and given that this book takes place no specific country, I wanted something that was wide-reaching. While South Americans eat dulce de leche with everything, I couldn't help by pair it with cake. I found a recipe for Tres Leches Cake topped with Dulce de Leche from Once Upon a Chef and got to work.
First, I preheated the oven and began mixing together the cake batter. In my standing mixer, I combined flour, most of the sugar and baking powder with the paddle attachment. To that, I added the wet ingredients - 3 egg yolks, vegetable oil, water and vanilla extract previously combined in a separate bowl.
In another bowl, using a hand mixer, I whipped 5 egg whites with a bit of salt until they formed soft peaks. I added the rest of the sugar and continued whipping until stiff peaks formed.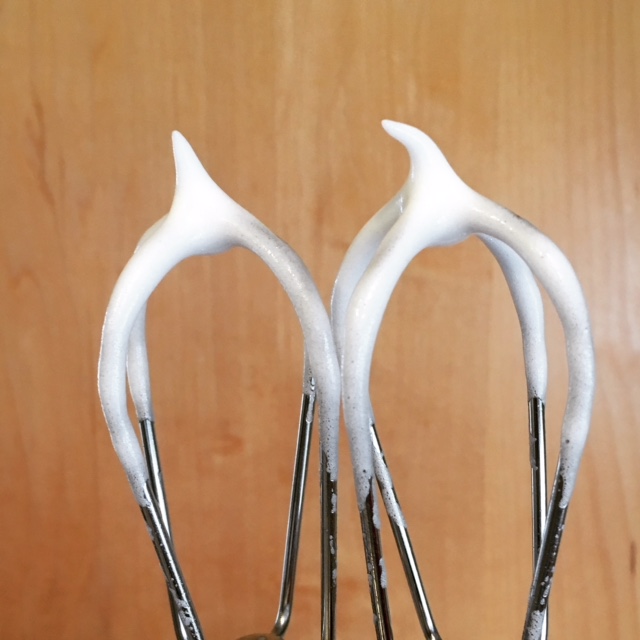 I carefully folded the egg white mixture into the rest of the cake batter using a rubber spatula until just combined.
It's important to use an ungreased cake pan for this cake because it needs to grip the sides in order to rise properly. I poured the batter into a 9x13 glass pan and leveled it off using the spatula before baking for about 40 minutes.
While it was in the oven, I spaced out 4 glasses on the countertop using the pan's lid (if you don't have a lid, I'd recommend using the empty pan itself before filling it with batter). This is so that when you flip it upside down, you don't need to worry about fiddling with a hot pan, an upside down cake and proper glass placement all at the same time.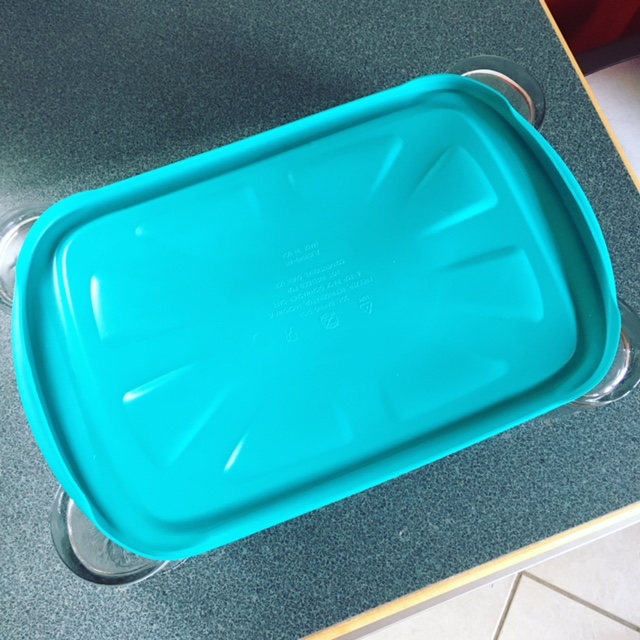 Once the cake had finished baking, I allowed it to cool on the stovetop for just a couple of minutes before flipping it over and placing it upside down on the glasses, where it continued cooling. This may be a little intimidating - it was for me! - but I can happily report, it worked out without any casualties.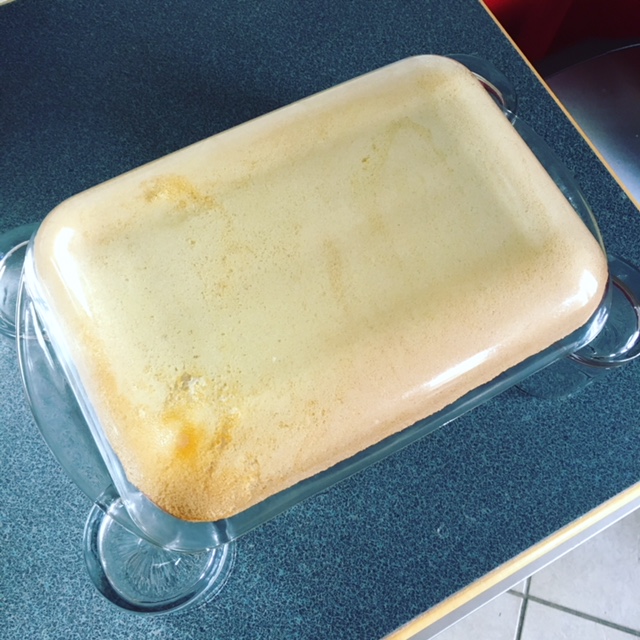 While the cake cooled, I mixed together my tres leches mixture. I used a whisk in a medium bowl to combine the evaporated milk, sweetened condensed milk and heavy cream. Once it cooled, I used a skewer to poke it full of holes and then poured the tres leches mixture over top so it could soak in.
Then, the cake went into the fridge for about 8 hours so it could continue to soak up that tres leches goodness. Finally, I was able to top it with the dulce de leche glaze - a combination of canned dulce de leche, water and a touch of rum. I poured it over top, smoothed it with a spatula, and placed it back into the fridge, until we were ready to try it.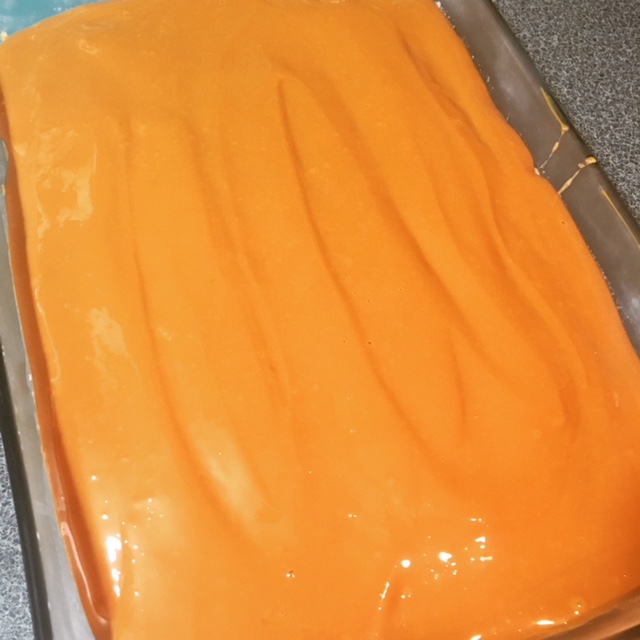 I was extremely impressed with this cake. It does have a lot of steps, but none of them are more complicated than everyday baking. Scott and I loved it, and when I took it to work, my coworkers couldn't stop gushing about it either. I would absolutely recommend giving it a try!
Tres Leches Cake with Dulce de Leche Glaze
Ingredients
For the Cake
1½

cups

all-purpose flour or unbleached cake flour

spooned and leveled

1

cup

sugar

divided

2

teaspoons

baking powder

3

large egg yolks

at room temperature

⅓

cup

vegetable oil

½

cup

water

2

teaspoons

vanilla extract

5

large egg whites

at room temperature

⅛

teaspoon

salt
For the Soaking Mixture
1

12-ounce can evaporated milk

1

14-ounce can sweetened condensed milk

½

cup plus 1 tablespoon

heavy cream
For the Glaze
1

13-ounce can dulce de leche

1

tablespoon

dark rum

¼

cup

water
Instructions
Preheat the oven to 325 degrees.

In the bowl of an electric mixer fitted with the paddle attachment, combine the flour, 3/4 cup of the sugar, and baking powder. Mix on low speed for 1 minute to combine. Do not over-mix.

In a medium bowl, whisk the egg yolks to break them up. Whisk in the oil, water and vanilla, one at a time. Add this mixture to the flour mixture and beat with the paddle on medium speed for exactly one minute to aerate it slightly (it's very important not to overmix). Scrape down the sides of the bowl with a rubber spatula and beat for just a few seconds more.

In a clean, dry mixing bowl combine the egg whites and salt. Place on the mixer with the whisk attachment (or you can use a hand held mixer with beaters) and whip the egg whites on medium speed until they are white, foamy and beginning to hold a very soft peak. Increase the speed to medium high and add the remaining 1/4 cup sugar in a slow stream. Continue whipping the egg whites until they are shiny and hold stiff peaks.

With a large rubber spatula, fold the egg whites into the batter until just combined. Be very careful not to over-mix. Scrape the batter into the ungreased pan and smooth the top. Bake the cake for about 40 minutes, or until it is set in the middle and golden. Let the cake settle on the stovetop or a rack for 1-2 minutes, then invert four glasses onto the countertop and invert the cake pan onto them, positioning one in each corner of the pan. (A chiffon cake needs to hang upside down to cool or it may collapse and fall.)

Once the cake has cooled, flip it over and run a sharp, thin-bladed knife around the edge of the pan to loosen the cake from the sides. Poke holes in the cake with a skewer or point of a small, sharp knife at 1/2-inch intervals.

Prepare the soaking liquid: in a large bowl, whisk together the evaporated milk, sweetened condensed milk, and heavy cream. Slowly pour the soaking liquid over the cake. Let it sit for a few minutes to absorb. If it's slow to absorb, run a knife around the edges of the cake again and poke a few more holes. Place the cake in the refrigerator to chill for at least 8 hours or overnight.

Once the cake has chilled, make the glaze: in a medium microwave-safe bowl, combine the dulce de leche, rum and water. (Note: If you want a really boozy cake, change the proportions in the glaze to 3 tablespoons water and 2 tablespoons rum). Heat for 30 seconds in the microwave, then whisk to combine. Let the mixture cool to room temperature, then spread over cake. Place the cake back in the refrigerator until ready to serve. Serve with fresh fruit, if desired.
Notes
Slightly adapted from: Once Upon a Chef
You'll need one 9 x 13 x 2-inch glass pan, ungreased, plus 4 cups or glasses for inverting the cake pan after baking.
This post contains affiliate links. Full disclosure here.