Welcome to the third feature focusing on the women within What She Ate: Six Remarkable Women and the Food That Tells Their Stories by Laura Shapiro. This time I'm talking about Eleanor Roosevelt, who was one of the reasons I was so excited to pick this book up in the first place.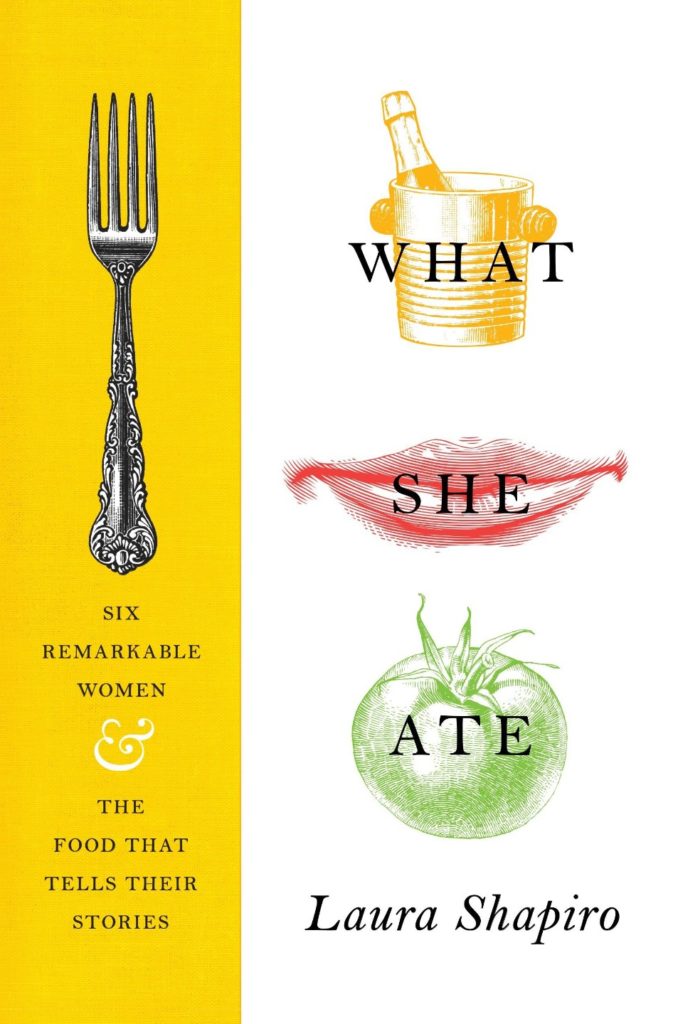 Eleanor Roosevelt was longest serving First Lady of the United States, living in the White House with her husband, Franklin D. Roosevelt, during the Great Depression and World War II. She is remembered as an activist, a champion of women's and African-American rights. Eleanor was a feminist who embraced domesticity, and in fact, a huge part of her legacy was the incorporation of home economics into education (though she herself didn't do chores or cook meals).

She was fully committed to the creation of healthy but inexpensive meals; the nutrients and cost far outweighing the flavor and texture at many of her events. Early in FDR's presidency, Eleanor hosted an event to showcase home economics at the White House, featuring a meal that was intended to be a prototype for what was to come. It included "stuffed eggs…transformed into a main course by being covered with tomato sauce and served hot." The entire meal cost less than eight cents per serving, and for Eleanor, it served its purpose.

Apparently, throughout Eleanor's time at the White House, the food there was widely known to be nearly inedible. Shapiro notes that this had a lot to do with her employment of Mrs. Nesbitt, a homemaker with zero experience managing a household as large and important as the president's. Eleanor didn't seem to care and often claimed not to give much thought to what she ate.

However, after FDR's death, when she began a career as a writer (among other things), her newspaper column "My Day" was peppered with appreciative food mentions. She enjoyed meals in Beirut and Paris and even dabbled in cooking. In the end, it does seem that Eleanor came around to the joys of food.

Of all the food Shapiro shares, the stuffed eggs stuck out most prominently in my mind. I decided to bring that disastrous meal into Eleanor's later years, finding a recipe that could transform it into something more elegant and flavorful. I landed on a Spanish-inspired recipe from The Endless Meal.

First, I hard boiled 5 eggs. You can use your preferred method to do so; I personally recommend the Hamilton Beach Egg Cooker, which has completely changed my life when it comes to making hard boiled eggs. I've always had issues peeling them before, and with this, they are an absolutely breeze to peel. And, when you're making deviled eggs, it's nice to know they'll all turn out presentably.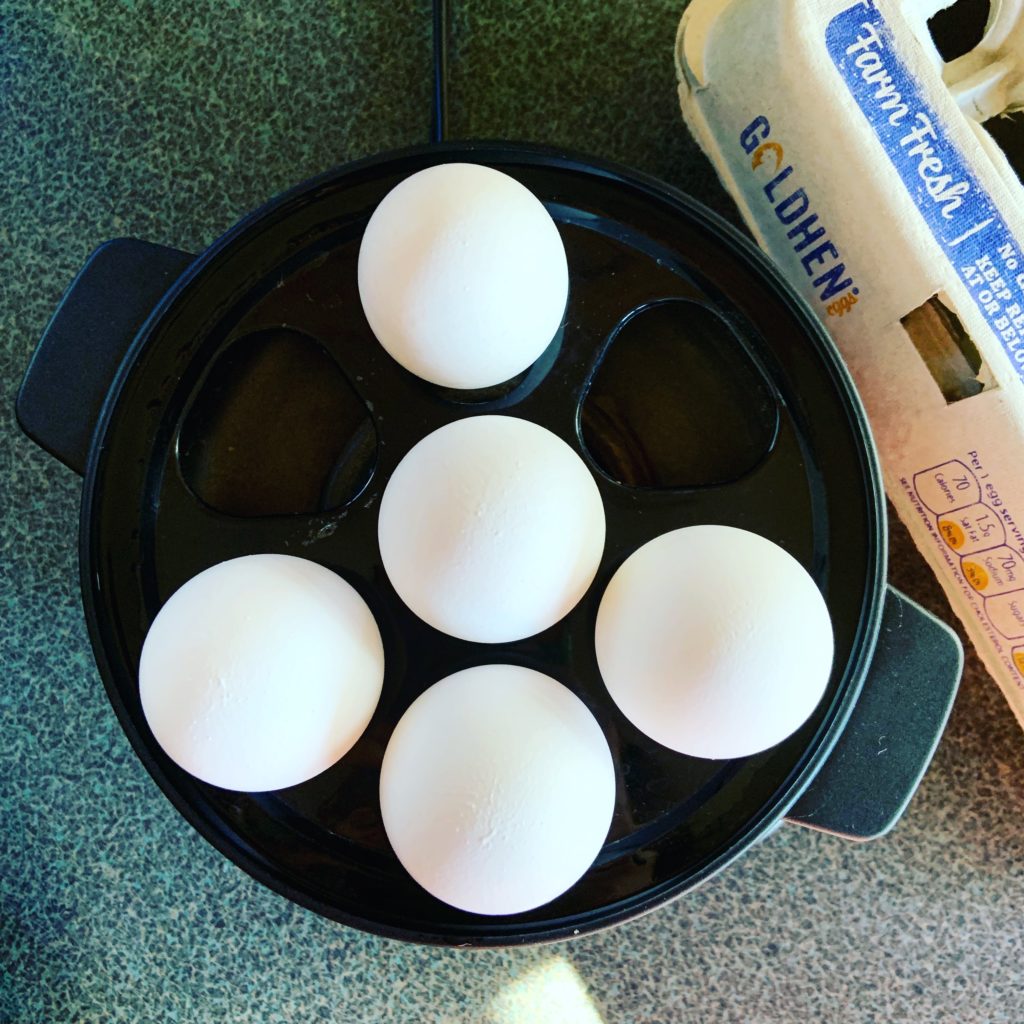 While the eggs were cooking, I made the tomato sauce. But first I fried the capers in a bit of olive oil and removed those to a paper towel after a few minutes.

To make the tomato sauce, I added finely chopped (or minced) onion to the leftover oil from the capers. It's important you use a medium size (somewhat deep) pot or the sauce will make a mess when it's boiling later. When the onions were cooked, I added a clove of minced garlic and two tablespoons of tomato sauce, cooking until it began to caramelize.

Then, I added diced tomatoes, red wine, chopped black olives, balsamic, honey, and smoked paprika to the pot, bringing the mixture to a boil.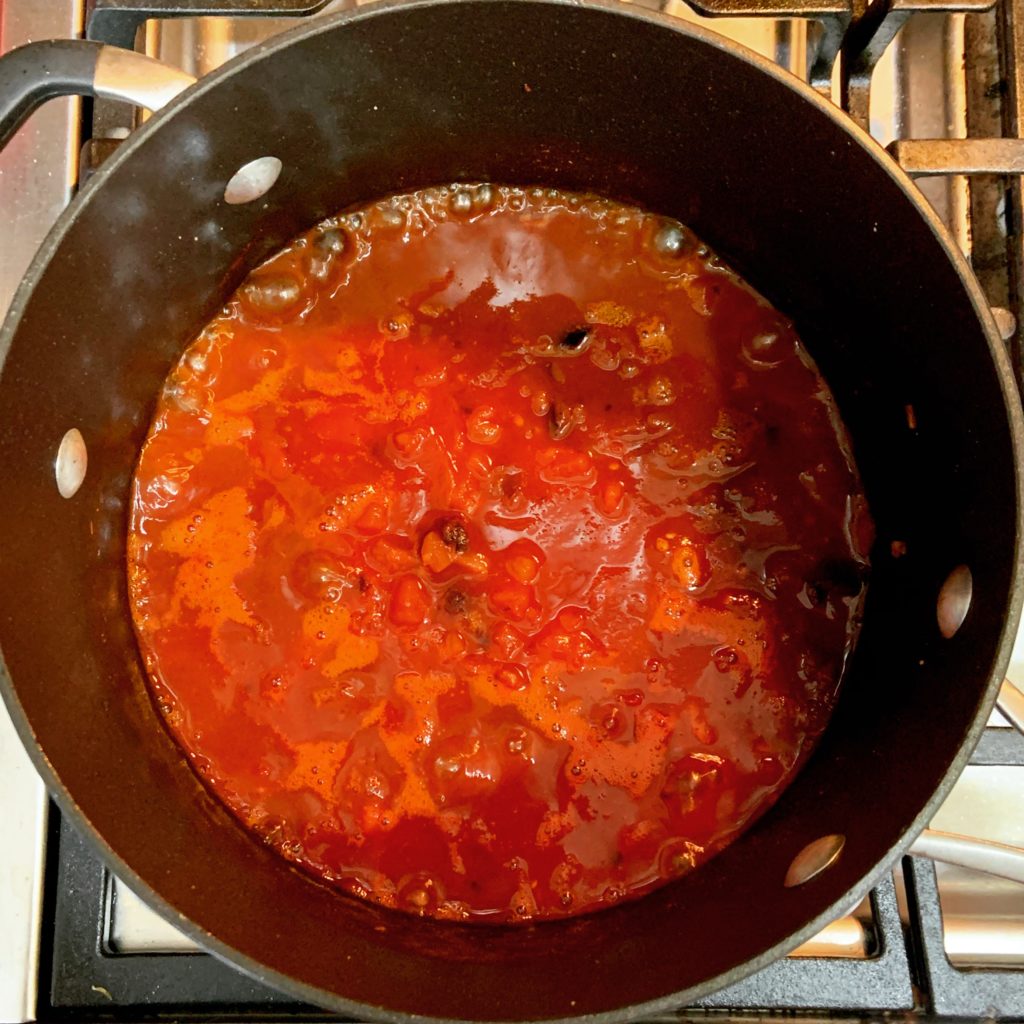 I let it boil for about 10 minutes, stirring occasionally, until it thickened.

While the sauce cooked, I peeled my (cooled) eggs. I cut them in half and removed the yolks into a medium bowl. I also cut up two of the egg whites to add to the yolks. (Pick the least pretty of the ones you have, or the ones with the thinnest cup for filling.)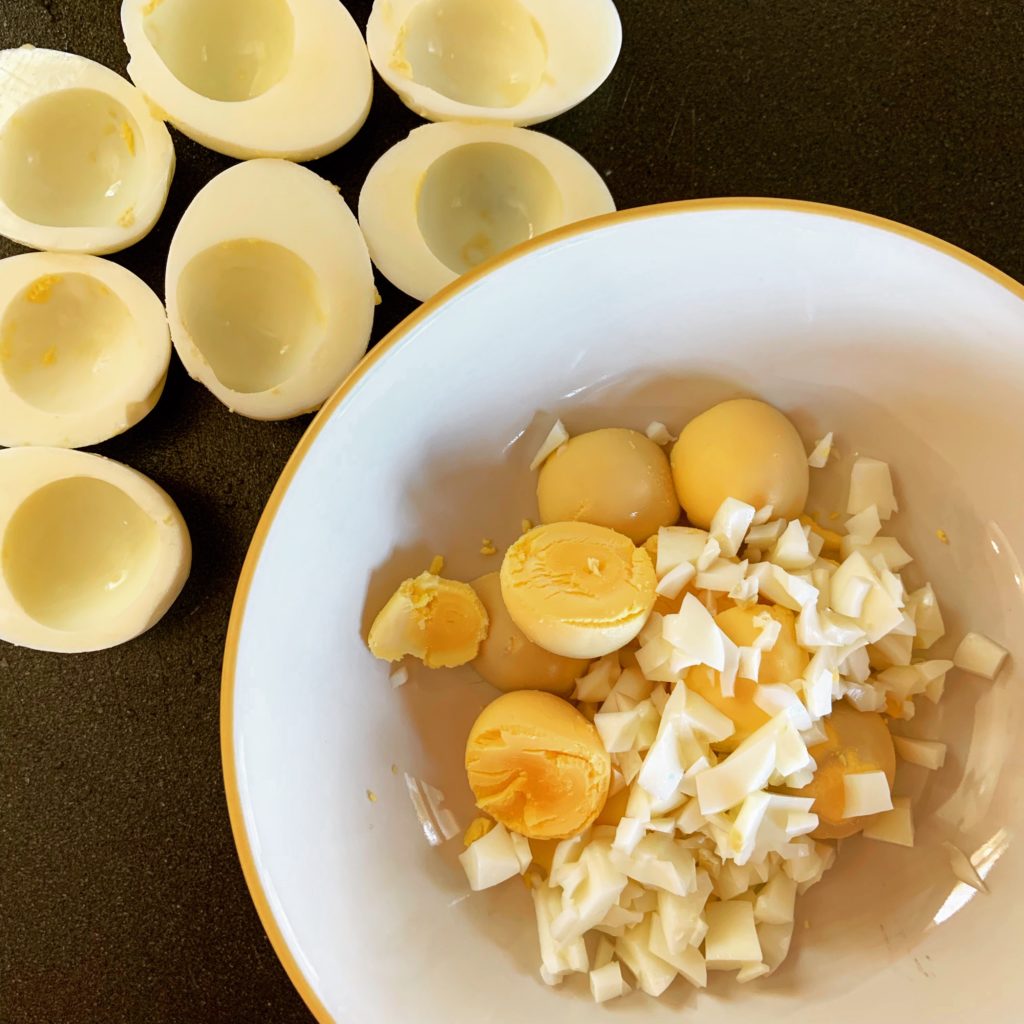 To the yolks and chopped egg whites, I added mayonnaise, olive oil, dijon mustard, white vinegar, and pinches of salt, pepper, and cayenne, mixing until well-combined. I used that mixture to fill the eggs.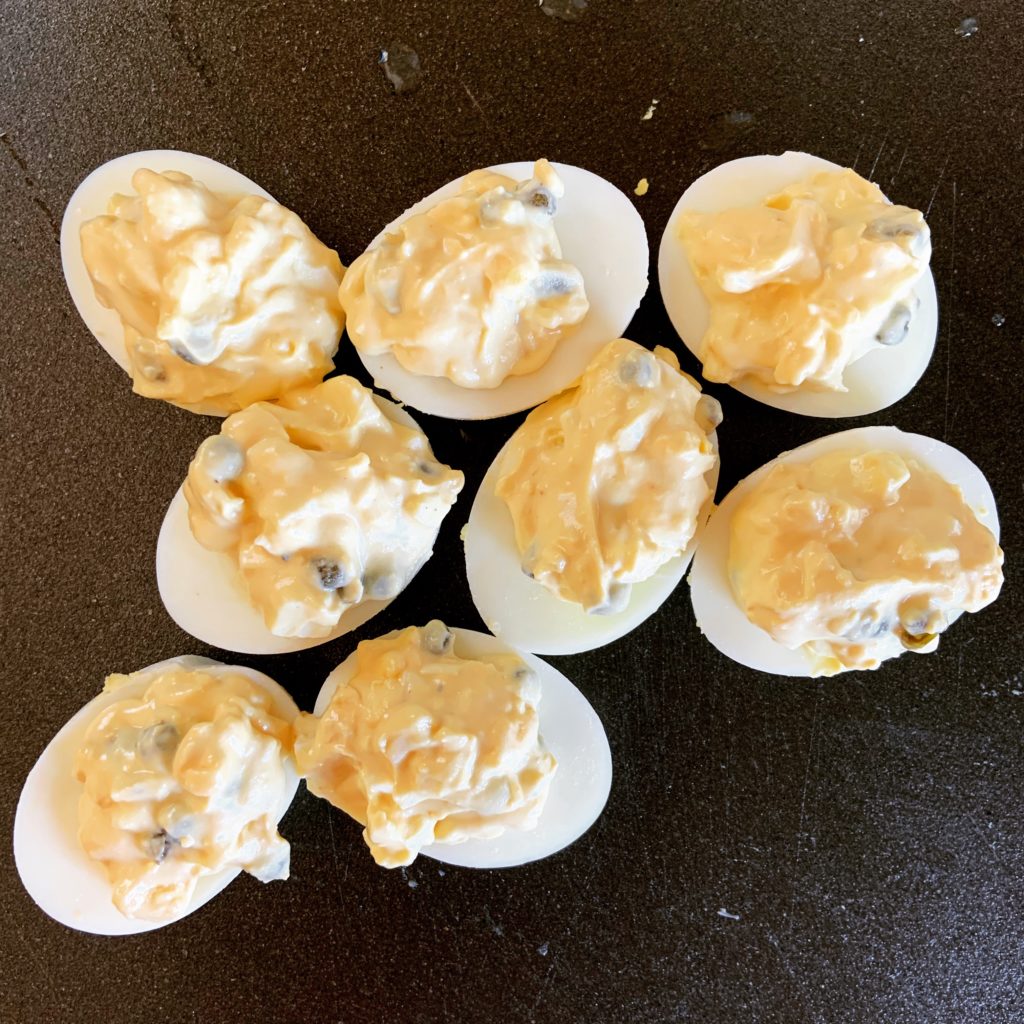 I scooped the tomato sauce into 4 half cup shallow ramekins and placed the two deviled eggs on top of each. I grated a bit of fresh parmesan over each of them (though this step is optional).

I placed the ramekins on a baking sheet and placed them in the oven to bake for 10 minutes.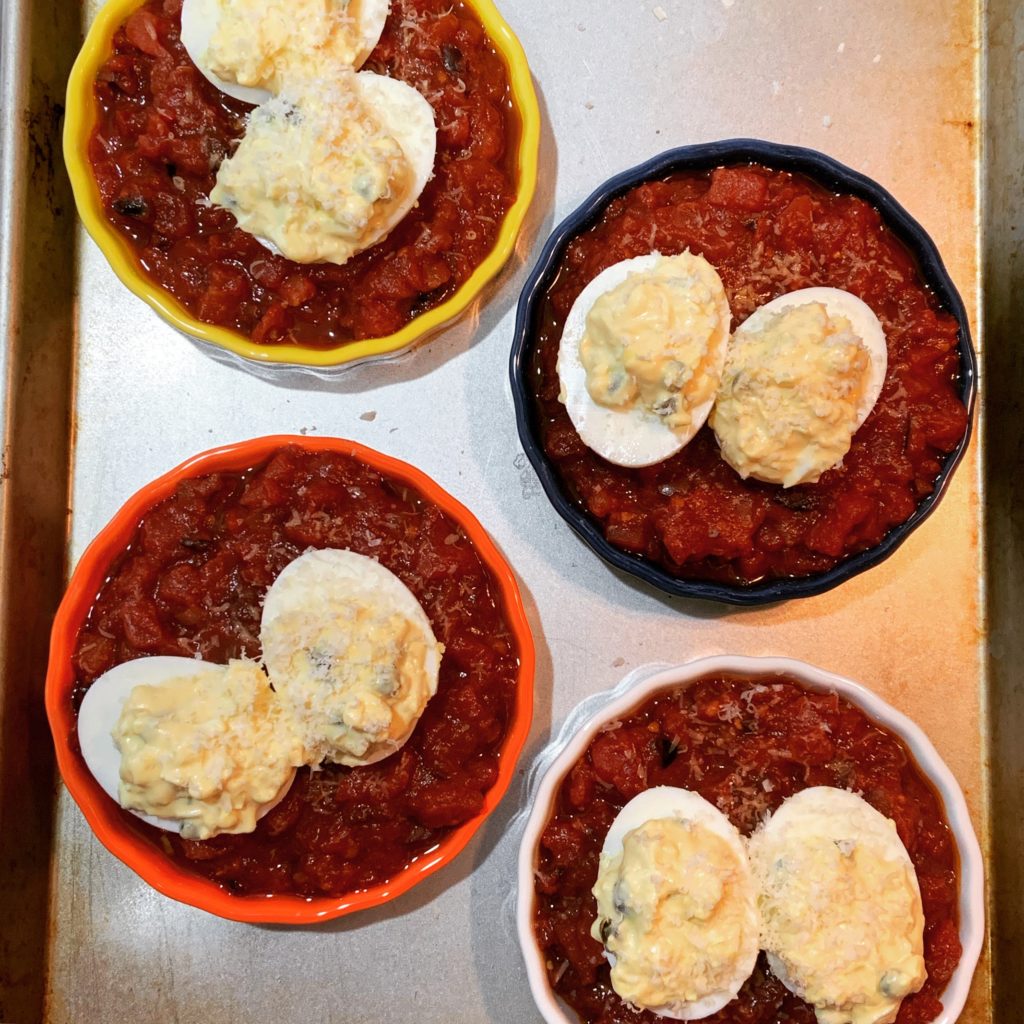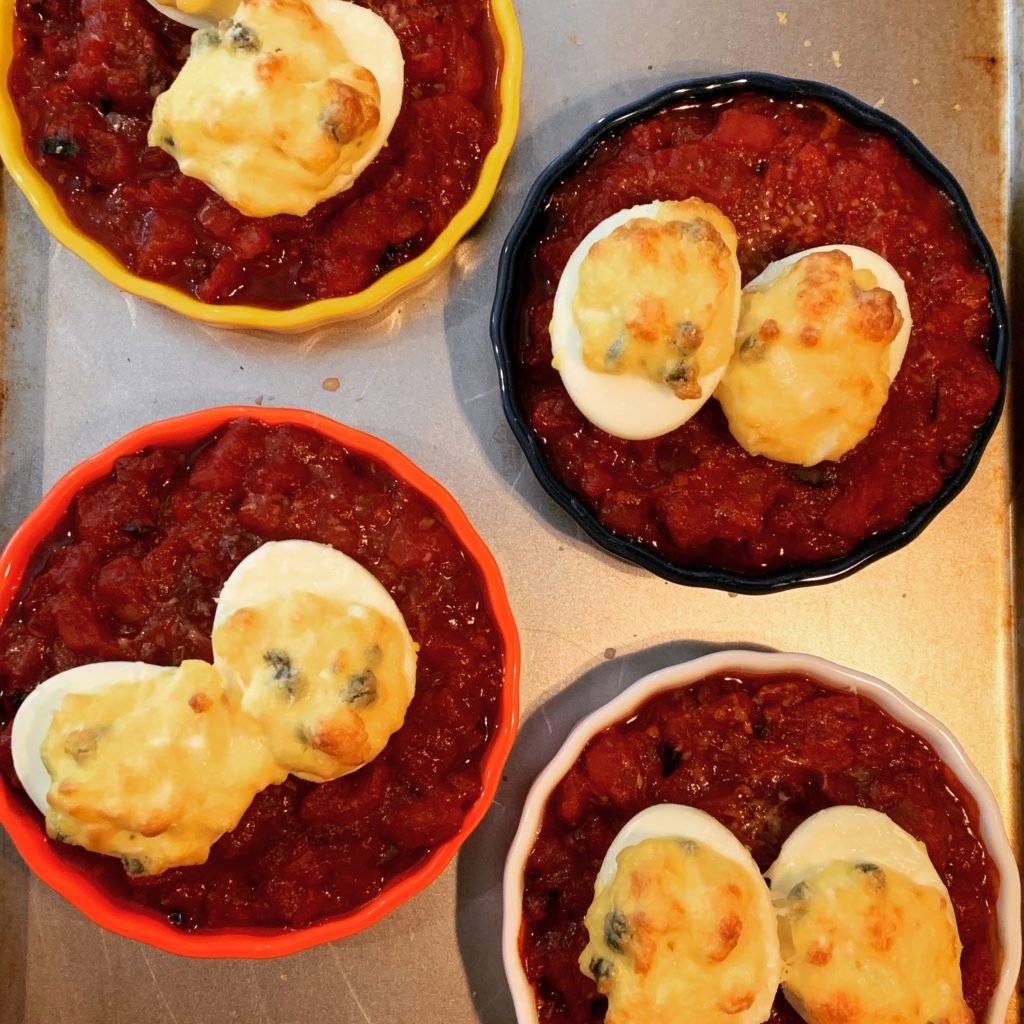 Before serving, I topped them with sliced green onions, the rest of the capers and pinches of paprika and pepper. (I didn't add the yogurt, since we only had Greek in the house.)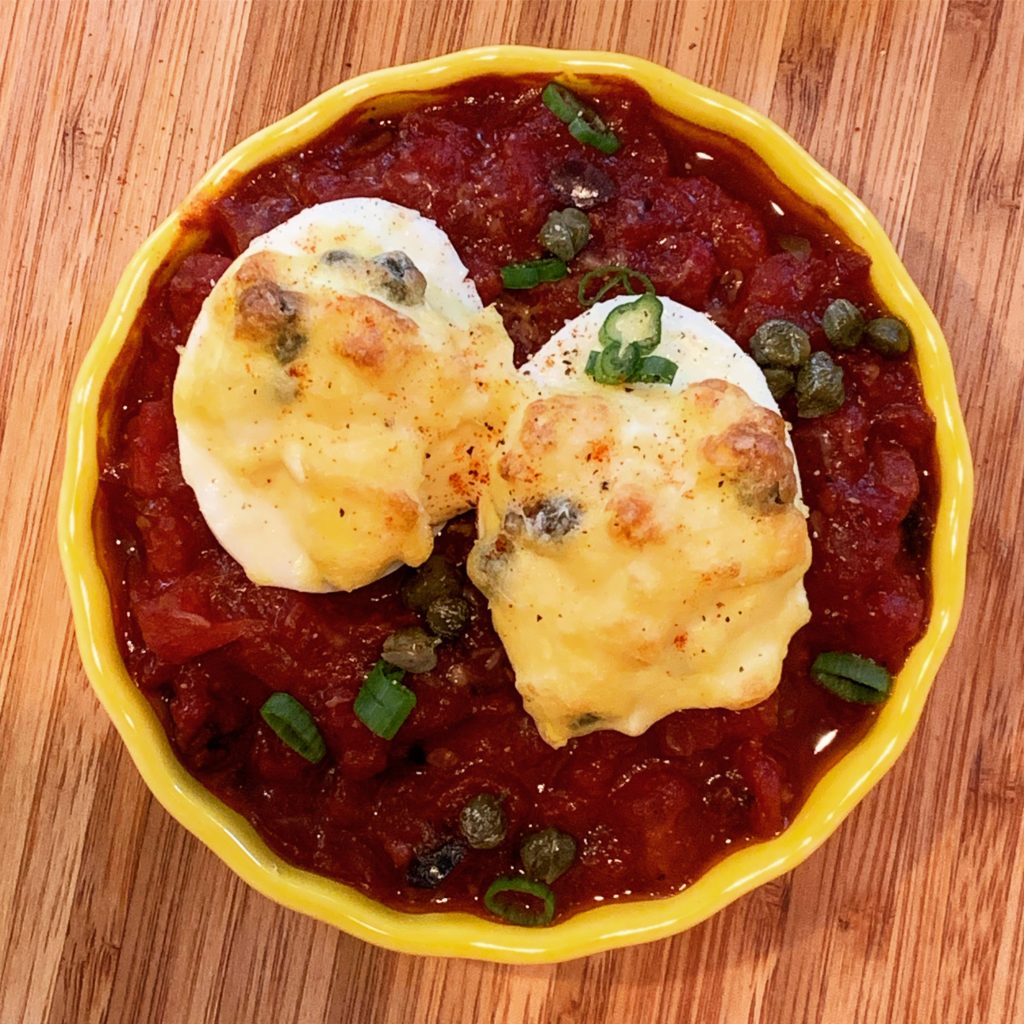 This made an excellent brunch dish and went well with toasted pita. It would probably pair well with any crunchy toasted bread. I like to think Eleanor Roosevelt would've appreciated this dish both for its low cost and for its full-bodied flavor.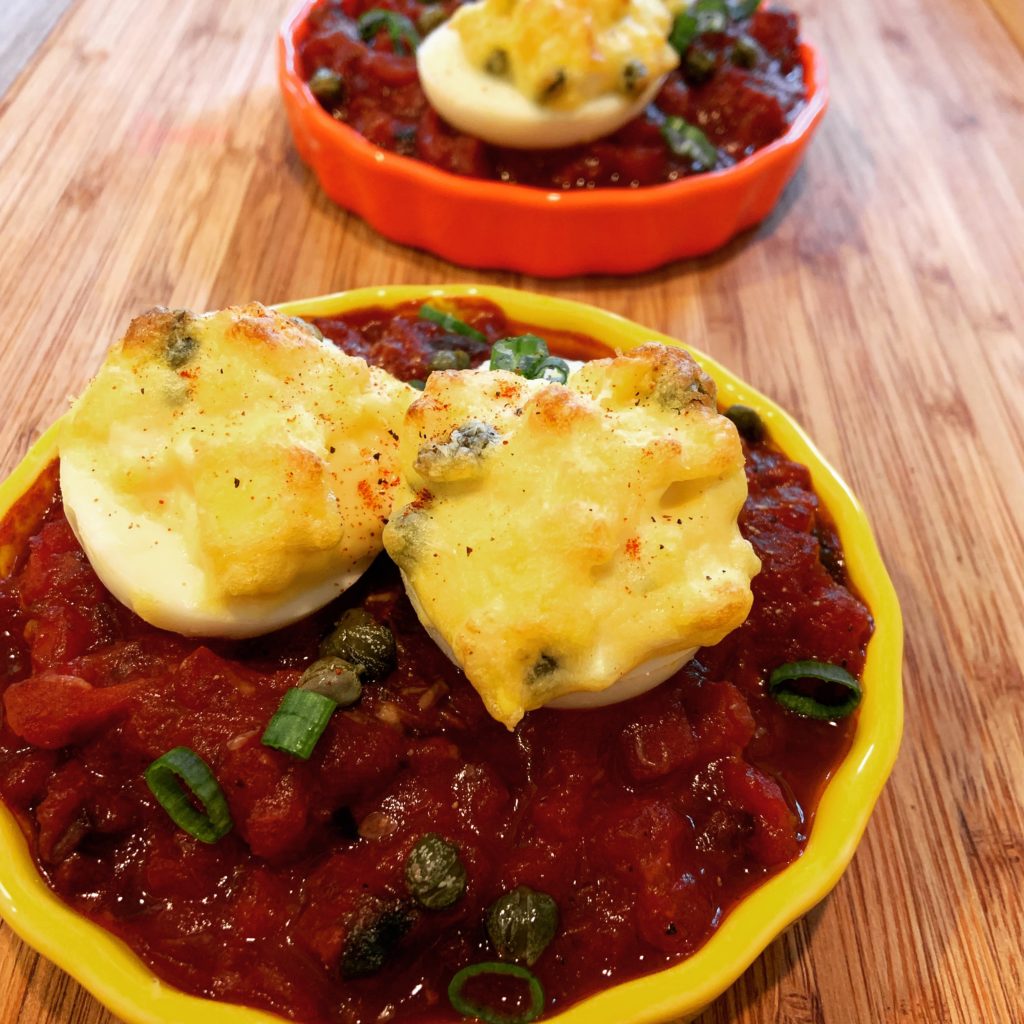 If you missed the previous What She Ate posts, you can find them here:
Dorothy Wordsworth + Mini Pork Pies
Rosa Lewis + Southern-Style Grits Waffles
Baked Deviled Eggs with Tomato Sauce
Ingredients
The Deviled Eggs:
5

hardboiled eggs

1

tablespoon

baking soda

olive oil

for the pan

2

tablespoons

capers

dried with paper towel

2

tablespoons

mayonnaise

paleo-friendly, if needed

1

tablespoon

olive oil

1

teaspoon

dijon mustard

1

teaspoon

white vinegar

A

pinch

of sea salt, pepper, and cayenne
The Sauce:
¼

cup

minced onion

1

garlic clove

minced

2

tablespoons

tomato paste

1

28-ounce

can petite diced tomatoes

¼

cup

red wine

¼

cup

chopped black olives

1

teaspoon

balsamic vinegar

1

teaspoon

honey

1

teaspoon

smoked paprika

Sea salt and black pepper

to taste

Parmesan cheese

optional

Yogurt

green onions, black pepper, and smoked paprika, for serving
Instructions
Hardboil 5 large eggs, according to your preference. When finished, put them in an ice bath to stop their cooking. Meanwhile, prepare fry the capers the sauce.

Add enough olive oil to cover the bottom of a medium sized pot (you'll use it later for cooking the tomato sauce.) Heat the oil over medium-high heat and add the capers when the oil is hot. Stand back as the oil will spit and splatter. When the oil begins to settle down, after about 1 1/2 minutes, remove the capers from the pan with a slotted spoon and place them on a piece of paper towel.

Add the onion to the pot with the caper oil and saute on medium-high until it begins to soften and turn light brown, about 5 minutes. Add the garlic and tomato paste and cook until the tomato paste begins to caramelize, about 3 minutes. Add the diced tomatoes, red wine, black olives, balsamic, honey, and smoked paprika to the pan and bring it to a boil. Let it boil rapidly, stirring occasionally, until it thickens, about 10 minutes. Season to taste with sea salt and black pepper.

When the eggs are cool enough to handle, peel the shells and give them a quick rinse under running water to make sure no shell remains.

Cut the eggs in half lengthwise and scoop out the yolks and place them in a medium-sized bowl. Take the two least pretty egg whites, chop them fine then add them to the bowl with the yolks. Add the mayonnaise, olive oil, dijon mustard, white vinegar, salt, pepper, and cayenne and mix until well combined. Add half of the fried capers and stir through. Fill the egg whites with the egg yolks.

Preheat oven to 425 degrees.

Divide the tomato sauce between 4 ½-cup (4 oz) ovenproof dishes. Top each with 2 eggs and, if you're using, a sprinkle of parmesan cheese. Place them on a large baking sheet (to make it easier to move them) and bake in the oven for 10 minutes.

Serve with a dollop of yogurt, sliced green onions, black pepper, smoked paprika, and the remaining fried capers.
_______________
This post contains affiliate links. This does not increase the price you pay, but I may receive a small commission for any products you choose to buy. Purchases made through affiliate links help to cover my blogging costs. Thank you for helping to support The Hungry Bookworm! Full disclosure here.