Welcome to the second feature focusing on the women within What She Ate: Six Remarkable Women and the Food That Tells Their Stories by Laura Shapiro. (If you missed the introduction and first feature, you can find it here.)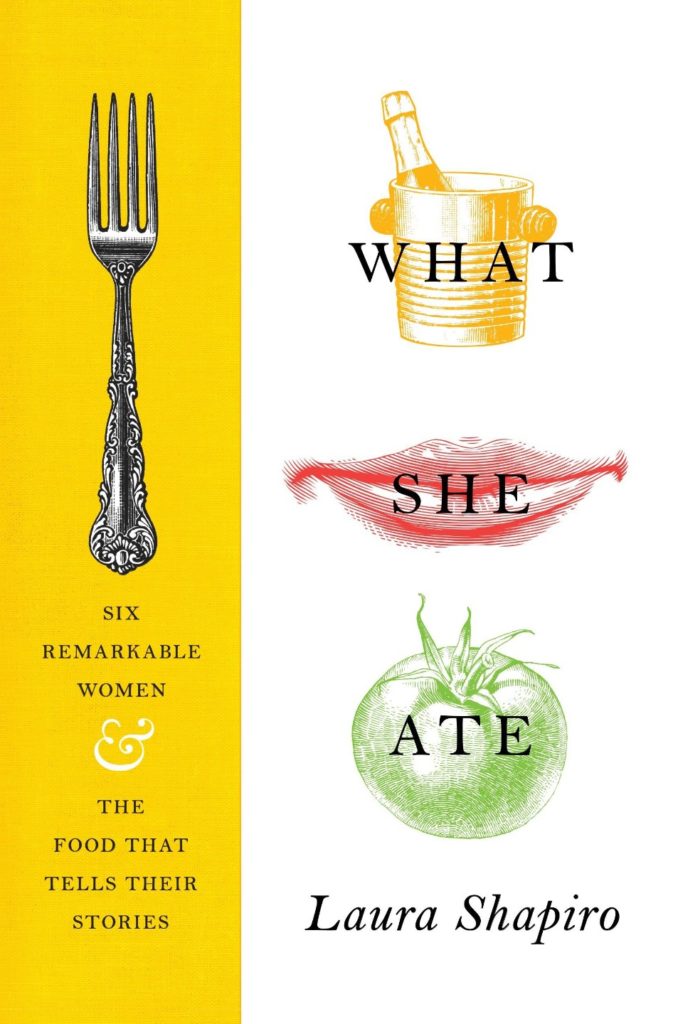 This time we'll meet Rosa Lewis, a prominent English caterer. She was born in Essex in 1867, left school at the age of 12, and after starting in domestic service worked her way up to cook. Rosa had a strong Cockney accent, which she retained despite it being considered "insufferably vulgar" and offensive. Instead, it became her trademark. She commanded respect and her cooking even caught the attention of King Edward VII, which pushed her catering services into high demand.

Rosa's seemingly unlikely rise to fame came at a time when there were more distinguished French chefs practicing in London than in Paris. She had no formal training, and furthermore, the French had a prejudice against women in the kitchen. Though Rosa's rarity caused her to stand out, it was her skills that led famed French chef to see her as a professional equal. She used her position to elevate other women in the field. When she took over the Cavendish Hotel, Rosa staffed her kitchens only with women, telling the press that "A good woman cook is better than a man any time."

Despite her English roots and French style, I found it super interesting that Rosa thought "the best cooks of all came from America." She often told the story of Mosianna Milledge, a cook from Savannah, Georgia, who taught her about several Southern specialties, including waffles and Virginia ham. Rosa enjoyed the new foods so much, she ended up keeping many of the new Southern foods she learned on her menus, to the delight of American and British clientele alike.

To honor Rosa's love for Southern cuisine, I decided to make some waffles with a Georgian twist. A recipe from local favorite Zingerman's incorporates cheesy grits into their waffles along with some bacon. To carry it through even more, I purchased Hometown Original bacon from Smithfield, a company originally known for their Virginia hams.

I'll start by saying this recipe is a little fussy. I highly recommend making the batter the night before so all you have to do in the morning is make the waffles themselves. Where possible, I've provided some additional commentary to make the process a bit smoother.

First, I set to work making my grits. I used Quaker Oats Quick 5-Minute Grits, since I had them on-hand already from the Where the Crawdads Sing recipe pairing. I followed the recipe on the container (4 cups of water for 1 cup of grits) and added the butter and salt from the original recipe and it worked out well. I didn't need to add additional water and they were nice and creamy. Whichever grits you use, I recommend using the grits-to-water ratio it suggests.

While the grits cooked, I separated 4 eggs, putting the whites in the fridge to chill.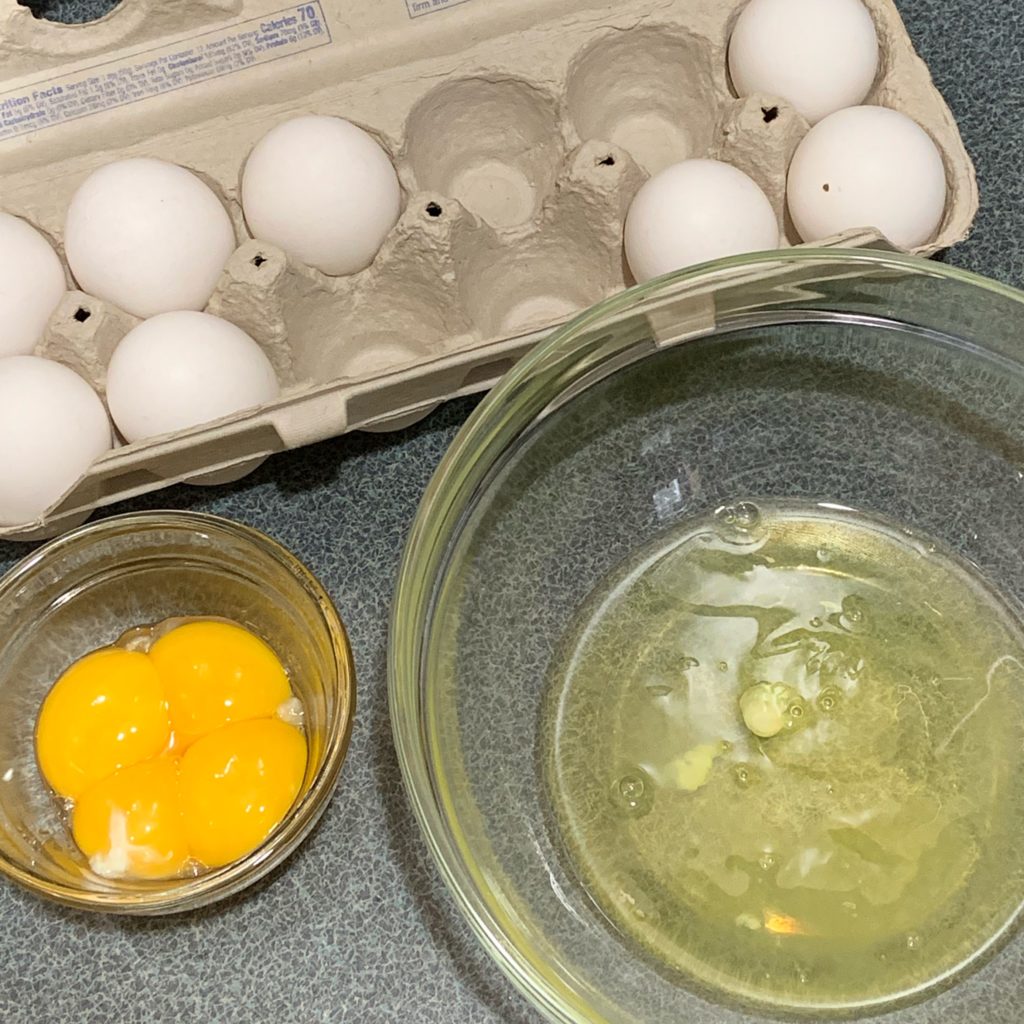 I also combined the dry ingredients -- flour, sugar and baking powder -- in a separate mixing bowl.

Once the grits were finished, they needed to be cooled to 110 degrees F. (They started at about 195 degrees.)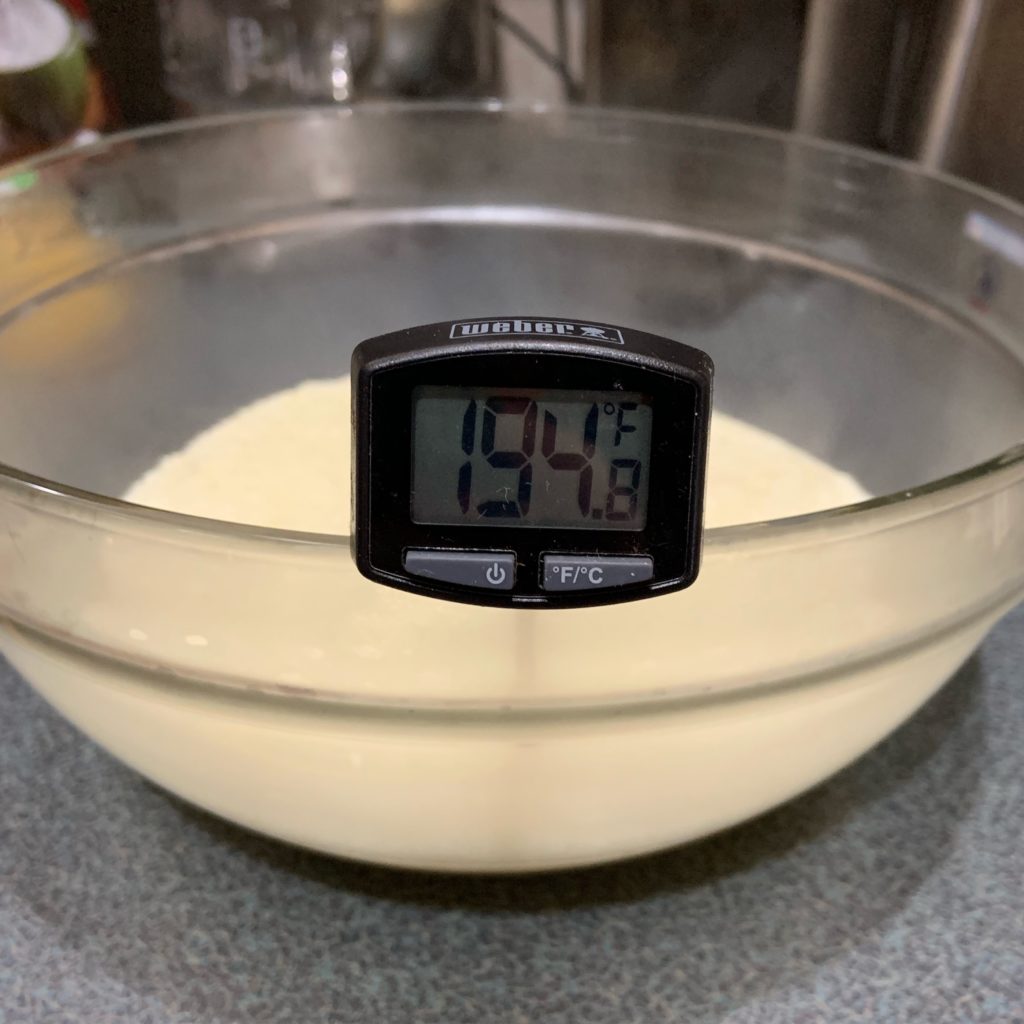 This actually took quite a lot longer than I expected (hence my "fussy" description earlier) and only seemed to be accomplished by lots of stirring to incorporate cooler air into the hot, stubborn grits. After about 20 minutes, I had them down to 115 degrees, which I deemed "good enough" to add the separated egg yolks. (Yolks don't set until 158 degrees, so I figured it was fine.) And it was. I stirred the eggs in one at a time.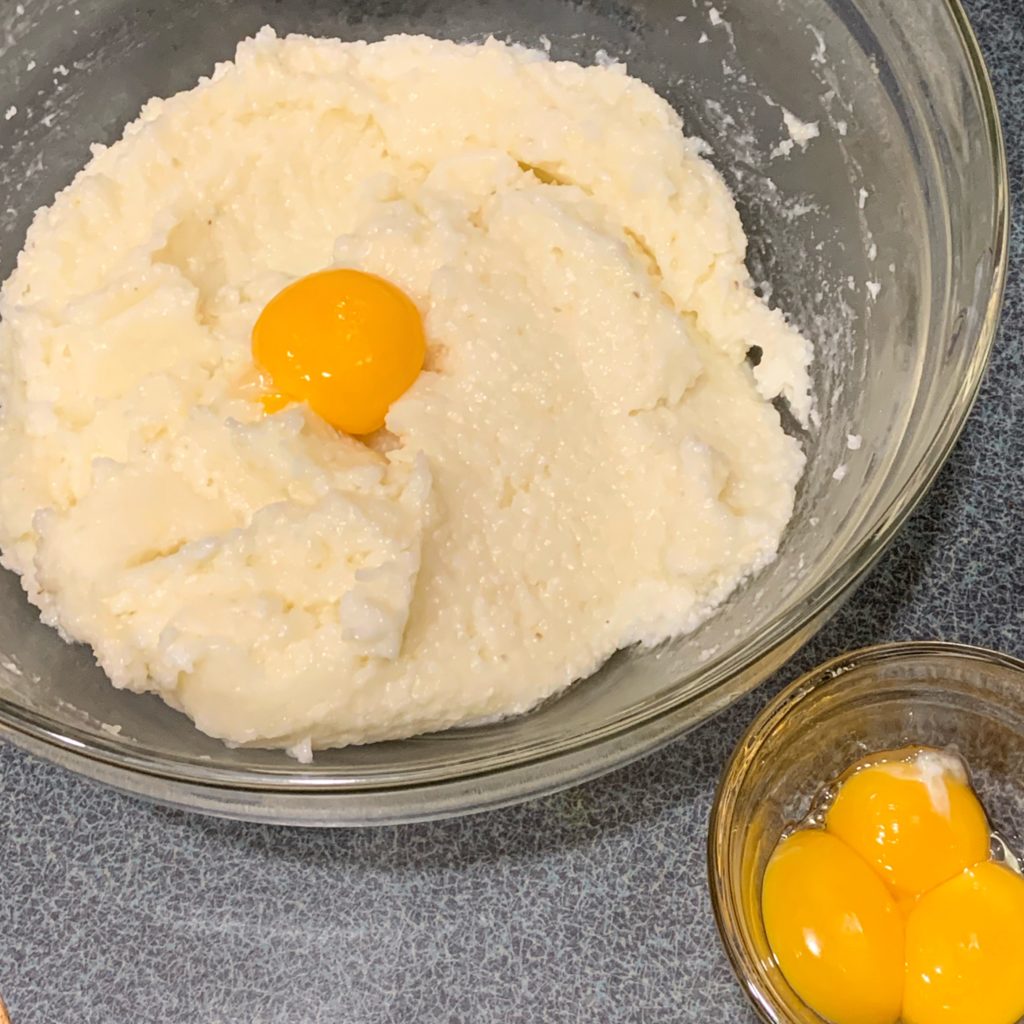 Then, I added milk.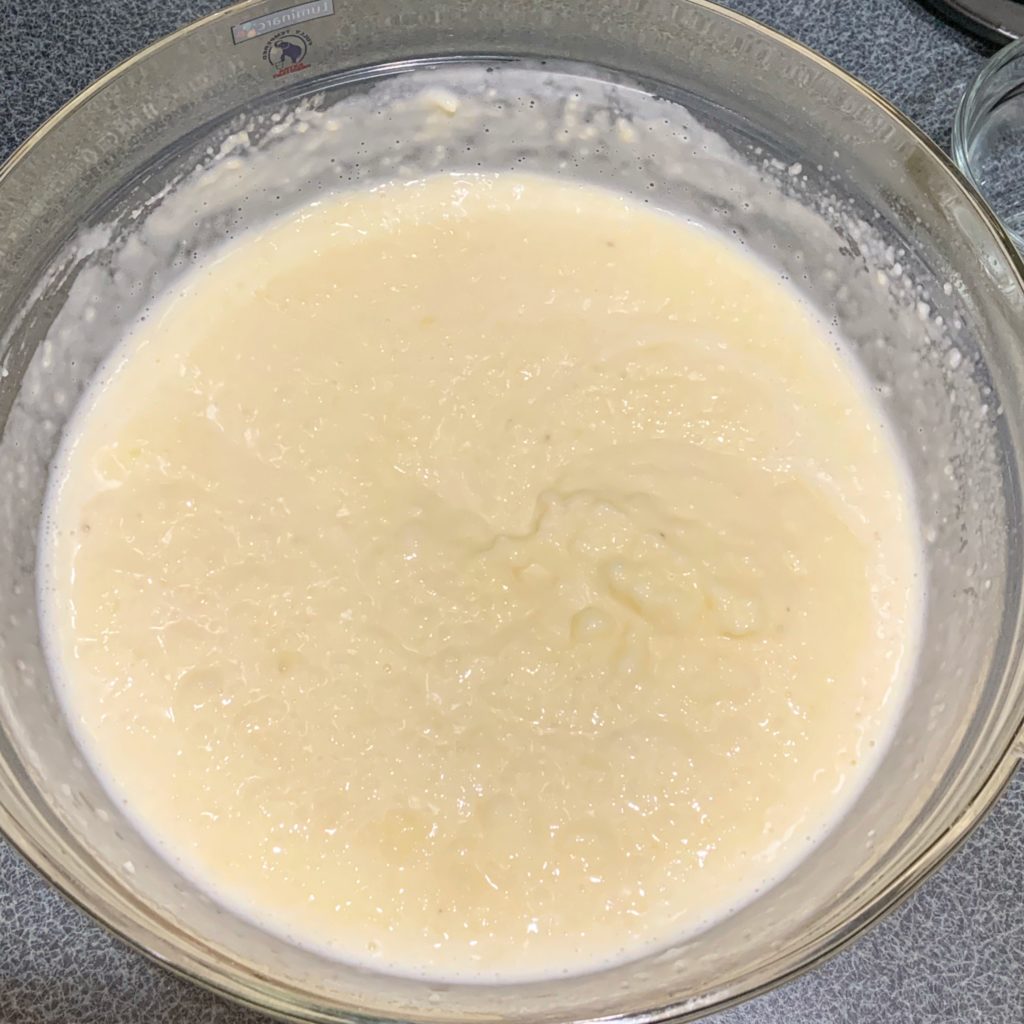 I added the dry ingredients.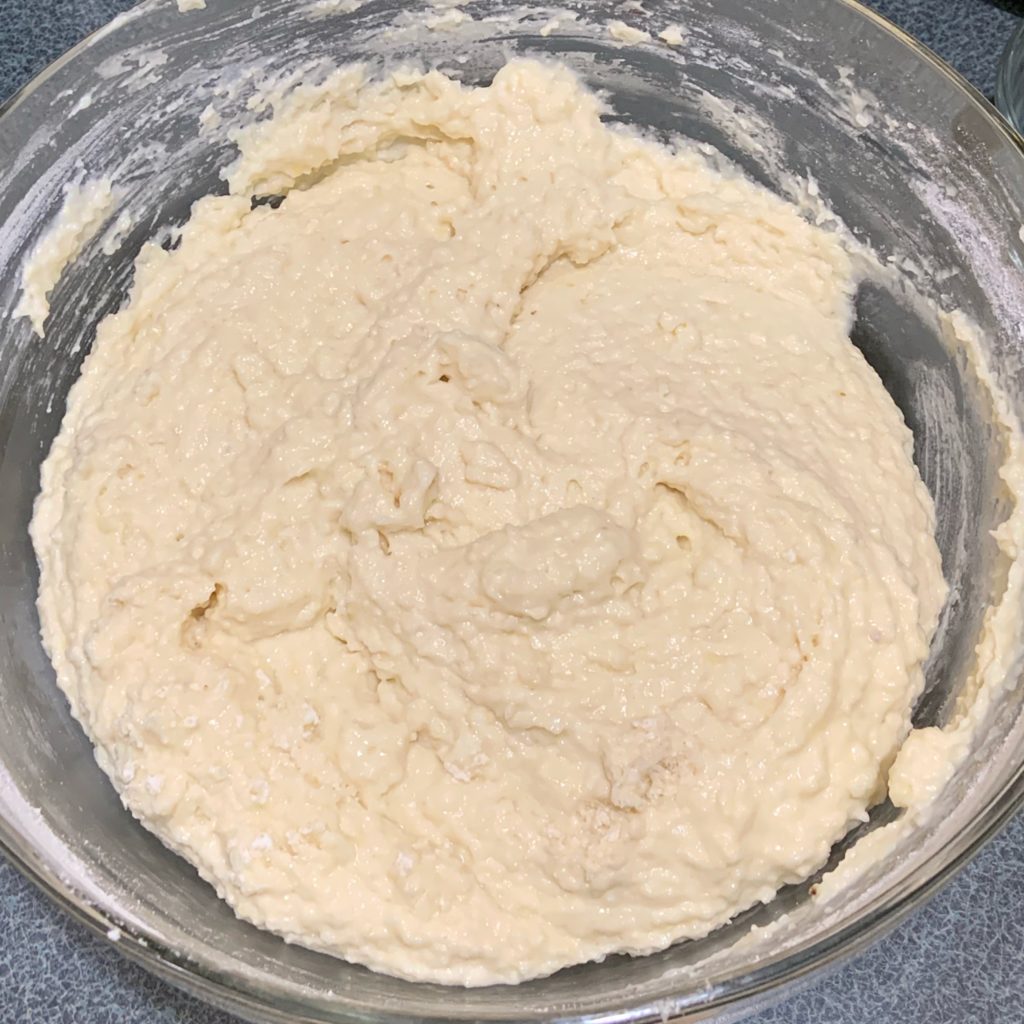 Then, I had to whip the refrigerated egg whites into medium peaks (which means that they still hold picks but the tops may just fall over a bit). I did so, and then incorporated them into the batter as well.

Finally, the batter was finished and could go into the fridge, where it had to rest/chill for at least an hour (or overnight).

While that was in the fridge, I baked my bacon (which I highly recommend if you don't cook it that way - 400 degrees F for 15-25 minutes), chopped it and shredded the cheese.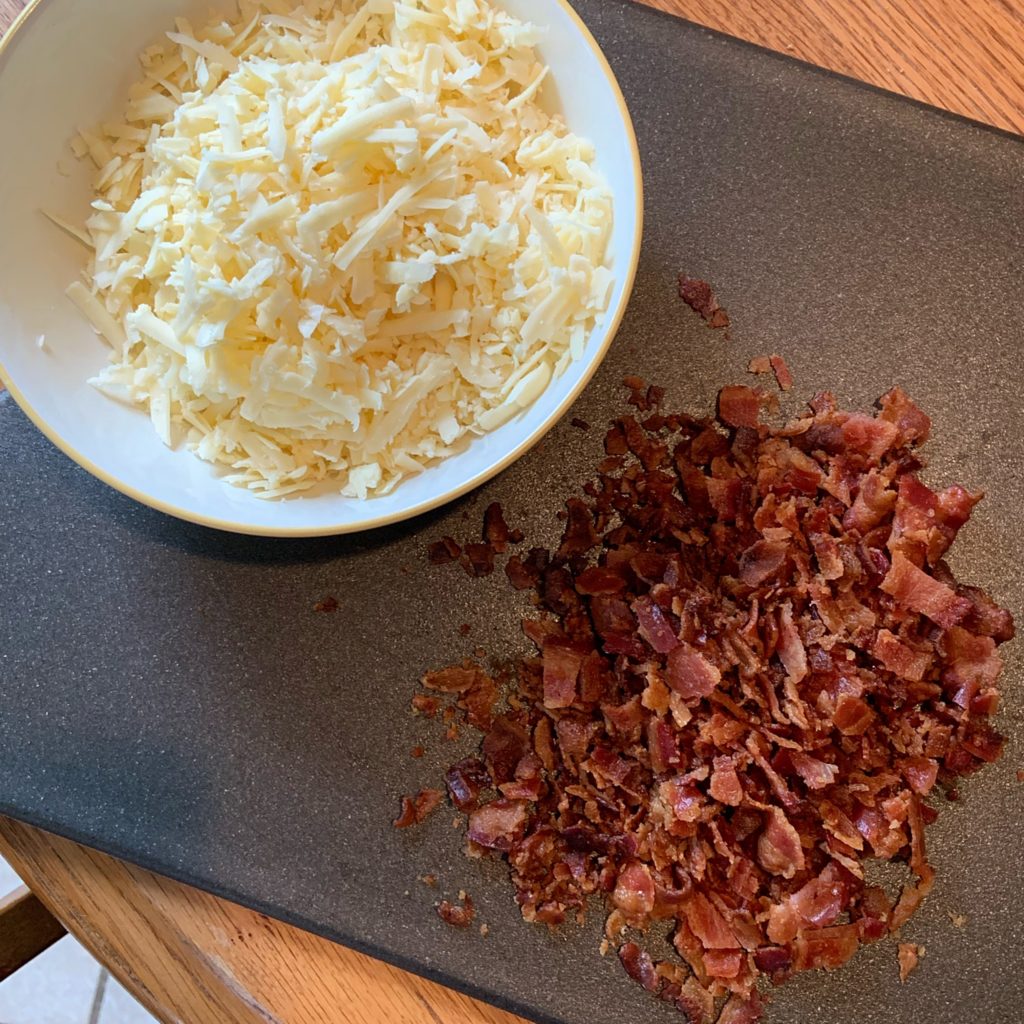 Once an hour had passed, I could make the waffles! (I was starving at this point, in case you were wondering.) Thanks to my family's white elephant Christmas this year, I had a brand new waffle maker and didn't have to borrow it from a coworker, like the last two times I made waffles (here and here). I was excited to get this process going. I let it preheat and tried to wait patiently.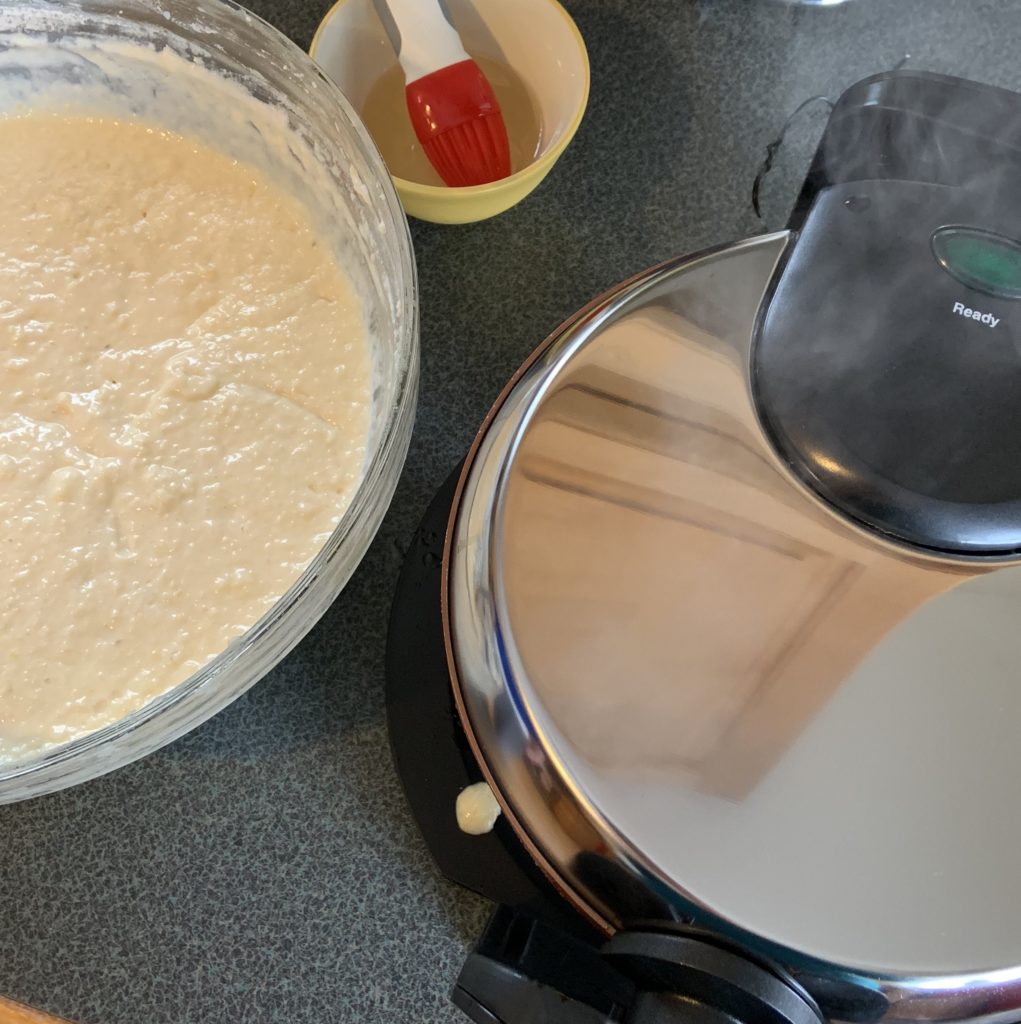 I poured in a generous cup of batter and sprinkled on the bacon and cheese.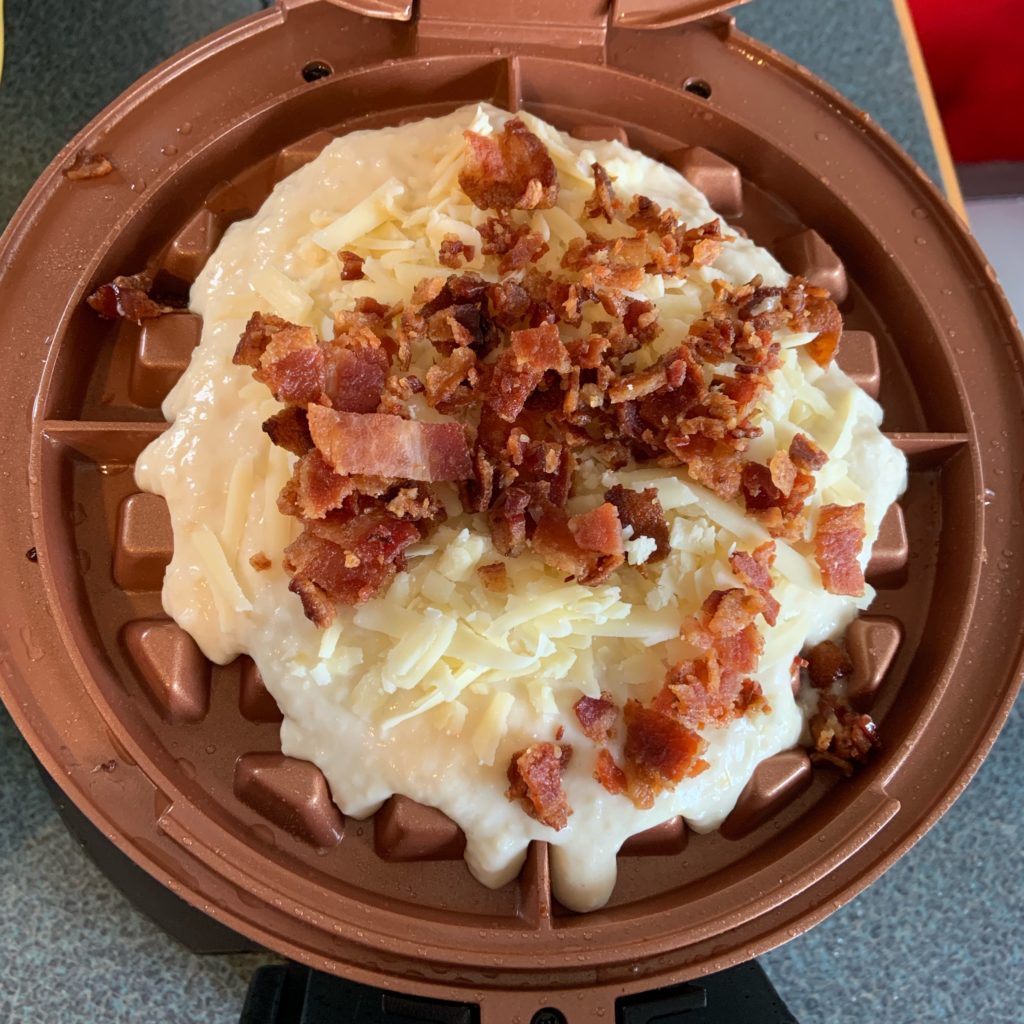 Then, I closed the waffle iron and flipped it. When the waffle was done, it looked like this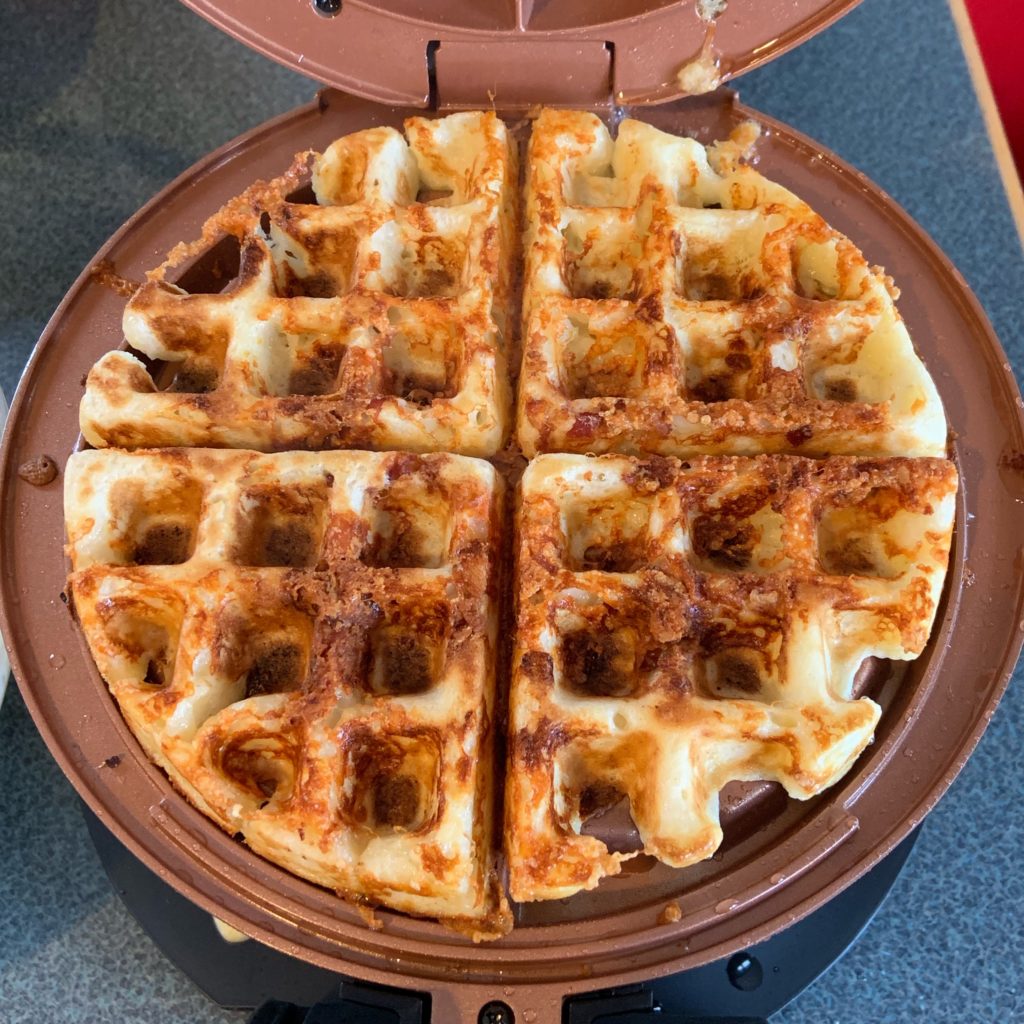 and it smelled DELICIOUS!

I kept them warm in the oven while I made the rest, but then, it was finally time to eat them.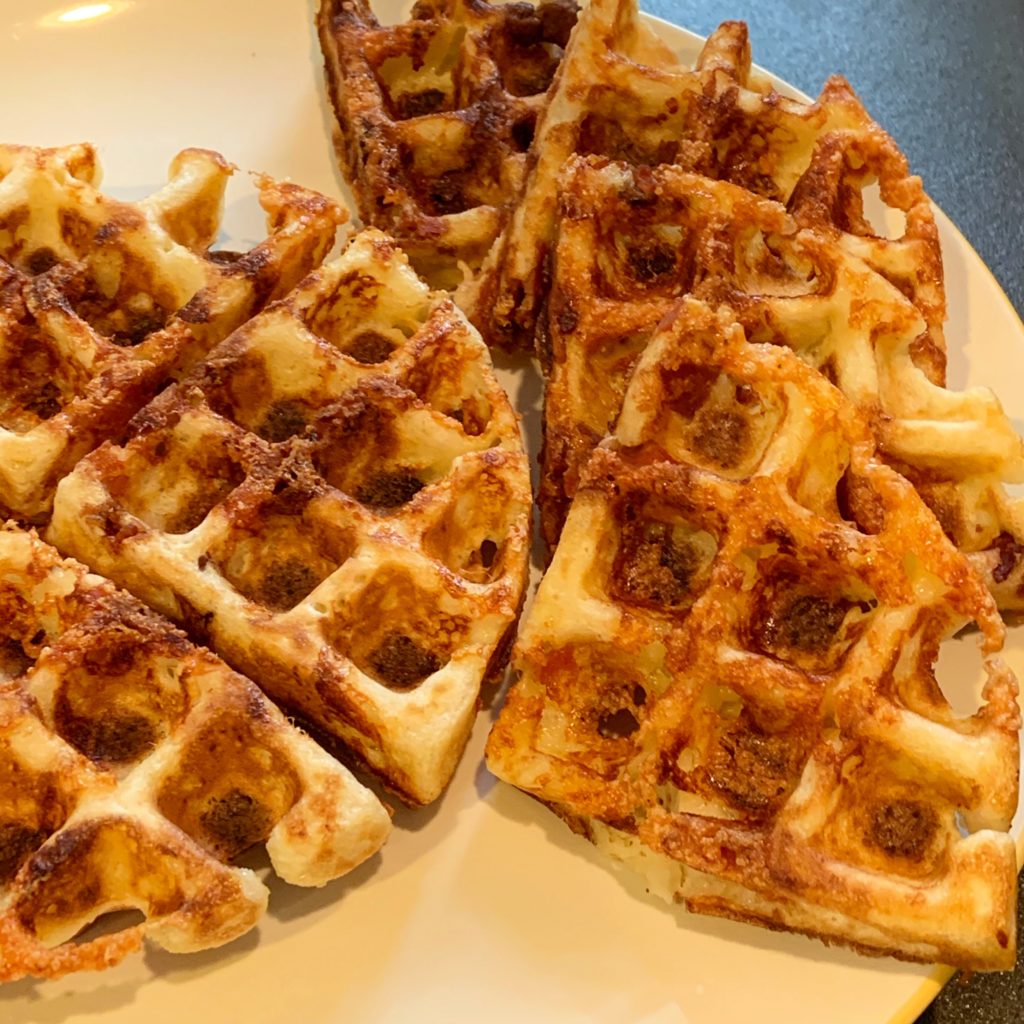 The grits lended a slightly different texture than your typical Belgian waffle. They were less light (though I wouldn't call them dense) and overall not as crisp -- the parts with bacon and cheese on top were certainly crispy. Still, they were pretty much exactly as I expected. Super tasty, and when dipped in maple syrup, a wonderful combination of sweet and salty.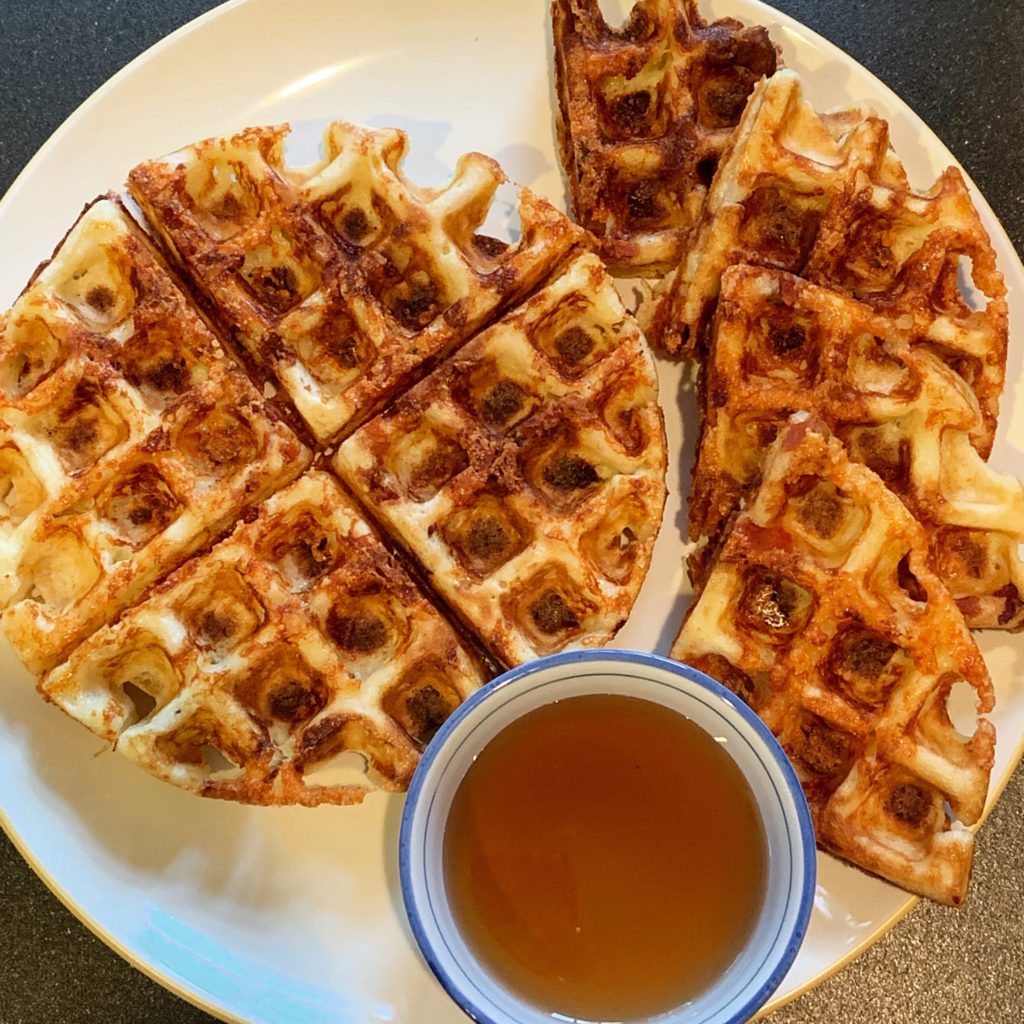 I think these little waffle triangles could be served at a fancy catered brunch, and guests would be more than appreciative.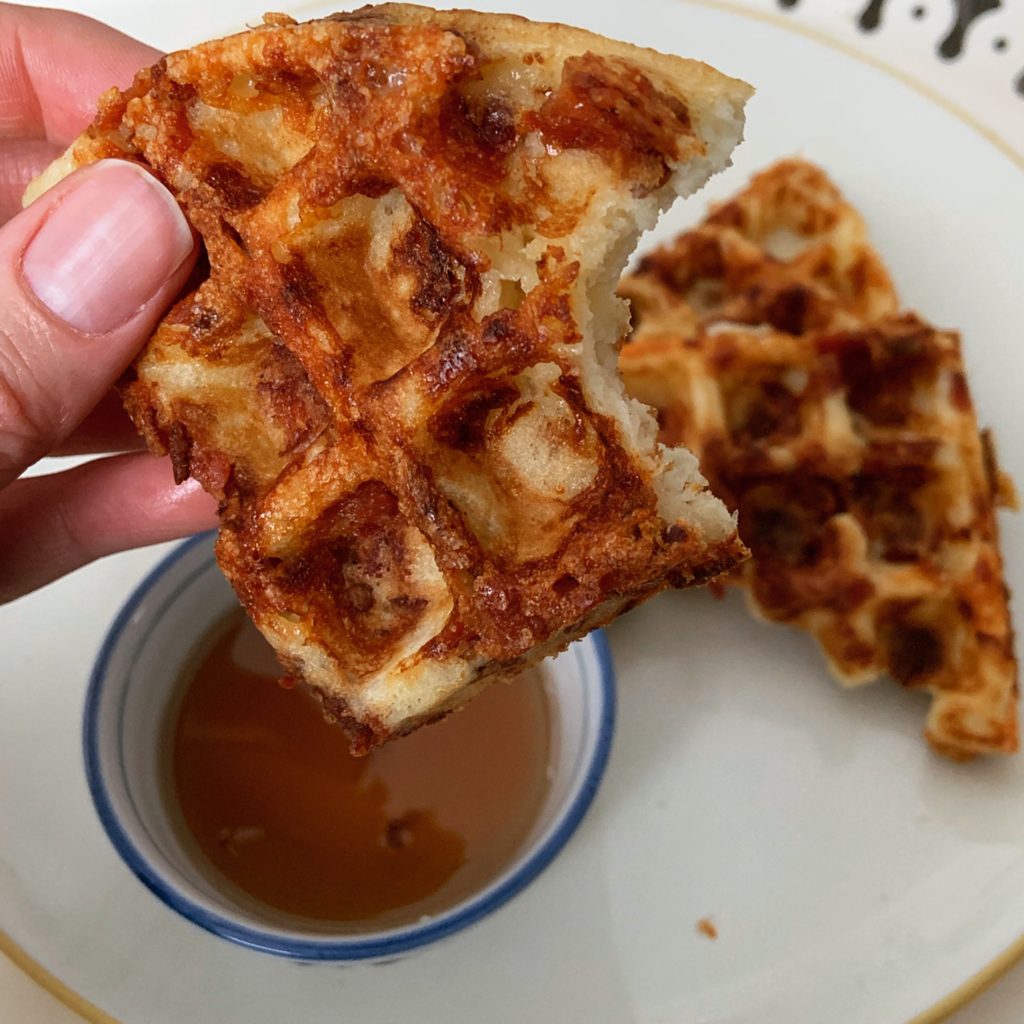 Grits Waffles with Bacon and Cheese
Servings
12
Belgian waffles
Ingredients
2

cups

all-purpose flour

2

tablespoons

sugar

1¼

teaspoons

baking powder

1

cup

quick-cooking grits

Water

according to directions on grits package

6

tablespoons

unsalted butter

1

teaspoon

coarse sea salt

4

eggs

1½

cups

whole milk

1

pound

sliced bacon

about 8 to 12 slices, cooked and coarsely chopped

8

ounces

sharp cheddar

shredded

Maple syrup and butter to taste for serving
Instructions
In a saucepot, bring the water and butter to a simmer. Before the water comes to a boil start adding the grits, stirring steadily until incorporated. Add the salt and stir well. Reduce heat to low, cover and continue to simmer for 30 minutes, stirring occasionally. Add more water if needed.

While the grits are cooking, separate the eggs. Set the yolks aside in a dish, and refrigerate the whites. In a mixing bowl, combine the flour, sugar and baking powder and set aside.

When the grits are done*, remove them from the heat; transfer to a large mixing bowl and let cool to 110°F. This is best accomplished by stirring the grits, which will help them cool faster. Stir the egg yolks into the grits one at a time, mixing well after each addition.

Add the milk and mix well.

Add the flour mixture, mixing until just combined.

Beat the cold egg whites in a mixer or with a hand beater to medium peaks. Gently fold the whites into the batter and mix gently. Chill for at least 1 hour prior to cooking.**

When you're ready to eat, pour the batter into a preheated and well-oiled Belgian-style waffle iron, and add a generous bit of chopped bacon and shredded cheddar. (I recommending using a generous 2 tablespoons each of cheddar and bacon per 1 cup of batter.***) Close the waffle iron and cook until golden brown. Remove the waffles from the iron and place on warm plates. Sprinkle more chopped bacon and shredded cheddar over the top of the waffles. Serve with good butter and real maple syrup.

Repeat until all the batter, chopped bacon and grated cheddar have been used.
Notes
Slightly adapted from: Zingerman's
*You can always cook them longer than half an hour—they'll continue to get creamier the longer you cook them. You may need to add additional water.
**The batter can be made the night before and stored in the refrigerator until you're ready to start cooking.
***If you prefer more mix-ins, you will probably need to use larger amounts than listed in the recipe above. The initial recipe called for 6 ounces of cheese and ¼ cup (or 4 tablespoons) of each mix-in and I ran out of both before the batter ran out. I only used 12 ounces of bacon, but I still don't think it would've been enough. I adjusted the amount of cheese up here.
_______________
This post contains affiliate links. This does not increase the price you pay, but I may receive a small commission for any products you choose to buy. Purchases made through affiliate links help to cover my blogging costs. Thank you for helping to support The Hungry Bookworm! Full disclosure here.