When Leigh Chen Sanders finally kisses her longtime best friend Axel, she knows that her life is about to change. By the time Leigh arrives home, high on the magic of her first kiss, life as-she-knows-it really has changed -- in a way she never could've imagined. In Emily X.R. Pan's debut novel The Astonishing Color of After, Leigh goes on a journey that begins on the day she kissed Axel, the day her mother took her own life.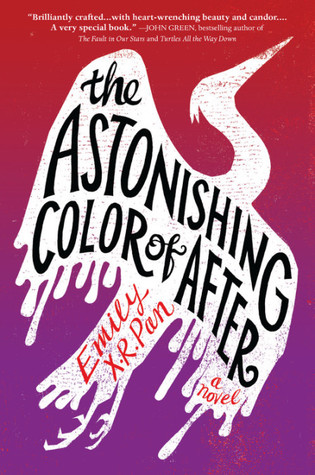 Leigh is half-Taiwanese and half-white, and following her mother's suicide, her father decides it would be beneficial for her to meet her maternal grandparents and discover her heritage. Beginning at her mother's wake, a series of signs lead Leigh to believe that her mother, in death, has become a red bird. As she travels to Taiwan, she becomes almost obsessed with finding her mother the bird and seeks her out wherever she goes.
As an artist, Leigh sees the world through a unique lens, describing all of her moods in colors. Her outlook allows her to get wrapped up in this magical realism around her - her mother the bird and her otherworldly experiences in Taiwan. As a reader, it's easy to get wrapped up in it, too. The journey yields both pleasure and disappointment, as one would expect.
I was impressed by the originality of Pan's storytelling and the care with which she handled the topics of depression and suicide. The novel is in no hurry to get to the end, a bit meandering and repetitive at moments, but it's a beautiful and heartbreaking story worth a read.
Prior to her mother's suicide, Sunday morning waffles were a family tradition in Leigh's house; her mother was always the one to make them. After, Leigh and her father reminisce about her experimenting with Taiwanese flavors, making less appealing red bean waffles and matcha waffles (which were pretty good, actually), before settling on more traditional Belgian waffles with berries and cream.
The matcha waffles intrigued me. I found a recipe on the Matcha Zen Blog and set about acquiring some culinary grade matcha (available on Amazon) as well as a waffle iron (borrowed, again, from my coworker). The recipe should be pretty recognizable to anyone who regularly makes waffles or pancakes, with the exception of the addition of matcha powder.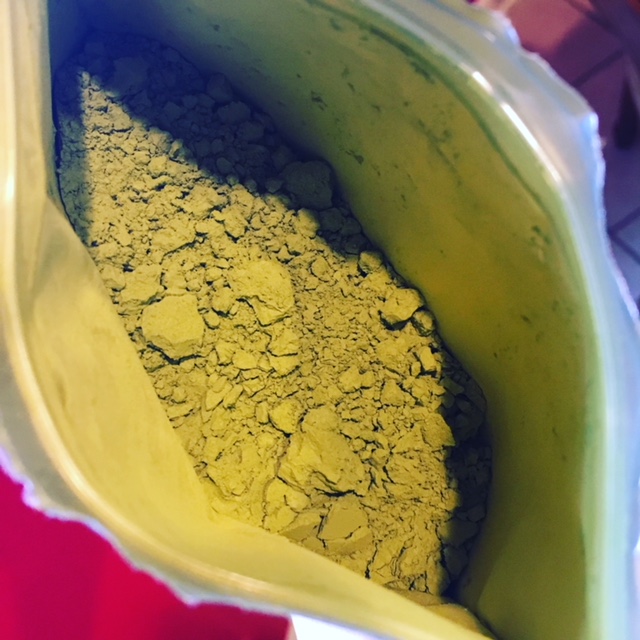 I beat 2 eggs in a large bowl until fluffy and then added just 1 tablespoon of matcha powder, beating further to remove lumps. I added the rest of the ingredients - flour, milk, vegetable oil, a bit of sugar, baking powder, salt and vanilla - and mixed until smooth. I ended up with a batter that was a lovely shade of green.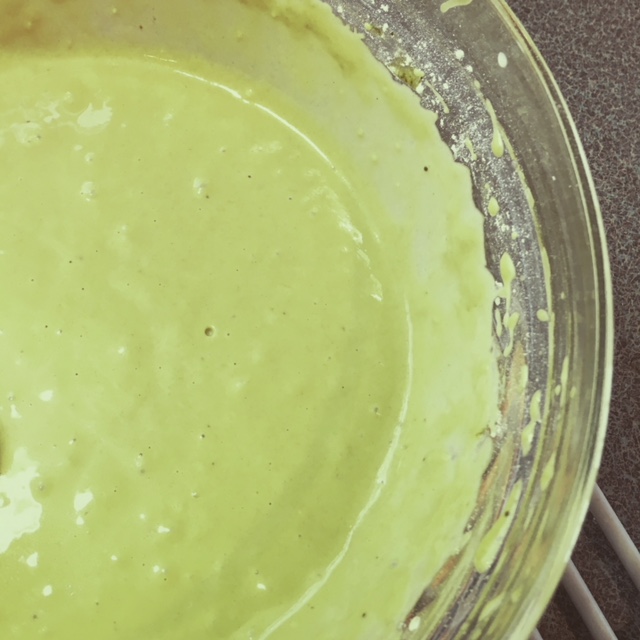 I filled the bottom of the waffle iron with 1 cup of batter, closed it, flipped it, and waited a few minutes until cooked. My first waffle cooked a little longer and browned, hiding some of the beautiful green of the matcha.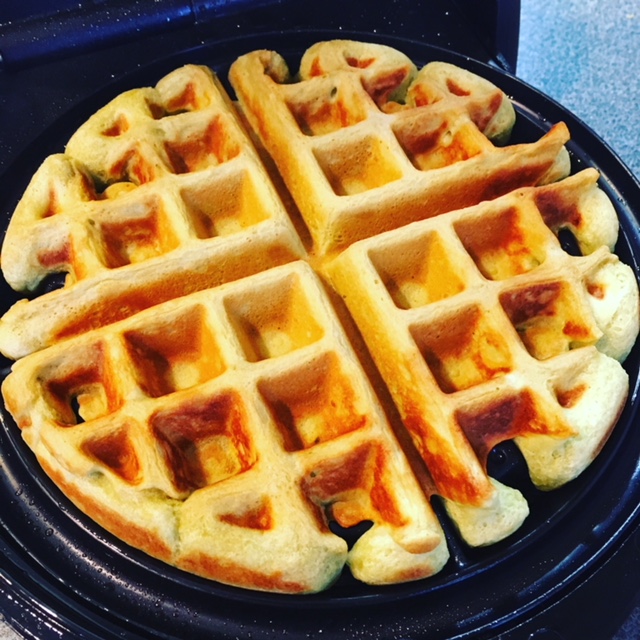 The subsequent waffles I cooked a touch less (about 2 minutes) so they retained their green color.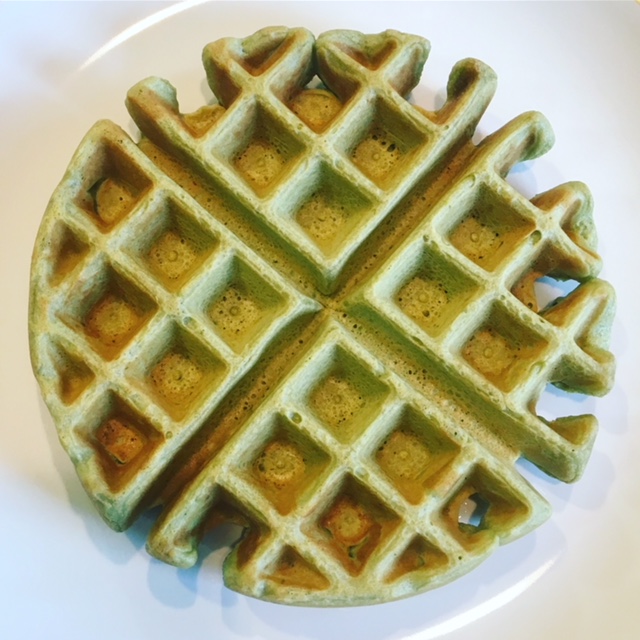 The matcha aroma was stronger than the flavor, which was more subtle than I would've expected. They were delicious with syrup; the original recipe also recommended serving with fruit.   
Matcha Belgian Waffles
Ingredients
2

eggs

2

cups

all-purpose flour

1

TBS

culinary grade matcha powder

1 ¾

cups

milk

½

cup

vegetable oil

1

TBS

white sugar

4

tsp

baking powder

¼

tsp

salt

½

tsp

vanilla extract
Instructions
Beat eggs in a large bowl until fluffy. Add culinary matcha powder and beat until there are no lumps.

Add other ingredients and mix until smooth (about two minutes).

Pour into waffle iron and cook according to waffle iron's directions. Serve hot with syrup and fruit.