A story about a small town in Georgia starts at UC Berkeley with a group of four unlikely friends. In an alternate history class, the "4 Little Indians" hatch a plan that has D'Aron bringing them all back to his hometown for a reenactment of the Civil War. Their demonstration is expected to raise eyebrows and challenge the local mindset, but it ends up changing more than just opinions.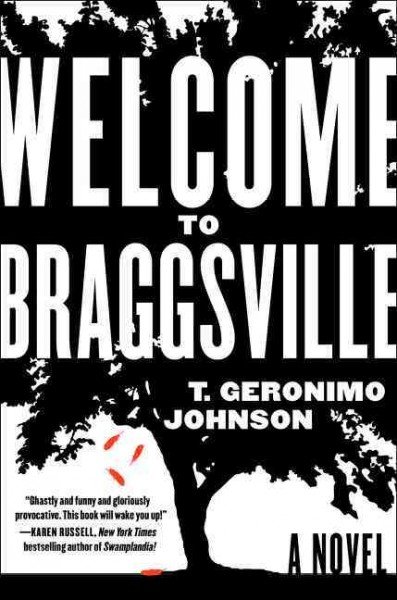 Welcome to Braggsville by T. Geronimo Johnson was chosen as the inaugural book for my office's new Diversity Council Book Club. It certainly spawned some interesting conversation around race, class and unconscious bias and challenged the thinking of everyone in the room.
While I struggled with the writing style, which made it hard to tell who was speaking, if anyone was speaking at all and sometimes what the heck was actually going on, I realized (after some discussion with the group) that that might have been the point. Throughout the book, there is some confusion as to what events actually unfold and how, but one scene that is a very clear turning point in the story happens at a waffle house, while the foursome eats breakfast.
After finding a waffle recipe to accompany this novel, I borrowed a waffle maker from a generous coworker and set to work. With quite a few steps (and dishes), this recipe certainly isn't as easy as some of the ones out there, but it was definitely delicious. If you have the time on a weekend morning, I suggest giving it a try.
With my oven at 200 degrees F, I combined the dry ingredients - flour, cornstarch, baking powder, baking soda and salt. With that set aside, I also combined most of the wet ingredients - buttermilk, milk (I used 2%), vegetable oil, vanilla extract and egg yolks.
In yet another bowl, I used a hand mixer to whip up my egg whites. Once they formed soft peaks, I added 3 tablespoons of sugar and continued whipping to form stiff, glossy peaks.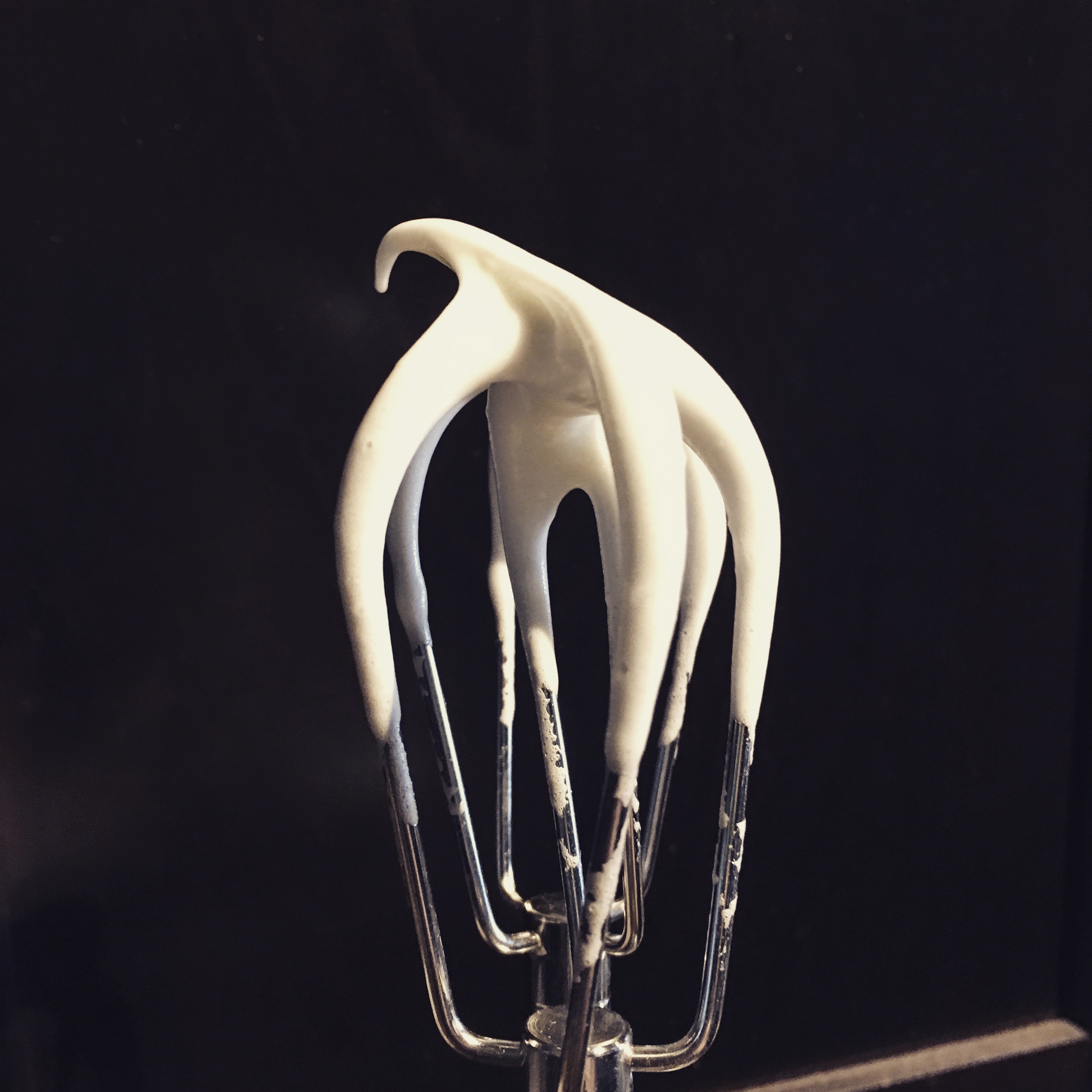 At this point, I turned on my waffle maker to preheat. (It didn't take very long to get up to temperature.)
While whisking, I poured the wet ingredients into a well in the middle of the dry ingredients and mixed until they were just combined. Finally, I folded in the egg white mixture. With the batter all ready to go, I began making the waffles.
I had to use about 1 cup of the mixture per waffle, but be sure to follow the directions on your waffle maker. Since I could only make one at a time, I followed the suggestion of Jaclyn at Cooking Classy and used the warm oven to keep them from getting cold while I finished up.
Though there are plenty of ways to "fancy up" the waffles, we went the classic route and topped them with a bit of butter and some maple syrup. I hope you enjoy as much as we did!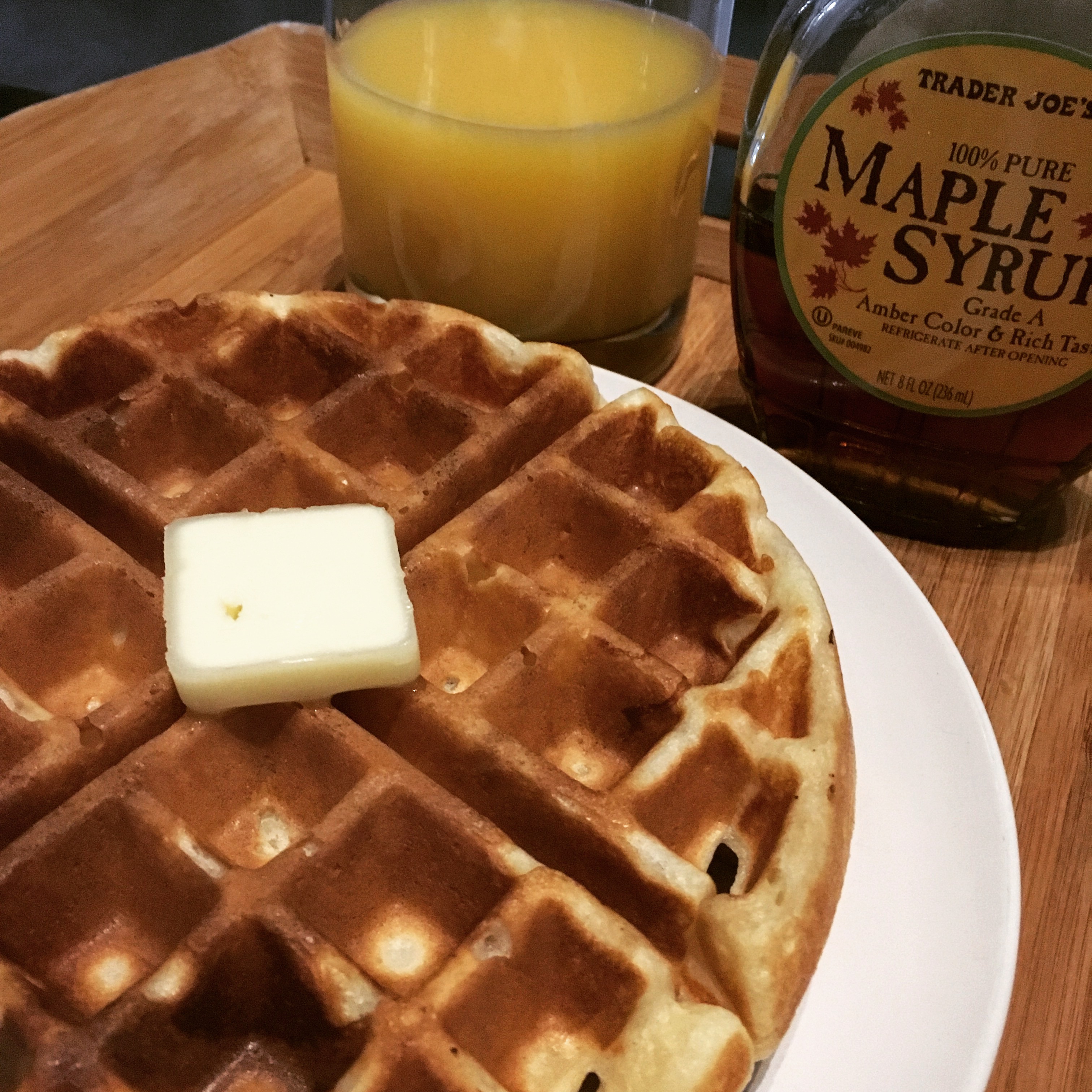 Buttermilk Belgian Waffles
Ingredients
1½ cups all-purpose flour
½ cup cornstarch
1 tsp baking powder
½ tsp baking soda
½ tsp salt
1 ½ cups buttermilk
½ cup milk
6 Tbsp vegetable oil or canola oil
½ tsp vanilla extract
2 large eggs, whites and yolks separated
3 TBS granulated sugar
Directions
Preheat oven to 200 degrees F. Preheat a Belgian waffle iron (if you don't have a Belgian waffle maker a regular waffle maker would work fine). In a mixing bowl whisk together flour, cornstarch, baking powder, baking soda and salt for 20 seconds, make a well in center of mixture and set aside.
In a separate mixing bowl whisk together buttermilk, milk, vegetable oil, vanilla extract and egg yolks until combined.
In a separate bowl, using an electric hand mixer set on high speed, whip egg whites (make sure there isn't a drop of yolk or they'll never fluff up) until soft peaks form. Add sugar and whip until stiff glossy peaks form.
While whisking, pour buttermilk mixture into well in flour mixture and mix just until combined (batter should be slightly lumpy). Fold in egg white mixture.
Cook batter in waffle iron according to manufacturer's directions. Once each waffle is done, transfer to warm oven and allow to rest until crisp. Serve warm with butter and maple syrup.
Variations: Serve with sweetened whipped cream, fresh berries and raspberry/blueberry or strawberry syrup. For churro waffles, brush top of waffle with melted butter (be sure to get in each square) then pour a generous amount of cinnamon sugar into a 9-inch pie dish and dunk butter coated side in cinnamon sugar mixture.
This post contains affiliate links. Full disclosure here.