Sometimes you just need an easy read. My friends, 2020 is like all of those times combined. I recently read three rom com books in a row, and You Lucky Dog was the first. I chose it because it looked cute, and more importantly, it featured dogs, which meant I got to make some treats for my puppy again. (It's been a while.) It was just what I needed.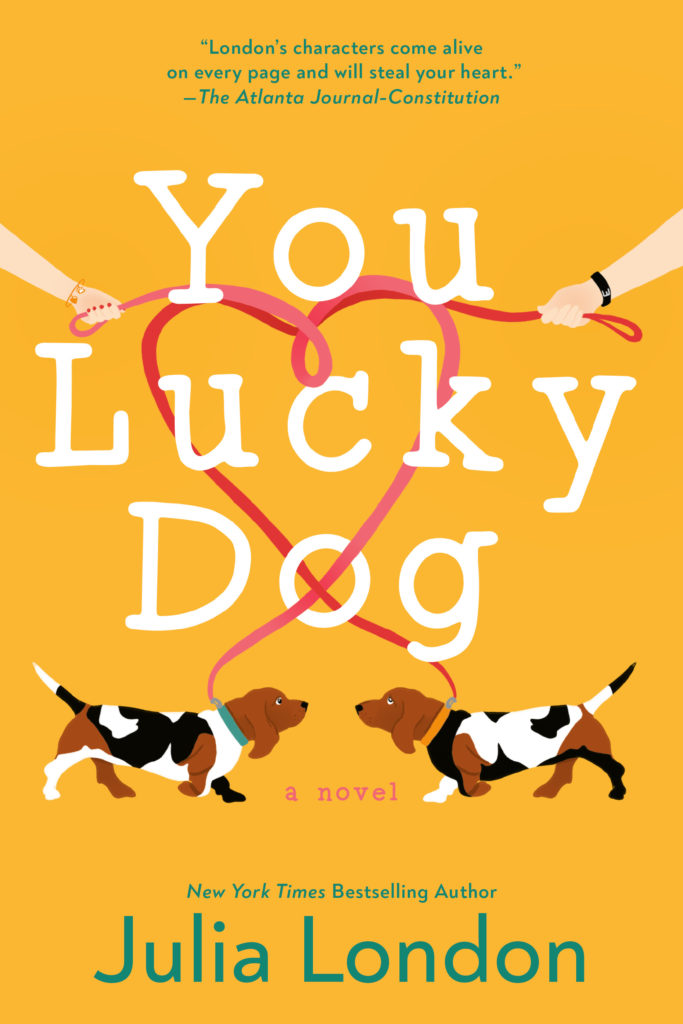 Carly's dog, Baxter, is the mopiest dog on the planet; Max's Hazel is sociable and happy. It becomes almost immediately obvious to Carly, when she comes home, that the excitable basset hound laying on her couch isn't hers. Cue the meet cute. Carly and Max meet when their dogs get mixed up through a mishap with their mutual dog walker.
I strongly related to Carly's urge to go to NYC to get her career off the ground, no matter the consequences on her love life. (For those unaware, I did the same — after meeting my now-husband just a few months earlier… and ultimately moved back for him.) Outside of that, there are things to love about this novel — it's an easy read; the dogs are cute; Max is a really loveable guy. There are also things I didn't love so much, but none of that ruined it for me. I thought this was a charming book through and through. It whisked me off my feet just when I needed to be whisked.
And, as anticipated, it led me to dog treats. Mac and cheese dog treats, to be exact. Early on in the story, Baxter is eating macaroni and cheese when Carly finds him at Max's house (a huge no-no!). Even beyond that, mac and cheese as a dog food is mentioned constantly. I knew it was the perfect pairing. 
I found a recipe for cheesy dog treats and decided to do my best to make them into macaroni noodle shapes. As all dog treat recipes should, it contained few ingredients and was fairly easy to throw together. The hardest part was the cutting it into shapes, if I'm being honest. (A shape cut straight from a cookie cutter would certainly be easier.)
First, I whisked together eggs, olive oil and water until frothy. Then, added some shredded cheddar cheese. To that mixture, I added flour, about a half cup at a time to start.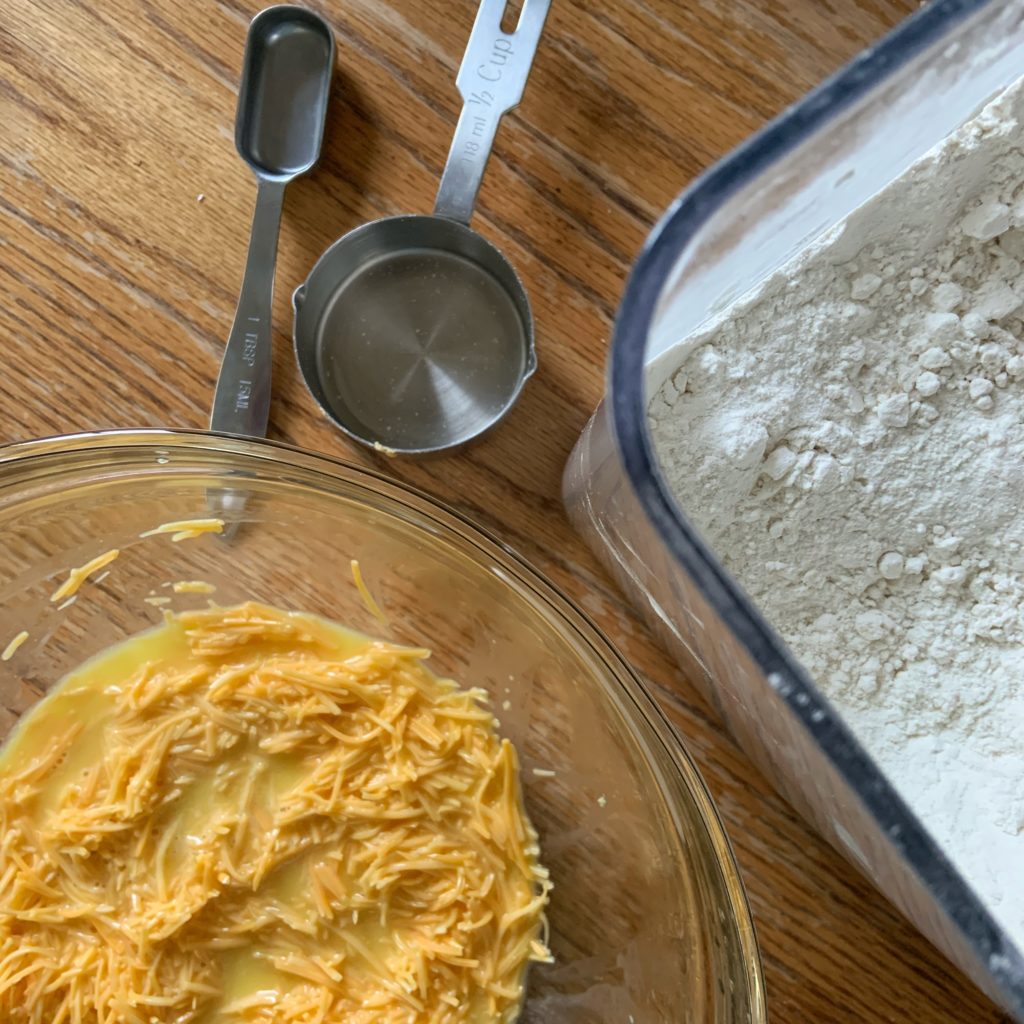 When it got to stiff to stir, around the 1½ cup mark, I started adding just a tablespoon of flour at a time and used my hands to knead it in. (For reference, there are 8 tablespoons in a half cup of flour). After 2 cups of flour, my dough was ready and the cheese nicely incorporated from the heat of my hands.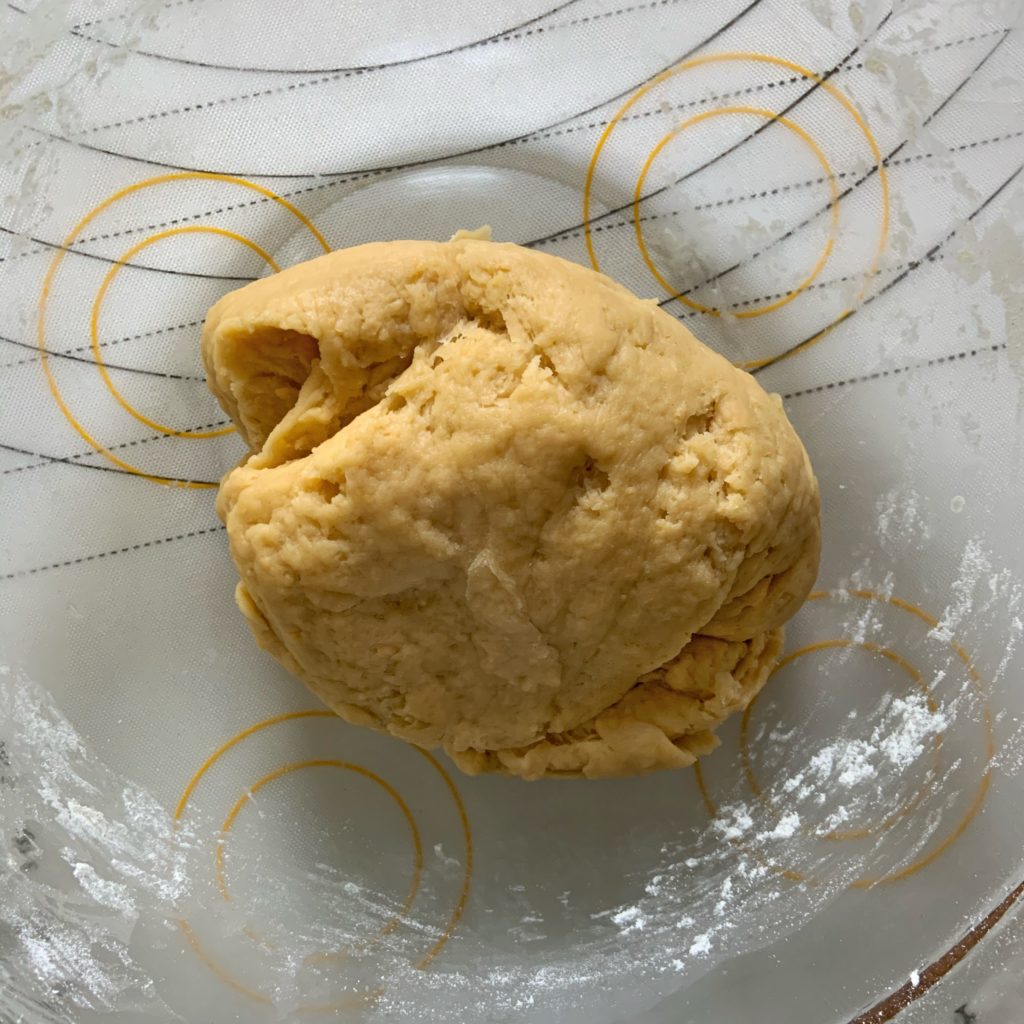 I rolled my dough and then used two circular cookie cutters to cut thick O shapes. I used a 5-inch circle and a 2.5-inch circle.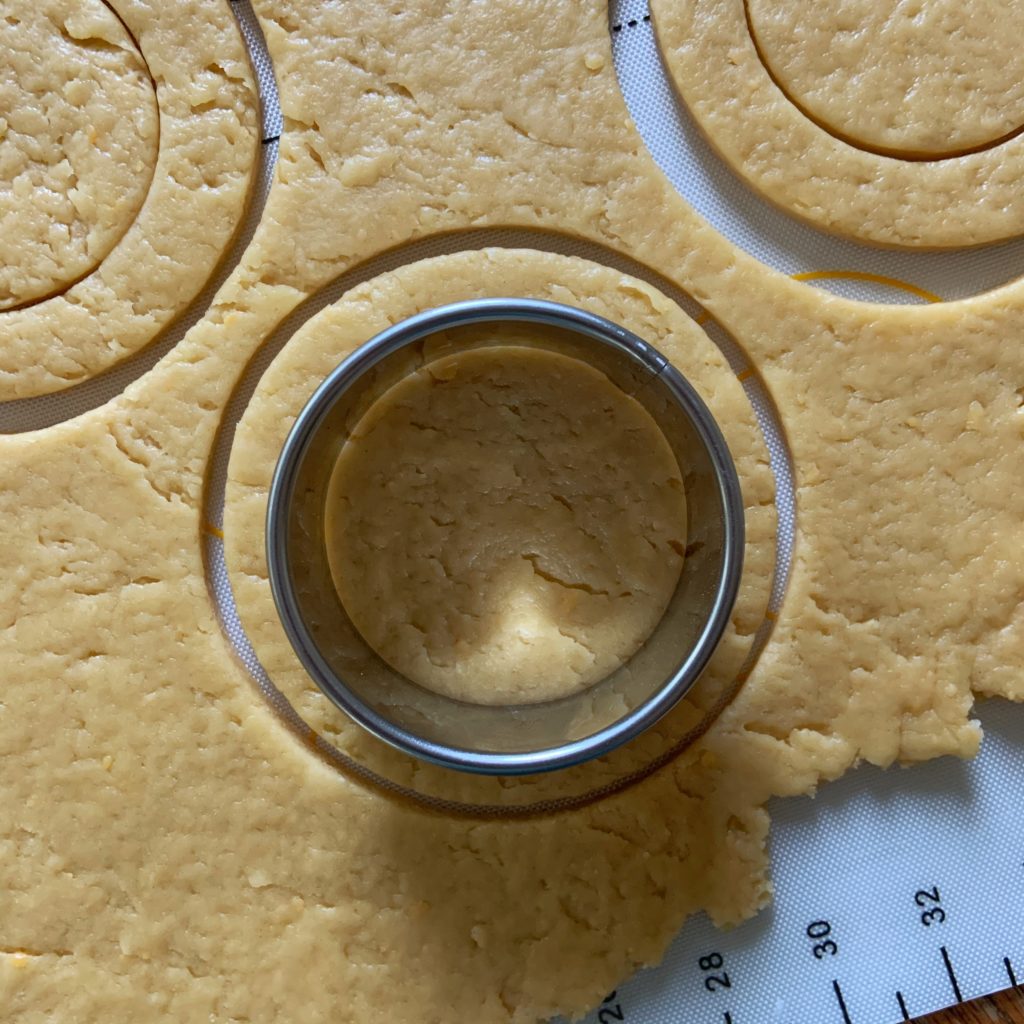 Once I had the O shape, I cut that into about five pieces to make "noodles."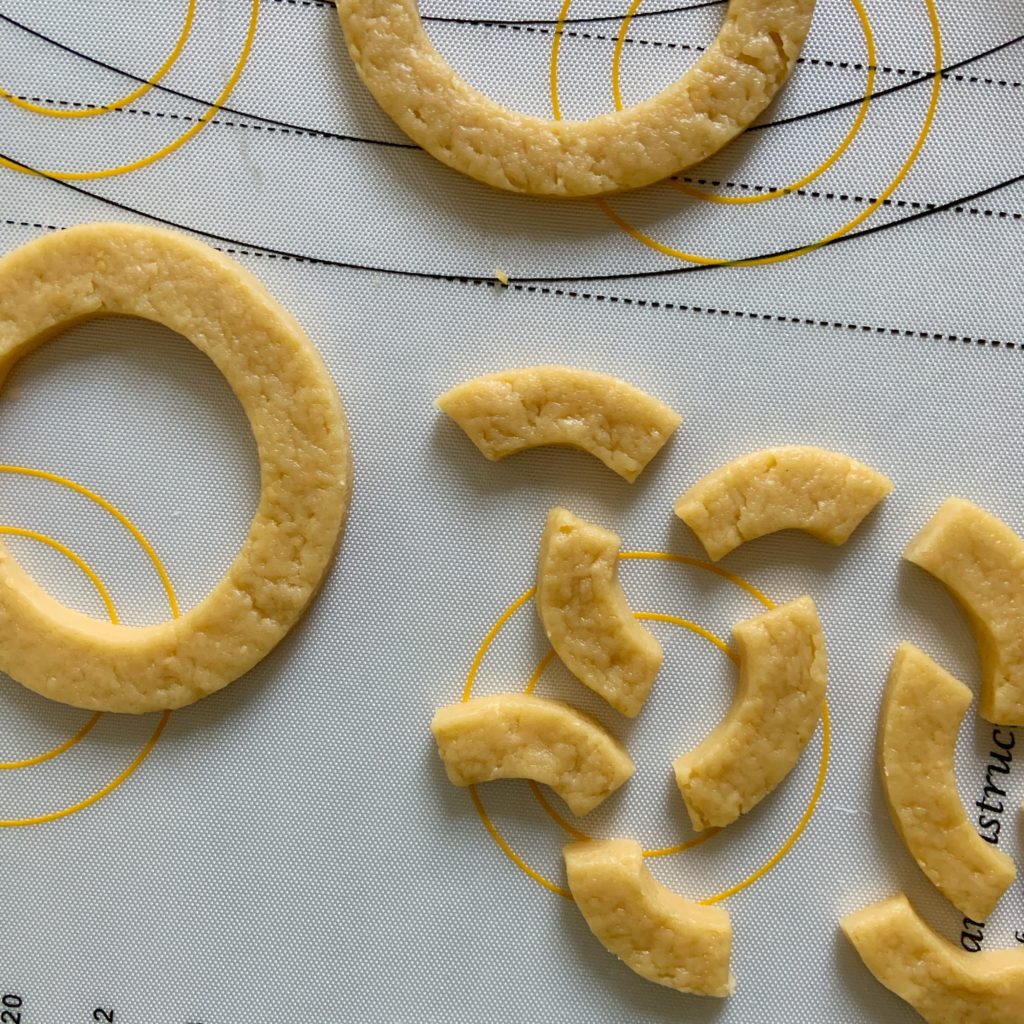 I laid them out on cookie sheets. You can get them quite close, as they don't spread. (I probably had them too far apart here and had to use two cookie sheets.)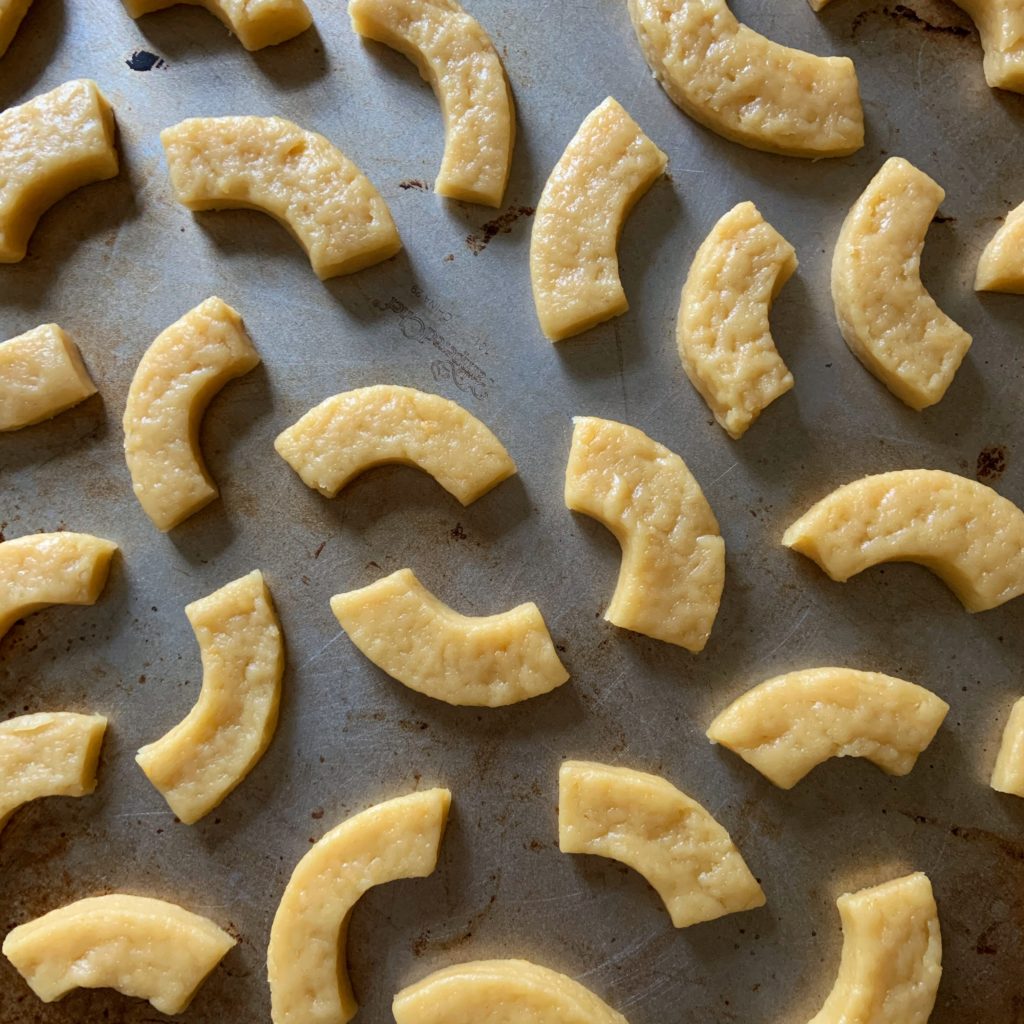 I baked them for about 15 minutes at 325 degrees, until the bottoms were lightly golden. The ultimate bake time will depend on how large your treats are; the original recipe called for 17-20 minutes.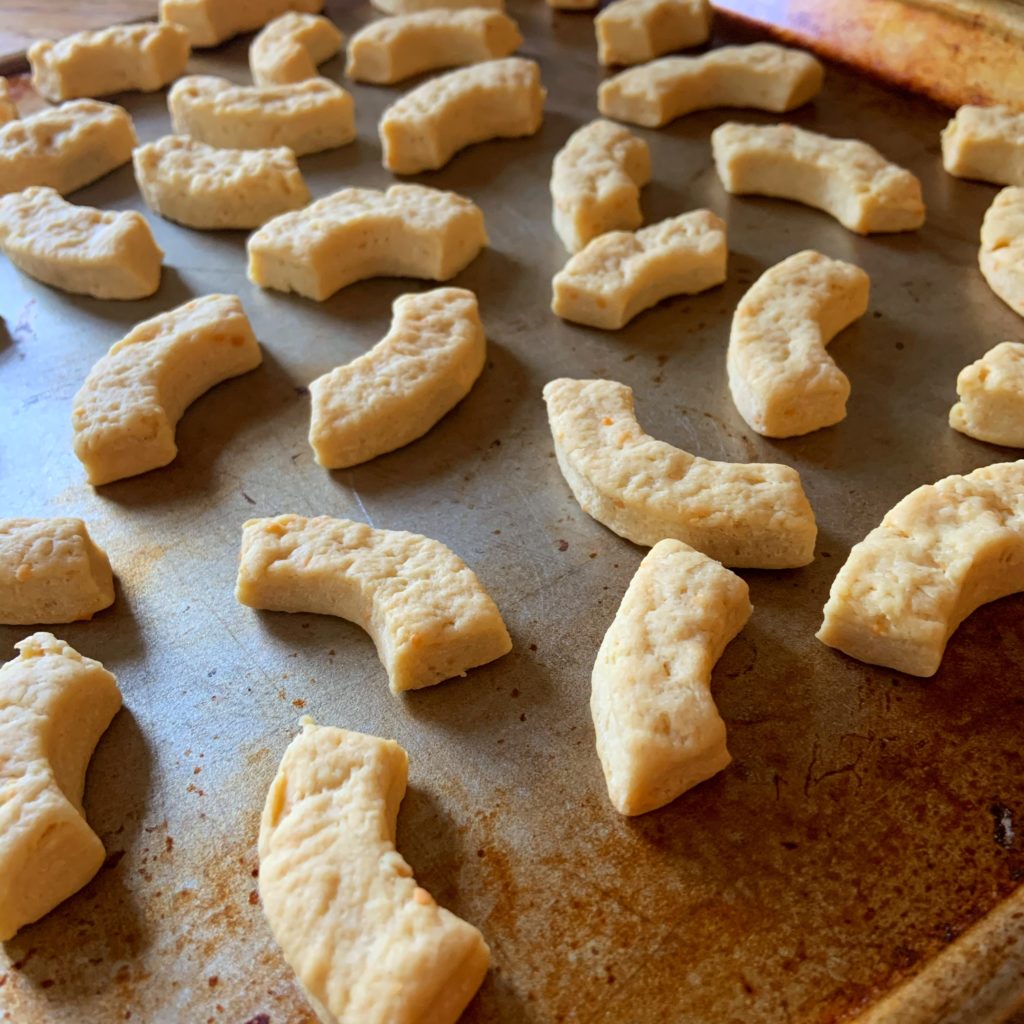 Then, I turned off the oven and left them inside to cool overnight, which produces a crispier treat.
This recipe made about 7 dozen noodles, so I had a lot to go around! First, Beta sampled them.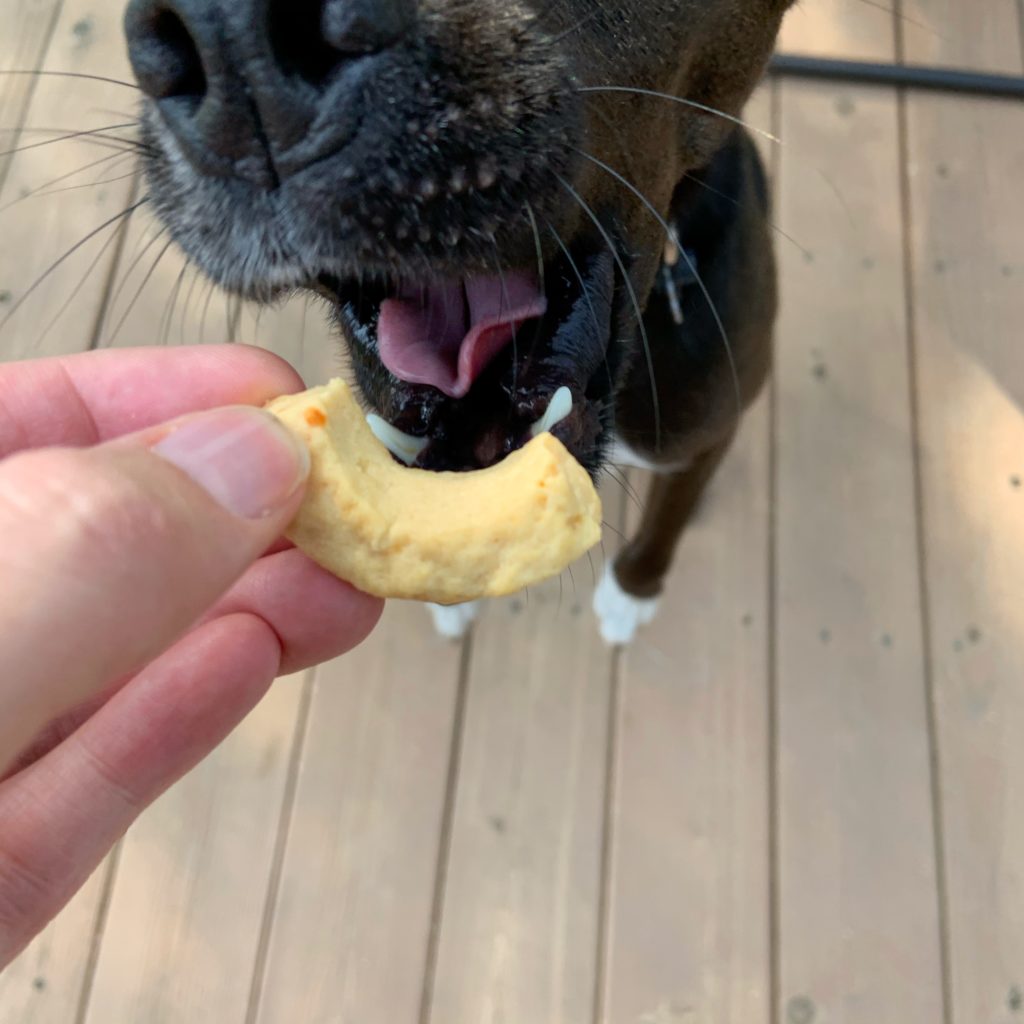 And once she approved — as with most of my dog treats — I shared the love. I gave a bag to my neighbor, some to my coworkers and the rest to a couple of ladies in my book club with pups. They sent me pictures in as a thank you. Look how cute!
If you like curling up with your dog while enjoying a rom com now and then, I recommend giving this book a go. And, if you like spoiling your pup with homemade goodies, this recipe gets two paws up from Beta (and all the other dogs too)!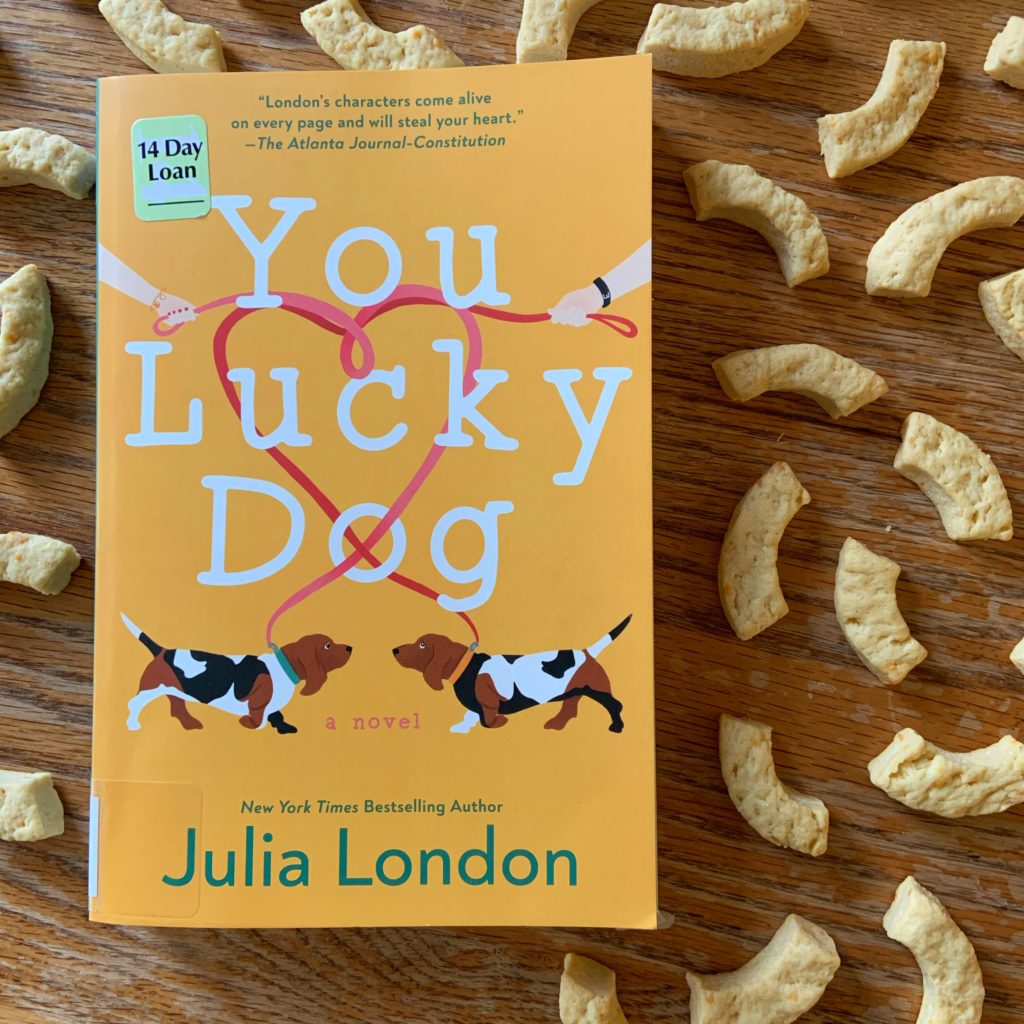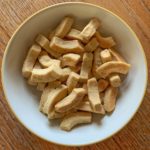 Print Recipe
Mac and Cheese Dog Treats
Servings:
7
dozen (approx)
Ingredients
2

large eggs

3

tablespoons

extra-virgin olive oil

2

tablespoons

cold water

2

cups

shredded sharp cheddar or other strongly flavored cheese

2

cups

all-purpose flour
Instructions
Preheat the oven to 325 degrees F.

In a medium bowl, whisk together eggs, olive oil, and water until the mixture is thick and frothy (approx. 1 – 2 minutes). Fold in the cheese.

Add the flour, a half cup at a time, stirring to combine, until you reach 1 1/2 cups. When the dough becomes too stiff to stir, continue adding flour 1 tablespoon at a time, knead it in with your hands. As the warmth from your hands works the dough, the cheese will melt and smooth out the dough.

If the mixture remains slightly crumbly even after you have kneaded it for several minutes, rinse your hands with cold water, shake them off and work this small amount of water into the dough – that should be just enough to bring it together perfectly.

Using a rolling pin, roll out your dough to ¼" thick. Use a cookie cutter to cut the dough into shapes.

Place the dough on a cookie sheet; the dough will have very minimal spread, so the cookies do not need much extra spacing.

Bake your dog treats for 17 – 20 minutes until the bottoms are lightly golden.

Allow the dog treats to sit on the baking sheet for 2 minutes after you've taken them out of the oven, then move them to a wire rack to cool completely.

For a crisper, crunchier treat, turn off the oven and allow the treats to cool inside overnight.

Store in an airtight container for up to a week or in the freezer for up to 3 months.
Notes
Slightly adapted from: Kol's Notes
To achieve a macaroni and cheese shape, use 5-inch and 2.5-inch circular cookie cutters to create an O. Once the O is formed, use a paring knife to cut it into 5 pieces and create "noodles." Begin checking after 13 minutes, pulling after the bottoms are slightly golden.
---
This post contains affiliate links. This does not increase the price you pay, but I may receive a small commission for any products you choose to buy. Purchases made through affiliate links help to cover my blogging costs. Thank you for helping to support The Hungry Bookworm! Full disclosure here.