Welcome to the fourth feature focusing on the women within What She Ate: Six Remarkable Women and the Food That Tells Their Stories by Laura Shapiro. This time I'm talking about Eva Braun, one of the more notorious women Shapiro covers in the book.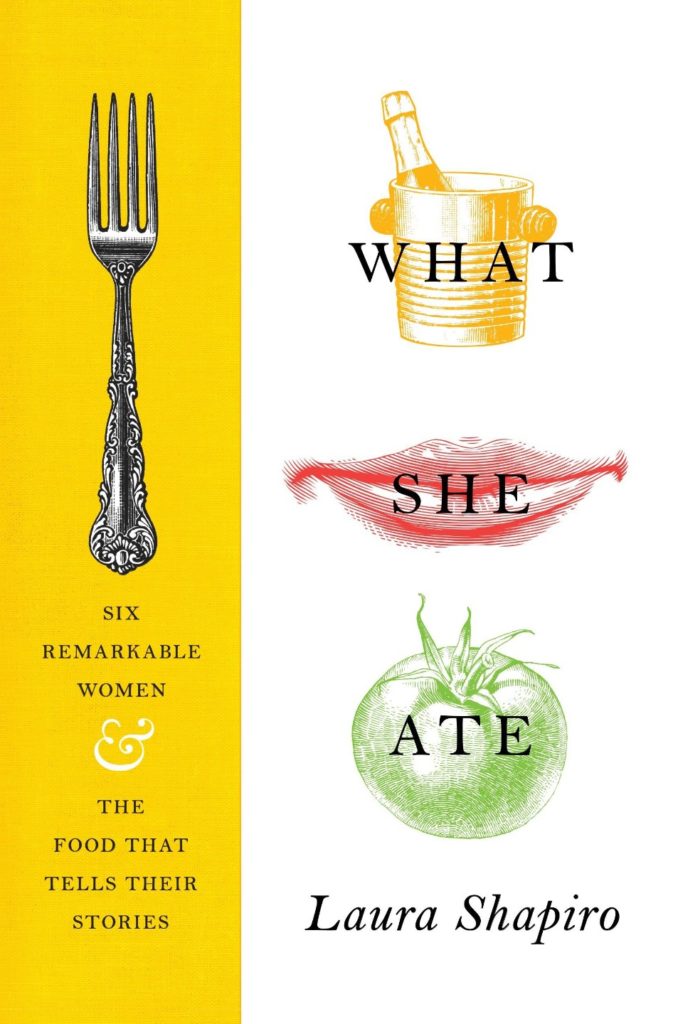 For those of you who don't know, Eva Braun was Hitler's mistress (and, at the very end, wife). While Hitler took precautions to appear unattached in public, in private, it was well-known that he was with Eva. She hosted many of the meals at Berghof, a Nazi party retreat in the Bavarian Alps. If you saw my review of The Taster, Berghof will be quite familiar to you.

Eva had a somewhat complicated relationship with food, prizing her slim figure and taking care not to eat more than was strictly necessary. She did, however, have a fondness for champagne (as did all the Nazis) and sweets. Honestly, I was a little disappointed in this section of the book — I thought it focused much less on Eva than I'd have expected (there was basically no inclusion of her life before Hitler), and food also appeared less than in previous chapters.

Champagne is mentioned multiple times throughout the chapter, though "champagne" during that time came to mean any sparkling wine from anywhere (and, thus, not truly champagne). Regardless, it flowed quite steadily in Nazi circles, and it was a favorite of Eva's, who enjoyed a good celebration. That's how I came to decide on Champagne Cake to represent Eva's food story.

I found a "how to" guide for champagne cake on Taste of Home, procured a bottle of Prosecco (because it was said to have a good, sweet flavor that I thought would work well), and set to work.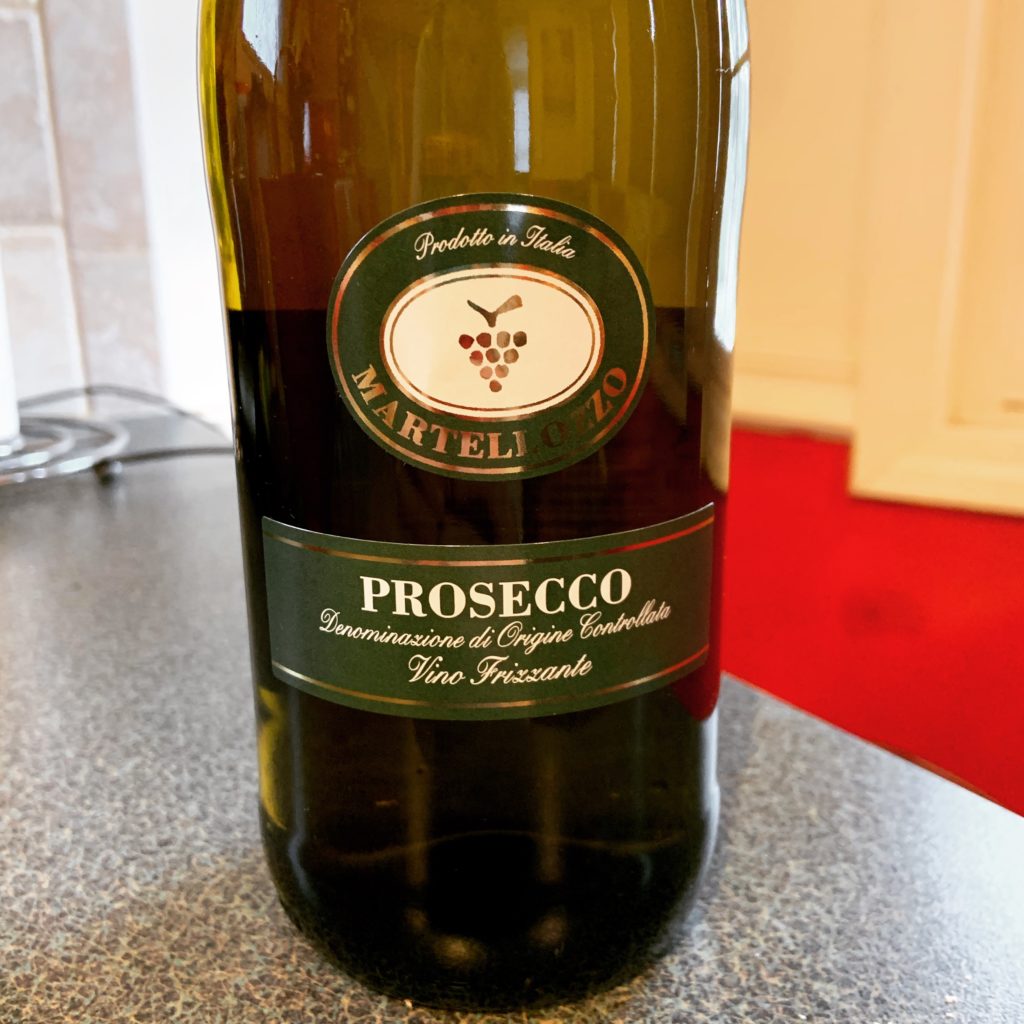 First, I reduced the champagne down to concentrate the flavor. The original recipe said it would take 10 minutes, but it ended up taking closer to 25. I've noted the range in the recipe below.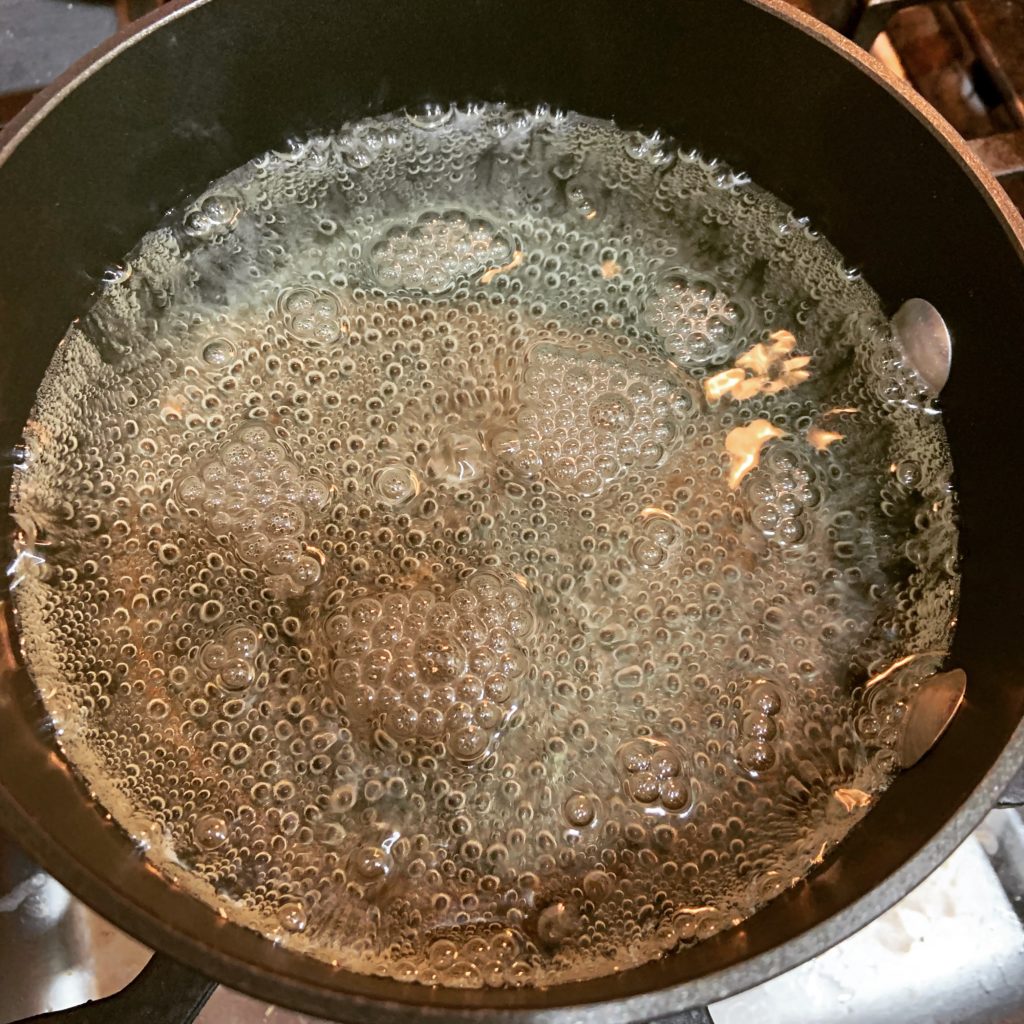 While the champagne cooled to room temperature, I prepared my cake pans for baking and made the batter. I combined the dry ingredients (flour, baking powder and salt) into a medium bowl. In a separate larger bowl, I creamed the butter and sugar together, adding sour cream, vanilla and egg whites to the mixture.

In alternating batches, I added the dry ingredients and champagne and milk, mixing until combined. I divided the batter into my 3 baking pans using a kitchen scale and popped them into the oven.

After 22 minutes, two of my three pans were good to go. The other needed another minute or so. I let them cool for 5 minutes in the pan and then turned them out onto a wire rack to finish cooling completely.

Then, I made the frosting, which is a classic buttercream with a touch of champagne added. I combined softened butter, powdered sugar, vanilla extract, a little more champagne and milk until it was good spreadable consistency. While the cakes, continued to cool, feel free to enjoy the rest of the champagne! (You should have a few glasses left.)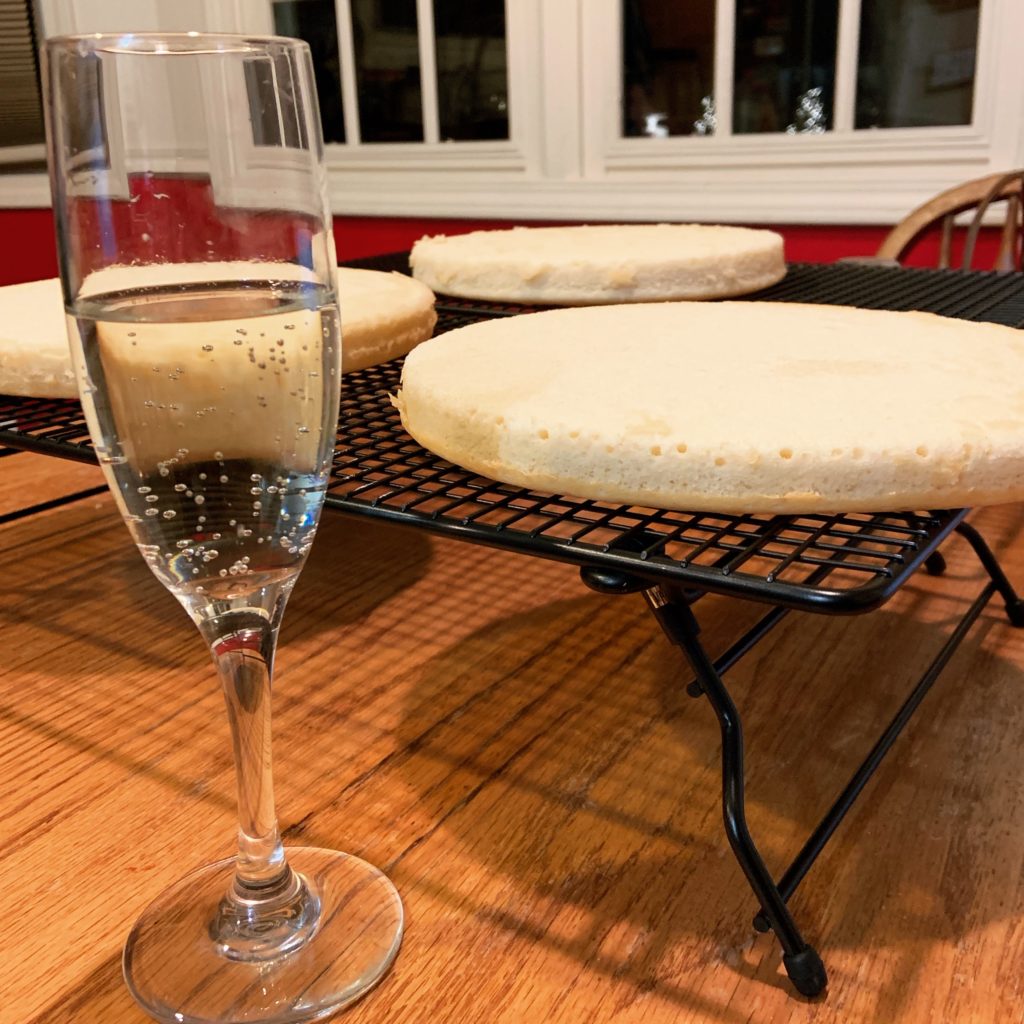 I'm not the best at frosting cakes, but I tried my best. First, I covered the top of the bottom layer, added another cake, frosted the top of that, and then added the last layer. I covered that in frosting on top as well and then moved onto the sides, doing my best to coat it not too much and evenly.

Then, I sprinkled on some iridescent white and silver sprinkles and added a few sugar pearls for good measure.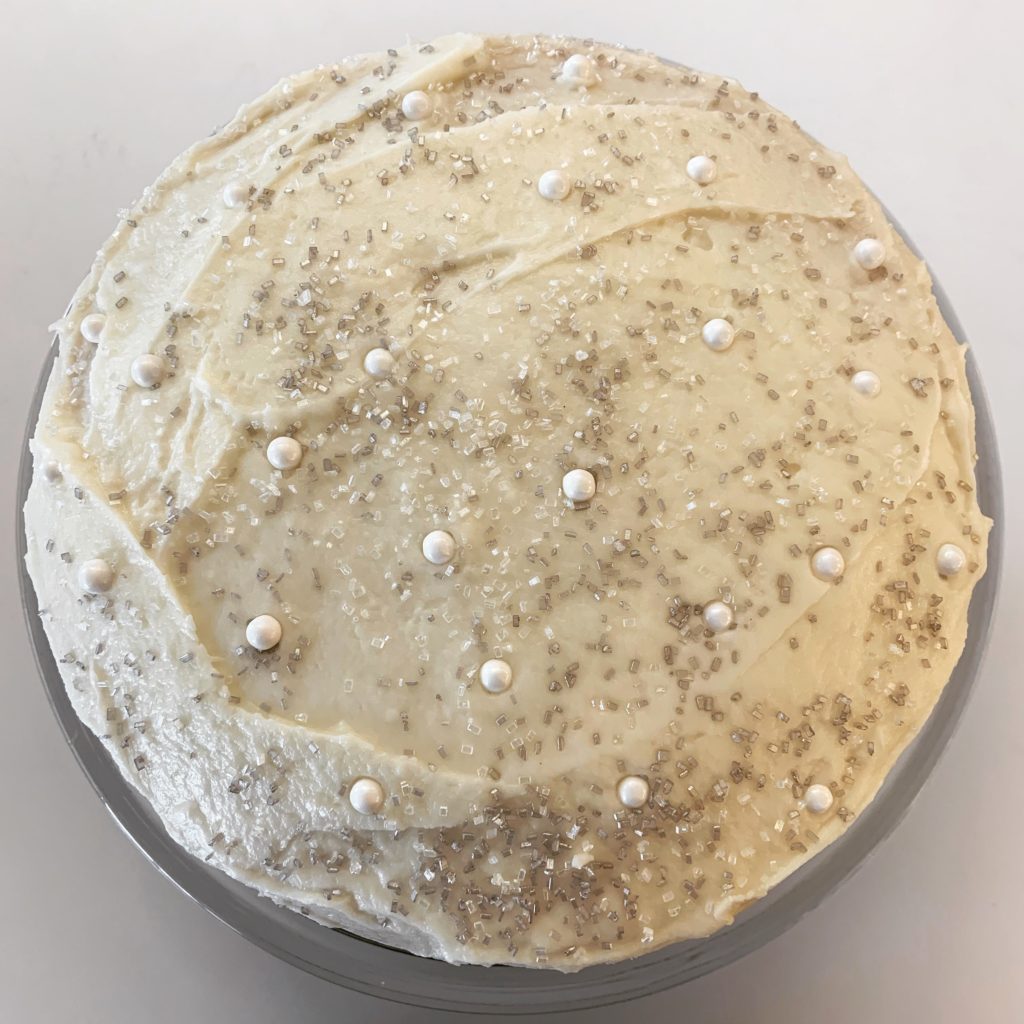 I ended up bringing it to work for a coworkers' birthday, and it was a hit! You could definitely taste the champagne in the cake, which was a little odd at first but obviously still quite delicious, if you're a champagne fan—and why would you make this cake if you weren't.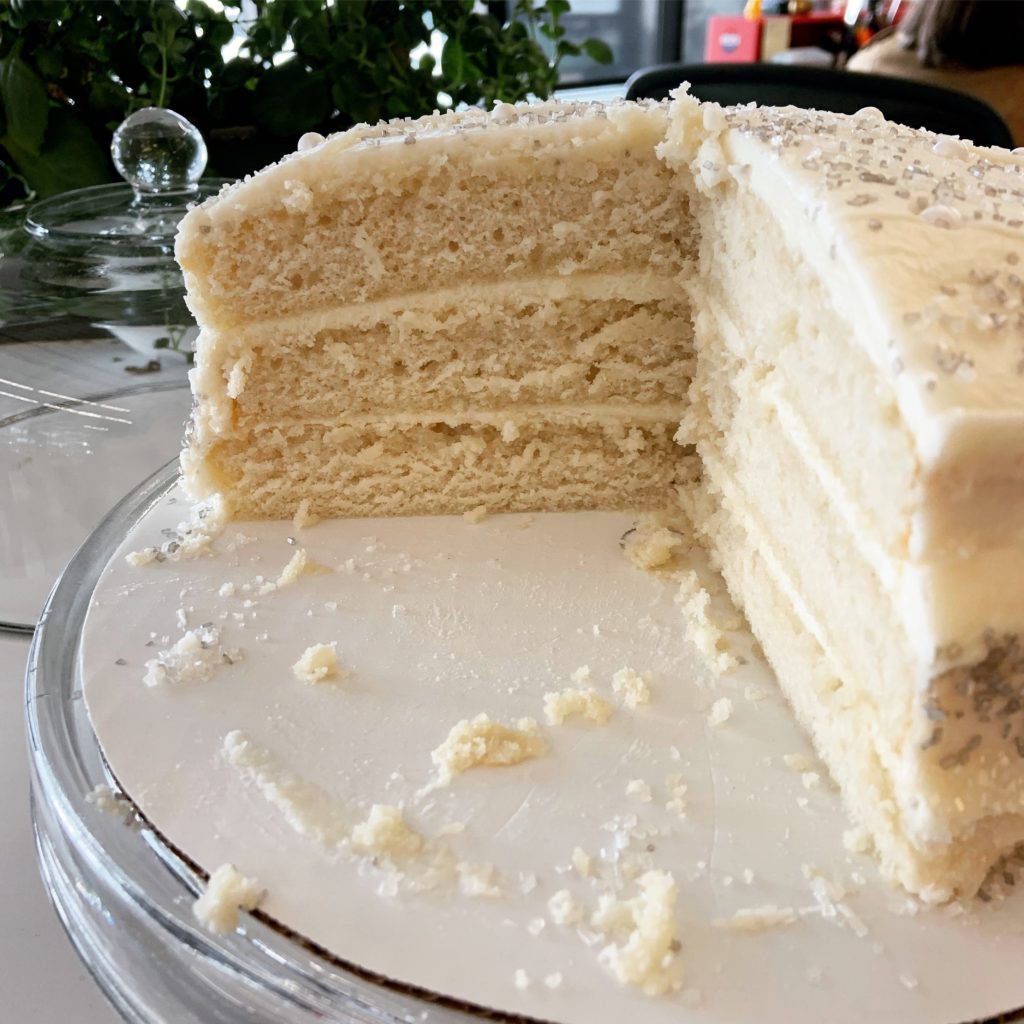 It was less airy than I expected, but because of the sour cream, it was super moist. It didn't last long!

Definitely a fun cake for celebrations, and a new use for champagne.

Champagne Cake
Ingredients
For the cake:
2

cups

champagne or the sparkling wine of your choosing

2½

cups

flour

3½

teaspoons

baking powder

½

teaspoon

salt

1¾

cups

sugar

¾

cup

butter

softened

⅓

cup

sour cream

1

teaspoon

vanilla

6

egg whites

¾

cup

milk
For the frosting:
1

cup

butter

softened

9

cups

confectioners' sugar

1

teaspoon

vanilla extract

2

tablespoons

champagne

⅔ to ¾

cup

milk
Instructions
Start by concentrating your champagne: Measure 2 cups into a small saucepan, bring to a simmer and reduce until you have 1 cup left. (This will take between 10 - 25 minutes depending on the strength of your simmer.) Remove from heat and cool to room temperature.

Meanwhile, measure flour, baking powder and salt into a medium bowl. Set aside.

While the champagne continues to cool, prep your pans for baking. Grease and flour each of the 3 8-inch round pans, taking care to coat them well. Preheat oven 350 degrees F.

In a large bowl, cream together softened butter and sugar. When nice and fluffy, add sour cream and vanilla extract until well-combined. Add egg whites, beating until fluffy.

Add your dry ingredients and cooled champagne/milk to the wet ingredients in alternating thirds. Scrape sides as needed. Mix until combined.

Divide batter between 3 pans evenly. Bake for 22-25 minutes, until a toothpick comes out clean.

Cool for 5 minutes in the pan before turning out onto a wire rack. Allow to cool completely before frosting.

To make the frosting: Beat together softened butter, powdered sugar, vanilla extract and champagne. To that mixture, add milk—starting with ⅔ cup and adding more as needed up to ¾ of a cup—until it reaches the right consistency.

Frost the bottom layer of the cake, add another layer and coat the top in frosting, and then add the final layer and coat the top and sides. Decorate as desired.

Serve with champagne.
Notes
From: Taste of Home
A note on selecting your champagne: You can use any sparkling wine of your choosing. If you enjoy a dry champagne, opt for your favorite brand. If you like something a bit sweeter, try a prosecco or sparkling Moscato. And if you want to add a little color to this cake, pop for pink champagne! (You may also want to add a little pink food coloring to the batter to enhance the cake's color.)
_______________
This post contains affiliate links. This does not increase the price you pay, but I may receive a small commission for any products you choose to buy. Purchases made through affiliate links help to cover my blogging costs. Thank you for helping to support The Hungry Bookworm! Full disclosure here.