Could you use a lovely read right now? If so, The Switch is for you. I was supposed to post this on Tuesday, but let's be honest, I was preoccupied. I still am… and haven't read anything in the last few days, but I need a distraction, so I'm going to share this relaxing, cozy story with you.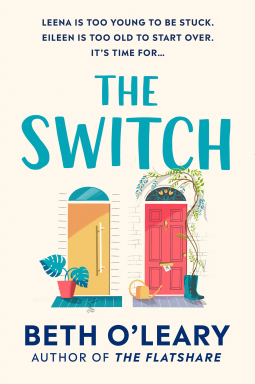 Beth O'Leary's The Switch seems made for the movies. It's a rom com where Leena switches places with her grandmother, Eileen — not in a Freaky Friday way, more in a The Holiday way. Leena moves out of her apartment in London and into her grandmother's house in Yorkshire (the country). Eileen takes up residence with Leena's roommates and decides to give online dating a go. They switch phones and find ways to busy themselves over the two months they've agreed to swap lives.
It was completely charming. It was easy to read, and I'm almost bummed I read it over a month ago instead of being able to read it for the first time right now. I could also use some brownies right now.
I decided to make brownies to go with The Switch because they're part of Leena's "journey." She bakes them several times throughout the novel, teaching herself how not to ruin them as she goes. Ultimately, Leena ends up with a delicious brownie, and I did too.
They were easy to make (as all brownies should be), and after you make these, you should really never go back to brownies from a box again.
First, I combined the dry ingredients —sugar, flour, cocoa powder, powdered sugar, chocolate chips and salt — in a medium bowl. Then, in a large bowl, I combined the wet ingredients — eggs, olive oil, water and vanilla. I sprinkled the dry ingredients over the wet, stirring until just combined.
I poured the batter into my prepared pan, spreading it out evenly with a spatula because it was quite thick, and stuck it in the oven (preheated to 325 degrees F). I baked them until my toothpick came out clean, which was considerably longer than the original recipe called for. I apparently only had a glass 8x8 — and she insists on an 8x8 — but I think a metal pan would've been better.
The hardest part of this recipe was waiting for the brownies to cool completely before being able to cut and eat them. I waited about 2 hours until they were ready. I was able to lift them out of the pan on the parchment lining and I cut them on a cutting board.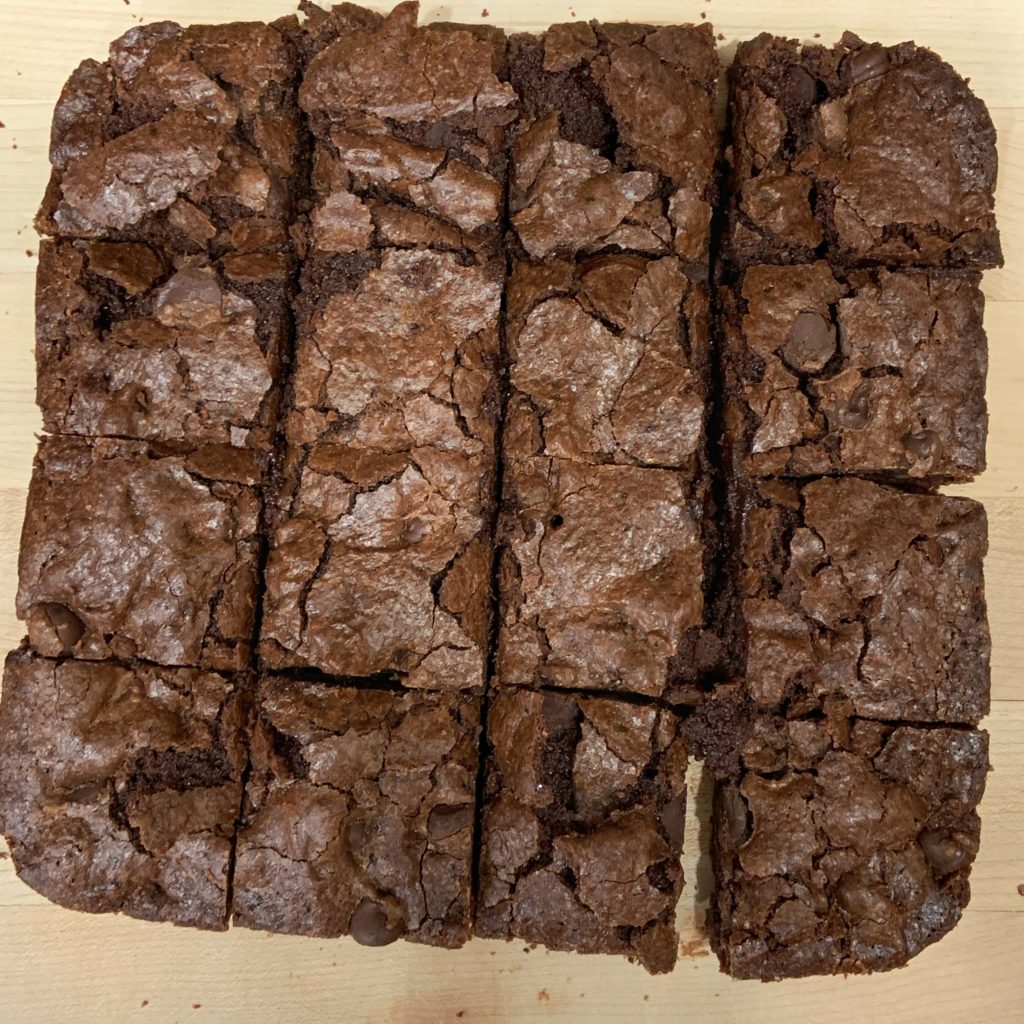 I am not sure which brownie recipe Leena ended up using, but this one is a definite winner! I thought they were delicious. Ooey gooey brownies are my absolute favorite and these did not disappoint.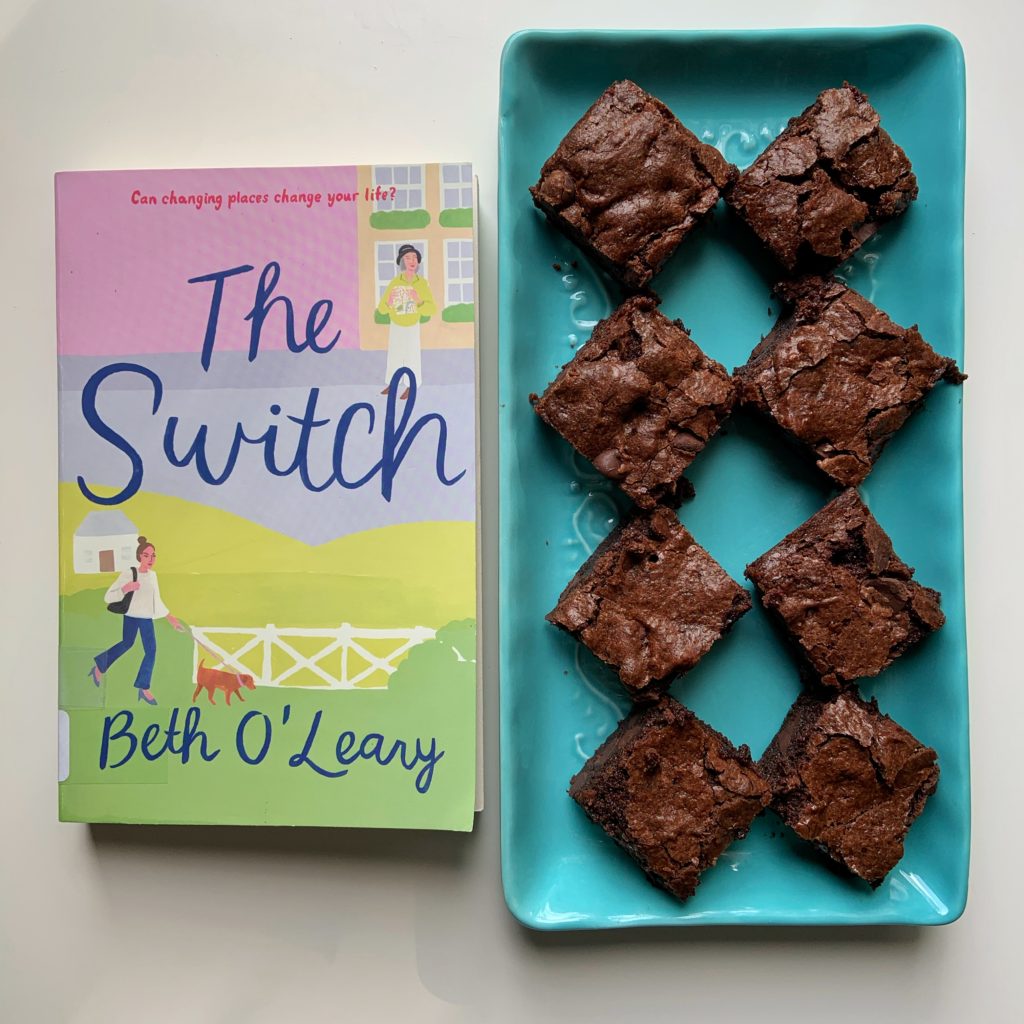 So, if you are looking for some comfort (or a distraction), I can recommend The Switch or a quick baking session, or both.
Ooey Gooey Homemade Brownies
Ingredients
1 1/2

cups

granulated sugar*

3/4

cup

all-purpose flour

2/3

cup

cocoa powder

sifted if lumpy

1/2

cup

powdered sugar

sifted if lumpy

1/2

cup

dark chocolate chips

3/4

teaspoons

sea salt

2

large eggs

1/2

cup

canola oil or extra-virgin olive oil**

2

tablespoons

water

1/2

teaspoon

vanilla
Instructions
Preheat the oven to 325°F. Lightly spray an 8x8 baking dish (not a 9x9 dish or your brownies will overcook) with cooking spray and line it with parchment paper. Spray the parchment paper.

In a medium bowl, combine the sugar, flour, cocoa powder, powdered sugar, chocolate chips, and salt.

In a large bowl, whisk together the eggs, olive oil, water, and vanilla.

Sprinkle the dry mix over the wet mix and stir until just combined.

Pour the batter into the prepared pan (it'll be thick - that's ok) and use a spatula to smooth the top. Bake for 40 to 48 minutes, or until a toothpick comes out with only a few crumbs attached (note: it's better to pull the brownies out early than to leave them in too long). Cool completely before slicing.*** Store in an airtight container at room temperature for up to 3 days. These also freeze well!
Notes
From: Love and Lemons
*If you'd like to reduce the sugar, you could use 1 cup granulated sugar instead of 1 1/2 cups.
**Keep in mind that you will taste the olive oil here. For a more neutral flavor, use canola oil.
***When these brownies come out of the oven, they'll be super gooey in the middle. Allow them to cool completely, about 2 hours, before you slice into them to give them a chance to set up. They'll continue to firm up the longer they're out of the oven. If you still prefer a firmer brownie, store them in the fridge.
---
This post contains affiliate links. This does not increase the price you pay, but I may receive a small commission for any products you choose to buy. Purchases made through affiliate links help to cover my blogging costs. Thank you for helping to support The Hungry Bookworm! Full disclosure here.