It's finally (already?) October! I'm sure I'm not alone in the feeling that 2020 has somehow been both the longest and shortest year so far. Anyway, fall is definitely underway in Michigan. We had what was probably our last 70-degree day on the last weekend in September, and it's been chilly and a little bit rainy ever since. It's wonderful cozy-up-with-a-book weather.
Today's Top Ten Tuesday is mostly aesthetic, focusing on book covers with fall vibes, but per usual I'll share just a few thoughts on each pick today — even though I picked them for their looks, their contents are what's important.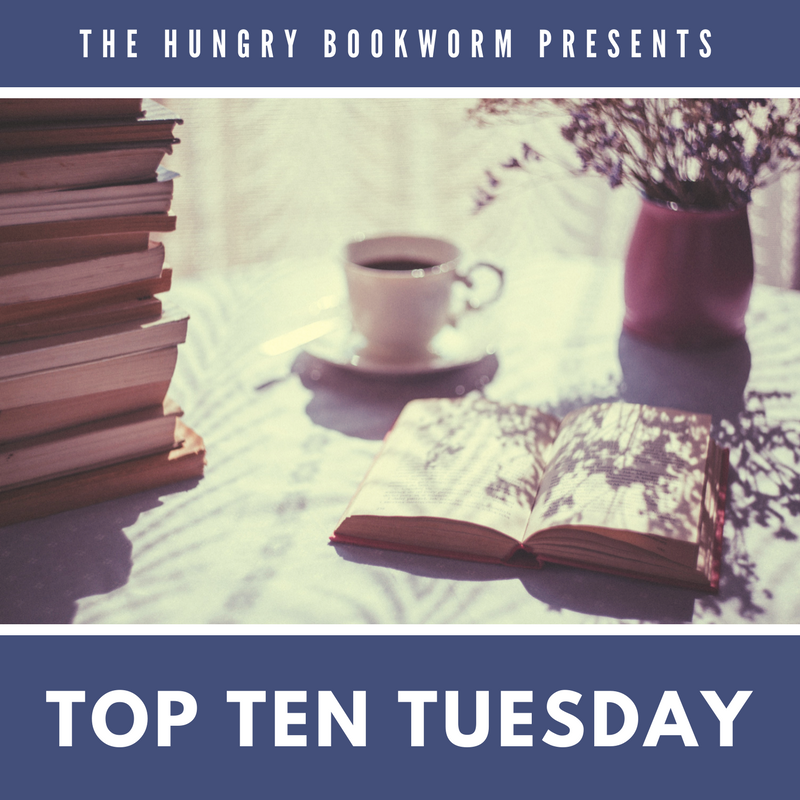 Nothing embodies fall like a pumpkin. It's the season of pumpkin (yum!), and I love pumpkin, which is why this nonfiction book made it onto my blog back in 2016. It wasn't my favorite read. But it was, as promised, full of lots of information about pumpkins. You can check out my post for a summary of the most interesting facts… I'm not sure I'd recommend picking it up unless you're very curious about the subject. As a bonus, my post also has what is, in my opinion, the best pumpkin pie recipe out there. 
I just talked about this novel in a previous Top Ten Tuesday post, and while I don't have a lot more to say about it, I'll reiterate that it's a novel I really liked and I'm happy to bring it to your attention again. And I'm not sure if it's supposed to, but the cover absolutely screams fall to me. 
Educated by Tara Westover
Amidst all the orange and leaves, fall also makes me think of back-to-school. Excuse me while I quote You've Got Mail here: "Don't you love New York in the fall? It makes me wanna buy school supplies. I would send you a bouquet of newly sharpened pencils if I knew your name and address." Anyway, this is a memoir that is not to be missed. I thought it was un-put-down-able and inspiring, and when I first read and reviewed it, I couldn't stop singing its praises — I still can't.
I love Ann Patchett's writing and this collection of essays about her life is no exception. It's here for the orange gradient on the cover, but if you're looking for some wonderful writing and relatable anecdotes, give it a try.
This historical fiction novel really dives into the Chinese tradition of tea farming as it tells the story of Li-Yan, who grew up in a remote mountain village where Pu'er tea was grown. We read it for my book club, and though some people skimmed the in-depth tea information, I thought it was fascinating. The cover is gorgeous; you may not be able to notice it on screen, but the golden tea leaves really pop and draw your eye. 
My notes on this novel were as such: "I normally wouldn't like a book like this, since there's really not a major plot driver, but I enjoyed the writing style and became attached to a couple of the characters / found myself wondering what would happen with them next." It clearly stuck with me because I bought a copy and it's still on my shelf. I should probably give it a re-read, but in the meantime, its color makes it a perfect fit for today's list. 
This is not a book that needs a lot of explanation. It's so well-known; most people have read it (or said they read it) in high school. The novel itself has several cover versions, having been around for over 60 years, and while many of them give off "fall vibes," I thought this one did it the best.  
This Australian novel is an epic. I suppose because it's my namesake, I'll always have a special place for it in my heart, and so it remains on my shelf. As a Seth Meyers fan, it was also often top of mind while he was doing episodes from his attic during quarantine. It was not my favorite book, but I was still thoroughly engaged throughout my read. 
I read this novel two years ago (for a book club), but since then I've discussed it with two other book clubs, and I continue to think of it often. A story about what happens when you know, in advance, the day that you'll die is one that is bound to stick with you — and it's certainly excellent to talk about with a group of fellow readers.  
Even though I've never really warmed to Nicholas Sparks, A Walk to Remember has been one of my favorite novels since high school. As soon as I saw this topic, it's the first book that came to mind. (It's a beautiful cover, and another reason movie editions are blech.) This one made me feel all the emotions and was the beginning of my book recommending "career," for lack of a better word.  
What are some of your favorite fall reads? Or fall recipes? I'd love recommendations for both! Please share in the comments.
---
Top Ten Tuesday is an original weekly blog meme that was created at The Broke and the Bookish but is now hosted over at The Artsy Reader Girl. I participate about once a month, but each week there is a fun new bookish topic for bloggers to create literary lists about. If you'd like to know more about it, check it out here.
This post contains affiliate links. This does not increase the price you pay, but I may receive a small commission for any products you choose to buy. Purchases made through affiliate links help to cover my blogging costs. Thank you for helping to support The Hungry Bookworm! Full disclosure here.