I first learned of V.S Alexander's historical fiction novel The Taster on Facebook when my library included a picture of it as part of their "New Book Tuesday" post a few weeks ago. The title caught my eye (no surprise there), and after reading the blurb describing a woman who finds herself in service to Hitler as his food taster, I requested a copy.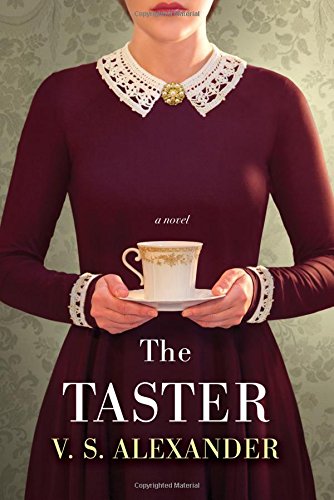 In 1943, Magda Ritter is a young German woman, expected to work in support of the Reich or do her part to produce healthy German babies. Her parents send her out of Berlin to safety, where she must apply for a role in the civil service. Because of her loyal aunt and uncle's connections, she is given a position of privilege working at Berghof, Hitler's mountain retreat. Magda comes to learn she will be one of fifteen women who must taste his food before he is served, ensuring he won't die of poison - though she could if she isn't vigilant.
As part of her training, she learns to recognize the scents and tastes of poisonous threats. Magda often works the evening shift and tastes the dishes for nearly every dinner party Hitler and Eva throw during the war. She becomes well-acquainted with his favorites, including German apple cake. Despite the fear of poisoning in the background, Magda soon becomes preoccupied with other things - including her budding relationship with an SS officer. Still, frequent attempts on Hitler's life keep Magda on her toes, and despite many hardships, she is by his side when he dies in his bunker.
It's well-known that Hitler was terrified of being poisoned, and though this account is fiction, he did in fact have 15 women who tasted his food for him throughout the war. One such woman, Margot Woelk, was clearly the inspiration for his story. She makes no mention of apple cake, but it was mentioned most often in the book (by far), and I knew it had to accompany this post.    
I started with a recipe from Genius Kitchen, but based on some of the reviews, I decided to make some alterations to the original recipe, including sauteeing the apples before adding them to the batter. I cut them into roughly a medium dice. In a large skillet, I melted about a tablespoon of butter, added the apples and brown sugar, tossing to coat. I let the apples saute over medium-high heat for about 7-10 minutes, stirring occasionally, while I put together the rest of the batter.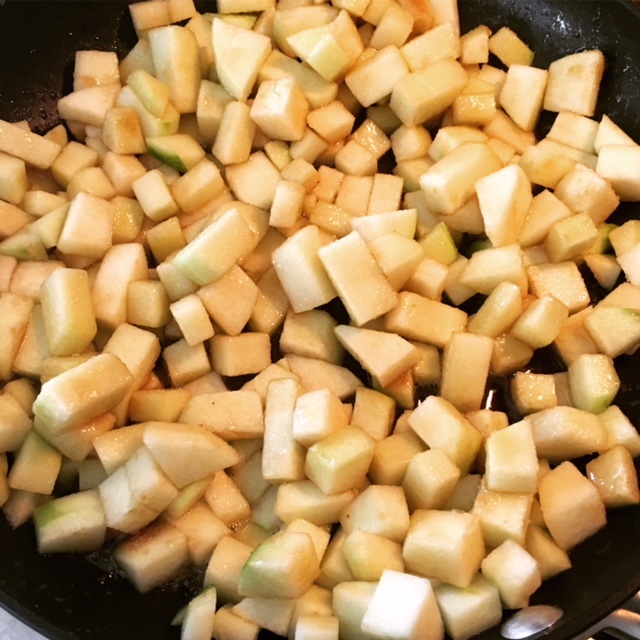 The rest of the batter was really easy. I cracked two eggs into a large bowl and whisked them together with some vegetable oil until smooth. Then, I added 1 cup of sugar (half the amount of the original recipe), vanilla extract, flour, cinnamon, nutmeg, ground ginger, baking soda and salt, stirring until combined. To that, I added the slightly cooled cooked apples, including the little bit of syrup that came from sauteeing them.
I greased a 9x13 pan, poured in the batter and pressed it around to fill the pan. I popped it into an oven preheated to 350 degrees F and let it bake for about 50 minutes.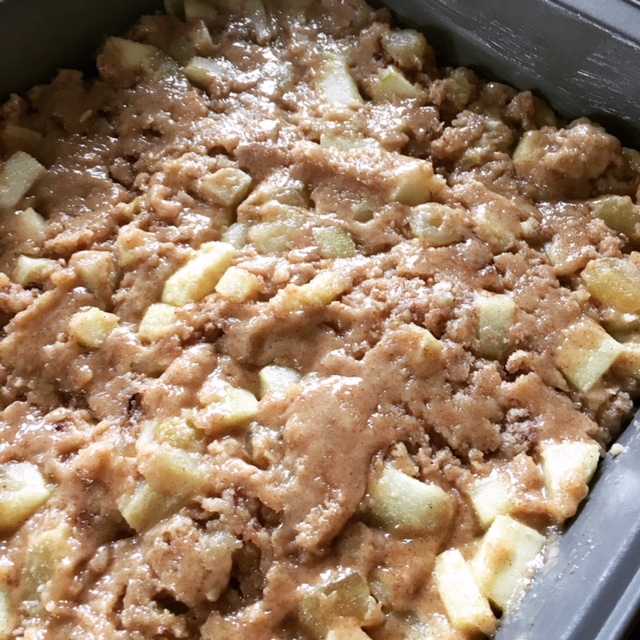 When it came out, I let it cool before serving, though I can't resist warm apple desserts so I didn't let it cool too-too much. It was delicious on its own but would be delicious with a scoop of vanilla bean ice cream as well. Its composition as a sort of fruity coffee cake would also make it a solid choice for breakfast, if you're so inclined.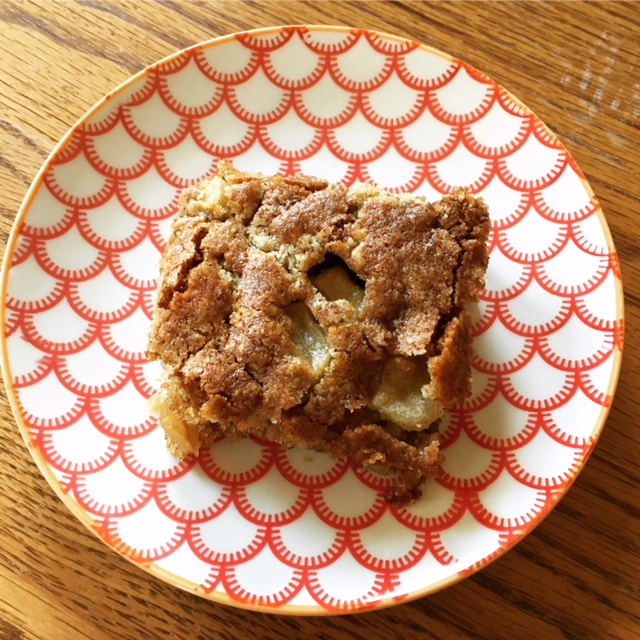 German Apple Cake
Ingredients
1

TBS

butter

½

cup

brown sugar

loosely packed

4-5

cups

apples

peeled and chopped (about 3-4 large apples)

2

eggs

¾

cup

vegetable oil

1

cup

sugar

1

teaspoon

vanilla extract

2

cups

flour

2

teaspoons

cinnamon

¼

tsp

nutmeg

generous

¼

tsp

ground ginger

generous

1

teaspoon

baking soda

½

teaspoon

salt
Instructions
In large skillet/saute pan, melt butter. Add chopped apples and brown sugar, stirring to coat. Saute over medium-high heat for 7-10 minutes, while mixing rest of batter. Allow to cool slightly.

While apples cook, in large bowl, beat eggs and oil until smooth.

Add sugar, vanilla, flour, spices and salt, and mix well.

Fold in apples, including syrup liquid from cooking.

Pour into greased 9x13 pan.

Bake at 350F degrees for 50-55 minutes.
This post contains affiliate links. Full disclosure here.