When I'm not reading, cooking or writing about it, I'm often at work. And, for those of you who don't know, I work at an advertising agency. I'm an account person, which in a nutshell, means that most of my job is in service to our clients, doing whatever it is I need to do to make them happy. Like any job, there are a lot of things to like about advertising and there are a lot of things to dislike about it. Luckily, for me, the good far outweighs the bad.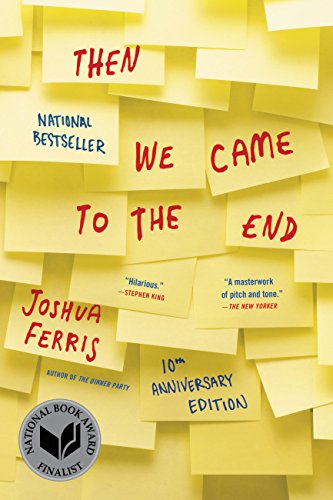 I recently picked up Joshua Ferris' novel Then We Came to the End as part of the Book Challenge by Erin, for the category requiring you to read a book featuring a character who shares your profession. I don't know why, but I expected to have a hard time finding a piece of fiction about advertising. I couldn't have been more wrong; I found this one with a simple search. Obviously, the characters in Then We Came to the End work in an ad agency - in fact, almost all of them do.
It takes place in the early 2000s at an agency in Chicago, when layoffs are prominent and everyone is nervous about losing their job. It starts out tense, and honestly stays tense until the end, but with lots of little moments in between that make it a bit lighter, a bit more human. Despite the layoffs, the blurbs led me to believe it would be laugh-out-loud funny. It definitely had funny moments, but it was more often dark and brooding.
Like in any agency, there a bajillion employees to get to know. This is definitely daunting as a reader -- a bit like starting a new job and struggling to remember who's who and what exactly they do here. But, as with any new world, the longer you're in it, the more things seem recognizable. I came to know and love some of the characters, but it took me at least halfway into the book to fully grasp their personalities.
I definitely had some qualms with the novel on the whole, but I absolutely loved that it captured what I do everyday. Ferris 100% understands -- and perfectly communicated -- the nuances of agency life. I gave it a solid 3-stars, and I think if you work in an ad agency, you're bound to get some enjoyment out of it.
One of my favorite parts revolved around the ubiquitous free bagels (and, occasionally, donuts) that often sent the employees flocking into the kitchen -- even in the middle of a meeting. Free food is absolutely key in an agency. Some people in my office even have group chats in place and send out broad alerts to fellow coworkers when free food appears.
So, instead of picking up a bag of bagels on the way into the office, I decided to spend my Sunday morning making some from scratch to bring into work the following day. I found a recipe on Genius Kitchen that made it seem nearly foolproof and that was all the boost of confidence I needed -- I could definitely do this.
I started by mixing my active dry yeast with sugar and warm water, allowing it to sit for 3 minutes so the yeast could begin to work. (It's important that you have a kitchen scale for this recipe, as you have to weigh both the sugar and salt.)
While that did its thing, I combined the flour and salt in a large bowl. I poured the yeasty water into the flour mixture and stirred to combine. I made two batches of bagels. If you're making cinnamon raisin, this is the part where you add those ingredients. If you're making any other kind of bagel with a "topping," you just add the rest of the flour.
Once the dough came together, I kneaded it on a floured countertop for about 5 minutes, until it was firm. I set it in a greased bowl, covered it with a towel and allowed it to rise to double its size. For me, this took about 25 minutes or so.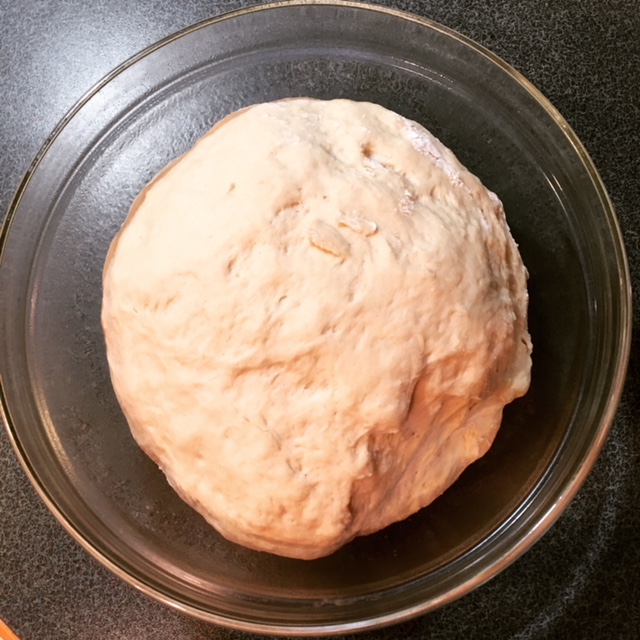 I punched it down and divided it into 12 balls (or 13, as I accidentally did on my first batch and didn't realize until it was too late - baker's dozen!). I allowed them to rest for 4 minutes and worked on bringing some water to a boil.
Then, I took each ball of dough, poked a hole in the middle with my finger and made an opening approximately 2-inches wide, pulling it outward until it resembled a bagel shape.
I set them on a greased cookie sheet and covered them with a towel, allowing them to rest for another 10 minutes. Then, once my water was boiling, I lowered it to a simmer, and was ready to boil the bagels. I boiled about 3 at a time, carefully re-stretching them into bigger bagel shapes - the greased cookie sheet caused them to bounce back a bit while they rested - and placing them in the simmering water.
Each bagel was only in the water for 45 seconds or so, flipping it once. Then, I allowed them to drain while I put in the next batch of bagels.(If you have a small cooling rack handy that you can place over a baking sheet or dish, I recommend using that to drain your bagels once they come out of the water.) I placed the finished bagels back onto the greased cookie sheets so they could be prepped for baking.
Once all of the bagels were boiled and drained, I brushed the tops with beaten egg white and covered them with toppings. I made half a dozen everything bagels (my personal favorite), a few sesame bagels, a couple plain, and half a dozen cinnamon raisin bagels in their own batch.
I baked each batch for 35 minutes, turning once halfway so both sides would get evenly colored.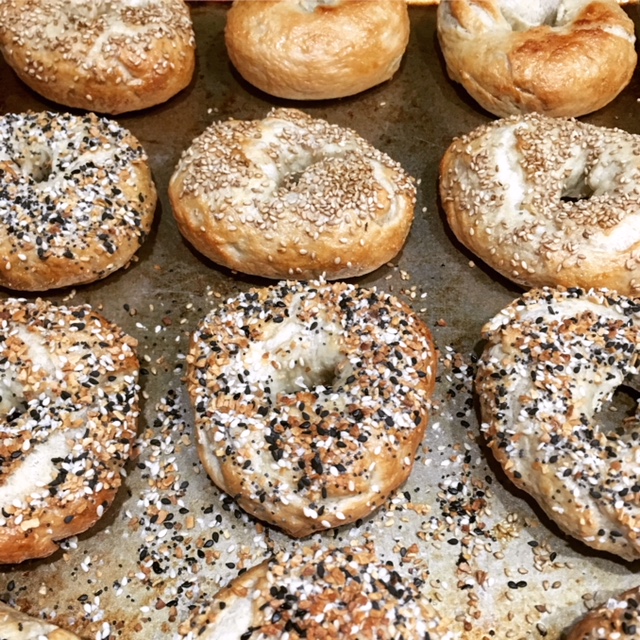 I sampled a couple at home with Scott, and once I was able to confirm they were actually good, I knew I could share them with my coworkers without embarrassment. I packed them up and brought them into the office the next morning. I got there early to set them up in our "cool agency space" as a surprise before anyone else arrived.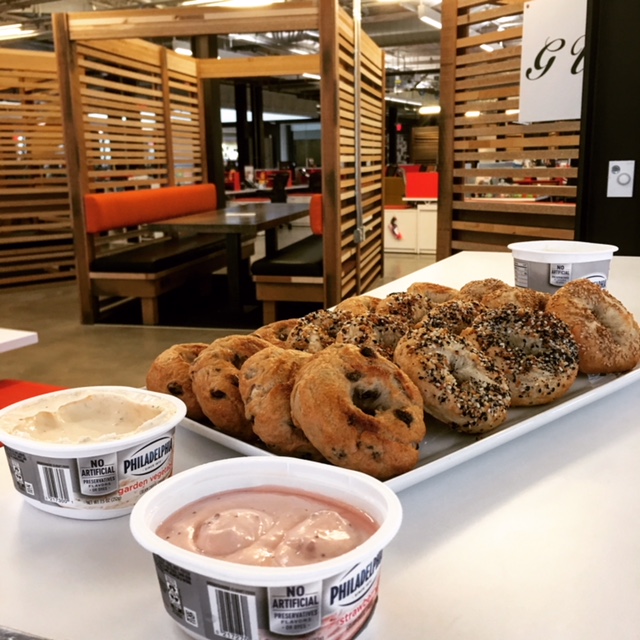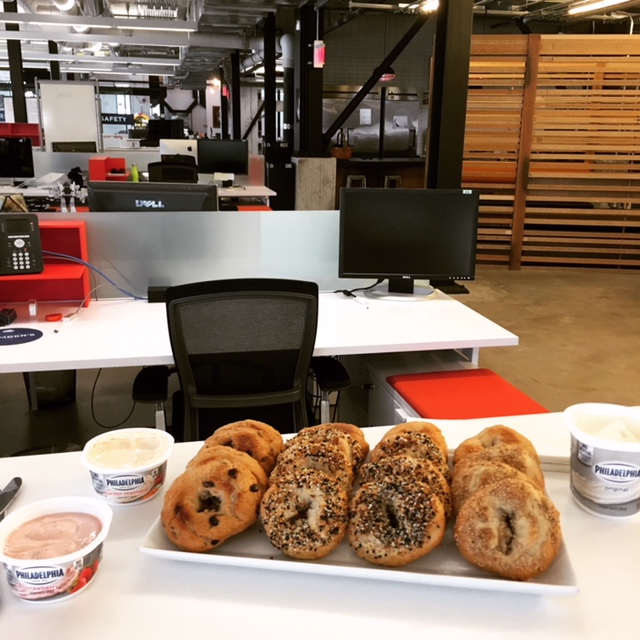 While the pictures are slightly awkward, the bagels seemed to be a hit! Thankfully, my coworkers seem to appreciate being the "guinea pigs" for much of my blog food, and I'm so grateful that they support me in my blogging endeavors (not to mention every day at the office)!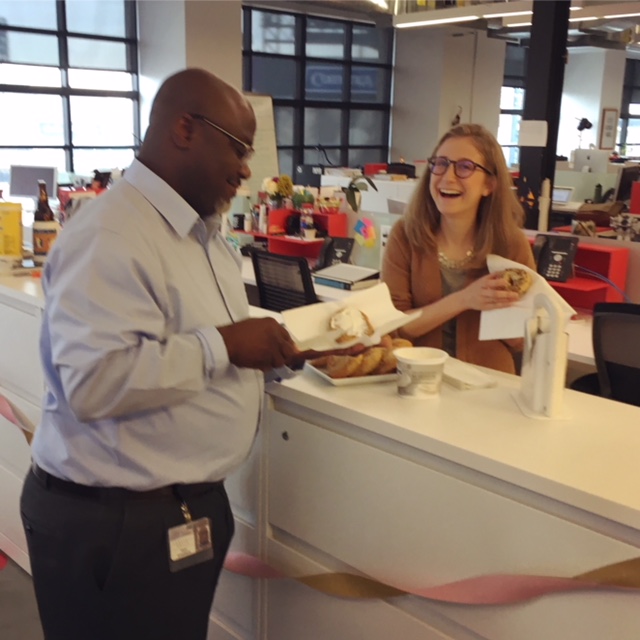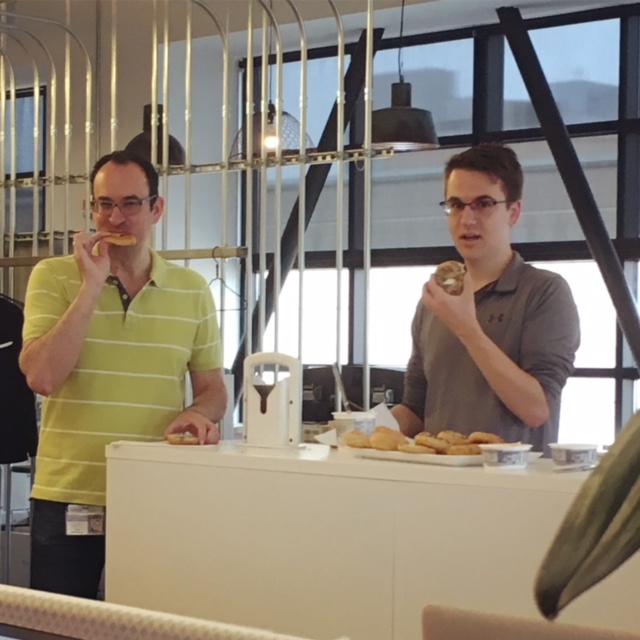 Home-Baked Bagels
Ingredients
1½

cups

water

2

packages active dry yeast

1½

ounces

sugar

you need a kitchen scale for this

½

ounce

salt

you need a kitchen scale for this

3½

cups

bread flour

2

quarts

water

to boil

1

egg white

cinnamon

optional

raisins

optional

poppy seed

optional

dried onion or garlic

optional

sesame seeds

Optional
Instructions
Mix yeast, sugar and warm water together and let stand 3 minutes.

Mix 2 cups of flour with the salt in a large bowl and add the yeast mixture.

Stir until combined and slowly mix in the rest of the flour (If making cinnamon raisin bagels, add these to dough now).

Knead on a floured surface for 5 minutes, adding additional flour if needed, dough should be firm.

Place dough in a greased bowl, cover and let rise until double.

After rising punch down and divide dough into 12 balls.

Allow to rest for 4 minutes.

Bring 2 quarts of water to boil.

With your thumb, make a hole in each ball of dough and pull open about 2 inches, making a bagel shape.

Preheat oven to 350 degrees.

Place the shaped dough onto a cookie sheet and cover for 10 minutes.

Lower heat under water for it to be simmering.

Drop 2 or 3 bagels at a time into the water for about 45 seconds, turning each once.

Drain and place on greased baking sheets.

Brush tops with beaten egg white and top with optional toppings.

Bake for 35 minutes, turning once for even browning.

Bagels are done when they are golden brown and shiny.
Notes
From: Genius Kitchen
If making cinnamon raisin bagels, I found that approximately 1 tsp of cinnamon and 1 cup of raisins works best. If making everything bagels, I suggest using the Everything but the Bagel Sesame Seasoning Blend from Trader Joe's.
This post contains affiliate links. This does not increase the price you pay, but I may receive a small commission for any products you choose to buy. Purchases made through affiliate links help to cover my blogging costs. Full disclosure here.