New Reading Challenge
As you may recall, I kicked off the year by participating in the Book Challenge by Erin, version 8.0, which lasted from January 1 until April 30. And now, I'm excited to be participating in version 9.0 of the same challenge because I really love reading challenges. Here are the details:
Duration: July through October 2018
Challenge: Choose 10 books across specific categories and read as many of them as you can over the four month challenge period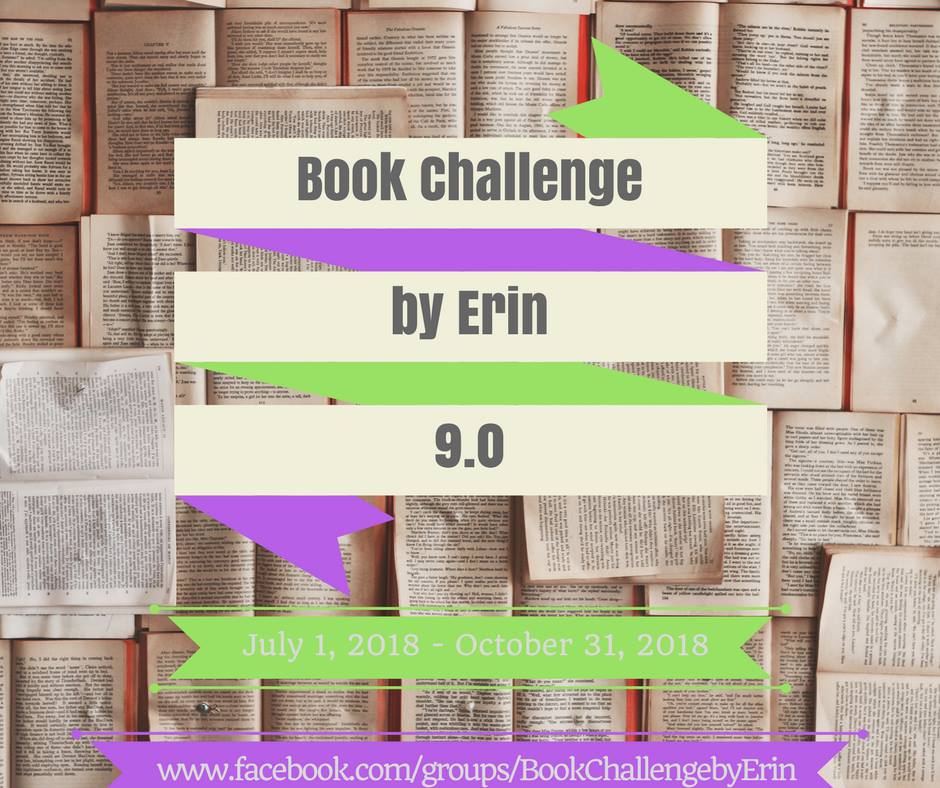 All books must be 200 pages or more and you each book can only be used for 1 category. If you'd like to include a book you've already read, you can only do so once but you must actually re-read it for it to count.
You're supposed to pick your 10 books up front, but it's no big deal if you change your mind and want to read something else for that category instead! Most of all, this challenge is supposed to be fun - I personally am using it as a motivator to read a bunch of books on my TBR list, and I pulled as many of the titles as I could from my own shelves (and borrowed the other two from the library!).
5 points (Freebie): Read a book that is at least 200 pages - Before We Were Yours by Lisa Wingate
10 points: Read a book that starts with the letter "N" - Night Film by Marisha Pessl
10 points: Read a book that has a (mostly) orange cover - The Invention of Wings by Sue Monk Kidd
15 points: Read a book with an unlikeable character - Fierce Kingdom by Gin Phillips
20 points: Read a book from the list of 100 books that PBS calls "The Great American Read" - Gilead by Marilynne Robinson
20 points: Read a book with something related to water in the title - Castle of Water by Dane Huckelbridge
25 points: Read a book you've owned the longest but haven't read yet - We Were the Mulvaneys by Joyce Carol Oates (I bought this at a used book sale in 2014 and still haven't cracked it open!)
30 points: Read a book with an emotion word in the title - Brave New World by Aldous Huxley (I'm not sure "brave" is technically an emotion but "fear" and "courage" are, so I'm going with it…)
30 points: Read a book with at least 2 words in the title where each word in the title of the book begins with the same letter (articles like "a," "an" and "the" count) - Mother, Mother by Koren Zailckas
35 points: Read a book featuring a character who shares your profession or similar one – Then We Came to the End by Joshua Ferris (I work in an advertising agency, and so do they. As a bonus, it looks like it's gotten amazing reviews over the years!)
If you're looking for something to kick you're reading into gear, consider joining this stress-free and motivating challenge. Honestly, it's a ton of fun and the group of participants is really supportive. Just stop by the challenge's Facebook page and request to join. Once you submit your list in the comments, get reading! Good luck 🙂
Comment Challenge
I'm also excited to be participating in my first Comment Challenge starting in July, hosted by FLYLēF and A Kernel of Nonsense. Basically, two bloggers are paired together and they agree to visit each other's blog over the course of the month and comment on posts. I think it's a fun way to bring new bloggers together.
This month I'll be paired with Kathryn @ Book Date who is blogging in New Zealand. I've already gotten a chance to check out her blog briefly, and it looks wonderful. If you get a chance to stop over to her blog even once, I'm sure she'll appreciate it and so would I!
_________
This post contains affiliate links. This does not increase the price you pay, but I may receive a small commission for any products you choose to buy. Purchases made through affiliate links help to cover my blogging costs. Full disclosure here.