My book club recently selected Homegoing by Yaa Gyasi, a book that was selected in one of my other book clubs last year. It's a book that's gotten a lot of attention and praise since its release, and though it has an appealing premise, I've not felt compelled to read it -- until now. I didn't read it last time, but I knew I couldn't neglect it again. I dove right in and didn't look back.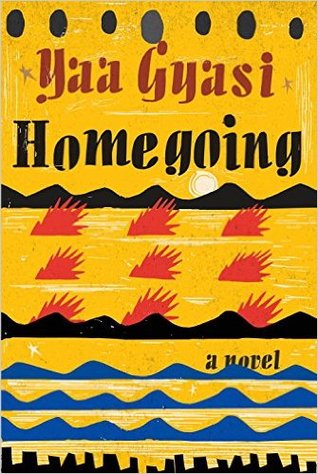 Gyasi's sweeping novel is about two half-sisters separated at birth and their descendants. Effia and Esi are born in different villages in eighteenth century Ghana. They share the same mother but have different fathers and very different upbringings. Effia marries an Englishman and lives her life in a castle on the African country's coast. Esi, however, is sold into slavery, passing through the castle's dungeons on her way to America. Each chapter following their own focuses on an immediate descendent for generation after generation.
It's a powerful story of generational and cultural differences, illustrating how much can change over just a few decades (or how little can change over a century). I'm glad I finally read it, and I'm sure it will make for an engaging book club discussion.
That being said, I liked it, but I didn't love it. What made this a 3-star read for me was the format. Since each chapter jumps from person to person, it was hard for me to connect to the characters consistently. I loved some and was enthralled by their stories, left wanting more; I cared less about other characters, slogging through their chapters. I appreciated the family tree outlined on the novel's very first page, but I had to refer to it at the start of every chapter because of the huge leaps in time and lack of recurring characters.
Since Homegoing spanned centuries and several cultures, it was hard to nail down a dish that was indicative of the novel as a whole. But yams seemed like the most natural natural fit, especially in representing the parts of the story that took place in Africa. Yams played a huge role in the livelihood of the family members that lived there. I decided to make African Yam & Peanut Soup and settled on a recipe from Port and Fin. It sounded like she had tested a lot of recipes to come up with a really solid soup, bursting with flavor.
To start, I prepped my vegetables, dicing onions, sweet potatoes and a red pepper. (See my note on yams vs. sweet potatoes in the recipe below.) I cooked my onions in a cast iron dutch oven until translucent, adding in the ginger, garlic and spices to cook until fragrant. To that I added the sweet potatoes, peppers and canned diced tomatoes.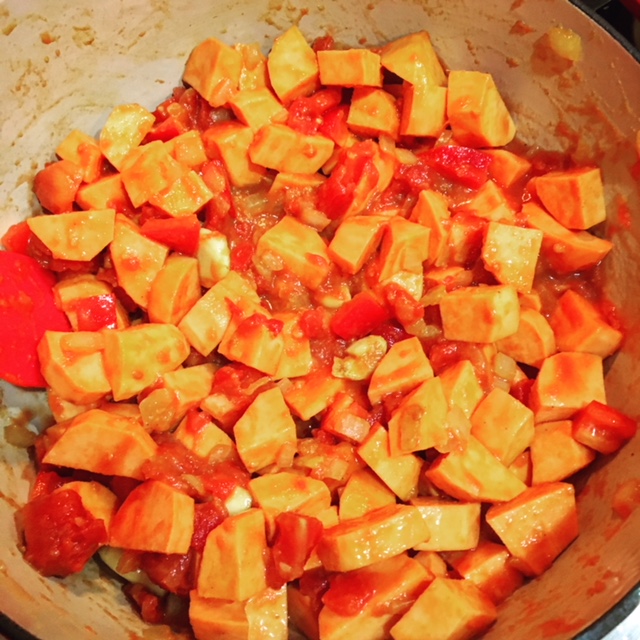 After cooking that for about 10 minutes, stirring often, I added the vegetable stock. I brought it to a boil, reduced it to a simmer, and cooked until the potatoes were tender. (This took a bit longer than if I had used yams, about 20 minutes.) I added the peanut butter and pineapple and let it continue to simmer for another 20 minutes.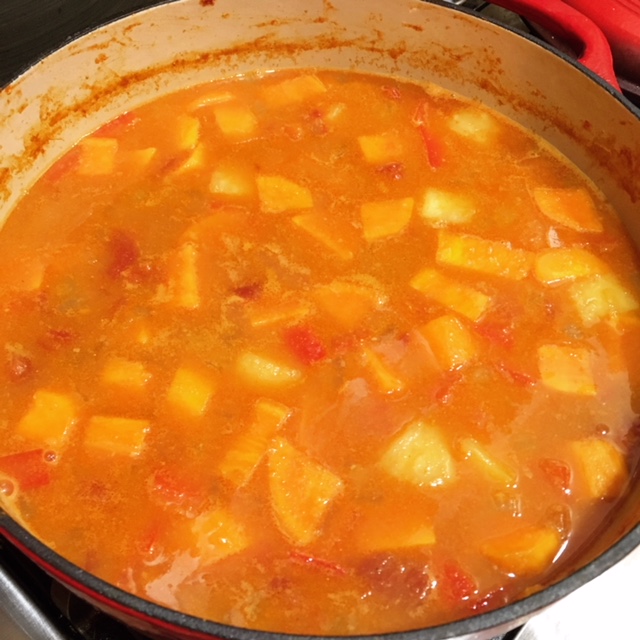 I used an immersion blender to blend the soup until smooth.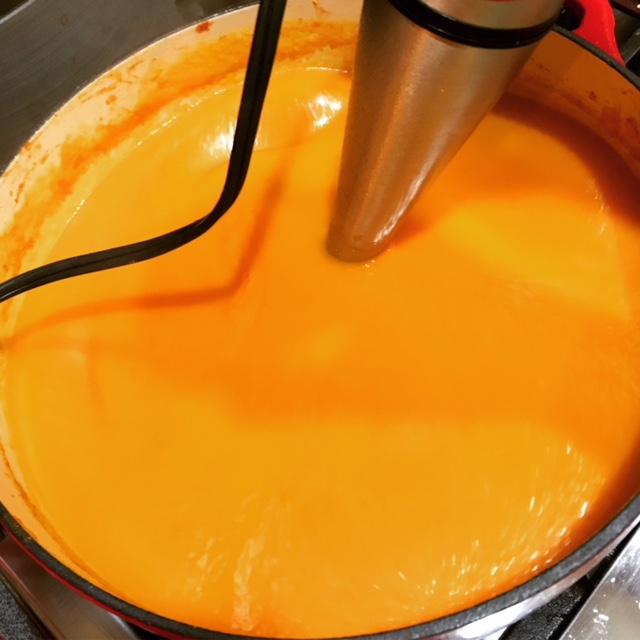 Finally, I stirred in the pineapple and lime juices. I served each bowl with chopped peanuts, fresh cilantro and lime wedges. Though I was hesitant at first, what we ended up with was absolutely delicious. It was bursting with flavor and had a pleasant heat.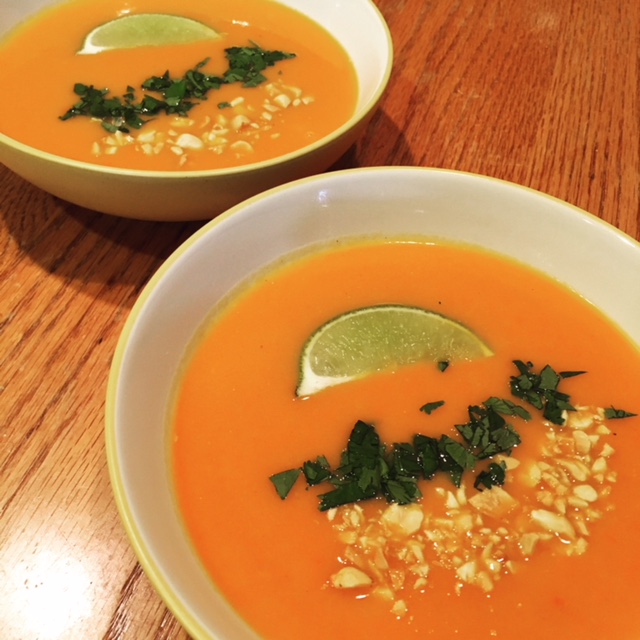 I wouldn't hesitate to make this soup again. It was delightful in the heat of summer, but I can imagine it being especially warming in the middle of winter. Scott couldn't get enough of it, and I'm thankful it made plenty of leftovers!
African Yam & Peanut Soup
Ingredients
8

cups

vegetable stock

1

Tbsp

grapeseed oil

2

onions

diced (about 1 cup)

⅓

cup

fresh ginger

grated

5

cloves

garlic

crushed

1

Tbsp

curry powder

½

tsp

cayenne pepper

1

tsp

salt

540

ml

19 oz can diced tomatoes

1

red bell pepper

diced (about 1 cup)

4

medium yams

peeled and chopped (about 5 cups)

75

ml

14 oz can of pineapple in pineapple juice

3

Tbsp

unsweetened smooth peanut butter

2

limes

juice
To serve:
Lime wedges

Hot sauce

optional

Fresh cilantro

Coarsely chopped roasted peanuts
Instructions
Heat oil in a large, heavy bottomed soup pot. Add onions and cook until translucent. Add ginger, garlic and spices and cook over medium heat until fragrant. Add bell pepper, tomatoes and yams and stir to combine. Cook for 5-10 minutes, stirring frequently to ensure to spices don't burn.

Add stock to the soup pot, bring to a boil and then reduce heat to a simmer. Cook until yams are tender, 10-15 minutes, depending on the size of your yam chunks.

Add peanut butter and pineapple, reserving the pineapple juice in the can. Simmer for an additional 20 minutes.

Puree the soup until smooth using either an immersion blender or a counter-top blender (you will have to blend it in batches using a counter-top blender). Add pineapple juice and lime juice and stir to combine.

Serve with additional lime wedges, hot sauce, fresh cilantro and a sprinkle of chopped peanuts.
Notes
From: Port and Fin
A note on yams vs. sweet potatoes: A yam is a softer sweet potato with copper skin and a deep orange flesh, while a sweet potato is firmer with golden skin and lighter (sometimes white speckled) flesh. In the US, most stores don't properly distinguish between the two or will label sweet potatoes as "yams." (I usually having trouble finding anything other than sweet potatoes at my local stores.)
If you can find yams in your grocery store, use those! If you can't, sweet potatoes are a fine substitute. The soup will still turn out to be vibrant and flavorful.
This post contains affiliate links. This does not increase the price you pay, but I may receive a small commission for any products you choose to buy. Purchases made through affiliate links help to cover my blogging costs. Full disclosure here.