I absolutely loved Andy Weir's The Martian. When I read it, I recommended it to anyone and everyone, and now that I blog, I've even included it on a few bookish lists (here and here). So, I was more than a little hesitant to pick up his second novel - hello, high expectations! - and managed to avoid it for about six months. That is, until Artemis was selected as our next read for one of my book clubs. I had no choice but to take the leap.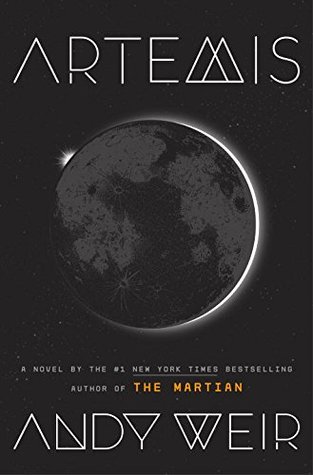 In Artemis, which is the only city on the moon in the 2080s, our main character Jasmine, or "Jazz," is a porter who smuggles on the side to make extra income. When a regular client brings her an offer with a payday too good to pass up, Jazz's life takes a dangerous turn.
If you thought a story about a heist on the moon would be less science-y than a survival mission on Mars, you'd be wrong. This novel had at least the same amount, but maybe more; either way, I found it too complicated to be enjoyable. Furthermore, Mark Watney's explanations seemed more natural (coming from a scientist and written for a diary log) than Jazz's, who explained them for the sole benefit of the reader as she ran from one unlikely urgent task to the next.
Overall, Weir's story was interesting and suspenseful, but The Martian was a tough act to follow. I won't be re-reading it anytime soon, but it was a fun way to pass the time.
Jazz has lived on the moon with her father since she was six years old. By the time we meet her in her twenties, she is accustomed to eating Gunk, a food substance derived from algae and made palatable with various flavorings. Obviously, I couldn't make Gunk - or I could, but I wouldn't want to; Jazz made it sound pretty unappetizing. When she was nine, still new(ish) to the moon, she wrote her pen pal on earth and told him that her favorite food was ginger ice cream. Ginger ice cream it is!
I found a recipe on Fine Cooking for Double Ginger Ice Cream, utilizing not only fresh ginger but crystallized ginger as well. To start, I peeled the fresh ginger and used a garlic slicer to cut it into thin slices, until I had a half a cup. (You can also use a mandoline, if you have one.)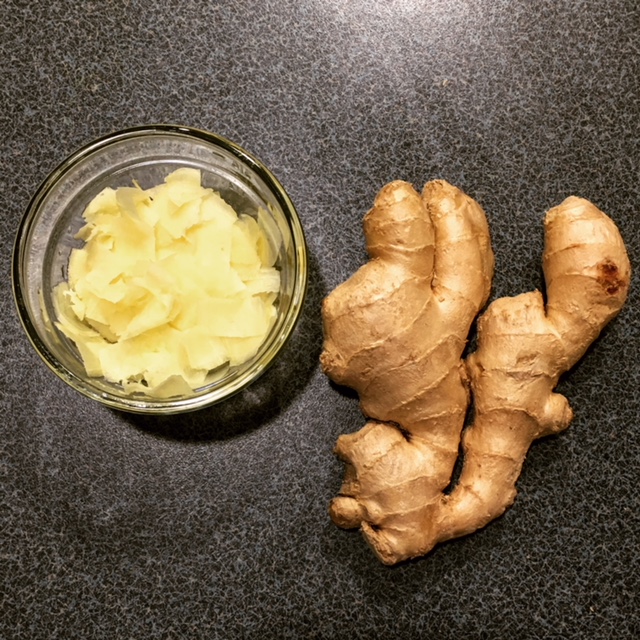 Then, in a medium saucepan, I combined 1 cup of heavy cream, 1 cup of milk, granulated sugar and a pinch of salt, heating for about 3-4 minutes until the sugar was dissolved. I stirred in the fresh ginger and removed it from the heat. I covered the pan and allowed it to steep for an hour.
In a medium bowl, I whisked 5 egg yolks. Then, I re-warmed the cream mixture for a couple of minutes before carefully and slowly combining the yolks with the warmed cream. My method differs a bit from the one described in the recipe, but it has worked for me without fail whenever I need to make a custard:
Using ¼ cup measuring cup, or a tablespoon, take 2 tablespoons (about half of the measuring cup, if that's what you're using) of the cream mixture and pour it into the bowl of egg yolks, whisking constantly. Once it appears to be well-incorporated, add another 2 tablespoons or so, still whisking. Repeat until you have about equal parts cream and egg yolk. Then, pour the mixture into the saucepan and stir to combine, keeping your heat on low.
Use a rubber spatula to stir constantly while the custard continues to heat and thicken. It is ready when it coats the back of the spatula and maintains a line drawn through it with a finger, or about 4-8 minutes.
To quickly cool the mixture, it needs to be set over a prepared ice bath. I poured it through a fine strainer set over a medium-sized glass bowl that contained the remaining 1 cup of heavy cream. The strainer is in place to catch the fresh ginger. I used the rubber spatula to make sure to press as much of the liquid - and flavor - out of the ginger as possible.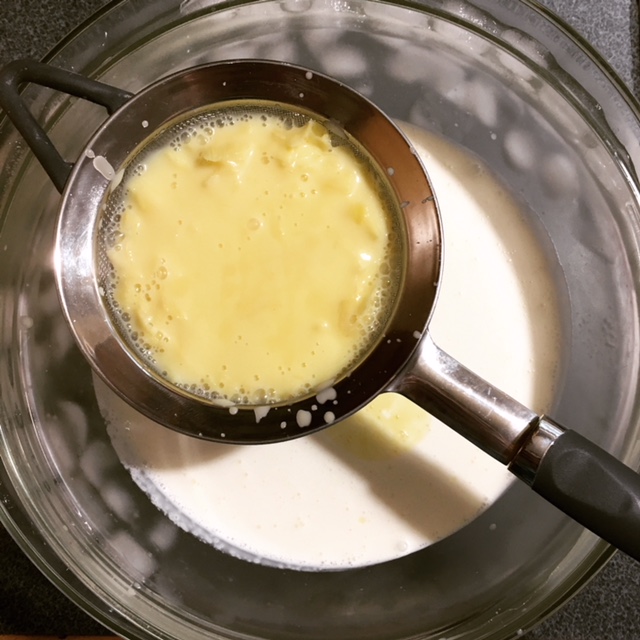 Remove the strainer of fresh ginger and mix the custard and heavy cream together, until it's well-combined. It should remain within/atop the ice bath until the custard cools to approximately 70-degrees F, or about 10 minutes. (Stirring will help it cool a bit more quickly.)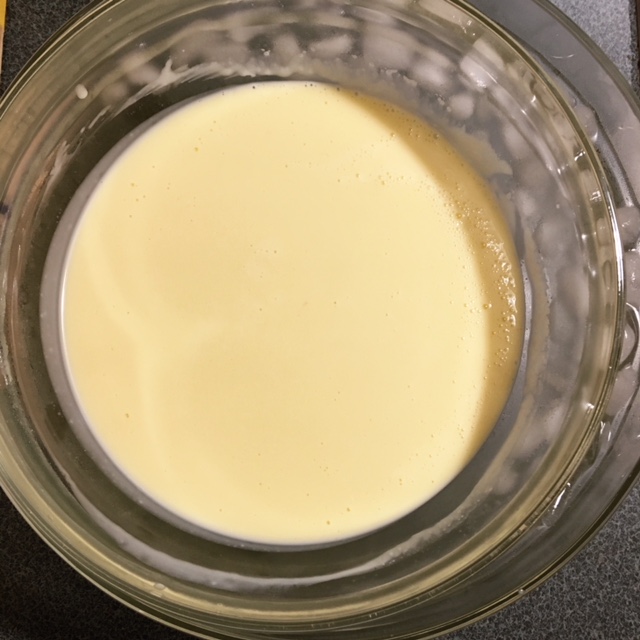 Then, the ice cream mixture needed to continue to cool, so I covered the bowl with cling wrap and placed it in the fridge for at least 4 hours. (It can also be stored overnight, if needed.)
When it was time to make the ice cream, I carefully poured the mixture into my ice cream maker's bowl and let it run. (I use a KitchenAid ice cream maker attachment for my stand mixer. Please follow the directions for your ice cream maker.) Generally, mine takes between 20-25 minutes before the ice cream is fully ready.
You'll notice it's getting closer when the mixture begins to fill up more of the machine.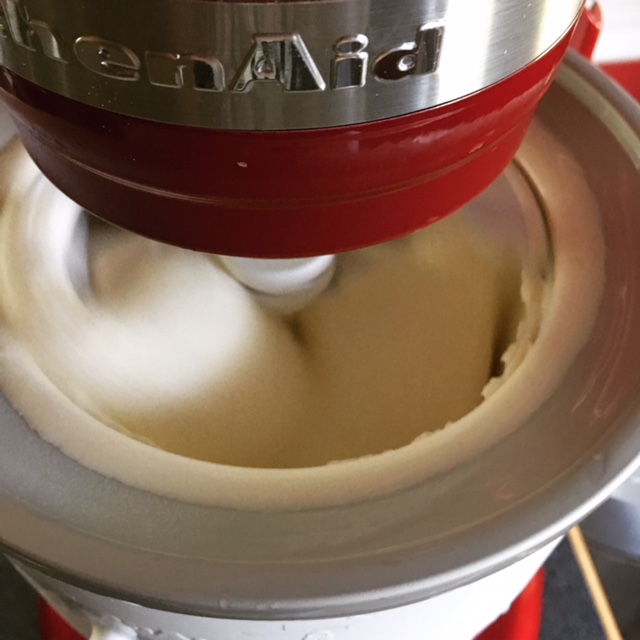 Once the ice cream was almost ready, I added the chopped pieces of crystallized ginger, about a half cup.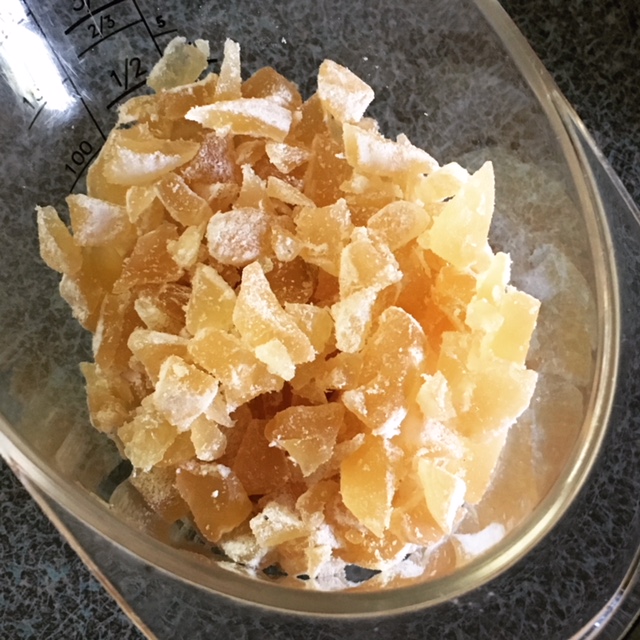 I let the machine continue to run for about 2 minutes, until the ginger chunks were fully incorporated. Alternatively, you could also stir them in with a spoon once your mixer has stopped running.
Then, I transferred the ice cream - at this point, closer to soft-serve in consistency - to my reusable quart container and placed it in the freezer for another 4 or so hours (minimum). When it was finally ready to eat, I was really excited to try it out. I love gingerbread and ginger cookies, so ginger ice cream seemed like a natural slam dunk as well.
The crystallized ginger may be polarizing here, so if you're not a huge fan of ginger, you may want to leave it out. I love its addition here for the craggy chunks it lends to the ice cream; it reminds me a bit of the lunar landscape.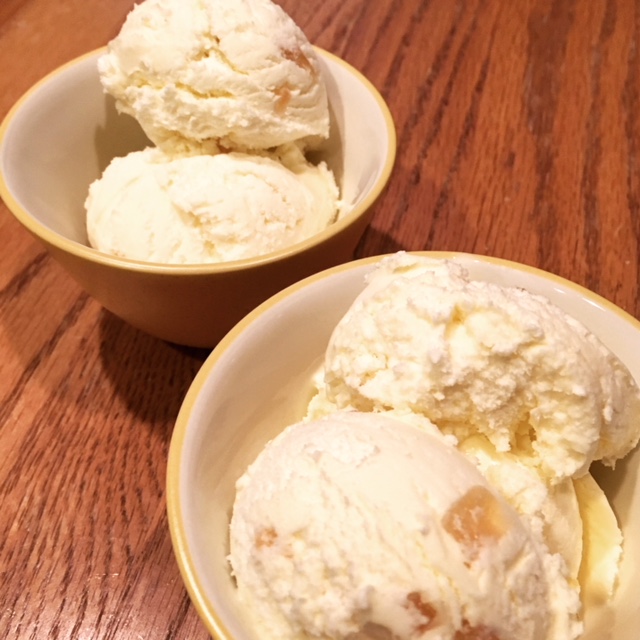 You may also be interested in:
Jane of Austin + Earl Grey Ice Cream
Geek Love + Sharp Cheddar Popcorn and Cotton Candy Ice Cream
Double Ginger Ice Cream
Ingredients
2

cups

heavy cream

1

cup

whole milk

3/4

cup

granulated sugar

Table salt

1/2

cup

peeled, thinly sliced fresh ginger

5

large egg yolks

1/2

cup

chopped crystallized ginger
Instructions
In a medium saucepan, mix 1 cup of the cream with the milk, sugar, and a pinch of salt. Warm the cream mixture over medium-high heat, stirring occasionally, until the sugar dissolves and tiny bubbles begin to form around the edge of the pan, 3 to 4 minutes.

Stir in the fresh ginger. Cover, remove from the heat, and let sit for 1 hour. Taste and let sit longer if you want a stronger flavor.

Prepare an ice bath by filling a large bowl with several inches of ice water. Set a smaller metal bowl (one that holds at least 1-1/2 quarts) in the ice water. Pour the remaining cup of cream into the inner bowl (this helps the custard cool quicker when you pour it in later). Set a fine strainer on top. Whisk the egg yolks in a medium bowl.

Rewarm the cream mixture over medium-high heat until tiny bubbles begin to form around the edge of the pan, 1 to 2 minutes. In a steady stream, pour half of the warm cream mixture into the egg yolks, whisking constantly to prevent the eggs from curdling.

Pour the egg mixture back into the saucepan and cook over low heat, stirring constantly and scraping the bottom with a heatproof rubber spatula until the custard thickens slightly (it should be thick enough to coat the spatula and hold a line drawn through it with a finger), 4 to 8 minutes. An instant-read thermometer should read 175° to 180°F at this point. Don't let the sauce overheat or boil, or it will curdle. Immediately strain the custard into the cold cream in the ice bath. Press firmly on the ginger slices in the strainer with the spatula to extract as much flavor as possible.

Cool the custard to below 70°F by stirring it over the ice bath. Refrigerate the custard until completely chilled, at least 4 hours. Then freeze the custard in your ice cream maker according to the manufacturer's instructions.

Fold the crystallized ginger into the just-churned ice cream, transfer to an air-tight container, and freeze for at least 4 hours or up to 2 weeks.
Notes
From: Fine Cooking
If you like (but don't love) ginger, this recipe can easily be altered to omit the crystallized ginger.
This post contains affiliate links. Full disclosure here.