Before I get started on today's post, I want to announce the winner of my first ever Hungry Bookworm Giveaway, in honor of my 1 Year Anniversary (which I still can't get over!). But, without further ado...
Congratulations, Laura!
I'm so happy to have made your day with your win. Your copy of Pachinko has already shipped, and you should receive it soon! (More details emailed to you as well.) Thank you to everyone who participated, subscribers new and old! It is much appreciated, and I hope you continue to enjoy my posts week after week. 🙂 Now onto another review and recipe!
_________________________
While usually I got to my own to-be-read list when picking book club selections, sometimes I try to be a little more open-minded. In this most recent case, I stumbled upon a Buzzfeed list that sounded like a perfect fit for book clubs - Books You Won't Be Able To Stop Thinking About usually equals good discussion. As a bonus, I'd already a handful of them and liked most of them, so I filed it away for future use.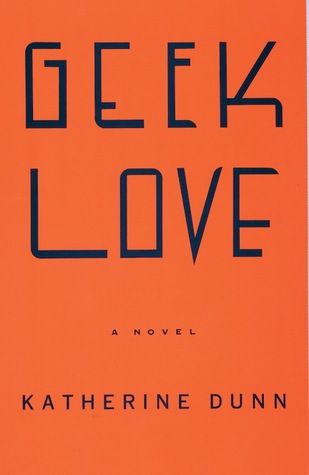 I don't remember exactly what prompted me to choose Geek Love, but that's how we got here. Katherine Dunn's novel tells the story of an extremely unique family. At best, the Binewski family runs a traveling carnival and unique is probably a generous understatement. The parents, Al and Lil, despise "norms" and stop at nothing to breed their odd children, who go on to become acts in the Binewski freak show. Though many of the children died in the attempts at their creation, five remain. Arty, also known as Aquaboy, has flippers instead of hands and feet. The twins, Elly and Iphy, are conjoined. Chick, though a disappointment at first, is discovered to have telekinetic powers. And Olympia, our narrator, is a hunchbacked albino dwarf.   
Like a car accident, I often wanted to look away, but I couldn't help myself. It was gruesome and unbelievable, and honestly, so incredibly imaginative on Dunn's part. It's hard to explain many of my reactions to the book without sharing plot points, though a lot of it had me going, "Wait, what?" It wasn't perfect, and I didn't love it, but like the list that drew me to it, I will definitely never forget this one.
Though food was only mentioned in the periphery, as Dunn described the hustle and bustle of the midway, you could almost smell the freshly-made popcorn and the sugary-sweetness of the cotton candy. I went with a Sharp Cheddar Cheese Popcorn recipe to serve at book club, alongside the rest of the snacks, and later on I made some blue-ish Cotton Candy Ice Cream to accompany the book as well.
Both recipes were really quite easy, which is always nice. To start with the popcorn, I popped a half cup of kernels on the stove top just by following directions on the container itself.
Then, I combined the butter, garlic powder and salt in a saucepan, allowing it to melt. Once it began to simmer, I poured it over the popped popcorn, as directed, and stirred until it was all well-coated.
Then, with the popcorn on a sheet pan, I covered it with freshly grated extra sharp cheddar cheese and placed it in the oven under the broiler for a few minutes until the cheese was melted. I transferred most of it to a bowl (and snacked on the rest until everyone arrived!) and served it up.
The cotton candy ice cream was significantly easier than the Earl Grey Ice Cream I had made just before trying this recipe. If you're looking for an easy way to get into the ice cream game, I'd recommend this one - it's basically foolproof.
First, I combined the sugar and milk with a whisk, until the sugar was dissolved. Then, I added the vanilla, whipping cream and cotton candy syrup. (I used a pink syrup, and since I wanted it to be blue, I also added some blue food coloring in this step.) Once the mixture was well-combined, I poured it into my ready-to-go ice cream attachment and let it do its thing.
After 30 minutes, the ice cream was done...except that I prefer it to be a bit more on the hard side, so I stuck it in the freezer for a handful of hours before I actually was able to dig in. It was nothing like the ice cream I'd made before - where that was dense and rich, this was airy and light in flavor. Initially, I wasn't sure I liked it as much, but the more I ate, the more I enjoyed it. Light and airy is exactly how cotton candy should be, regardless of if you're eating the candy itself or an ice cream version of it. I ended up loving it 🙂
Sharp Cheddar Cheese Popcorn
Ingredients
½ cup popcorn kernels, popped
¼ cup butter
⅛ tsp garlic powder
¼ -½ tsp kosher salt
3 oz sharp cheddar cheese, finely shredded
Directions
In a small saucepan, combine butter, garlic powder and salt. Melt butter and heat until starting to simmer.
Pour butter over popcorn. Stir until all popcorn is evenly coated.
Spread popcorn on a sheet pan, sprinkle with finely shredded cheese (I used a microplane zester to shred mine). Stir it around until evenly distributed.
Place rack in the center of the oven and turn broiler to low. Cook popcorn until cheese is melted (about 2-3 minutes). Watch carefully so it does not burn.
Pour cheesy popcorn into bowl and mix. Enjoy!
Ingredients
¾ cup granulated sugar
1 cup whole milk
2 cup heavy whipping cream
½ cup cotton candy syrup (I used Jelly Belly Cotton Candy Syrup)
1 tsp vanilla extract
food coloring (optional)
Directions
Before mixing ingredients, be sure that your chosen ice cream maker is ready to churn ice cream (attachments frozen, ice added, etc).
In a medium bowl, whisk together milk and sugar until sugar is dissolved.
Pour vanilla, heavy whipping cream, and cotton candy syrup into the bowl and whisk until combined.

If using food coloring: Depending on the brand of cotton candy syrup you used, the mixture might already have a pink hue. If you'd like the ice cream to be pink, keep this in mind - you won't need to add much pink food coloring to get your desired color. If you'd like the ice cream to be another color than pink, don't worry - as pictured, I used blue food coloring, and only had to add a few drops to achieve a nice light blue color. No matter what color you're using, add the food coloring slowly (one drop at a time) and whisk thoroughly between each until the desired color is reached. Also, the hue of the cream should be a few shades darker than the color you'd like the final ice cream to be, as the whipped and frozen cream will appear lighter. TIP: If you're still worried how your chosen color will look, add a little bit of the cotton candy syrup and milk to a separate glass or bowl and test your food coloring with it.

Pour the mixed ice cream mixture into the chilled bowl/attachment of your ice cream maker.
Churn ice cream for 25-30 minutes or until desired consistency is reached. If you'd like soft ice cream, serve cotton candy ice cream immediately. If you'd like firmer ice cream, transfer the ice cream to your chosen storage container and let it freeze for another 4-6 hours.
This post contains affiliate links. Full disclosure here.