Hi everyone, and happy Tuesday! Welcome to my first Top Ten Tuesday of 2018. This is an original weekly blog meme that was created at The Broke and the Bookish but is now hosted over at The Artsy Reader Girl. I participate about once a month, but each week there is a new, fun bookish topic for bloggers to create literary lists about. If you'd like to know more about it, check it out here.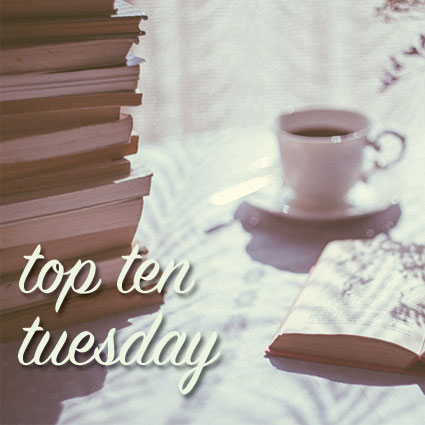 Today's list is kind of funny, in that I'm not sure how much I can say about each book on it - I guess we'll just have to see! To arrive at the 10 Books I Really Liked But Can't Remember Anything/Much About, I culled through my Goodreads, starting at the highest rating and going down. (Reminder: here's how I rate.)
I'm happy to report that I remembered all of the 5-star books really well, so none of those made the list. I think most, if not all, of the books listed below I gave 4 stars, which must mean I "really liked" them, and that's how they got here. I also don't remember a lot about them, for whatever reason, so maybe it's time to consider a re-read.
Have you read any of the books below? What did you think of them?  
We Are Water by Wally Lamb - I have wanted to read Wally Lamb's I Know This Much Is True for a long time now and even own a copy, but still haven't read it. In lieu of that one, I remember picking up this newer (and shorter) one instead to sort of "try him out." The most significant thing I recall here is that I also had one of my best friends (also) named Meg read it and she didn't agree with me that is was a 4-star read.
Orphan Train by Christina Baker Kline - Of this one I have the gist, but that's about it. Orphans sent to live with families in the prairie states? I may have read it for book club… I definitely remember my mom recommending it to me, and I might have borrowed her copy. I would be interested in re-reading this one for sure.
The Unchangeable Spots of Leopards by Kristopher Jansma - This was the first and only book I ever won in a Goodreads giveaway. I remember reading it right away because I was so excited, and I mentioned it a lot on social media - even tweeting back-and-forth with the author a bit. It was about a writer, but that's about all I've got.
Station Eleven by Emily St. John Mandel - I definitely want to give this novel a try again. It's probably the one on this list I remember the best, but specifics are lost on me. I read this amidst a bunch of dystopian novels about flu pandemics (including part of The Stand, which I eventually had to quit), so perhaps it was just a product of lots of similar storylines getting crossed.
The Girls by Lori Lansens - No, this isn't the much more popular Emma Cline's The Girls (my post here). Instead, it's about a set of conjoined twin sisters and their lives together, and I liked it so much better. I'm fascinated by twins, which is why I must've picked this up back in the day. I remember it being surprising and sad, and I took a screenshot of one of the passages about love in the book because I thought it was a beautiful sentiment.
A Grown-Up Kind of Pretty by Joshilyn Jackson - I read this for my Good Reads & Good Eats book club before I was even officially a part of it. Nora told me about it in advance, since I would be in Michigan when they met (I was still living in NYC at the time), and so I read it and joined that month's meeting. We ate burgers, and I think people liked it. I was pleasantly surprised that I liked it more than I expected it to, but aside from it being in the South, I don't recall much else about it.
Attachments and Landline by Rainbow Rowell - I read both of these pretty close together and gave both of them 4 stars, but I couldn't tell you much about them. I assume I really liked her writing since reading one led to me reading the other. (I've also read Eleanor & Park by the same author and have little to no memory of it, so I'm not sure what that says about Rainbow… maybe it's just that I read too many books.)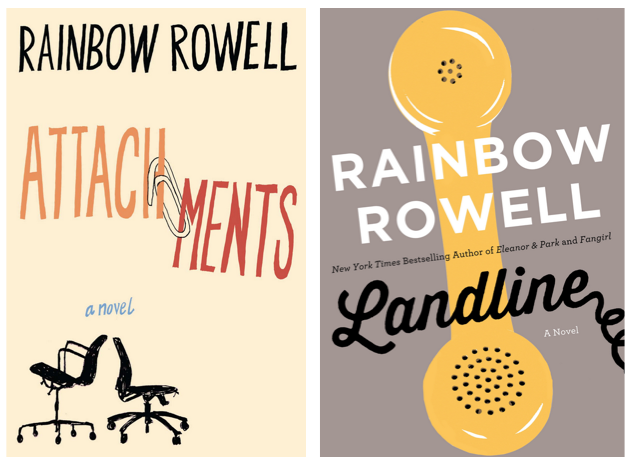 My Name is Memory by Ann Brashares - I think this novel was recommended to me by my sister, and I remember it reminding me of The Time Traveler's Wife, which is one of my favorites. I don't have a lot else for you on this one, but fun bonus: this author also wrote the wonderfully delightful Sisterhood of the Traveling Pants series!
Did You Ever Have a Family? by Bill Clegg - It's pretty bad that I don't remember this one because I even own it and have never even once considered giving it away, which means I like it a lot. (I mean, it did get 4 stars…) Every time I see the book's spine on my shelf I just have a vague feeling of liking it and being a bit sad.
The Snow Child by Eowyn Ivey - This could not be a more timely addition to this list, since members of my online book club are finally doing a real-life meetup to talk about this next week and I have almost no recollection of the story! (Oops…) My aforementioned friend Meg recommended this one to me, and I have been tempted to do a re-read for this upcoming meetup, but mostly there are just too many new books I'd rather read. Maybe I'll get a refresher when I finally get to meet all these wonderful Michigan readers in person 🙂
Which of these do you recommend I dive into again? (I promise to remember it better the second time!)
This post contains affiliate links. Full disclosure here.