Happy second Tuesday of 2018, everyone, and welcome to the first Show Us Your Books of the year! I'm excited to share with you what I read over the holidays and what I've gotten into so far this year, especially thanks to some fun reading challenges that I'm hoping will help me read my shelves and get through my TBR.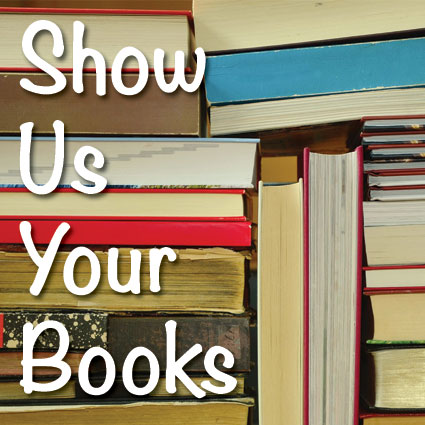 Before I kick off today's SUYB, I want to explain how I'll be rating the books today and moving forward. I'm going to start using my Goodreads rating method here to keep my ratings consistent across every platform. This is how I typically rate books:
⭐⭐⭐⭐⭐ 5 stars = LOVE LOVE LOVE. I will recommend a 5-star to anyone and everyone and won't shut up about it. I absolutely need to own a 5-star read, so I can lend it out and have it available for re-reads. I usually have half a dozen or less books in this category each year because they need to be really outstanding to warrant 5-stars.
⭐⭐⭐⭐ 4 stars = REALLY liked it. I will recommend a 4-star book to someone I think would like it - depending on interests/genre - and like to have them as part of my collection (for the same reasons as above). I'll probably rave about this one a fair amount as well.
⭐⭐⭐ 3 stars = liked it. A 3-star book was good. I didn't feel like it wasted my time and walked away with an overall positive feeling about it. I give the majority of the books I read each year 3 stars, and I don't consider this rating to be a bad one.
⭐⭐ 2 stars = not a fan. This book just didn't do it for me. It may have been a bit of a waste of time, or it may have been an experimental genre/topic that didn't work out. I'm not upset about the time I spent reading it; I was likely just hoping for more. I didn't hate it, but I didn't really like it either.
⭐ 1 star = hated it. Pretty self-explanatory, and I don't hand a 1-star rating out lightly. Like the 5-star books, these are pretty rare.
Linkup Guidelines:
This linkup happens the second Tuesday of every month. The next is Tuesday, February 13, 2018.
1. Please visit and comment with both of your hosts, Jana & Steph
2. Please display the button or link back to me and the linkup hosts on your blog post
3. Please visit a few other blogs who've linked up and get some book talk going!
4-Star Reads ⭐⭐⭐⭐ 
The Boat People - Inspired by true events, this fictional account of refugees seeking asylum in Canada tackles a timely topic. It did an excellent job straddling the complexities surrounding asylum-seekers and the emotional decisions refugees must face not only at the beginning of their journeys but throughout the process. In short, it was everything I wanted Exit West to be.
The Secret Life of Bees - I adored this coming-of-age story about fourteen-year-old Lily Owens and her black caretaker Rosaleen, as they navigate the troublesome South in 1964 and take refuge in a pink house owned by beekeeping sisters. It was a strong show of female power, heartwarming and uplifting.  
3-Star Reads ⭐⭐⭐
In the Midst of Winter (3.5) - This seemed like the perfect book to read in the cold of December - and it was. It takes place over the course of a week or so, in the middle of a snowstorm in New York; the cold was palpable. Allende weaves together the beautiful and harrowing stories of three very different characters, taking us to 1970s Central and South America and back to present day America. It brings to light the struggles of undocumented immigrants and issues of human rights, and it all starts with a seemingly innocuous fender bender.
The Nest (3.5) - Cynthia d'Aprix Sweeney's novel is the story of four siblings who must learn to deal with disappointment and potential financial ruin when their trust fund, or "the nest" as they call it, is not quite as big as they anticipated. Filled with unlikable characters in unlikely situations (compared to most of us), it wasn't a story I expected to like. But, low expectations may have saved this book for me and I was quite surprised to find myself enjoying it throughout - even the epilogue, which left me walking away satisfied.
The Guernsey Literary and Potato Peel Society (3.5) - A book about books and so much more than that, I'm looking forward to discussing this one in my book club tomorrow night (for which I'm making actual potato peel pie...stay tuned for that). Through a series of letters, this novel tells the story of a group known as the Guernsey Literary Society, which comes together while Germans occupy their island during WWII. It was like a less tragic The Nightingale combined with everything I wished The Readers of Broken Wheel Recommend was.
Standard Deviation - This was one of those completely random, stumbled-upon books; I can't even remember how I heard about it. Still, it was funny and entertaining. Katherine Heiny's novel was a quick read about Graham, his second wife Audra, his son who may have Asperger's, and all of the random house guests that flit in and out of their NYC apartment.
No Time to Spare - Ursula K LeGuin is an inspiring woman, and though I've only read one of her novels, I have every intention of exploring her work further (thanks, in part, to Karen Joy Fowler who is an admirer of hers). As I am not as familiar with LeGuin as I'd like to be, I probably didn't appreciate this memoir as bigger fans may but it was still enjoyable. As in her fiction writing, she discusses gender equality and meditates on life.
I will not be doing a longer post on this book, but if I were to do so, I would definitely have to make soft-boiled eggs, to which LeGuin devoted an entire chapter. It became very clear that I do not have the very specific tools required, nor the patience to handle a food that requires such delicate precision.  
MAUS I & II - I read MAUS I as part of the Literary Feast 2018 Reading challenge, since it was published in the year of my birth; it was the first book I picked up and finished this year. I also read the second MAUS because it just felt right to complete the story.
Though graphic novels aren't my genre of choice, I tend to end up reading one almost every year. I'm always surprised when I don't really like them, especially these since the ones I choose are so critically acclaimed. I just found it hard to get into, I suppose; the style didn't evoke as much emotion as I would expect from a story about concentration camp prisoners. That being said, both were quick reads (as graphic novels are) and the content was clearly heartfelt and personal. It's an important story to be told.
Britt-Marie Was Here - I wanted to like this more than I did, probably because I love Fredrik Backman's writing (especially A Man Called Ove and My Grandmother Asked Me to Tell You She's Sorry). Like all of his novels, there was quite a cast of characters, some likable and some not. Britt-Marie fell in both categories intermittently, though of course she grows more endearing as you get to know her. I certainly enjoyed the story, but I wish there'd been a different ending.
When the English Fall - I've always been fascinated by the Amish lifestyle, so when I saw this dystopia about what happens when the power grid goes down and no one but the Amish are situated to survive, I knew I had to pick it up. I read it in a few hours - it was quite riveting for the most part. I think I was hoping for more about how the rest of the world was surviving, aside from the bits of information brought in to the Order from the outside, and in that, it fell short.
2-Star Reads ⭐⭐
Manhattan Beach (2.5) - Jennifer Egan may not be my author. I didn't like her much-acclaimed A Visit from the Goon Squad, and while this one was a bit better, it wasn't really my thing either. A historical novel set first during the Great Depression and then in WWII, it primarily follows the young, fearless Anna Kerrigan. There are several chapters that focus on other main characters, but her story was the most interesting to me; I especially enjoyed her journey to become a female scuba diver and wish it was a bigger focus of the narrative.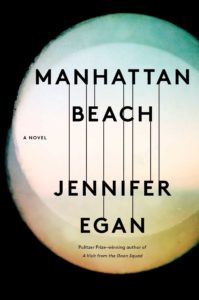 Books I Didn't Finish
None!
Books I'm Reading Right Now
I haven't actually picked anything up yet, since I just finished When the English Fall last night, but my plan is to dive into another Book Challenge by Erin selection - I'm leaning towards The Seven Husbands of Evelyn Hugo because it's been on my shelf long enough!
What did you read last month?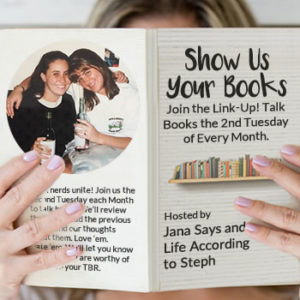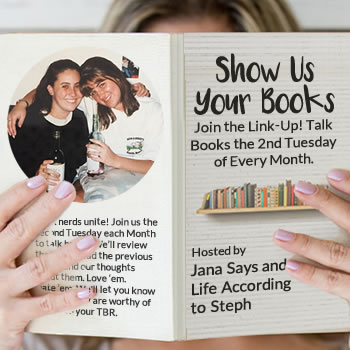 This post contains affiliate links. Full disclosure here.