One day, Katherine Heiny's novel Standard Deviation appeared in my library queue, ready to pick up. As I mentioned in January's SUYB post, I can't even remember how I heard about, but I must've added it to my library list right away so I wouldn't forget about it. However it stumbled into my life, I'm glad it did; it wasn't a life-changing novel by any means, but it was entertaining and enjoyable all the same - a bit like an indie rom-com.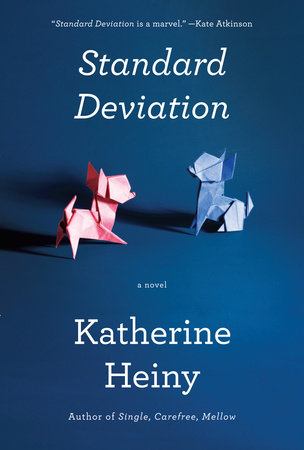 Standard Deviation is about Graham, who lives in an apartment in New York City with his second wife Audra and their young son. While Graham seems to prefer to observe, his wife Audra talks constantly and makes friends wherever she goes, leading to a barrage of house guests who always seem to be underfoot.
A lesser storyteller could've easily painted Graham as an exasperated husband sick of his wife's antics and Audra as a selfish busybody, and though they occasionally exhibit those qualities, on the whole they're much more than that, and quite likeable. One of the more endearing (and amusing) storylines within the novel revolves around their son Matthew and his love of origami. Though it's never explicitly said (that I can recall), it appears he has Asperger's, and their dedication to his passion is an excellent example of selfless parenting.
Like me, Graham loves good food and cooking at home, both for his family and their frequent guests. Also like me, he finds cooking less enjoyable when he's forced to plan a meal around picky eaters. Unfortunately for Graham, he often found himself in such a situation, and it was in one of those moments that I drew my inspiration for today's recipe:
Spaghetti marinara with garlic bread was his all-purpose crowd-pleasing picky-eater dinner. Spaghetti marinara was like taking a girl on a first date, actually: nothing fancy, no surprises, best foot forward.
I personally prefer meat sauce on my spaghetti, but desperate times call for desperate measures. I took the recipe my family usually uses for spaghetti sauce and omitted the meat to make a marinara sauce. This recipe is really easy, but it's flavorful and thick so it sticks to spaghetti really well.
To start, I added about a half cup of chopped onion to olive oil already heated in a sauce pot and cooked them until they were translucent. To the onions, I added a large can of crushed tomatoes and small cans of tomato sauce and tomato paste. Then I added salt and pepper, dried basil, dried oregano, some sugar and Parmesan cheese and gave it all a good stir.
Once the ingredients are combined, bring it up to a boil and then reduce to a simmer. Like most tomato sauce, it can get messy real quick if it starts to bubble up and pop, so I like to keep a lid offset on top to let some of the air and steam escape but keep the sauce from getting all over the stovetop. You can let it simmer for as little as long as you like, stirring occasionally, but it's best after at least 20 minutes. Of course, it's even better the second day.
While the sauce simmered, I boiled the water for my spaghetti and started on the garlic bread. Because I was just making dinner for Scott and myself, I adjusted the recipe down and only used about a third of the Italian bread loaf. I partially melted some butter in a small bowl, added the garlic powder and dried parsley, and then melted the mixture the rest of the way. With a basting brush, I applied the butter-garlic mixture generously to each slice.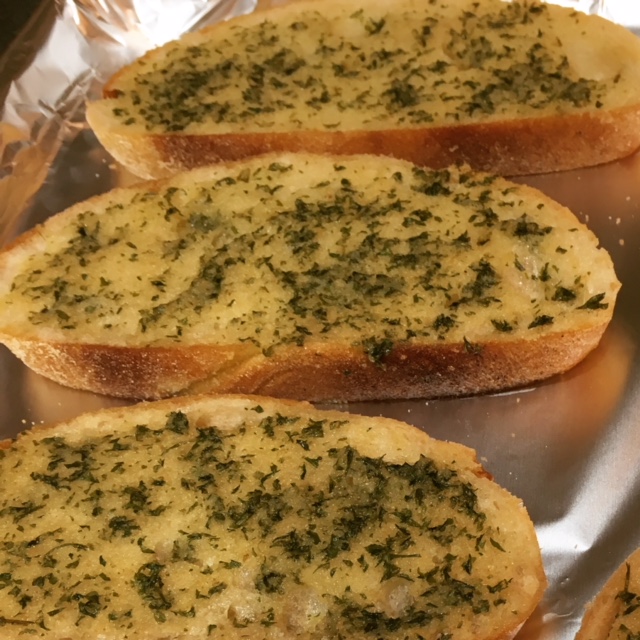 I baked the bread in the oven for about 10 minutes, covered each slice with shredded mozzarella and put the pan back in the oven for about 7 more minutes until it was melted. At this point, the spaghetti pasta was cooked al dente and the sauce was ready to go.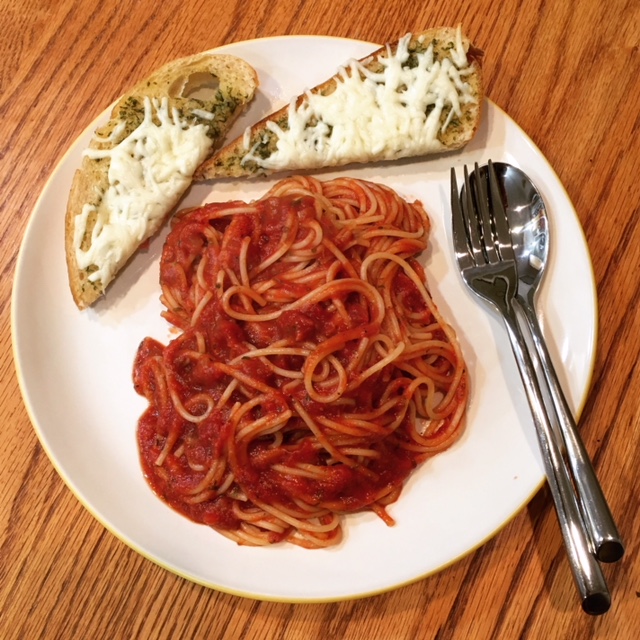 I need to perfect my spaghetti swirl for future fancy plating, but the taste more than makes up for the lack of finesse in that area. These crowd-pleasing recipes are as perfect for the discerning foodies in your life as they are the picky-eaters. It's wonderful bonus that they're easy too. Hope you enjoy!
Marinara Sauce
Ingredients
½ cup chopped onion
1 28-oz can crushed tomatoes
1 8-oz can tomato sauce
1 6-oz can tomato paste
¼ teaspoon garlic powder
1 teaspoon salt
¼ teaspoon black pepper
¾ teaspoon dried basil
¾ teaspoon dried oregano
¼ cup sugar
¼ cup Parmesan cheese
Directions
In a large sauce pot, preheat a bit of olive oil (about 1 Tablespoon) and add onion. Cook until translucent.
Add crushed tomatoes, tomato sauce and tomato paste. Add remaining ingredients and stir.
Bring to a boil then simmer. (Use a lid; it will splatter.)
Serve over spaghetti or your favorite pasta.
Adapted from a family recipe
Recipe Notes: To make a meat sauce, simply add 1-lb ground beef or turkey, browning with the onion in step one.
Cheesy Garlic Bread
Ingredients
½ cup butter
1½ tablespoons garlic powder
1 tablespoon dried parsley
1 (1 pound) loaf Italian bread, cut into ½ -inch slices
8 oz. shredded mozzarella cheese
Directions
Preheat oven to 350 degrees F.
In a small saucepan over medium heat (or the microwave), melt butter and mix with garlic powder and dried parsley.
Place Italian bread on a medium baking sheet. Using a basting brush, brush generously with the butter mixture.
Bake in the preheated oven approximately 10 minutes, until lightly toasted. Remove from heat. Sprinkle with mozzarella cheese and any remaining butter mixture. Return to oven approximately 5 minutes, or until cheese is melted and bread is lightly browned.
This post contains affiliate links. Full disclosure here.