No matter how many WWII novels I read or stories I hear, I'm still astonished at the atrocities that took place and how many people were able to overcome and survive such horrifying ordeals. Though I usually devour these books, which are often natural page-turners, I find them hard to get through mentally. Martha Hall Kelly's Lilac Girls was no exception.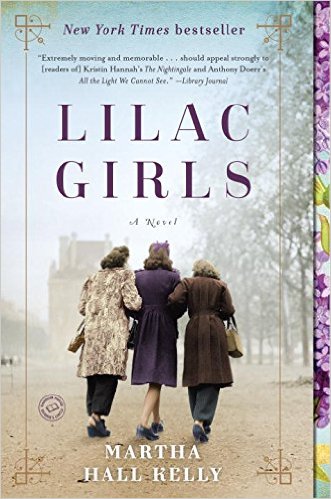 Inspired by the real Caroline Farriday and a group of Polish prisoners called "the Rabbits," this novel tells the story of three women whose lives intersect at the Ravensbruck, the only Nazi concentration camp for women. In alternating chapters, we follow Kasia, a Polish teenager who becomes one of the Rabbits; Herta Oberhauser, a German doctor stationed at Ravensbruck; and Caroline, a New York City socialite, who does her best to assist in the war effort from abroad.
Though I'd be interested in finding out more about the real Caroline, I found her chapters to be the least compelling. Honestly, her storyline was the reason I couldn't give this book a full 4 stars on Goodreads. (I would've given it 3.5 if Goodreads allowed it, but they don't - one of my pet peeves.) Kasia's and Herta's chapters, on the other hand, had me turning the page constantly. I liked that Kelly told the story from such different points of view.
In one of the bright spots at Ravensbruck, Kasia and her sister receive a package from their father and unwrapped it to find not only chocolate and a sign of hope, but some poppy-seed cake as well. As she put it, "Polish cake would be good medicine." I hadn't heard of poppy seed cake before, but I knew it was the recipe to make this time around. I found one from Jenny Can Cook and set to work.
Upon starting the recipe, I realized I only had half as many poppy seeds as I needed. I'd bought one 2.6 oz bottle of poppy seeds at the grocery store, because the pickings were slim. If you find yourself in the same situation, you may want to pick up two containers, or if you're trying this for the first time, you may want to make a smaller loaf instead, like I did. When I made it, I adjusted the recipe and made a half-sized loaf instead of the full recipe (I included the full recipe below).
First, I ground the poppy seeds 2 Tablespoons at a time, until they were moist and looked a lot like wet coffee grounds. I added boiling water to a small bowl and stirred in the poppy seeds until they were all moistened, letting them stand uncovered. Then, using the same grinder, I ground up my toasted almonds.
In a large bowl, I combined the flour, yeast, sugar and salt. To that I added, the warmed milk (slightly less than 120 degrees F since I was using active dry yeast), followed by the oil and the egg. Using an electric mixer, I beat it on high for about 2 minutes, and then added in the extra flour, beating it until it formed a mass. Mine was slightly sticky when I transferred it to the board, so I ended up adding about a Tablespoon more of flour (to my halved recipe). I should've taken a picture of my messy dough fingers, but it wouldn't have been safe to grab my phone to do so. Dough everywhere!
I kneaded it and let it rest for 10 minutes while I combined the filling. To the poppy seeds, I added the ground almonds, lemon and orange zests, sugar and vanilla extract.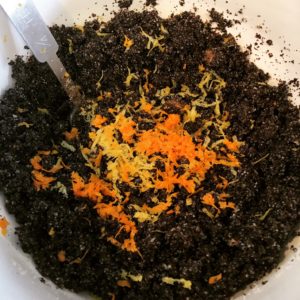 I rolled the dough out to about 5" x 6" (again with the halved recipe) and spread the filling on the top, almost to the edges.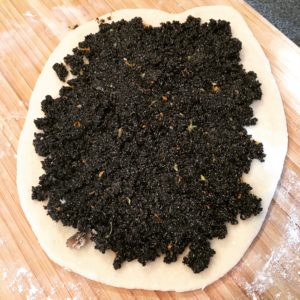 Then, I carefully rolled it, placed it seam-side down, and tucked the ends under, placing it on a parchment-lined baking sheet. I covered it with a cloth and left it untouched in a warm place (aka my upstairs on an 80-degree July day) for about an hour and a half.
I opted to top it with an egg wash and poppy seeds before baking, thinking the glaze might make it too sweet. It also didn't seem like Papa's bread for his girls would've included a glaze, but I could be wrong. If you prefer a glaze, see the recipe notes.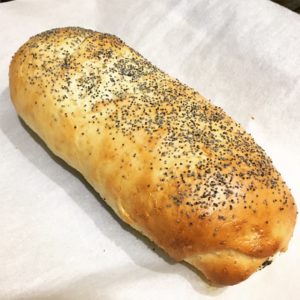 I baked it for slightly less than the recipe called for due to size, but even with halving the recipe, I think it could've used maybe 5 minutes longer (or 30 minutes total) in the oven. It was hard to let it cool for a long time once it came out of the oven, but trust me, it's much better when it's fully cooled. I also personally like the outside thirds of the bread better than the middle third.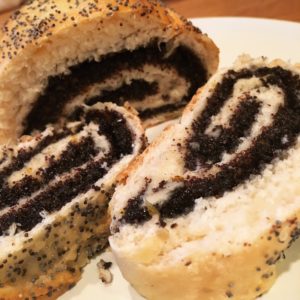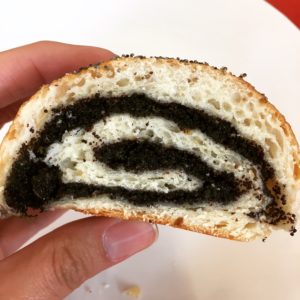 I hope you enjoy! Have you read the Lilac Girls? What did you think?
Poppy Seed Cake
Dough Ingredients
1½ cups bread (or all purpose) flour
1 packet (2 tsp/7 gms/1/4 oz) yeast - instant or active dry yeast
¼ cup sugar
½ teaspoon salt
⅔ cup 1% milk heated to 120-130° F for instant yeast (or 110-120°F for active dry)
2 Tablespoons oil
1 egg
about ¾ cup extra flour
Filling Ingredients
1 cup poppy seeds
⅓ cup boiling water
¼ cup ground toasted almonds (20 count)
½ cup sugar
½ teaspoon vanilla extract
zest of ½ a lemon and ½ an orange
Directions
Grind poppy seeds (see note below). Place in a small bowl, stir in boiling water & let stand uncovered.
Grind almonds and set aside.
Place flour, yeast, sugar, and salt in large mixing bowl.
Stir in milk followed by oil and egg.
Beat on high for 2 minutes. Stir in extra flour until dough forms a mass.
Place dough on floured board and knead 100 turns (about 2 minutes). Cover and let rest 10 minutes.
Meantime, add ground almonds, sugar, vanilla and zests to poppy seeds.
Roll dough into a 10 x 12 shape. Spread filling almost to edges, roll starting at 10-inch end and place on parchment-lined baking sheet, seam side down. Pinch and tuck ends under.
Cover with a towel and rise in a warm spot for 1½ hours or until double in size.
Before making, brush with egg wash and sprinkle with additional poppy seeds.
Preheat oven to 350° F and bake for 35 minutes. Allow to cool fully before slicing and serving.
From:
Jenny Can Cook
Instead of coating the top with poppy seeds, if you prefer a sweeter bread you can add a glaze. Allow baked cake to cool for 10 minutes and drizzle with glaze, made using 1 cup powdered sugar and about 2 Tablespoons milk, added slowly.
If using a spice grinder, grind seeds slowly, about 2 Tablespoons at a time, until they feel moist – about 10 seconds per each portion. Scoop out any that stick to the bottom of the grinder as you go. Once they are all ground, use the same grinder to grind the almonds.
This post contains affiliate links. Full disclosure here.