I'm excited to be a part of the paperback release party for Big Lies in a Small Town today! When I was asked to join by the Book Club Cookbook, I didn't hesitate — I absolutely adored my previous Diane Chamberlain read, The Dream Daughter. Her latest novel centers around a post office mural painted in 1940, with a dual timeline that goes back and forth between the artist who painted it and the artist who later restores it nearly 80 years later.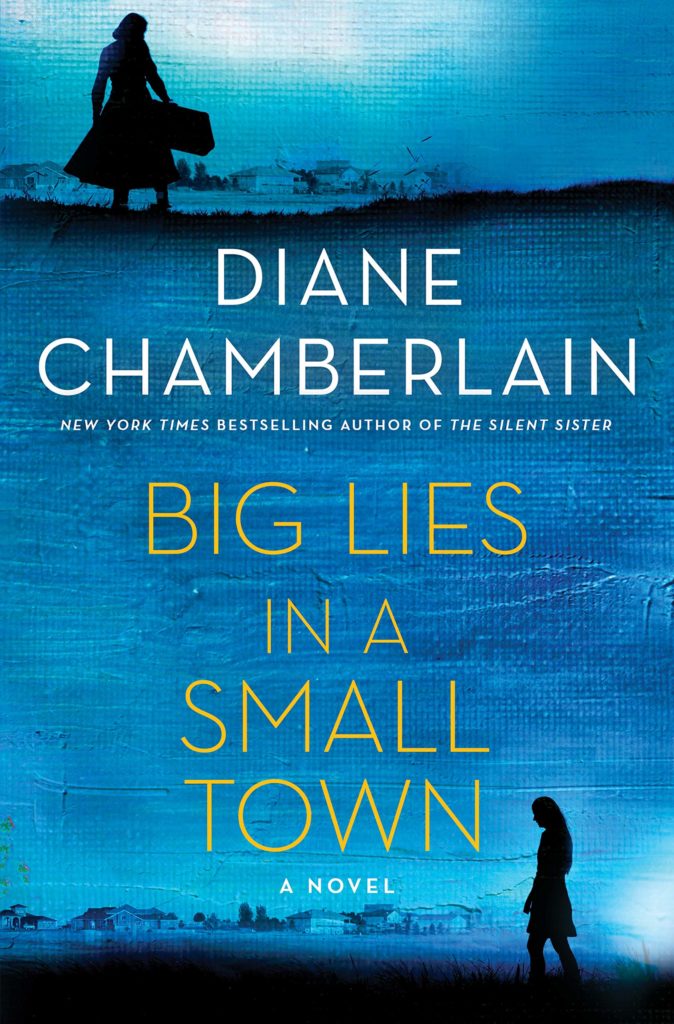 Chamberlain does an excellent job weaving both stories together and keeping the reader interested throughout. I didn't necessarily like one timeline better than the other, which is so often the case in books like this; I found something worthwhile in both stories. I loved the strong women she created.
The element of mystery hinted at in the title is real — the painting's artist did disappear under mysterious circumstances. And though the story was compelling and a bit suspenseful, I don't think the title necessarily accurately reflects the story, which is about more than "big lies." It covers several heavy themes, including race, prejudice and discrimination; the inequality of women; privilege; and abuse.
This would be an excellent book club book. Lots to discuss! And, perhaps, you can check out the party posts and find something yummy to share at your meeting 🙂 I made collard greens, which made a standout appearance during a meal Anna, the painting's original artist, has with a student artist's family while she's in town.
Anna initially describes them as "a bowl of some sort of greens" and later regrets taking so many as she had "never eaten them before and hoped never to eat them again." Well, I'm sorry, Anna, but I love collards! Until now, I'd never made them myself, though, typically ordering them when out at restaurants.
I sort of combined a couple of recipes, one that used a ham hock (which I didn't readily have) but had a longer stewing process with one that used bacon and took less time. Both had excellent ratings so I knew I couldn't go wrong.
First, I cut and washed my greens. I chose to remove the stems, for the most part — though when I've had them in collards in the past, it hasn't bothered me. I cut them up and then filled my (freshly cleaned) sink with water and the leaves.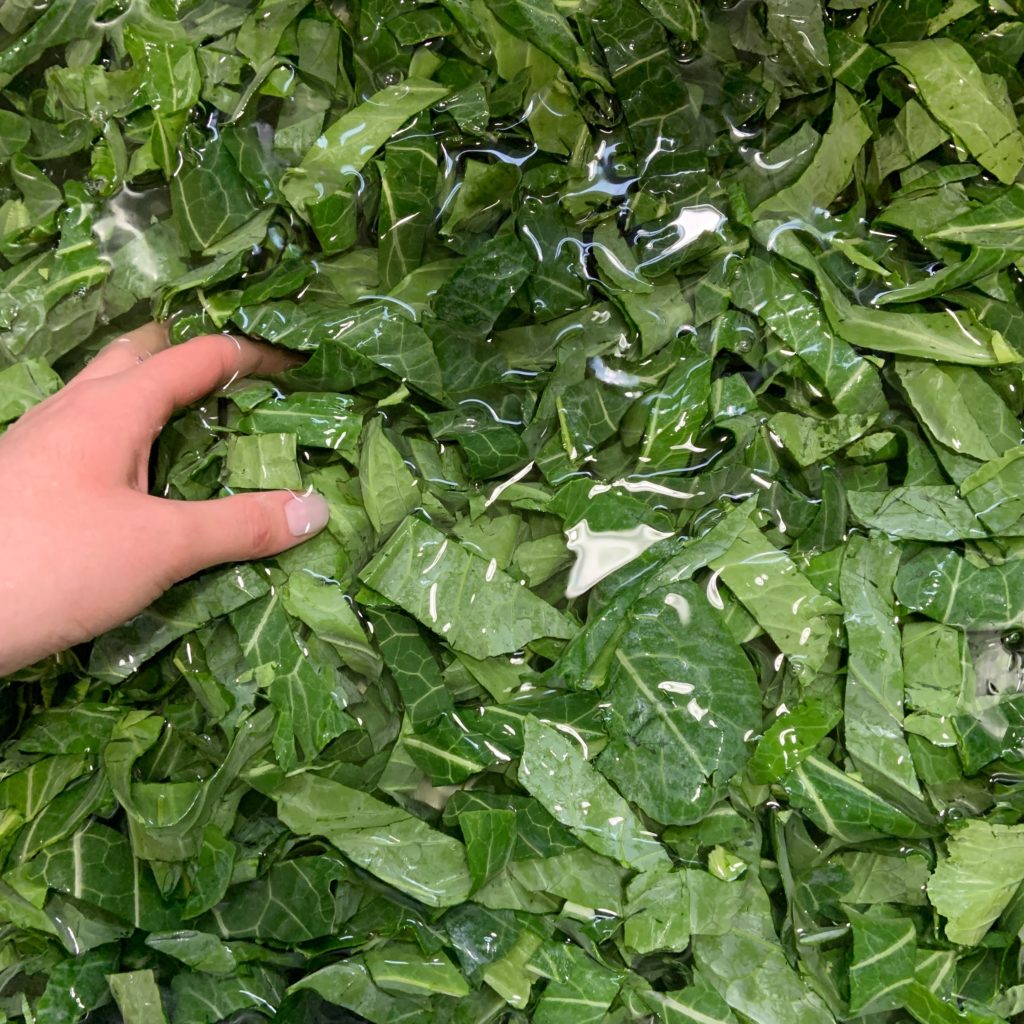 The collards I got from the store actually seemed pretty clean, so I only ran them through twice. But you want to make sure you're being thorough. They may require multiple washings to get all the grit out.
I decided to cook my bacon in the oven (less greasy spattering), so when that was done, I scooped up a tablespoon of the grease and then set the bacon on some paper towels. When it was cool enough, I crumbled it into bits.
I added the bacon, along with the grease and the cut and washed collards to a large pot. I cooked it for a few minutes, tossing the greens a bit, until they started to wilt. Then, I covered them with chicken broth (and a bit of water), along with the rest of the seasonings and chopped onion.
I brought it up to a low boil and then reduced the heat to low, covered and allowed it to simmer until tender. I probably let it go for close to 3 hours, as I was in no rush, but they were probably okay to serve around 2 or 2½ hours.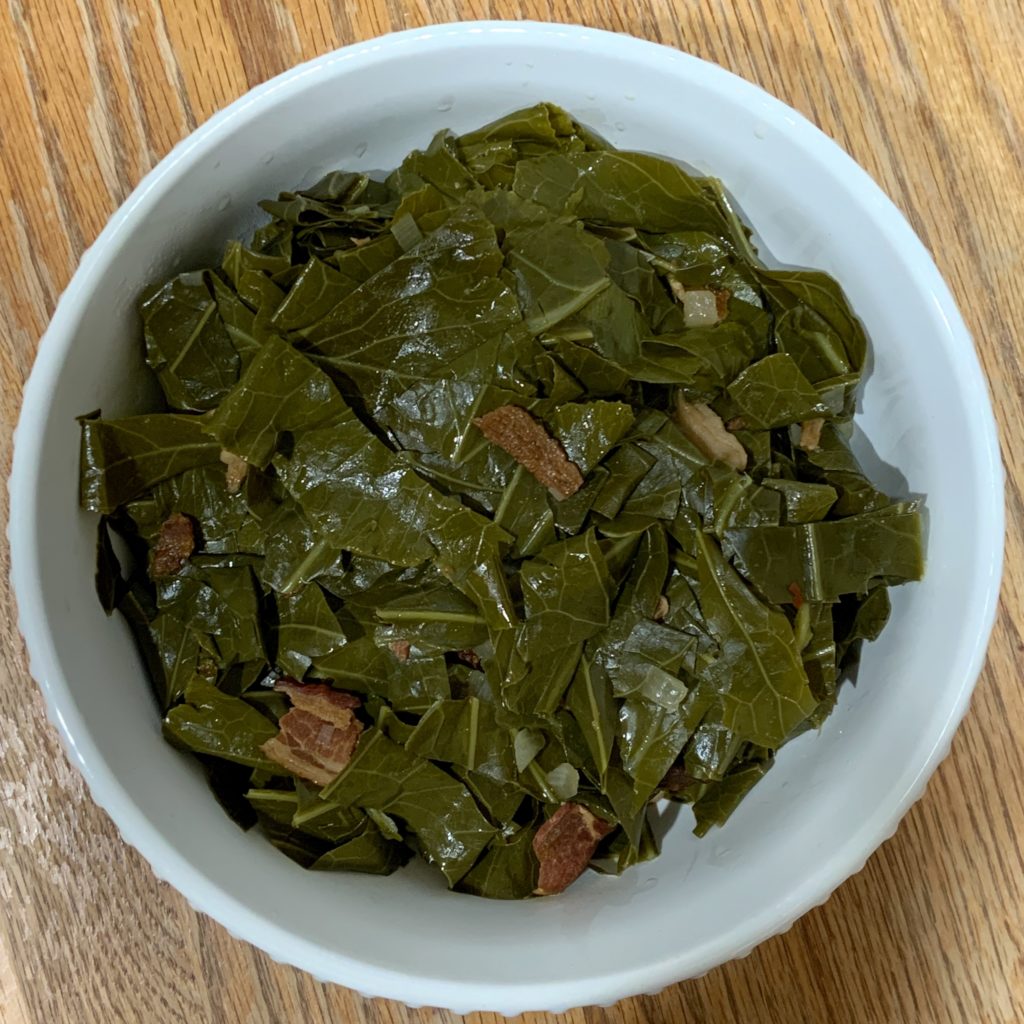 My only complaint was that they were a bit salty; I would perhaps, next time, reduce either the Worcestershire sauce or the seasoning salt. But, they were cooked well and quite delicious. I would absolutely make them again — and more for me if Anna isn't a fan.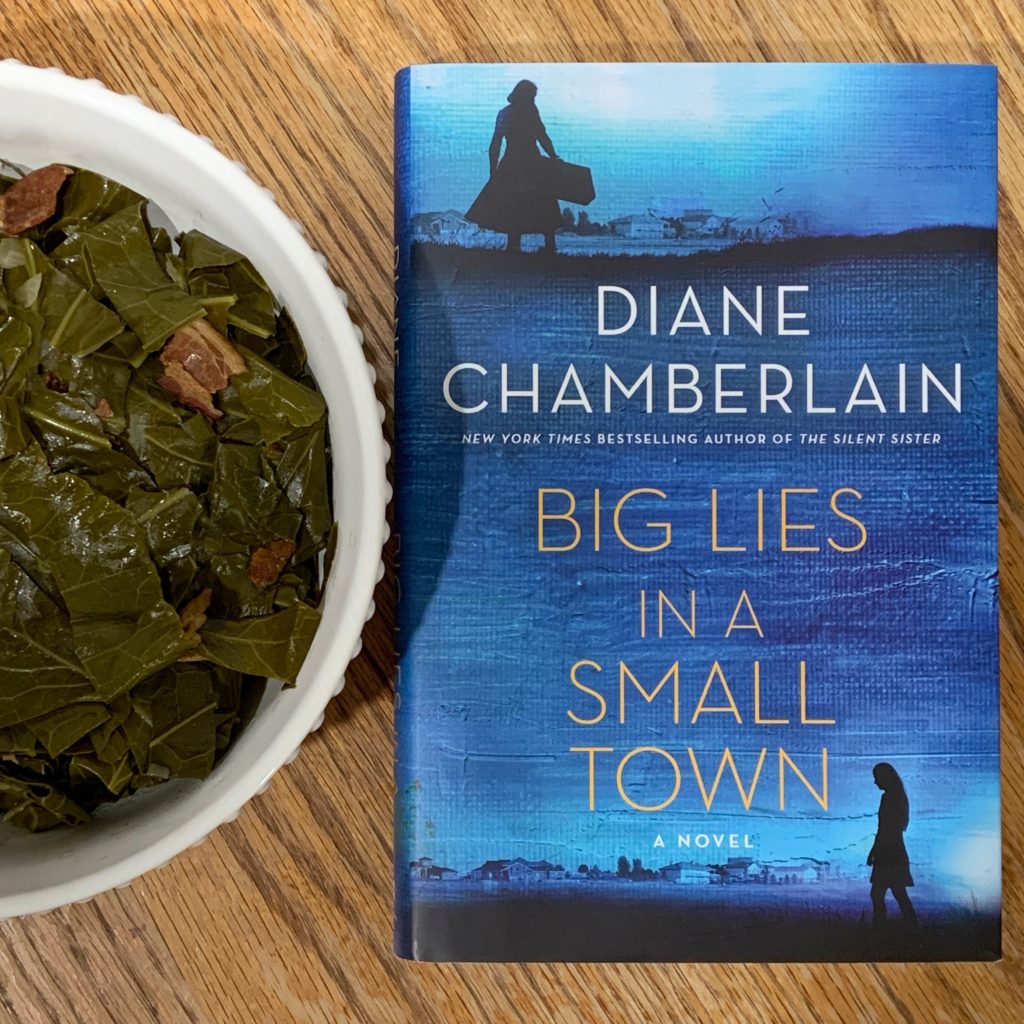 Collard Greens
Ingredients
1

large bunch collard greens

about 1 lbs

3

pieces

of bacon

4

cups

chicken broth

2

tbsp

granulated sugar

1

tbsp

bacon grease

1

tbsp

seasoned salt*

2

tsp

Worcestershire sauce

2

tsp

apple cider vinegar

1

tsp

crushed red pepper flakes

you can go down on this to 1/2 teaspoon if you like less heat

1/4

tsp

garlic powder

1/4

tsp

paprika

1/4

cup

finely chopped onion
Instructions
Start by pulling and tearing greens away from stems. Take a hand full of greens, roll them up and cut the rolls horizontally into small pieces. We personally remove the stems but this is a personal decision.

Next, add greens to empty clean sink and wash them removing all grit, sand and debris thoroughly with cold water until water becomes clear.

Cook bacon, using preferred method. (If cooking in the oven, save 1 TBS of grease before it solidifies.) When bacon is cool enough to touch, crumble.

To a large stock/soup pot, add bacon grease, crumbled bacon and greens. Over medium-high heat, cook for a few minutes until greens begin to wilt.

Cover with 4 cups of chicken broth. You need just enough liquid to barely cover the greens. If you need more liquid, use water. Add along the rest of the ingredients to the pot and cook on low while covered for at least 2 hours or until completely tender. Most water should have evaporated by this point just having enough to barely cover the greens (which will have also reduced).
Notes
Adapted from: Grandbaby Cakes and All Recipes
*To avoid it being salty, I recommend starting with 1 - 1½ tsp of seasoning salt and adding more later, if needed. Adjust to taste, up to 1 Tbsp.
---
Thank you to NetGalley and the publisher, St. Martin's Press, for the copies of this novel in exchange for my honest review.
This post contains affiliate links. This does not increase the price you pay, but I may receive a small commission for any products you choose to buy. Purchases made through affiliate links help to cover my blogging costs. Thank you for helping to support The Hungry Bookworm! Full disclosure here.