Jump to Recipe
---
When we brought my son home last December, we read to him constantly — mostly black and white books at first but we quickly moved to longer stories. One of my favorites was The Snowy Day, which I read to him to commemorate his first snowfall. I put it away in the spring and recently dug it out to add back to the bookshelf. Again, it was just in time for the first snowfall.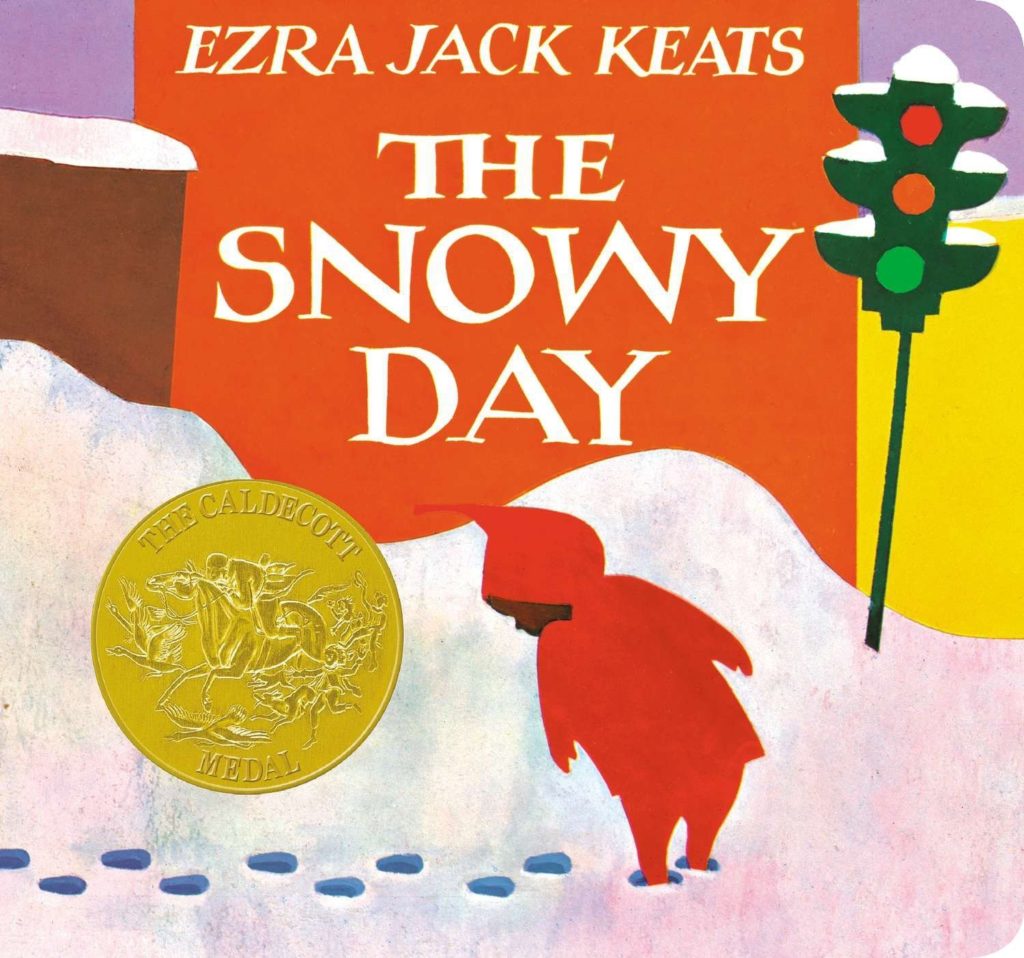 Ezra Jack Keats' story is a classic, published almost 60 years ago. It still captures the magic of the first snow and the feeling of a snowy day as a kid. In it, Peter puts on his snowsuit and explores his neighborhood. He doesn't join in a snowball fight with the older kids (he is too young), so he makes a snowman and some snow angels instead.
He makes a snowball and puts it in his pocket to keep, but before bed, his pocket is wet and the snowball isn't there. He is worried the snow outside will be all gone when he wakes up, but to his relief, it's still snowy in the morning.
I knew the perfect treat to make for The Snowy Day was a classic holiday cookie, often called a snowball (though I knew it growing up as a Russian tea cake). I have very fond memories of making them with my grandma as a kid every year before Christmas. Until this, I'd never made them on my own.
Luckily, they're really easy to make and as fun as I remember.
First, I creamed together softened butter and powdered sugar using my stand mixer. Then I added in vanilla extract, and finally, flour and a bit of salt to form the dough.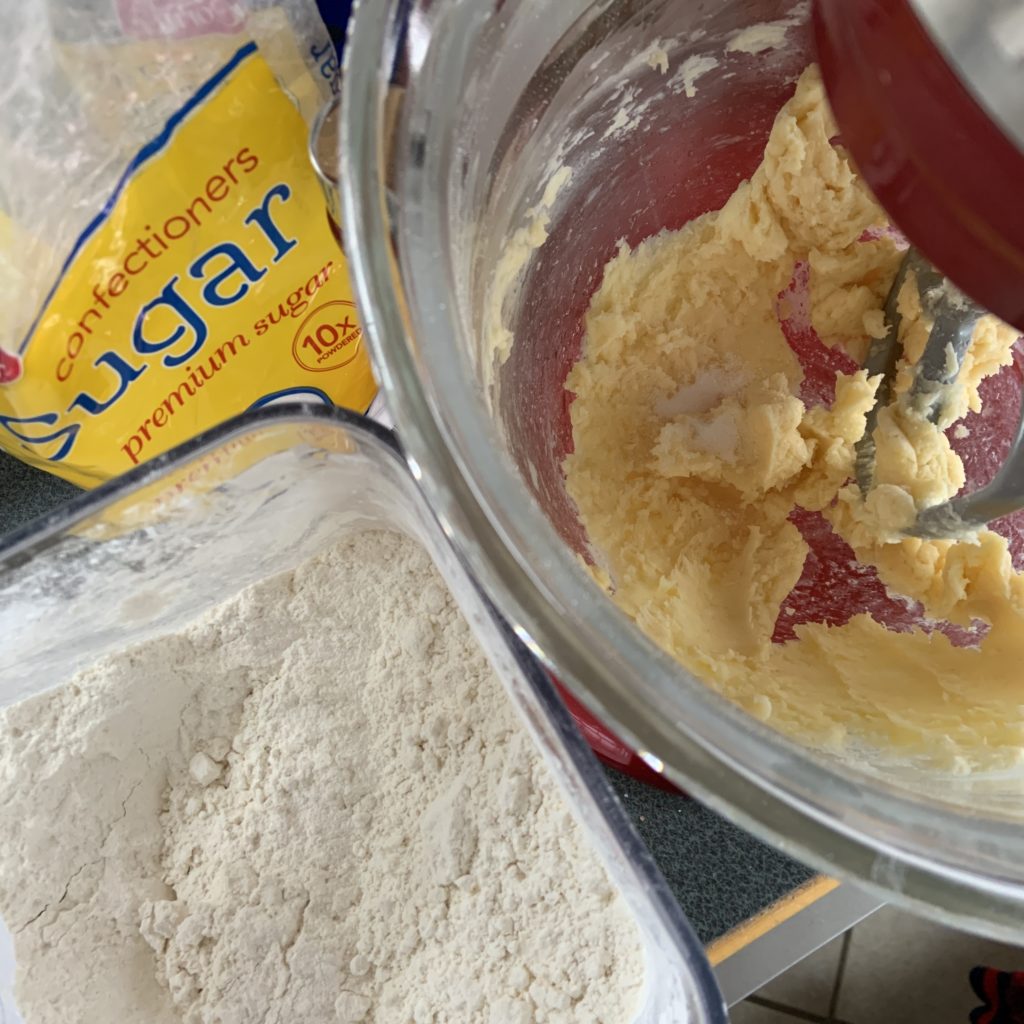 To that, I added finely chopped pecans. (I bought chopped pecans and then chopped them even more.)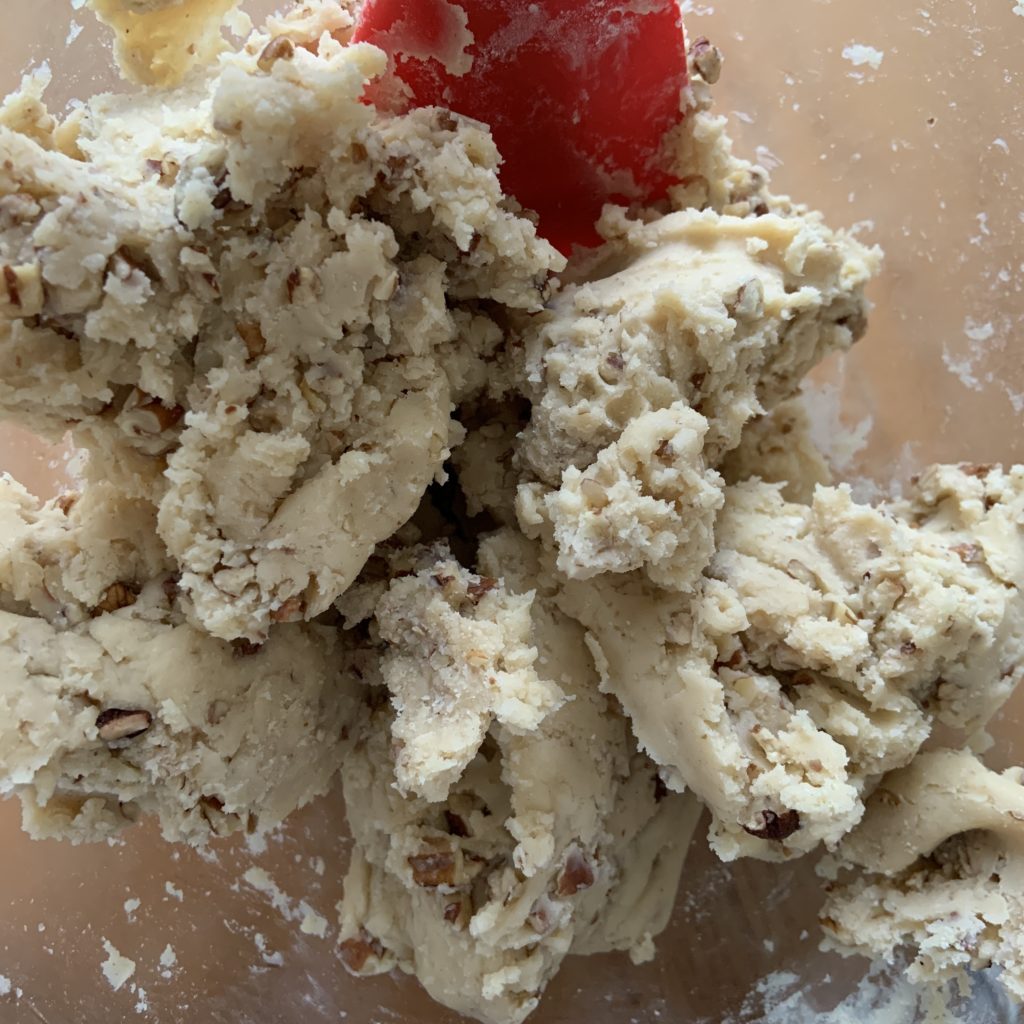 Then, I used a 1 tablespoon scoop to portion the dough and rolled each scoop into a ball using my hands. I placed them on a parchment lined baking sheet, about 2 inches apart.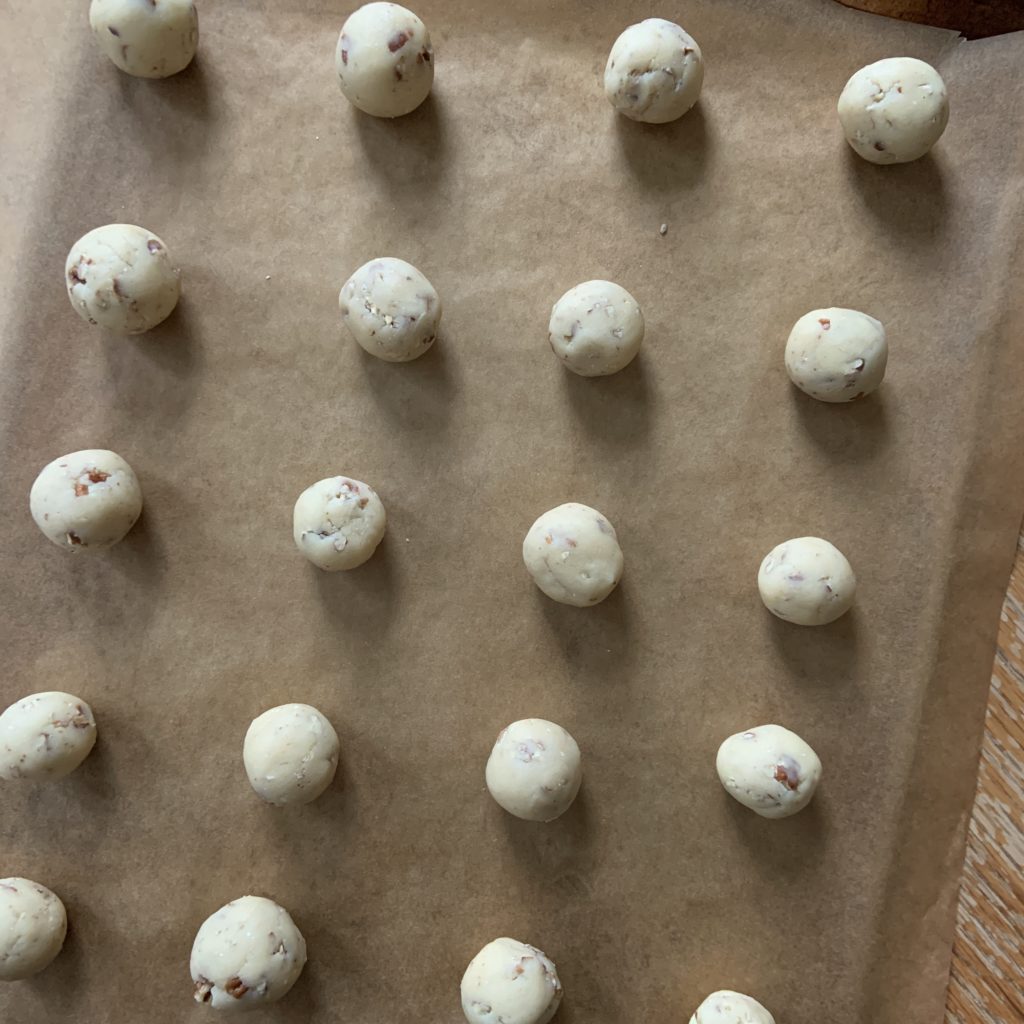 I put the pans into the fridge so the dough could chill for an hour. With about 15 minutes left in the fridge, I preheated my oven to 375. I baked the cookies for about 10 minutes, until the bottoms were lightly browned.
The recipe I used didn't mention sifting the powdered sugar but that is what I remember most vividly from making them with my grandma — using the sifter. So, I sifted about a cup of powdered sugar while the cookies cooled for a few minutes (you need to be able to touch them). It looked like snow.
Then, I rolled each cookie in the powdered sugar until it was well covered. The sugar did melt a bit, but that's okay.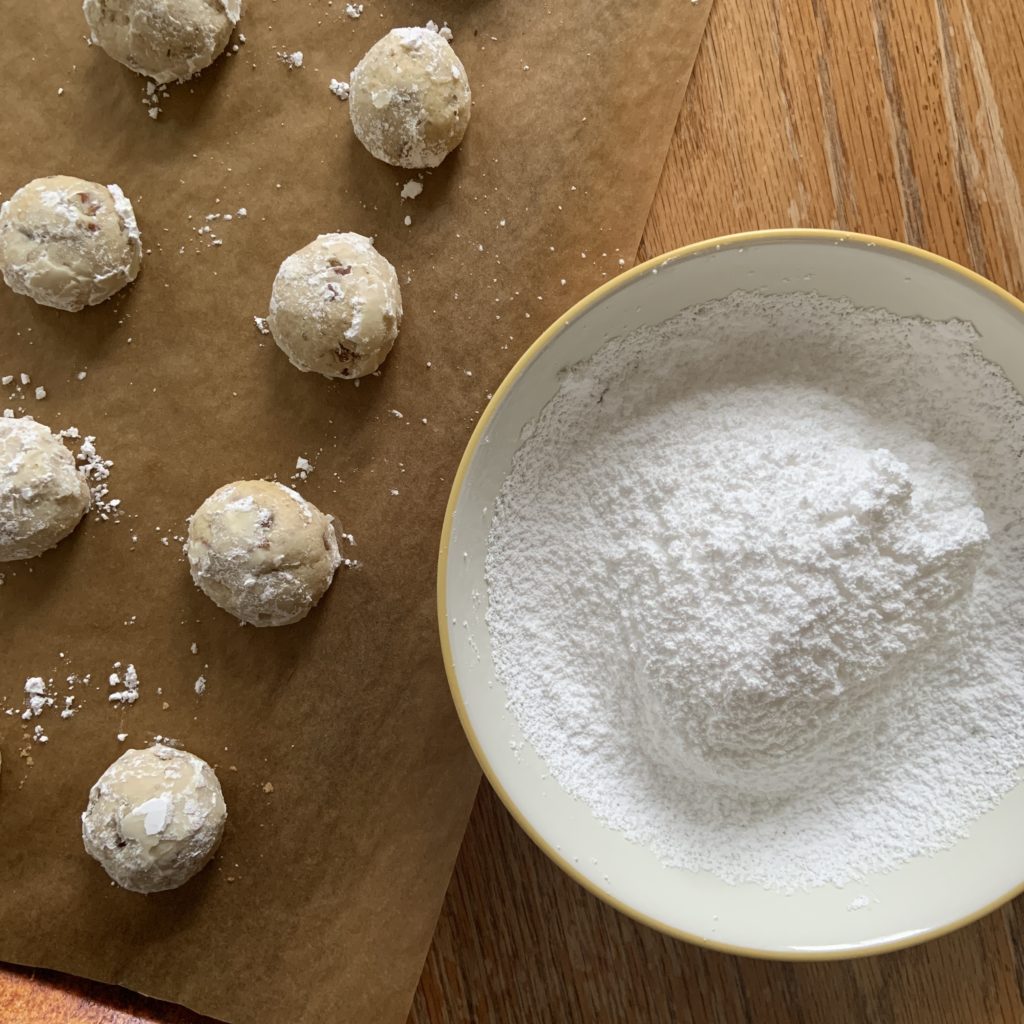 After the cookies cooled completely, I rolled them in the powdered sugar again. This time it formed a coating on the outside, making it look more like a snowball.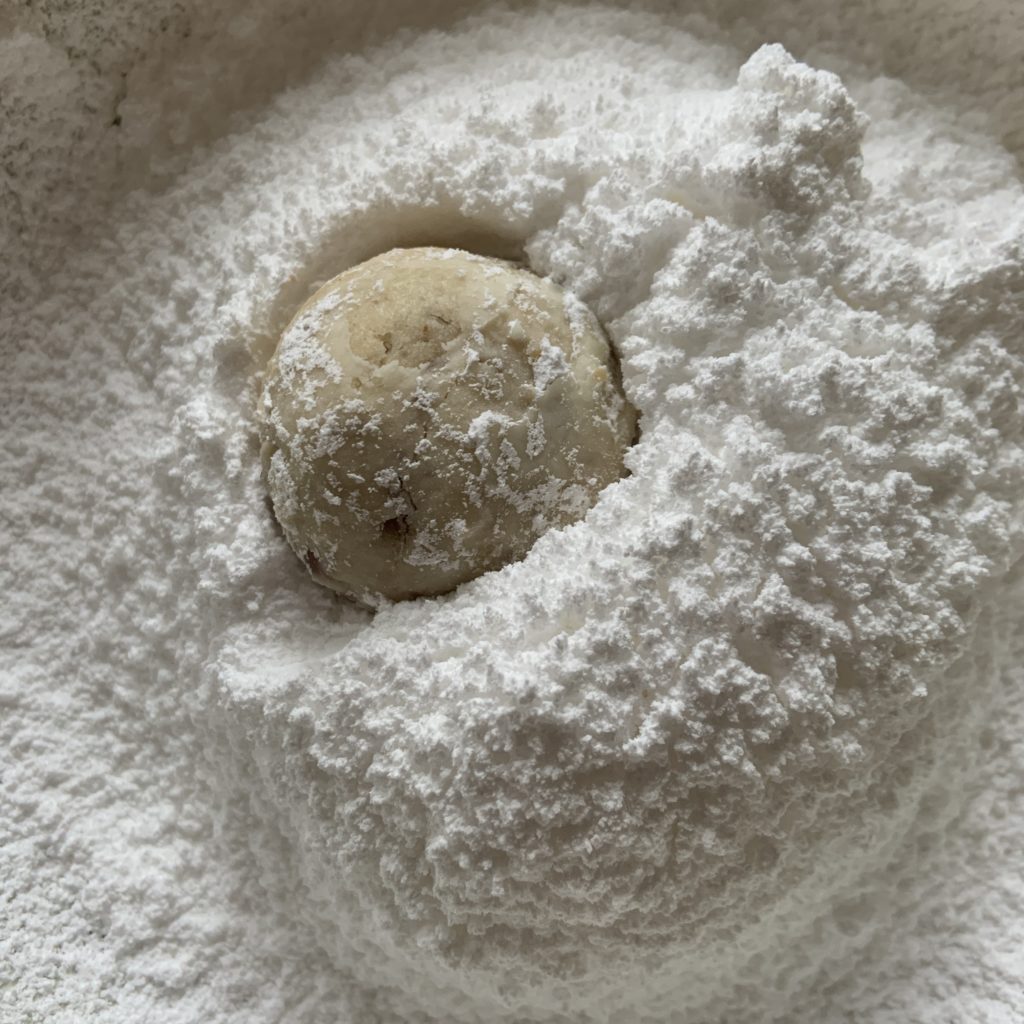 These cookies go so well with this story. Plus, they're easy for kids to help with!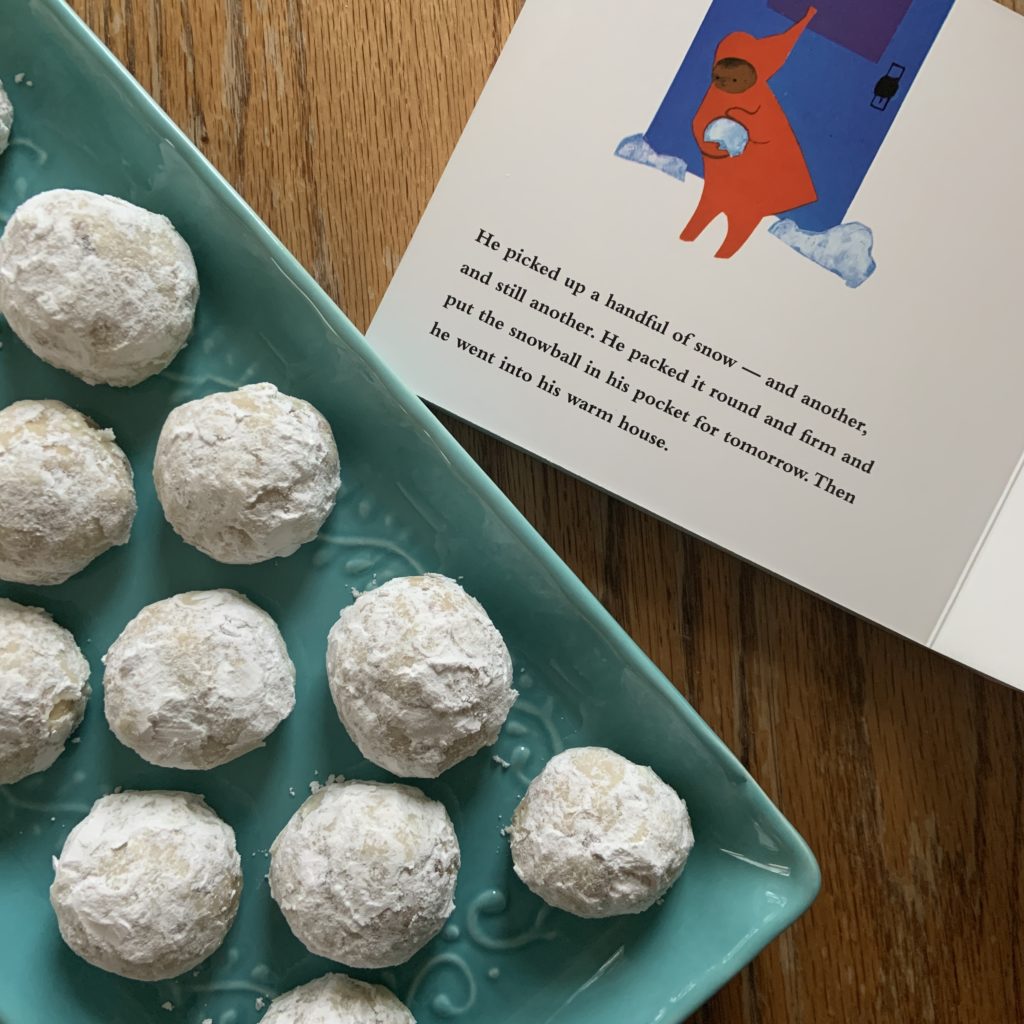 Do you have a favorite food memory from your childhood? I'd love to hear about it in the comments.
Snowball Cookies
Also known as Russian Tea Cakes, these cookies are easy to make and perfect for winter baking.
Ingredients
1

cup

unsalted butter

room temperature

1 1/2

cups

powdered sugar

divided

2

tsp

vanilla extract

2 1/4

cups

all-purpose flour

1/2

tsp

salt

3/4

cup

85g finely chopped nuts (such as pecans)
Instructions
In a large mixer bowl, beat the butter and 1/2 a cup (58g) of powdered sugar together until smooth.

Add the vanilla extract and mix until smooth.

Add the flour and salt and mix on low speed just until the dough comes together.

Stir in the chopped nuts.

Scoop tablespoon sized balls of dough and shape into a ball, placing on the prepared cookie sheet 1-2 inches apart. Refrigerate about an hour.

While the dough is chilling, preheat oven to 375°F (190°C) and line a cookie sheet with parchment paper or a silicone baking mat.

Bake for 7-10 minutes, or until the bottoms are just lightly brown.

Remove from the oven and allow to cool for a few minutes, until you can handle them.

Sift the remaining 1 cup of powdered sugar into a small, shallow bowl and roll each cookie in it until well coated. The sugar will melt a little bit. Allow the cookies to cool completely, then re-roll in powdered sugar.

Store in an airtight container for up to a week.
---
This post contains affiliate links. This does not increase the price you pay, but I may receive a small commission for any products you choose to buy. Purchases made through affiliate links help to cover my blogging costs. Thank you for helping to support The Hungry Bookworm! Full disclosure here.