Welcome to the first Kids Edition post on The Hungry Bookworm! Today we will be talking about a charming little monkey and his culinary adventures in Curious George Makes Pancakes.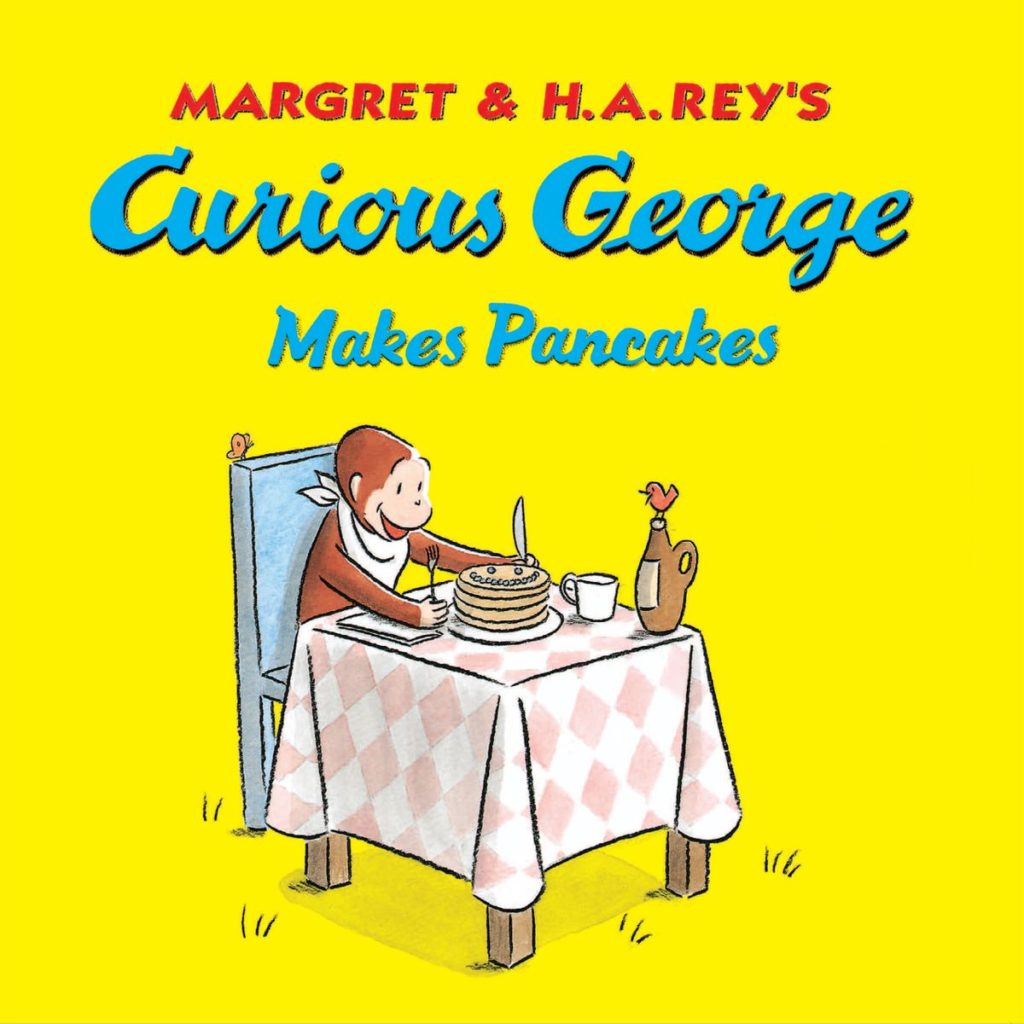 George is a good little monkey. He is also very curious. This curiosity makes for a lot of antics that we love reading about with my son Henry.
My favorite of these stories is the one where he makes pancakes. First, he and the man with the yellow hat go to an annual pancake breakfast. They go every year to raise money for the local children's hospital.
As George is waiting in line for pancakes, he decides he wants to help.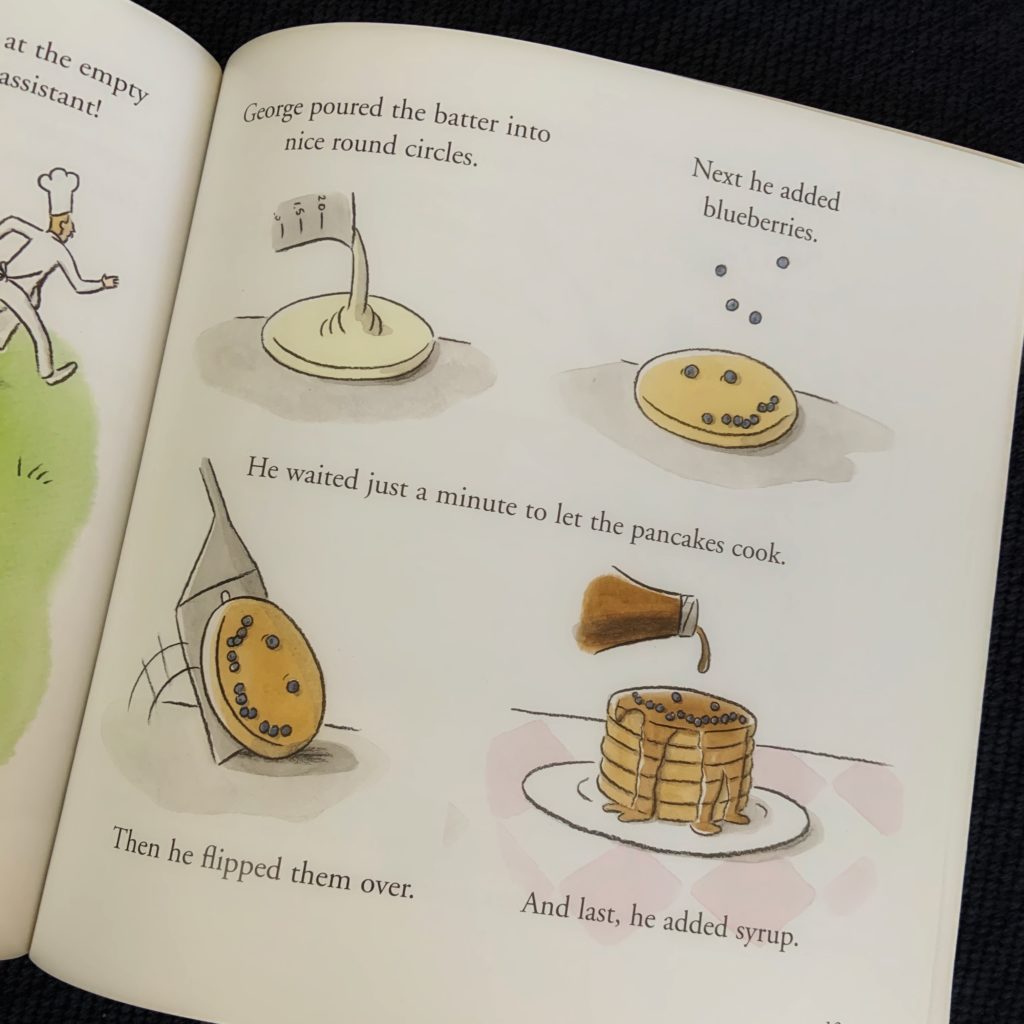 George's pancakes are a big hit — everyone loves them! Of course, a Curious George book would not be complete without a little "trouble" and so there's some of that as well. But, in the end, as always, George saves the day.
We most often read about George in the morning, after Henry's first bottle, and it got me thinking that it might be nice to try some pancakes of our own! We actually had them for dinner one evening, but I made sure to include blueberries just like George.
This recipe is for very fluffy pancakes, and it is easy enough that an older kid could probably make this on their own, or a younger kid could help with parts of it — like washing the berries or mixing the ingredients. (Fun fact: Pancakes is one of the first meals I remember making by myself — it's even captured in a photo.)
First, I made buttermilk by mixing regular milk and a little bit of vinegar. Then, I whisked the dry ingredients. And, then I added the wet ingredients into the dry ingredients, whisking until everything was combined.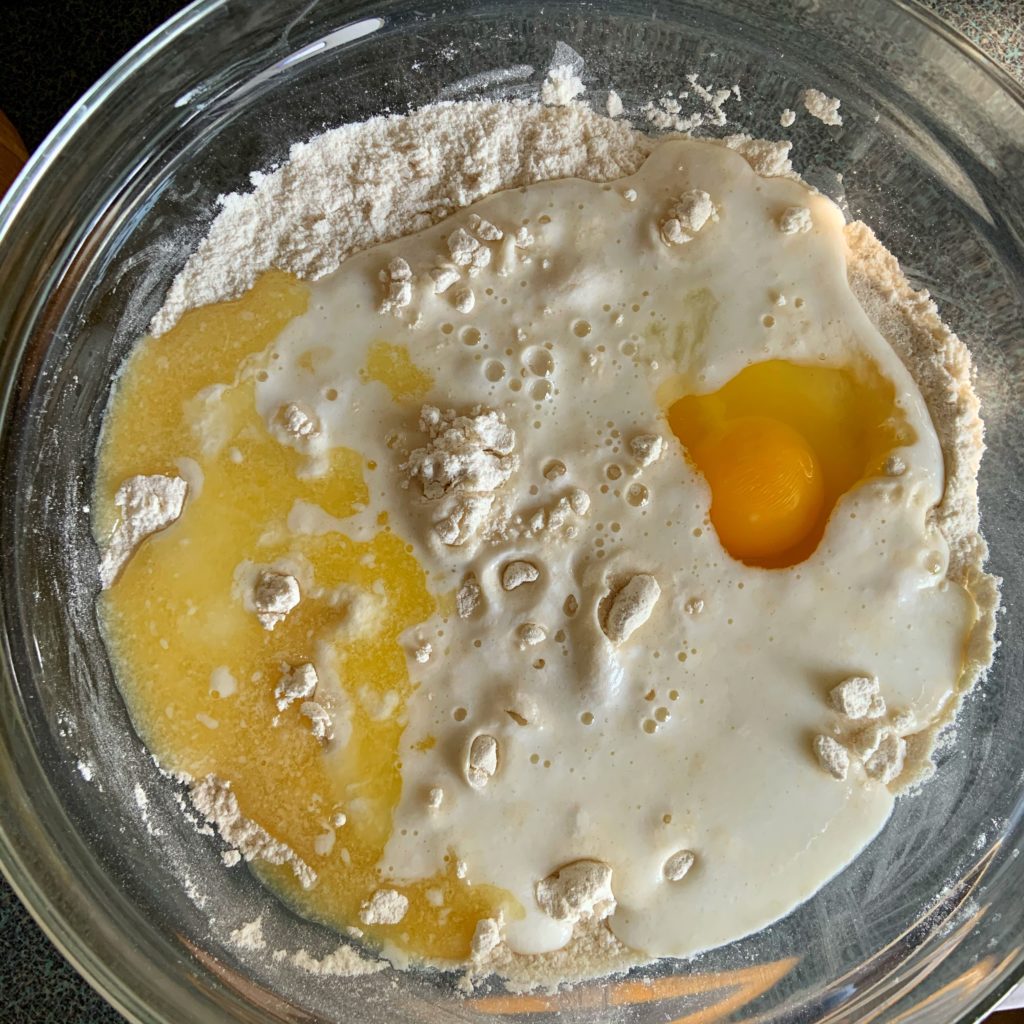 I also made sure my berries were ready to go! We used a mix of blueberries and strawberries because strawberries are Henry's favorite.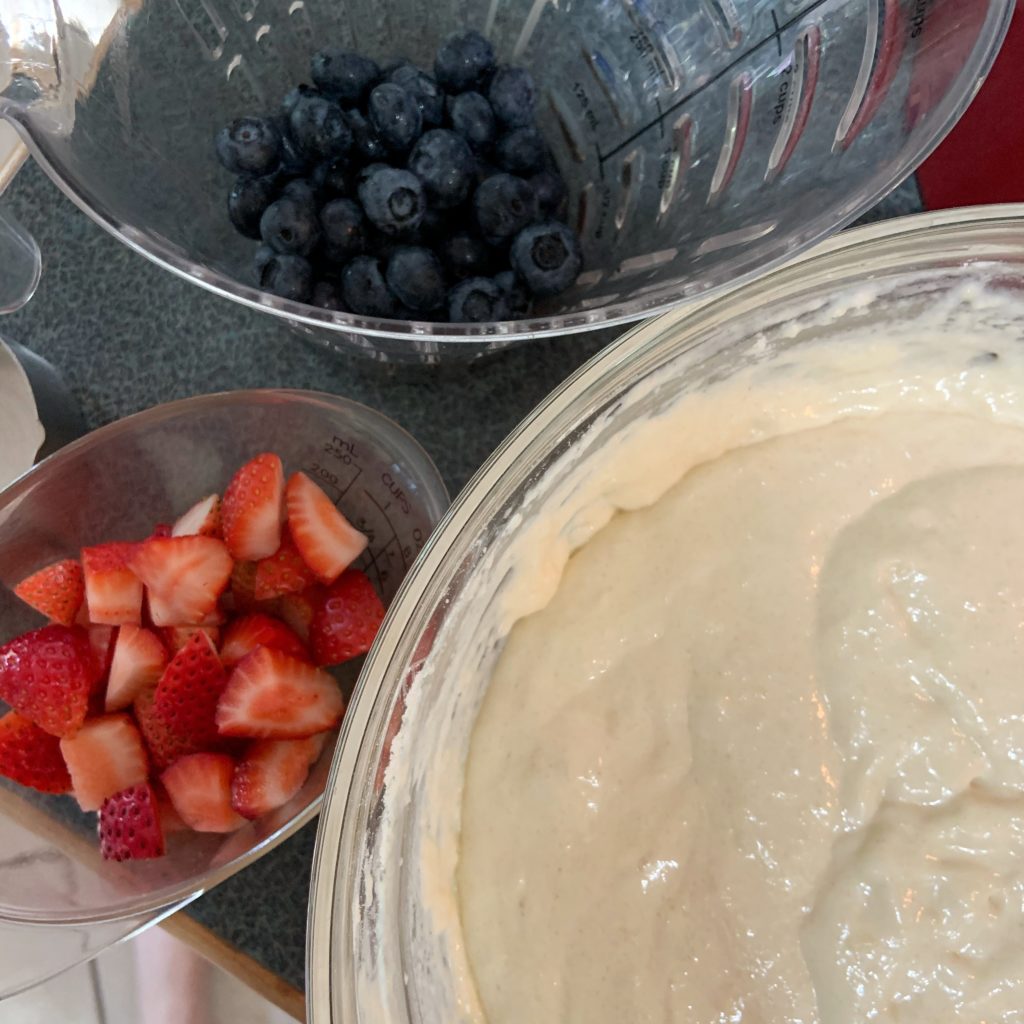 Then I poured the batter onto a hot griddle (this is definitely where a kid could use an adult's help). It's okay if they aren't as perfectly shaped as George's — they will still taste delicious!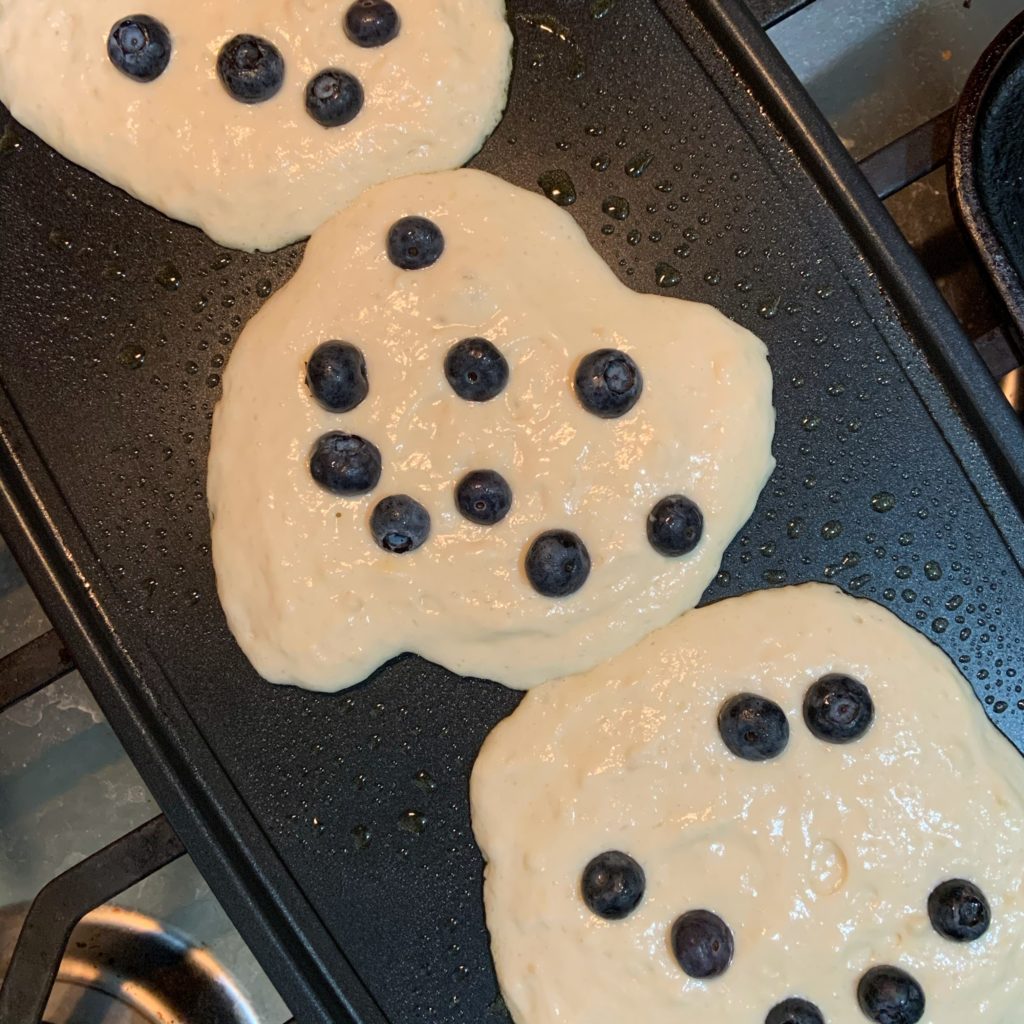 Once the batter is on the griddle, add your berries. I tried making a smiley face like George did.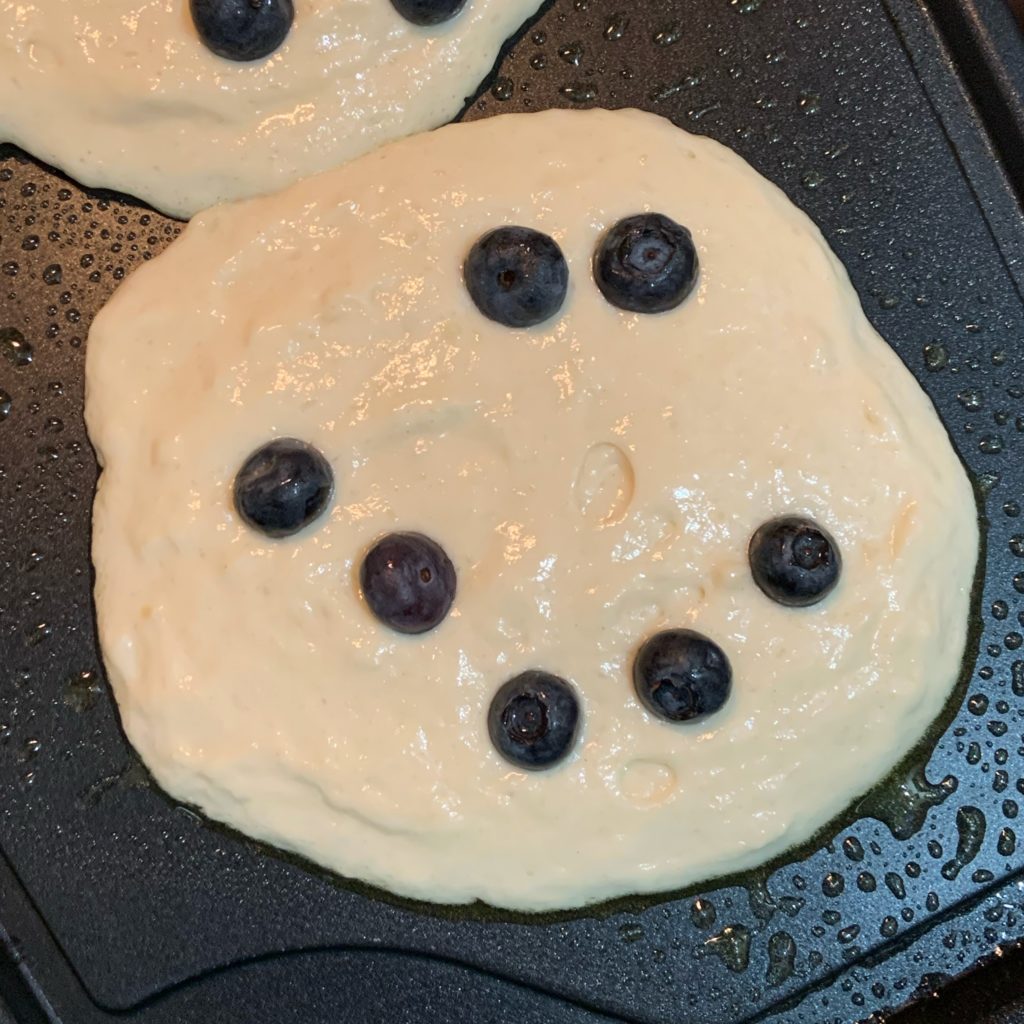 After the pancakes start to bubble on top and the edges get firm, flip them over to cook on the other side.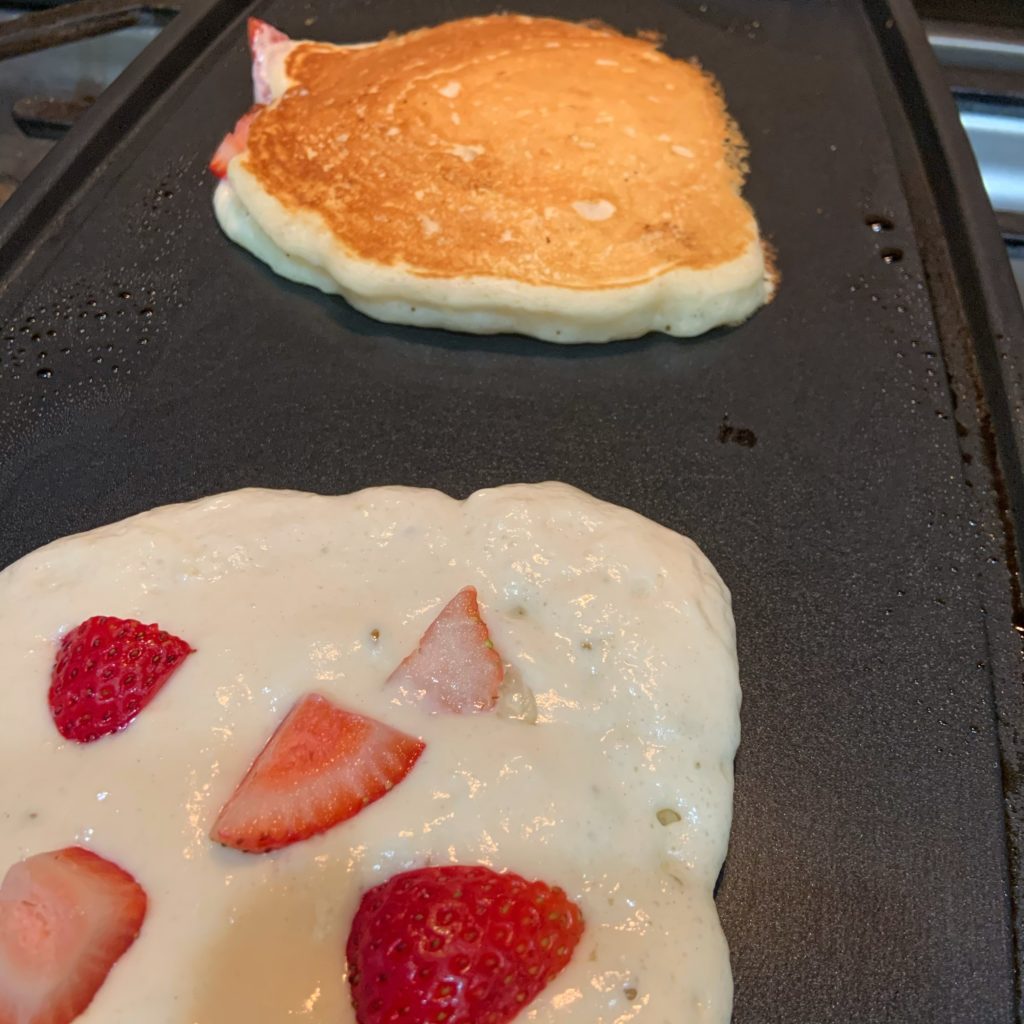 The pancakes should be a nice golden brown on both sides, and then you know they are done.
I even made some little ones for Henry to try. (He really liked them!)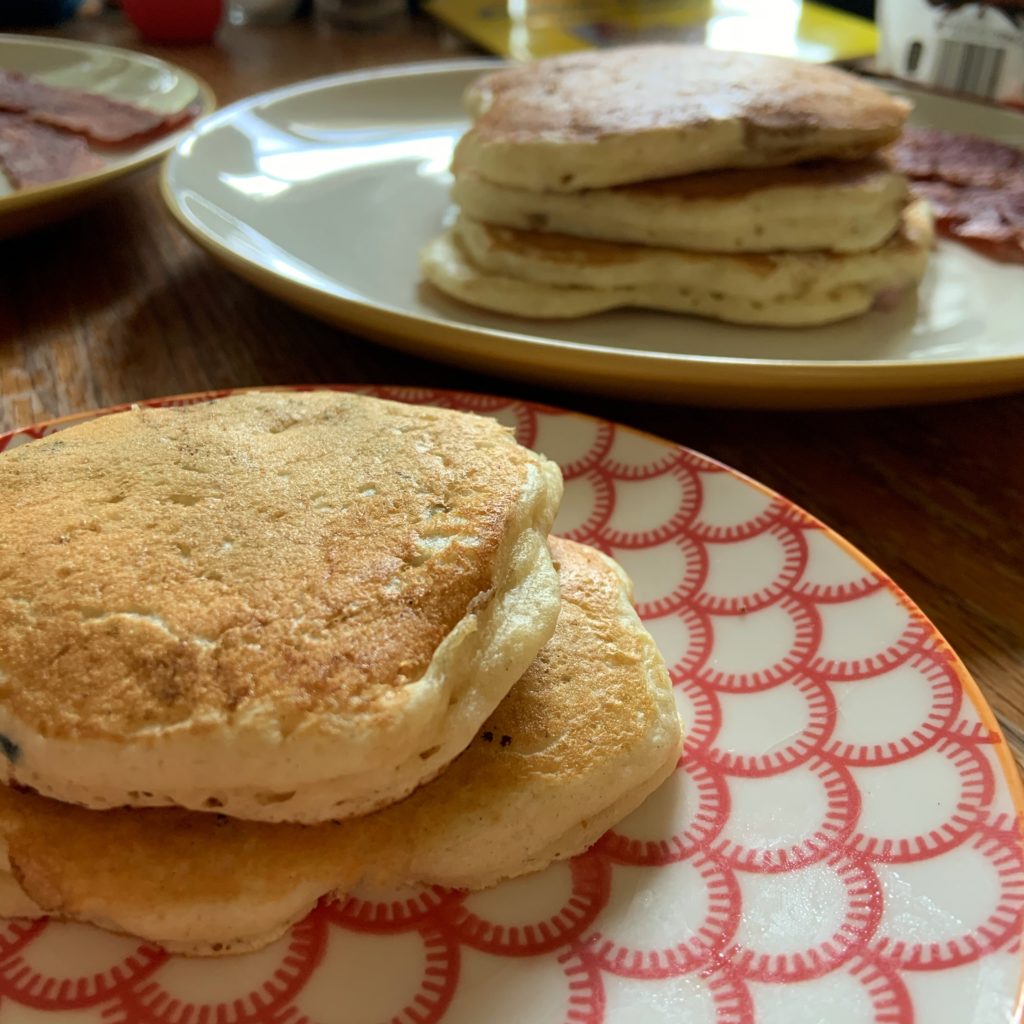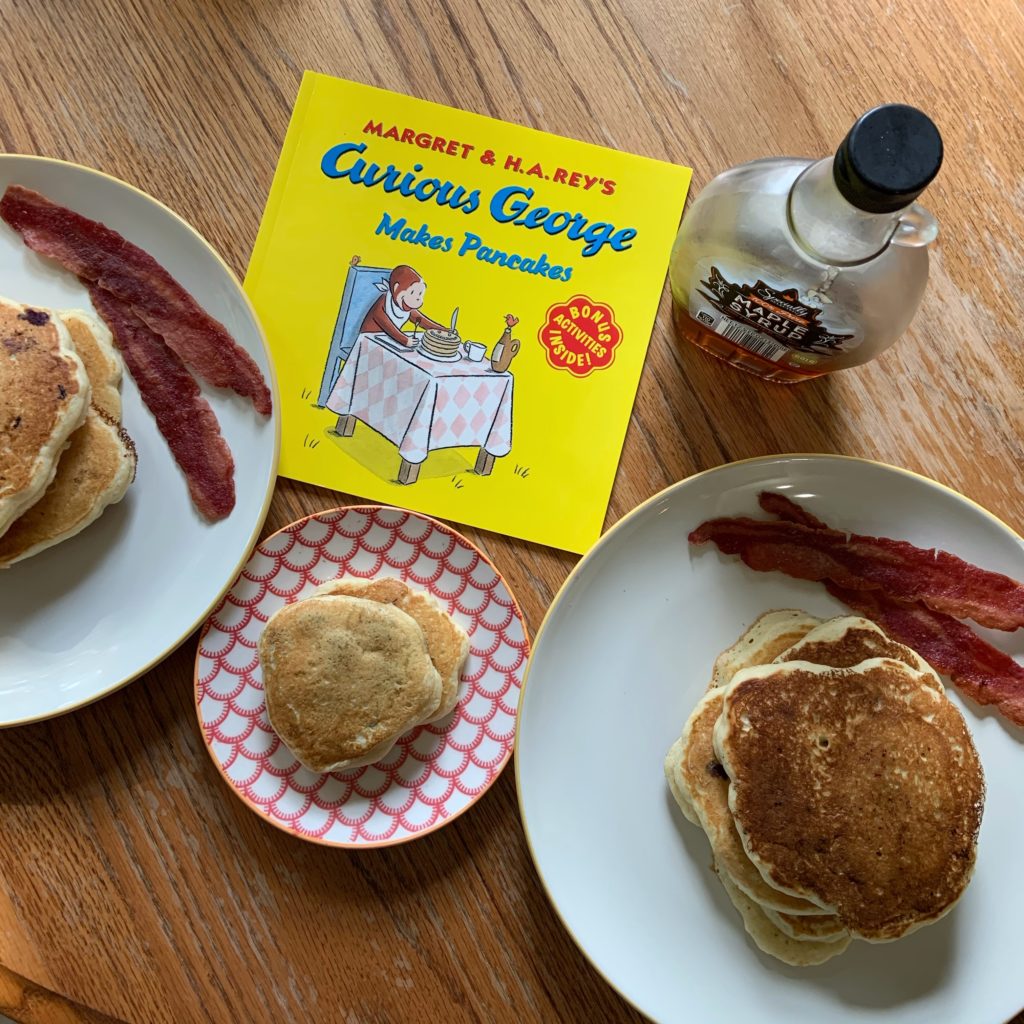 Blueberry Pancakes
Ingredients
3/4

cup

milk

2

tablespoons

white vinegar

1

cup

flour

2

tablespoons

sugar

1

teaspoon

baking powder

1/2

teaspoon

baking soda

1/2

teaspoon

salt

1

egg

2

tablespoons

melted butter

1+

cup

fresh blueberries

more butter for the pan
Instructions
Mix the milk and vinegar and let it sit for a minute or two to make buttermilk.

Whisk the dry ingredients together. Whisk the egg, milk, and melted butter into the dry ingredients until just combined.

Heat a nonstick pan over medium heat. Melt a little smear of butter in the pan (essential for giving a yummy golden brown crust).

Pour about 1/3 cup of batter into the hot skillet and spread it flat-like (it will be pretty thick). Arrange a few blueberries on top. Cook until you see little bubbles on top and the edges starting to firm up. Flip and cook for another 1-2 minutes until the pancakes are sky-high fluffy and cooked through.

Serve with butter and maple syrup, or as desired.
Look out for new Kids Edition posts every month, on the fourth or last Saturday of each month. If you have a favorite kids' book you'd like to see me make a recipe for, please let me know in the comments below or email me!
---
This post contains affiliate links. This does not increase the price you pay, but I may receive a small commission for any products you choose to buy. Purchases made through affiliate links help to cover my blogging costs. Thank you for helping to support The Hungry Bookworm! Full disclosure here.