Rita Mae Brown's novel Rubyfruit Jungle was quite revolutionary when it was first published in the 1970s. I had never heard of it until recently when I was searching for books to include in my office's book club poll for Pride Month reads, and certainly now, the content isn't what I would call groundbreaking, but I can see why it was at the time.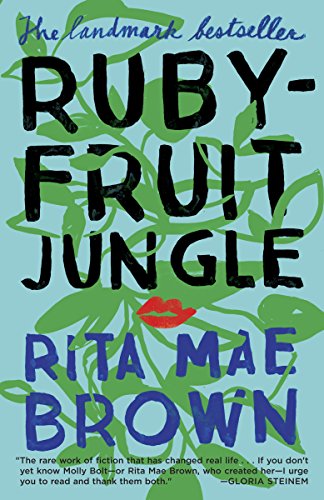 Rubyfruit Jungle is a coming-of-age lesbian novel based somewhat on Rita Mae Brown's own experience growing up and becoming an author. The main character, Molly, is an easygoing, independent thinker — even from a young age (we meet her around 12) — and, in many ways, her narration reminded me of Scout from To Kill a Mockingbird. She doesn't want to become a housewife and gets scolded for playing doctor because, after all, men are the doctors. She wants nothing more than to leave her small life and become a filmmaker.
Although I found Molly almost immediately endearing, she does exhibit some problematic behavior as the novel continues — something I think readers are more likely to notice and critique now than, perhaps, they did upon its release when the lesbian-forward content was primarily what drew the scandalous attention. Today, it raises some real questions around sexual bullying, inclusion within the LGBTQ community and "passing" for straight, all of which added to the already-productive discussion at our book club.
Do I think the book is perfect? No. (What book is?) But it is certainly a reflection of its time, and one in which many people were able to see themselves and their experiences portrayed/reflected for the first time. Genuine representation across media, especially books, I think, continues to be something we struggle with as a society today, and the more stories we have in the world by underrepresented groups, the better.
Brown's novel had mostly fleeting food mentions, two of which stood out to me. Raspberry ice cream was the first, but it only came up when Molly was home, and ultimately, I didn't want to choose a food tied to the place she so desperately wanted to leave, where she couldn't be her true self. The other was donuts, which is one of the first foods she eats when she arrives in New York City to begin a new life. They seemed like the obvious choice.
I wanted some that were fruity, so I opted for a recipe for Baked Strawberry Donuts. All you really need to get started is some donut pans; otherwise, it relies on very basic pantry ingredients.
First, I weighed and chopped my strawberries; it took about 7 medium strawberries.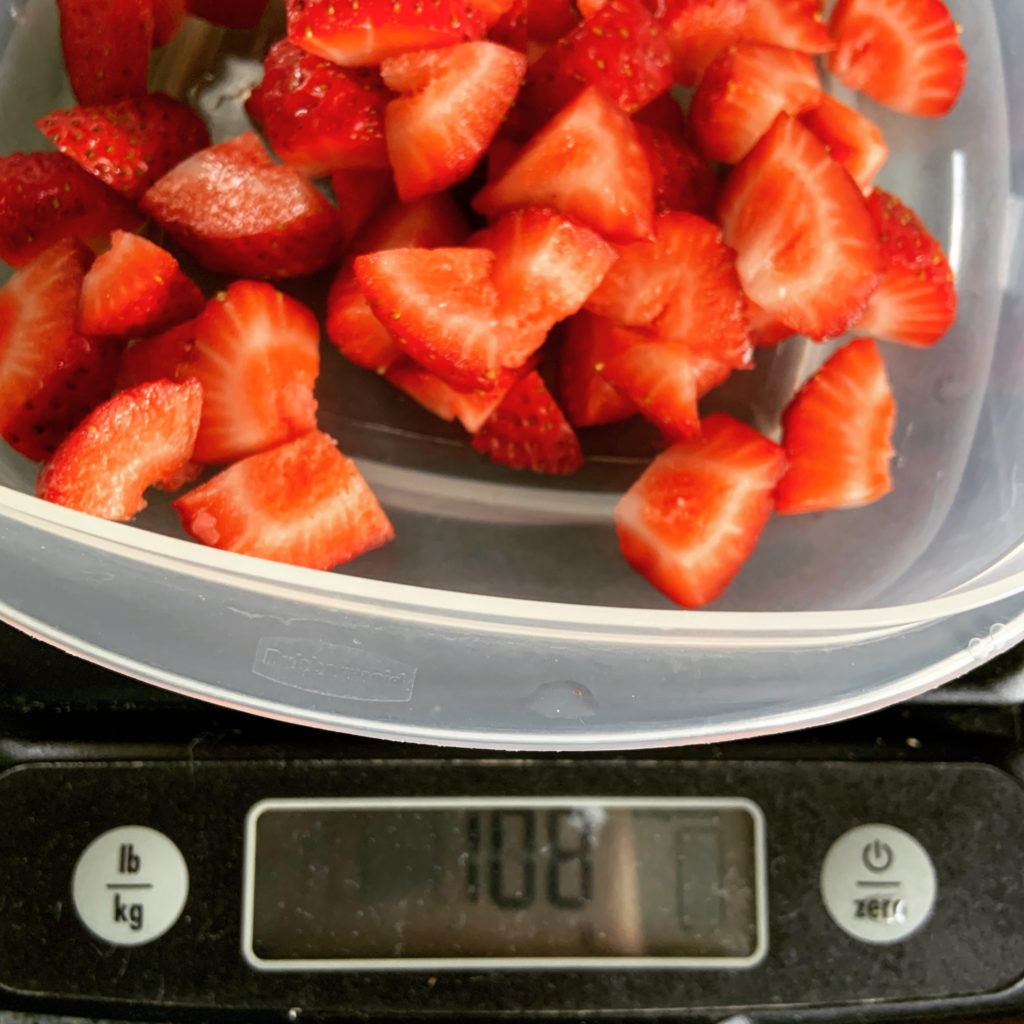 Then, I whisked together the dry ingredients — flour, baking powder and salt — and separately, the wet ingredients. I folded the dry into the wet, taking care not to overmix and then added the strawberries. I poured the mixture into the donut pans.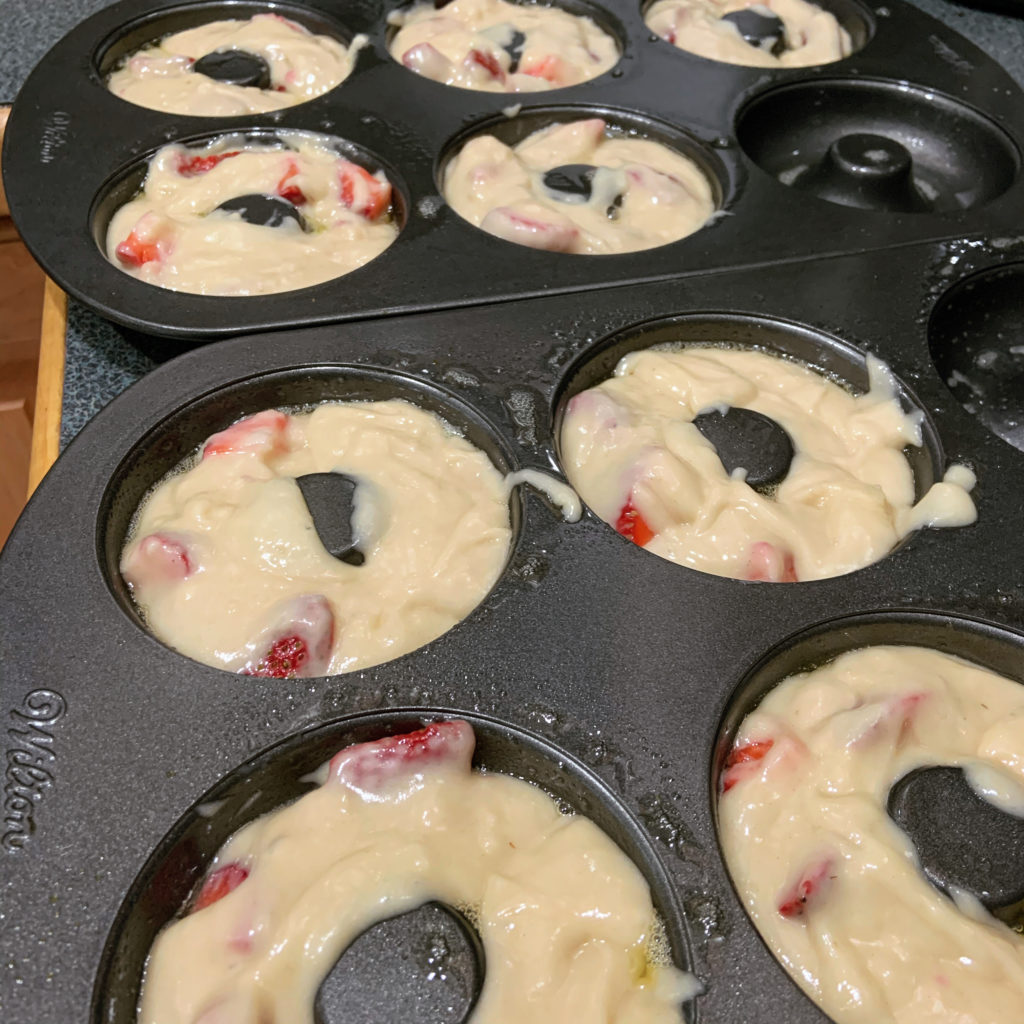 I baked them in the oven for about 10 minutes, until a toothpick came out clean. I let them cool in the pans for a little bit and then moved them to a wire rack to finish.
Meanwhile, I made the glaze, combining pureed strawberries, vanilla, milk and powdered sugar. I used a tablespoon and a half of milk, which seemed to be a great consistency initially but it really thinned out after it sat on the donuts for a few minutes.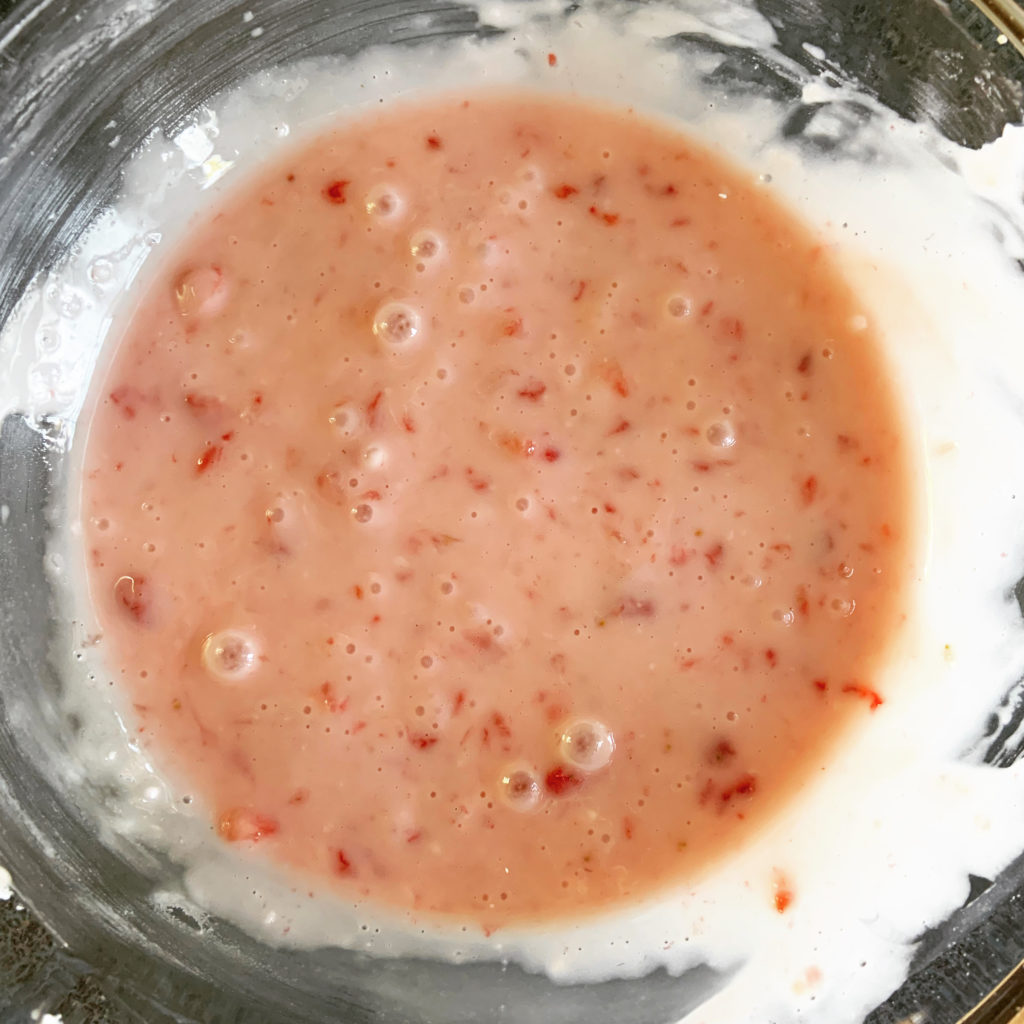 Here are what the donuts looked like before the glaze: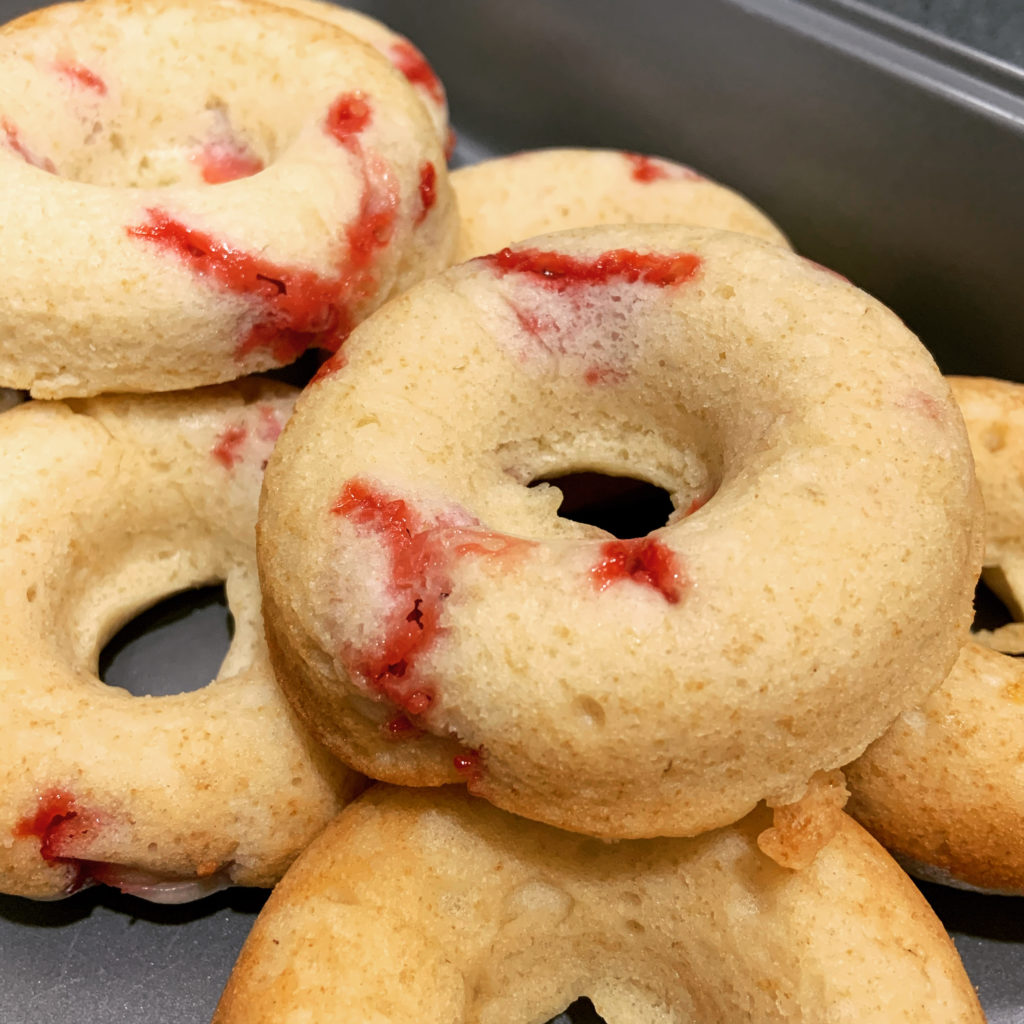 And after:
Honestly, they would've been great either way. Without the glaze, it was sort of like a fruity muffin, but with, it definitely amped up the sweetness and they became more like a true treat.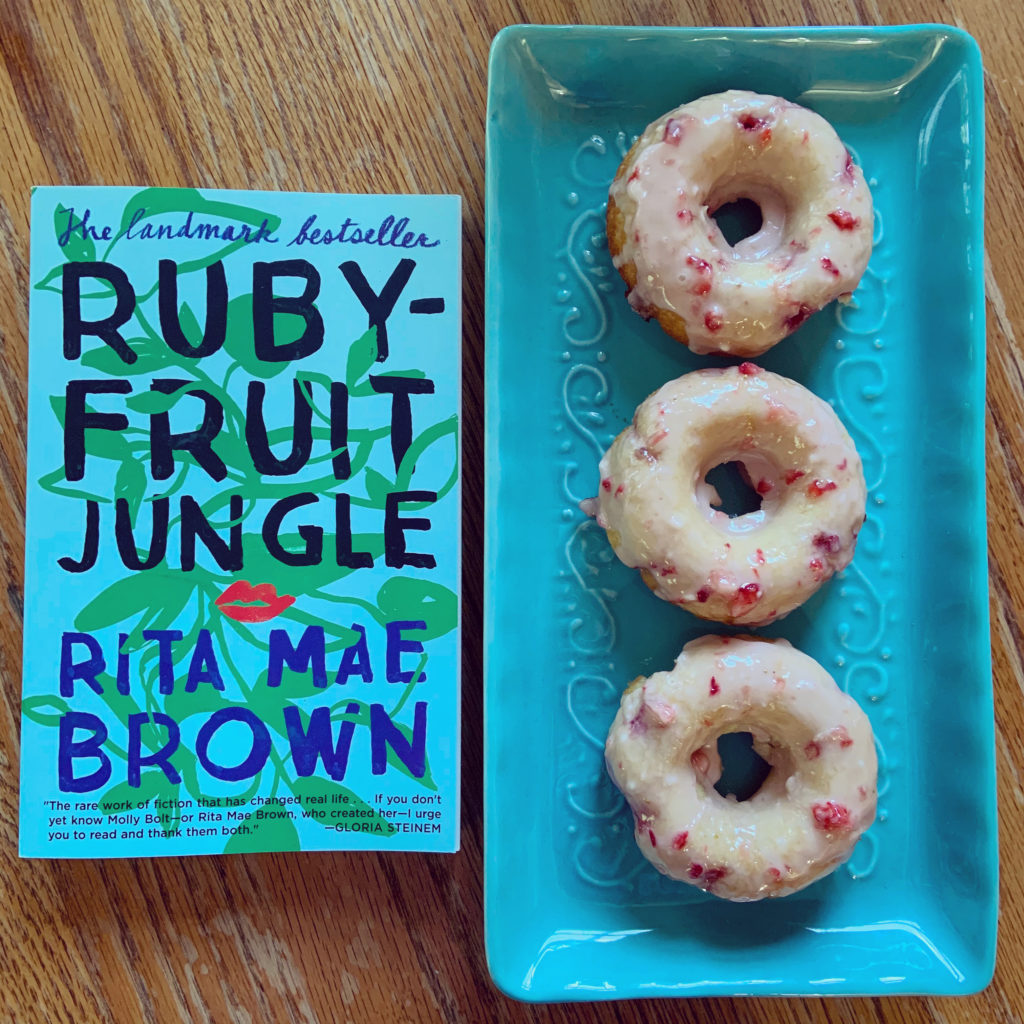 I'm sure Molly didn't have strawberry-glazed donuts at her diner in NYC, but I still think these were the perfect fit for the novel.
Baked Strawberry Donuts
Ingredients
For the Doughnuts
1 1/2

cups

plain/all-purpose flour (187g)

1

teaspoon

baking powder

1/4

teaspoon

salt

1

large egg

1/2

cup

caster/granulated sugar (100g)

1/2

cup

buttermilk

1/4

cup

vegetable oil

2

teaspoons

vanilla extract

1/2

cup

fresh strawberries, chopped (100g)
For the Glaze
2

large fresh strawberries. chopped

1

teaspoon

vanilla extract

2

cups

icing/powdered sugar (250g)

1 - 2

tablespoons

milk
Instructions
For the Doughnuts
Preheat the oven to 400F. Grease a doughnut pan, and set aside.

Whisk together the flour, baking powder, and salt. Set aside.

Whisk together the egg and sugar until combined. Add the buttermilk, oil, and vanilla, and whisk until combined.

Add the dry ingredients, and mix until just combined. Do not overmix. Fold in the strawberries.

Spoon the batter into the prepared doughnut pan, filling almost to the top. Bake for 10 - 12 minutes or until a toothpick inserted comes out clean.

Allow to cool for 5 - 10 minutes before transferring them to a wire rack to cool completely.
For the Glaze
Puree the chopped strawberries until smooth with a few tiny bits. Add the vanilla, and icing sugar, and mix until combined. Add milk, 1 tablespoon at a time, until the glaze is at your desired thickness.

Dip each doughnut into the glaze, and leave to set on the wire rack.
Notes
From: Marsha's Baking Addiction
To make your own buttermilk, simply add 1/2 tablespoon of fresh lemon juice or white vinegar to 1/2 cup (120ml) of milk. Stir to combine, and allow to sit for 5 - 10 minutes until slightly thickened and curdled.
Leftover doughnuts can be stored in an airtight container at room temperature or in the fridge for up to 2 days. They also freeze well for up to 2 months. Thaw overnight in the fridge before serving.
_______________
This post contains affiliate links. This does not increase the price you pay, but I may receive a small commission for any products you choose to buy. Purchases made through affiliate links help to cover my blogging costs. Thank you for helping to support The Hungry Bookworm! Full disclosure here.