A Boy and His Dog at the End of the World by C.A Fletcher was a book that caught my attention primarily because of the title. I love a good dsytopian/post-apocalyptic novel. I also love dogs. Even though this book came out over a year ago, I only just started hearing about it everywhere, and when I was recently able to get an inexpensive digital copy, I scooped it right up.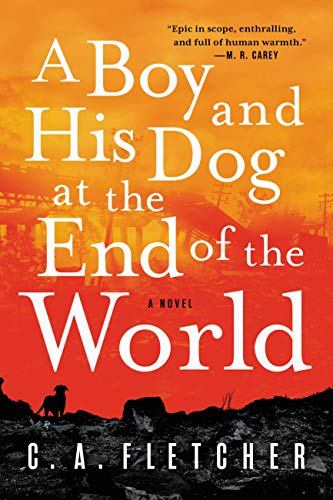 Right at the upfront, the book kindly requests that you refrain from sharing plot points that may spoil the reading experience for others, so I will diligently do my best to avoid them. It's the story of Griz, who lives on an island with his family in what is now, essentially, an empty world. A "Gelding" occurred in which humanity becomes mostly sterile, and the population has dwindled to an absurdly small percentage of its current number. Though he hasn't seen much of the world, Griz has heard stories about it from his parents. Despite his inexperience off the island, when a visitor takes something from Griz, he doesn't hesitate to leave his family and his home behind to get it back.
Fletcher's narrative comes via Griz's journal, which he addresses to a boy in a photo he found from our present time. As such, it's description-heavy with a lot of inner dialogue. Because of this — and the fact that he's alone much of the time — I found it a little plodding, but overall had no real complaints about the storytelling. Griz is actually a bit of a book nerd, which I obviously related to. I loved that he was a fan of dystopias in particular "because it's always interesting to see what the Before though the After would be like." (Indeed, Griz!)
I also found some of his observations fascinating, being that I was in the midst of quarantining when I read it and hadn't been in public in weeks. Griz asks the photo boy what it was like to ride in an airplane and what it sounded like in a large crowd of strangers. Sometimes, I was like "you know, I'm trying to remember myself…"
You're able to figure out that Griz's island home is near Scotland, and when he eventually makes it to mainland Europe, he teams up with a French woman for a time. It is in this pairing that I found what seems to be a fitting food pairing. A memorable scene about peaches, or "pesh" (the phonetic spelling of the French word, pêche), served as my inspiration:
Pesh, she said. Pesh bon, Griz, pesh bon. I bit into the fruit. It still held the heat of the long day's sun and was much softer than an apple… This tasted big and generous, and sweeter than anything I had ever tried… It had a shape that filled your mouth, a rounded and warm sweetness that immediately made saliva run and mix with the juices in anticipation of the next bite. It tasted just like the smell around us, but more so. It was like tasting a smile. You'd have thought this fanciful, I expect. Your shops would have been full of pesh and other things even more exotic. You probably wouldn't even have been able to remember the first pesh you ate, among all the different tastes you were used to. And of all the glories and riches in your gone world, that's one thing I don't envy you for. That's something I have that you didn't: the glory of that first pesh, taken in the warm sun at the end of a long, tiring day. It was perfect.
I mean, if that doesn't make you want to bite into a peach right now, I don't know what will.
And then I opted for a French dessert, looking for a natural fit for peaches, and came across clafoutis, which is a fruit tart where fresh, seasonal fruit is baked in a sweet custard-y batter. I ended up absolutely loving it.
First, I preheated my oven and prepped my fruit.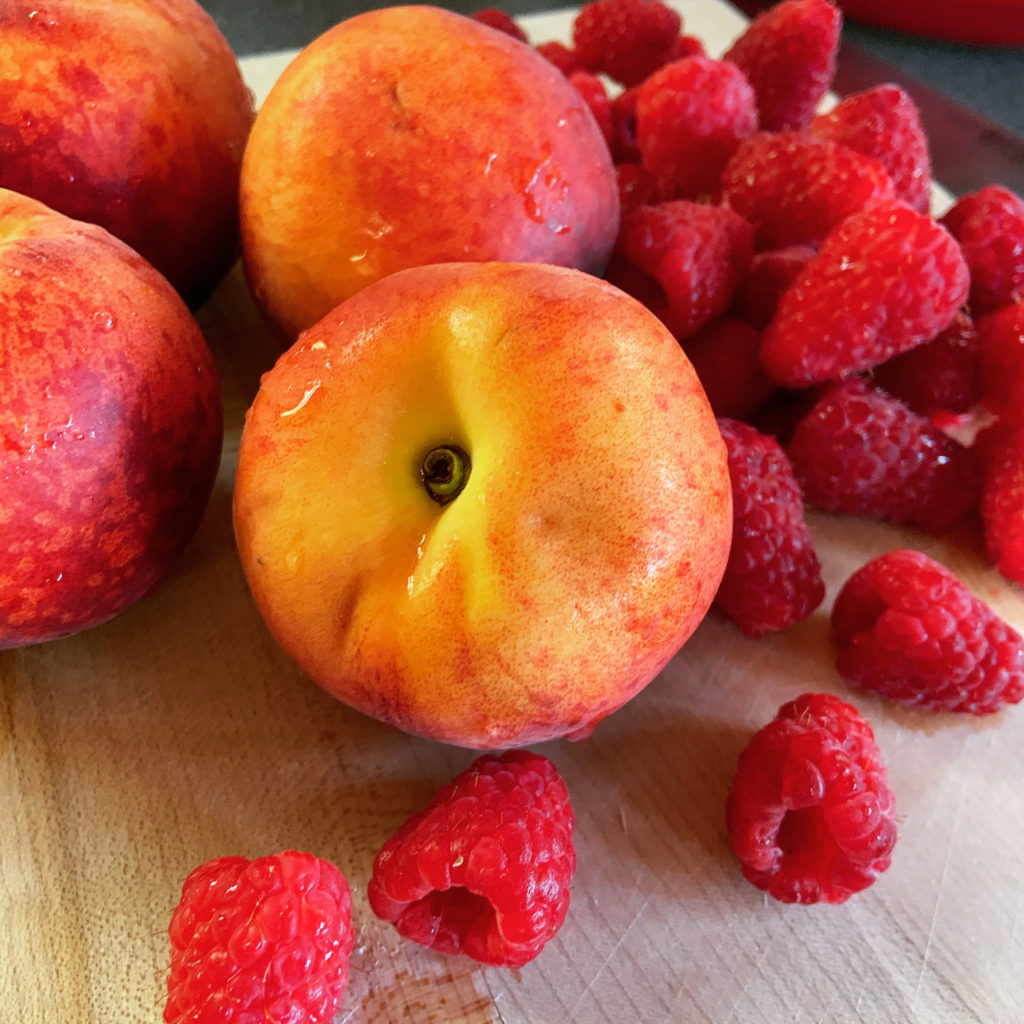 Once the peaches were sliced, I added them to a bowl with the raspberries, lemon zest and juice and a bit of sugar, tossing gently to coat the fruit.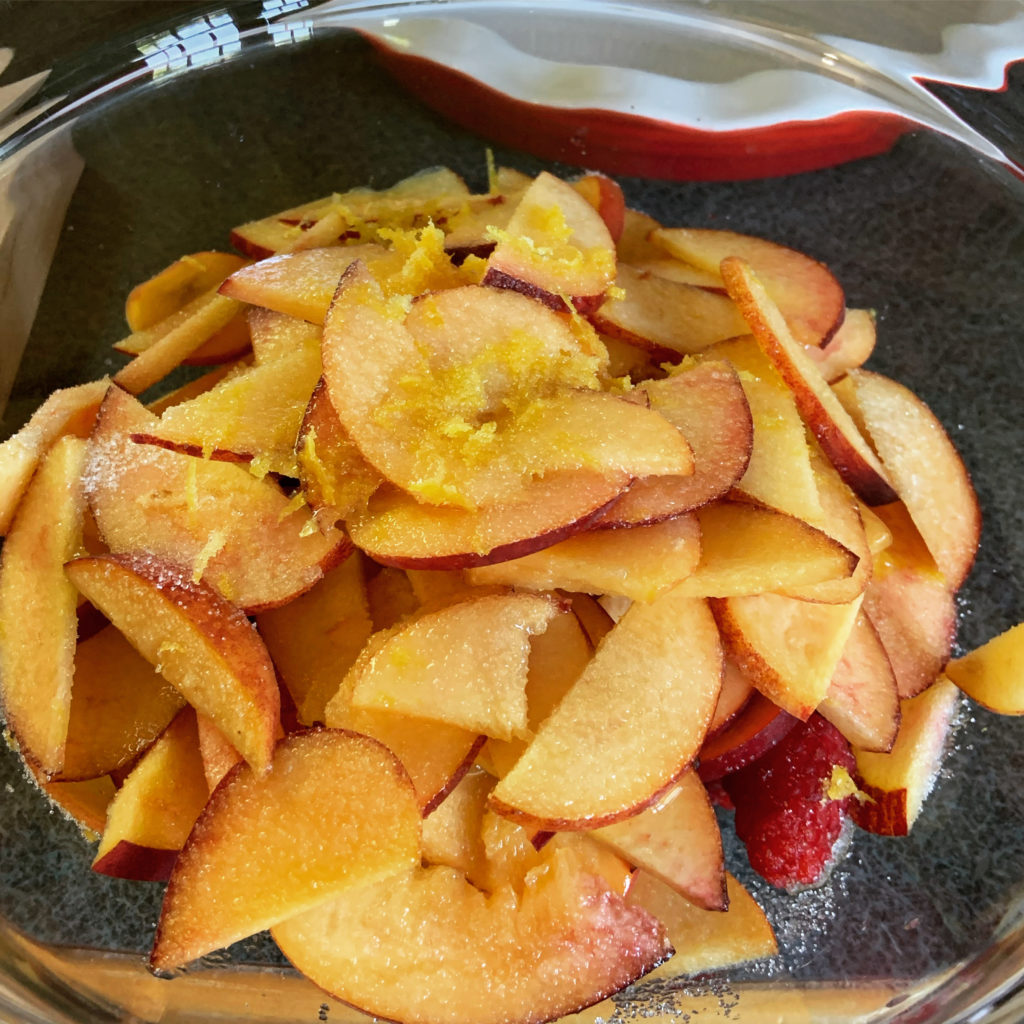 I set that aside while I buttered and sugared my baking dishes. The recipe calls for an 8-cup shallow baking dish or multiple smaller dishes. I didn't have a shallow baking dish that large or multiple individually-sized ones, so I opted for a pie dish and then a small casserole dish, which worked out perfectly.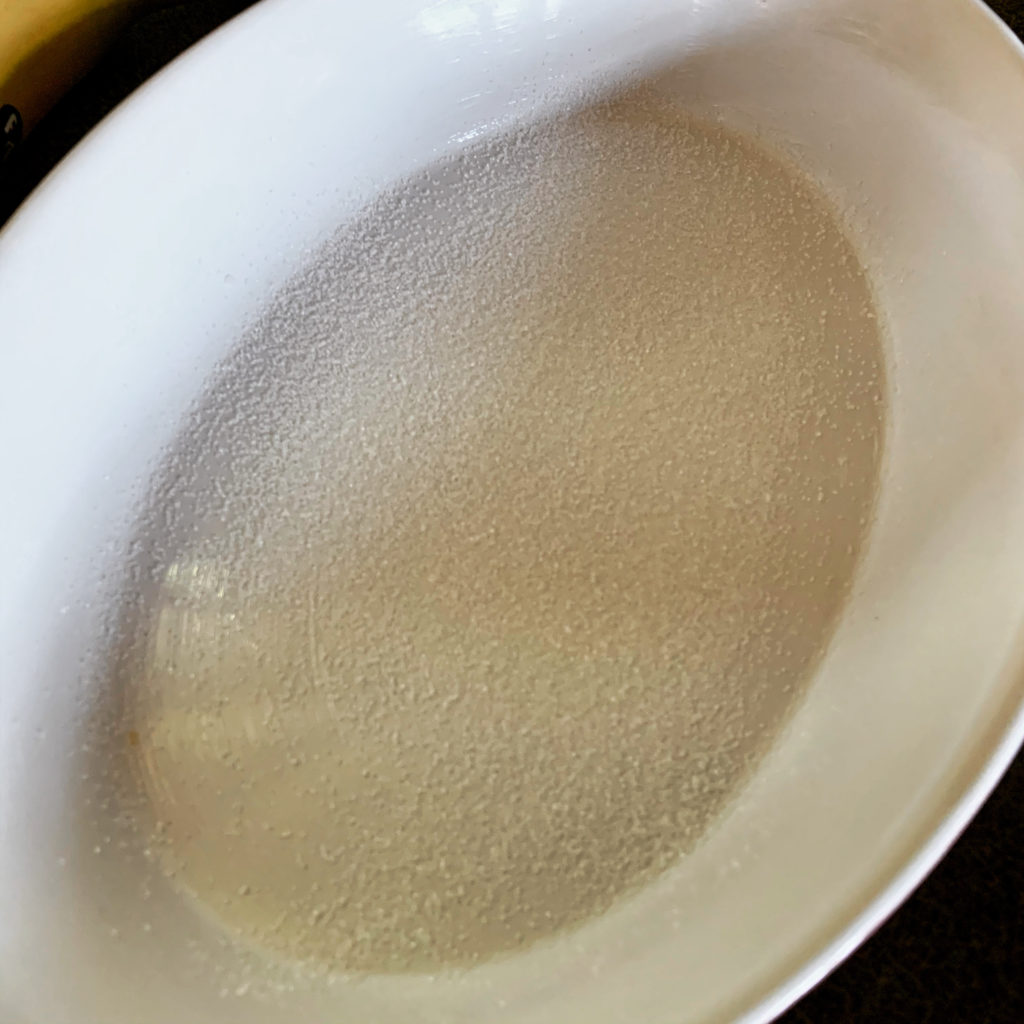 In my blender, I combined the egg, milk, heavy cream, flour, salt, sugar and extracts and blended until frothy. (The easiest custard I've ever made!)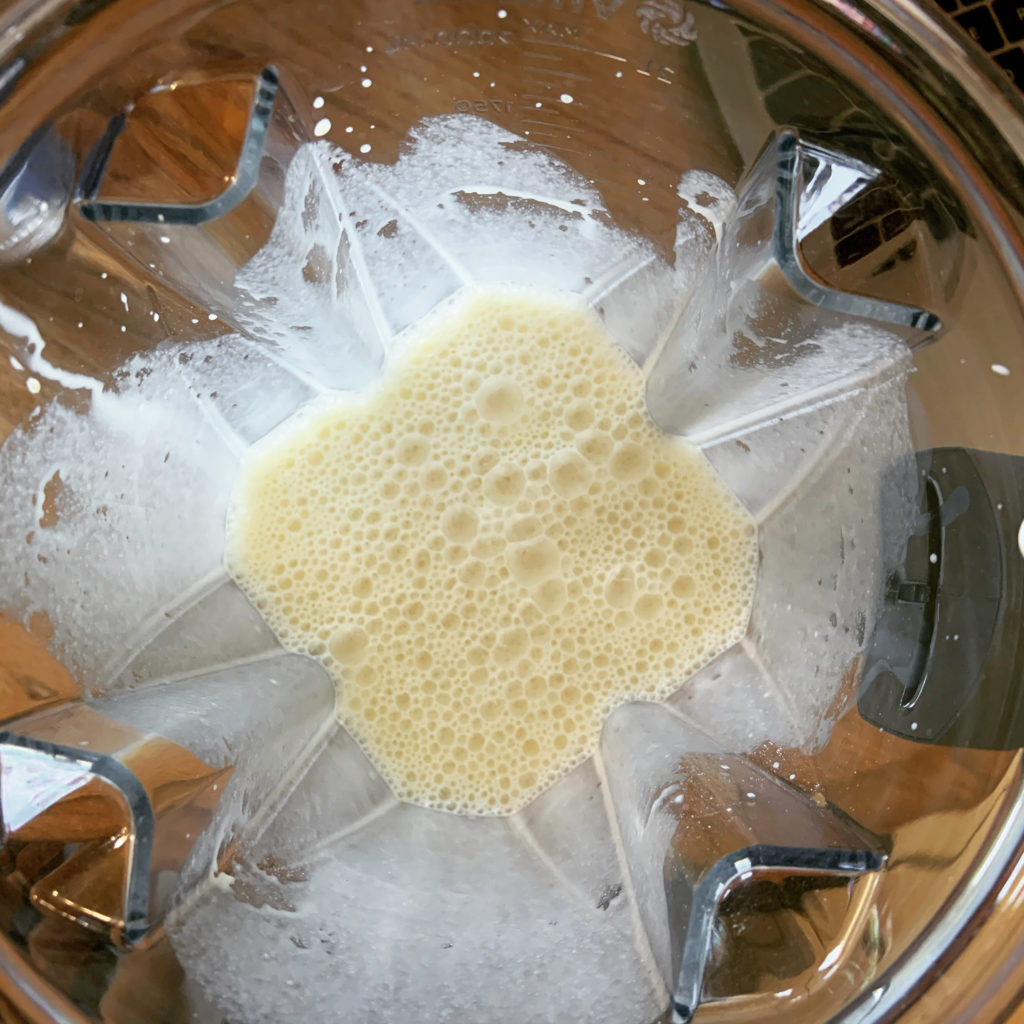 I divided the fruit among my pans and then poured the custard mixture on top, doing my best to make both dishes the same thickness.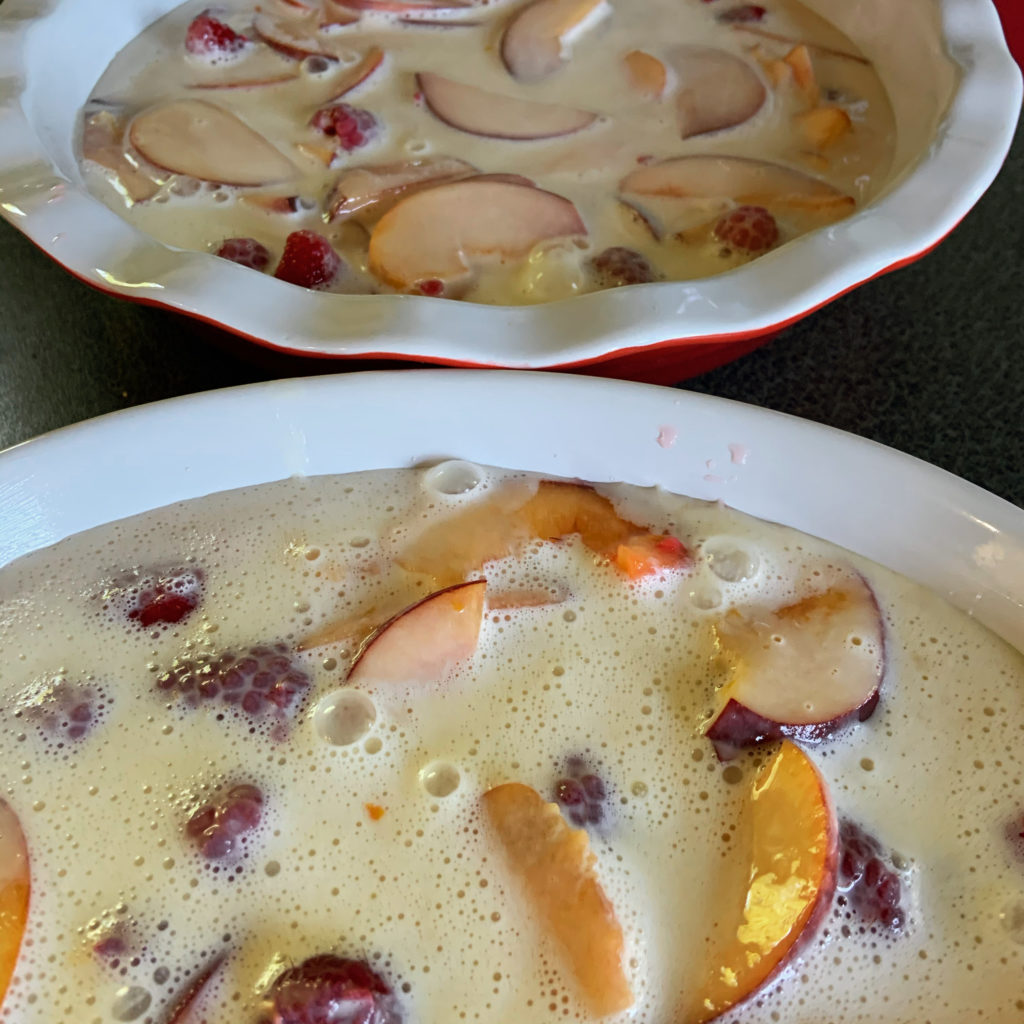 Then, I popped them both in the oven and let the clafoutis bake for 45-50 minutes. They looked gorgeous and tasted just as good.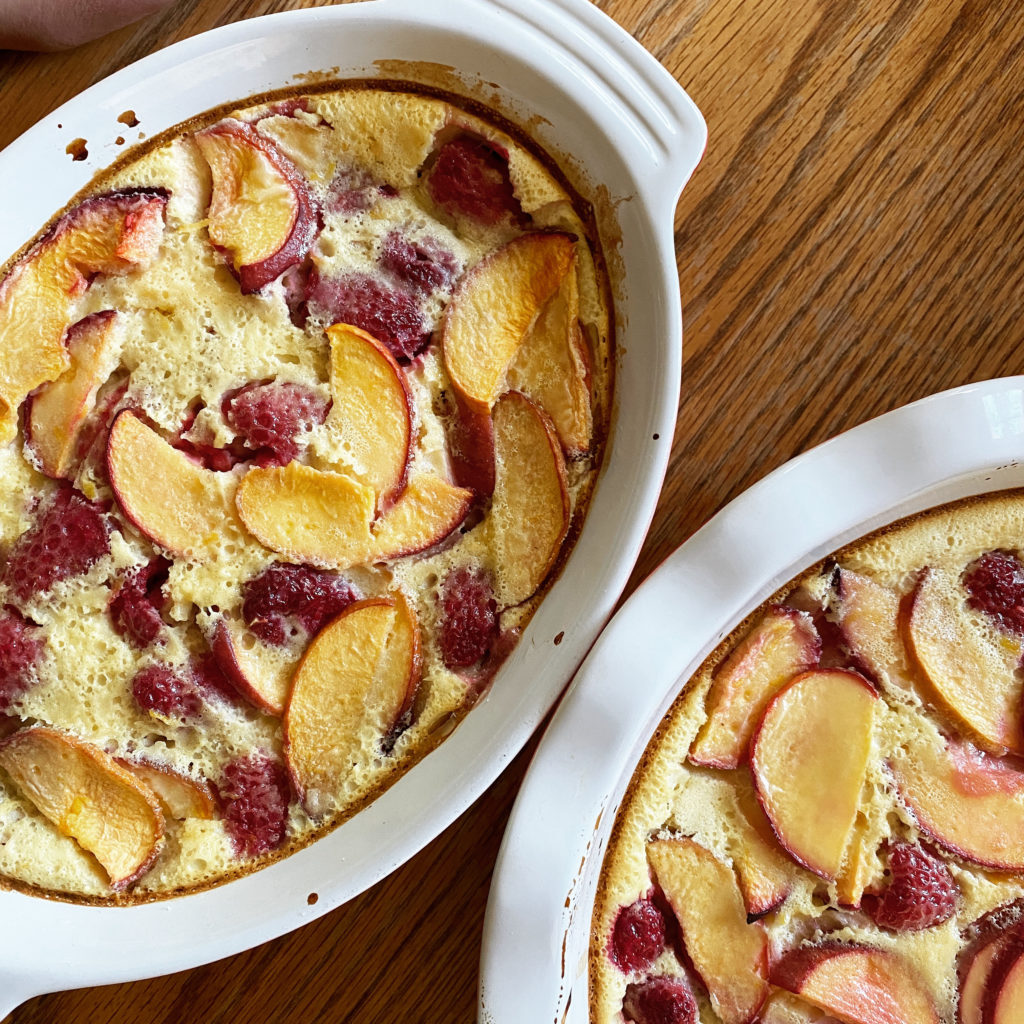 This is a super easy but impressive-looking dessert that I will definitely be keeping in my repertoire. So thankful this book led me to try it out.
Ingredients
1

tablespoon

unsalted butter

granulated sugar for dusting the baking dish

4

medium-large fresh peaches

cleaned and sliced thin (peels left on if desired)

1

heaping cup fresh raspberries

1

tablespoon

granulated sugar

1

lemon

zested and juiced

1/2

cup

granulated sugar

1/2

teaspoon

almond extract

1

teaspoon

vanilla extract

4

large eggs

1

cup

whole milk

1/2

cup

heavy whipping cream

3/4

cup

unbleached all-purpose flour

1/4

teaspoon

salt

powdered sugar for serving
Instructions
Preheat oven to 350 degrees

Butter an 8 cup flat shallow pan, or combination of smaller baking dishes for individual servings. Lightly sprinkle granulated sugar the buttered dish(s) to lightly coat. Set aside.

In a medium mixing bowl combine the sliced peaches, lemon zest, lemon juice, 1 tablespoon granulated sugar and raspberries. Gently toss to coat the fruit. Set aside.

In the carafe of a blender combine 1/2 cup granulated sugar, almond and vanilla extracts, eggs, milk, heavy cream, flour and salt. Blend for 1 minute until frothy.

Pour the fruit and any juice into the baking pan(s). Gently pour the custard mixture over the top of the fruit and bake for 45-50 minutes at 350 degrees.

Cool the clafoutis for 15-20 minutes then serve warm lightly dusted with powdered sugar and soft whipped cream if desired.
_______________
This post contains affiliate links. This does not increase the price you pay, but I may receive a small commission for any products you choose to buy. Purchases made through affiliate links help to cover my blogging costs. Thank you for helping to support The Hungry Bookworm! Full disclosure here.