I'm sure many of you have read Andy Weir's popular novel The Martian. For me, it was a rare re-read. I figured re-reading a book I loved would be a perfect way to guide me gently back into my regular reading life, and I was right. I knew exactly what to expect from Mark Watney and his time on Mars. It was just what I needed.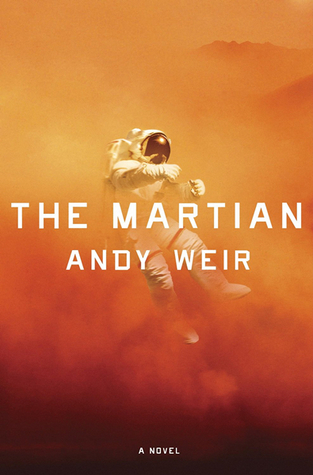 For those of you who haven't read The Martian (or seen the movie, which is basically just as good, though a touch different, particularly at the end), I'll give you a brief synopsis. A crew of astronauts is hanging out on Mars when an unexpected storm arrives, causing them to evacuate. During the evacuation, a man named Mark Watney is separated from the rest of the crew and left on Mars alone. He has to do what he can to survive until help can arrive… hopefully.
Luckily for Mark (and NASA), one of his specialities is botany. He is able to rig up a way to grow potatoes on Mars, which is much-needed for him to be able to consume enough calories to keep living. Among the many other things he does, the man eats a LOT of potatoes. It comes up over and over throughout the course of the novel, and as one would expect, he gets really sick of them. 
I don't want to necessarily spoil the ending (just in case) because one thing that made this less of a riveting re-read than I anticipated was because I already knew what was going to happen. It didn't make it any less enjoyable, it just made it less unputdownable. The first time I read it, I remember getting through it insanely fast and staying up really late to finish it. (I'm not sure I could do that now, so maybe it's for the best…)
Long story short: still an amazing novel. If you haven't read it, I highly recommend it. It's the perfect distraction for life right now, I promise.
I have always said that, if I were to blog about The Martian, I would make potatoes. (How could I not?) So, obviously that's what's on the menu. I opted for something more flavorful and cooked than what Mark Watney ate to survive, and I'm sure he wouldn't mind. If he ever wanted to eat potatoes again, I'm sure he'd dive right into these. 
I found the recipe for Garlic Herb Roasted Potatoes on Tasty.co, which is quickly becoming a favorite place of mine for recipes. It requires relatively minimal ingredients, and none of them obscure. I only didn't have rosemary handy, that was easily solved. The only thing I thought was a little weird was that the recipe called for 13 russet potatoes to feed 5 people. (What?!) I'm not sure how big their potatoes were (it does not specify), but I opted to make 6 potatoes and otherwise keep the recipe the same. I was originally going to make 5 — since more than 1 per person seems like overkill — but I had exactly 6 left and felt like I shouldn't leave 1 all by itself.
These potatoes were completely regular-sized, exactly the size you expect a run-of-the-mill russet potato to be.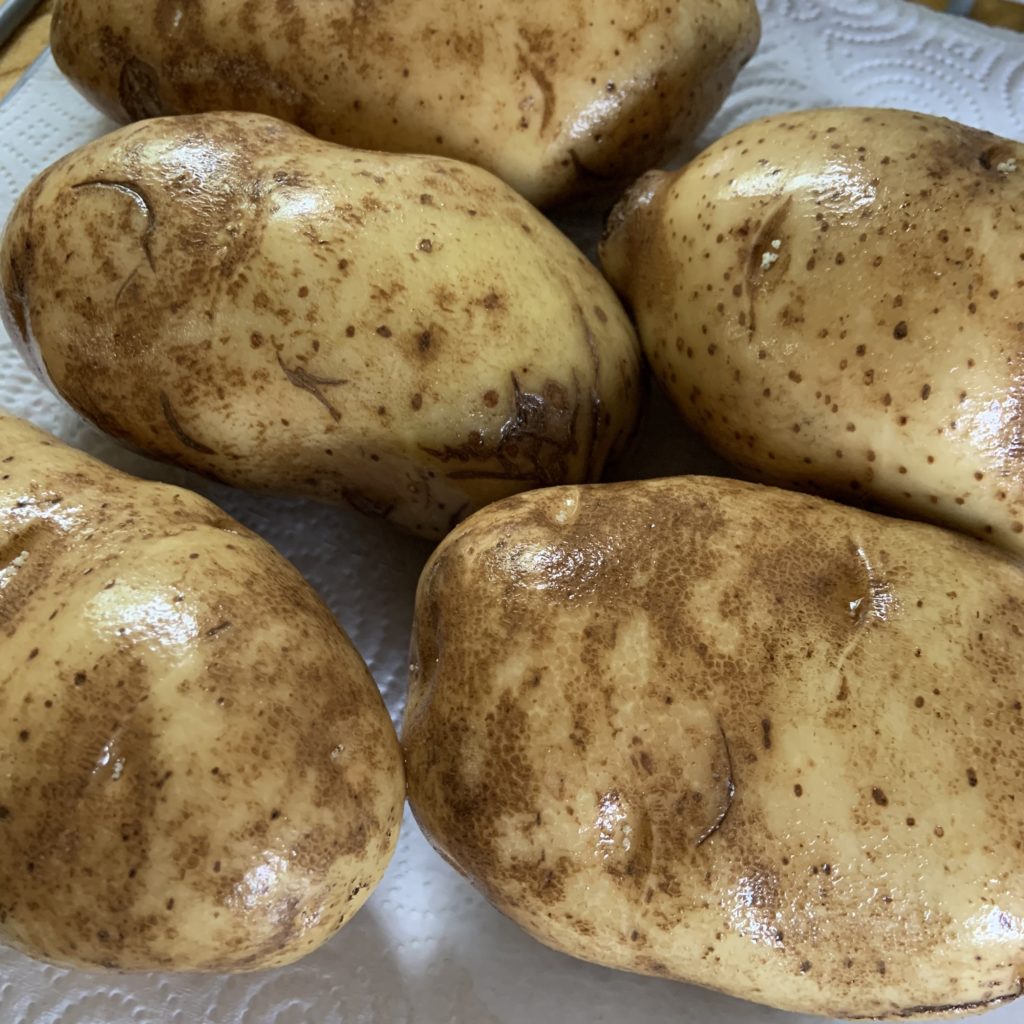 First, I set a big pot of water to boil. (Be sure to use your biggest pot… mine was maybe not quite big enough once I plopped my potatoes in.)
Meanwhile, I cut up 6 of them into large chunks. I basically cut them into approximately 1-inch slices and chopped those into 4 or 6 parts depending how big around the slice was. (Some of the ends I just cut in half.)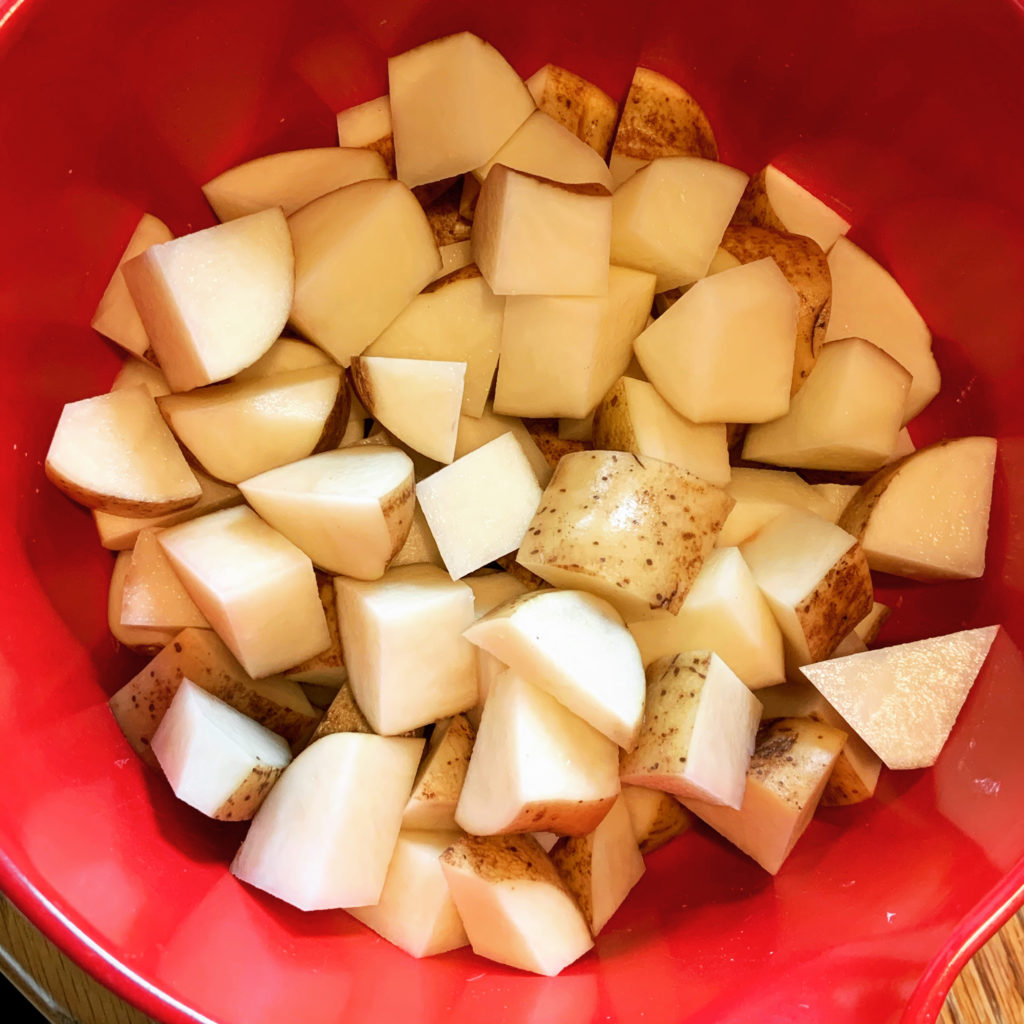 When the water was boiling, I added a teaspoon each of baking soda and salt, and then carefully spooned in the potato chunks — droplets of boiling hot water are nobody's friend. I brought it back up to a boil, then lowered it to a simmer and let the potatoes cook for about 10 minutes, until they were fork-tender.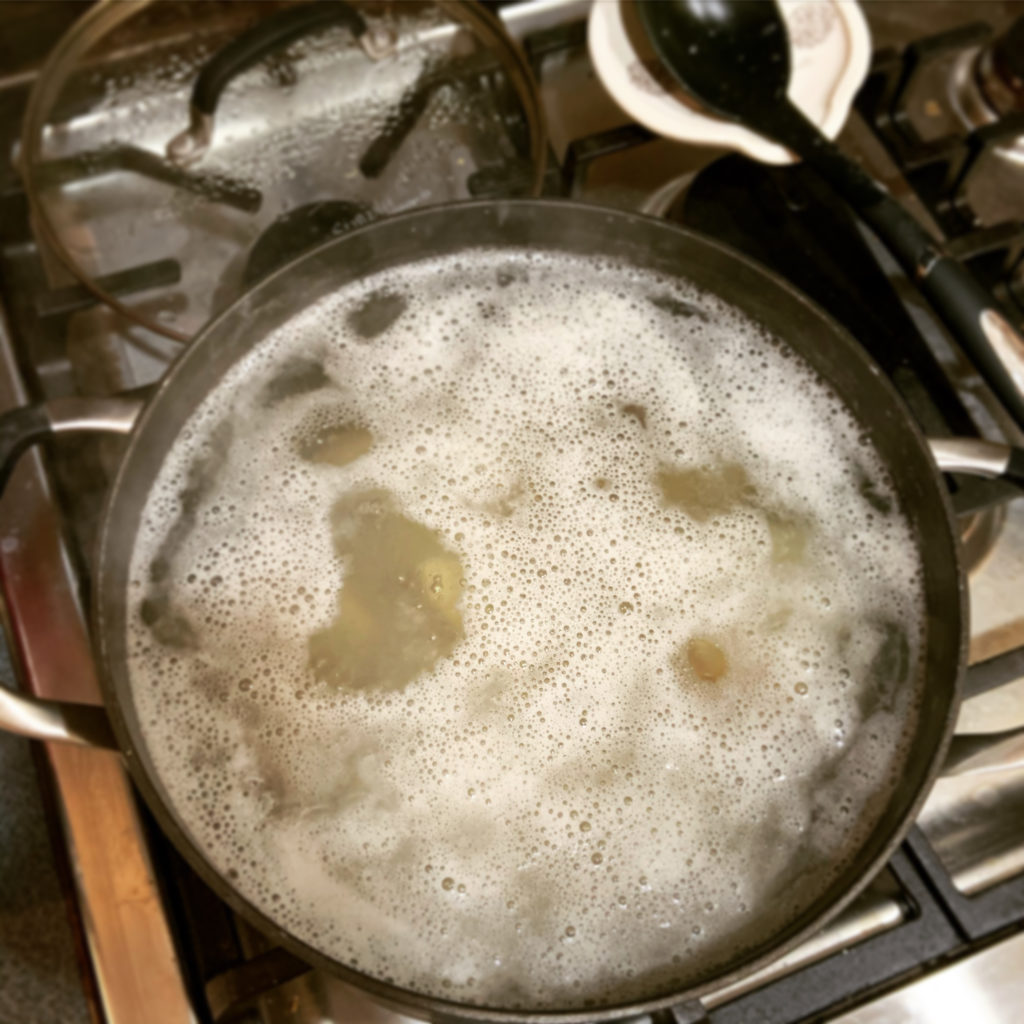 While the potatoes cooked, I prepared the garlic-herb oil, by which I mean I chopped my garlic and fresh rosemary.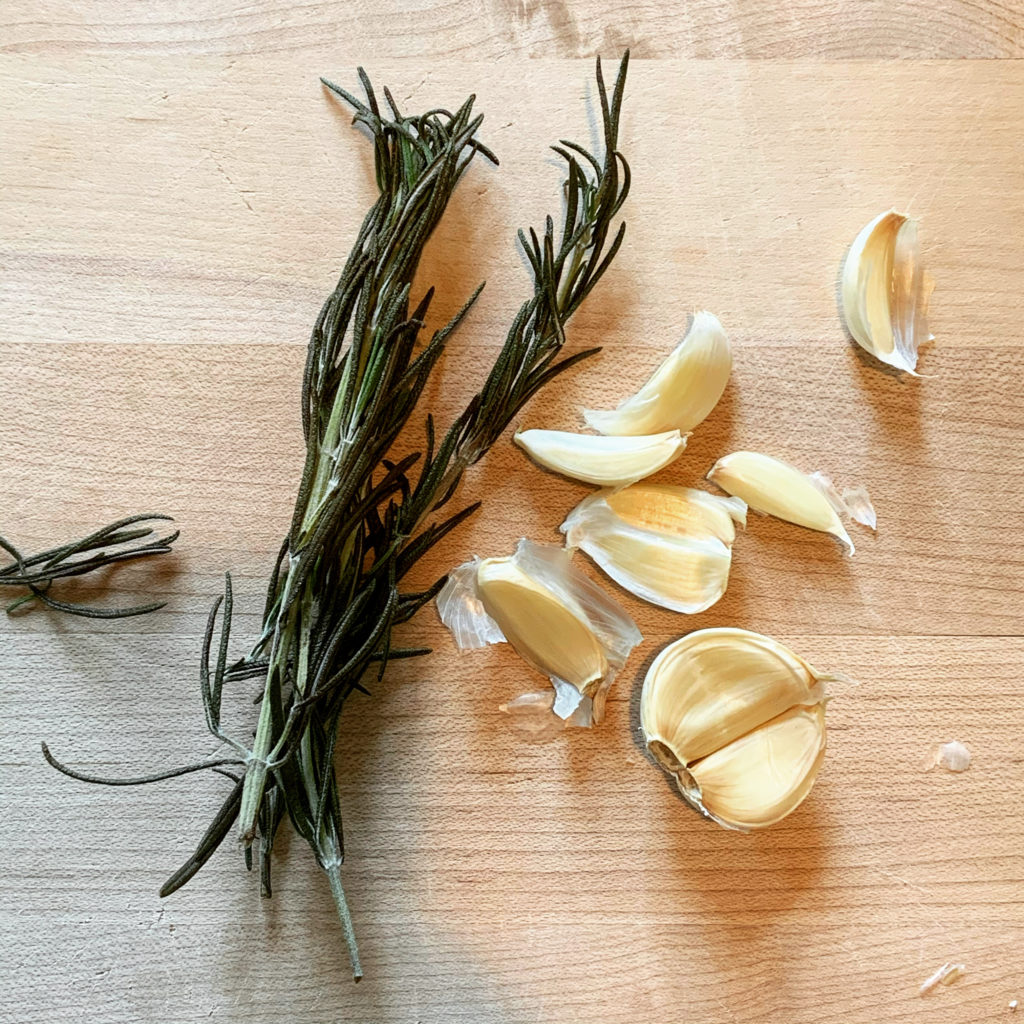 The recipe calls for 2 tablespoons of minced garlic, but I probably used closer to 3. I ended up using 12 cloves. (I like things garlicky, and thankfully so does my husband.) I stuck with just the 2 tablespoons of rosemary though.
When the potatoes were ready, I drained them and then left them in the pot, while I cooked up the oil. In a small sauce pan, I added a ¼ cup of olive oil, the garlic and rosemary and some cracked black pepper.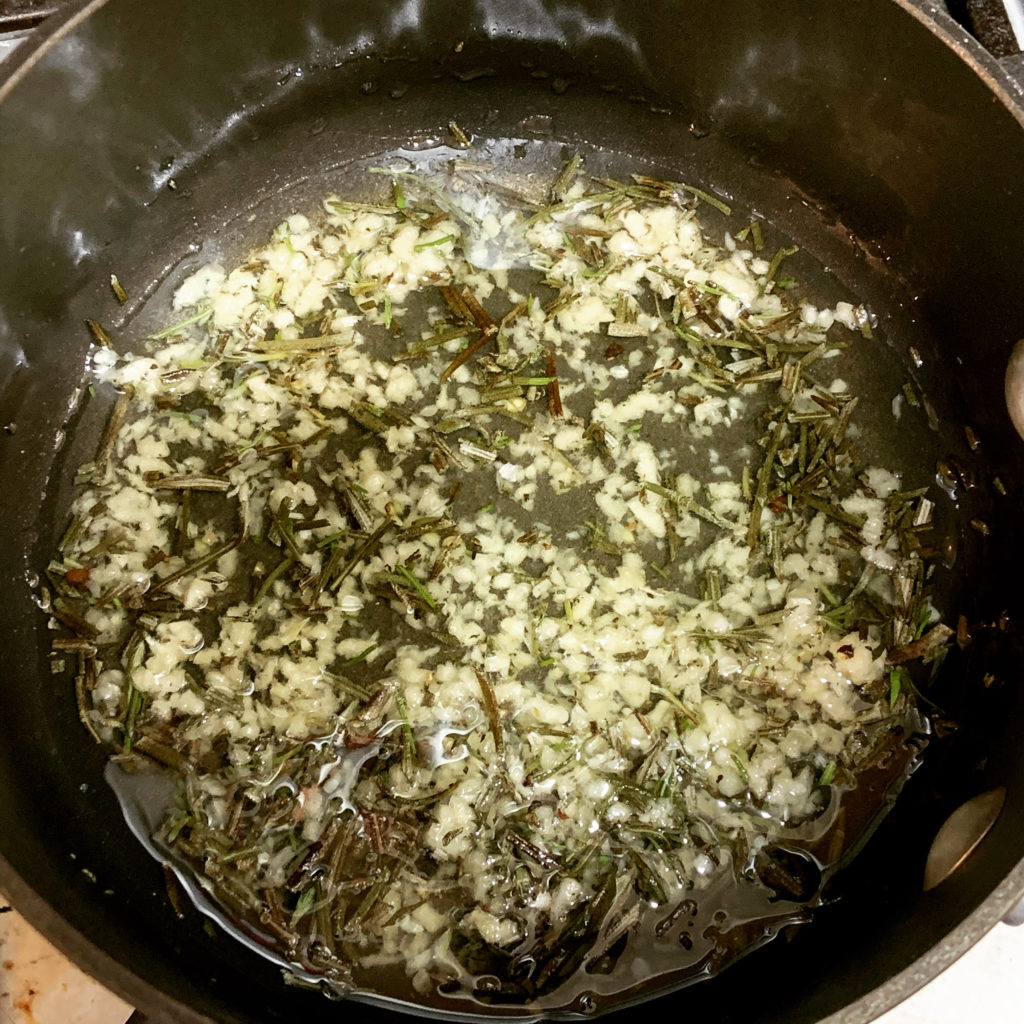 I let it cook for a few minutes, until the garlic became golden… and honestly around the 3-minute mark, it got quite foamy, so I just stopped because I couldn't tell what was going on in there anymore. I used a fine strainer to pour it through onto the potatoes while they were still in the pan.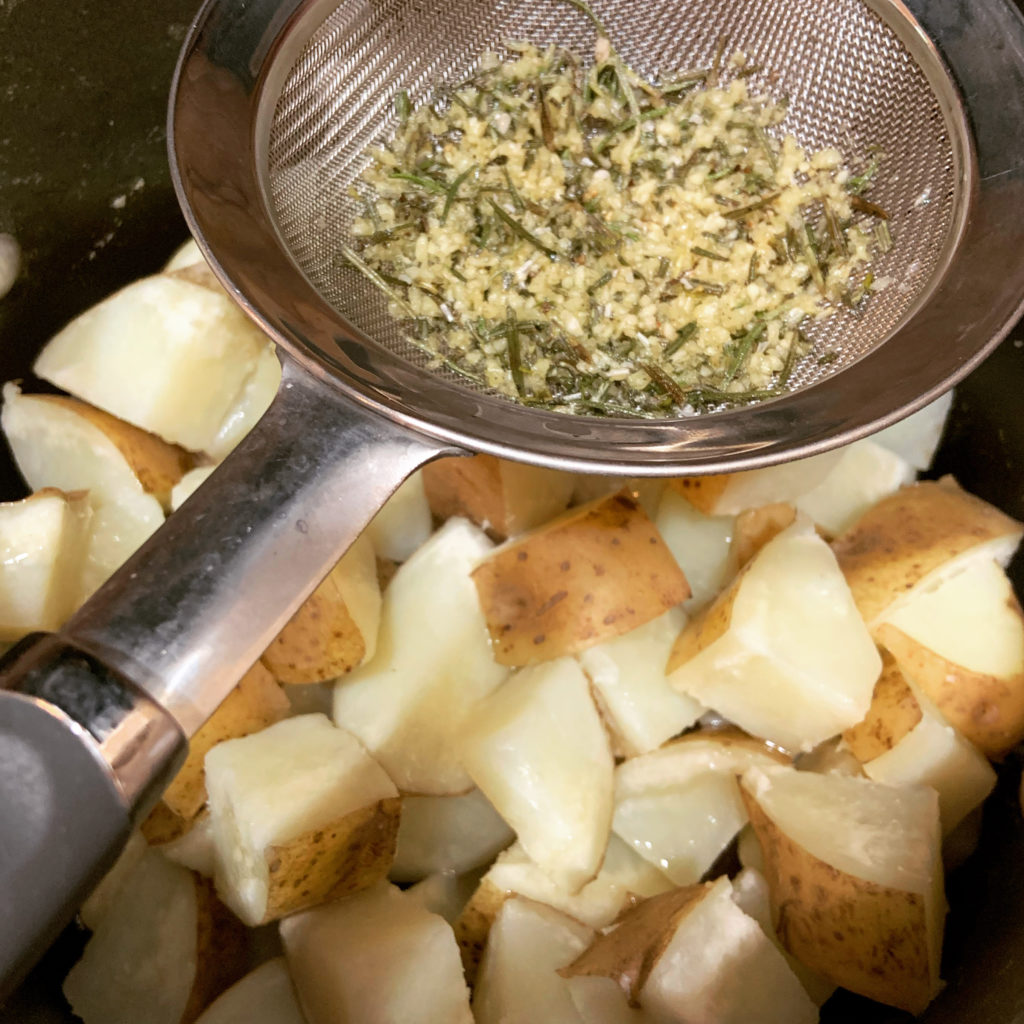 I shook it around quite a bit to distribute the oil more evenly — and to "mash" the sides of the potatoes a bit — and then I poured the whole thing onto a large baking pan with edges. I opted to use two pans to make sure they had enough space. I seasoned them with a little bit of salt and more pepper before popping them in the oven.
After 30 minutes at 425-degrees, I took the potatoes out and carefully flipped them. The bottoms were nice and golden. I combined them onto one pan at this point, because I decided they didn't need quite as much room as I thought. I put them back into the oven for another 30-ish minutes, shaking/flipping them every 10-15 minutes.
When I took them out, they were gorgeous. I sprinkled on a generous amount of salt (to amp up the flavor, not so that they tasted "salty") because nothing goes better with hot potatoes than some salt. I also added more black pepper and a touch of parsley.
If you preserved your garlic and rosemary from when you were making the oil, you could add it on here as well. Even though I read the recipe ahead of time, I totally forgot about that… so I threw it away, and then when I got to this part, I got a little annoyed. (I'll fix that in the recipe below.) I'm not sure I would've loved that addition though, to be honest. Even without it, you could definitely still taste the garlic and rosemary. I probably wouldn't have minded more garlic flavor, but the actual rosemary on it might have been too much.
Anyway, they turned out great!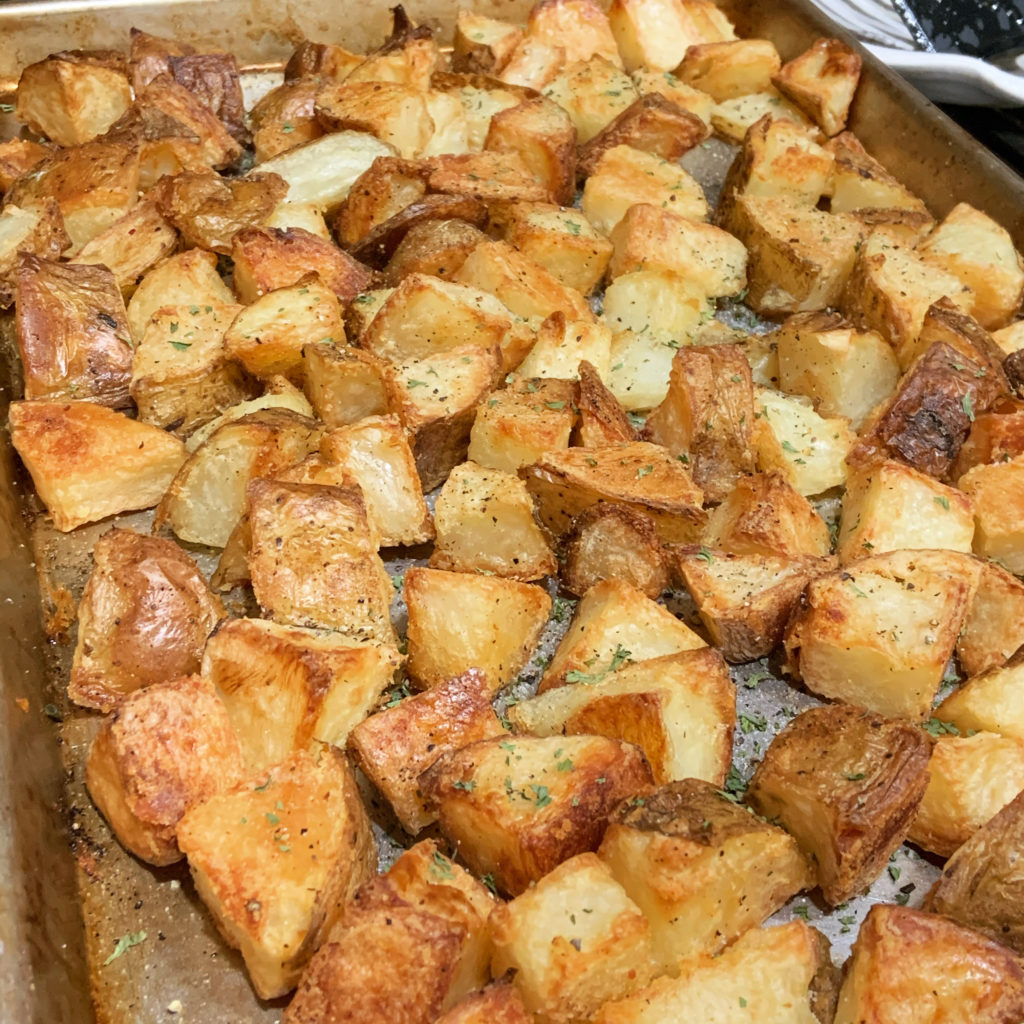 It would be a perfect Thanksgiving side dish, if you wanted to maybe skip the mashed potatoes one year (or serve two kinds — yum!). If you're just two people, like us, the leftovers also made a great addition to breakfast, alongside some eggs and bacon. They certainly make a great complement to this book.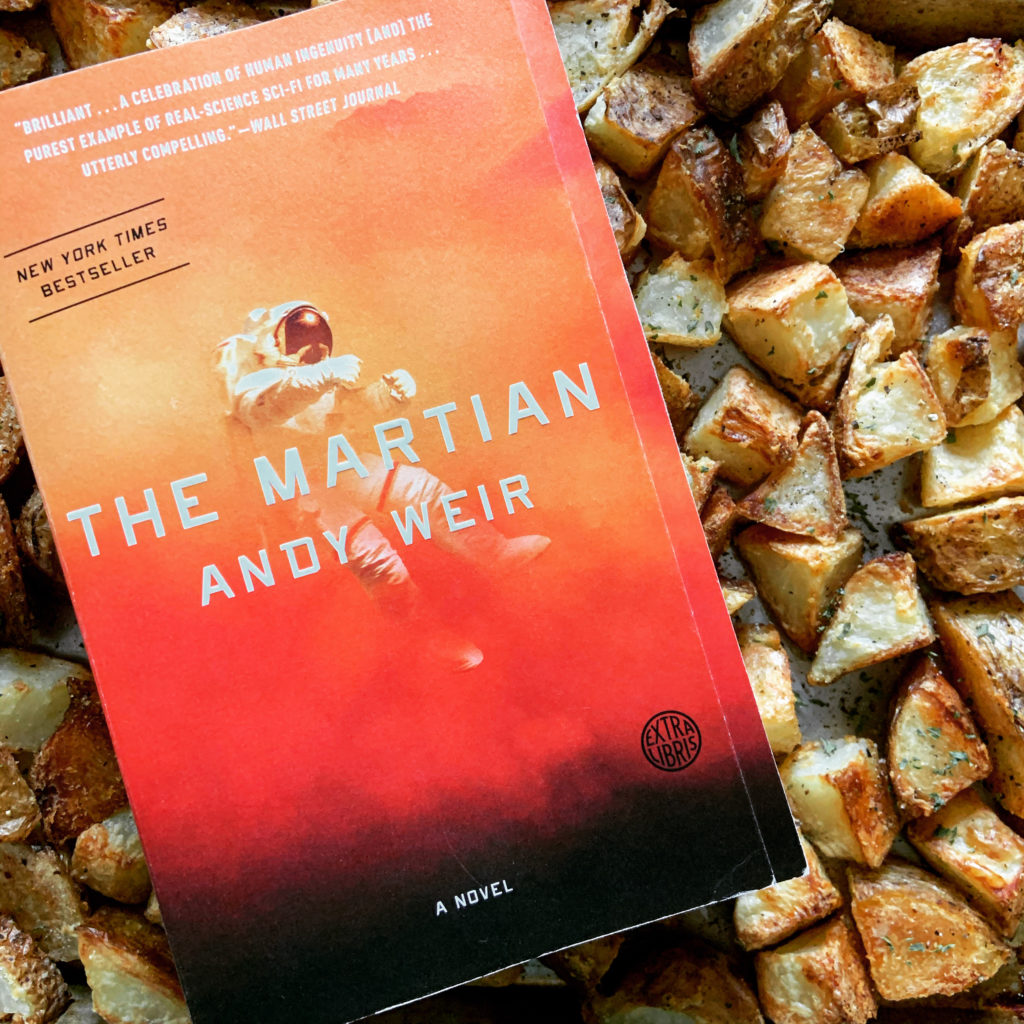 Do you ever re-read books? What's a book you've enjoyed on during a re-read? 
Garlic Herb Roasted Potatoes
Ingredients
6

russet potatoes

cut into 1-inch pieces

1

teaspoon

baking soda

1

teaspoon

salt

¼

cup

olive oil

2-3

tablespoons

garlic, minced

to taste

2

tablespoons

fresh rosemary or fresh thyme

finely chopped

1

teaspoon

black pepper

salt

to taste

pepper

to taste

1

small handful fresh parsley leaf

minced to garnish
Instructions
Fill a large pot with water and boil. Add salt, baking soda, and potatoes, and stir.

Return to a boil, reduce to a simmer, and cook for 10 minutes after returning to a boil. A fork should easily pierce the potato pieces by the end. Drain and let sit one minute while moisture evaporates.

Combine olive oil, rosemary (or thyme), garlic, and a few grinds of black pepper in a small saucepan and heat over medium heat. Stir constantly until garlic just begins to turn golden, about 2-3 minutes.

Immediately strain oil through a fine-mesh strainer over the potatoes. (Reserve garlic and rosemary, for use after roasting, if desired.) Add salt and pepper to taste, and mix.

Shake the pot that the potatoes are in so that they slam against all sides of the pot, this will loosen the outer layer of the potatoes to form a mashed layer around each potato piece.

Preheat oven to 425°F (220°C).

Transfer potatoes to a large rimmed baking sheet and separate them, spreading them out evenly.

Transfer to oven and roast, without moving, for 30-35 minutes.

Using a thin, flexible metal spatula flip potatoes. Continue roasting until potatoes are deep brown and crisp all over, turning and shaking them a few times during cooking, 30 to 40 minutes longer.

Transfer potatoes to a large bowl and add the reserved garlic-rosemary mixture (optional) and minced parsley. Toss to coat and season with more salt and pepper to taste. Serve immediately.
_______________
This post contains affiliate links. This does not increase the price you pay, but I may receive a small commission for any products you choose to buy. Purchases made through affiliate links help to cover my blogging costs. Thank you for helping to support The Hungry Bookworm! Full disclosure here.