I recently joined a group of women in my town who were interested in starting a book club. With my other local book club disbanded (due to most of the members moving away), I was excited to have the opportunity to join another, and to be one of the founding members! The woman who brought us all together, Alissa, chose our first book, The Island of Sea Women by Lisa See.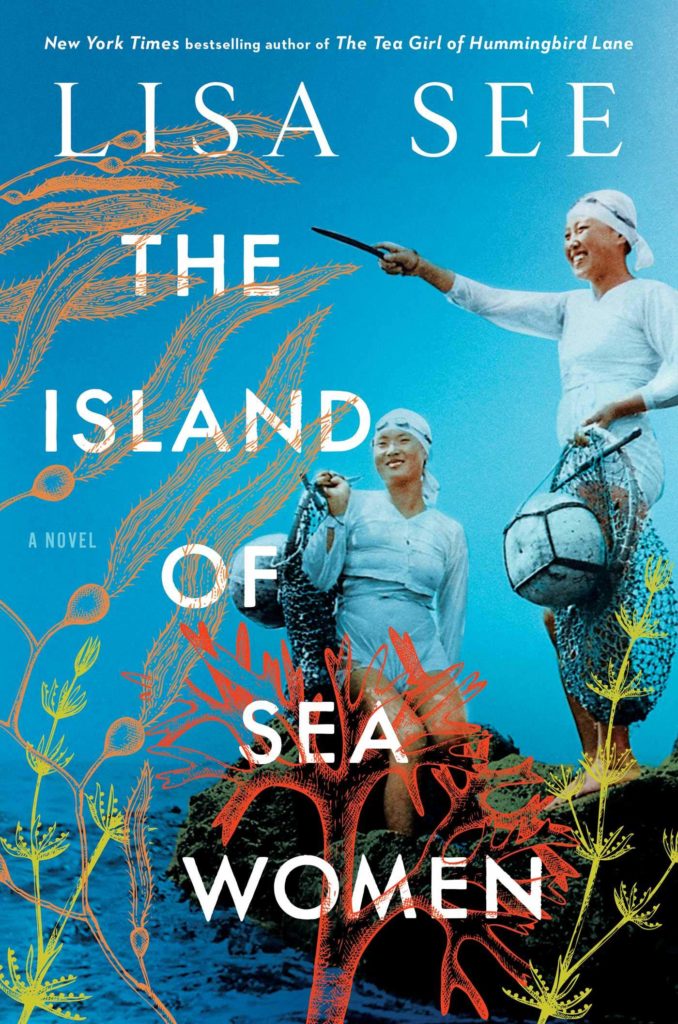 My Meetup-based book club really enjoyed Lisa See's previous novel The Tea Girl of Hummingbird Lane when we read it last year, so I was looking forward to this one as well! Unfortunately, most of us didn't finish it in time for the discussion (including me), but I made sure to finish it up afterward. I thought the story was very intriguing.
Jeju Island in South Korea is home to haenyeo, or female divers who dive for up to seven hours a day, harvesting shellfish like abalone and sea urchins. Lee's novel explores this culture, focusing on Mi-ja and Young-sook, two girls who grow up together on the island as part of a diving collective run by Mi-ja's mother. Across the island, the women are the breadwinners, taking on the dangerous task of diving to provide for their families while their husbands stay home and care for the children. When it's not diving season (which is only around 90 days of the year), the islanders grow and harvest sweet potatoes.
The story spans from pre-WWII to modern times, following Mi-ja and Young-sook into the modern era as the island undergoes a transformation and the Jeju Haenyeo become the subject of a scientific study. Like Hummingbird, Sea Women is a sweeping novel that is very obviously well-researched but also full of heart and the human side of a unique culture and industry in Asia.
When looking for a recipe to accompany this novel, I knew sweet potatoes would be a more accessible solution than the more difficult-to-find abalone or sea urchin, but I didn't know much about sweet potatoes in Asian cuisine. After some research (corroborating what was in the book), I found out that Koreans love sweet potatoes and use them in all kinds of dishes. Mat Tang, or candied sweet potatoes, is a traditional way of eating them, and I decided to make that recipe.
Though the original recipe from Crazy Korean Cooking utilizes deep frying, I slightly adapted my recipe to use an air fryer. I don't think it achieves exactly the same level of crispness, but Scott and I had no issues with the texture. It also saves on some clean-up and lots of oil. I also used a sweet potato than can easily be found in American grocery stores, though the recipe calls for Korean sweet potatoes, which look to be more white in color. And, since I had sesame seeds on-hand, I didn't venture out to buy black sesame seeds, which obviously provide a nice contrast to either color sweet potato. The normal light brown sesame seeds, however, look just as good with the orange of American sweet potatoes.
It was fairly easy to make, and because of my adaptations, I didn't need any special or hard-to-find ingredients. First, I peeled my two sweet potatoes (about 1 lb) and cubed them into pieces that were approximately 1-inch.
Then, I soaked them for 15 minutes (which is what my air fryer recommends) before drying them with a paper towel, tossing them with just a bit of vegetable oil (about a tablespoon or two), and putting them in the air fryer. I set it to the highest temperature (about 400-degrees F) with a 10-minute timer. After 10 minutes was up, I tossed the potatoes and put them in for another 10 minutes.
While the potatoes finished up, I set to work making the sauce. In a high-sided skillet, I combined equal parts water and sugar to make a caramel, allowing it to boil and come together and brown a bit without stirring.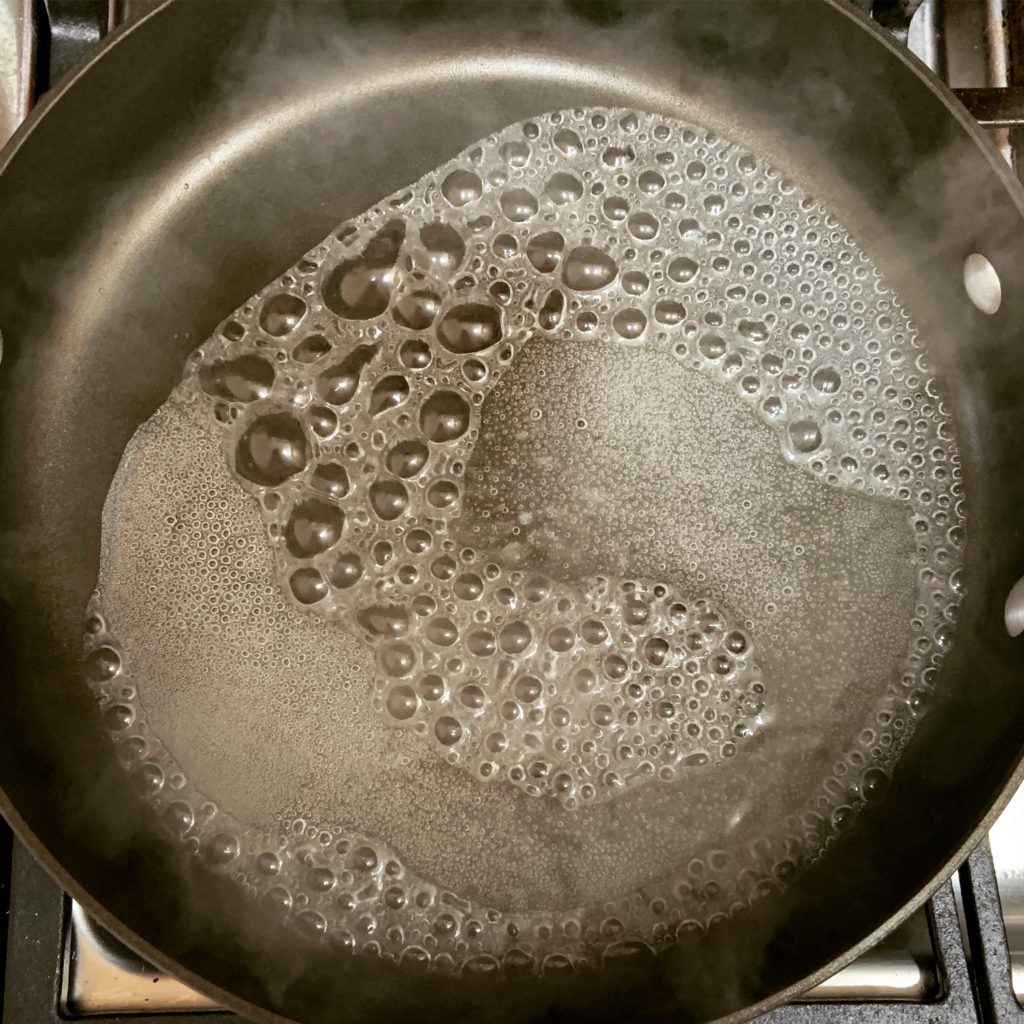 After about 5 minutes, I added my vegetable oil and soy sauce, stirring with a silicone spatula until combined and allowing that to cook for another few minutes.
When the potatoes were ready, I poured them onto a paper-towel lined plate to just remove any vegetable oil (there wasn't much).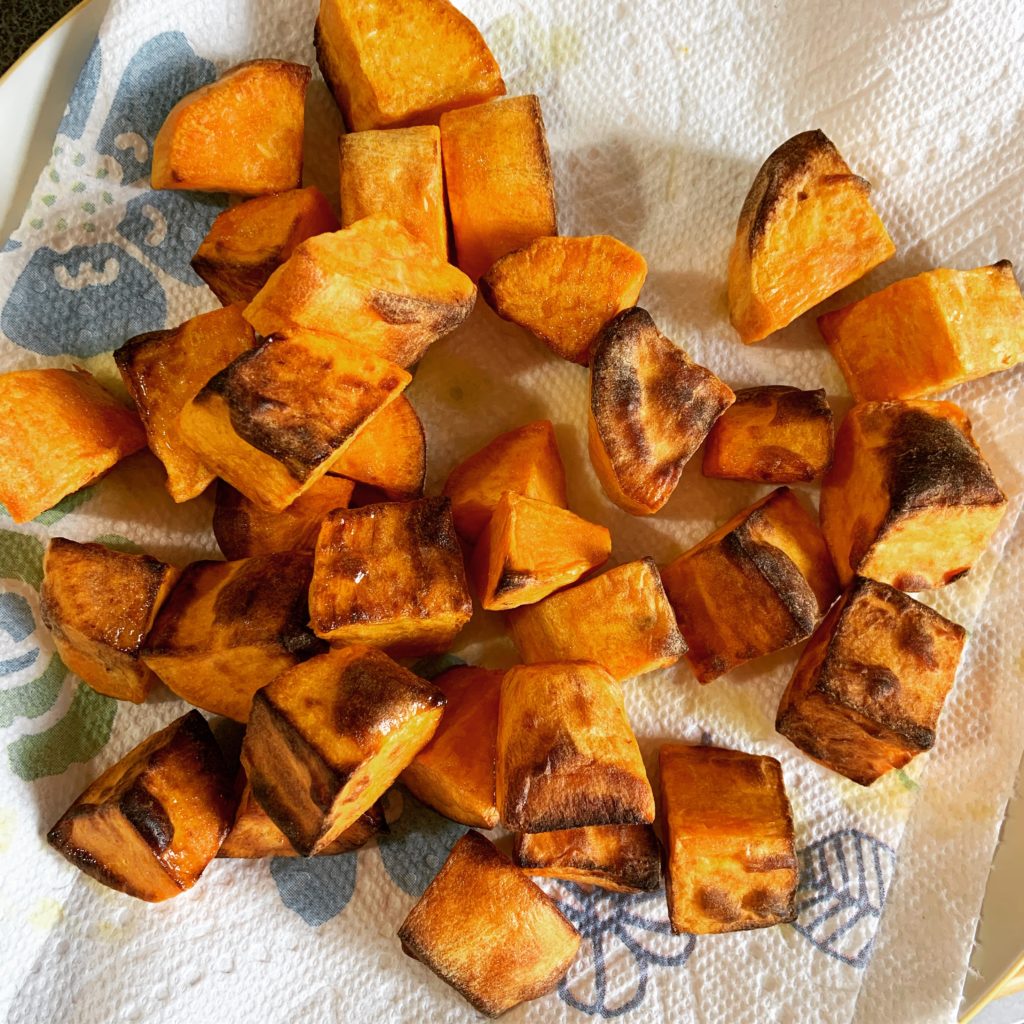 Then, I added them to the pan and used the spatula to gently stir them until they were well-coated with the sauce.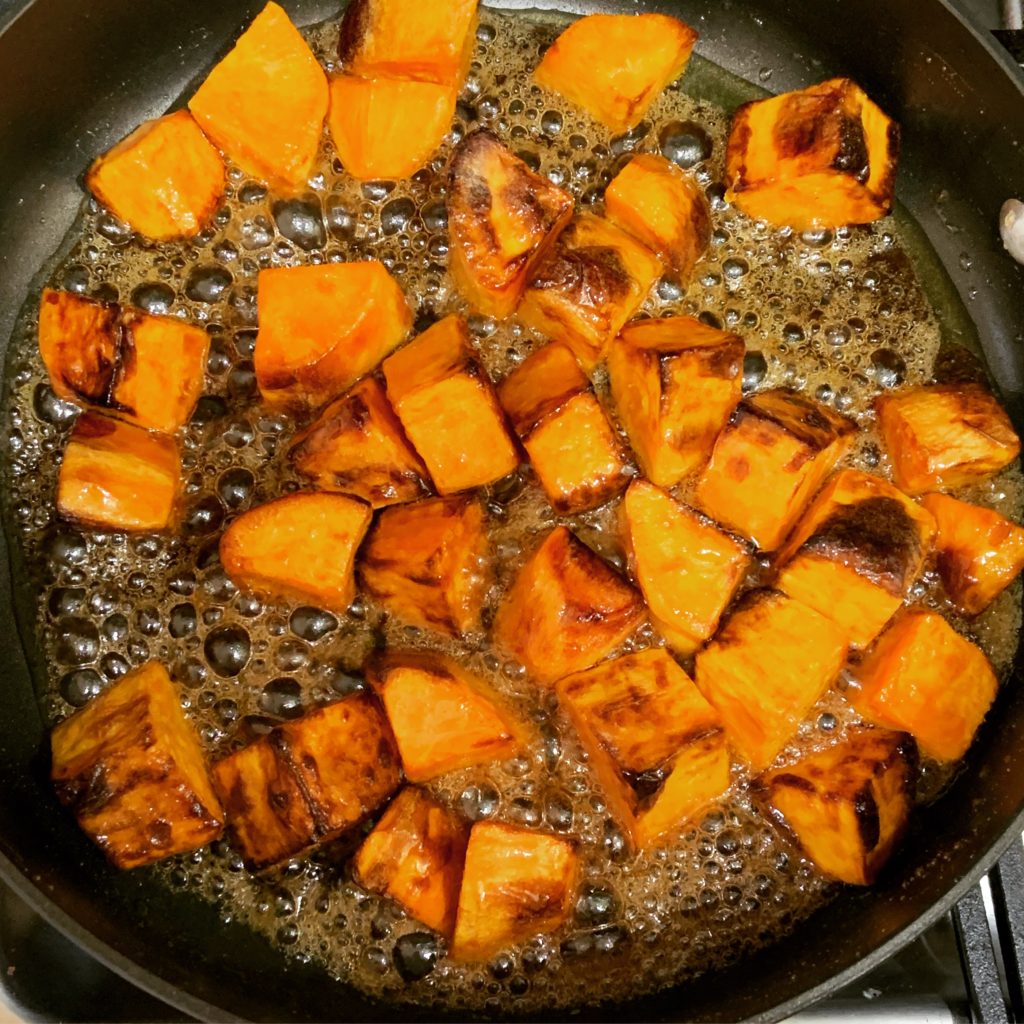 I covered them with sesame seeds, again tossing a bit to make sure they were evenly distributed, and then poured into a serving dish.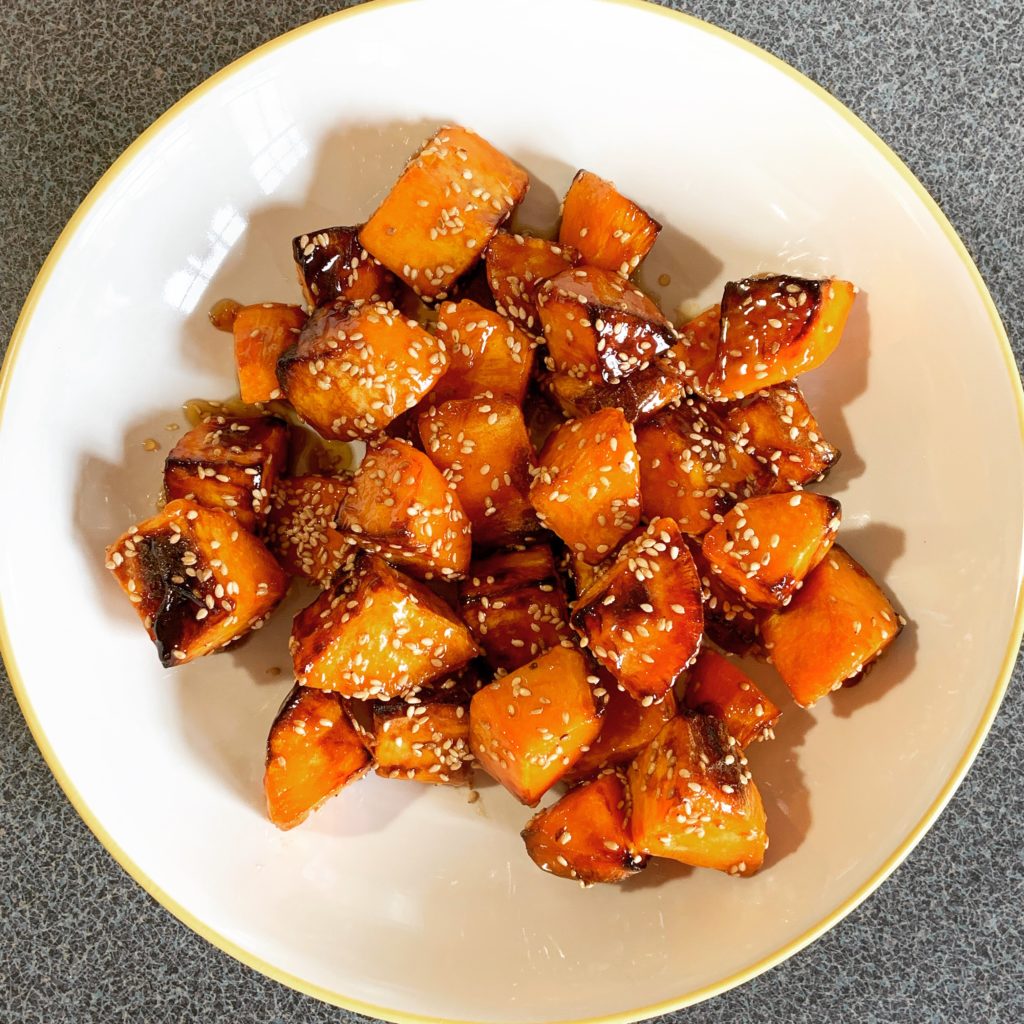 We ate the potatoes alongside some salmon burgers and they were quite delicious—both sweet and a little salty (from the soy sauce).
Korean Candied Sweet Potatoes (Mat Tang)
Ingredients
1

lb

sweet potatoes

about 2-3 sweet potatoes depending on the size

vegetable oil

to coat
For Sauce
⅓

cup

sugar

⅓

cup

water

1

tbs

vegetable oil

¼

tsp

soy sauce

optional

2

tsp

sesame seeds

optional
Instructions
Peel and wash 1lb of sweet potatoes. Cut them into bite-sized pieces, about 1" squares.

Soak the cut sweet potatoes in water for 15-20 minutes. Dry them well with a paper towel.

Put sweet potatoes into a large bowl and toss with some vegetable oil until lightly but well-coated. Set air fryer to 400 degrees and fry for 10 minutes. Toss and fry for another 10 minutes, until browned and slightly crispy.

Pour sweet potatoes onto a plate lined with paper towels to absorb and oil.

While potatoes are cooking for the second 10 minutes, make the sauce. In a heated pan, put ⅓ cup of water and ⅓ cup of sugar. Cook it on medium heat without stirring for about 4-5 min or until the sugar is completely melted and the sauce is reduced a bit. Add 1 tablespoon vegetable oil, 1 tablespoon of mulyeot (if using), ¼ teaspoon of soy sauce and cook for another 3-5 min.

Reduce heat to low. Add the deep-fried sweet potatoes and mix them quickly. Sprinkle 2 teaspoons of sesame seeds.

Place the candied sweet potatoes on a plate. To prevent the sweet potatoes from sticking to the plate, coat the serving plate with vegetable oil. Enjoy!
Notes
Adapted from: Crazy Korean Cooking
Please follow the original recipe if you prefer to use a traditional fryer or frying method. You may also pan fry the potatoes, if you don't have an air fryer available.
_______________
This post contains affiliate links. This does not increase the price you pay, but I may receive a small commission for any products you choose to buy. Purchases made through affiliate links help to cover my blogging costs. Thank you for helping to support The Hungry Bookworm! Full disclosure here.