For those of you who don't know—and I didn't—Barbara Pym was an English novelist, popular in the 1950s for her social comedies. She is the fifth woman Laura Shapiro discusses in What She Ate, and as such, this is the fifth post in my series about the nonfiction book about food.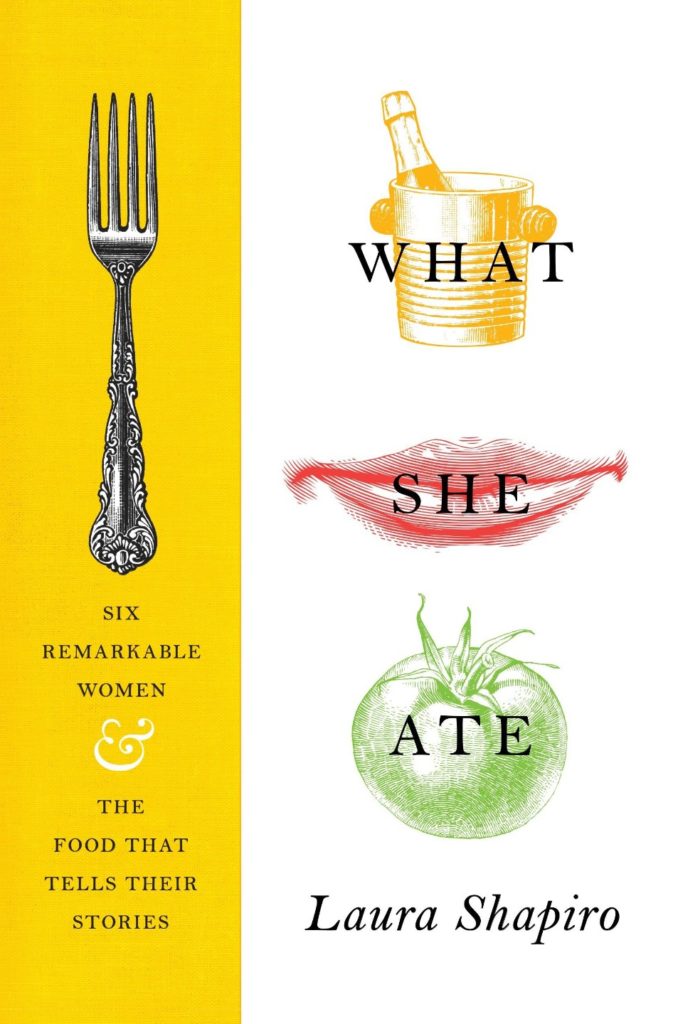 Though her novels were not considered highbrow, they developed quite a following and have a beloved place in English culture. Pym wrote about relationships, about village life, and often about the church. She also included a lot of food in her writing, certainly mentioning the bad but more often celebrating the good of English cooking (when no one else was really talking about its positives).

One of her most famous novels is called Excellent Women, in which macaroni and cheese makes an appearance—though it's disappointing with "not enough salt, or perhaps no salt...and not really enough cheese." Shapiro goes on to explain that Pym's descriptions of the food in her novels demonstrates that she herself understands what makes it good.

In fact, macaroni cheese (as she calls it, quoting a cookbook by Evelyn Board) is an "uncompromisingly English dish," a "great national stand-by." The recipe continues to describe a rich cheese sauce that's baked until sizzling and golden, which certainly sounded delicious to me.

Though this isn't the first time I've made macaroni and cheese for the blog, I knew it was the best fit for Barbara Pym's story. I found a recipe from The Guardian, where one of the writers dives into a recipe based on this very character of Pym's, and I knew it was the one to choose.

I didn't use the suggested pancetta, but I included them in the recipe below. I did double the recipe and it was enough to fill a deep 8x8 pan, but it would bake more quickly if you opted to use a 9x13 pan.

Anyway, first I set my water to boiling and then I started with the sauce. (When the water boiled, I added the noodles.)

To make the roux, I melted butter in a medium saucepan and then stirred in an equal amount of flour, stirring for 3 minutes as directed to cook out the taste of the flour. Then, I added whole milk, whisking slowly and steadily until the sauce began to thicken. This part of the process always makes me nervous—and seems to take forever—but have patience and keep stirring and it will thicken, trust me.

When the sauce thickened, I added a combination of mozzarella and sharp cheddar cheeses. (I added just a touch more than called for, rounding up to a full cup from the original recipe's 3/4 cup.) Then, I sprinkled in some nutmeg and gave it all a great stir. I removed the sauce from the heat until the noodles were ready.

Then, I drained the noodles and poured them into the sauce, stirring until it was all well-coated.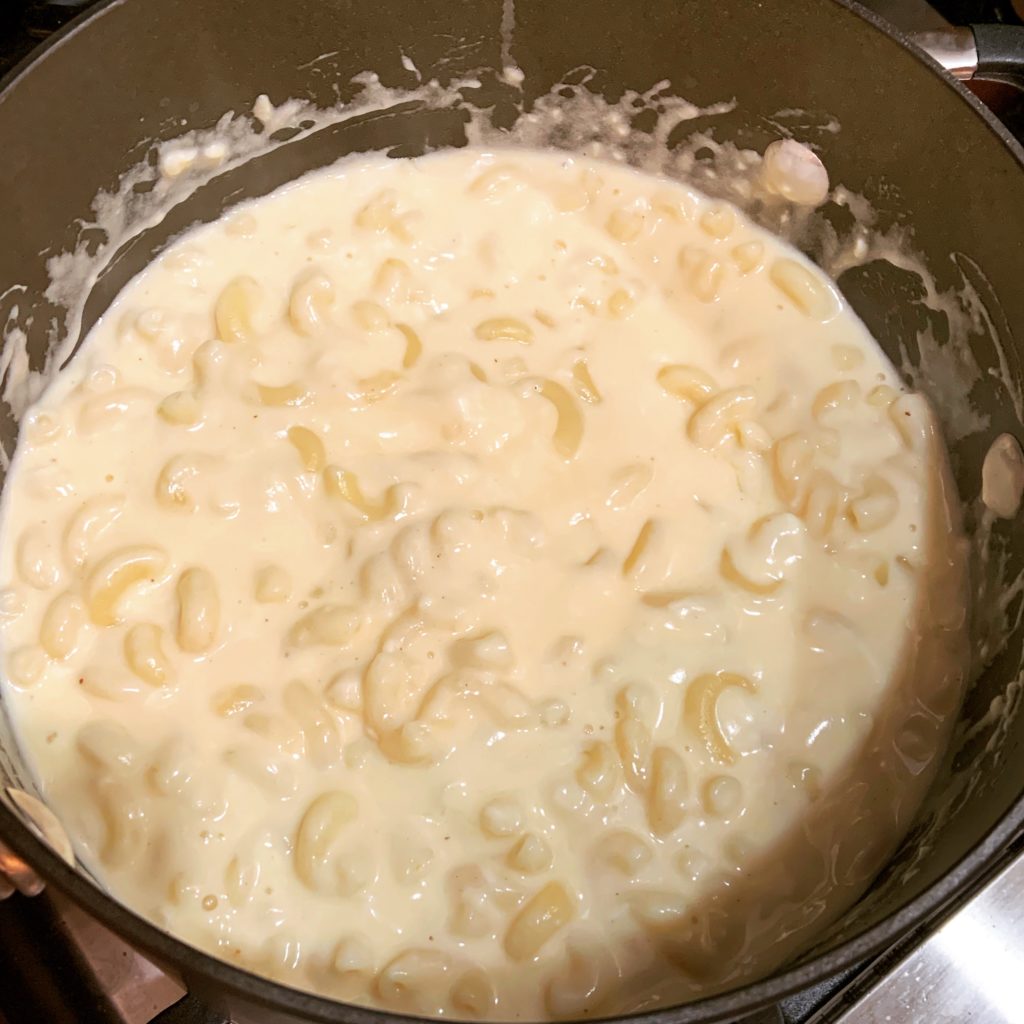 Then, I poured the whole mixture into my pan. I opted not to grease it and it turned out fine, but it's totally up to you. I personally think macaroni and cheese has enough grease in it from the butter and cheese. Finally, I topped it with a mixture of breadcrumbs and parmesan cheese before popping it in the oven.

I baked it until the cheese was bubbling along the edges and there were bits of golden/dark brown throughout on top. It smelled like a dream, and I couldn't wait to dive in!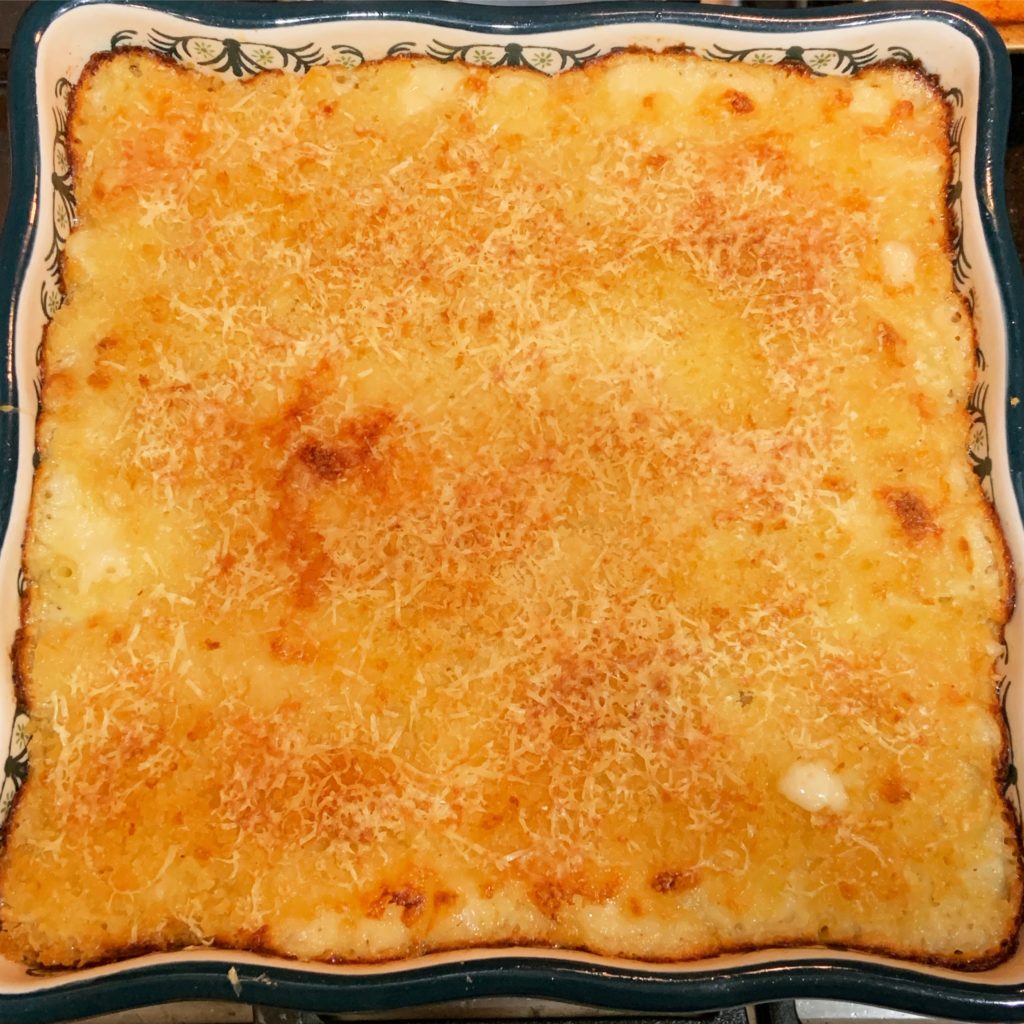 Scott and I enjoyed it with a salad and some green beans, a classic with macaroni and cheese, in my opinion. There was more than enough for leftovers with the doubled recipe, and according to the recipe, it's perfect for freezing too.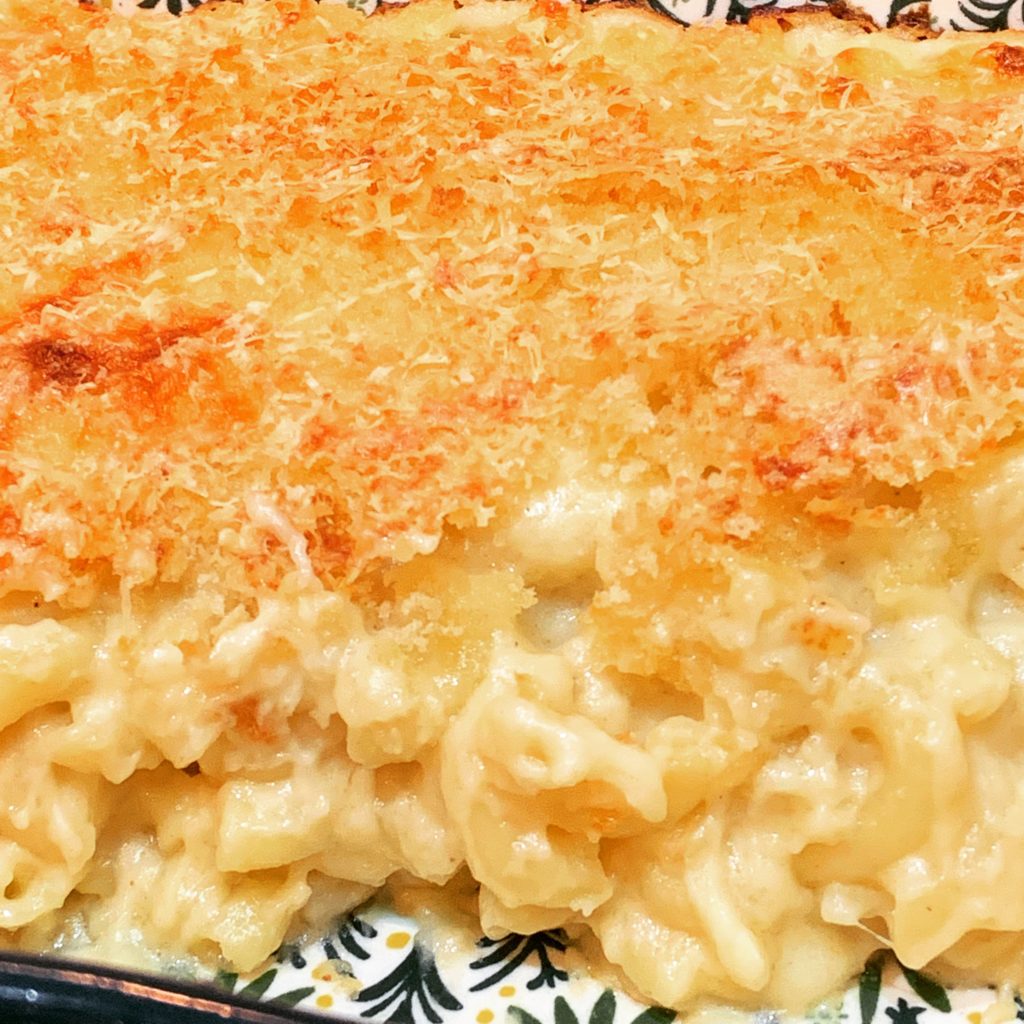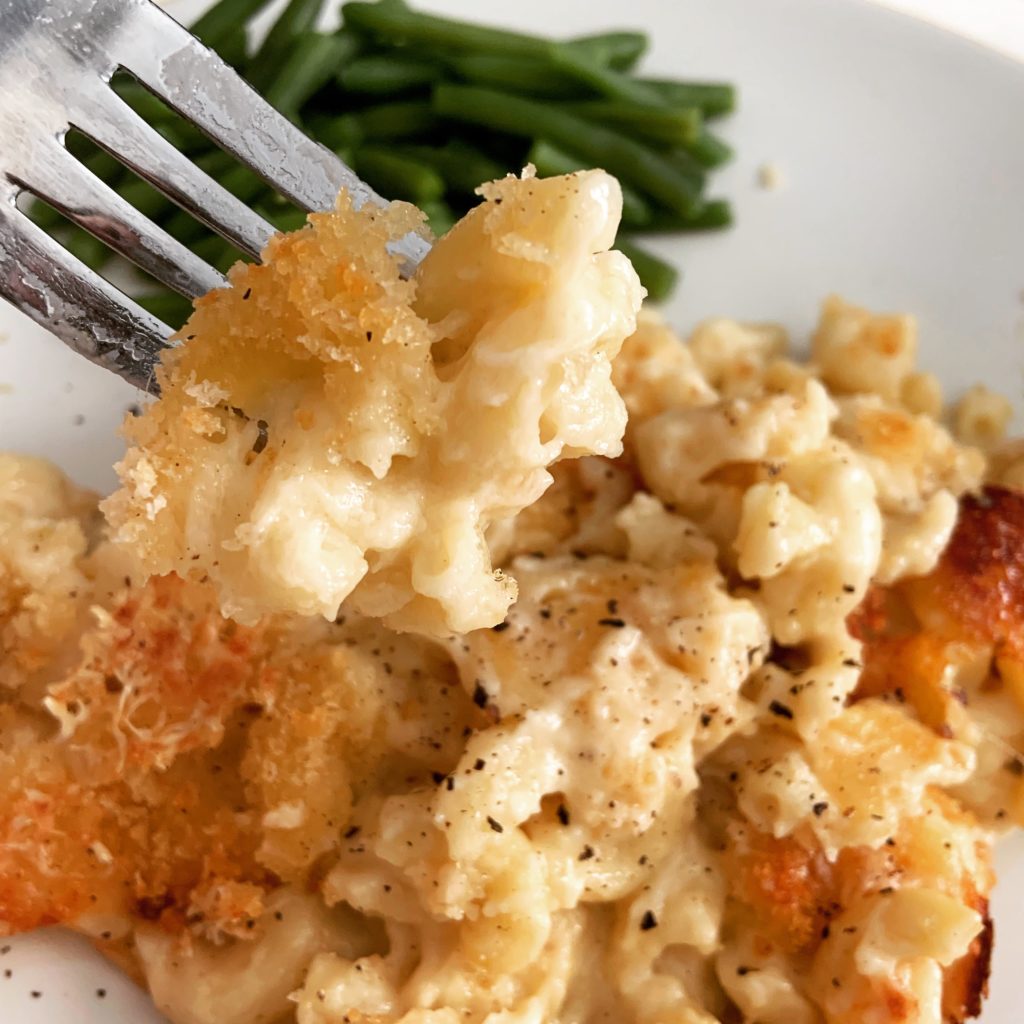 Baked Macaroni Cheese
Ingredients
4-5

oz

diced pancetta or lardons

8

oz

dried macaroni

Generous pinch salt

¼

cup

salted butter

¼

cup

plain flour

1 1/3

cup

whole milk

¼

cup

grated sharp cheddar

½

cup

grated mozzarella

Generous grating nutmeg

2

tbsp

bread crumbs

1

tbsp

grated parmesan cheese
Instructions
Preheat your oven to 400F. Warm the frying pan over a medium heat and tip in the lardons/pancetta. Fry them gently for around 15 minutes, while you get on with the rest of the dish. Return to give them a stir every now and then, to ensure they don't burn. Don't add any butter or oil to this pan - any necessary fat will come from the lardons.

Fill one of the saucepans with water and bring to the boil. Once it is bubbling enthusiastically, add a generous pinch of salt and pour in the macaroni. Cook until the pasta is tender but still has a little bite - which should be around seven minutes. Drain and set aside.

In the meantime, melt the butter in the second saucepan and, once it is bubbling, tip in the flour. Stir with the wooden spoon for three minutes, to cook off the taste of the flour. Pour in the milk and whisk until the sauce thickens. Don't worry if this takes a couple of minutes; it will happen very suddenly, so do keep an eye on it and keep whisking, or it will become lumpy.

Over a very low heat, whisk in the cheese until it melts and the sauce becomes stringy. Remove from the heat and add the nutmeg.

Tip the pasta and lardons (and their fat) into the cheese sauce, and stir well until the ingredients are distributed evenly. Scoop the whole gooey lot into the greased ovenproof dish.

Top with breadcrumbs and grated parmesan and bake for 20 minutes, until the cheese sauce is bubbling and the dish is browned in patches on top. Sort out a salad or drinks before bringing the dish to the table, giving the molten cheese time to cool a little.

If it makes your life easier, you can make big batches of this, bake it and then freeze it. When you want to eat it, put it back in the oven to bake again until the cheese sauce is bubbling.
Notes
_______________
This post contains affiliate links. This does not increase the price you pay, but I may receive a small commission for any products you choose to buy. Purchases made through affiliate links help to cover my blogging costs. Thank you for helping to support The Hungry Bookworm! Full disclosure here.