Miriam Toews' latest novel Women Talking was one of my most anticipated reads of 2019, and though it wasn't exactly what I expected going in, I'm happy to say that it did not disappoint. It was a bit slow to start but ended up being a powerful read. I probably should've expected nothing less from Toews, who I discovered later, was raised in a Mennonite community until the age of 18. She has been working on telling this important story for years.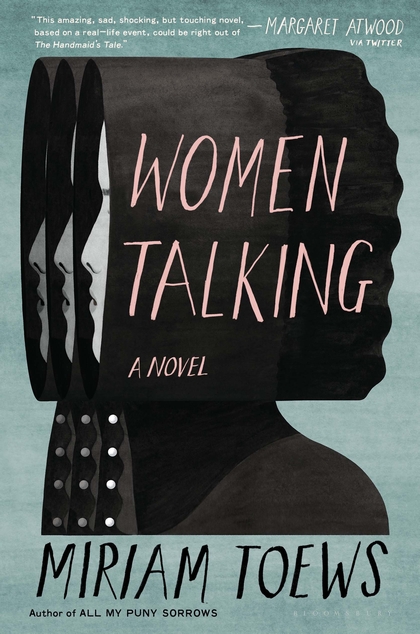 The majority of the novel is exactly what the title describes, or as one character puts it, "just women talking." Eight Mennonite women sit in a hayloft to discuss a series of sustained attacks on the females in their closed community. The women have learned that men within their own community drugged and attacked the women in their sleep, and they must decide how best to protect themselves and their daughters moving forward.

The women, who are illiterate and know nothing of the outside world, are accompanied by one man, August Epp, who has agreed to record minutes of their meeting. Their community, which is "built on the foundation of patriarchy," puts these women at a complete disadvantage. Not only are they not allowed to learn to read or write, they are given no voice at all.

Their options as they see them are to do nothing; to stay and fight; or to leave the community. Whatever they decide, they want to continue to achieve what is required of their faith -- pacifism, love and forgiveness. They also want to be able to think for themselves. They want their children to be safe. Through this discussion, they must determine which course of action will result in the best outcome. I can't tell you what they ultimately decide but I found their conversations riveting. I couldn't stop highlighting passages.

Initially, I was annoyed that Toews decided to tell us a powerful story about women's rights and fighting the patriarchy through a man's eyes. Somewhere along the way -- and I can't pinpoint when or why -- this no longer bothered me. In the end, I agreed with her choice. August, who was more aligned with the women in the community than the men, provided necessary insight for the reader. In a way, I think he brought some of Miriam herself to the novel's point-of-view.

Though the novel doesn't take place during meals, the women, who are responsible for the care and feeding of those in their community, mention food relatively often. The food is simple -- cheese, bread and sausage -- and in a closed community, I assume it's typically homemade. I decided to make spelt bread, which one of the characters, Salome, bakes before coming up to the hayloft one morning.

I went with a recipe that combined spelt flour and another flour, opting for whole wheat since I already had some of that at home. I also find bread somewhat intimidating, so I tried to find an easy recipe. In the end, I tweaked a recipe from Canal Cocina that originally used rye flour with spelt flour.

First, I combined my flours -- equal parts whole wheat and spelt -- with active dry yeast and salt. It's best to use a kitchen scale for this. The original recipe did not provide cup-friendly measurements, and I didn't measure out cups either. (Though most American recipes do use cup-friendly measurements, weighing ingredients is the way to get the most accurate amount in baking.)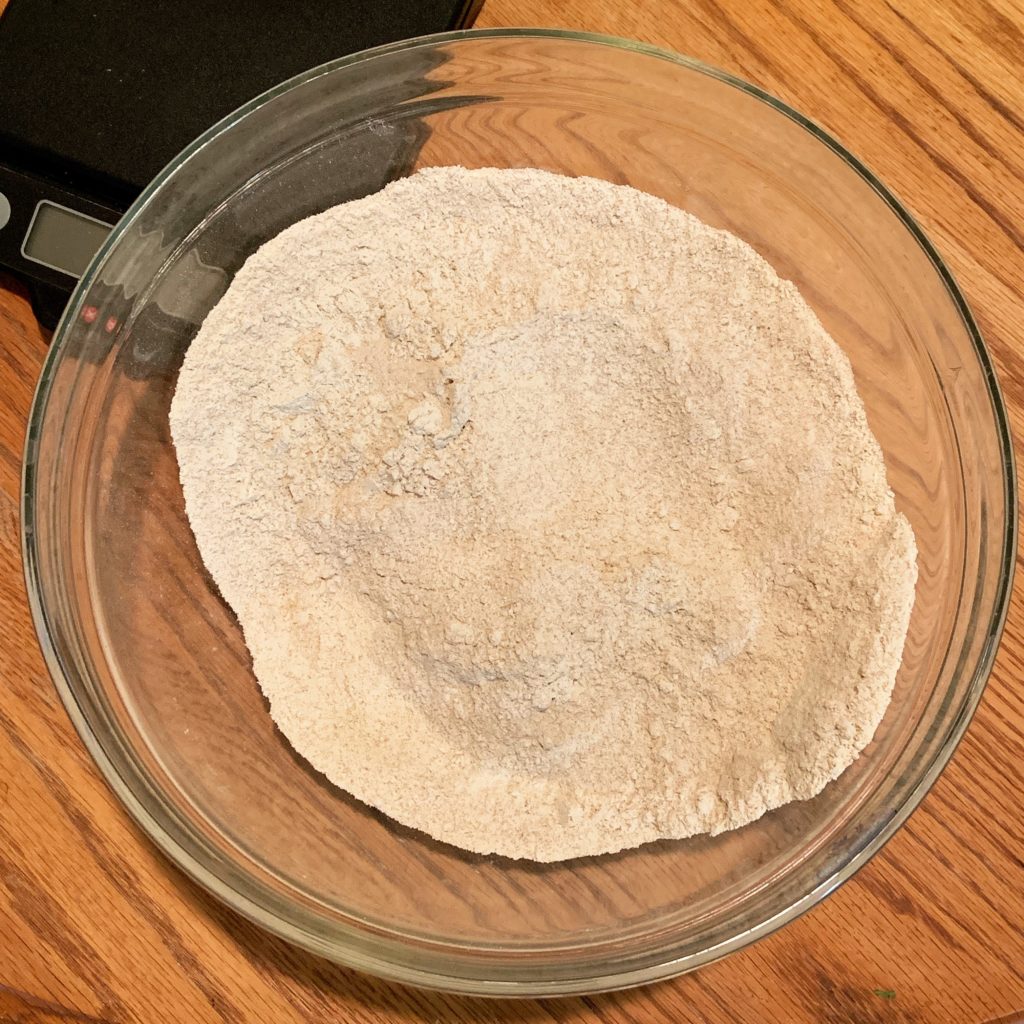 Then, I made sure my water was the right temperature for yeast (it should be between 105 and 110 degrees F) and added it to the flour mixture slowly, mixing it with a spoon all the while. I didn't find that I needed more (or less) water, but depending which flours you use, the amount may vary. I got a slightly sticky dough.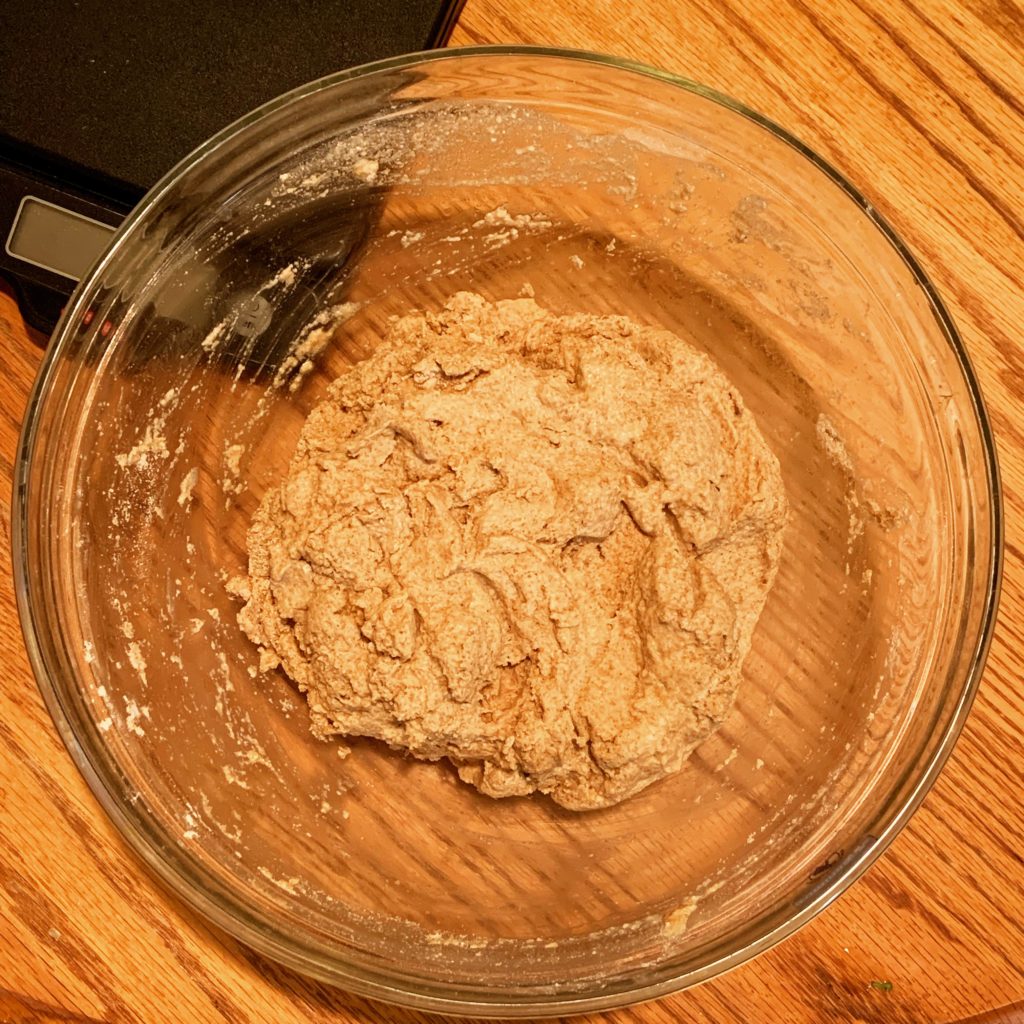 I covered it with a dishcloth and let it rise for about two and a half hours at room temperature. (You'll want to do no less than 2 hours, until it doubles in size.)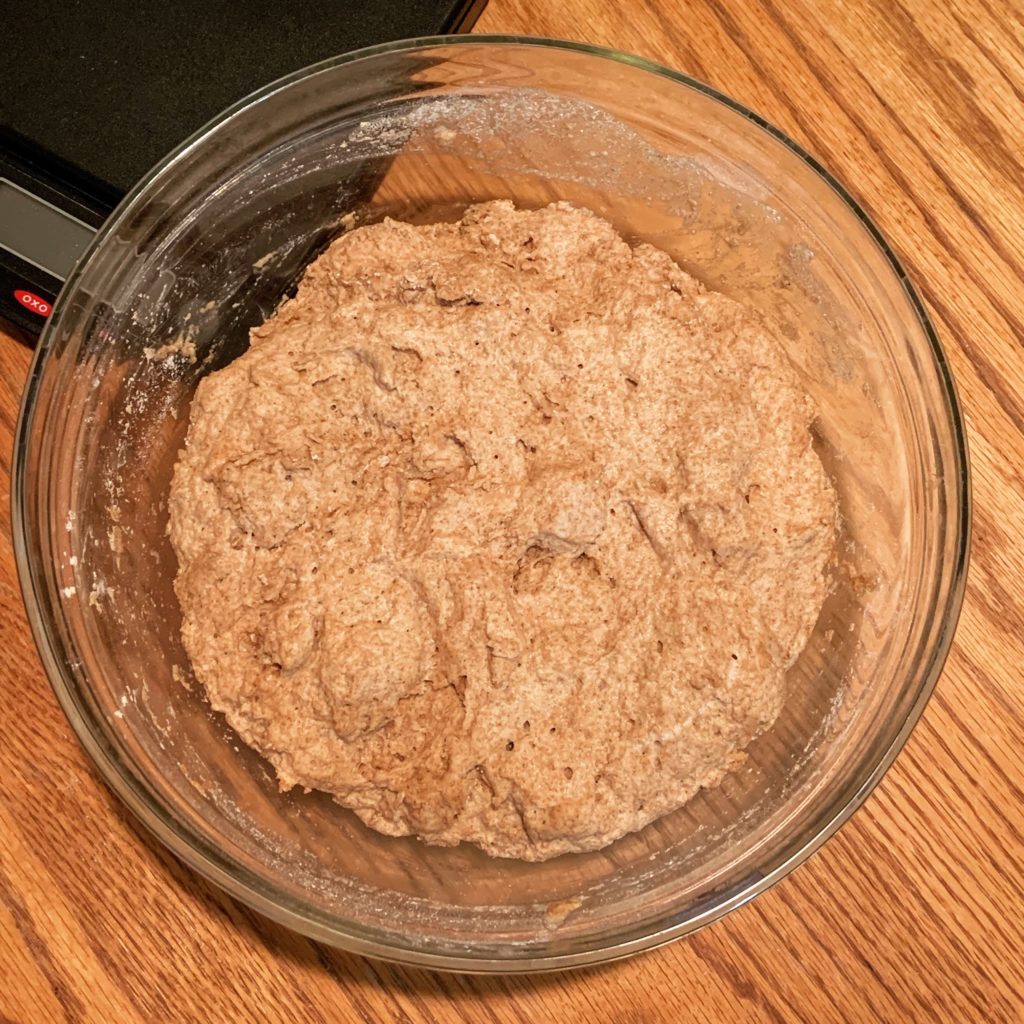 Then, I greased my loaf pan with olive oil and placed the dough inside. I slit the top 5 times and covered it with about 2 TBSP of pumpkin seeds. (You can use more or less if you like; the original recipe does not call for a specific amount.)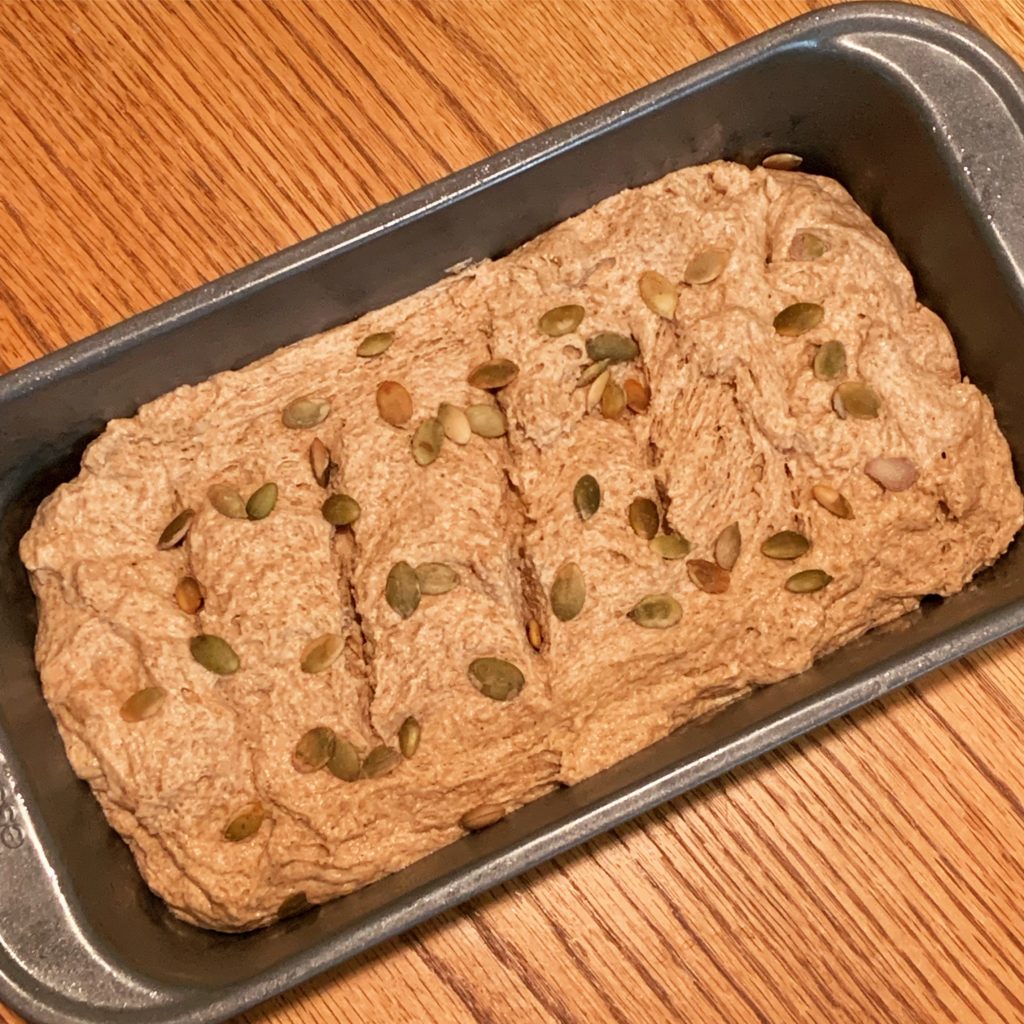 Once it was baked, I turned it out of the pan (use a knife to loosen the sides if needed) onto a cooling rack and allowed it to cool fully before slicing.

I had never had spelt bread before, so I have nothing to compare it to, but I liked the flavor. The pumpkin seeds on top also provided a nice texture.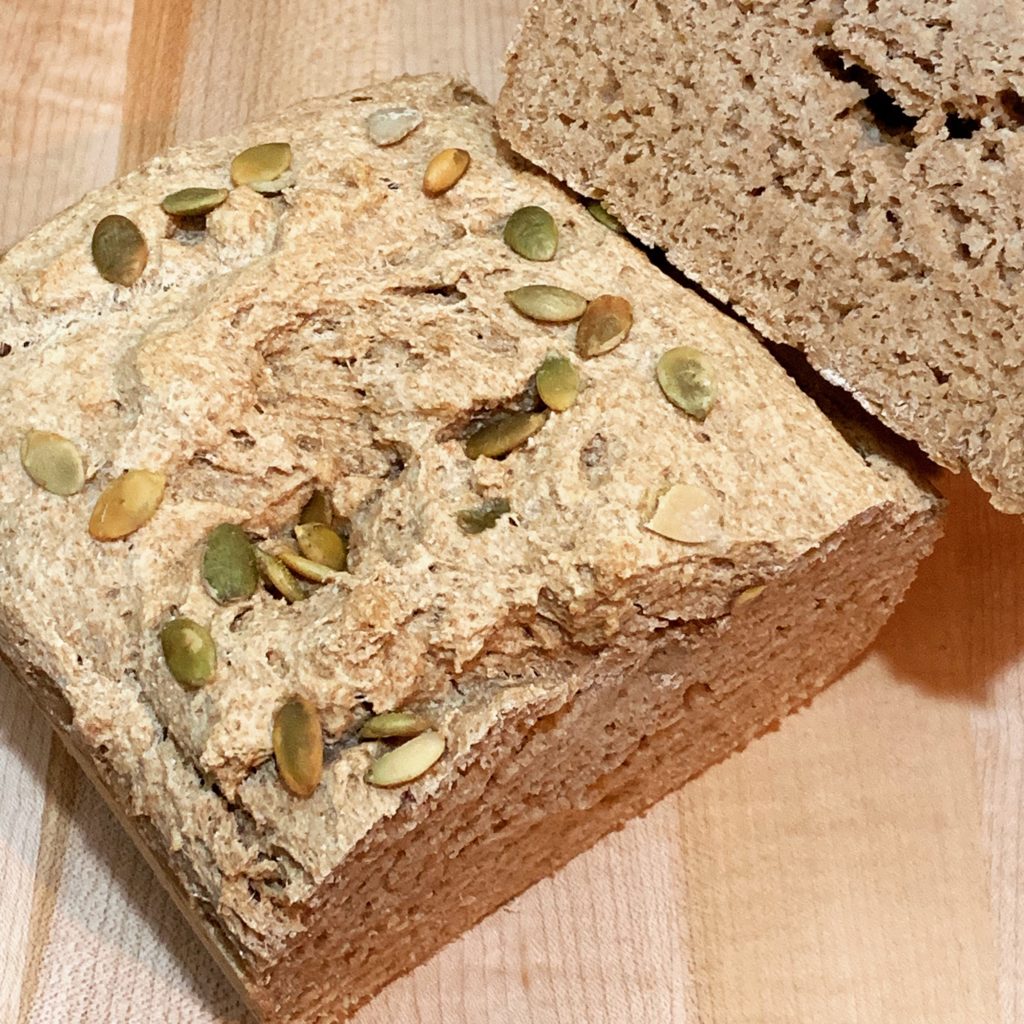 Women Talking comes out on April 2 in the U.S. If you're discussing it with your book club -- and I do think it would make an excellent discussion -- this spelt bread would make the perfect pairing!
Easy Whole Wheat & Spelt Bread
Ingredients
9.3

oz

spelt flour

265 g

9.3

oz

whole wheat flour

265 g

0.2

oz

dry baker's yeast

5.5 g

1

tbsp

sea salt

425

ml

water

Pumpkin seeds
Recommended Special Tools
Instructions
In a large bowl, combine the flours, yeast and sea salt. Then, ensure your water is 105 degrees F.

Add almost all the water to see how the dough goes. Mix well with your hands or a spoon until you get a sticky rough dough. (Depending on the flour you use, you may need more or less water.)

Place the dough in a bowl, cover with a cloth or cling wrap and let rise for at least 2 hours at room temperature.

Preheat the oven to 430 degrees F.

Line a loaf pan with parchment paper or grease it with oil (extra virgin olive oil or coconut oil).

Place the dough into the loaf pan. Lightly moisten the hands and flatten the surface and then slash the bread about 5 times with a knife. Add the pumpkin seeds and press with a spoon.

Bake for 25 minutes at 430ºF, to form the crust. Then lower the heat and continue baking for 35 minutes at 350ºF.

Take the bread out of the oven, remove it from the pan, and let it cool on a rack. When it is fully cooled, slice and eat. You can freeze what you are not going to consume. To thaw it, just take it out the night before.
Notes
Adapted from: a Rye & Spelt Bread recipe by Ana Moreno
_______________
*I received a free digital copy of this book from NetGalley in exchange for an honest review.
This post contains affiliate links. This does not increase the price you pay, but I may receive a small commission for any products you choose to buy. Purchases made through affiliate links help to cover my blogging costs. Thank you for helping to support The Hungry Bookworm! Full disclosure here.