Ever since Julie & Julia hit theaters 10 years ago, it has been one of my favorite movies. Until recently, I had never read the book it was based on. Julie Powell's memoir Julie and Julia: My Year of Cooking Dangerously is based on the year she spent cooking all of the recipes in Julia Child's legendary cookbook Mastering the Art of French Cooking and blogging about it. Perhaps you can see why I love the story so.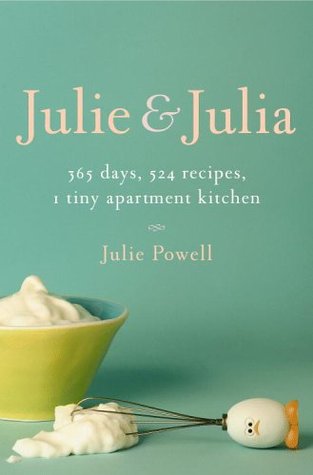 Not much over the course of Julie's memoir was surprising to me, though certainly elements of it had been left out of the more streamlined movie (also paired with Julia's life story, where Meryl Streep plays the iconic chef). I have to say, though, the book lacked the charm with which the movie nestled into my heart.

I can 100% relate to Julie -- her desire to cook, the pressure of the task she set for herself, the constant blogging about it, and even her patient, helpful husband who plays a huge role in her ultimate success. I understand and sympathize with her whininess, though page after page, I found it a little trying. More than anything though, the book left me in awe that Julie completed the challenge of cooking 524 Julia Child recipes in 365 days. I made just three of them in an afternoon, and it was exhausting. Like Julia, she will remain an inspiration to me.

Before I even cracked open the book, I knew I would be making Julia's Boeuf Bourguignon. In the movie, it's featured in a memorable scene, and in the memoir, it's no different. On top of that, I have long wanted to make the recipe myself… but kept putting it off for one reason or the other. Now was my chance! No more excuses.

It turns out -- as I alluded to above -- the beef stew actually requires completing 3 recipes: Boeuf Bourguignon, of course, as well as Oignons Glacés à Brun (or brown-braised onions) and Champignons Sautés au Beurre (or sauteed mushrooms). It also takes several hours. I made sure to read the recipe through from beginning to end, and after several false starts while I found my nerve and appealing to my husband Scott for support, I was ready to kick it off.

I cut my bacon into pieces, as close as I could get to lardons without having a chunk of bacon to work with. I instead purchased the thickest cut bacon I could find and made do with that.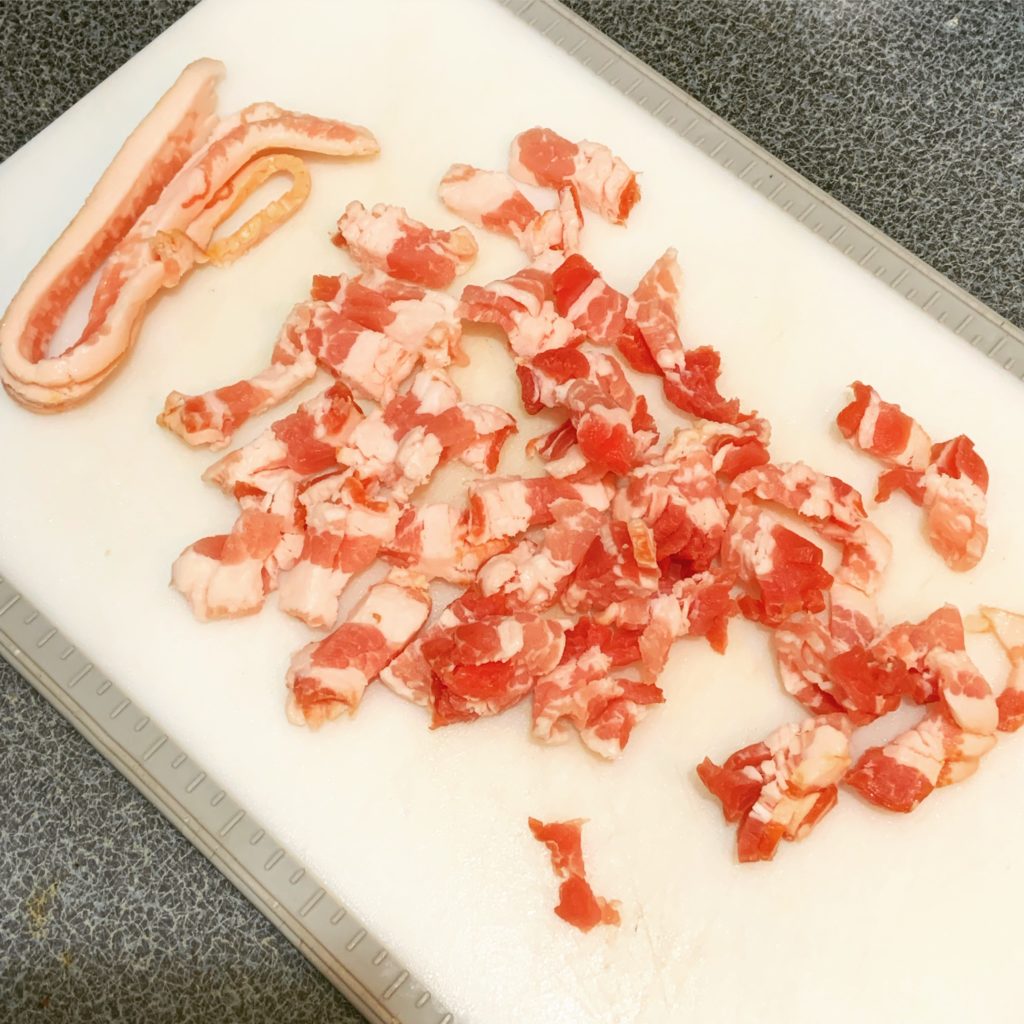 Though it looked quite disgusting, I followed Julia's directions and then simmered the bacon and it's "rind" in water for 10 minutes.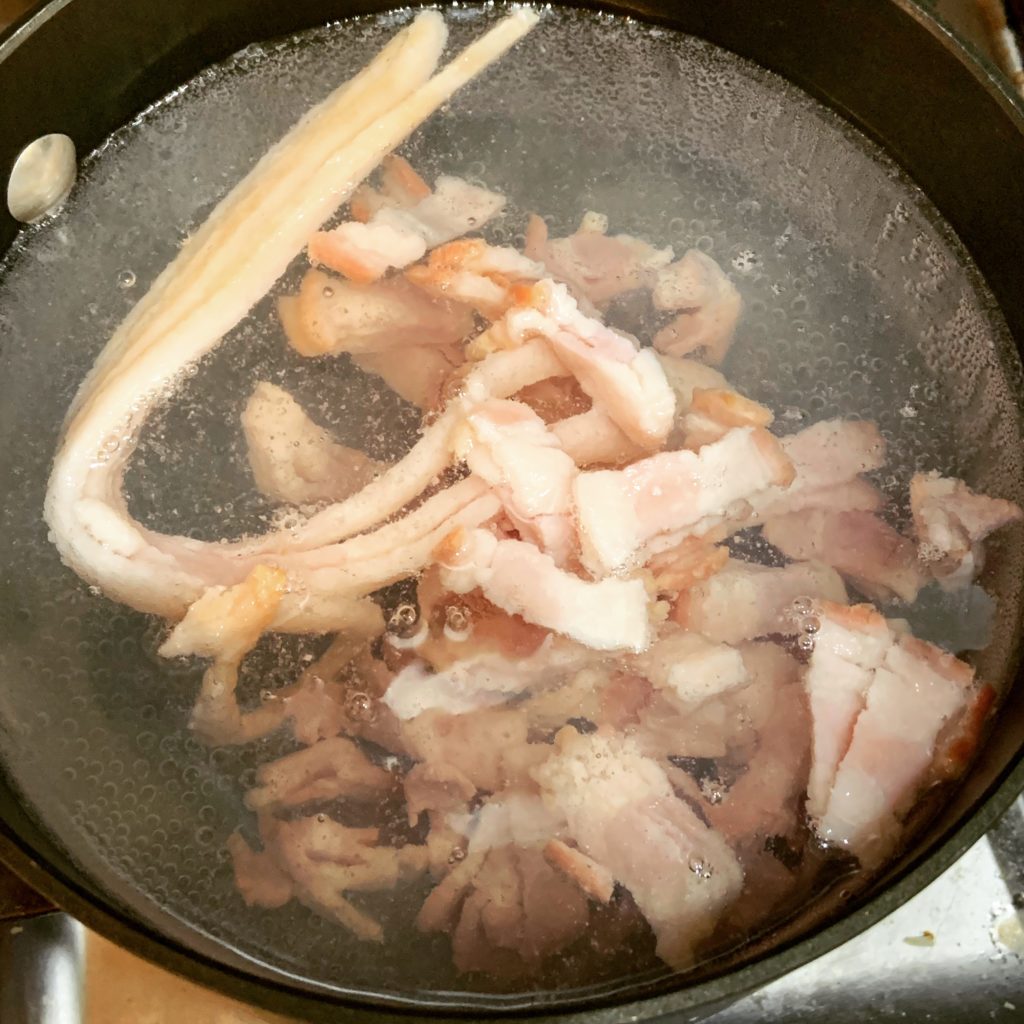 Afterward, I set it on some paper towel and made sure it was dry.

Then, I cut my meat into approximate 2-inch chunks, patted each piece dry, and using tongs, placed a few in the hot fat in my pan to brown on all sides.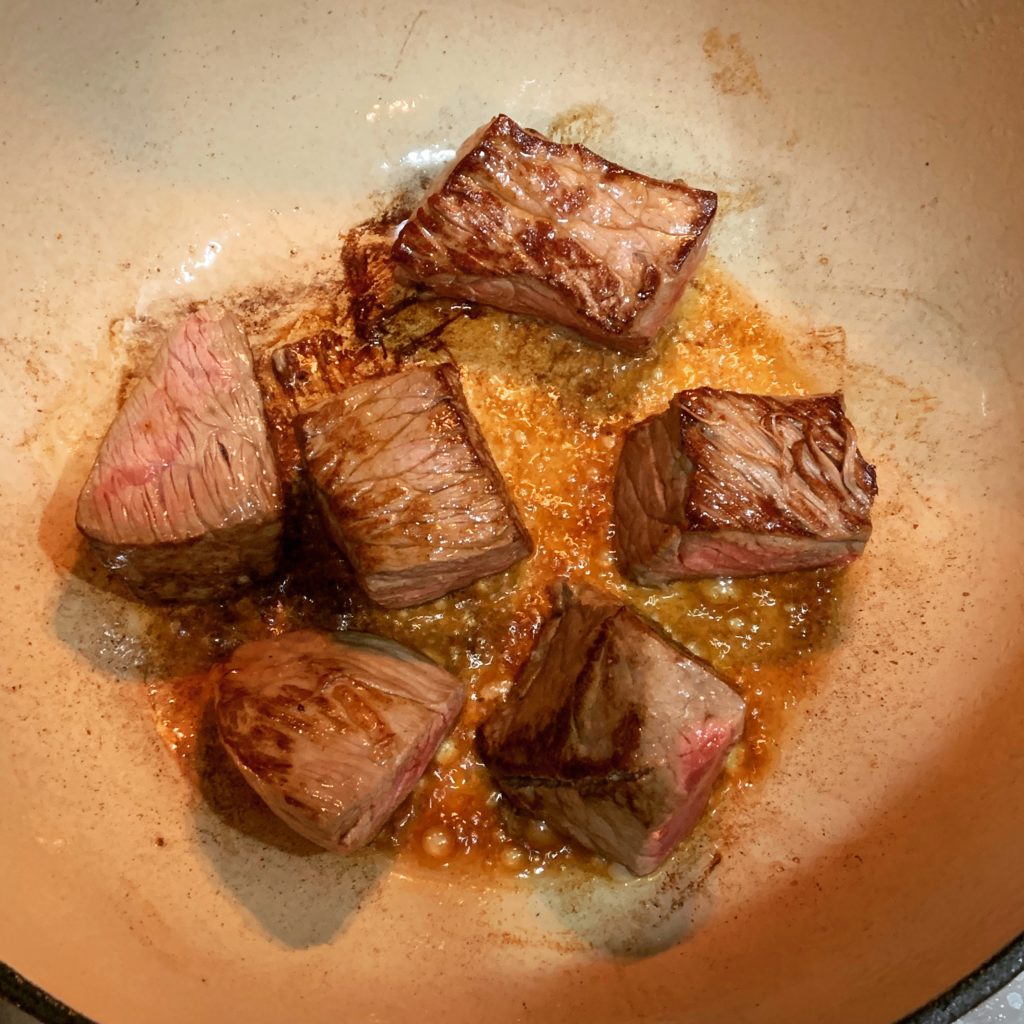 Though the meat browned relatively quickly on each side, I used that time to slice my carrot (I used three, though Julia calls for one… one didn't really seem like enough) and my onion. Once all of the meat was well-browned, I set them with the bacon and browned my vegetables in the same fat.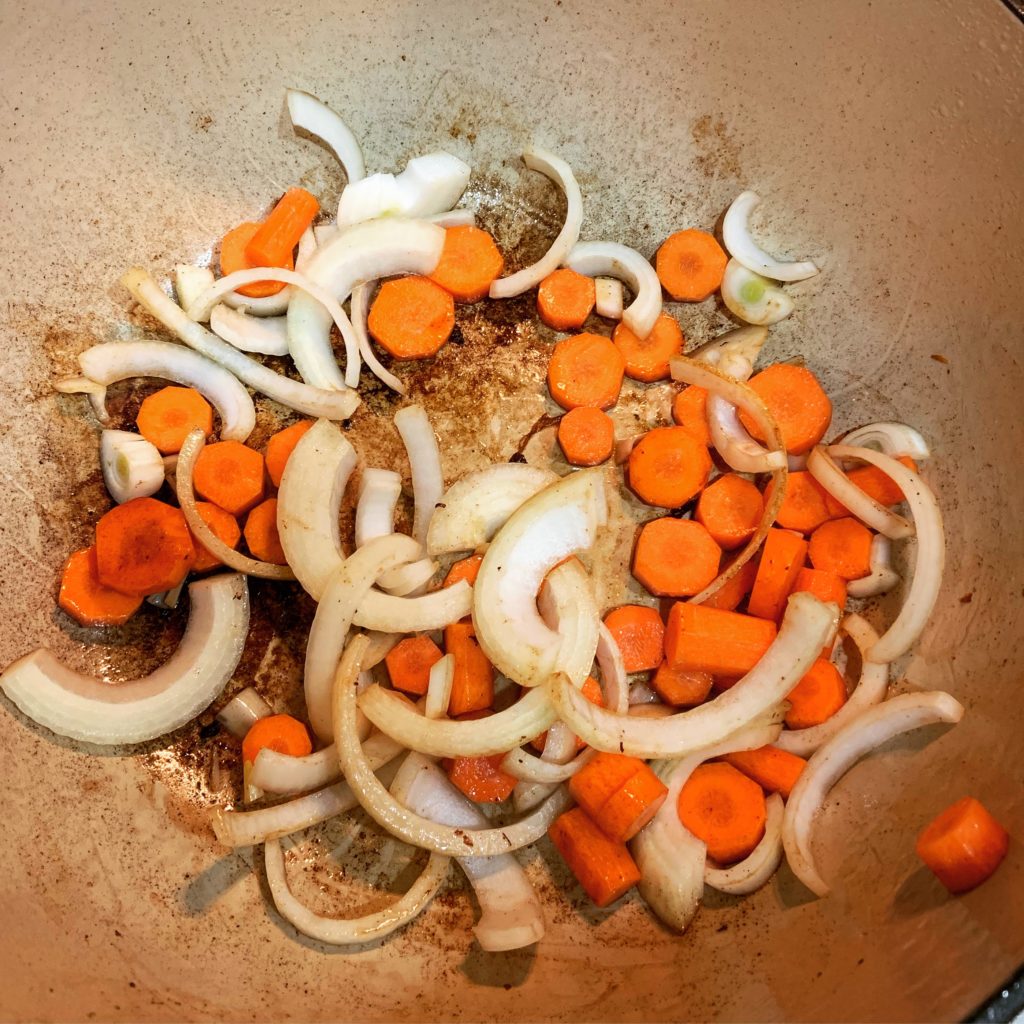 I didn't have any fat left when my vegetables were done (though Julia says if you do, you should drain it here), so I simply returned the beef and bacon back to my Dutch oven. I seasoned with salt and pepper and tossed with 2 tablespoons of flour. I put it in the oven for 4 minutes, stirred it, and returned it for another 4 minutes of browning.

Then, I put the Dutch oven back on the stovetop and added 3 cups of Chianti (almost the entire bottle) and about 2 cups of beef stock, though I didn't measure, until the beef was barely covered. To that, I added tomato paste, garlic, thyme and bay leaf. I brought the whole less-than-appetizing-looking mixture to a simmer on the stove.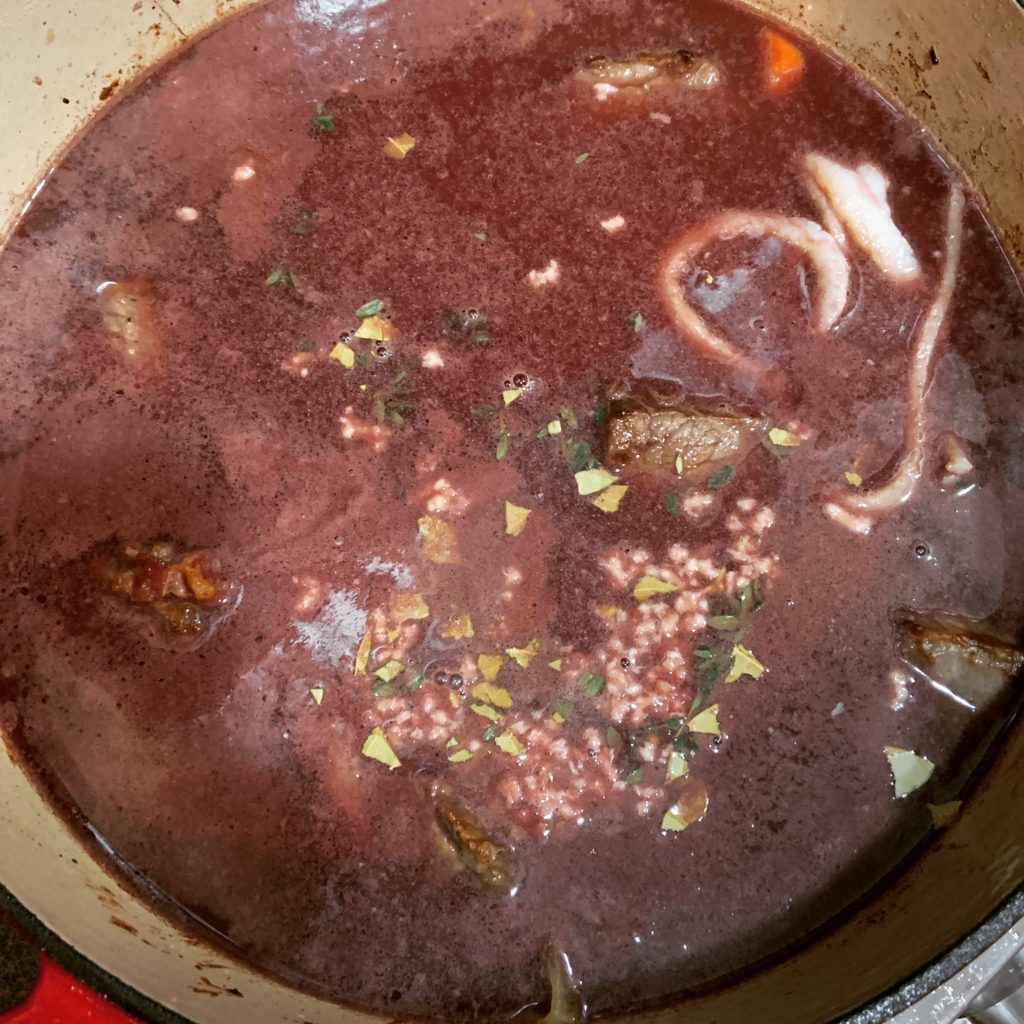 Then, I covered it and put it in the oven for 2 and a half hours. I did relax for about an hour before I needed to jump back in to make the accompanying onions and mushrooms. In that time, our house began to smell truly amazing.

I started with the onions, since I would be baking them, which takes nearly an hour. I first had to peel the tiny onions (which was honestly the most annoying part of the entire cooking process that day) before adding them to melted butter and oil in a skillet.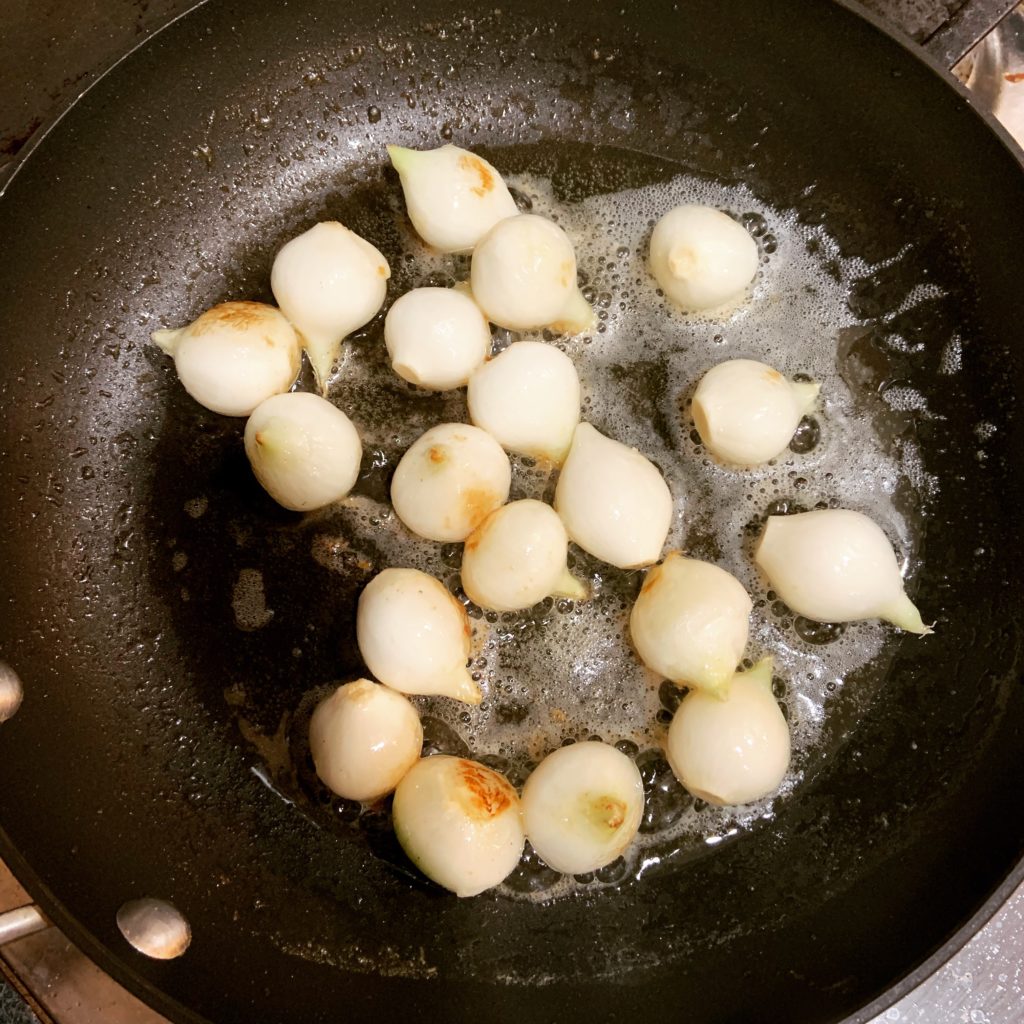 After 10 minutes, when they were browned on (almost) all sides, I poured them into a small casserole with their cooking fat and added some beef stock and an herb bouquet. I'm not entirely sure if the beef stock is meant to be added in this method or just the braising method (Julia wasn't quite clear on it), but I opted to add it for flavor.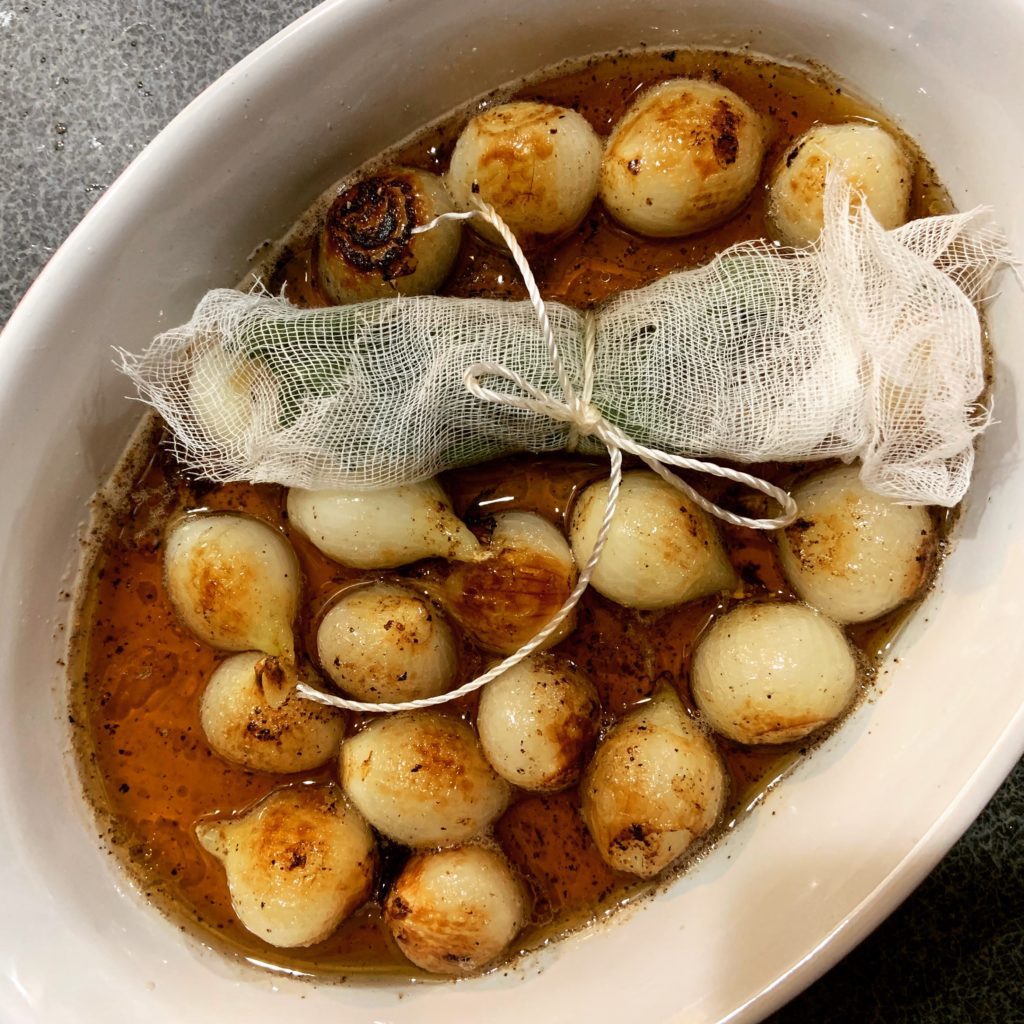 Then, I popped those in the oven on the top shelf to cook while the beef finished.

To make the mushrooms, I wiped clean and quartered a pound of baby bella mushrooms (my personal favorite, though I'm sure button mushrooms would work just as well). Like the onions, I added them to a skillet of heated oil and butter, making sure not to crowd them.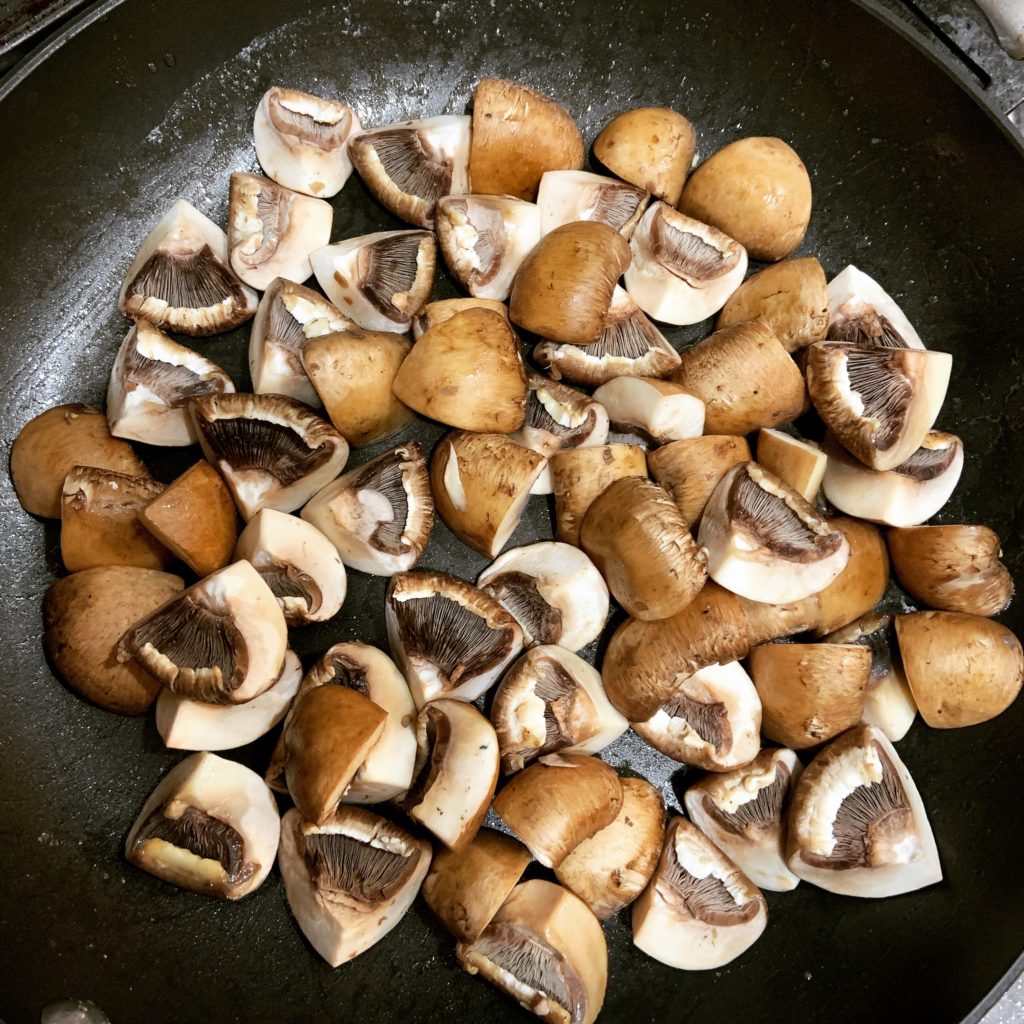 When they were browned, I added the optional green onions and sauteed a bit more.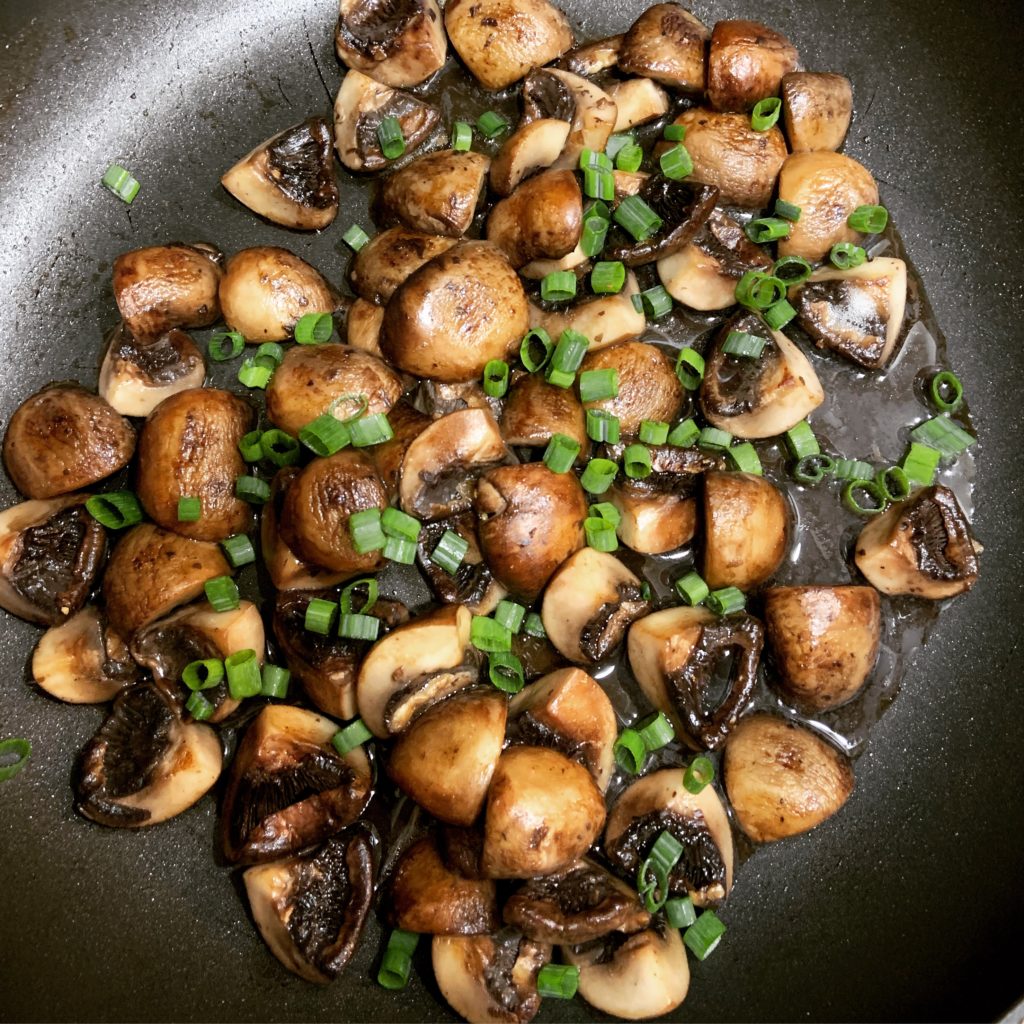 I set them aside until the beef bourguignon was ready. Then came the most nerve-wracking part of the recipe, which involves pouring the contents of the Dutch oven / casserole dish into a strainer over a saucepan. I opted to do this in the sink to mitigate disaster. I returned the beef, bacon and vegetables to my Dutch oven and set the saucepan of "sauce" on the stove.

Julia says to cook the sauce down until it covers the back of a spoon "lightly," and from her directions, it appears this process should take about 2 minutes. I ended up bringing it to a robust simmer/boil for several minutes until the sauce was closer to the 2½ cups of sauce she said we should have (as opposed to the 4 or so cups I started with).

I poured the sauce over the meat and veggies, now with the mushrooms and onions in on the action. I brought it to a simmer for a few minutes, until it was ready to serve.

It smelled divine and looked quite delicious in the pan. Scott and I couldn't wait to dive in!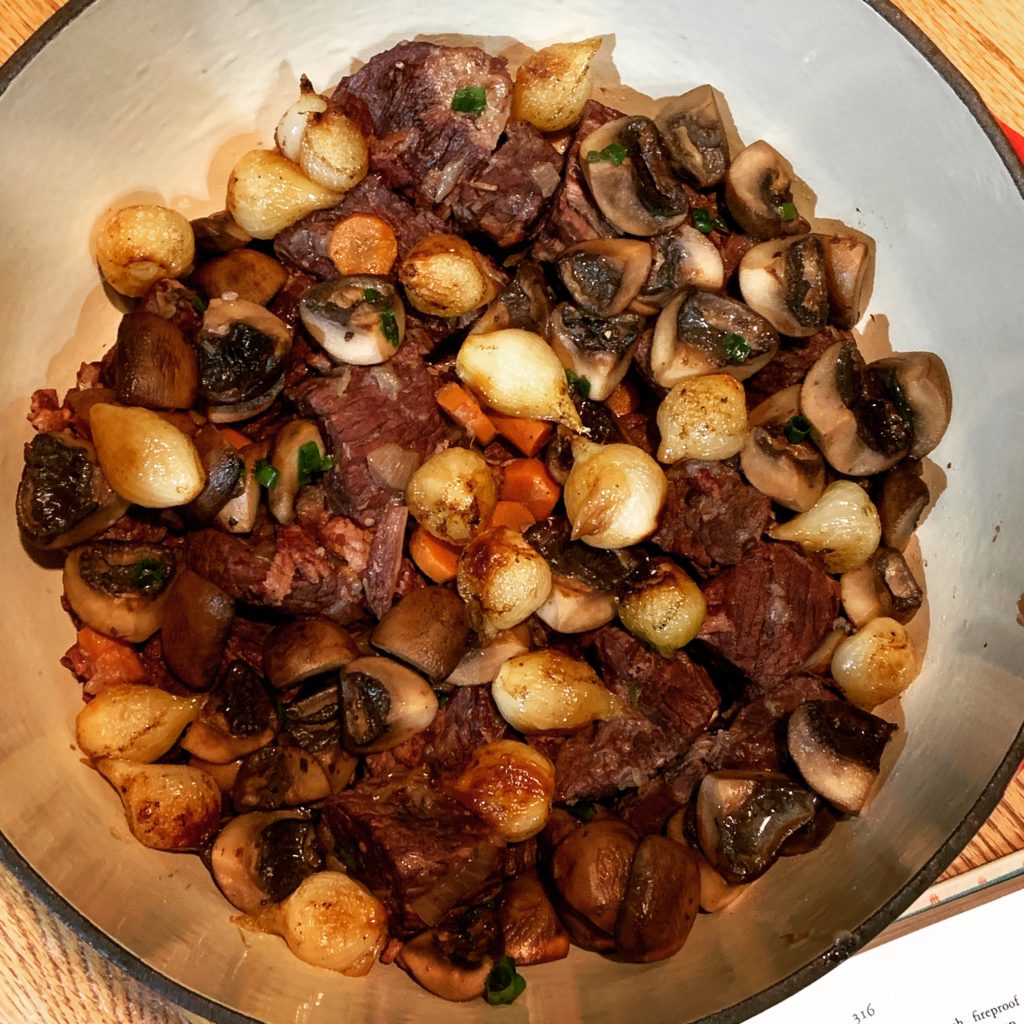 Julia recommends eating the stew with boiled potatoes, noodles or rice, and we ate it alongside parslied sweet potatoes, which added lovely color to the plate. Though I probably won't add this to our regular menu, I certainly am glad I finally overcame my excuses to make Julia's famous Boeuf Bourguignon. It's an experience and meal I won't forget.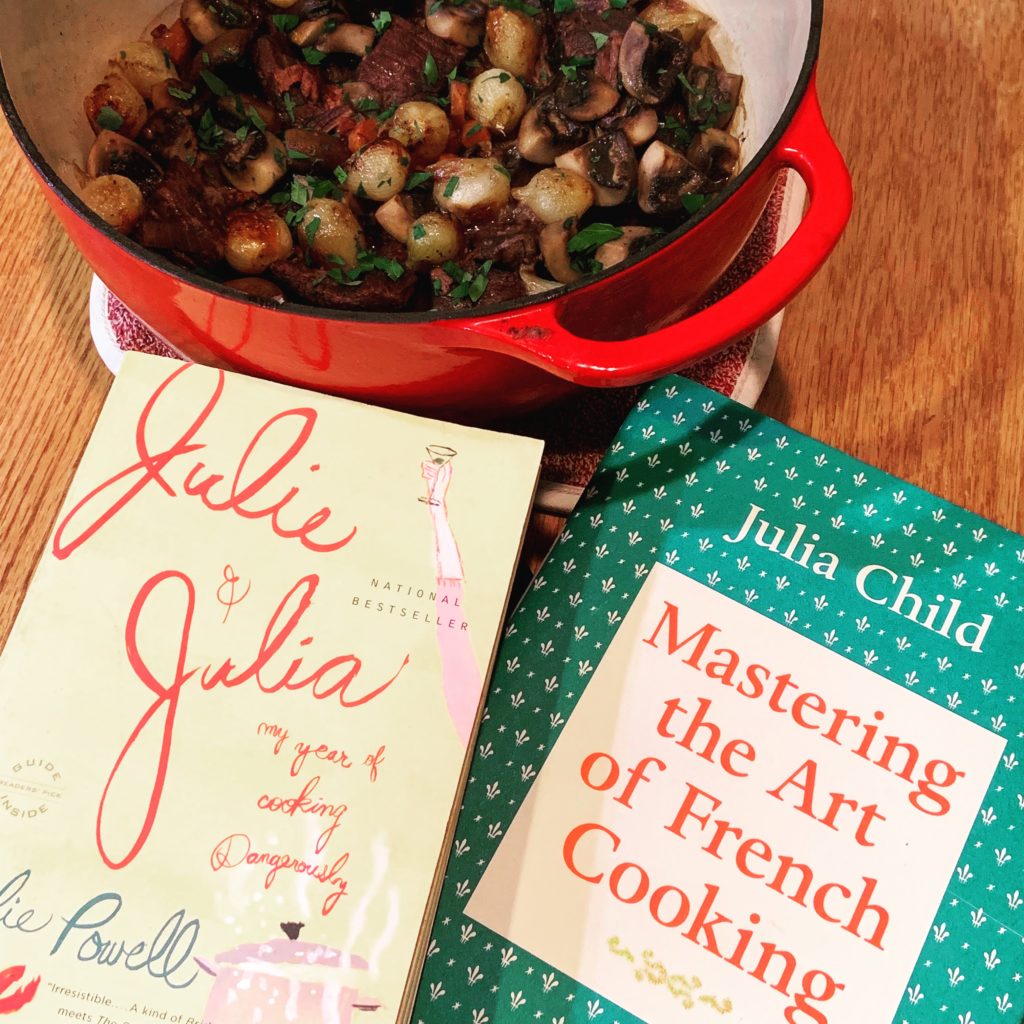 Boeuf Bourguignon
Ingredients
6

oz

chunk of bacon

or very thick cut bacon will do in a pinch

1

TBS

olive oil or cooking oil

3

lbs.

lean stewing beef cut into 2-inch cubes

such as Rump Pot Roast, Chuck Pot Roast, Sirloin Tip, Top Round or Bottom Round

1

carrot

sliced

1

onion

sliced

1

tsp

salt

¼

tsp

pepper

2

TBS

flour

3

cups

of a full-bodied, young red wine,

such as Chianti

2-3

cups

brown beef stock or canned beef bouillon

1

TBS

tomato paste

2

cloves

garlic

mashed

½

tsp

thyme

1

crumbled bay leaf

Brown-braised onions

recipe to follow

Sauteed mushrooms

recipe to follow

Parsley
Instructions
Remove the bacon rind, and cut bacon into lardons (sticks, ¼ inch thick and 1½ inches long). Simmer rind and bacon for 10 minutes in 1½ quarts of water. Drain and dry. (If you are using thick cut bacon instead of the chunk, do your best to remove the fatty long side of the bacon with a knife and keep that together as the "rind." Simply slice the remaining pieces of bacon into thin strips.)

Preheat oven to 450 degrees.

In a 9- to 10-inch fireproof casserole, at least 3 inches deep (I used my dutch oven), saute the bacon in the oil over moderate heat for 2-3 minutes to brown lightly. Remove to a side dish with a slotted spoon. Reheat the casserole until the fat is almost smoking before you saute the beef.

Dry the beef in paper towels; it will not brown if it is damp. Saute it, a few pieces at a time, in the hot oil and bacon fat until nicely browned on all sides. Add it to the bacon.

In the same fat, brown the sliced vegetables. Pour out the sauteing fat (if any remains).

Return the beef and bacon to the casserole and toss with the salt and pepper. Then sprinkle on the flour and toss again to coat the beef lightly with the flour. Set casserole uncovered in middle position of preheated oven for 4 minutes. Toss the meat and return to oven for 4 minutes more. (This browns the flour and covers the meat with a light crust.) Remove casserole, and turn oven down to 325 degrees.

Stir in the wine, and enough stock or bouillon so that the meat is barely covered. Add the tomato paste, garlic, herbs, and bacon rind. Bring to simmer on top of the stove. Then cover the casserole and set in lower third of preheated oven. Regulate heat so liquid simmers very slowly for 2½ to 3 hours. The meat is done when a fork pierces it easily.

While the beef is cooking, prepare the onions and mushrooms. Set them aside until needed.

When the meat is tender, pour the contents of the casserole into a sieve set over a saucepan. Wash out the casserole and return the beef and bacon (excluding the rind) to it. Distribute the cooked onions and mushroom over the meat.

Skim the fat off the sauce. Simmer sauce for a minute or two, skimming off additional fat as it rises. You should have about 2½ cups of sauce thick enough to coat a spoon lightly. If too thin, boil it down rapidly. If too thick, mix in a few tablespoons of stock or canned bouillon. Taste carefully for seasoning. Pour the sauce over the meat and vegetables.

To serve immediately, cover the casserole and simmer for 2-3 minutes, basting the meat and vegetables with the sauce several times. Serve in its casserole, or arrange the stew on a platter surrounded with potatoes, noodles or rice, and decorated with parsley.
Brown-Braised Onions
Ingredients
18-24

peeled white onions about 1 inch in diameter

also known as pearl onions

1½

TBS

butter

1½

TBS

oil

½

cup

of brown stock, canned beef bouillon, dry white wine, red wine or water

Salt and pepper

to taste

A medium herb bouquet: 4 parsley sprigs, ½ bay leaf, and ¼ tsp thyme tied in cheesecloth
Instructions
When the butter and oil are bubbling in a 9- to 10-inch skillet, add the onions and saute over moderate heat for about 10 minutes, rolling the onions about so they will brown as evenly as possible. Be careful not to break their skins. You cannot expect them to brown uniformly.

To bake them, transfer the onions and their sauteing fat to a shallow baking dish or casserole just large enough to hold them in one layer. Add the herb bouquet and liquid of choice. Set uncovered in upper third of a preheated 350-degree oven for 40-50 minutes, turning them over once or twice. They should be very tender, retain their shape, and be a nice golden brown. Remove herb bouquet.
Notes
If cooking alongside Beef Bourguignon, add to 325-degree oven in last 30-40 minutes of cooking. Once beef casserole is removed, increase temperature to 375-degrees and cook for an additional 10-15 minutes.
From: Julia Child's Mastering the Art of French Cooking
Sauteed Mushrooms
Ingredients
2

TBS

butter

1

TBS

oil

½

lb

fresh mushrooms, washed and well-dried

left whole if small, sliced or quartered if large

1-2

TBS

minced shallots or green onions

optional

Salt and pepper

to taste
Instructions
Place a 10-inch skillet over high heat with butter and oil. As soon as you see that the butter foam has begun to subside, indicating it is hot enough, add the mushrooms. Toss and shake the pan for 4-5 minutes. During their saute the mushrooms will at first absorb the fat. In 2-3 minutes, the fat will reappear on their surface, and the mushrooms will begin to brown. As soon as they have browned lightly, remove from heat.

Toss the shallots of green onions with the mushrooms. Saute over moderate heat for 2 minutes.
_______________
This post contains affiliate links. This does not increase the price you pay, but I may receive a small commission for any products you choose to buy. Purchases made through affiliate links help to cover my blogging costs. Thank you for helping to support The Hungry Bookworm! Full disclosure here.