Though Louise Miller wrote The City Baker's Guide to Country Living first, it is the second of her novels that I've read. Earlier this year, I picked up The Late Bloomer's Club and adored it, falling in love with the town of Guthrie (Stars Hollow flashbacks!) as well as her food-filled writing. The paperback cover makes it look perfect for winter reading, so I waited until my holiday break to get it from the library. It wasn't super winter-y, but it was a lovely read nonetheless!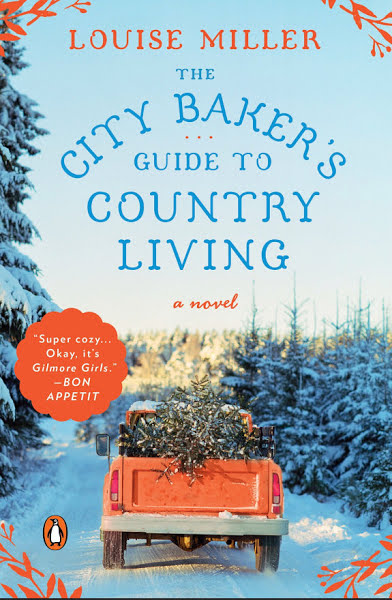 Olivia Rawlings, Livvy to a privileged few, is a talented pastry chef working at an exclusive dinner club in Boston. When her life there goes up in flames, she flees to the nearest haven -- a truck stop filled with delicious pies -- and onto Guthrie, Vermont, where her best friend Hannah convinces her to put down roots, even temporarily.

In need of a job and a place to stay, she accepts a job at the Sugar Maple Inn. The owner Margaret Hurley has high standards and is less than welcoming. But, as Livvy settles in, she makes some surprising connections and becomes fully immersed in small-town life. I didn't always love the plot, but it was a charming read from beginning to end. The novel is filled with mouth-watering food descriptions, a touch of romance, and unforgettable characters.

As a pastry chef, obviously Olivia is a talented baker (and as a baker herself, author Louise Miller is no stranger to the kitchen either). Her biggest test throughout her time at Sugar Maple Inn is whether or not she can bring home the blue ribbon in the annual apple pie contest. The pie is a constant throughout the story as Olivia tests and tests her recipe, trying to achieve perfection.

Lucky for us, Miller includes a recipe for this double crust apple pie in the back of the book. I couldn't wait to try it, and even though I typically fail at making my own crust, I knew I couldn't substitute store-bought this time. So, I started with the dough, which thankfully makes use of a food processor.

I threw all of the dough ingredients in, and set it spinning. Once it was the consistency of a coarse cornmeal, I knew it was ready.
I poured the mixture into a bowl and, one tablespoon at a time, added cold water until it was able to clump together. Then, I formed the dough into a ball, split it into two equal halves using my kitchen scale, and flattened them into discs. I covered them in cling wrap and put them in the fridge to rest.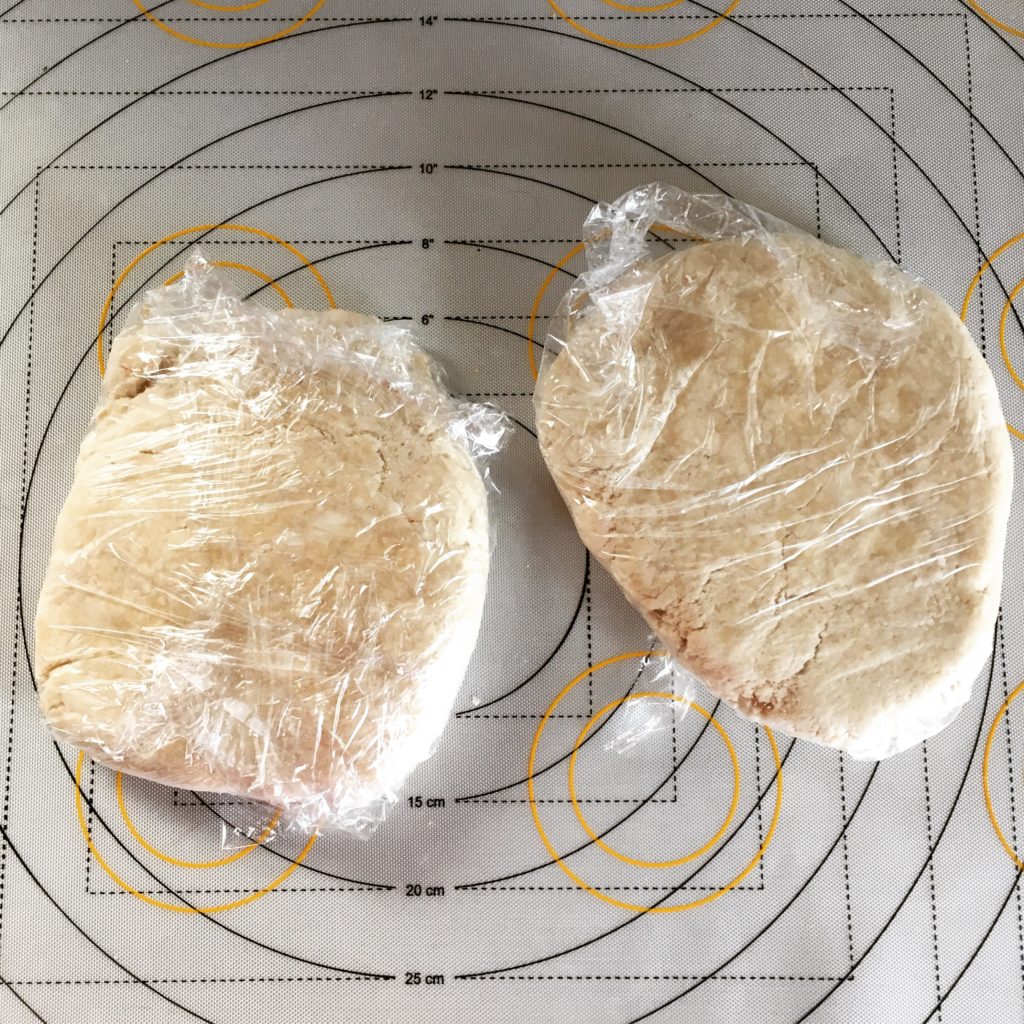 After they rested, I did my best to roll them out into large enough discs for my pie pan. It wasn't pretty and my hands were so covered in dough and flour that I didn't bother snapping a picture. Even though they were perfect, it all came together in the end -- so don't worry!

I put one of the discs into the pie pan and the other one a cookie sheet and popped both back into the fridge.

I preheated my oven to 400 degrees and started prepping my apples. I peeled them, cored them and cut them into slices. Once they were all ready, I pulled my dough back out of the fridge and left it on the counter while I sauteed the apples. I cooked them for about 10 minutes, until some of the began to soften and removed them into a large bowl using tongs (so the liquid would stay behind -- though I barely had any liquid in my skillet). Then, I tossed the apples with a mixture of sugar, cornstarch, cinnamon and nutmeg.

As suggested by the recipe, I brushed the inside of the crust in the pie pan with a beaten egg white, which I've learned from my recent watching of The Great British Baking Show helps to create a barrier and prevent a soggy bottom. Then, I poured in my apples, taking care to not include the liquid that had formed in the bowl. I covered it with my second crust, did my best to seal the sides and cut a few air vents in the top. I used a whisk to create a design on the edges, as I'm not great at crimping and I didn't quite have enough of the bottom crust to combine with the top for the crimps.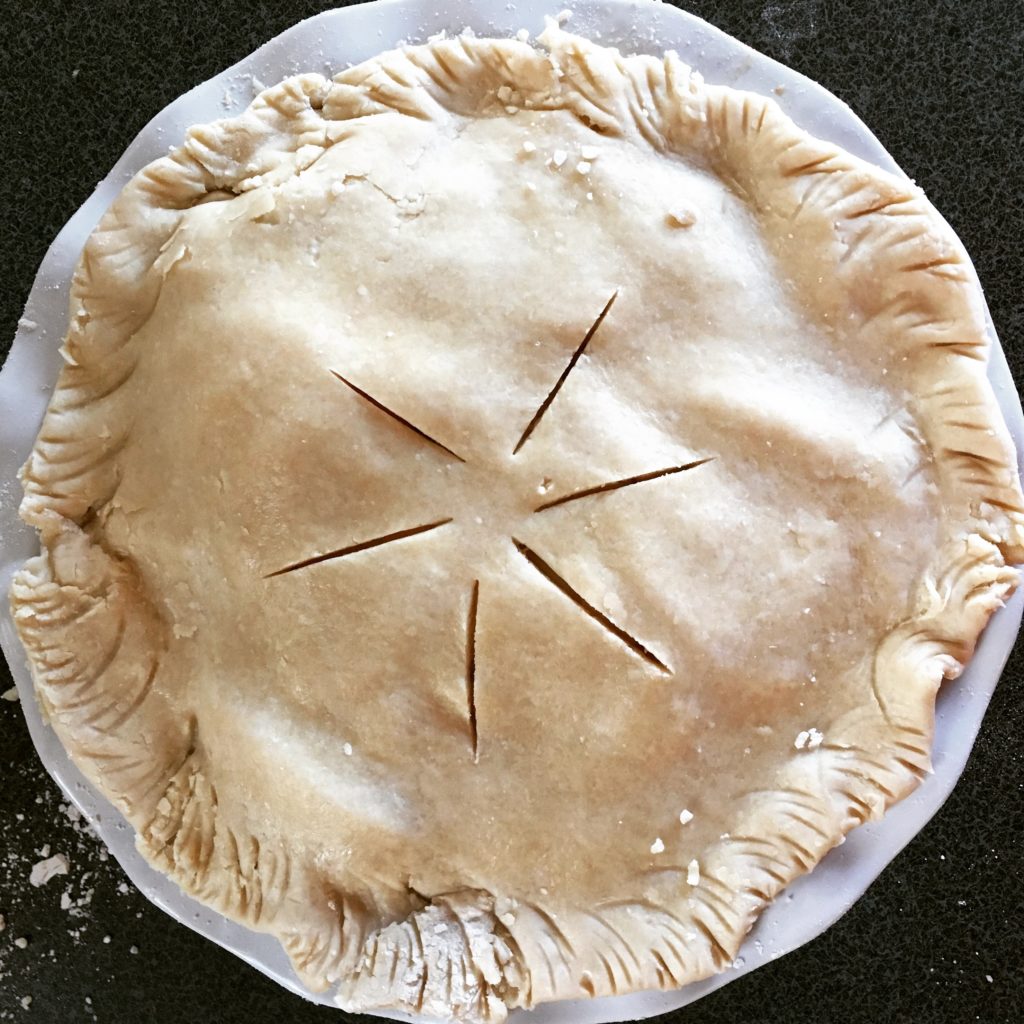 I let it bake for an hour, until it achieved a beautiful golden brown on top. It smelled divine.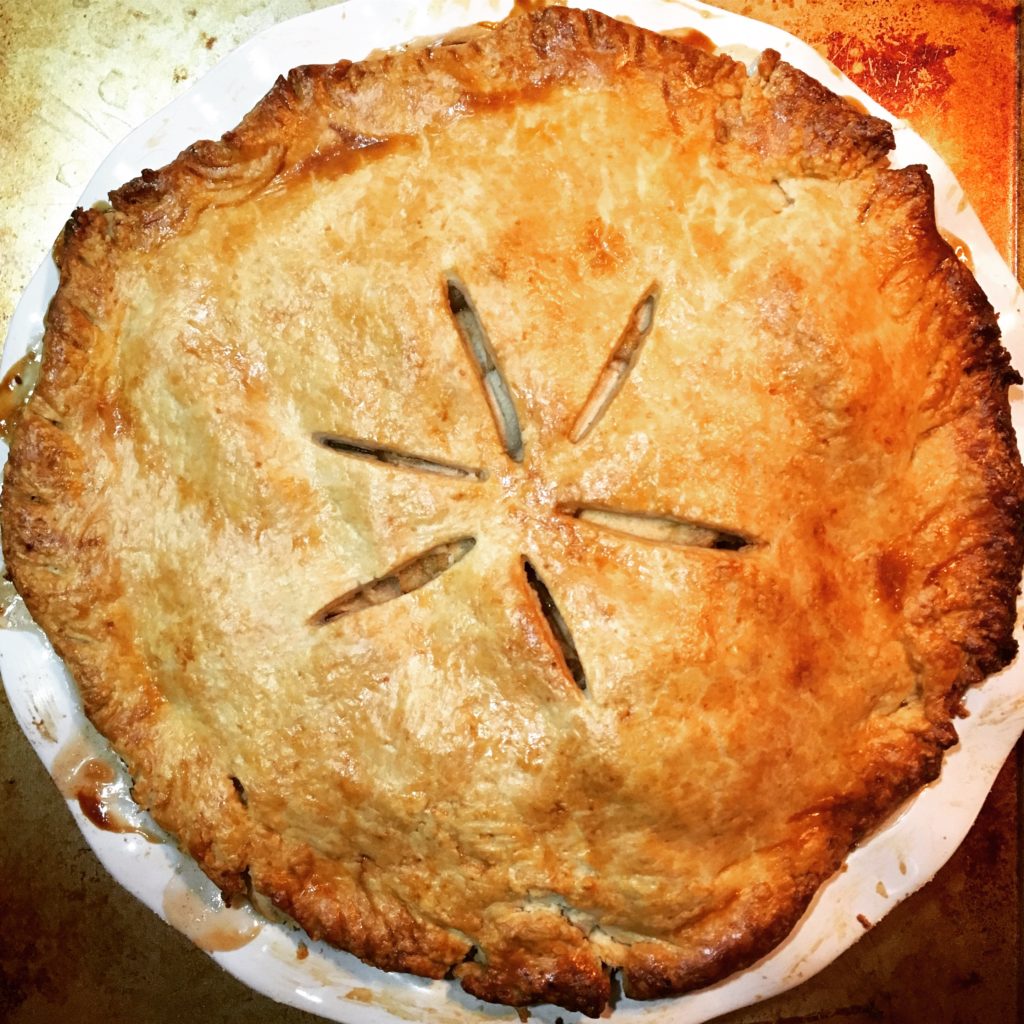 It was agony to let it cool entirely before we could eat it, but in all honesty, it was still a touch warm when we finally cut into it. I couldn't wait any longer. Thankfully, it held up beautifully, you could really see the layers of apples in each slice.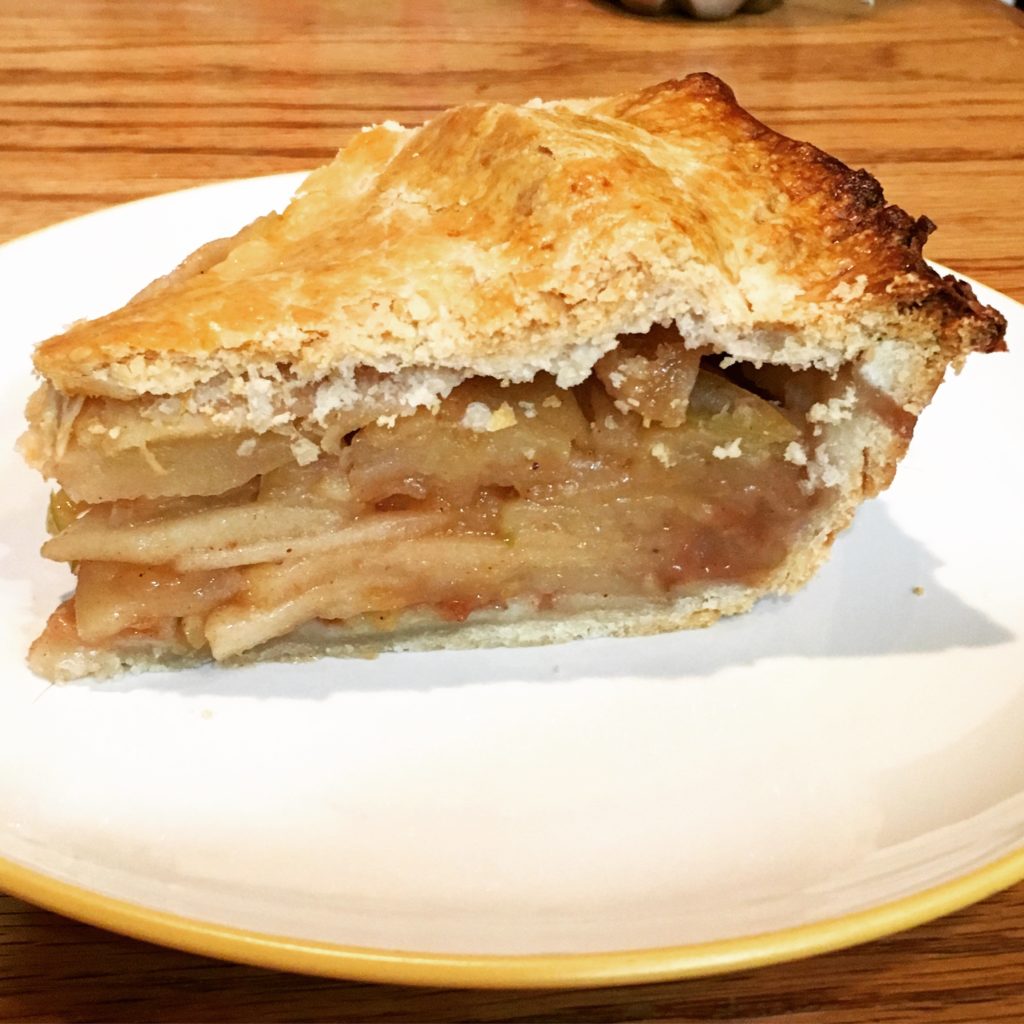 I'm not exaggerating when I say this is the quintessential apple pie. It tastes exactly like what I think of when I crave apple pie, and the texture of both the crust and filling was spot on. I will 100% be making this apple pie, and perhaps working on my appearance as I get more practice. 🙂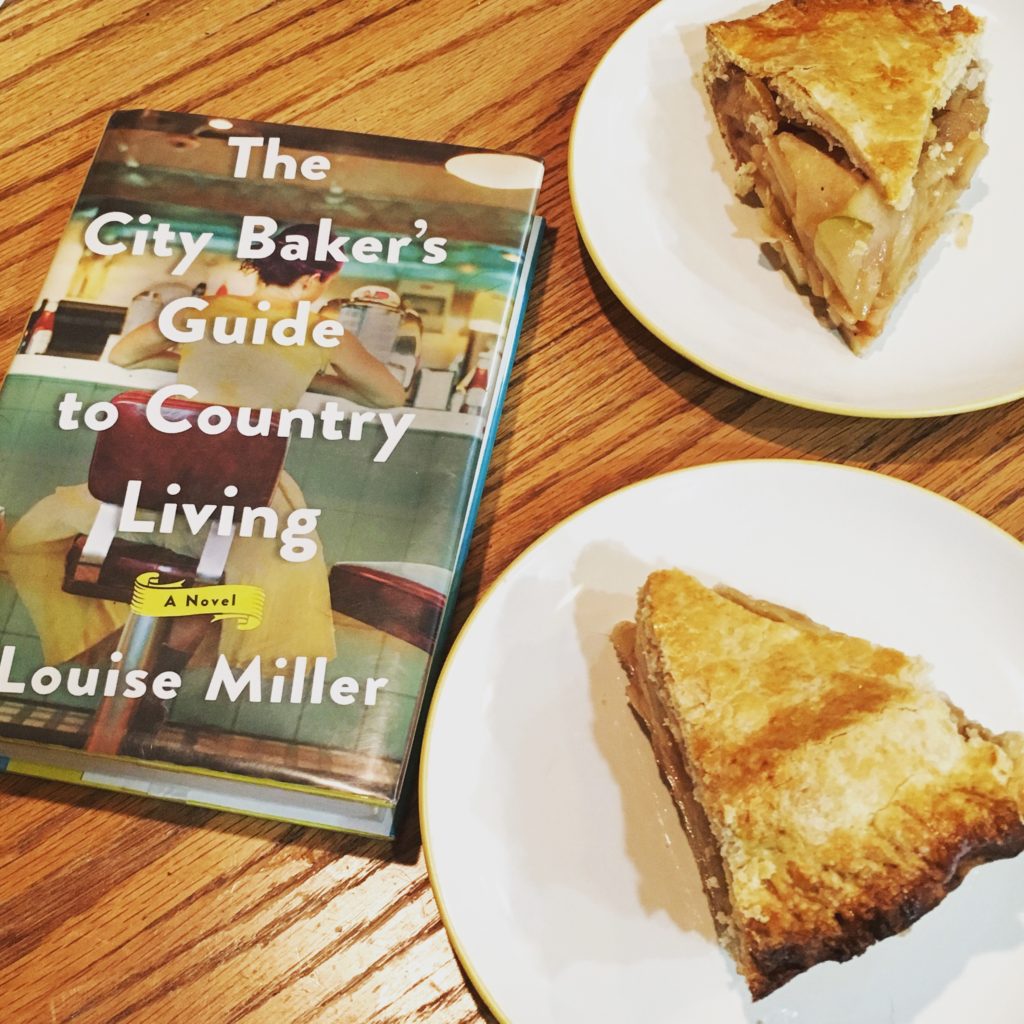 Double Crust Apple Pie
Ingredients
Double Crust Pie Dough
3

cups

all-purpose flour

1

tablespoon

sugar

1

teaspoon

salt

12

tablespoons

1½ sticks unsalted butter

3

tablespoons

solid vegetable shortening

like Crisco

6

or more! tablespoons ice water
Pie Filling
2

tablespoons

unsalted butter

4

pounds

apples [see notes]

peeled, cored and sliced into ¼-inch thick wedges

¾

cup

sugar

2

tablespoons

cornstarch

1

teaspoon

cinnamon

½

teaspoon

freshly grated nutmeg

1

egg white

for the crust bottom
Instructions
To make the crust:
In a food processor, pulse together the flour, sugar, salt, butter and vegetable shortening until the mixture looks golden and resembles coarse cornmeal.

Pour the flour mixture into the large bowl. Add the ice water one tablespoon at a time, lightly fluffing the mixture with your fingers. Add ice water to the mixture until the dough just begins to come together. (I always mix the water by hand so I have more control.) If you are not sure, try squeezing a little of the dough together in your hand. If it clumps, you are done.

Gather the dough into a ball, divide it into two pieces, then flatten the pieces into discs. Wrap the discs in plastic and put them in the refrigerator to rest for at least 1 hour.

Roll out the two pieces of pie dough [see notes]. Use one dough disc to line a 9" deep-dish pie pan. Place the second rolled-out dough on a cookie sheet. Place both discs back in the refrigerator to rest.
To make the filling:
Preheat the oven to 400 degrees F. Make sure there is enough room for a tall pie -- you may need to remove a rack.

Remove the dough discs from the refrigerator and set aside, while you peel, core and cut the apples.

In a large skillet, melt the butter. When the butter is sizzling, toss in the apples and stir so they are coated in butter. Cook for about 10 minutes over medium heat, stirring occasionally. If you do not have a pan large enough, you can do this in two batches.

Remove the apples from the skillet (but leave the liquid behind) and put them in a large bowl. Toss the apples in the sugar, cornstarch, cinnamon and nutmeg. Set aside.

Brush the inside of the bottom crust with the beaten egg white. Pile the sauteed apples into the crust, then cover with the remaining dough disc. Trim the crusts, then pinch them together. Using your thumbs and index fingers, crimp the edge into a pretty pattern [or make whatever pattern around the edge you like]. Slice air vents into the top crust. If you like the crust to look shiny, brush with an egg wash; if you like it brown and soft, brush with milk; or you can leave it plain.

Turn the oven down to 375 degrees F. Place the pie pan on a cookie sheet, and bake until the crust is a deep golden brown and the filling is bubbling, about 50-60 minutes.

Let cool completely before serving.
Notes
From: Louise Miller in The City Baker's Guide to Country Living
For apples, Louise recommends a mixture of mostly Cortland and McIntosh apples, with 1 or 2 Granny Smith thrown in for tartness and texture. I was unable to find Cortland or McIntosh apples and went with a mixture of Golden Delicious and Pink Lady, both of which the signs in the grocery story said would be "good for baking." Combined with 2 Granny Smith, I thought the flavor and texture of the pie was wonderful.
Per Louise, there are two main tricks to rolling out pie dough: One is not use too much flour -- you can always add a bit more if the dough is sticking to the table, but you can't take it away. The other is to never roll the dough out using a back-and-forth motion. Always work from the center and roll out. That will keep you from working the gluten too much.
This post contains affiliate links. This does not increase the price you pay, but I may receive a small commission for any products you choose to buy. Purchases made through affiliate links help to cover my blogging costs. Full disclosure here.