Whereas years past have seemed to be filled with WWII-centric historical fiction, I don't think I've read a single book about it this year -- until The Alice Network. Kate Quinn's novel was a recent book club selection, and I was excited about it because I also happened to have a newly-purchased used copy at home. Unfortunately, I waited too long to start the 500-page monster and was still 100 pages short when it came time for our book club meeting. Still, despite some spoilers during our discussion, I couldn't wait to finish the story. (Don't worry, there are no spoilers here!)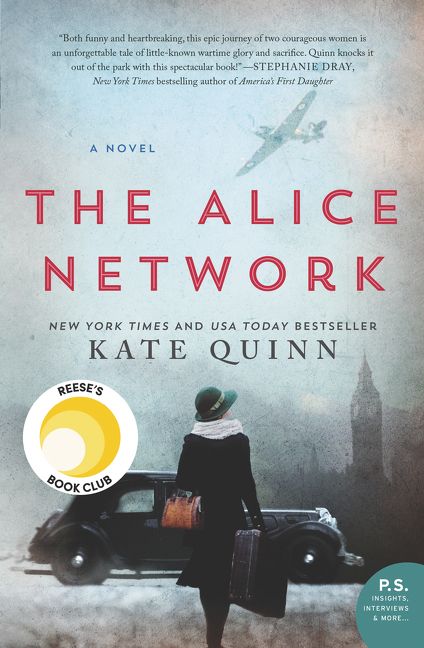 The Alice Network follows two storylines -- one during WWI (the mid- to late-1910s) and the other just after WWII ends. Both feature uncertain women who find themselves, their strength and their courage over the course of the story. Eve Gardiner is a stuttering typist when she's recruited to become a spy, part of the so-called "Alice Network," and go undercover as a waitress in German-occupied France. Charlotte St. Clair, more often called Charlie, is an American who travels to Europe after WWII to take care of a "problem" and find her missing cousin.
Eve's story is very much based on actual characters in history and was absolutely fascinating. (Make sure to read the Author's Notes in the back for the details.) As a spy, her life was on the line and the stakes were high. In Eve's chapters, Kate did a wonderful job bringing the history to life and telling a compelling story of brave women who go against expectations.
Charlie's story seemed to be almost entirely fictional, and though I enjoyed this half as well -- partially because Eve was often present in her timeline as well -- I thought her chapters paled in comparison. Still, her chapters were a bit more relatable. I ultimately chose a recipe from her sections of the book, and I think she would approve of my choice.
Charlie often reminisces about a day she and her cousin got left at a restaurant in the country as children. While waiting for their families to come back for them, they enjoyed "thick sandwiches of goat cheese and prosciutto." When planning her future, Charlie longs to open a similar cafe with goat cheese sandwiches on the menu.
I opted for a more delicate, open-faced version of the combination, one that would be perfect as an appetizer or as part of a summer picnic: Goat Cheese and Prosciutto Crostini. The best part? It's super easy to make.
I started by cutting a baguette (about half of it, actually, because it was so large) into a dozen ½-inch slices. I brushed the slices with olive oil and sprinkled them with a little salt, and then popped them into the oven until golden brown, about 10 minutes.
While those were toasting, I gathered the rest of my ingredients. Note that the goat cheese should be at room temperature when you start assembling.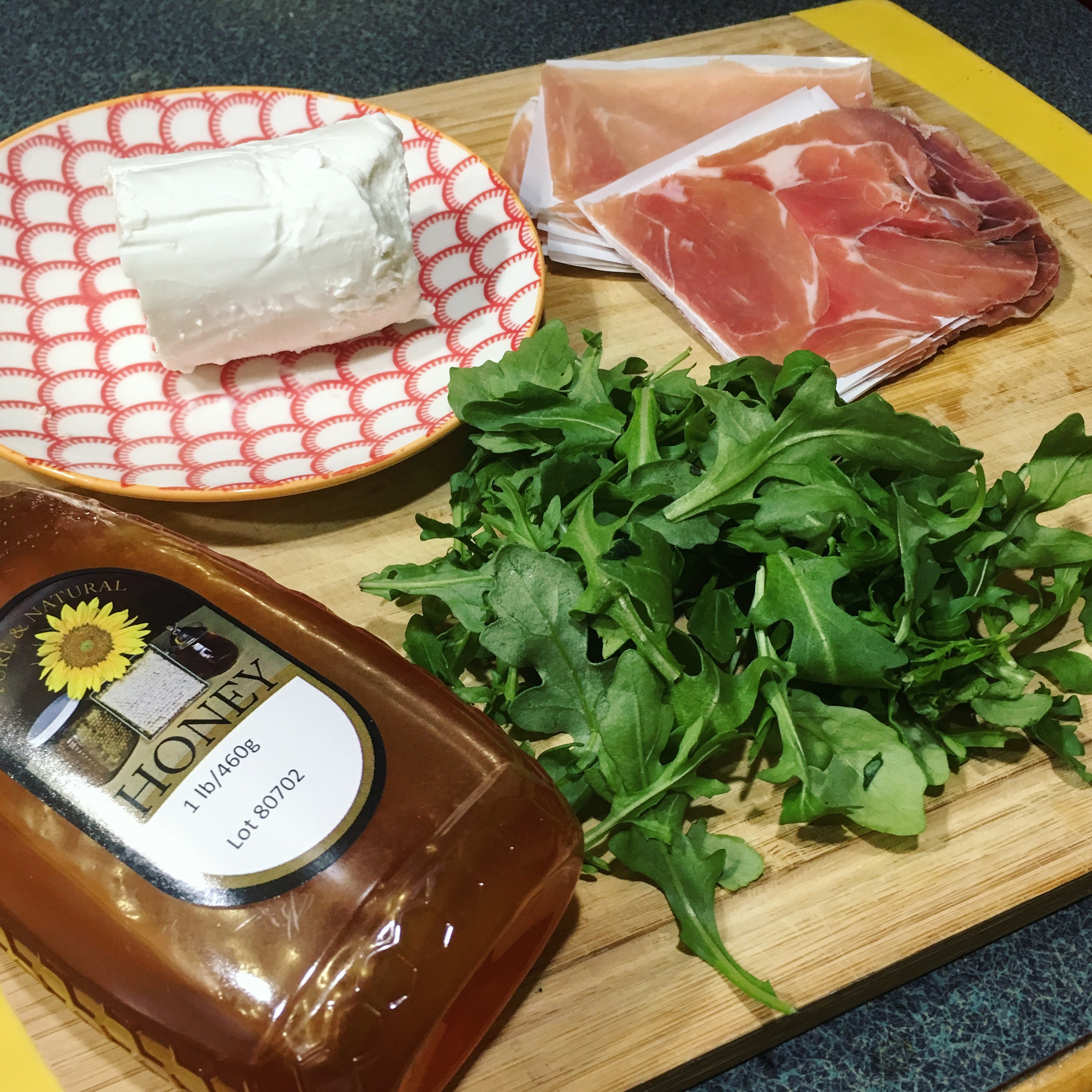 Then, I started building my crostini. First, I spread a generous portion of goat cheese on the toasted baguette (about a third of an ounce, which often was more than enough).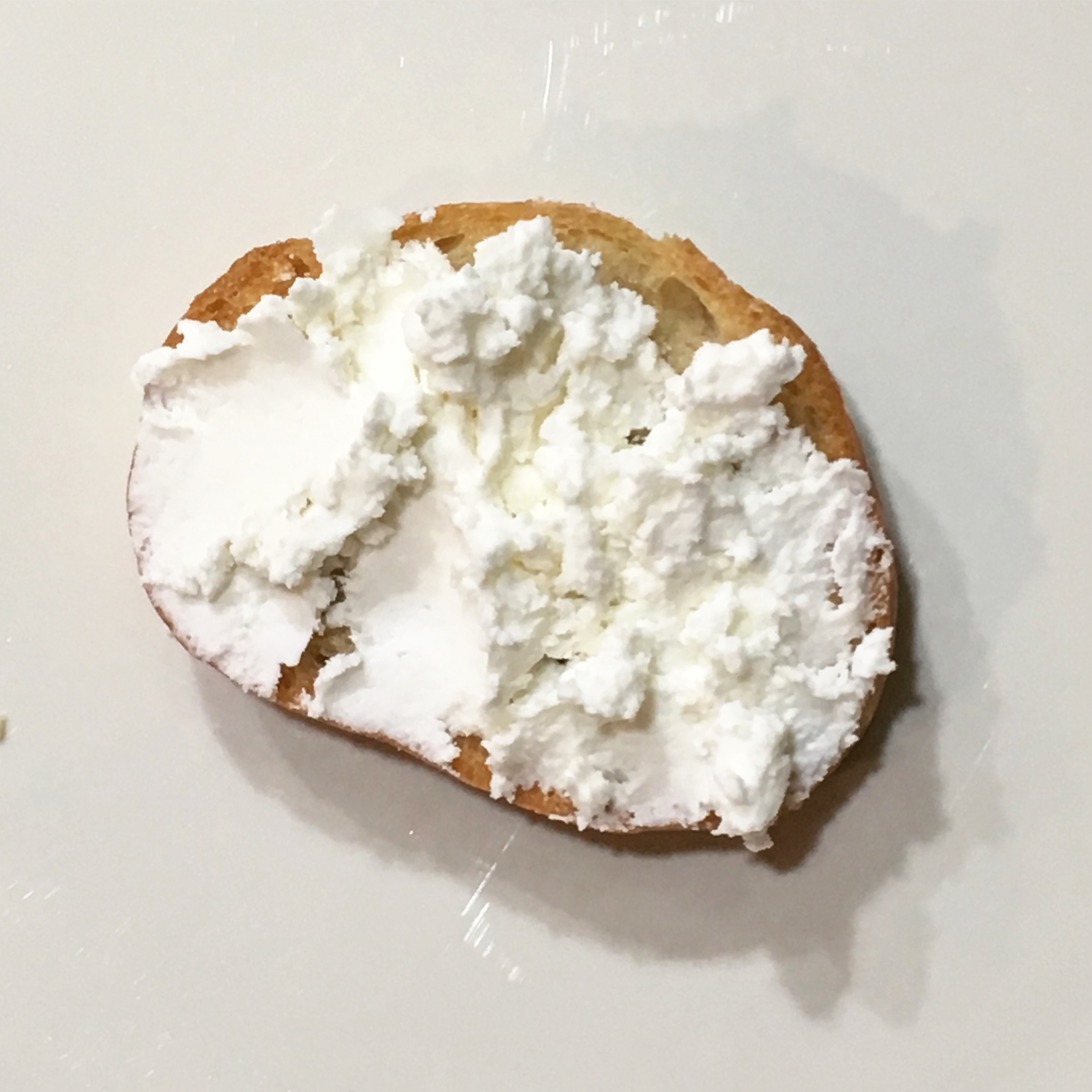 On top of that, I put a little honey. I found the recommended tablespoon to be too much, so I just eyeballed it. You can also use marmalade instead, if desired.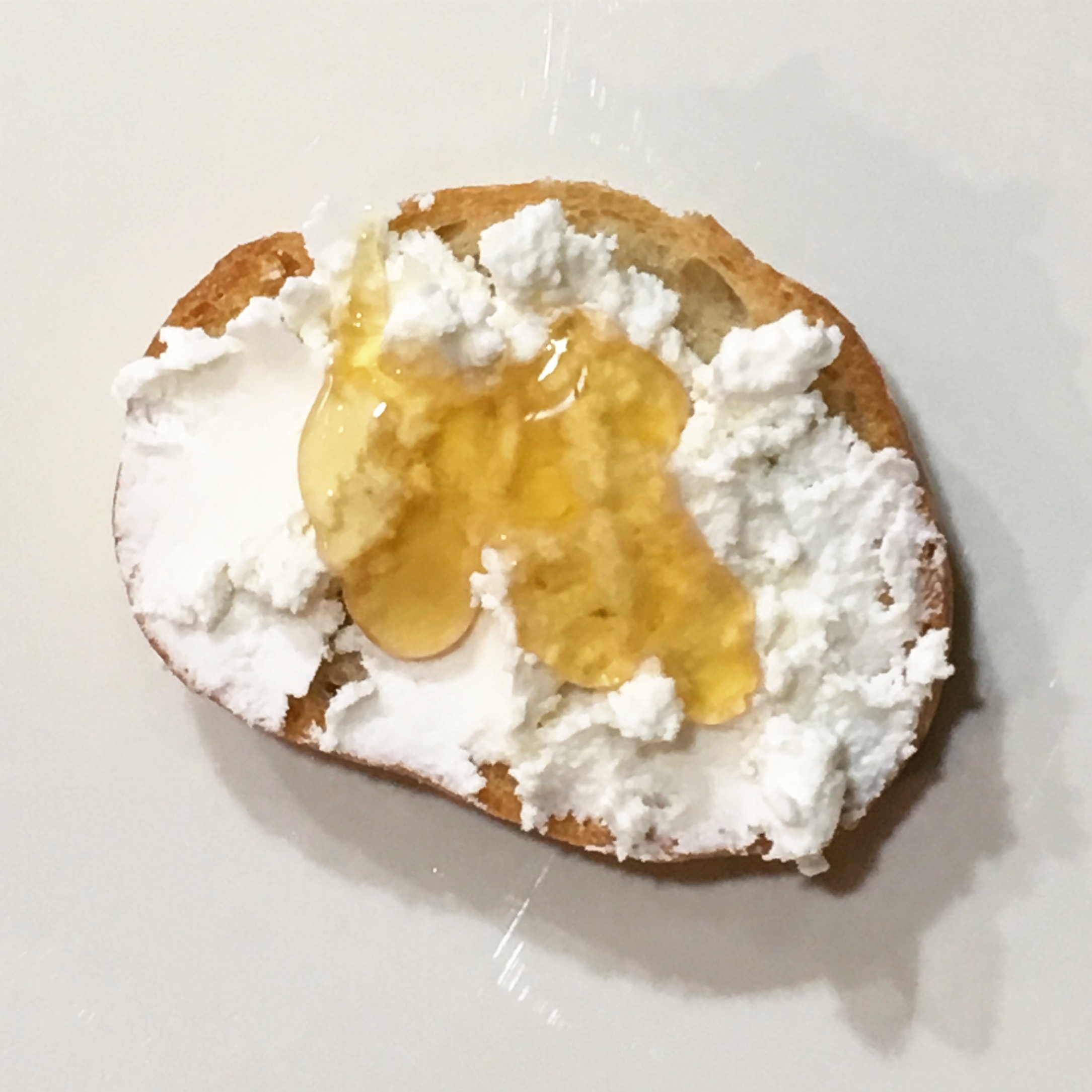 I placed the prosciutto on top of the honey and goat cheese.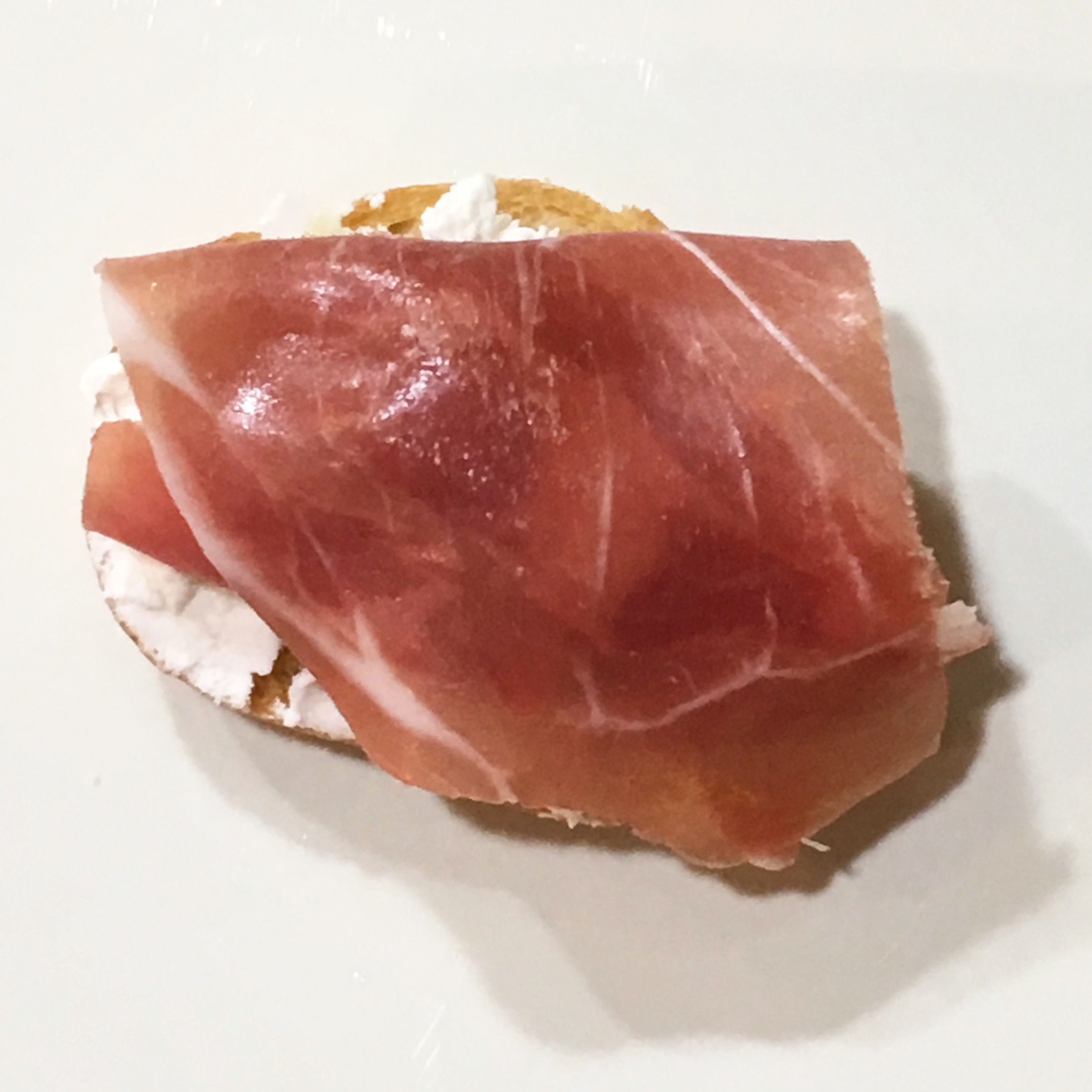 And finally the arugula made the final product.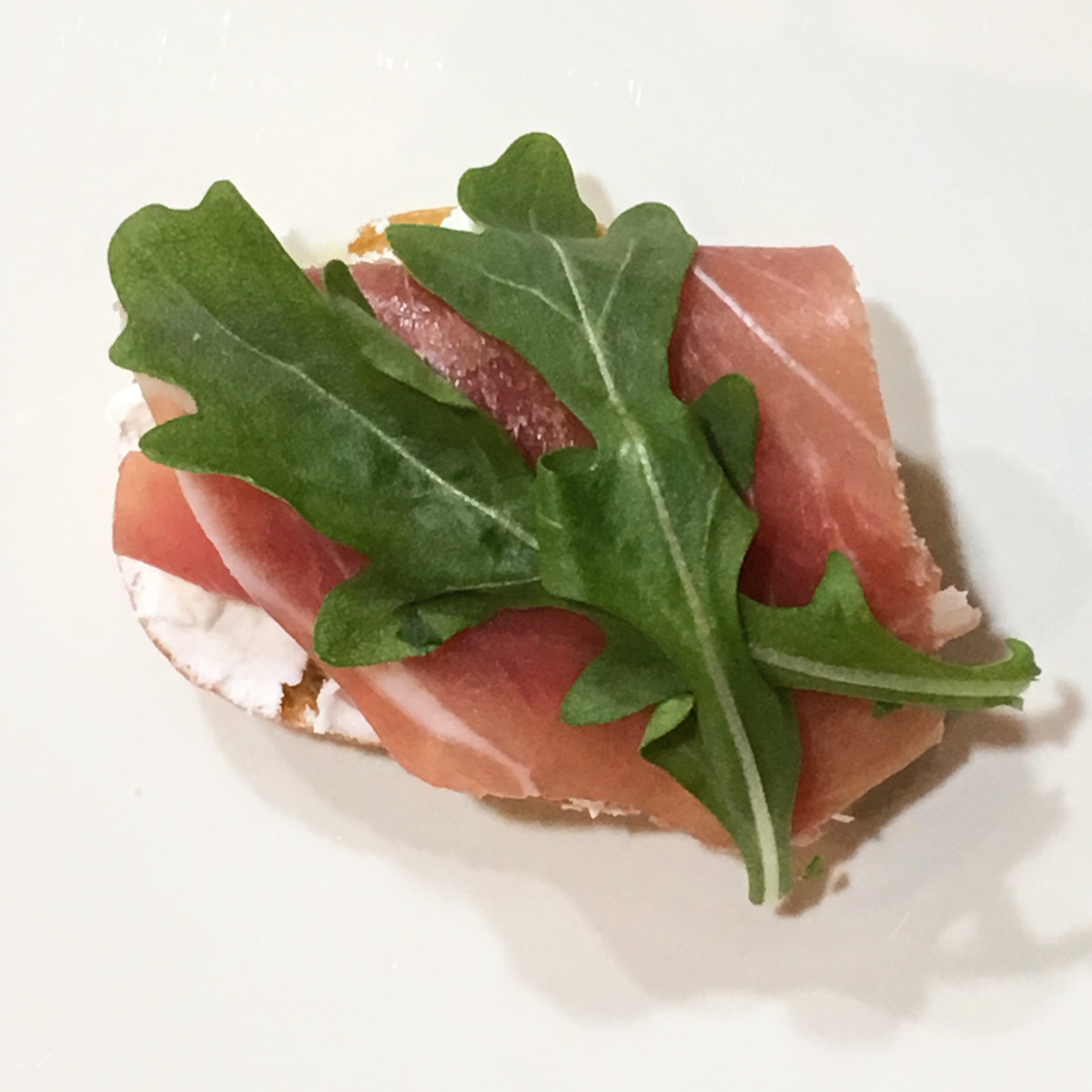 These little bites were delicious! No wonder Charlie couldn't stop talking about the combination of goat cheese and prosciutto -- they definitely make an impression.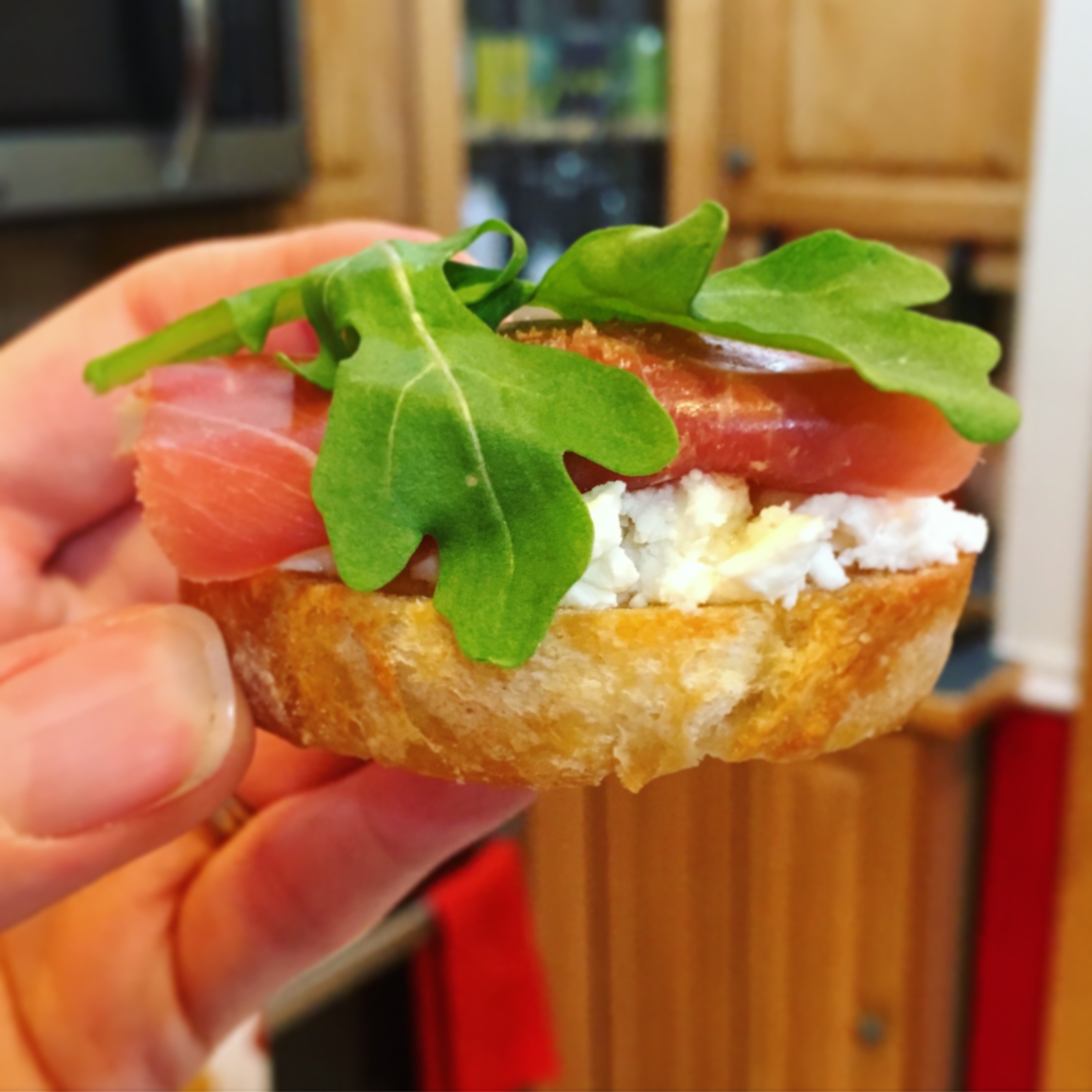 Goat Cheese and Prosciutto Crostini
Ingredients
1

fresh baguette cut into 12 slices

1/8

cup

olive oil

Sea salt or kosher salt

4

ounces

goat cheese plain

at room temperature

12

tablespoons

marmalade or honey

6

slices

prosciutto each cut in half

12

fresh arugula leaves
Instructions
Preheat oven to 375 F degrees.

Slice twelve 1/2-inch slices of bread from the baguette. Place on a baking sheet, and brush generously with the olive oil. Sprinkle a little salt on each slice. Bake for about 10 minutes, or until crisp and slightly golden. Remove from oven and cool slightly.

Spread some goat cheese on each crostini. Spread about a tablespoon marmalade or honey on top of the goat cheese.

Fold the half slices of prosciutto and place on top of each crostini.

Lay a fresh arugula leaf (or two) on top of each crostini. Serve!
This post contains affiliate links. This does not increase the price you pay, but I may receive a small commission for any products you choose to buy. Purchases made through affiliate links help to cover my blogging costs. Full disclosure here.