I decided to pick up The Book of M by Peng Shepherd after hearing about it on a podcast. The story of a post-apocalyptic world where people inexplicably lose their shadows intrigued me. The novel is told from multiple points of view, each character introduced with impeccable timing and purpose.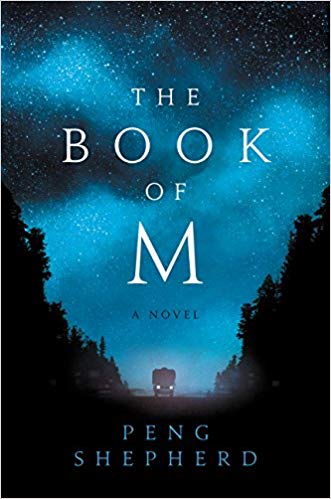 First, we meet Ory who is living with his wife Max in an abandoned resort where they set up camp when the first shadowless appeared. A little later, we meet Max who has lost her shadow and wanders away from their home. A mysterious character who has many names shares his experiences starting with when he first lost his memory - not by losing his shadow, but due to a traumatic brain injury.  
For the whole first half of the novel, I was convinced I would love it. It was easily shaping up to be a 5-star read, and I was excited. We learn about "patient X" or the first person to lose his shadow in the middle of an Indian market. We witness the spreading of shadowlessness (though a cause seems unknown). We are horrified to find out that when you lose your shadow, you also quickly lose your memory and eventually your ability to function.
It becomes clear that Forgetting isn't just about memory loss and has far-reaching effects. We watch as society begins to self-destruct, leaving an entirely new world behind. It's terrifying and genius storytelling.
Then, inexplicably, it loses the glue that was holding it together and goes in several confusing directions. The last half felt long and slow, but I kept going because of the amazing start -- I thought it would get better. It didn't get worse. It ended "just okay," though I was particularly upset by the last couple of chapters (and the introduction of our novel's namesake "M").
If you love dystopian stories or post-apocalyptic fiction, I'm sure you'll find something to enjoy here. Lots of readers give this book 4- or 5-stars. As a 3-star reviewer, I'm definitely in the minority. Peng created a unique and thought-provoking story. She's a beautiful writer, and I absolutely look forward to seeing what else she comes out with.
As in most end-of-the-world novels, food is scarce. I didn't expect to find a food I could make that was truly book-inspired, but I was surprised to come across it early on: mint chocolate chip ice cream.
When shadowlessness is still new and the world hasn't yet collapsed into chaos, Max and Ory's resort is full of people and leftovers. They are doing their best to conserve, but when the power goes out, it's time to finish the ice cream before it melts. Each person gets their own gallon, and Max's favorite flavor is mint chocolate chip. When it's gone, she can't help but cry, chastising herself for not savoring it more.
Mint chocolate chip is one of my favorite flavors too. I haven't attempted to make it myself because Trader Joe's makes literally the best mint chocolate chip ice cream in the world, and I didn't think I could top that. Still, it was worth a try!
I found a recipe from Sustainable Cooks for a creamy mint chocolate chip ice cream (TJ's is amazingly creamy) and set to work. First, I rinsed and dried my fresh mint.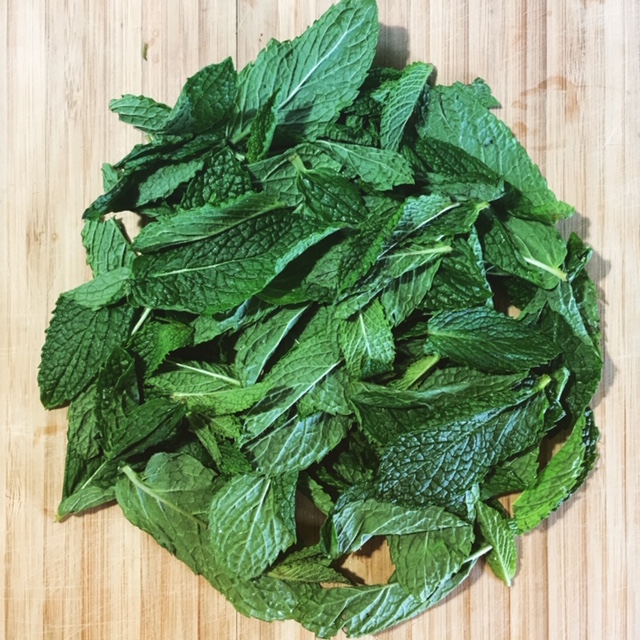 Then, I whisked 6 eggs yolks in a heat-proof bowl. On the stove, I added sugar, milk and the mint leaves to a large saucepan and heated the mixture until the sugar dissolved.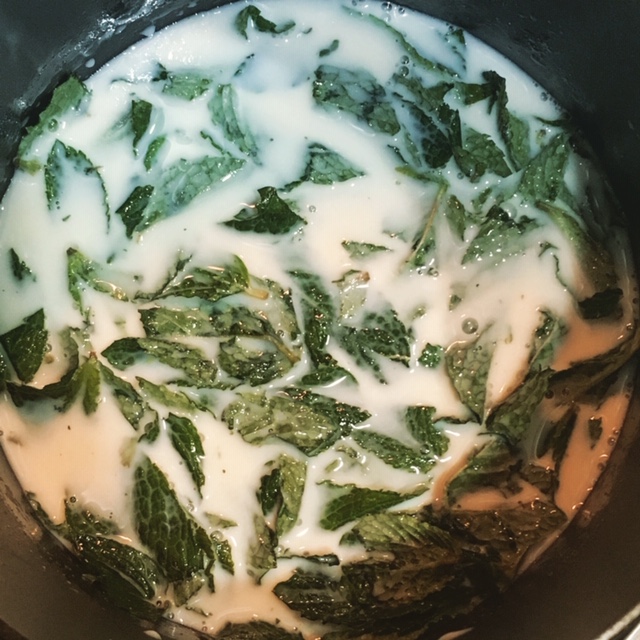 I used a little of the milk/sugar mixture to temper the egg yolks before adding them to the saucepan on the stove. I whisked to incorporate and heated through for a couple of minutes.
Then, I poured the mixture through a sieve into a bowl (to capture the mint leaves) and put it in the fridge to chill.
Once it was cold, I added it to my ice cream machine and set it for about 20 minutes. Meanwhile, I chopped my dark chocolate into thin slivers/chunks.
When the ice cream was almost ready, I attempted to carefully pour the chocolate into the mixture (and made a mess anyway).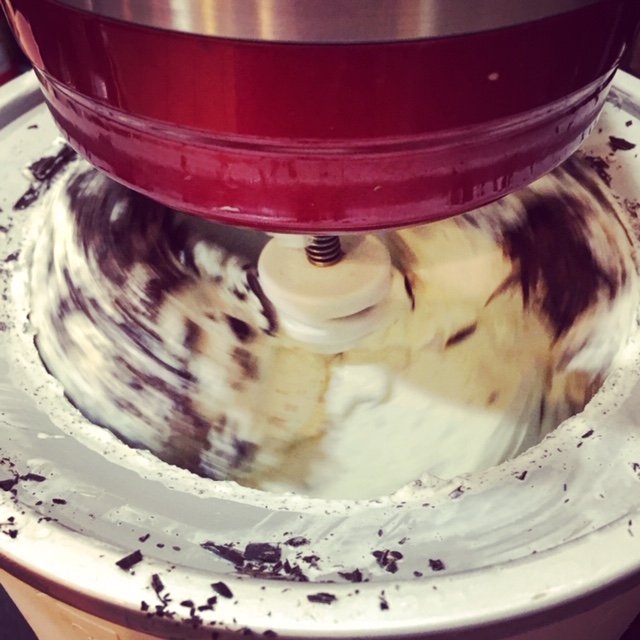 I let it churn for another couple of minutes before stopping it. The ice cream had to freeze for a few hours before we were able to dive in.
I have to say I wasn't a huge fan of the mint leaves -- it imparted a bit of a grassy flavor at the beginning of the first bite. The mint flavor itself was quite nice and the ice cream was both minty and creamy. The chocolate slivers were perfect; there was chocolate in almost every bite. If I make this again, I would most likely use the mint extract.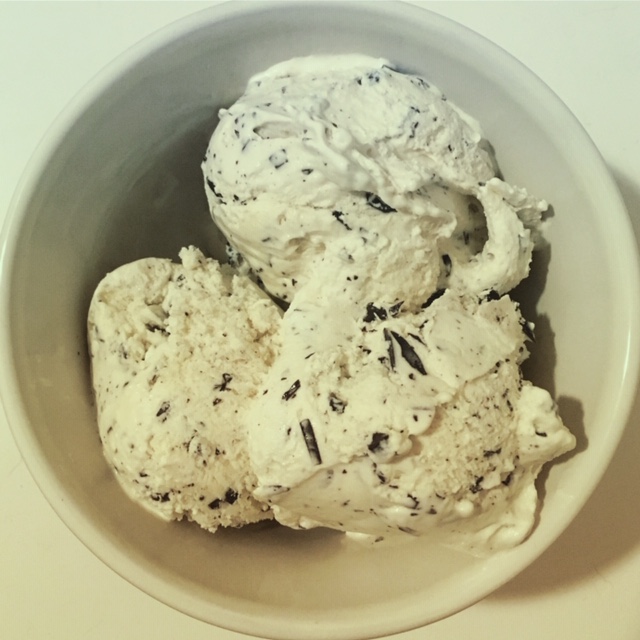 Still, it was delicious, and I'd be sure to savor every bite if it was the last time I'd ever eat ice cream again.
Creamy Mint Chocolate Chip Ice Cream
Ingredients
2

cups

heavy cream

1¼

cups

whole milk

6

egg yolks

room temperature

¾

cup

sugar

⅔

cup

fresh mint leaves, packed

or 1 tsp of mint extract

½

cup

chopped chocolate or mini chocolate chips
Instructions
Wash and lightly dry your mint leaves.

Put the egg yolks in a heat-proof bowl, and whisk until well-combined.

In a medium-sized pot, combine whole milk, sugar, and mint leaves over medium heat until the sugar has dissolved. You really want to "bruise" the mint up. (If not using mint leaves, just combine milk and sugar. Extract will be added later.)

Take 1/3 cup of the sugar/milk mixture (try to keep it free of the mint leaves), and slowly, very slowly, dribble the hot mixture into the egg, whisking very quickly the whole time.

Return the egg/milk mixture to the pot, and whisk to incorporate. Cook for an additional 1-2 minutes, making sure to not let the mixture boil.

Set up a fine mesh sieve over a heat-proof bowl. Pour the contents of the pot through the sieve. Add the heavy cream to the mixture in the bowl, and stir well. Put the bowl in the fridge for 6 hours, or until completely cold.

If you are using mint extract, add it here before putting it into the ice cream machine. Taste and add more extract if needed.

With your ice cream maker running, add the base to the machine, and churn until it starts to resemble ice cream. Add the chocolate to the mixture, and continue to churn until thick and creamy.

Remove the ice cream from the machine and put it in a freezer-proof container with a lid. Freeze for at least 2-4 hours before serving.
This post contains affiliate links. This does not increase the price you pay, but I may receive a small commission for any products you choose to buy. Purchases made through affiliate links help to cover my blogging costs. Full disclosure here.