Good Morning, Midnight is a low-key post-apocalyptic novel. Augie is an aging but brilliant astronomer who ends up stranded in the Arctic, choosing to stay when everyone else flees because of "war rumors." He never hears from them again. In space, Sully is the communications specialist aboard the Aether, which is heading back from a mission to Jupiter. As they get closer to home, it becomes worrisome that they're unable to re-establish communication with Earth.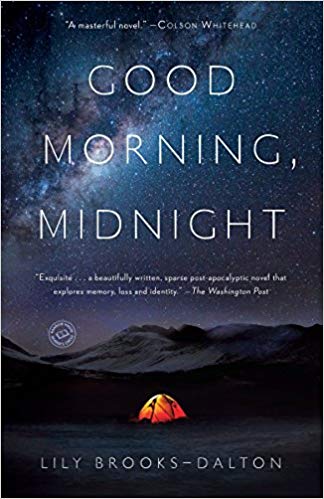 I didn't love this book as much as I expected to, but it certainly had gorgeous elements. Lily Brooks-Dalton's writing was vivid and imaginative. I could picture Sully's living quarters and appreciated the description of life in space. I could feel the cold as Augie explored the frozen world around him.
I hoped for more clues as to what happened to everyone who wasn't in the Arctic or in space; we get absolutely nothing in the way of explanation. The book is mostly silence, with a lot of inner monologue and soul-searching. Its characters are lonely and it's lacking any real action-oriented plot. Though I will admit, the conclusion was unexpected (in a good way). It's probably best consumed as a 1- or 2-sitting read.  
Honestly, I wouldn't mind seeing it turned into a movie. A good script could use Brooks-Dalton's story as inspiration, and the gorgeous cover makes for the perfect cinematic backdrop.
Given the settings, I didn't expect there to be much to work with by way of food mentions, but the astronauts (and Augie) ate surprisingly well at times. In the ship, they even had fresh vegetables from an aeroponic garden. At one point, a crew member makes a stew using "canned tomatoes, potatoes, kale, and frozen sausage, which in the end tasted quite good." I was very impressed at the ability to whip something like this up in space, and so I decided to make it as well.
I found a recipe from Simply Recipes that uses chickpeas instead of potatoes, but it looked absolutely delicious. I can definitely see why the crew would find it comforting.
First, I browned my Italian sausage in my cast iron Dutch oven, which is my favorite pot for making soups. (Any large pot will do.)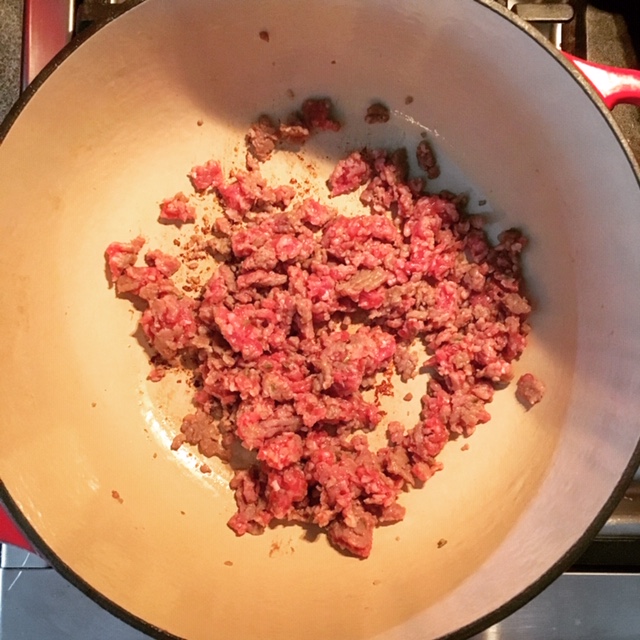 Once the sausage was browned, I removed it from the pot and set it aside, adding a little olive oil and the sliced onions.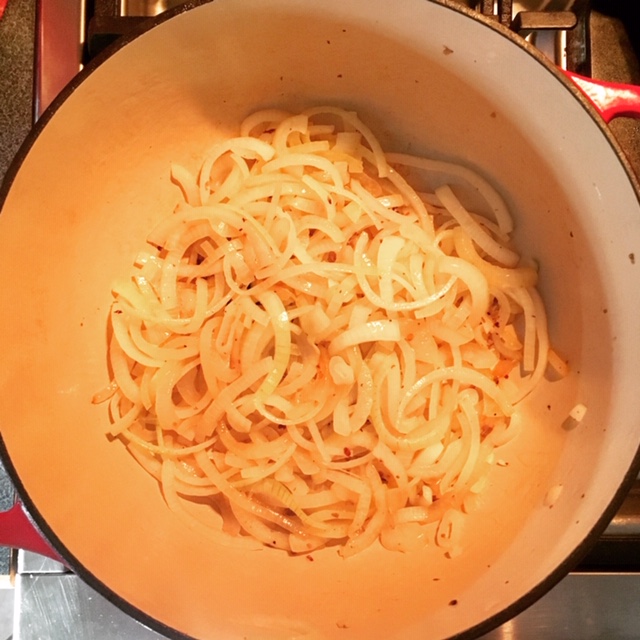 I let them cook until translucent, about 8-10 minutes, before adding the garlic and the rest of the ingredients (except the kale, chickpeas and sausage).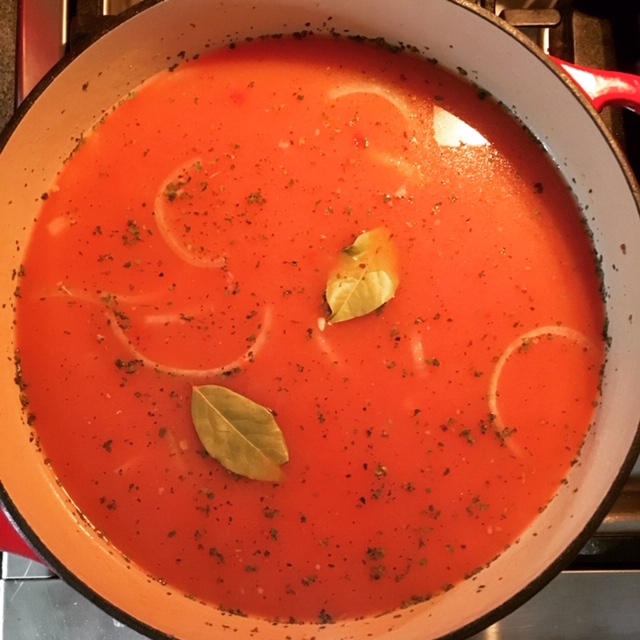 I brought the soup up to a simmer and let it cook for about 15-20 minutes. Then, I added the sausage, chickpeas and kale, stirring them in and allowing them to cook for another 20 minutes or so, until the kale was tender.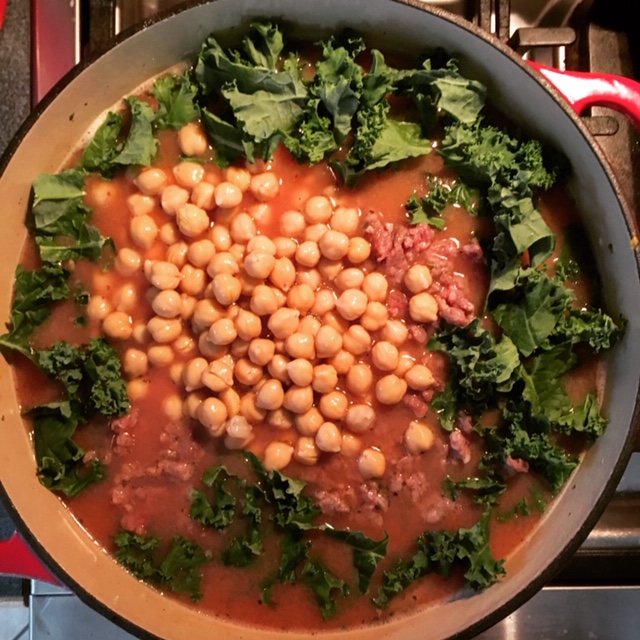 In the end, I had a soup that was both healthy and hearty -- absolutely perfect for a cool fall day.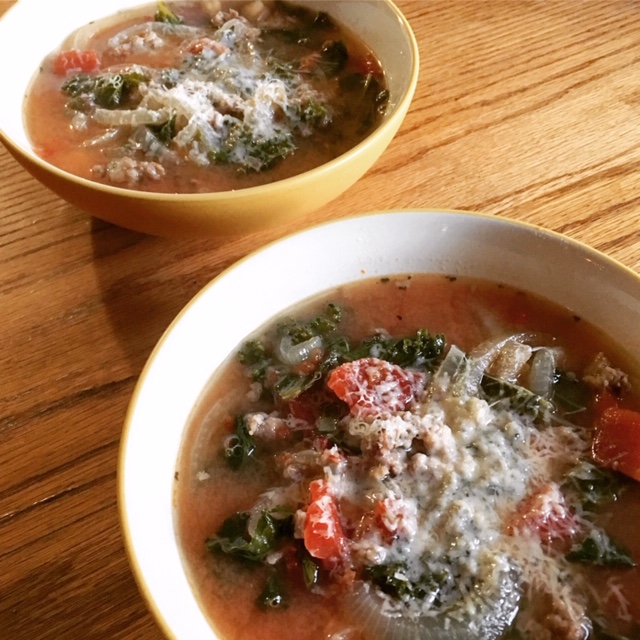 Kale Sausage Soup with Tomatoes and Chickpeas
Ingredients
1/2

pound

mild Italian bulk sausage

Olive oil

if needed

3

cups

sliced onions

5

cloves

garlic minced

about 5 teaspoons

1 28-

ounce

whole peeled tomatoes

roughly chopped

6

cups

sliced kale

about 2 bunches lacinato kale, stems removed, leaves sliced into 1/2-inch wide slices

1 15-

ounce

can of chickpeas

drained

2

bay leaves

2

sprigs of oregano

or 1/2 teaspoon dried oregano

8

cups

chicken stock

1/2

teaspoon

black pepper

Salt to taste

1/2

cup

grated Parmesan cheese for garnish
Instructions
Put the sausage in a large (5-qt) thick-bottomed pot, such as a Dutch oven, and heat over medium low heat. Break up the large clumps of sausage and gently cook until lightly browned, rendering out the fat from the sausage.

If the sausage is relatively lean and doesn't produce much fat when you cook it, add a tablespoon of olive oil to the pot. Note that you are just trying to lightly brown the sausage, not cook it through. Remove sausage with a slotted spoon and set aside. You should have at least one tablespoon of fat or oil left in the pot, if not, add more.

Add the sliced onions to the pot and cook on medium heat until translucent, about 8 to 10 minutes. Add the minced garlic and cook a minute more.

Add the chopped tomatoes, stock, bay leaves, oregano, and pepper. Bring to a simmer on high heat, reduce the heat to low and maintain a simmer for about 15 minutes.

Add the chopped kale, chickpeas, and sausage to the soup. Cook for another 15 to 20 minutes, until the kale is tender. Add salt to taste.

Garnish with grated Parmesan to serve.
This post contains affiliate links. This does not increase the price you pay, but I may receive a small commission for any products you choose to buy. Purchases made through affiliate links help to cover my blogging costs. Full disclosure here.