I have never read a Kate Morton novel, but I have heard amazing things -- and a lot of buzz about her latest novel, The Clockmaker's Daughter. So, I was naturally quite excited when I was granted my NetGalley request to read it early. It's the story of an English love affair and a mysterious murder that begins in the 1860s and ripples into the present.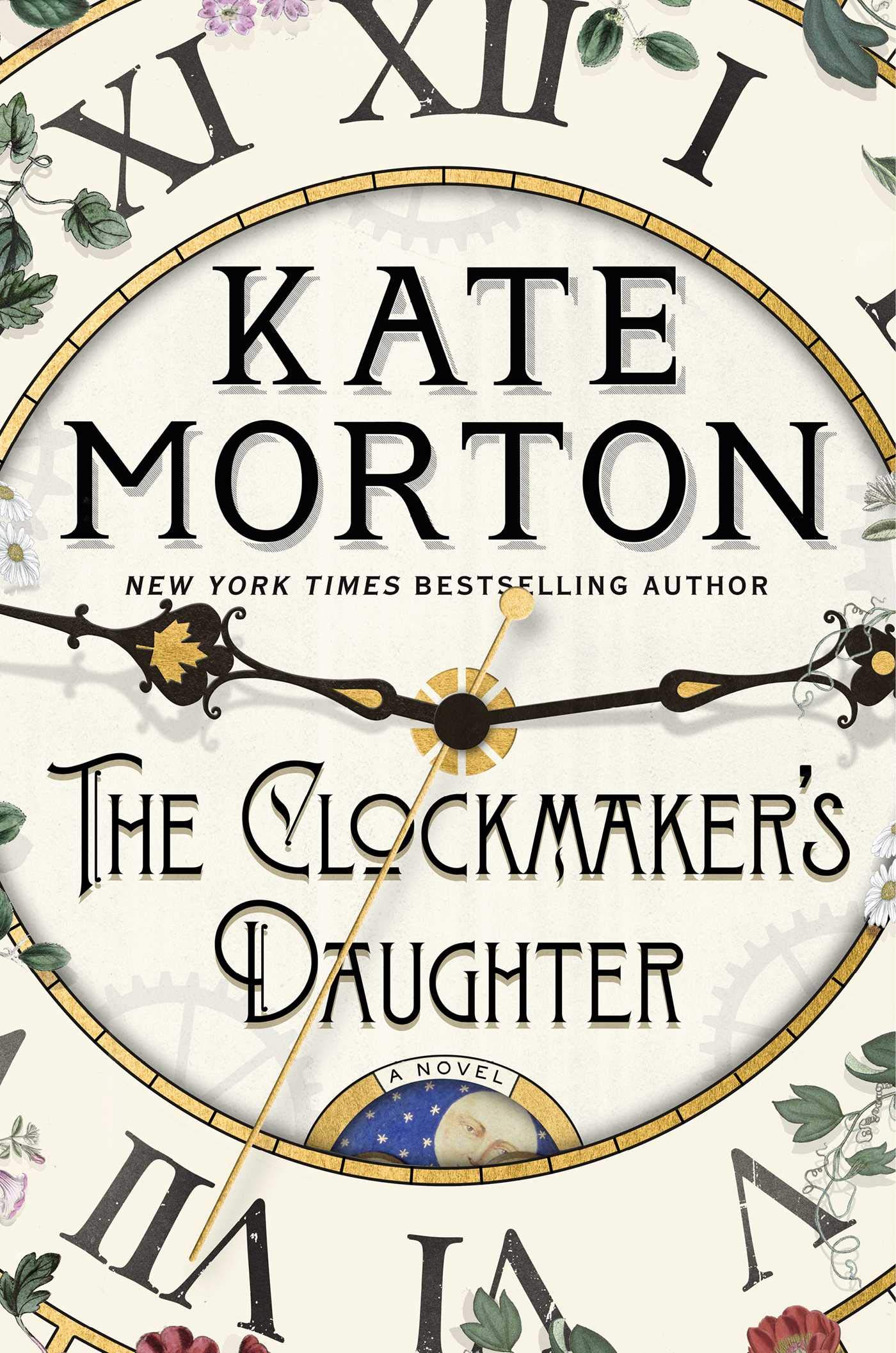 It all starts when Elodie, a modern archivist, stumbles upon a satchel with a notebook and old photograph inside. Elodie diligently researches their past, whisking us across time as the story develops. Chapters are told from multiple points-of-view, and it's not always immediately clear at the outset whose we're seeing or where we are in time and place. It's a method that works well, getting us to the end without giving all the twists and turns away beforehand.
It's not an action-filled, or plot-heavy novel. It's much more about the moments in time we visit and the character development, which are beautifully described in Morton's transporting prose. And while the story was engaging, I wish it'd been a little more to the point. Though it's not, it felt quite long.
I also wished to see more of Elodie, who drew me in at the beginning but only just popped in here-and-there throughout the rest of the novel. She lived above a fish-and-chip shop, and so I decided to try my hand at English-style fish and chips. I found a recipe on Genius Kitchen with an abundance of rave reviews, and I headed to the store from some cod and potatoes.
First, I prepped my potatoes, cutting them into "chunky" chips (or fries). I rinsed them and then dried them with a paper towel.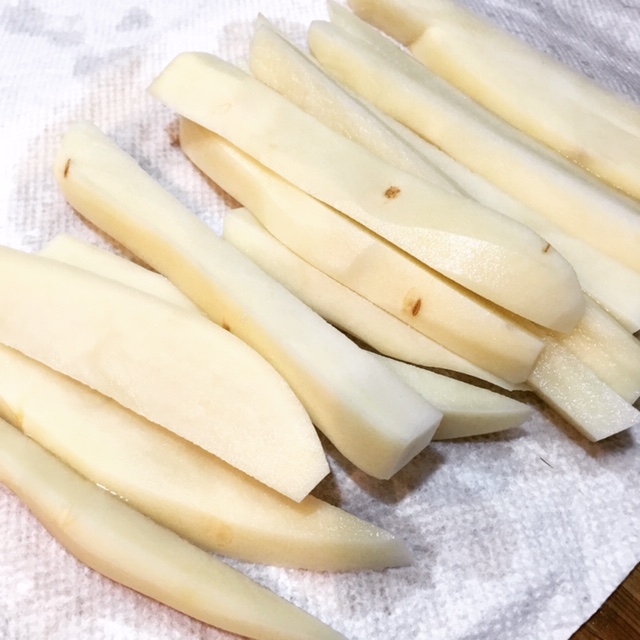 When the oil was hot enough, I lowered half the chips in at a time, frying them for just about 3 minutes, until they became shiny but not coloured (also known as blanching). I removed them from the oil, making sure to drain them well, and set them aside on a paper towel.
I lowered the temperature of the oil while I readied the fish for frying. I dredged the fillets through flour, making sure to coat well, and then made the batter. I combined flour, baking soda, salt and pepper with about 8 ounces of beer. (I used what I had on hand, which is not a British beer, but it was still quite delicious.) Once it formed a batter perfect for coating the fish, I added just a bit of lemon juice and mixed it thoroughly.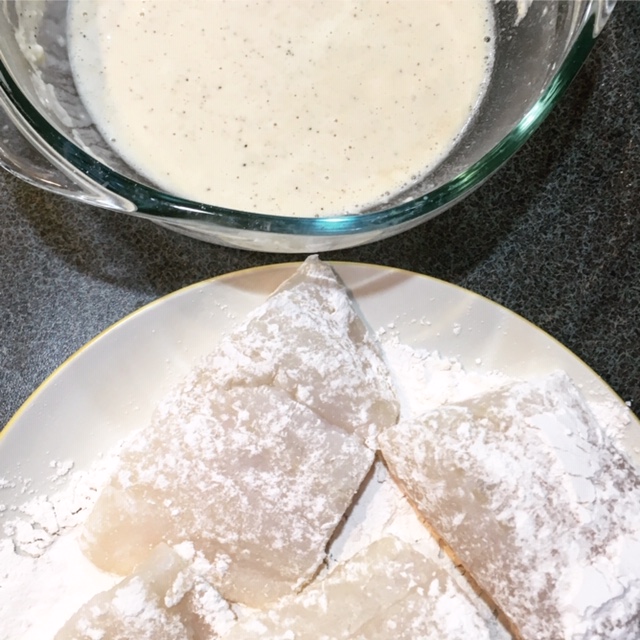 I fried two pieces of fish at time, dropping them carefully into the fryer immediately after they were battered.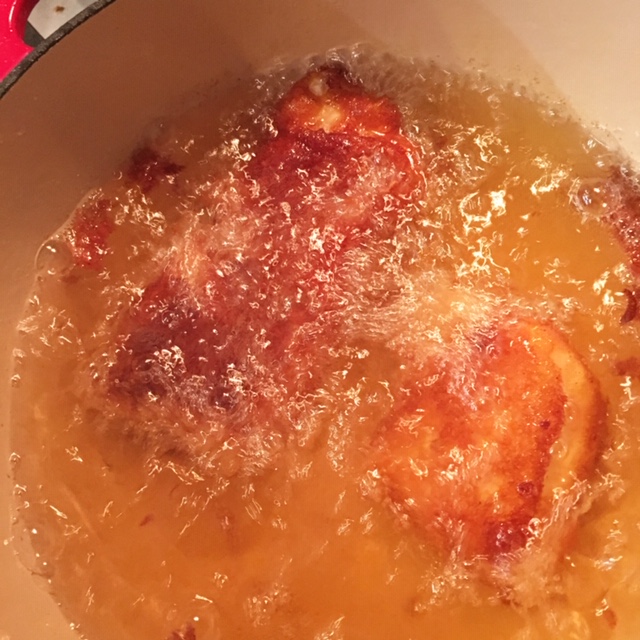 When all four pieces of fish were finished, I put them on a tray in the oven (set at 200 degrees, or the "warm" setting) to keep warm while I fried the chips.
I turned the heat back up to make the oil hotter, and then fried them in two batches again. Once they were golden-colored and cooked well in the center, I drained them, placed them on paper towels and salted them while still warm.
I didn't have any newspapers handy (in true English style), so I used the classic American-style baskets instead.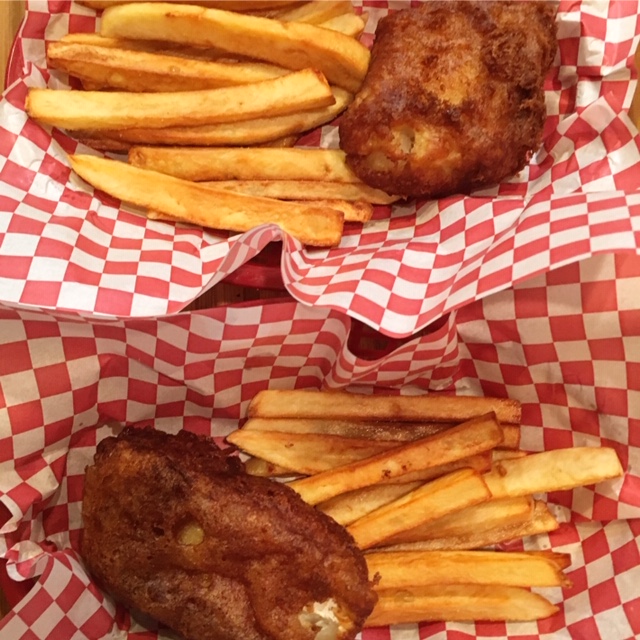 The fish was a little more colored than I would've hoped, but the flavor was definitely there and the coating was delightfully crispy. All that was missing were some mushy peas!
English Fish & Chips
Ingredients
4

cod or haddock fish fillets

6

ounces

or ¾ cup plain flour

1

teaspoon

baking soda

8

ounces

beer

½

lemon

juice of

salt & pepper

extra flour

3

lbs

potatoes

peeled & chipped

good quality cooking fat or oil
Instructions
Heat oil up in a deep pan or automatic deep fat fryer to approximately 375 degrees F (or a fry setting, if your fryer has one).

Peel the potatoes and cut into chunky sized chips. Rinse and dry thoroughly.

Fry chips for about 3 minutes until soft but NOT coloured. Drain and shake well and set to one side.

Put some flour onto a plate. Dredge the fish fillets in the flour thoroughly - this is VERY important, it stops the batter sliding off when fried! Leave the fish fillets in the flour whilst you make the batter.

Put flour, bicarbonate of soda, salt and pepper into a large roomy bowl. Add the beer gradually, stop when you have a thick coating type of batter. Drink any beer that is left! Whisk thoroughly until it is smooth and there are no lumps. Add the lemon juice OR a splash of malt vinegar, if desired. Mix thoroughly again.

Have your plates, newspaper or whatever ready for eating!

Adjust deep fat fryer to fish frying temperature of approximately 325 degrees F (or a fish setting, if your fryer has one).

Take one fillet of fish at a time and holding it by the tail or thin end (!) swirl it around the batter until well coated - plunge into hot fat immediately. As soon as it has crisped up and set, add your other fillets one at a time, taking out the first ones as they cook - about 6 to 10 minutes depending on the thickness. Place onto a wire rack in a baking sheet with sides and keep warm in the oven.

Turn up the heat setting again to 375 degrees F and cook your chips until golden and crisp.

Serve on plates or newspaper with salt & vinegar!