Let's be real, the cover of Ingrid Rojas Contreras' latest novel Fruit of the Drunken Tree is gorgeous. Like the "drunken tree" in the title, the flower's brightness and beauty draws your attention from the darkness that lingers behind.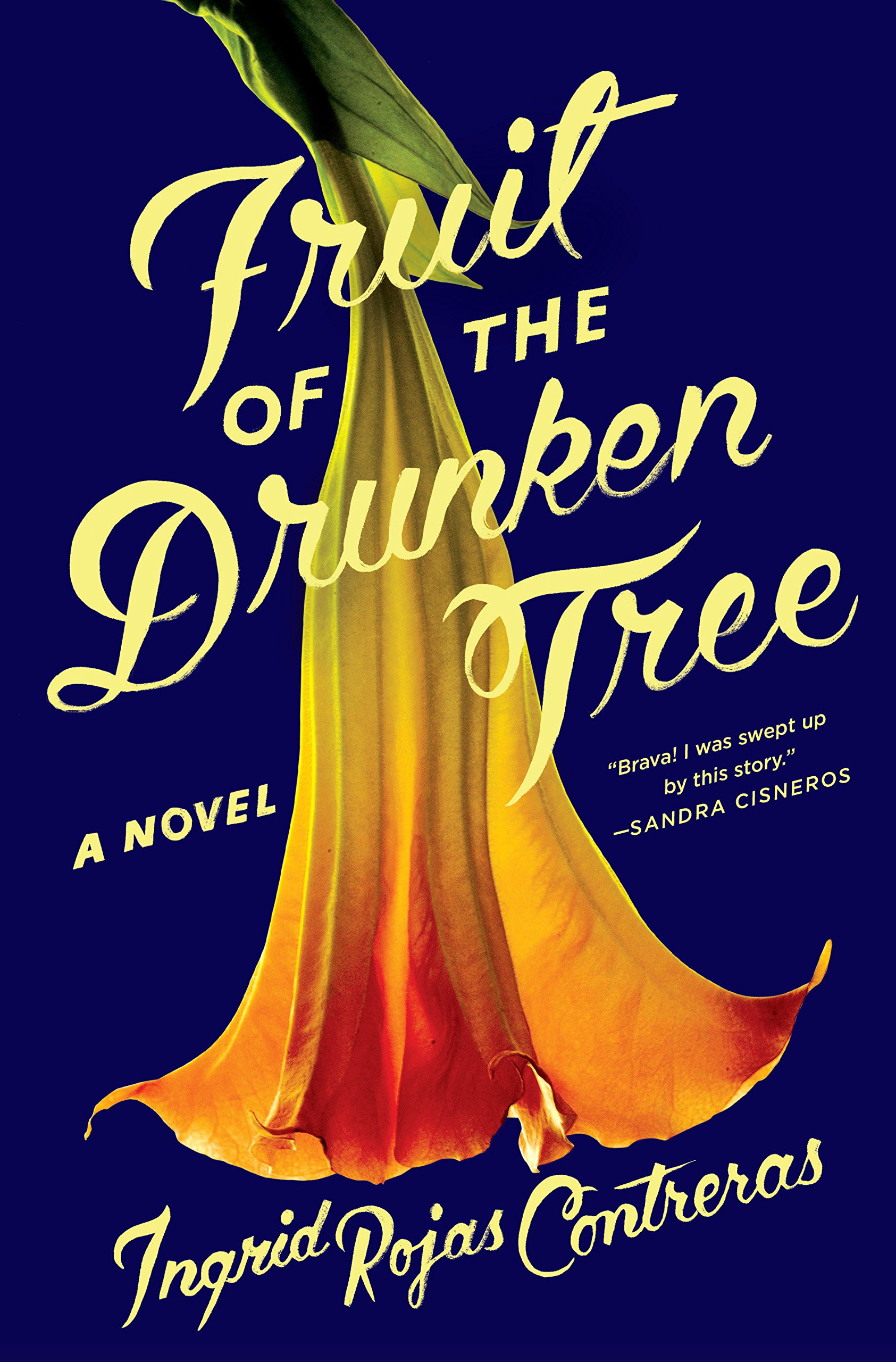 The coming-of-age story follows two Colombian girls in the 1990s. Seven-year-old Chula Santiago and her older sister are aware of the violence in their city but are, for the most part, protected from it within their gated community. Petrona, on the other hand, lives in a guerilla-occupied slum before she becomes the Santiago family's live-in maid. Their lives are very different but become intertwined throughout the course of the novel.
The writing was beautiful and the girls' stories compelling, but I wish they'd been a little more balanced as the narrative heavily favored Chula and her family's experiences. I was interested to find out that the story is based on the author's life, though it was clear she was deeply familiar with her topic. There were definitely moments that begged for additional explanation or background to make it a bit more understandable for someone like myself, who knows very little about Colombia and its past.       
Though the novel was rich in detail, the focus was more on the delicate balance of surviving everyday life. Very little attention was paid to food, which is why Chula's description of Petrona making flan stood out to me:
Petrona was making flan just for me. She was burning sugar in a pan, making it dark and thick. The air smelled like vanilla.
Flan is one of my favorite desserts, but I've never attempted to make it before. Now was the time. I chose a recipe from Taste of Home that promised a creamy result.
First, I made the caramel which just required me to heat ¾ cup of granulated sugar in a saucepan until it cooks down to a thick, dark caramel. I poured it into an ungreased round baking dish and let it stand for 10 minutes while I made the custard.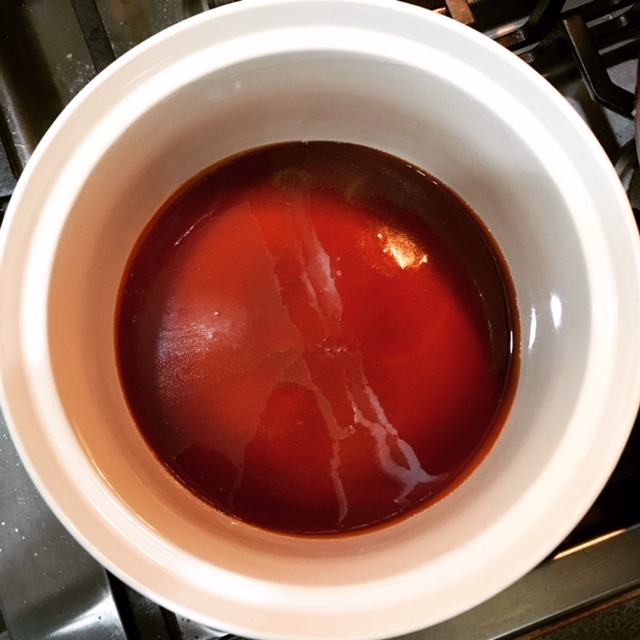 To make the flan itself, I used a hand mixer to beat one package of cream cheese until smooth. To that, I added 5 large eggs, one at a time. Then, I added one can each of sweetened condensed milk and evaporated milk as well as a teaspoon of vanilla extract. Once the mixture was well-combined, I poured it over the caramel in the bottom of the dish.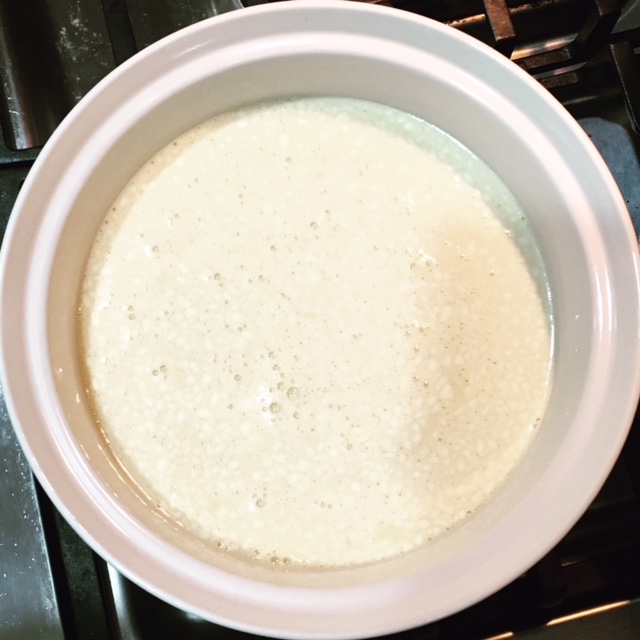 I set it in the middle of a roasting pan and filled it with boiling water up to about 1-inch high. I placed it in the oven and let it bake for 60 minutes. (The middle will wiggle a bit, but make sure it's just the very center and it's not too jiggly, or the center of the flan will be underbaked.)
I allowed it to cool for an hour on a wire rack and then refrigerated it overnight. The next day, I ran a knife around the outside edge of the baking dish and carefully turned it out onto a large plate. It looked just as I'd hoped.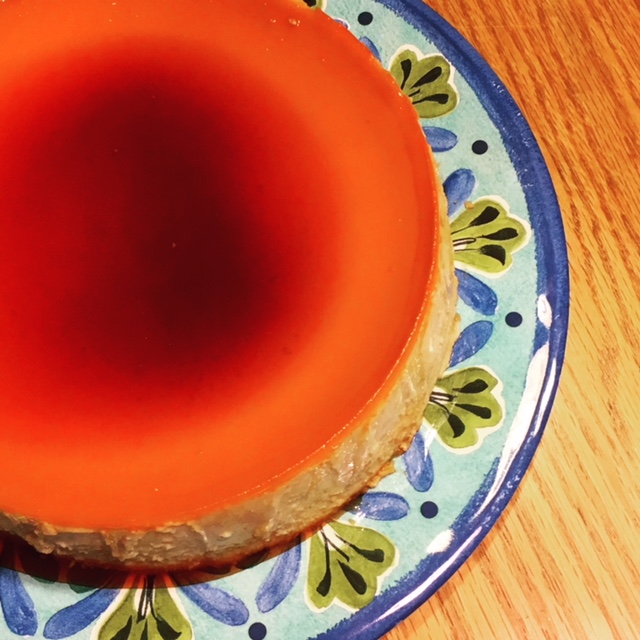 I prefer to slice the flan into wedges, but you can also use a large spoon to scoop it out. It's enough to serve 8-10 people, if you don't hog it all for yourself!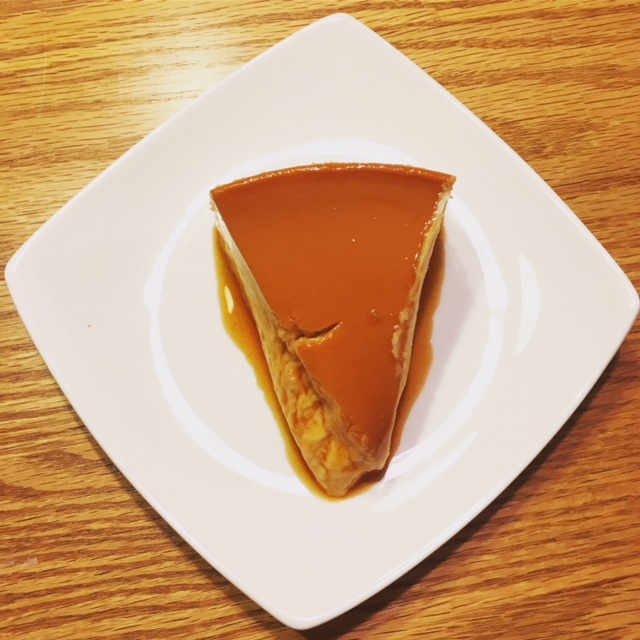 Creamy Caramel Flan
Ingredients
¾

cup

sugar

1

package

cream cheese (8 ounces)

softened

5

large eggs

1

can

sweetened condensed milk (14 ounces)

1

can

evaporated milk (12 ounces)

1

teaspoon

vanilla extract
Instructions
In a heavy saucepan, cook and stir sugar over medium-low heat until melted and golden, about 15 minutes. Quickly pour into an ungreased 2-qt. round baking or souffle dish, tilting to coat the bottom; let stand for 10 minutes.

In a bowl, beat the cream cheese until smooth. Beat in eggs, one at a time, until thoroughly combined. Add remaining ingredients; mix well. Pour over caramelized sugar.

Place the dish in a larger baking pan. Pour boiling water into larger pan to a depth of 1 in. Bake at 350° for 50-60 minutes or until center is just set (mixture will jiggle).

Remove dish from a larger pan to a wire rack; cool for 1 hour. Refrigerate overnight.

To unmold, run a knife around edges and invert onto a large rimmed serving platter. Cut into wedges or spoon onto dessert plates; spoon sauce over each serving.
I received a free digital copy of this book from NetGalley in exchange for an honest review.
This post contains affiliate links. This does not increase the price you pay, but I may receive a small commission for any products you choose to buy. Purchases made through affiliate links help to cover my blogging costs. Full disclosure here.