Anstey Harris' novel Goodbye, Paris is being marketed as "Jojo Moyes meets Eleanor Oliphant," which is definitely what drew me to the book. I don't necessarily agree with that assessment, but first, let me tell you about the story.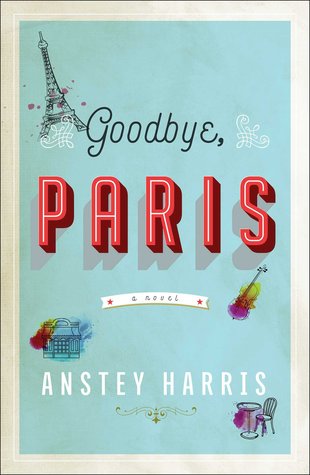 Grace was once a promising cellist, but after a #MeToo encounter in college, she has been unable to play for anyone but an empty room. Now, she runs a successful shop in England repairing and building stringed instruments, living more or less in her bubble and dreaming of a future with her long-time boyfriend. David is a married family man who lives in France. Their long-distance affair would almost be an idyllic relationship, were it not for the fact that it was an affair. When David becomes a hero one day by saving the life of a woman at a Paris Metro station, the delicate balance of his and Grace's relationship is tipped.
It was sometimes cringy to watch (read), but ultimately, the events that unfold are just the kick in the pants that Grace needs to move on from a fruitless and painful relationship. With the support of her teenage shophelper Nadia and a loyal 80-year-old customer, Mr. Williams, Grace is able to break out of her shell and truly follow her dreams.      
Personally I'd liken Grace more to AJ Fikry or Frank from The Music Shop than Eleanor Oliphant. Like Eleanor, Grace does make some questionable decisions but she is more socially adept, and like those two men, devotes her passions to running a beloved shop in a small town. What made this novel for me was the absolutely wonderful Mr. Williams. He was the bright spot in every scene he appeared. Honestly, I wasn't Grace's biggest fan, but Mr. Williams' unwavering generosity and support of Grace touched me and had me rooting for her in the end.
Though the novel is called Goodbye, Paris, most of it takes place in Grace's small English town (and some of it in Italy). At first glance, I expected to be making fancy French food, but what I got instead was a British classic -- the treacle tart. I was inspired by Grace's description of her cello's sound. "It keeps making me think of food: of chocolate, of treacle, of dark burnt toast and melting yellow butter."
In order to make a treacle tart -- a dessert I'd tried and enjoyed while studying in London -- I had to procure some treacle (and figure out what, exactly, it was). In England, treacle is any heavy syrup made during the refining of sugar, and golden syrup is the most common choice for a treacle tart. After some research, I determined Lyle's Golden Syrup to be the best kind for the job and bought some from Amazon (along with a tart pan with a removable bottom).  
Once they arrived, I got to work. Luckily, the recipe is quite simple and only requires five ingredients (plus a pinch of salt and a bit of water). First, I weighed out my white bread using a kitchen scale and determined that seven slices equaled the required 185g.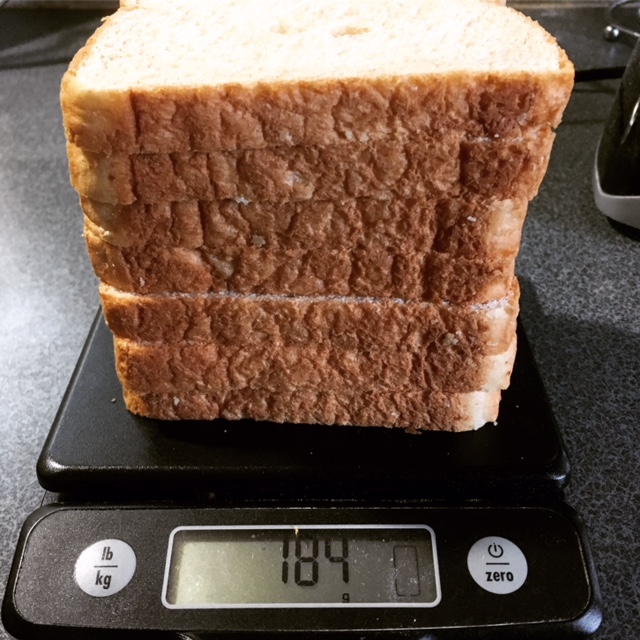 Then, using a food processor, I made them into fine bread crumbs and set them aside. In the empty food processor, I added flour, cold butter and a pinch of salt, pulsing until the bread broke up and the whole mixture looked like fine crumbs. I added 4 tablespoons of butter and pulsed until the pastry dough began to come together.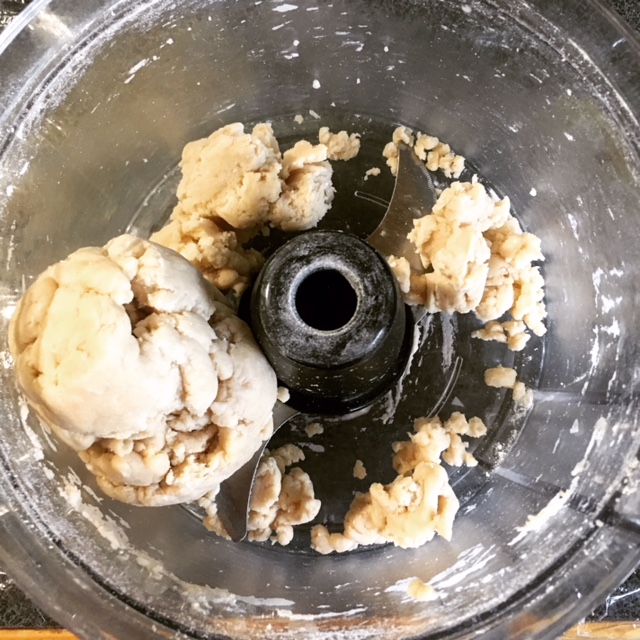 I dropped it out onto a large piece of cling wrap, formed it into a disc and placed it in the fridge to cool for about 20 minutes. Meanwhile, I preheated my oven and a heavy pan inside. When the dough was chilled, I unrolled the cling wrap and added another piece on top. I rolled it out as thinly as I could, making sure it was large enough to fill the tart pan along the bottom and up the sides.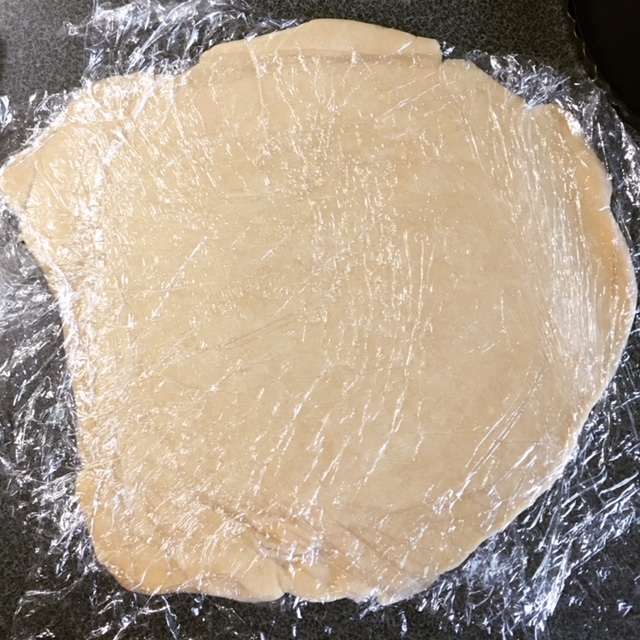 I removed the top piece of cling wrap and placed it (cling wrap side up) in the tart pan, making sure to remove any air bubbles as I pressed it into the ridges of the sides.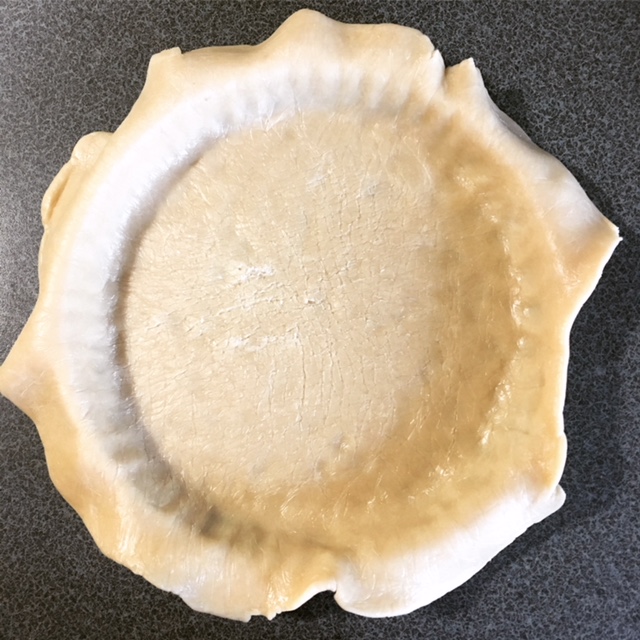 I removed the cling wrap and used the rolling pin to get rid of any of excess, and then I used a knife to carve three little hearts out of the remaining dough (for decorating the top). I put both the tart pan and the decorations into the fridge while I worked on the filling.
I added the golden syrup (most of one of the tins) to a medium saucepan and heated it for about 3 minutes until runny and warm. To that, I added the bread crumbs I'd made earlier as well as the juice and zest of 2 small lemons. I stirred well to combine and poured it in the tart pastry.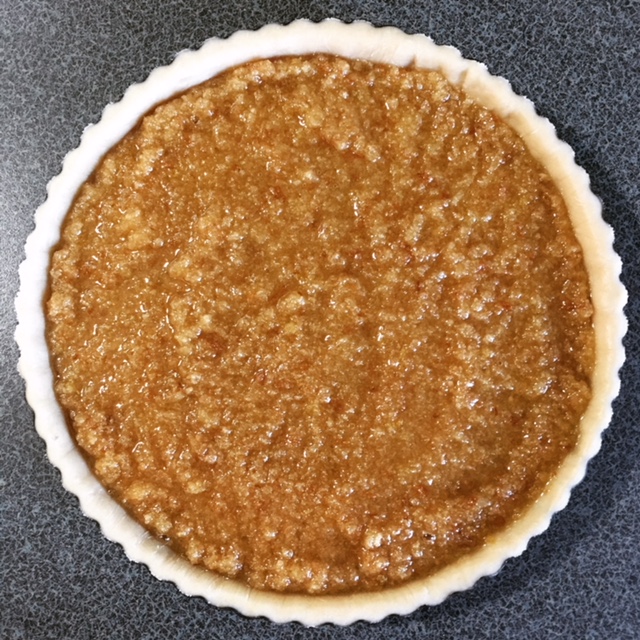 Before popping it in the oven on top of the preheated baking sheet, I placed the three hearts (to represent Grace, Nadia, and dear Mr. Williams) on top.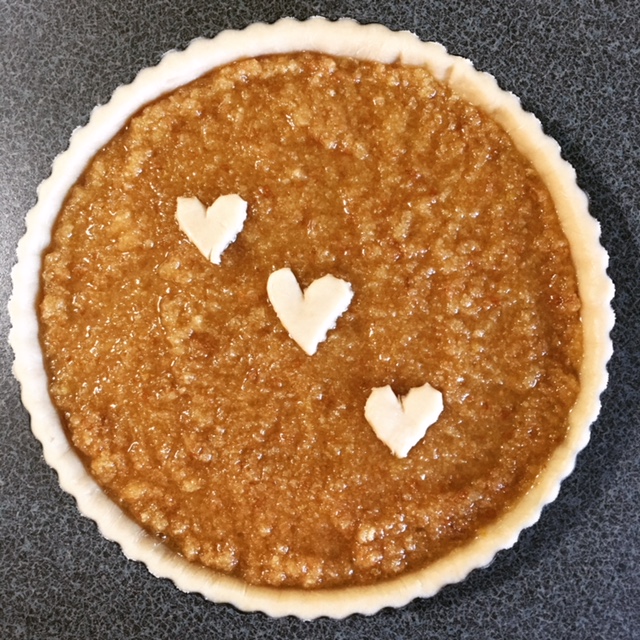 Once it came out, I allowed it to cool. It was a gorgeous golden brown and smelled delicious -- it was hard to resist!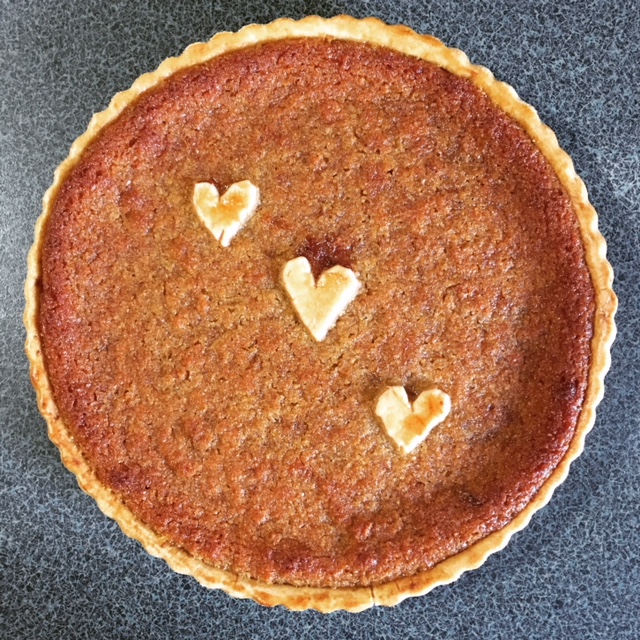 This is definitely a sweet dessert, but the lemon helps to cut it a bit. It's probably blasphemy, but Scott and I really enjoyed it with a scoop of vanilla ice cream to balance it out with a little creaminess. Each tart makes enough for 8 slices and would be the perfect addition to your Goodbye, Paris book club (or, since it's his favorite, a Harry Potter reading/viewing party).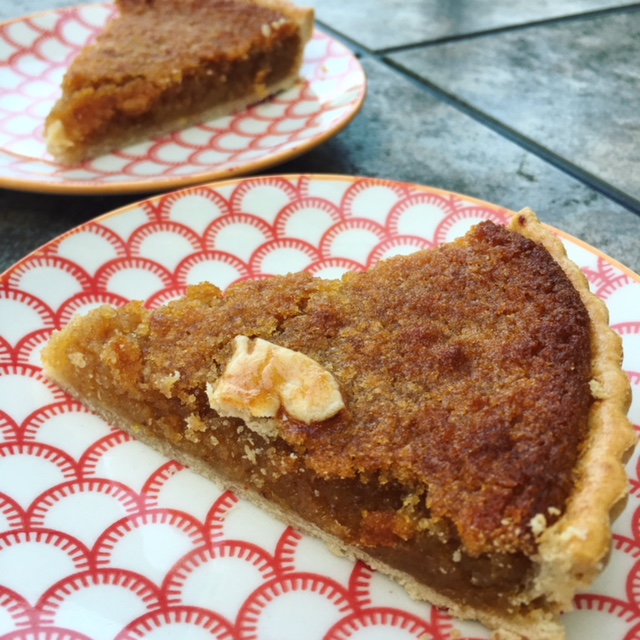 Classic Treacle Tart
Ingredients
For the Pastry
1½

cups

all-purpose flour

or 200g

7

TBS

unsalted butter, cold

or 100g

pinch

of salt
For the Filling
400

g

Lyle's Golden Syrup

About 7 slices fresh white bread

or 185g

1

large lemon (or 2 small)

zested and juiced
Instructions
Roughly tear up the bread for the filling and pulse in the food processor until it becomes fine crumbs. Tip it all out into a bowl and set to one side until needed.

Then wipe out any leftover breadcrumbs and add in the flour, cold butter and salt. Blitz briefly until it becomes like fine crumbs. Pour in 4 tbsp of cold water and blitz again briefly until it starts to clump together to form a dough.

Tip the dough out onto a large piece of cling film and bring together to form a ball. Flatten into a disc, wrap up in the cling film then pop into the fridge to chill for 20 minutes.

Meanwhile, preheat the oven to 395 degrees F (or 375 degrees, if using a convection oven) and place a heavy baking sheet in to heat up.

When the pastry is chilled, unfold the cling film and place another large piece of cling film over the top. Roll it out as thinly as you can ensuring that it's bigger than the base and sides of your tin. Then peel off one layer of cling film and carefully lay it, pastry side down/cling film side up, over the tin. Gently ease it down into the tin, pressing it lightly into the fluted edges as you go. Try not to let any air get trapped underneath.

Peel off that layer of cling film and roll a rolling pin over the top to 'cut off' any excess. (Peel that all away and put to one side for a minute.) Now prick the base all over with a fork.

If you want to, you can roll out remaining/leftover pastry thinly again and cut out a few pretty hearts, butterflies, flowers, etc to decorate the top. (This is completely optional.)

Pop your tin (and decorative shapes) into the fridge to stay chilled while you make the filling.

Pour the golden syrup into a medium saucepan and heat gently for 2-3 minutes over a low/medium heat. You want it warm and runny - DO NOT BOIL. Then add in the breadcrumbs, lemon juice & lemon zest and give it a good stir.

Take your prepared tin out the fridge and pour the filling straight in. Smooth it out with the back of a spoon. If you've made some decorations, arrange them however you like on the top. You may egg wash the decorations and the edge of the pastry, if you'd like, but it's entirely optional.

Pop your treacle tart into the oven on the preheated baking tray and bake for 10 minutes. Then reduce the temperature to 355 degrees F (or 340, if using convection) and bake for a further 30-35 minutes until a deep golden brown all over.

Allow to cool completely in the tin before removing. You may eat warm or cold and store in an airtight container at room temperature (preferably metal), consuming within 3-4 days.
Notes
From: Kitchen Mason
Conversions from grams provided as a guide. If you have a kitchen scale, of course, it is always preferable to weigh the ingredients for the most accurate measurements.
Thank you to Touchstone for the chance to review this novel in exchange for an honest review. 
This post contains affiliate links. This does not increase the price you pay, but I may receive a small commission for any products you choose to buy. Purchases made through affiliate links help to cover my blogging costs. Full disclosure here.