Joyce Carol Oates' novel We Were the Mulvaneys has been on my shelf forever. I picked it up at a used book sale years ago because I had heard Oates speak at a bookstore once in NYC and had yet to read her books, and it sounded interesting. Still, whenever I was looking for a book to read next, I didn't gravitate towards this one. That is, until the recent Book Challenge by Erin, where one of the categories requires you to read the book that you've owned the longest. Welp, this was it. And, I have to say, I'm glad I finally got around to reading it.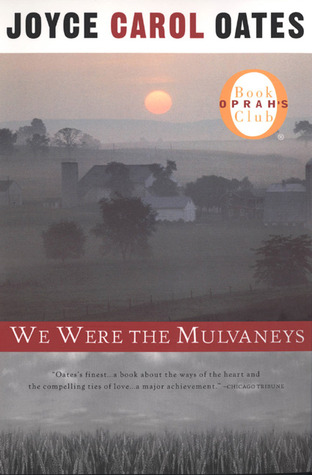 This a family saga that builds. That is to say, the first quarter is so involves a lot of scene-setting and character-building, and it wasn't exactly easy to get into. I'm not sure if this is Oates' typical storytelling, since I haven't read anything else by her yet, but it definitely worked for this novel. As she settled into the story, the background that she created was almost second nature, as if you were a part of this family, this town.
It centers around the Mulvaneys, a large family that is both beautiful and charismatic, wealthy and generous. They live in upstate New York on their property, High Point Farm, and are well-respected in the town. That is, until Valentine's Day in 1976, when an unfortunate event takes place that changes the family and their position in the community.
I won't give anything away, but what happens divides the Mulvaneys. Each member is affected differently, but each of their life paths are drastically altered. Oates weaves a complex, messy, truthful family saga. I appreciated that their lives weren't perfect, nor were they a disaster -- they felt like real people. I look forward to reading some more of her novels when I get a chance.
I decided to make a casserole, only loosely based on one mentioned in the novel, described as "a Mexican chicken-shrimp-sausage casserole." The "super-casserole" was served with a robust menu of "grilled Parmesan-dill bread, baked butternut squash sprinkled with brown sugar, a giant tossed salad with Mom's special oil-and-vinegar dressing, homemade apple-cinnamon cobbler with vanilla ice cream." The reason this meal stood out to me most is that it took place just before the Mulvaneys' lives changed forever; it was a meal that took place while they were still the Mulvaneys, so to speak.
Casseroles are also indicative of homestyle, comforting family dinners. It seemed like the perfect choice for a family saga such as this. I found a recipe for something a busy parent might make on a weeknight, an easy but flavorful-sounding Shrimp and Sausage Skillet Pasta Bake and made some slight alterations to make it a casserole.
First, I brought a large pot of water to boil and added the pasta, cooking it according to package directions.
Meanwhile, I browned the sausage in a large skillet, breaking it with a spoon as it cooked. When the sausage was done, I used a slotted spoon to remove it and placed it in a bowl lined with paper towel. In the same skillet, I added the shrimp, cooking each side for about 2 minutes, until the shrimp were pink and cooked through.
When the pasta was done, I drained it, adding the vodka sauce and sausage and tossing until evenly coated. I poured it into a 9x13 casserole dish, covering the bottom.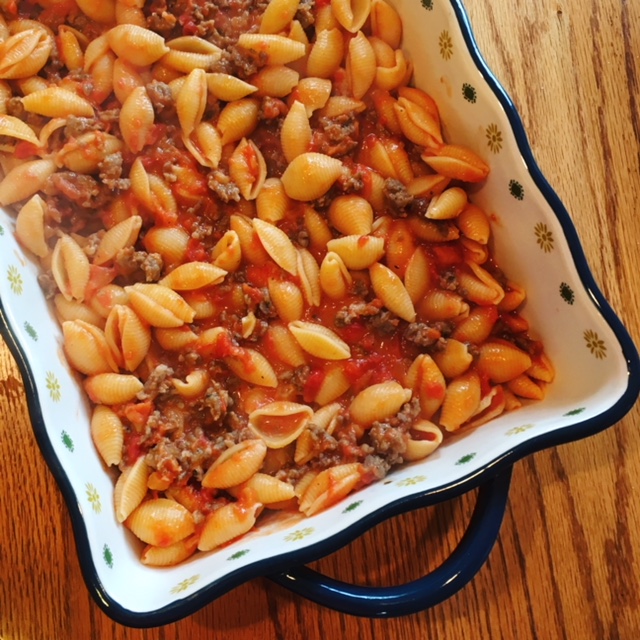 On top of the pasta, I placed the cooked shrimp.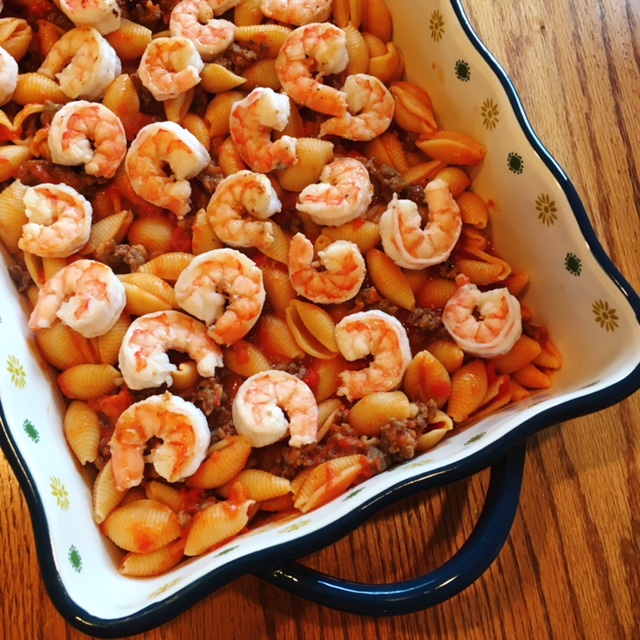 I covered the entire dish with a combination of parmesan, mozzarella and cheddar cheeses before placing it in the oven to finish.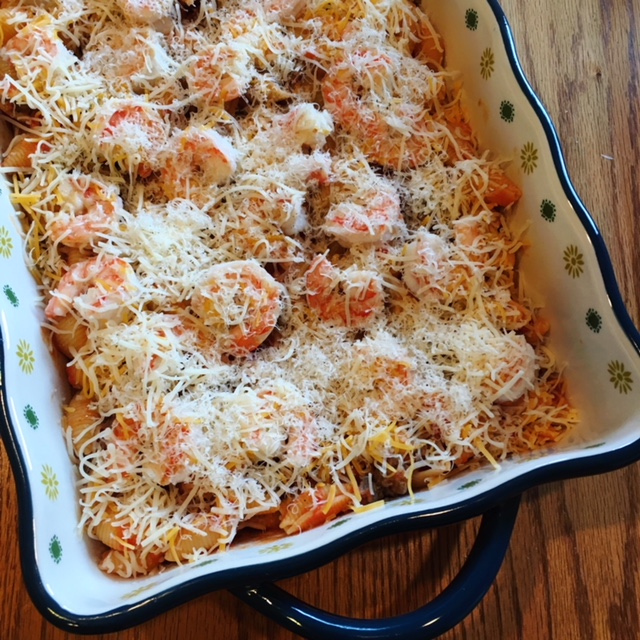 Once the cheese was melted, I removed the casserole from the oven to serve. It smelled amazing and was delicious.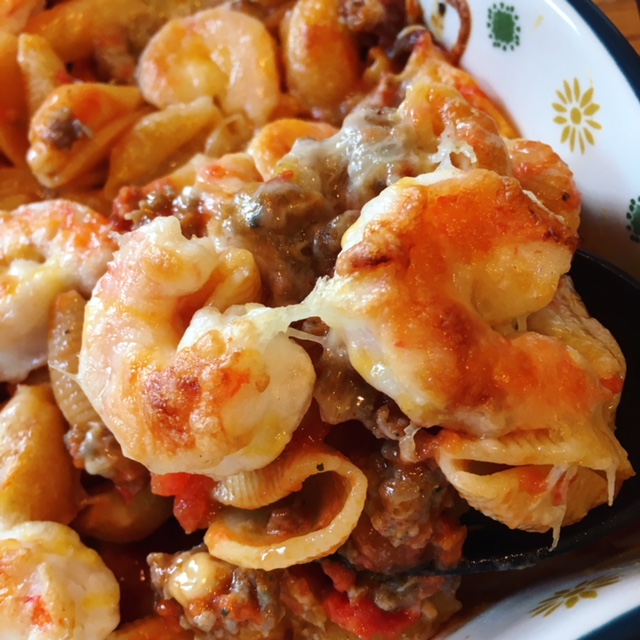 What food(s) remind you most of home?
Shrimp and Sausage Pasta Casserole
Ingredients
1

pound

small pasta

salt and black pepper

1

jar your favorite store-bought vodka sauce

1

pound

loose sweet Italian sausage

1

pound

large shrimp

cleaned and deveined

1/4

cup

parmesan cheese

grated

1/2

cup

mozzarella cheese

grated

1/2

cup

sharp white cheddar cheese

fresh parsley

for garnish
Instructions
Preheat your broiler to high.

Bring a large pot of salted water to a rolling boil and cook the pasta until al dente. Drain and set aside.

To a small saucepan, add the vodka sauce. Heat over low heat. Keep warm on the stove until you are ready to use.

To a large oven-safe skillet, cook the sausage over medium heat until brown and cooked through. Remove the sausage with a slotted spoon to a paper towel-lined plate. Keep the stove on.

To the skillet, add the shrimp. There should be enough fat left in the skillet from the sausage. If you find that there isn't enough to cook the shrimp, add a tablespoon of olive oil. Season the shrimp generously with salt and pepper. Cook for 5 minutes or until pink and cooked through. Remove the shrimp from the pan and transfer to another plate. Turn off the heat.

To a large bowl, combine the vodka sauce, pasta and sausage. Toss until evenly coated.

Pour the mixture back into the skillet (or into a 9x13 baking dish). Top with shrimp and then top with parmesan cheese, mozzarella cheese, and cheddar cheese.

Place the skillet/baking dish into the preheated oven and broil until cheese is melty, about 2 minutes. Keep a close eye as the cheese can quickly go from melted to burnt.

Remove from heat and garnish with fresh parsley. Serve immediately and enjoy!
This post contains affiliate links. This does not increase the price you pay, but I may receive a small commission for any products you choose to buy. Purchases made through affiliate links help to cover my blogging costs. Full disclosure here.