In Charles Soule's first novel The Oracle Year, the comic book writer explores a clever concept about the power of prediction. The main character, Will Dando, is a twenty-something musician who wakes up one morning with 108 predictions about the future. The predictions range from seemingly innocuous to world-changing and extremely specific to frustratingly vague.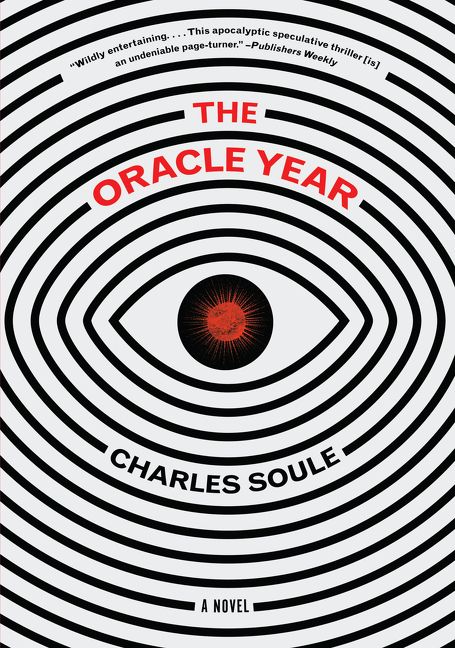 While man behind The Oracle is a mystery, his predictions are practically front page news around the globe. As more and more of them come true, he is forced to go to great lengths to remain anonymous for his own safety. It's a delicate balance between sitting on what he knows and sharing it with the world as he learns whether he has control over their source, or it has control over him.
When I first heard about this novel, I was intrigued. I was drawn into the story immediately, and couldn't stop gushing about it to my bookish friends. But about halfway through, I thought it fell into some familiar patterns. It felt like I was watching a thriller unravel that was more about action than substance. It recovered a bit on the ending, which I was well-put together and seemed more inline with what I liked about the beginning of the story. If you're looking for a fast-paced and thought-provoking novel, I'd still recommend it.
For this novel's recipe, I decided to consult The Oracle, so to speak. I researched some 2018 food predictions (of which there were many) and settled on one: the lotus root, which Bon Appetit included on it's more streamlined list of 5 food trends to watch for this year. I hadn't heard of the lotus root before, though it's staple in Asian cuisine, so it seemed like a fun ingredient to try. I also haven't seen it anywhere this year… yet. We'll have to stay tuned to see if their prediction comes true.
Like I said, I'd never heard of lotus root before, and I'd certainly never seen one. I decided to start my search at my favorite Asian market, and sure enough, they had them in abundance. They look somewhat like large potatoes. I had found a simple stir-fry recipe from Genius Kitchen that combined them with sesame seeds and green onions.
To start, I filled a bowl with water and a bit of vinegar, as the lotus root reacts to air and needs to be submerged immediately after cutting. I peeled it with a veggie peeler and sliced it thinly, dropping each one into the water as I went. I also chopped my green onions and chili pepper.
To a large skillet, I heated a bit of oil before adding my minced garlic and ginger, cooking them until just fragrant. I laid the sliced lotus root (drained just beforehand) in a flat layer along the bottom.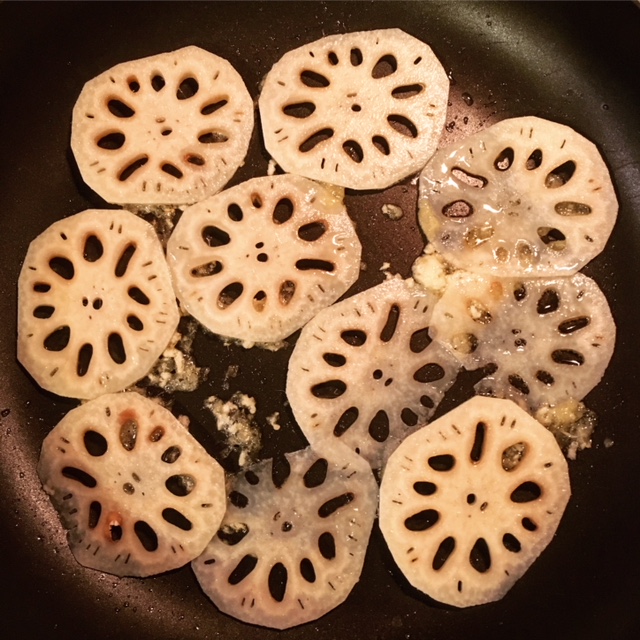 Once they started to become translucent, I turned them over, cooking for a few more minutes. Then, I added the green onions and chili pepper, stir-frying.
To that mixture, I added the sesame seeds, soy sauce, pepper and sesame oil.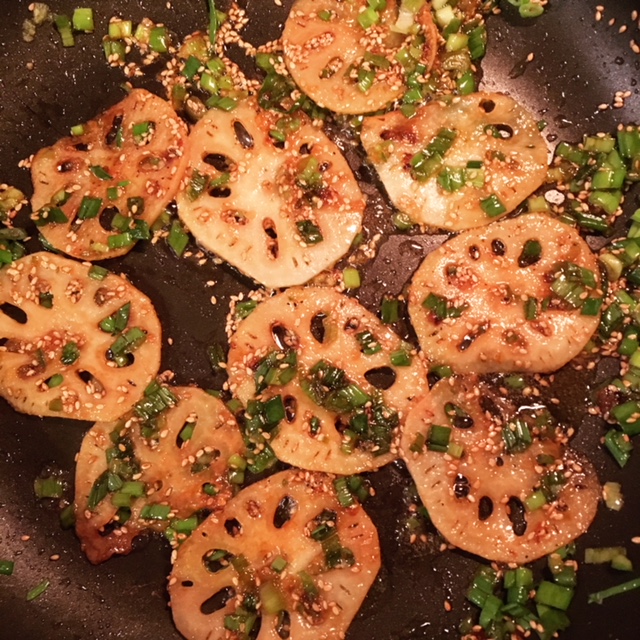 Once the lotus root was a bit caramelized, I removed the skillet from the heat, so we could try them.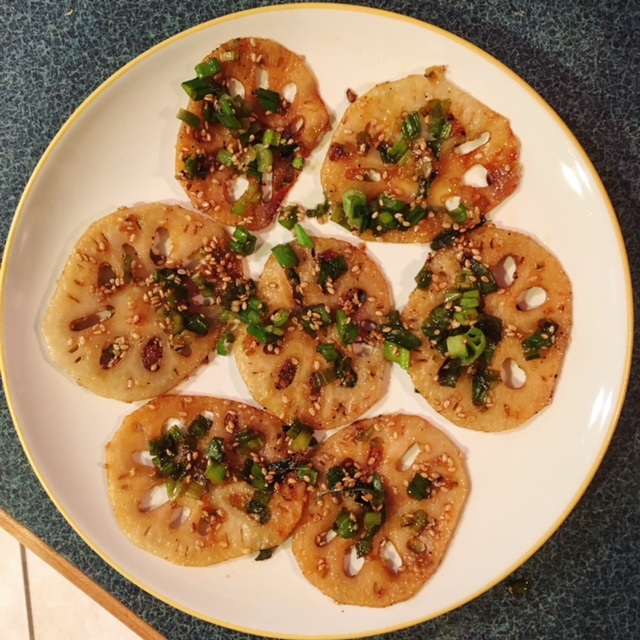 Some of the thicker slices still had a bit of crunch to them, which we both really liked. The flavor was simple and umami-filled. While the half of lotus root I made wasn't much for the two of us, it would've made a nice side dish or appetizer to a larger Asian-inspired meal.
I'd be open to trying other lotus root dishes in the future, and I'll certainly keep an eye out for them on menus! Have any of you ever heard of or tried lotus root?
Stir-Fried Lotus Root with Sesame and Green Onions
Ingredients
½

of a whole lotus root

sliced very thinly

1

piece

fresh ginger

peeled and chopped (about 1 inch long)

2

garlic cloves

peeled and chopped

1½

cups

of roughly chopped green onions

2

tablespoons

hot red chili peppers

finely chopped

oil

vinegar for the lotus root water

1

tablespoon

sesame seeds

pepper

1½

tablespoons

soy sauce

1

teaspoon

sesame oil
Instructions
Put the sliced lotus root into vinegar water as you slice it, as described above. Drain well just before cooking.

Heat up a large frying pan with the oil. Add ginger and garlic, and stir fry until the oil is very fragrant.

Add the drained lotus root slices in a single layer. Cook until the lotus root slices start to change color - they turn a bit translucent looking. Turn over and cook a couple more minutes.

Add the chili pepper and green onions, and stir-fry. Add the sesame seeds, pepper, soy sauce and sesame oil.

The lotus roots should get a bit caramelized from the soy sauce. Serve hot or cold. This is very nice for bento.
This post contains affiliate links. This does not increase the price you pay, but I may receive a small commission for any products you choose to buy. Purchases made through affiliate links help to cover my blogging costs. Full disclosure here.