Yoav Blum's latest novel The Coincidence Makers follows Guy, Emily and Eric, who all work for a secret organization as Coincidence Makers. They're responsible for orchestrating what the rest of the world sees as random occurrences - a chance meeting, a missed train, or even a spilled drink. Such "coincidences" are intricately designed to spark a significant change in their targets' lives, and in fact, the world.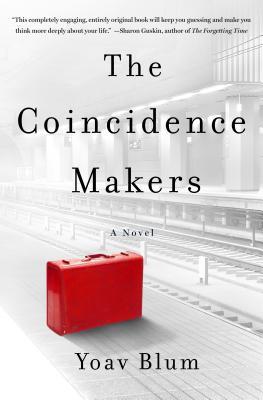 As one of my most-anticipated books of the year, I'm happy to report, it lived up to my expectations. I devoured it in an afternoon, enthralled from the very beginning. The process of coincidence-making, the Makers themselves and world Blum creates is so well-thought out and fully-formed, it's enough to leave you wondering if your real life coincidences are just that, or something more.
The fortune cookies I made for today's post are not a coincidence. They are one of the few foods that embody the idea of chance, as if the one you choose may actually have an affect on your fate. They also, charmingly, make an appearance in the novel. When I looked up various recipes (and watched a few YouTube tutorials), I was surprised to see that making them yourself wasn't quite as hard as I expected. Like the coincidences the Makers orchestrate, they just require impeccable timing and a light, precise touch.
Perhaps the most fun part of making fortune cookies is making the fortunes themselves. If you're making these for a specific event or purpose, you can make up your own that fit that theme. I decided to use a couple of fortunes from the book itself, and then I just googled "fortune cookie fortunes" and chose some of my favorites for the rest. Either way, the fortunes should be about 2" wide and around ¼" tall.
I preheated the oven to 375 degrees F, and readied my cookie sheets. I lined them with parchment paper that I had drawn 3" circles on with pencil (use the opposite side of the side you draw on). I had 3 sheets of parchment paper and 2 cookie sheets, so I could have a steady flow of cookies at every stage of the process.
To make the batter, which I got from a recipe at All Recipes, I used a hand mixer to whip 3 egg whites and ¾ cup sugar on high, until frothy. To that, I added the rest of my ingredients one at a time until incorporated - cooled, melted butter, vanilla extract, almond extract, water and flour. The consistency should resemble a pancake batter, and mine did, but only for my first batch and then it started to thicken. It still worked well, but required a bit more manual spreading on the parchment paper.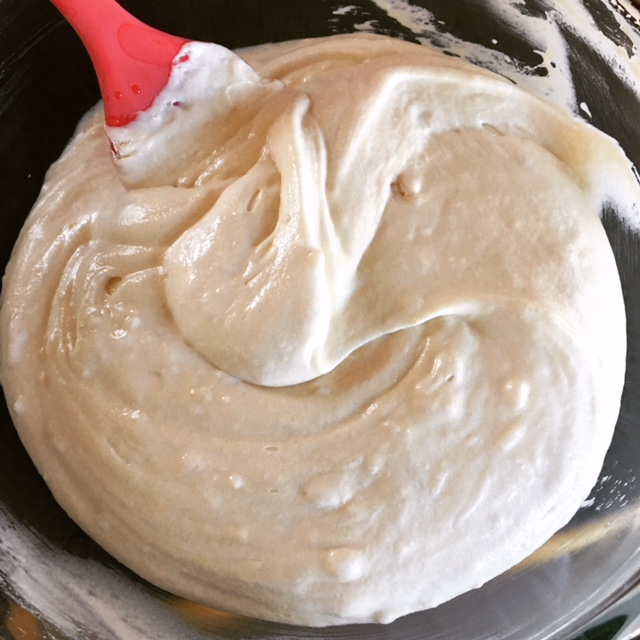 I used about a tablespoon of batter for each round and used a rubber spatula to make sure it was even and rounded on the edges. I made two cookies at a time, since as soon as they start to cool, they become impossible to fold.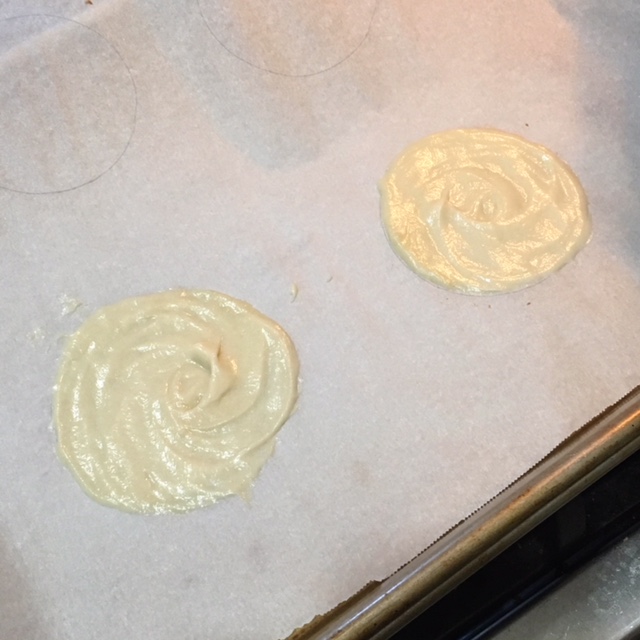 While my first two cookies were in the oven, I readied two additional cookies on another piece of parchment, so they could go in once the first batch was done. The cookies are finished baking when they are slightly brown around the edges. I quickly brought them over to my cookie assembling station and used a plastic spatula to move them over to a plate.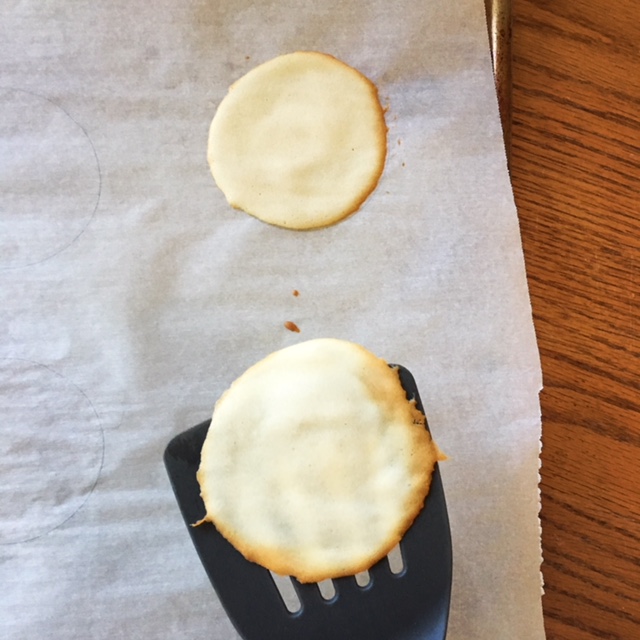 They will be quite hot - be careful! First, place your chosen fortune in the middle of the cookie. Fold the circle in half, so you have a half moon. Then, press the widest part of the half moon over the edge of a mug to create the classic fortune cookie shape.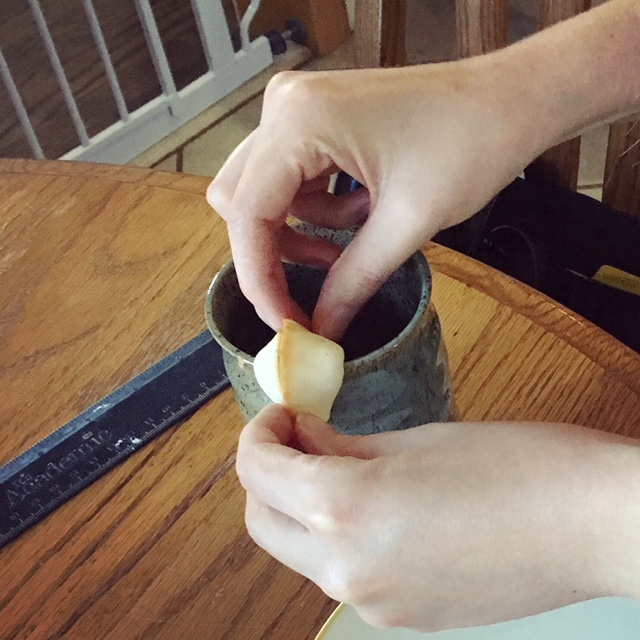 As you become more adept at the folding process, you likely won't need the mug, but it's nice to have in the beginning. I stopped using it after about a half dozen cookies. To keep the cookies from springing open, place them into the cups of a muffin tin until they are fully cooled (about a minute or two).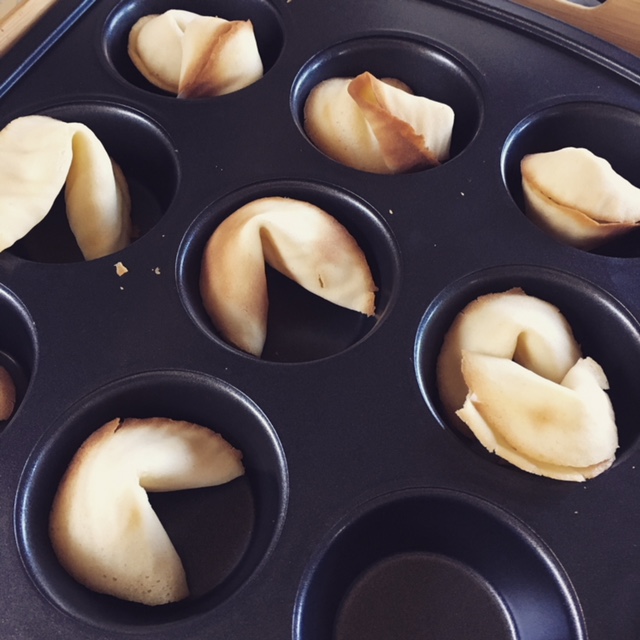 Each batch of cookies takes about 5 minutes in the oven and about a minute to complete before they cool. If you create an assembly line and/or have a helper in the kitchen, you'll be able to make more than one batch at a time.
The process definitely had its frustrations, but overall, fortune cookies turned out to be much easier to make than I expected. (They also tasted better than the ones you buy in the store.)
Take a look at how they turned out. I was pretty excited about it!
Have you made fortune cookies before? How was your experience?
Fortune Cookies
Ingredients
3

egg whites

3/4

cup

white sugar

1/2

cup

butter

melted and cooled

1/4

teaspoon

vanilla extract

1/4

teaspoon

almond extract

1

cup

all-purpose flour

2

tablespoons

water
Instructions
Preheat the oven to 375 degrees F. Grease cookie sheets, or line with parchment paper. Have fortunes ready to go on small strips of paper (about 2" wide).

In a large glass or metal bowl, whip egg whites and sugar with an electric mixer on high speed until frothy, about 2 minutes. Reduce speed to low, and stir in melted butter, vanilla, almond extract, water and flour one at a time, mixing well after each. Consistency should resemble pancake batter.

Spoon the batter into 3 inch circles on the prepared baking sheets, doing no more than 2 or 3 at a time. Leave room between for spreading.

Bake for 5-7 minutes in the preheated oven, or until the edges begin to brown slightly. Quickly remove one at a time, place a message in the center, and fold in half. Fold the ends of the half together into a horseshoe shape. If they spring open, place them in a muffin tin to cool until set.

Repeat until all batter is gone. Store cooled cookies in an airtight container or bag.
Notes
From: All Recipes
Although these cookies are not malleable if overbaked, you need to bake them long enough until they are golden around the edges or they will be too under baked and remain soft, spongy and pancake-like. See blog post above for additional tips to achieve success.
This post contains affiliate links. Full disclosure here.