I don't remember where I first heard about Meg Wolitzer's new novel The Female Persuasion, but I remember getting immediately excited and adding to my TBR on Goodreads. Even though I didn't really like The Interestings, the description of this one seemed right up my alley. If I didn't like it, I decided, Meg Wolitzer probably wasn't for me. As luck would have it, I didn't have to wait long to read it -- I was the first one to receive it when it arrived at the library on New Book Tuesday, April 3. I rushed to pick it up.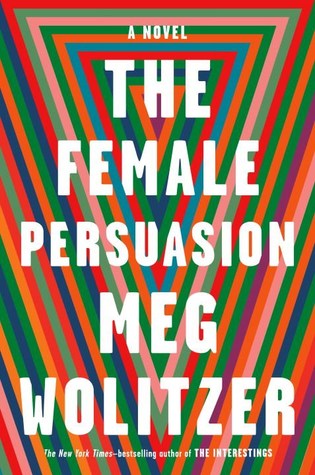 In it, Wolitzer explores feminism from the inside-out. Greer is a shy college freshman when she attends an event where Faith Frank is speaking. A prominent figure in the women's movement for decades, Faith captivates the room. Greer, too, is inspired and decides to approach Faith, making to a connection that will shape her ideas, her career and her future.
Aside from Greer, the story also follows her boyfriend Cory and her best friend Zee, whose lives provide a contrast to her own. For the most part, Greer lives in Faith Frank's bubble. Together, they work at an organization that is meant to empower women, putting on summits and funding special projects that help women around the world. Wolitzer is very conscious of her white feminist outlook, something that comes through in Greer's questioning of whether or not their work is actually making a difference.
This novel received a lot of buzz before it's release, partly I would imagine because of the topic in the current political client and partly because of Wolitzer's success with The Interestings. It's currently sitting at just under 4 stars on Goodreads; I gave it 4 stars myself. Less than a month from it's release, the buzz continues - Jezebel reported last week that Nicole Kidman has already signed on to star in the movie.
The meal I prepared to go with this novel draws its inspiration from a steak dinner that Faith Frank hosts at her home. At one point in the novel, she admits, not exactly jokingly, that steak is all she knows how to prepare. The guests praise her steak, calling it the best they've ever had. One of them even suggests she open a restaurant called Faith Frank's Feminist Steakhouse, where "every steak would come with roast potatoes, creamed spinach, and the promise of equality."  
I found a recipe online by searching "steak for a crowd," and settled on a delicious-sounding balsamic-marinated steak adorned with "unstuffed" mushrooms from the Food Network. The recipe was quite simple and started with 8 hours in a balsamic vinegar-based marinade.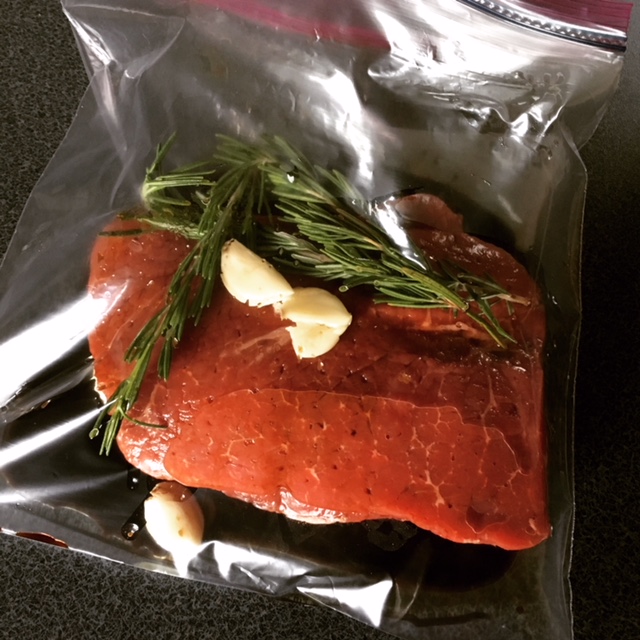 After the steak was well-marinated, I removed it from the marinade, patted it dry and sprinkled both sides with salt and pepper. Then, it cooked under a preheated broiler for about 6 minutes, before turning for another 7-8 minutes (15 minutes total). In the summer, the steak could also be cooked on the grill.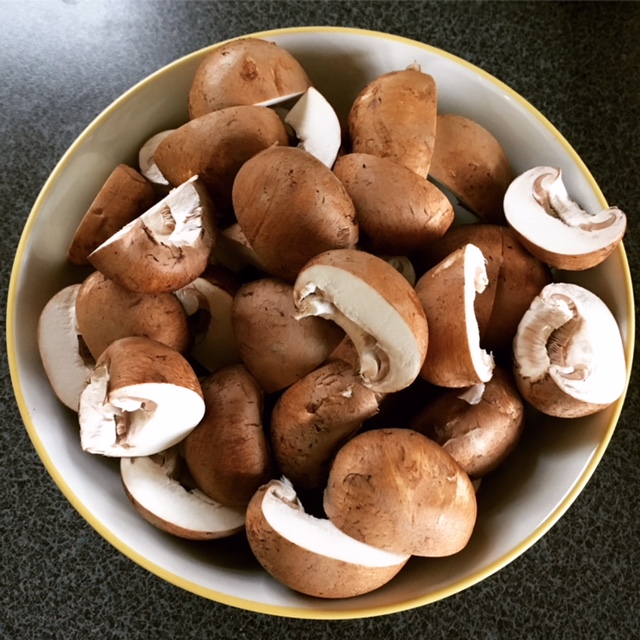 After turning the steak halfway through, begin cooking the mushrooms. In a large skillet, I heated 2 tablespoons of olive oil. To that, I added about a pound of mushrooms, cooking for 10 minutes, and then the breadcrumbs, butter, chopped rosemary and salt and pepper. I cooked for another few minutes until the breadcrumbs also turned a golden brown.
When the mushrooms were done, and the steak was rested, I sliced it against the grain to serve. As you'd find in Faith's Franks fictional steakhouse, I also served them with a simple roasted sweet potato and some creamed spinach (which I bought pre-made).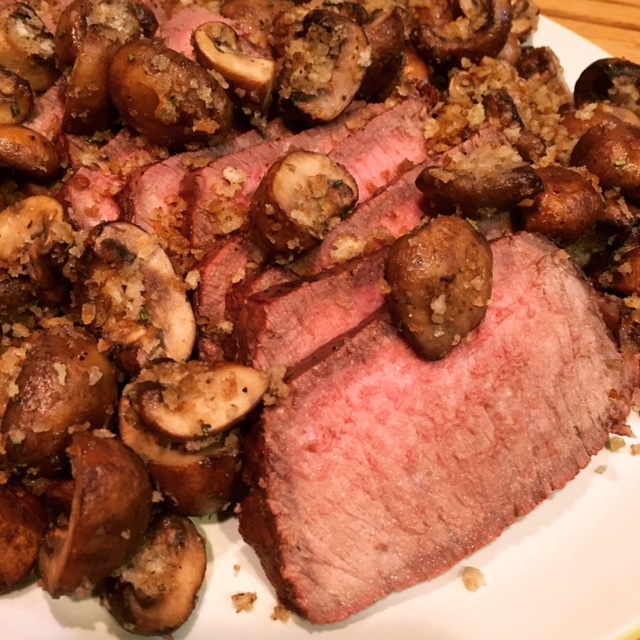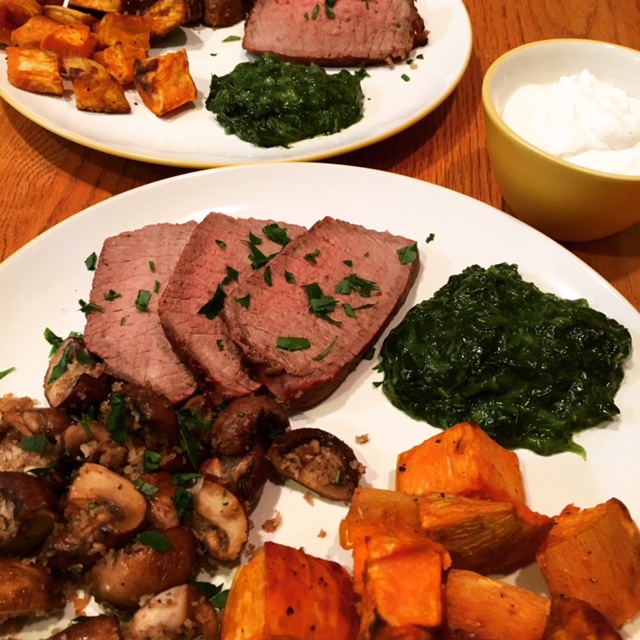 The steak definitely had amazing flavor, and I wouldn't hesitate to make it again - whether for Scott and myself or for a group of guests. 
Have you read Meg Wolitzer's latest novel yet? What were your thoughts? I'd love to hear in the comments below!
Balsamic-Marinated Steak with Unstuffed Mushrooms
Ingredients
1

2 to 2 1/2-pound 1 1/2-inch-thick London broil

1/4

cup

olive oil

1/4

cup

Worcestershire sauce

2

tablespoons

balsamic vinegar

4

cloves

garlic

smashed

2

whole sprigs rosemary plus 1 teaspoon chopped leaves

Kosher salt and freshly ground black pepper

1

pound

cremini mushrooms

halved

1/2

cup

panko breadcrumbs

2

tablespoons

unsalted butter

1/2

cup

sour cream

2

tablespoons

prepared drained horseradish

1

tablespoon

chopped fresh parsley

for garnish
Instructions
Pierce the meat all over with a fork and place in a large resealable plastic bag. Add 2 tablespoons of the olive oil, the Worcestershire, vinegar, garlic and whole rosemary. Seal the bag, pushing out all the air. Shake the bag a few times and refrigerate 8 hours or overnight.

Preheat the broiler and line a rimmed baking sheet with aluminum foil. Remove the meat from the marinade and pat dry. Sprinkle both sides with 1 1/2 teaspoons salt and 1/2 teaspoon pepper. Broil, flipping once, until the internal temperature reaches 125 degrees F, about 13 minutes. Transfer to a cutting board, tent with foil and let rest at least 15 minutes.

Meanwhile, heat the remaining 2 tablespoons oil in a large skillet over medium-high heat. Add the mushrooms and cook until golden brown and tender, about 10 minutes. Add the breadcrumbs, butter, chopped rosemary and 1/4 teaspoon each salt and pepper. Cook, stirring, until the breadcrumbs are golden brown, another 3 minutes. Set aside.

Stir together the sour cream and horseradish and season with salt and pepper. Slice the steak against the grain, top with the mushrooms and garnish with the chopped parsley. Serve with the horseradish sauce on the side.
Notes
Slightly adapted from: Food Network
London broil can refer to several different cuts of beef from the top round or part of the flank steak. The overnight marinating should tenderize any of those cuts, but we found a London broil from the top round to be an especially tender and tasty cut for this dish.
For a true Faith Frank's Feminist Steakhouse experience, serve with roast potatoes, creamed spinach and the promise of equality.
This post contains affiliate links. Full disclosure here.