Happy Tuesday, everyone! It's time for another edition of Top Ten Tuesday, a literary list with a new bookish topic every week. This Tuesday's topic is a freebie, which means I get to do whatever I want! This week I'm going to focus on some of my favorite palate cleansers.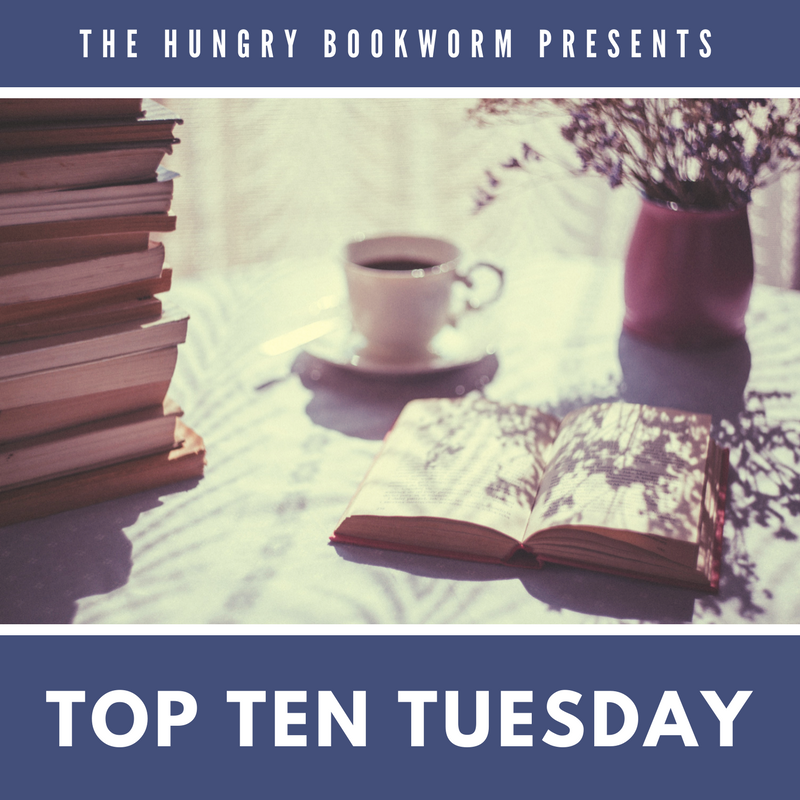 And while this means something in the food world (my other favorite topic), I'm actually referring to those in the book world. Book palate cleansers can mean be used for various reasons. You just finished an intense read and are looking for something easy or fun. You've been having trouble getting into everything you pick up and need a story that will draw you in. You're a little stressed in real life and want a book that is the exact opposite, an escape.
No matter why you're seeking a book palate cleanser, they all tend to have some commonalities: Quick or short reads are perfect. Usually light-hearted or not-so-serious storylines are necessary. Best if they're completely immersive so you can get lost in them.
Let's get to the list, shall we?
The Rosie Project - Graeme Simsion's novel is one of my favorites. It's not a revolutionary book, by any means, but it tells a hilarious, feel-good story, a perfect palate cleanser. Don embarks on his journey to find true love - with a very specific set of requirements - when life introduces him to Rosie, a spontaneous woman looking for her father. You'll root for them both and walk away feeling utterly charmed.
The Night Circus - Erin Morgenstern's magical story will grab you from the very first page where the breathtaking Le Cirque des Rêves is the backdrop for a high-stakes competition between two young magicians. Erin's detailed, vivid descriptions will immerse you in this world of magic and beauty. My entire book club adored this book when we read it a few years ago, and that's no small feat.   
Where'd You Go, Bernadette - I found this slightly-absurd novel to be laugh-out-loud funny, and I tore through it. Two ingredients that make for a perfect palate cleanser. Maria Semple's novel is about the eccentric, fiercely-opinionated Bernadette and her struggles to fit in with other private school parents, her neighbors and occasionally the world at large. It's surprisingly touching and a book I continue to recommend.
Someday, Someday, Maybe and Talking As Fast As I Can - When I'm stressed out, I always find comfort in the Gilmore Girls. Since both of these books are by Lauren Graham, they're sort of like the book equivalent of that oh-so-familiar show. Her novel Someday, Someday, Maybe follows an aspiring actress in NYC in the nineties. and it's as charming and funny as you'd expect something Lauren wrote to be. Her memoir Talking As Fast As I Can is just lovely to read, both quick and fun. It's like sitting down to a big cup of coffee with an old friend, with the added bonus of getting to learn some inside information about your favorite shows (if those shows happen to be Gilmore Girls and Parenthood).
Mr. Penumbra's 24-Hour Bookstore and Sourdough - Robin Sloan's novels definitely have that immersive quality about them. In Mr. Penumbra, we get lost in the underground world of books as Clay, a bookstore employee, tries to discover his employer's secrets. In Sourdough, we discover a secret food market as Lois, a software-engineer-turned-baker, becomes consumed by the magic pull of her sourdough starter and tries her best to keep it alive. Both novels are quick and all-consuming with a dash of magical realism that will truly allow you to escape.
Is Everyone Hanging Out Without Me? - Mindy Kaling's first memoir is my favorite. It's amusing and quick. She shares anecdotes from her childhood and early career, many of them relatable and a number of them surprising. This light-hearted book is as palate-cleansing as an episode of your favorite sitcom.  
Love & Gelato - This novel is a bit like the YA equivalent of Under the Tuscan Sun in that a sad, unexpected life event leads our protagonist to travel to Tuscany, where she comes into her own and eats delicious meal after delicious meal. Yes, it will make you hungry. The added bonus of a bit of a mystery - as Lina tries to uncover some of her mother's secrets - will keep you turning the pages.
The Wedding Date - Jasmine Guillory's novel is a quick, rom-com of a read. Some steamier scenes will have you forgetting your own problems so you can focus on the twists-and-turns of Alexa and Drew's budding relationship. It's amusing and easily devoured.
My list leans heavily contemporary, but there is definitely something to be said for picking up a book that you love and maybe even know by heart, and classics can work great for this. They're like an old friend, welcoming you home with open arms. The best part? You know what to expect, and you know you'll walk away feeling better and ready to conquer the next book, whatever it may be.   
What are some of your favorite book palate cleansers, contemporary or classic?
_______________
Top Ten Tuesday is an original weekly blog meme that was created at The Broke and the Bookish but is now hosted over at The Artsy Reader Girl. I participate about once a month, but each week there is a fun new bookish topic for bloggers to create literary lists about. If you'd like to know more about it, check it out here.
This post contains affiliate links. Full disclosure here.