I love being a part of the Book of the Month Club for many reasons, including that I love getting mail and I love when that mail is books. I love BOTM even more when it introduces me to a wonderful novel I haven't heard of before. (Some of my recent favorites from BOTM have been The Seven Husbands of Evelyn Hugo and The Heart's Invisible Furies.) Clarissa Goenawan's debut novel Rainbirds caught my eye because of the beautiful cover, and I ultimate chose it for the description.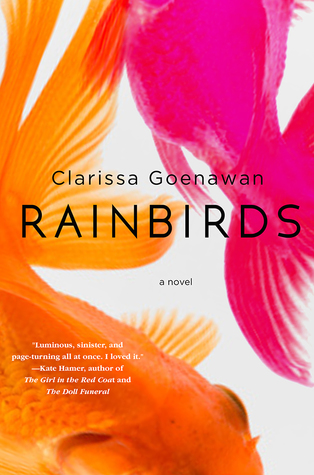 It takes place in a small town in Japan, where Ren Ishida goes to get his older sister's affairs in order after her murder. They shared a special bond, taking care of each other when their parents were otherwise occupied. He struggles to make sense of her sudden death, wondering if he could've done anything differently. Ren seeks solace in answers and soon finds himself slipping into her life, accepting her teaching job and moving into her old rented bedroom.
I wouldn't call this novel a page-turning thriller, but it definitely has a low-key mystery to it and I was engaged the whole time. When paired with the magical realism of his dreams, I was at times a little creeped out, but I couldn't put it down and I finished it in one sitting last weekend. Goenawan's imagery is vivid, and she did an excellent job describing the relationship of two siblings who try to remain close despite distance.
Ren clearly looked up to his sister and they shared many special moments over food. When they were younger, the two of them would walk to the convenience store and buy box lunches for their meals every day. One day, she started cooking for him. The first dish she ever made was curry rice, and it became his favorite.
I had only really heard of curry in relation to Indian food before, and so naturally the mentions of curry rice in Japan piqued my curiosity. I learned that Japanese curry is different from Indian curry, tending to be thicker and milder. And, when I was researching recipes online, I also learned that the secret to Japanese curry is to used the boxed mix. I found the curry mix easily enough at my local Asian market (which you may recall from my dumpling-making experience). I also picked up some stew beef, since research also told me that beef is the most popular meat for Japanese curry.
To start, I peeled my carrots, onions and potatoes before chopping them into bite-size pieces. I browned the meat in a pot, removed it and added the onions. The onions cooked for about 8 minutes. Then, I added the carrots and potatoes, along with the meat. I added 4 cups of water and brought it to a boil. Once it reduced to a simmer, I covered it and allowed it to cook for 45 minutes.
Meanwhile, I inspected the curry mix I had purchased.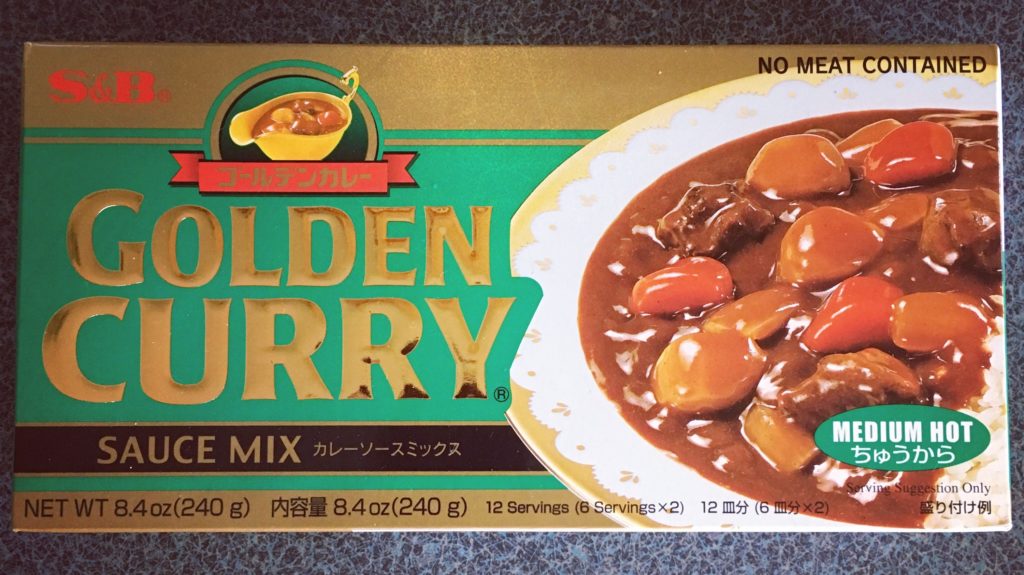 Inside the box, there were two sealed plastic containers, each one enough to make the recipe once. The curry mix itself is sort of a cross between a bouillon cube and a chocolate bar in texture, and it's scored into 4 equal sections. The medium-hot flavor was a green color.
Once the meat was cooked through, I broke the curry mix into pieces and added it to the pot, stirring to make sure it dissolved well. I opted to add all of the additional seasonings, since it was recommended to give the dish depth of flavor. Once I added those in, I stirred the curry and let it cook for another 10 minutes.
Finally, thankfully, it was ready. It smelled absolutely amazing and I couldn't wait another minute to eat it. I spooned it over scoops of white rice, and we dug in.
It may not be very photogenic, but it more than made up for that in taste. I'm so excited the box contained enough curry mix for two preparations because we will definitely be making it again.
Japanese Curry Mix
Ingredients
½

lb

stew-cut beef

2

onions

2

carrots

3

potatoes

1

Tbsp

oil

4

cups

water

or see the package for the amount of water

1

package curry sauce mix

about 4 oz

Steamed rice
Optional Seasonings
1

Tbsp

ketchup

1

Tbsp

Worcester sauce

1

Tbsp

apricot jam

1

Tbsp

soy sauce

1

tsp

curry powder
Instructions
Cut vegetables into bite size pieces.

Heat oil and brown meat in a pot, then take meat out.

In the same pot, fry onions for 8 minutes. Add carrots and potatoes, then cooked meat.

Add water to the pot. After it boils, skim fat, and reduce heat to low. Cover and cook for 45 minutes until the meat becomes tender.

Remove from heat and add curry sauce mix. Stir well so the pieces of the mix dissolve.

If using the optional seasonings above, add all except the curry powder now. Let it simmer for 10-15 minutes, or if you'd like it thicker, cook longer.

If you'd like to add the optional curry powder, stir in just before serving.

Pour the curry over steamed rice.
Notes
From: Japanese Cooking 101
I used S&B Golden Curry sauce mix. I had to go to my local Asian market to find it, but it is also available on Amazon. Each 8.4 oz box is enough to make this recipe twice.
This post contains affiliate links. Full disclosure here.