Today I'm sharing a post from fellow book blogger Ottavia over at Novels and Nonfiction, who was generous enough to let me share a review + recipe post on her blog last week. She's bringing you an amazing list of book recommendations - seriously, I've already added half of them to my TBR. Check it out below and make sure to visit her blog regularly for even more thoughtful bookish content! Without further ado...
___________
Hi everyone! It's Ottavia from Novels And Nonfiction. I'm really excited to have the opportunity to share a guest post today on the wonderful Megan's blog. Since Megan primarily features fiction, and I tend to review a lot of nonfiction, I thought I would give some recommendations of nonfiction titles for readers who might not typically read nonfiction.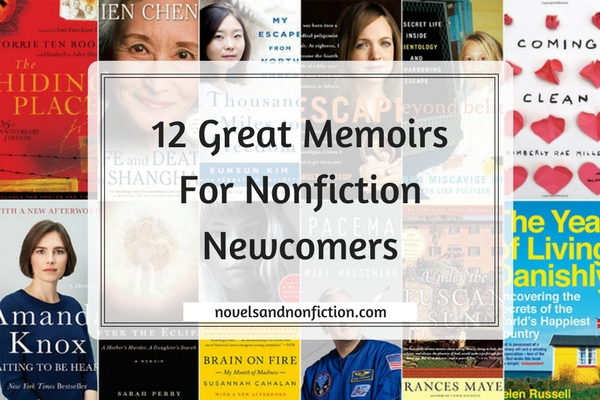 I decided to focus on memoirs because I find that they make great 'gateway drugs' for nonfiction newcomers. With their more personal and narrative style, they provide a much easier bridge into nonfiction for lovers of fictional stories. In fact, some of the stories within the memoirs I picked for this post are so incredible, they read like novels. I picked two memoirs per fiction genre - from historical fiction, to thrillers and even science fiction. Look for the genre of fiction you typically love and see if you want to dip your toe into similar nonfiction waters.
If you like Historical Fiction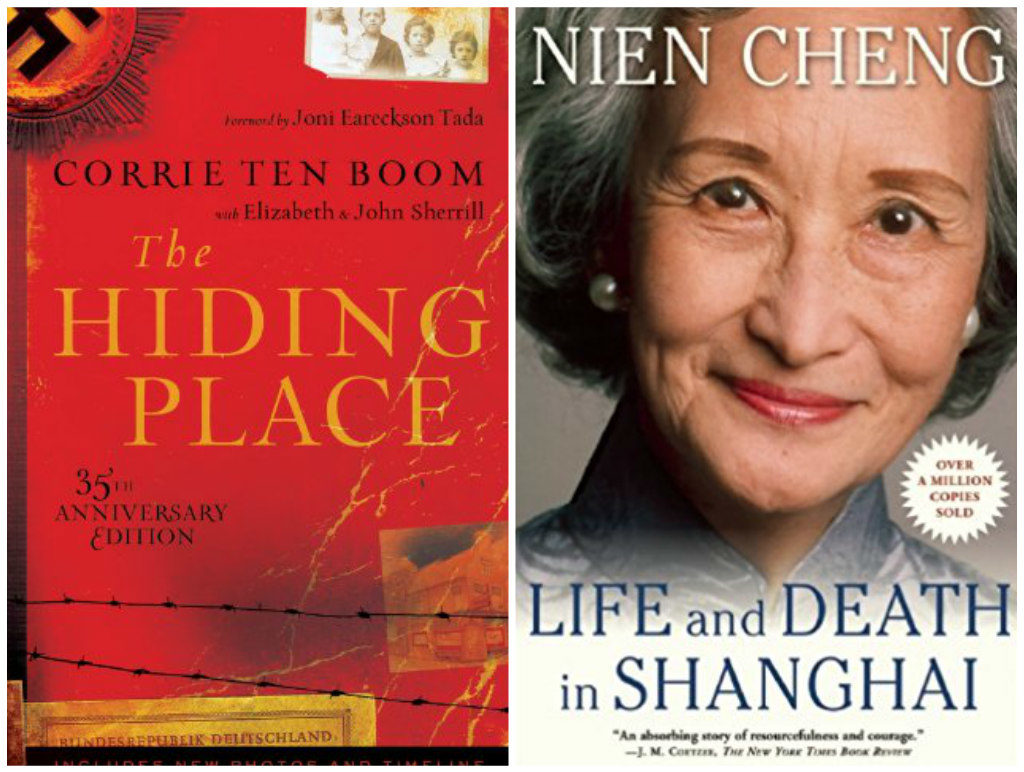 Move over All The Light We Cannot See and The Nightingale. Corrie Ten Boom's memoir The Hiding Place is such an awe-inspiring story that it will hold up to the best World War II historical fiction novels you've read in your life - I'm not exaggerating. Of equal impact is Nien Cheng's memoir of her imprisonment during the Chinese Cultural Revolution for those who want to take their historical reading past the well-trodden confines of the second World War.
The Hiding Place by Corrie Ten Boom (with Elizabeth & John Sherrill)
Corrie Ten Boom and her family lived contentedly in the tiny Dutch house over their watchmaking shop. With the Nazi invasion and occupation of Holland, they became leaders in the Dutch Underground, hiding Jewish people in their home in a specially built room and aiding their escape from the Nazis.
Life and Death in Shanghai by Nien Cheng
In August 1966 a group of Red Guards ransacked the home of Nien Cheng. Her background made her an obvious target for the fanatics of the Chinese Cultural Revolution. When she refused to confess to her purported crimes, she was placed in solitary confinement, where she would remain for more than six years. This is the powerful story of her imprisonment and of her quest for justice.
If you like Thrillers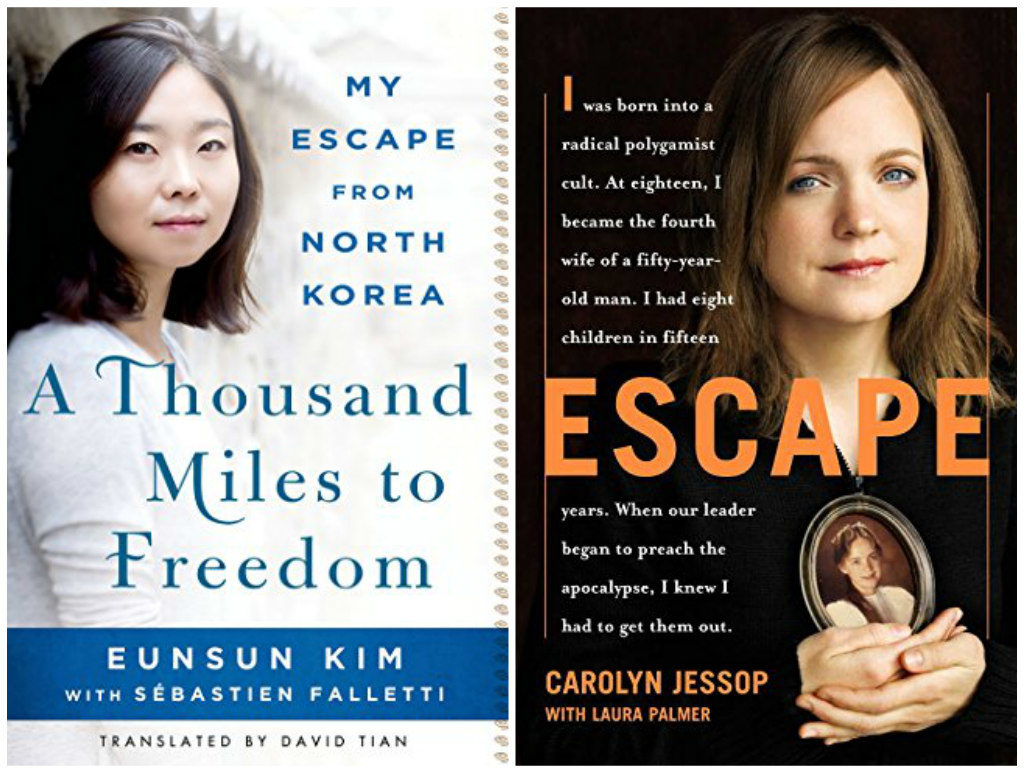 If your looking for memoirs that will hold up to the suspense and plot twists of a thriller, unfortunately real life is filled with just as many twists and turns for many people. In the case of Eunsun Kim and Carolyn Jessop, their lives were as equally shaped by their traumatic pasts as by the harrowing escapes they both made towards freedom. You'll be holding your breath and hoping they make it past each hurdle along their path.
A Thousand Miles to Freedom by Eunsun Kim
By the time Eunsun Kim was eleven years old, Eunsun's father and grandparents had died of starvation, and Eunsun too was in danger of starving in her home country of North Korea. Finally, her mother decided to escape the country with Eunsun and her sister, not knowing that they were embarking on a journey that would take them nine long years to complete.
Escape by Carolyn Jessop
The dramatic first-person account of life inside the FLDS, an ultra-fundamentalist American religious sect. When she was eighteen years old, Carolyn Jessop was coerced into an arranged marriage with a total stranger: a man thirty-two years her senior. No woman in the country had ever escaped from the FLDS with her children. But in 2003, Carolyn chose freedom over fear and fled her home.
If you like Contemporary Fiction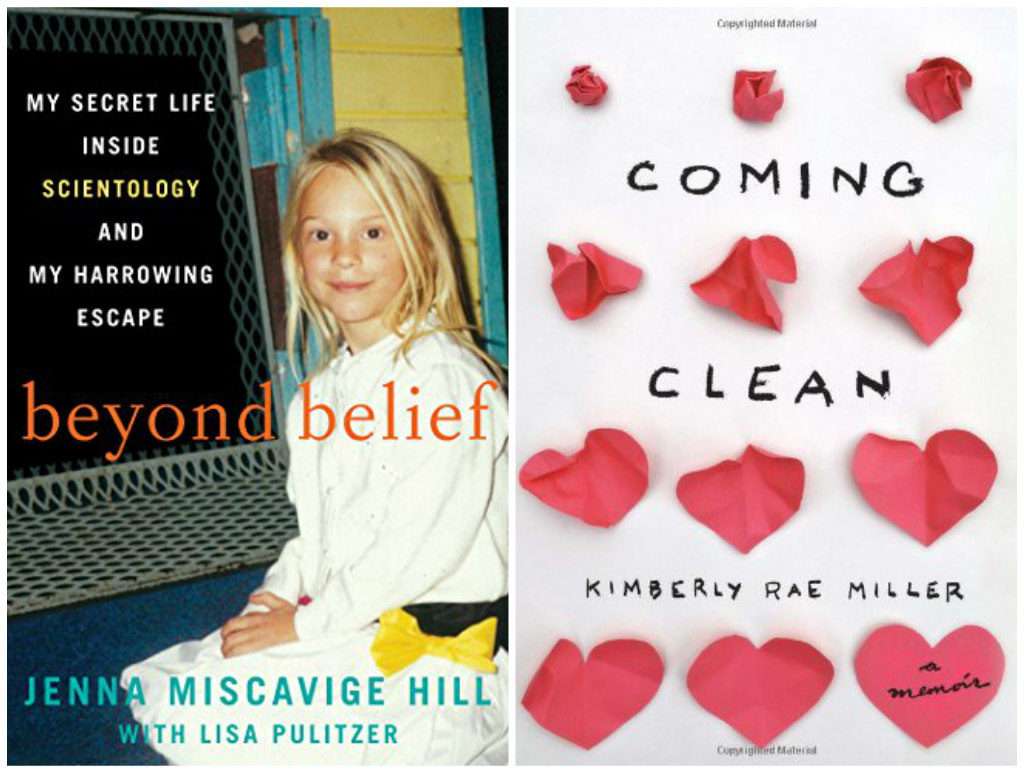 For memoirs that felt similar to contemporary fiction novels, I picked recent personal stories with a family component that include highly topical themes - like cults in the case of Beyond Belief and mental illness in the case of Coming Clean. Beyond Belief is actually my favorite memoir ever, and so it couldn't be left off this list. It more than lives up to the promise of its title.
Beyond Belief by Jenna Miscavige Hill
Jenna Miscavige was raised to obey. As niece of the Church of Scientology's leader David Miscavige, she grew up at the center of this controversial organization. At 21, she made a break, risking everything she'd ever known and loved to leave Scientology once and for all. Now she speaks out about her life in the Church, going deep inside a religion that, for decades, has been the subject of fierce debate and speculation worldwide.
Coming Clean by Kimberly Rae Miller
A stunning memoir about a childhood spent growing up in a family of extreme hoarders. Kim Miller is an immaculately put-together woman with a great career, a loving boyfriend, and a beautifully tidy apartment in Brooklyn. In this coming-of-age story, Kim brings to life her experience of growing up in a rat-infested home, concealing her father's shameful secret from friends for years.
If you like Mysteries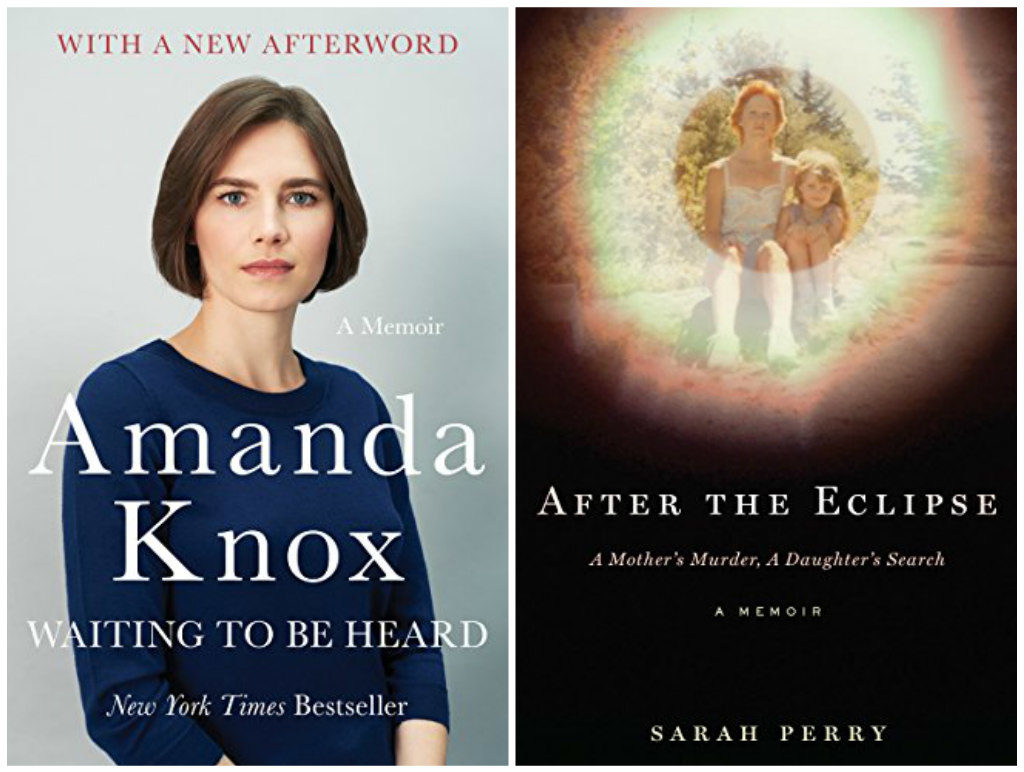 Mysteries may have a slower pace and fewer spine-tingling moments than thrillers, but they still pack a punch in the psychological investigation and unexpected revelation departments. These two memoirs revolve around crimes but are really explorations of the psyche of some of the people involved, rather than murders in action. I found Amanda Knox's memoir particularly interesting, coming from someone who was once presumed a killer herself.
Waiting to Be Heard by Amanda Knox
While studying abroad in Perugia in 2007, Amanda Knox's life was shattered when her roommate, British student Meredith Kercher, was murdered in their apartment. Five days later, Amanda was taken into custody and charged by the Italian police; her arrest and the subsequent investigation ignited an international media firestorm. Free at last, she returned home to the U.S., where she has remained silent, until now.
After the Eclipse by Sarah Perry
When Sarah Perry was twelve, her mother Crystal was murdered in their home in rural Maine, just a few feet from Sarah's bedroom. The killer escaped unseen; it would take the police twelve years to find him, time in which Sarah grew into adulthood, struggling with the effort of rebuilding her life when so much had been lost. Told in searing prose, After the Eclipse is a luminous memoir of uncomfortable truth and terrible beauty.
If you like Science Fiction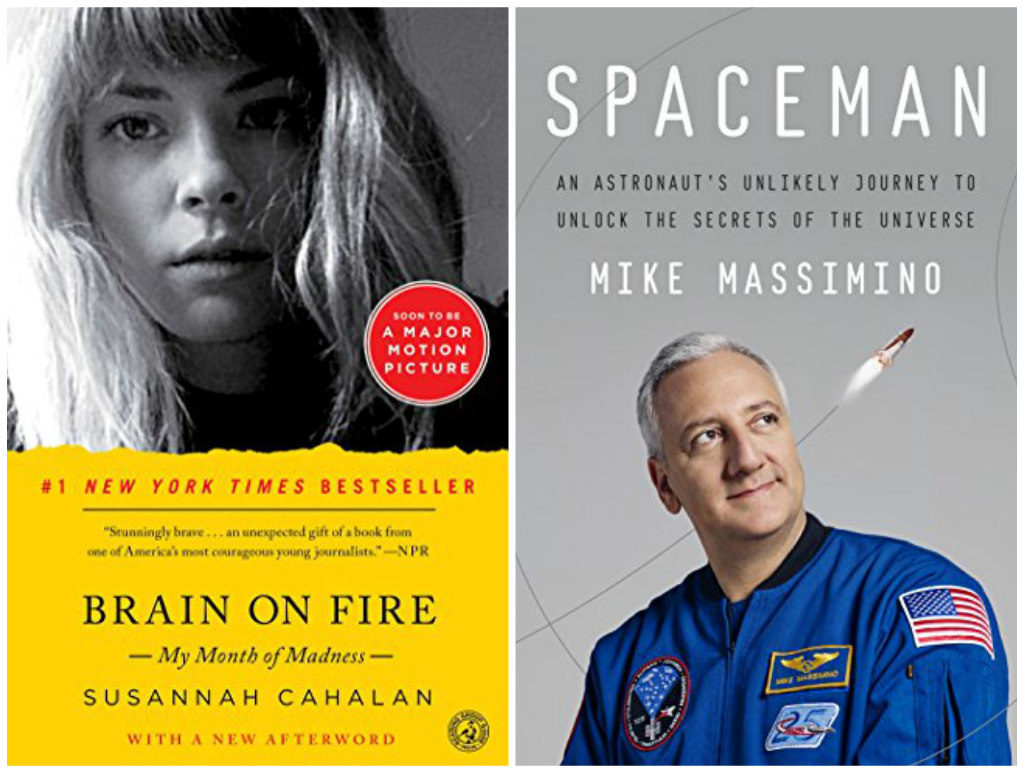 For memoirs that would appeal to lover of science fiction, I looked for true stories that are out of this world, science-y and stranger than fiction. Brain On Fire is one of my Top 10 favorite memoirs ever, and particularly if you're in your twenties will hit very close to home in a riveting way. For the lovers of space-themed science fiction, Massimino provides an accessible version of an astronaut's story that still feels otherworldly.
Brain on Fire: My Month of Madness by Susannah Cahalan
When Susannah Cahalan woke up alone in a hospital room, unable to move or speak, she had no memory of how she'd gotten there. She had been on the threshold of a new adult life and a promising career at a major New York newspaper. Now she was labeled violent, psychotic, a flight risk. What happened? Cahalan tells the astonishing true story of her descent into madness and the lifesaving diagnosis that nearly didn't happen.
Spaceman by Mike Massimino
Have you ever wondered what it would be like to be strapped to a giant rocket that's about to go from zero to 17,500 miles per hour? Or to stand by the Hubble telescope, wondering if the emergency repair you're about to make will inadvertently ruin humankind's chance to unlock the universe's secrets? Mike Massimino has been there, and in Spaceman he puts you inside the suit, with all the buoyancy of life in microgravity.
If you like Romance Novels
Readers who gravitate towards romance novels want light, escapist reads focused on relationships and romance. I think Mayes' love affair with Italy and Russell's initially ambivalent tryst with Denmark apply. Keeping it light on the sociological and economic analysis, these memoirs are focused on the transforming experience of women rebuilding their lives in a new location. Another good option would definitely be Eat, Pray, Love.
Under the Tuscan Sun by Frances Mayes
Frances Mayes entered a wondrous new world when she began restoring an abandoned villa in the spectacular Tuscan countryside. There were unexpected treasures at every turn: faded frescos beneath the whitewash in her dining room, a vineyard under wildly overgrown brambles in the garden, and, in the nearby hill towns, vibrant markets and delightful people.
The Year of Living Danishly by Helen Russell
Denmark is officially the happiest nation on Earth. When Helen Russell is forced to move to rural Jutland, can she discover the secrets of their happiness? Or will the long, dark winters and pickled herring take their toll? A Year of Living Danishly looks at where the Danes get it right, where they get it wrong, and how we might just benefit from living a little more Danishly ourselves.
. . .
Have you read any of these titles and what did you think of my recommendations? Any other memoirs you'd recommend to someone who is new to nonfiction? Please comment below, and I invite you to stop by my blog Novels and Nonfiction anytime for some of my favorite nonfiction and fiction picks!
___________
This post contains affiliate links. Full disclosure here.