Every reader has something they look for in a book, something that makes it worth it for them. I enjoy a well-crafted plot, and I love memorable characters. I'm not usually the type of reader who gushes about writing or writing style. To me, in most cases, I'd rather not notice it. If it's good, it's seamless, enhancing the other elements of the book that normally stand out to me; if it's bad, it can take away from an otherwise good story and becomes more annoying than anything else.
However, in the case of The Mothers, what did stand out to me was the writing. Brit Bennett sure has a wonderful way with words, and I ate them right up.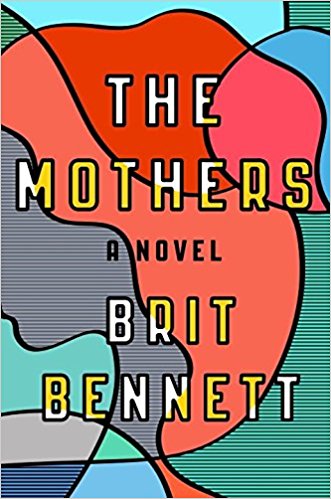 Her story about a contemporary black community in Southern California is narrated by the female elders at the church or "the Mothers." When we begin, Nadia is seventeen and about to graduate high school, destined for great things. She begins dating the pastor's older son, Luke, and the relationship progresses how you would probably expect. Determined to not let anything get in her way of her ambitions, Nadia makes a decision that will impact everyone far beyond their youth.
The characters Brit creates are not exactly likeable, but I found them - and the situations they were in - to be pretty realistic. Of course, her writing kept me captivated until the end.
I took the inspiration for today's recipe from a few sources. Throughout the novel, Nadia talks about what it's like to live by the ocean and Luke works at a local seafood restaurant. I wanted a seafood dish that was "very California," or my interpretation of that, at least. And I wanted something as bright and colorful as the book cover. What immediately came to mind was a dish I'd made before - Blackened Fish Taco Bowls from 40 Aprons. It hits all the right notes - seafood, healthy and bright.
These bowls look like they require a lot of ingredients, but it's a bit deceiving. Most of the spices are common enough that I had them all on-hand. (Even if you do have to buy them, you'll find they often appear in other recipes, so you won't have to buy them next time!) Additionally, I cut down the list - and saved time - by buying some of the ingredients pre-prepped or pre-made at the store. This includes the pre-shredded red cabbage, frozen cauliflower rice and chipotle aioli. (You could also choose to buy guacamole rather than make it from scratch.)
Anyway, I typically start by prepping everything but the fish. First, the red cabbage slaw. Pour the shredded slaw into a medium bowl, cover with the juice from 1 lime, or about 3 tablespoons, and a pinch or two of salt (to taste). Using your hands, lightly massage and toss the cabbage to ensure it's well-covered with juice and salt. Set aside.
To make the mango salsa, peel and remove the seed. Cut into small- to medium-diced chunks. Add a couple of tablespoons of diced red onion, chopped cilantro, salt and the juice from ¼ of a lime, or just under 1 tablespoon. Stir to combine and set aside.
You can either buy guacamole or use your own recipe, but I like to make a really simple guac that focuses on the flavor of the avocado. Cut an avocado in half, remove the pit and scoop the flesh out into a medium bowl. Sprinkle it with a pinch or two of salt and add a couple of tablespoons of lime juice (both to taste). Let it sit for a moment and then use a fork to mash it up to your preferred consistency. I like it to be pretty smooth. Then, if desired, add chopped cilantro and stir to combine. Set aside.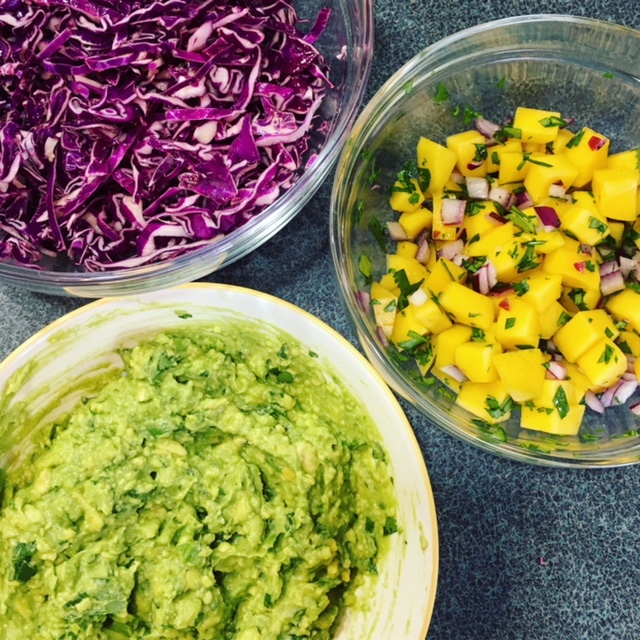 Next, season the fish. Combine the spices in a small bowl. Lay the tilapia out on a cutting board and, using your hands, cover it generously with the spice mixture. Do this on both sides of each piece of fish.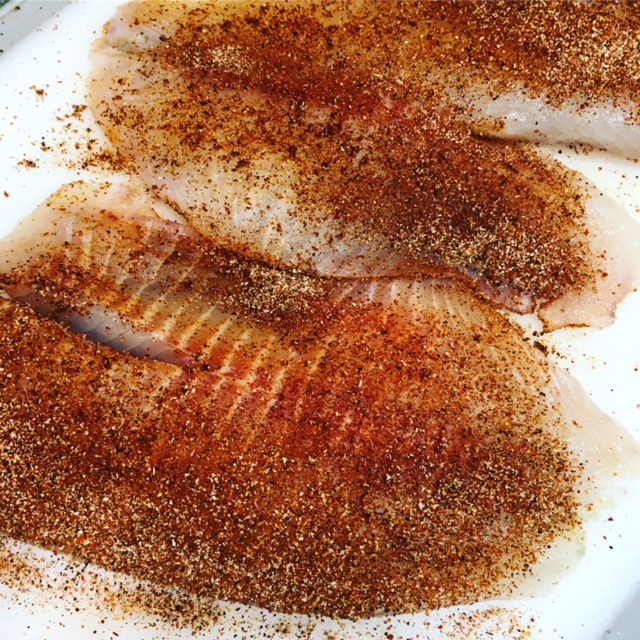 Preheat a bit of oil in a skillet and then add the fish fillets. Cook each side for only 3-4 minutes, so it doesn't become overcooked.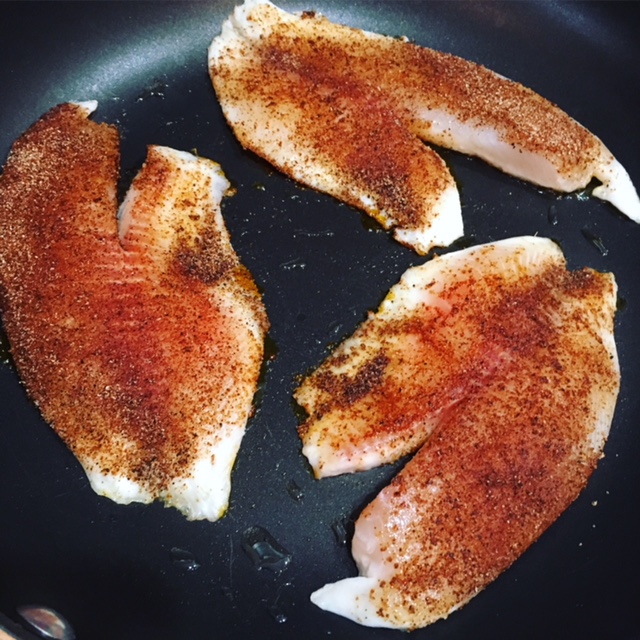 While the fish is cooking, heat your cauliflower rice (if using the microwave; if using another method, you may need to start sooner). Flip the fish over and begin assembling the bowl while it cooks on the second side.
Start by scooping about 1 cup of the rice into each bowl. Add a generous helping of the cabbage slaw along the side of the rice. When the tilapia is done cooking, top each bowl with a fillet. Add mango salsa and guacamole. Finally, top the fish with chipotle aioli as desired.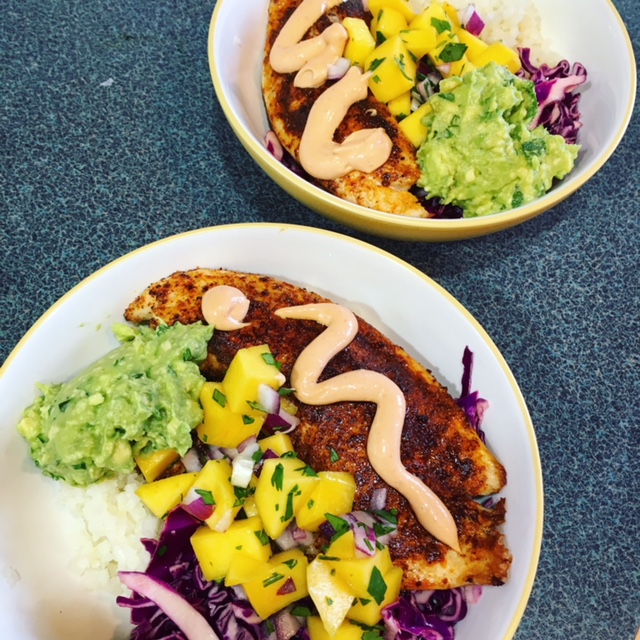 This dish is so simple and comes together quite quickly (despite the long list of ingredients and directions). It's so visually appealing you won't be able to wait to gobble it right up. Enjoy!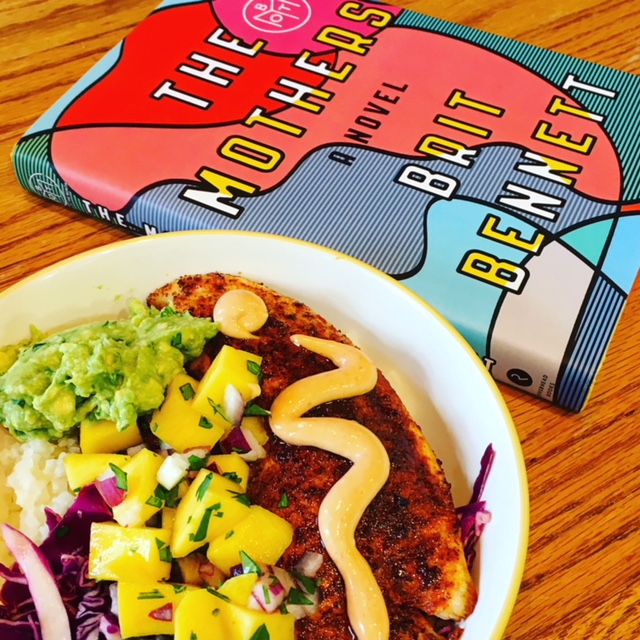 Fish Taco Bowls with Mango Salsa and Cauliflower Rice
Ingredients
Blackened Fish
2

tilapia loins or fillets

about 1 pound

1

teaspoon

chili powder

½

teaspoon

smoked paprika

½

teaspoon

garlic powder

½

teaspoon

onion powder

¼

teaspoon

cumin

½

teaspoon

salt

¼

teaspoon

pepper

1

tablespoon

coconut or olive oil
Guacamole
1

avocado

peeled and seeded

2

tablespoons

cilantro

chopped

½

lime

juiced, plus more to taste

salt

to taste
Mango Salsa
1

mango

peeled, seeded and diced

1

tablespoon

cilantro

chopped

2

tablespoons

red onion

chopped

¼

lime

juiced

salt

to taste
Red Cabbage Slaw:
2

cups

shaved red cabbage

(about 8 oz bag or ¼ head of red cabbage)

1

lime

juiced

salt

to taste
For serving:
Cauliflower Rice

2-3 cups

Chipotle Aioli
Instructions
To prepare Blackened Fish:
Combine all spices in a small bowl and rub generously over top and bottom of fish filets. Heat oil in a medium skillet over medium heat and add fish. Cook about 3-4 minutes on each side, or until fish flakes easily. Do not overcook.
To prepare Guacamole:
Combine all ingredients and mash until desired consistency. Add more salt or lime juice to taste.
To prepare Mango Salsa:
Combine all ingredients in a medium bowl.
To prepare Red Cabbage Slaw:
Combine all ingredients in a medium bowl. With your hands, massage lime juice and salt into cabbage to tenderize, until purple juices are released.
To assemble Fish Taco Bowls:
Spoon heated cauliflower rice into individual serving bowl (about 1 - 1½ cup each). Spoon red cabbage slaw next to cauliflower rice. Top with fish filet, guacamole, followed by mango salsa. Finally, top with chipotle aioli, if desired. Serve immediately.
Notes
Adapted from: 40 Aprons
To reduce prep time and cleanup, my recipe uses store bought cauliflower rice and chipotle aioli. However, in its original form, this recipe is Whole 30 and paleo compliant. If you would like to adhere to those dietary guidelines, please see link above for from-scratch recipes for the cauliflower rice and chipotle aioli.
This post contains affiliate links. Full disclosure here.