In The Book of Unknown Americans, Cristina Henríquez gives a voice to the millions of immigrants in the United States - how they got here and why, where they come from and what they're searching for. While her story focuses primarily on the Riveras and the Toros, many of the chapters are told from the perspective of other immigrants in their apartment complex in Delaware. Each hailing from a different Spanish-speaking homeland, each giving us a glimpse into their lives today.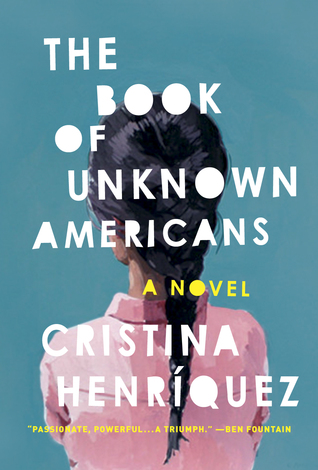 When their teenage daughter Maribel suffered a near-fatal accident, the Riveras did everything in their power to help her heal and come back to herself. Her father, Arturo, secured a job in Delaware and with it, visas for all of them to come to America, where Maribel would be able to enroll in specialized classes and receive a better education. She eventually meets Mayor, a fifteen-year-old whose family came from Panama; he has lived here nearly his whole life. He and the other residents help the Riveras navigate the language and cultural obstacles they face.
Their story is hopeful, but it is not without heartbreak. Henríquez deftly describes her characters' courage in the face of the unknown and what it means to be an immigrant in a country that doesn't always live up to expectations.  
American salsa is nothing like what they are used to in Mexico, and they learn to swallow bland oatmeal with a smile on their faces because it's affordable. Desperate to create a sense of home in their new apartment, Maribel's mom Alma leans on memories and, when she can, familiar foods.  One particular memory that stands out is from two Christmases before, in Mexico, when Maribel made buñuelos, dough that's flattened, fried and covered with cinnamon and sugar.
I knew they would be a better representation of the book than the boiled hot dogs and sticky oatmeal they so often ate here in America. I found a recipe from Muy Bueno Cookbook, where the author describes her grandmother making the fritters when she was a child. The recipe seemed easy enough, so I gathered the ingredients and got to work.
First, I combined the dry ingredients - flour, baking powder, salt and cinnamon - in a large bowl. In a saucepan, I warmed milk, butter and vanilla extract, allowing it to come to a boil.
While that mixture heated, I cracked an egg into a small bowl and whisked it well. I added the warm milk to the egg, a few tablespoons at a time, until it was tempered. Then, I added the rest of the milk mixture and whisked it together with the egg.
I added the wet ingredients into the large bowl, mixing to combine them with the dry ingredients. On a lightly floured surface, I poured out the dough and kneaded it for a few minutes until smooth.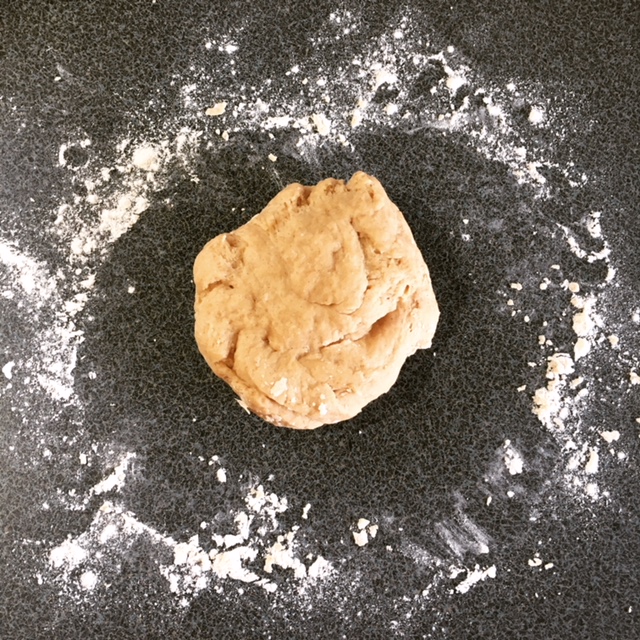 Then, I separated the dough into smaller balls - I cut the recipe in half since it's just the two of us, so I had 10 balls total.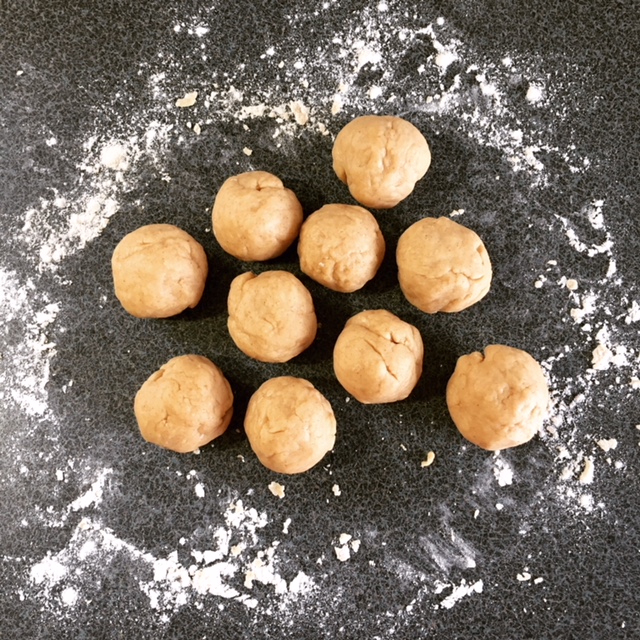 I used a tortilla press to flatten the dough, though if you don't have one, the original recipe calls for using a rolling pin (and you may be able to make them a bit thinner that way).
When each ball was flattened, I transferred it to some paper towels where it could dry. I flipped each flat once so each side would be able to dry. This reduces the moisture prior to frying.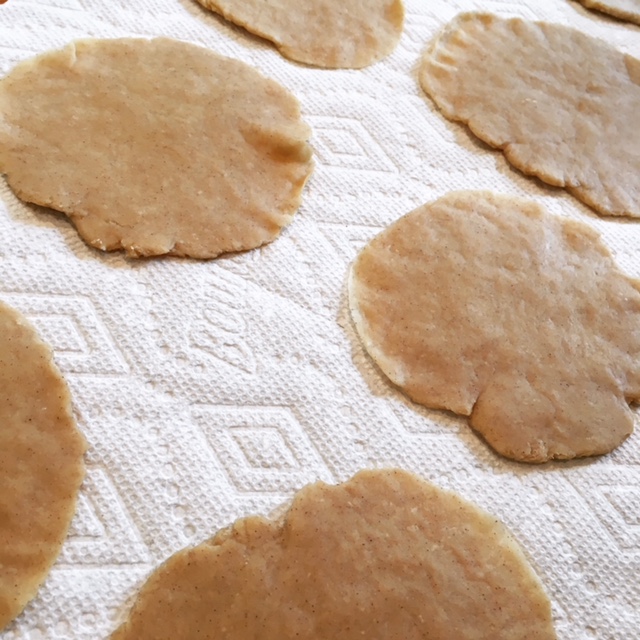 In a skillet filled with hot oil, about an inch high, I added the dough flats to fry until golden brown, or about a minute to a minute-and-a-half on each side. I did them in batches of two to three because that's what fit well in my skillet.
I let them drain vertically, in a paper towel-lined bowel, before transferring again to a plate when I could cover them with cinnamon-sugar. The finished product was crispy and delicious.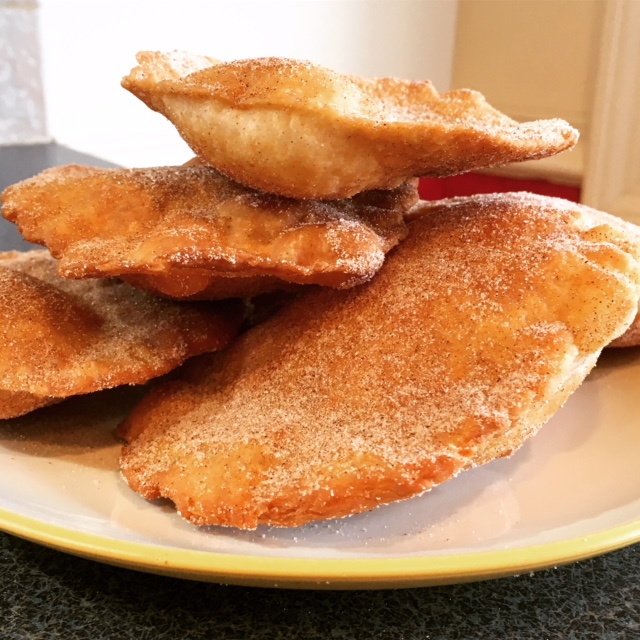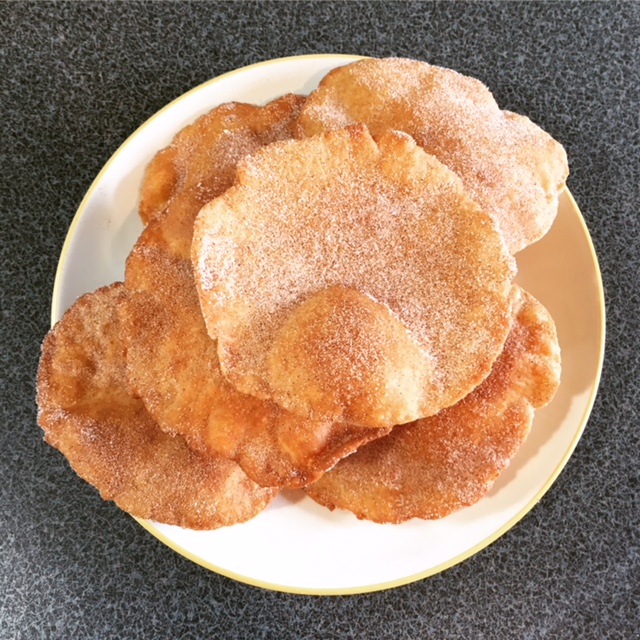 Mexican Buñuelos
Ingredients
3

cups

all-purpose flour

1

teaspoon

baking powder

1

teaspoon

salt

1

teaspoon

cinnamon

¾

cup

milk

¼

cup

butter

1

teaspoon

vanilla

2

beaten eggs

Canola or vegetable oil for frying
Sugar Coating
1

cup

sugar

1

teaspoon

cinnamon
Instructions
In a mixing bowl combine flour, baking powder, salt, and cinnamon.

In a saucepan heat milk, butter, and vanilla and bring to a boil.

In a separate bowl, mix the eggs, then add the beaten eggs to the warm milk mixture and whisk quickly.

Add the liquid mixture to dry ingredients and mix well.

Knead dough on lightly floured surface 2 to 3 minutes until smooth.

After you knead the dough, divide into 20 dough balls. With a rolling pin, roll out thin tortillas.

Lay out all the thin tortilla flats on a tablecloth and let them dry. Turn them over once to ensure drying on both sides. This helps remove most of the moisture before frying.

Heat one-inch of oil in a skillet wide enough for the tortillas to fry flat. Deep-fry tortillas until golden brown, turning once. Remove from pan; stand vertically in a bowl lined with paper towels and drain excess oil.

While warm, sprinkle fried tortillas on both sides with sugar-cinnamon mixture.
This post contains affiliate links. Full disclosure here.