Do you ever choose a book based on your location or season? I'm not generally one to choose a book based on the time of year, though I'll admit it can be quite nice to read a book about Christmas in December, and sometimes it feels like a disconnect to read about snow in the heat of summer. David Guterson's novel Snow Falling on Cedars was a recent book club pick, and it was added to the list quite honestly because it had a title that sounded like it would make for a nice winter read.
For those of you who are unfamiliar with the story - which was published nearly 25 years ago now - Snow Falling on Cedars revolves around a murder case on a fictional island in Puget Sound. In 1954, a Japanese American man named Kabuo Miyamoto is charged with the murder of fellow salmon fisherman Carl Heine, who drowned under suspicious circumstances. The island was never exactly an inclusive paradise, but many families on the island were Japanese and were for the most part accepted - at least until the Japanese bombed Pearl Harbor. Needless to say, with the war less than a decade out, the murder case renews racial tensions on the island.
It's billed as "gripping" and "suspenseful," probably exactly what you would expect from a story about a murder trial. I have to say, though, it's not. The courtroom scenes are certainly more fast-paced than the rest of the novel, but what takes up the majority of the narrative are flashbacks about life before the war, when Kabuo and Carl were teenagers. Like many families on the island, Carl's family owned a strawberry field, which Kabuo's family and other Japanese residents worked for a living.
I was invested in finding out the ending - who wants to set aside a book without knowing whodunnit? - but I found myself skimming passages and having to force myself to pick it up each time. What was wonderful about the novel were Guterson's rich descriptions of the island; it really is a novel of place more than anything. And while I don't often choose books for the season in which I'm reading them, I think this novel would make an apt selection for someone traveling to or living near Puget Sound. I definitely walked away with a sense of wanderlust for the area.
Taking inspiration from the island's two primary industries, salmon-fishing and strawberry production, I found a recipe for balsamic-glazed salmon with a strawberry salsa from food blogger, Life as a Strawberry. It's a really simple recipe and ended up being perfect for a weeknight meal.
To start, I preheated the oven to 375 degrees F and placed the salmon fillets on a foil-lined baking sheet. I brushed it with a few coats of balsamic vinegar and seasoned the salmon with salt and pepper.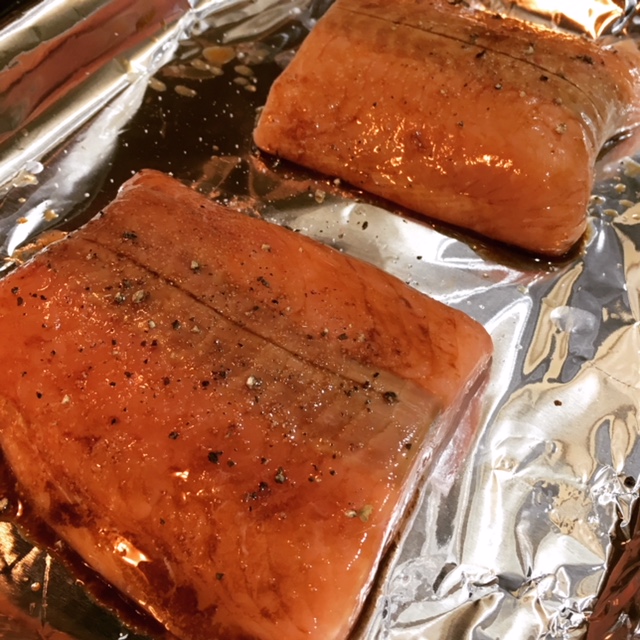 While the salmon baked, I made the strawberry salsa. I diced strawberries, jalapeno, and green onion and combined them in a small bowl with chopped cilantro leaves, lime juice, and salt and pepper.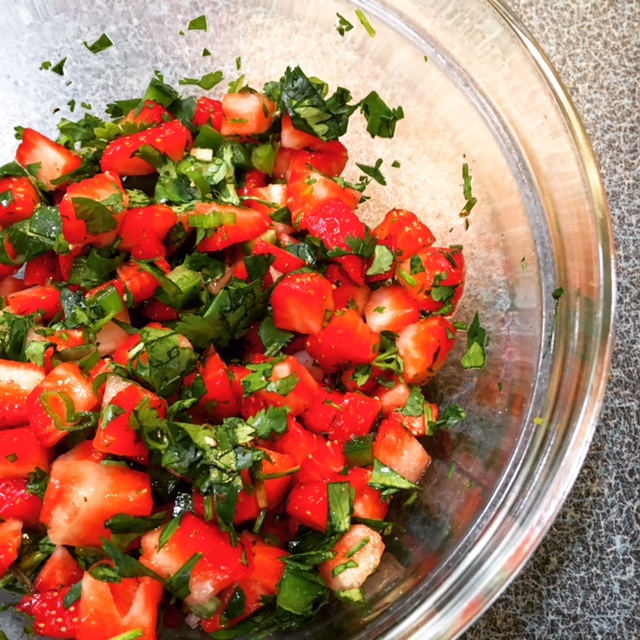 Once the salmon was finished baking, I brushed each fillet with the remaining balsamic vinegar and served them immediately, a top some wild rice. I garnished each generously with the strawberry salsa.
Balsamic Glazed Salmon with Strawberry Salsa
Ingredients
1 1/2

lb

wild salmon fillet

1/4

cup

balsamic vinegar

1 1/2

cups

strawberries

diced

1/4

cup

cilantro

1

TBS

jalapeño

diced

2

TBS

green onion

diced

2

tsp

lime juice

salt and pepper

to tast
Instructions
Heat oven to 375 F.

Place salmon fillet on a baking sheet and use a pastry brush to brush it with a few coats of balsamic vinegar. Reserve the rest of the balsamic for later. Season salmon with a dash of salt and pepper.

Bake salmon for 15-20 minutes until cooked to your desired level of doneness. For well done fish, you may need to add a couple of extra minutes in the oven.

While salmon is in the oven, combine strawberries, cilantro, jalapeño, green onion and lime juice in a medium bowl. Add salt and pepper to taste.

When salmon is cooked, brush a bit of the remaining balsamic vinegar over the top. Top salmon with strawberry salsa and serve immediately.
Notes
From: Life as a Strawberry
Cooking time may vary depending on the size/shape of your filet and the level of doneness you like. Start checking your salmon around the 10 minute mark if you're worried about cook time.
You can easily make this salsa a day or two ahead of time – just store it in the fridge until you're ready to eat!
This post contains affiliate links. Full disclosure here.