Because of this blog, reading often leads me to delicious food. Most of the time, I go into a book without any idea what I'll end up making, since I haven't read the book before. Sometimes I'm able to orchestrate it just so and I'm able to make something specific (particularly when a title or description mentions food), though that works out a lot less often than you'd think. Thankfully, in the case of Love & Gelato, it worked like a charm!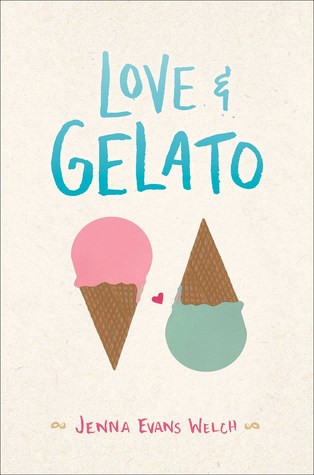 This young adult novel by Jenna Evans Welch has been on my TBR for a while now - I probably added it so I could make gelato - and because I was in the mood to break out my ice cream maker again, I added it to both of my 2018 reading challenges. It worked for "a book with food in the title" and fell nicely into the category of "book title starting with the letter L." I love a good two-for-one deal.
Anyway, onto the story: Lina is spending the summer in Tuscany because her dying mother wanted her to get to know Howard, who she's just found out is her father. It's really a lot to handle for anyone, but when Lina is given her mom's old journal, it gives her a renewed sense of purpose.
As she gets to know more about her mother and her own origins, she makes friends, explores Tuscany, and of course, falls in love with gelato. In her words: Take the deliciousness of a regular ice-cream cone, times it by a million, then sprinkle it with crushed-up unicorn horns. [He] stopped me after my fourth scoop. I probably would have kept going forever. Stracciatella, which is a heavenly vanilla speckled with chocolate flakes or shavings, ends up becoming Lina's favorite. Coincidentally, it's mine too. (I told you this worked out well!)
I decided to use a recipe from Love and Olive Oil because it just seemed to fit so nicely. First, I put my ice cream bowl in the freezer, so it could chill overnight. Then, I got to work on the gelato mixture.
In a saucepan, I combined 2 cups of milk and 1 cup of heavy cream, granulated sugar, corn syrup and a pinch of salt. The difference between gelato and ice cream, if you're wondering, is that gelato contains more milk than cream - whereas ice cream is the opposite - and contains less egg yolks, or none at all. This recipe does include a few egg yolks, but definitely less than when I made traditional ice cream.
Once the milk-cream-sugar mixture was steaming, I turned off the heat, added vanilla seeds as well as the entire split pod, and let it sit covered for 30 minutes. I brought it back up to steaming, whisking together 3 egg yolks in a small bowl in the meantime. I added a bit of the milk mixture - about ¼ cup at a time - to the yolks, whisking constantly. It's important to do this slowly so that the eggs temper rather than scramble. Once I had added about a cup and a half of the milk to the eggs, I poured the contents of the bowl back into the saucepan. I cooked the ice cream base over medium heat for around 5 minutes, until it reached 170 degrees F.
Then, I strained it into a medium bowl and placed that into a larger bowl filled with ice water to bring it down to room temperature. Once it was cooled, I covered it with plastic wrap and placed it in the fridge. I allowed it to set overnight while the ice cream bowl chilled in the freezer.
I poured the vanilla base into my ice cream maker and let it get to work. While it was churning, I broke up the dark chocolate and put it in a bowl with 2 tablespoons of butter. I melted it in the microwave, stirring every 15 seconds to ensure it didn't burn. I added the chocolate to a ziploc bag and then put it into a bowl of warm water to keep it drizzle-able until the ice cream was further along.
Drizzling the chocolate ended up being a lot messier than I anticipated, and a lot of it got onto the scraper/stirrer attachment within the ice cream maker. I was able to scrape some of that off into the ice cream as I transferred the finished product into the freezer container. To finish it, I drizzled some of the remaining chocolate on top, closed the container and put it in the freezer so it could firm up.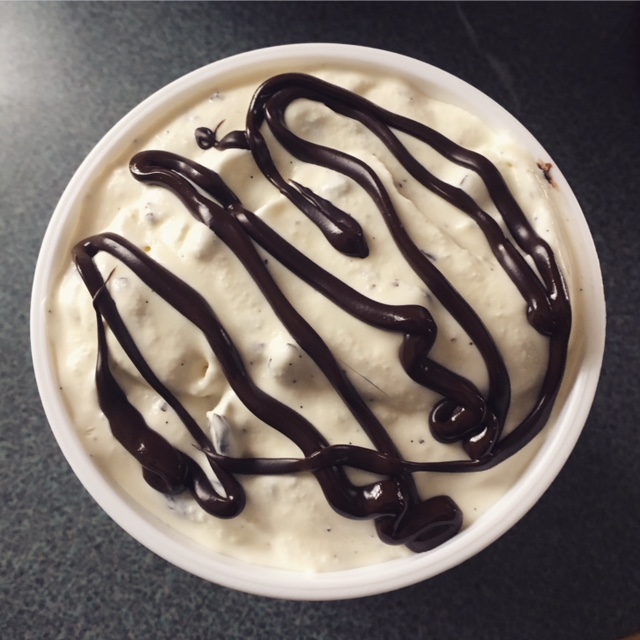 After a few hours, we were finally able to eat the gelato! It was as delicious as I had hoped. For a moment, I was transported back to my trip to Italy, where all I did was eat and eat (and sightsee...a bit). Now, I want to go back - and eat more gelato, of course!
Stracciatella Gelato
Ingredients
2 cups whole milk
1 cup heavy cream
⅔ cup granulated sugar
1 tablespoon corn syrup
pinch of salt
1 whole vanilla bean, split and seeded
3 egg yolks
4 ounces good quality dark chocolate, finely chopped
2 tablespoons unsalted butter
Directions
In a saucepan, combine milk, cream, sugar, corn syrup, and salt. Cook gently over medium heat, stirring regularly, until sugar is dissolved and mixture just starts to steam. Stir in vanilla bean seeds and add the whole bean pods. Remove from heat, cover and let steep for 30 minutes.
In a small bowl, whisk egg yolks.
Return milk to medium heat until it starts to steam again. Slowly whisk some of the warm milk mixture into the egg yolks, 1/4 cup at a time, until about half of the milk has been incorporated and yolk mixture is warm to the touch. You want to do this gradually; doing so will temper the egg yolks rather than cook them.
Pour yolk mixture back into the saucepan and return to medium heat, stirring constantly, until the mixture thickens slightly and coats the back of a spatula, about 5 to 7 minutes, or until it reaches approximately 165 to 170ºF. Do not allow it to boil.
Pour mixture through sieve, discarding any solids and what's left of the vanilla bean. Cool to room temperature in an ice bath, or in a zip-top bag submerged in ice water. Cover and refrigerate until completely cool, at least 3 hours or overnight if possible.
Churn ice cream according to manufacturer's instructions.
While ice cream is churning, melt chocolate and butter in a small saucepan over low heat or in the microwave in 15 second bursts. When chocolate is melted and smooth, transfer to a zip-top bag and seal well, pressing out as much air as possible. If necessary, place bag in a bowl of warm water to keep warm while the ice cream finishes churning.
When ice cream is the consistency of soft serve, 1-2 minutes before being completely done, cut 1/4 inch off the corner of the bag. Slowly drizzle most of the chocolate into churning ice cream, allowing the chocolate to swirl throughout.
Transfer to a freezer safe container, drizzling a bit of remaining chocolate on top, and freeze 2 to 3 hours or overnight until firm.
This post contains affiliate links. Full disclosure here.